SAN FRANCISCO ART GALLERIES - OPENINGS
SUPERVISOR ROSS MIRKARIMI - LUGGAGE STORE GALLERY
CALIFORNIA INSTITUTE OF INTEGRAL STUDIES - DRUG STORE GALLERY
SPACE - TAKADA - BRAUNSTEIN / QUAY GALLERY
GALLERY 304 - ARTSF - RED POPPY ART HOUSE
02.17-18.06
Supervisor Ross Mirkarimi: Malik-Heru J. Seneferu (fka Herman J. Smith Jr.).
Comment: Versatile social political spiritual uplifting ethnocentric paintings by self-taught artist Malik Seneferu. He's put together quite a resume over the past ten years or so, including book illustration, logo design, mural work, and set design. Bright future here.
Art.


Art.


Malik Seneferu.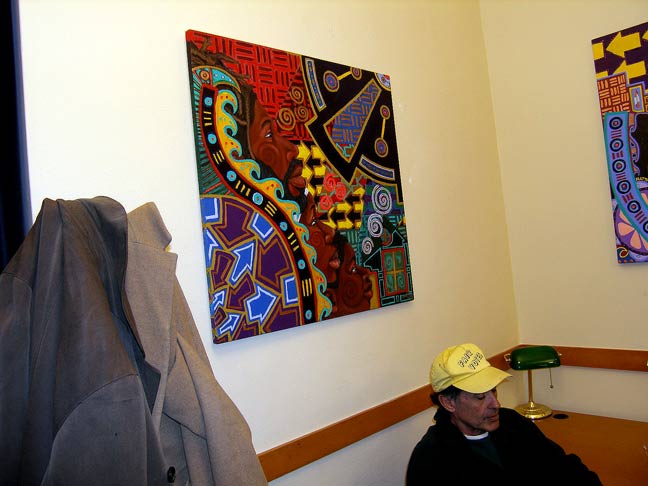 Art.


Art.


Art.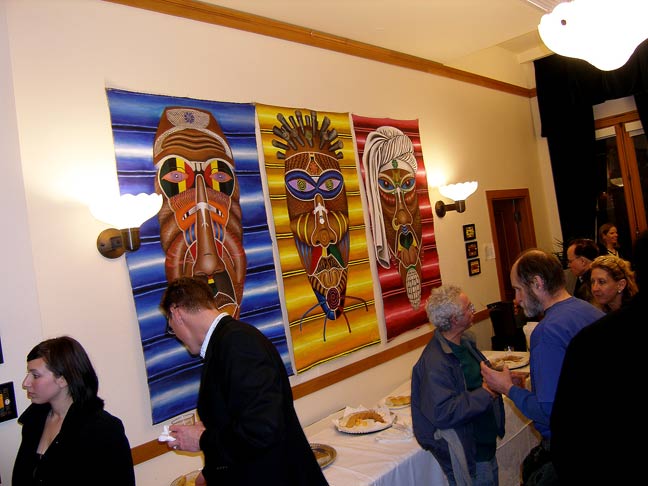 Art.


***
The Luggage Store Gallery: Vulcan - New Work on Canvas/Walls.
Comment: Vulcan, an outdoor artist of prolific stature and repute, takes the creative impulse indoors. He's been around for a long time, done lotsa different stuff, nimbly navigates pop culture from varietous perspectives, and miraculously continually lands on his feet. Here, stylistic elements hover and touch-- technique in transformation-- sort of a negotiatory dance between what's been, what is, and what will be. We'll see what the final treatise looks like. Vulcan's exceptionally affable, by the way-- forthcoming, direct, and with satisfying answers to all my questions. Art priced low to mid-upper thousands.
Art.


Vulcan - art.


Art.


Art.


Art.


***
California Institute of Integral Studies: Threshold of a New Art - Artwork of the 1950's, A Selection from the Lucid Art Foundation Collections.
Artists: Gordon Onslow Ford, Lee Mullican, John Anderson, Jacqueline Johnson, Wolfgang Paalen, Jean Varda, Roberto Matta, Ruth Asawa, Roshi Hodo Tobase.
Comment: This is the surprise of the night. Natty early 1950's abstract surreal spiritual metaphysical philosophical Eastern-Asian-Indian Alan Watts bohemian art embodying some of the most progressive thinking of the era anywhere-- but happening right here in San Francisco, just like it does today-- presaging the Beats, the Summer of Love, the New Age, and all that is yet to come. Among other things, Onslow Ford, Lee Mullican, and Wolfgang Paalen were responsible for the art/thought movement Dynaton which culminated with a show (and a very collectible catalogue) at the San Francisco Museum of Art in 1951. The art on display here at the Institute of Integral Studies was originally part of Gordon Onslow Ford's personal collection, now the Lucid Art Foundation. This is an excellent little show. Go see, read, and learn about SF's rich art history.
Art (Ruth Asawa, wire sculpture - Gordon Onslow Ford, painting).


Paint/collage art (Jean Varda).


Art (Lee Mullican).


Art (Wolfgang Paalen, right - Gordon Onslow Ford, left).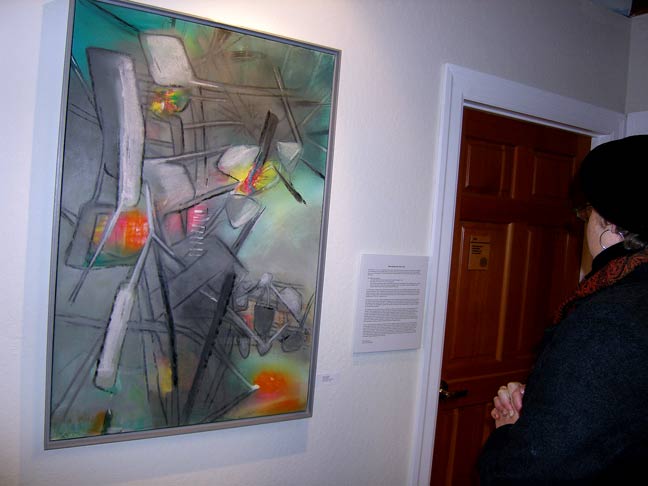 Art (Roberto Matta).


Art (John Anderson, I think).


***
The Drug Store Gallery, 3149 Mission St., San Francisco, 94110; 415.282.0554: The Ornamental Figure - Paintings by Heather Robinson.
Comment: Confident composed acrylic and collaged paper combinations on panel plus a group of small papered painted boxes. Easy enjoyment, reasonably priced. Show selling nicely. Priced $100-$2200; most low-mid hundreds.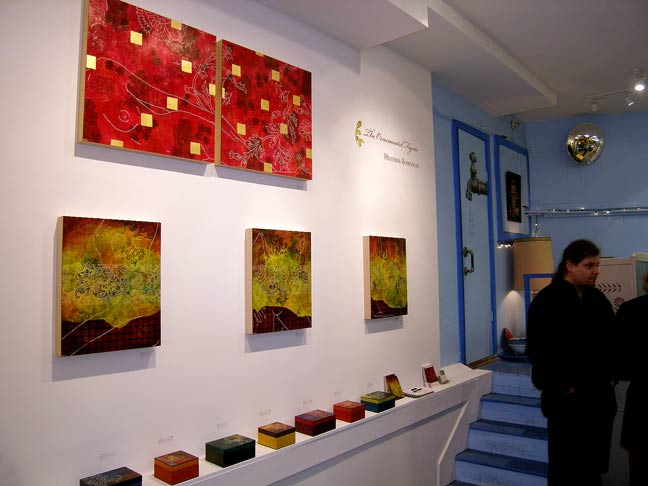 Art.


Heather Robinson - art.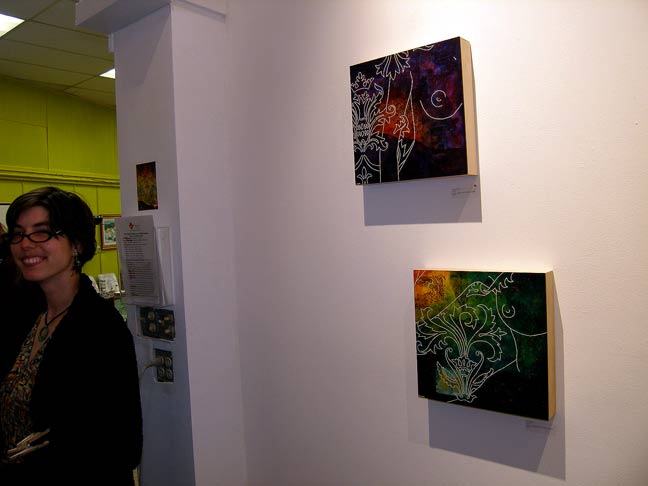 Art.


Circumstance.


***
Space Gallery: Blue Collar Bikers by Kyle Shepard.
Comment: Kyle Shepard travels the world for ten years photographing bicycle messengers. The best of his images are on display here. His book, Bicycle Messenger Photography, is for sale at the gallery-- only ten bucks-- and being hawked by none other than Shepard's number one hugest most major fan of all time, Mom. I asked Kyle Shepard whether his mother gets a commission on sales; I think the gist of his answer is that they do the math later.
Photography.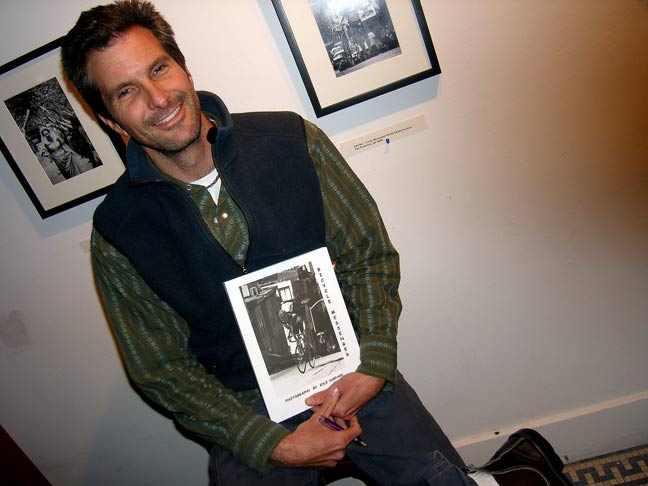 Kyle Shepard - photography book.


Photographs.


Photos.


Mom - photography book.


Photographs.


***
Takada Gallery: Laura Paulini - Day Trips.
Comment: Laura Paulini makes rows of impasto impressions in white paint according to certain self-imposed guidelines, so what you end up with are tiny-esque textural journeys. I went to her website, read her statement, and learned about what she gets out of her art. But what's my cut of the action? I sometimes make an analogy between between art and writing, there being two basic kinds of writing-- "daily journal writing" and "publication writing." In art, the former would translate to "art I make for me," the latter, "art I make for others." I suppose for you sticklers, there's also "art I make for everybody, including me," but that's technically "art I make for others." For example, I write for me and I write for others, but I write in such a way that others can opt out of the "me" part-- and most do.
Art.


Art.


Laura Paulini explains art.


Art.


***
Braunstein / Quay Gallery: Aaron Petersen - Inhabited.
Comment: Oil on aluminum panel paintings. The backgrounds are pooled, flowed, dripped, then dried. The foregrounds are brushed. Aaron Petersen compares the process and product to "living in a contemporary urban environment," but I'm a little hazy on the construct. However, the atmospherics work, so you don't have to bother with construct. I kind of divide art into two basic groups (or perhaps two basic ways to present it)-- "it is because it is" art and "it is because I say it is" art. With the former, meaning is inherent; with the latter, meaning is imposed (like here).
Art.


Art.


Art.


Art.


Art.


Art.


***
Gallery 304, 1890 Bryant St., #304, San Francisco, CA : Grand Opening.
Artists: Wendy Miller, Peter Sorensen, Warren Travis, Randy Titchenal.
Comment: This is the second opening I've been to at this building in the past few weeks. Not sure what the deal is regarding renting studio space or whether there's even any left. But it's a good location, large studios, freshly renovated.
Art.


Art.


Art.


Art.


Painted book art.


Art.


***
Addendum: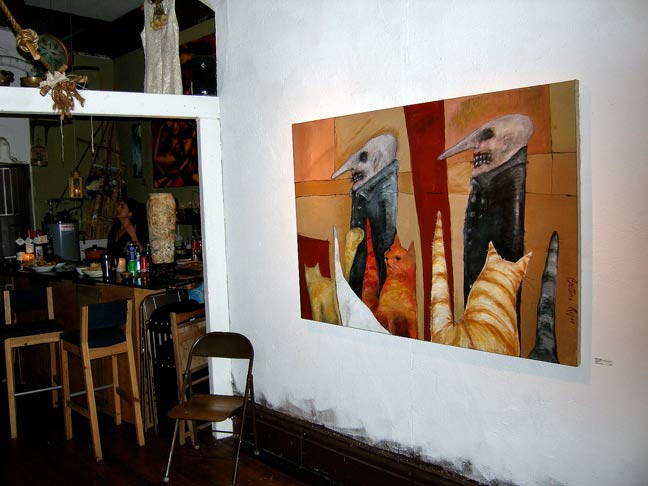 Emerging Argentine artists at Red Poppy Art House.


One more from Red Poppy-- part of MAPP
(Mission Arts & Performance Project).


Frank Chu Palooza time at ArtSF. (I'm early; no party yet.)


One more from the 2nd Annual Frank Chu Palooza at ArtSF.


Final Frank Chu.