***
Incline Gallery: Art Auction to Benefit Artists #2. Curated by Peter Kirkeby, Andres Guerrero and Matt Gonzalez.
Artists: Aaron De La Cruz, Adam Feibelman, Adrienne Heloise, Andres Guerrero, Alan Gonzalez, Amy Rathbone, Amy Vaszquez, Aung Aung Taik, Ben Venom, Brad Bernhardt, Casey Gray, Christa Assad, Christo Oropeza, Dana Smith, David Steele, Debra Walker, Dennis Parlante, Enrique Chagoya, Ezra Eismont, Felix Macnee, Francesco Igory Deiana, Gianluca Franzese, Gustavo Ramos Rivera, Harley Lafarrah Eaves, Hilary Pecis, Ian Johnson, Jacqueline Norheim, James Cordas, Jean Oppermann, Jeff Petersen, Jenny Sharaf, John Held, Jud Bergeron, Justin Hager, Kara Maria, Kathryn Kain, Kelly Ording, Kevin Earl Taylor, Kim Frohsin, Kristine Reano, Kyle Ranson, Lena Wolff, Mario Ayala, Martin Machado, Matt Bernstein, Megan Gorham, Michelle Guintu, Miguel Arzabe, Nicolas Torres, Pablo De Pinho, Patrick Martinez, Paul Gibson, Paz de la Calzada, Pete Doolittle, Peter Kirkeby, Ryan De La Hoz, Ryan Zweng, Rye Purvis, Sahar Khoury, Sean Newport, Serena Cole, Terry Powers, Tom Schultz, Walter Logue, William Emmert.
Comment by AB: Here's a give-back to all those artists who generously donate their art to fundraisers in support of social, political, non-profit and all kinds of other causes. At this silent auction, the artists receive 100% of the proceeds of the sale of their art. A great opportunity to own quality art at affordable prices. Now in its second year, hopefully this will evolve into an annual event.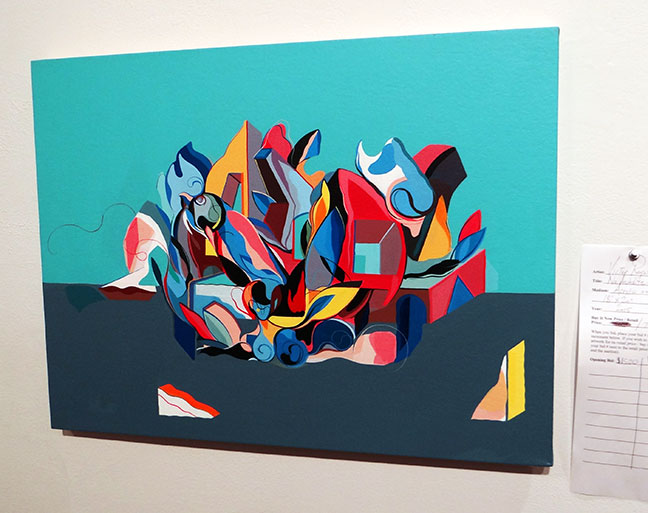 Art by Victor Reyes at Incline Gallery.


Poured art by Jenny Sharaf.


Vintage action in The Mission - photograph by Ted Pushinsky.


Color drenched screen print by Casey Gray.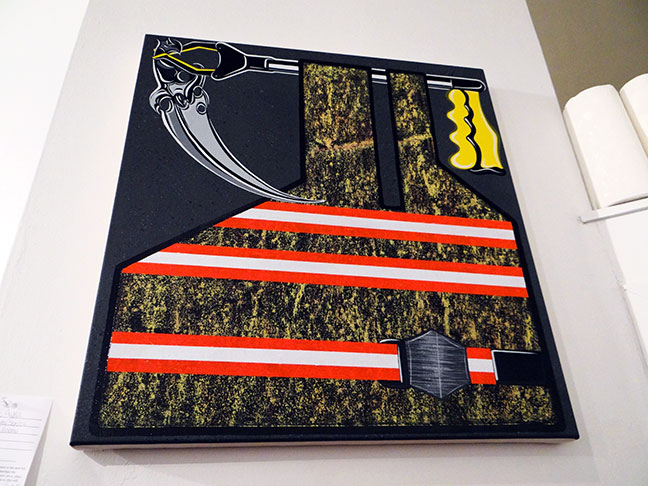 Mario Alaya art.


Curator Peter Kirkeby, art by Kathryn Kain & a sliver of Paul Gibson (left).


Painted paper maché art by Michelle Guintu.


Art by Ezra Eismont.


Globular sculpture by Pablo De Pinho.


Art by Michelle Guintu & Justin Hagar (top) and Ben Venom (bottom).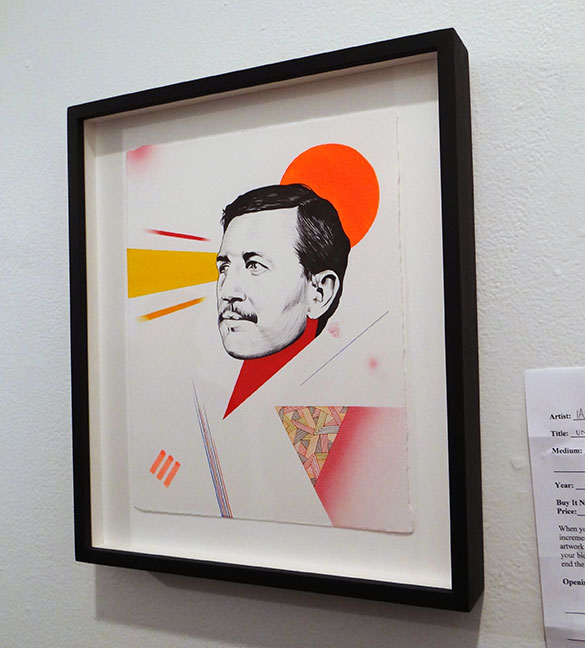 Ian Johnson art.


Sock in a box art by Nicolas Torres.


Obligatory skull art by Rya De La Hoz.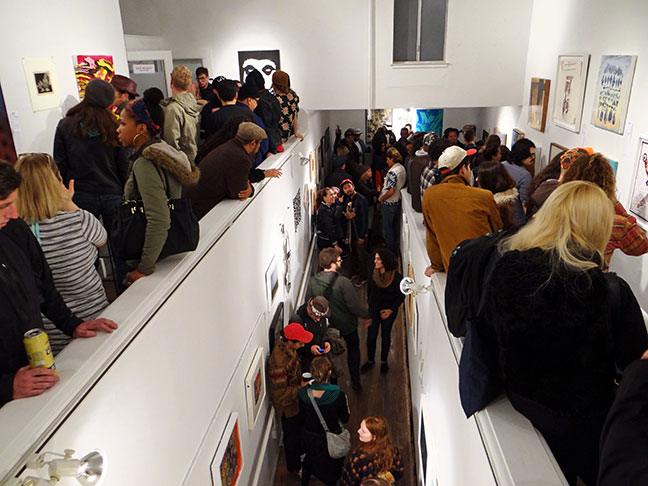 Full house at Auction to Benefit Artists #2, Incline Gallery.


***