SAN FRANCISCO ART GALLERIES OPENINGS
HOTEL DES ARTS - INTERSECTION FOR THE ARTS
SOMARTS - OFF BRAVA - TERRA - LOWER HATER
(with assistance from Ben Rigby )
02.20-21.08
Hotel des Arts: Into the Pixel - An Exhibition of the Art of the Video Game.
Artists: Jeremy Bennett, Daniel Dociu, Jeff Ballinger, Mike McCarthy, Shigechy, Cheol Joo Lee, Bruno Werneck, Deak Ferrand, Tomm Coker, Maziar Golestanehzadeh, Eric Nguyen, Ryan Stevenson, Florent Sacre, Renaud Bec, Bjorn Borkur Eiriksson, Rita Linsley, Lin Ran, Andrew Bainbridge, Chris Delay.
Comment by AB: The annual Into the Pixel exhibition, now in its forth year, frames itself as the world's only juried art exhibition bringing together traditional fine art and the interactive entertainment industry (video game producers). Presented here is a selection of images of the type that are ultimately translated into backdrops, settings accoutrements, characters, and other visual aspects of the video game experience. For some reason, I think this starts earlier than it does, so I'm basically the only one there. Judging from the abundance of beverage, I believe they're expecting (and will likely receive) a robust turnout.
Art.


Art.


Art.


Art.


Art.


Art.


***
Intersection for the Arts: The Prison Project - A Continuing Multi-Disciplinary Exploration.
Artists: Arthur Huang & Sonia McKenna, Mabel Negrete, Plain Human, Richard Kamler, Sara Thustra, Emily Wright & Kelly Beile, William Noguera, Robert Stansbury, Mutual Aid Pen Pal Project, San Quentin Arts in Corrections Program.
Comment by AB: Art from outside, art from inside... California prisons, that is. You've got sculpture, video, painting, graphic design, and installation-- all of it intended to shed light on this or that aspect of the current Golden State of incarceration. Here's a couple of factoids for you-- if you live in California, chances are you live within five miles of a prison or jail, and in the past ten years, nearly two dozen prisons have been built within the state. We've got the better part of 200,000 individuals right now behind bars.
Prisoner Awareness Day, March 11. Wear orange.


Effective watch tower constructed of books and prints.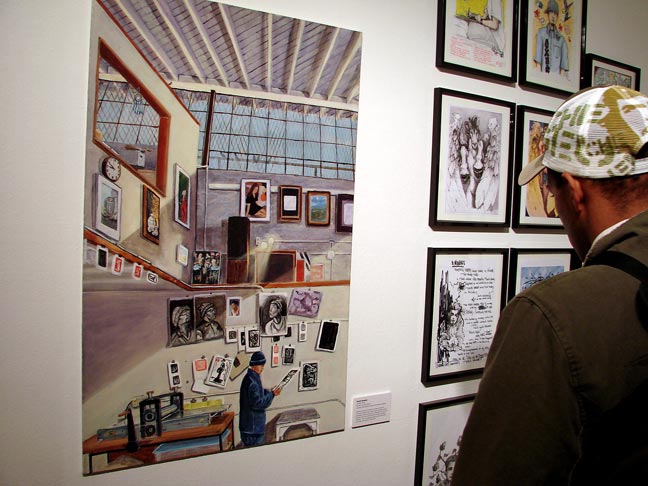 Art.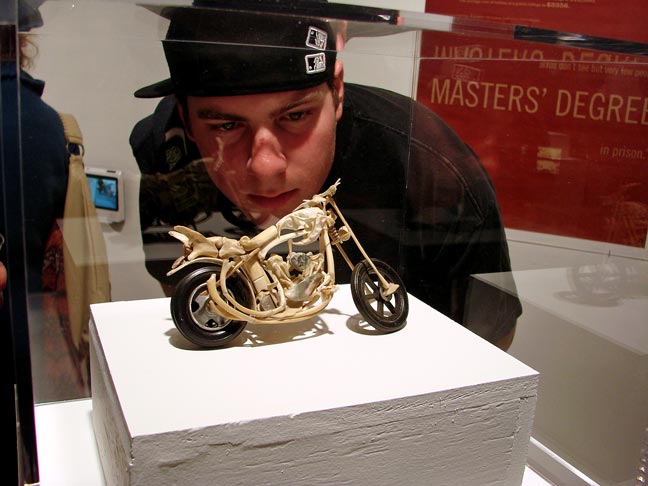 Remarkable chopper made of animal bones and skulls (pick).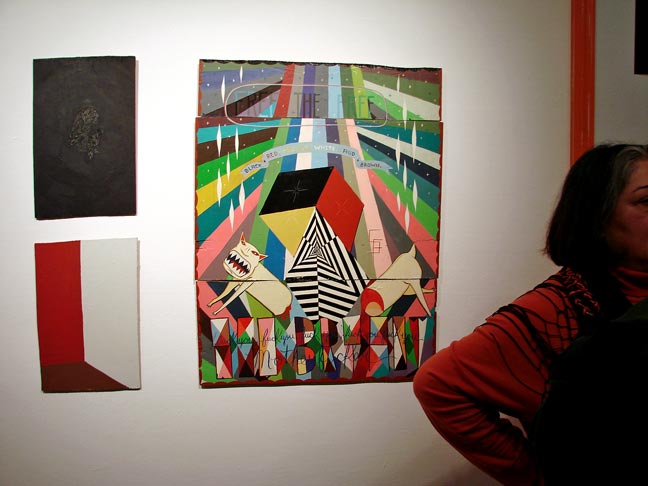 Art (Sara Thustra).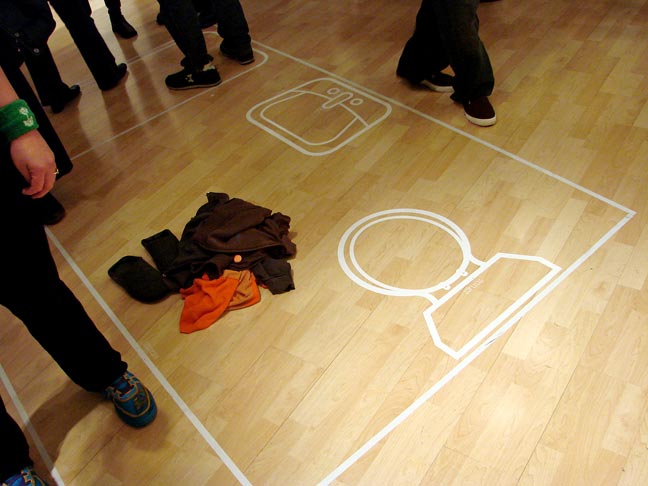 Schematic of your basic prison cell.


Art.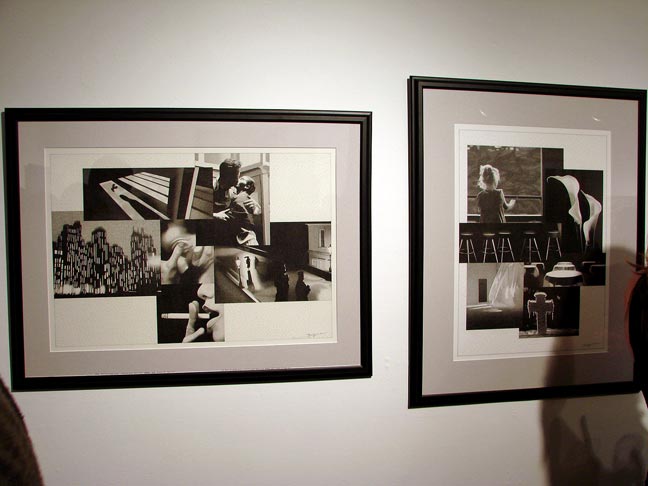 Art (William Noguera).


Art by veteran prison art activist Richard Kamler.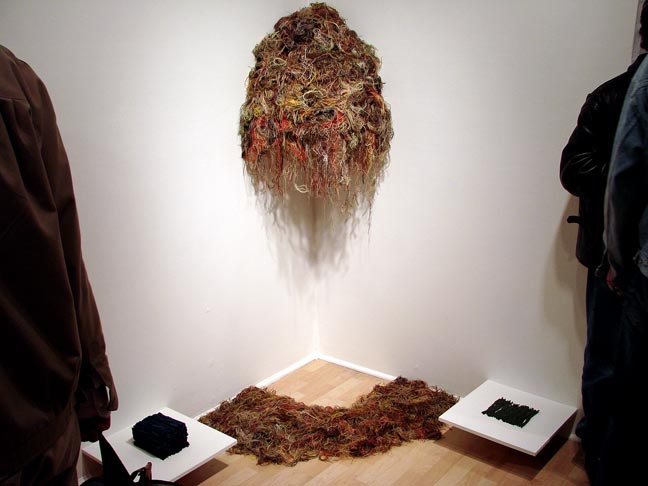 One thread for every prisoner in California (170,000+).


Art.


Turnout.


***
SomArts Main Gallery: Sol y Alma.
Artists: Alan Baribeault, Fulani, Alfonso Generalao, Cliff Gustafson, Josh Lee, Bob Kevess, Kim Wild, Eusebio Lozano, Melissa Martin, Peter Najarian, Gordon Pagnello, Olya Segull, constance Terrell.
Comment by AB: The only clue to what we have here is the phrase "Mentors/Diversity/Emerging Bay Area artists" on the announcement. So you're basically gonna have to take that and run with it.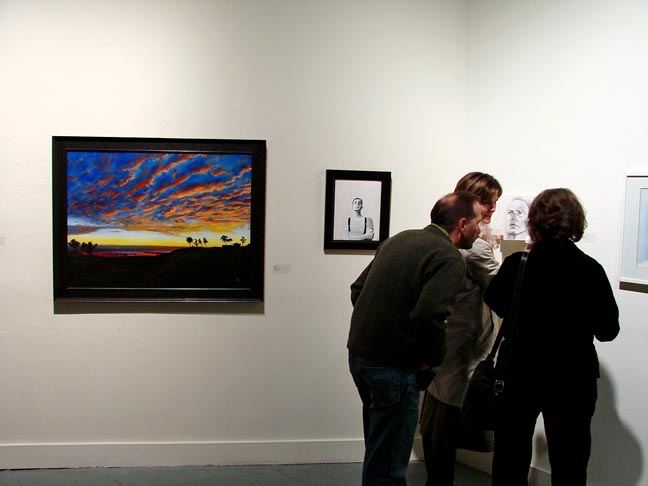 Art.


Art.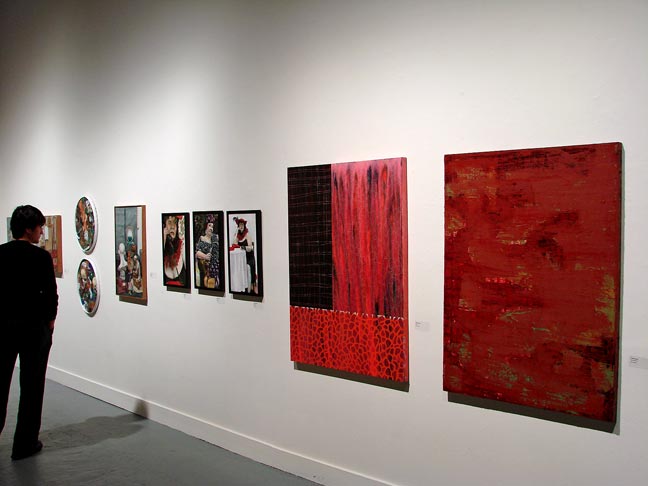 Art.


Art.


Art.


Art.


Art.


Art.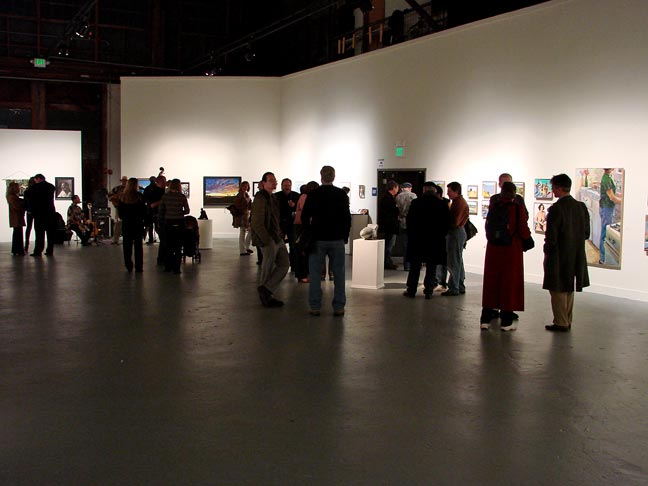 Long view.


***
City Space presents at Off Brava Storefront Gallery, 2773 24th Street, San Francisco, CA 94110: Wish You Were Here - The Souvenir & Urban Memory.
Review by Ben Rigby: How do you encapsulate the quintessential San Francisco experience in small keepsakes? Fisherman's Wharf sells its versions in the form of Golden Gate Bridge magnets and "I [heart] SF" key chains. The Souvenir & Urban Memory show, at the Brava Storefront Gallery, seeks to re-imagine these remembrances.
I admit that such high-concept shows disappoint more than thrill-- but this one delivers a fine balance of smart social commentary and craftsmanship. For example, you'll find an accurate sewn fabric replica of the classic pink plastic Chinatown 'Thank You' grocery bag ($45), the one on display brimming with fresh parsley, ginger, and daikon. Bottles of Bay Area Housing Bubbles let you blow away your real estate concerns ($8.95). The Bay Area Bridge Troll may explain why you're always sitting in the slow lane. These 60 or so pieces express love for our city without falling prey to camp sentimentality (ok, well, just a little camp).
Vintage rental ads from when rents were affordable (photo c/o Ben Rigby).


Souvenir art (photo c/o Ben Rigby).


Souvenir art (photo c/o Ben Rigby).


Overview.


Pink "Thank You" bag knock-off art (like it).


Bay Area Housing Bubbles (like it).


Souvenir art.


Relative density (photo c/o Ben Rigby).


Out front looking in.


***
Terra Gallery: Brown W. Cannon III - Photography and Surf Art; Surfboards by GP Surfboards.
Comment by AB: A stunning display of surfing-related art includes a raft of exceptional atmospheric oceanic photographs by Brown W. Cannon III, and amazing hand crafted pictorial all-wood surfboards with inlays built by GP Surfboards of Capitola, California. (FYI, the pictorial images on the boards are all by Brown W. Cannon III too.) These surfboards are so good, as far as I'm concerned, they're sculpture. The good news? You can surf on 'em too. Plus special added bonus-- an atypically active, attractive, and fit crowd (for an art show, that is). The event is being held in part to support The Baum Foundation, The Marine Mammal Center, and Surfrider Foundation.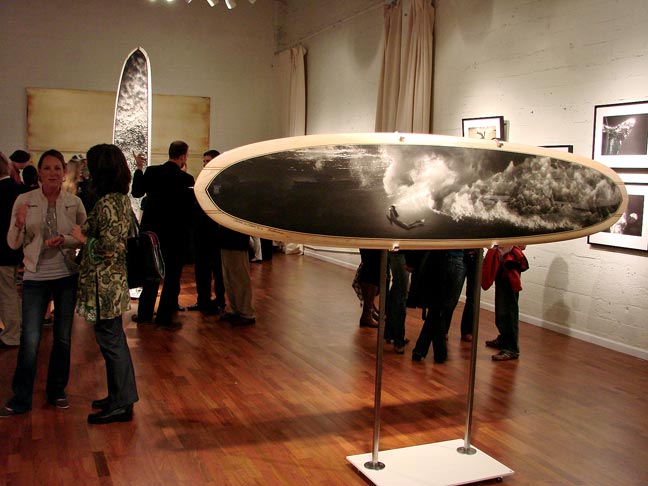 Surfboard art (GP Surfboards - love 'em).


Surfboard art (GP Surfboards).


Surfboard art (GP Surfboards).


The label to look for - GP Surfboards of Capitola, CA.


Surfboard art (GP Surfboards).


Photography (Brown W. Cannon III).


Photographs (Brown W. Cannon III).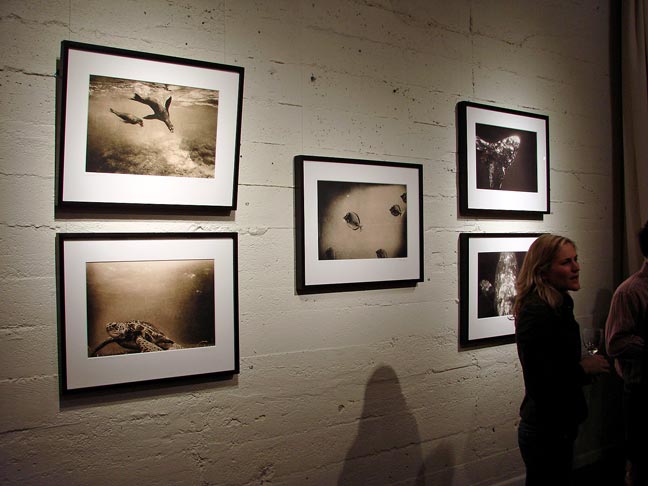 Photos (Brown W. Cannon III).


Panorama.


***
Lower Hater Gallery: Phil Holt - Recurrent Association.
Comment by AB: Seasoned tattooist Phil Holt paints and stencils up an identical image in a wealth of renditions, then finishes 'em off in clear high-gloss acrylic (I think). Holt tells me each image is a combination of six stencils, spray paint, and hand paint. There you go.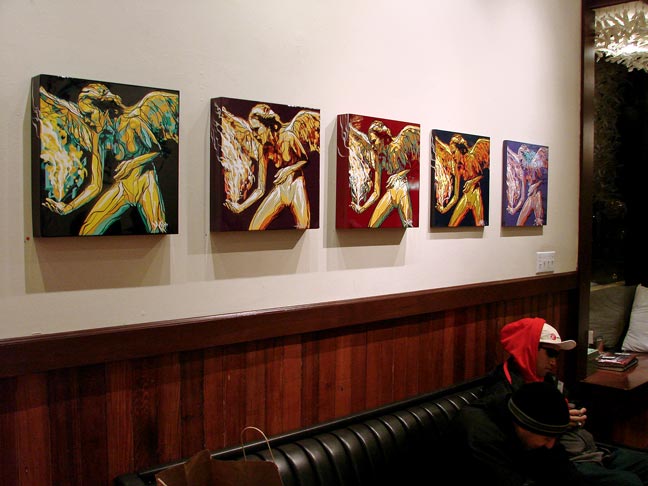 Art.


Art.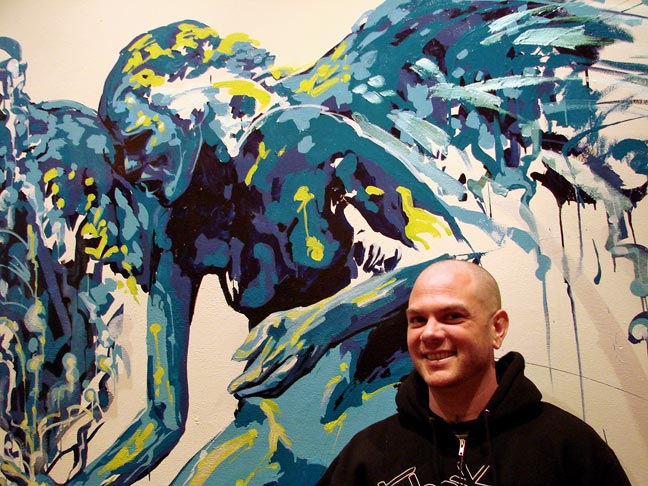 Phil Holt - art.


Art.


Art.


***