SAN FRANCISCO ART GALLERIES OPENINGS
BUCHEON - ELECTRIC WORKS - IN COLOR 2
SOUTHERN EXPOSURE - SPACE
(with assistance from Ben Rigby )
02.22.08
Bucheon Gallery: Landscape, Nature and Space - A Group Show.
Artists: Margaret Wall-Romana, Eckhard Etzold, Mary Lou Zelazny, Gregory Euclide, Lucho Pozo, Cynthia Hooper, Kirk LeClaire, Ian Kimmerly.
Comment by AB: The show title encompasses basically everything except maybe seascapes, but you fans of seascapes will be heartened to know that a seascape is included.
Art.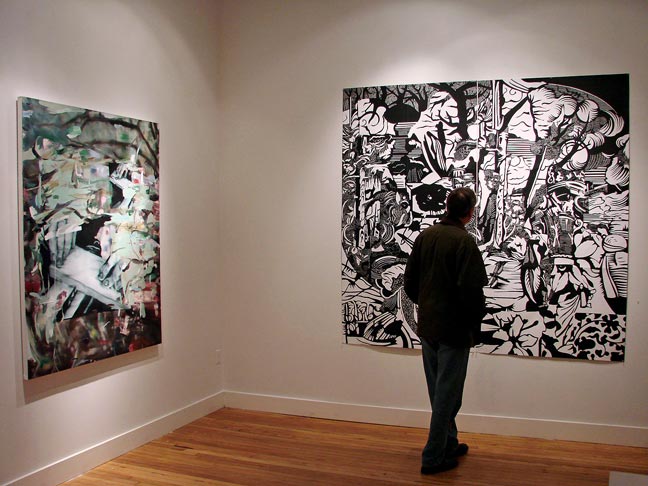 Art.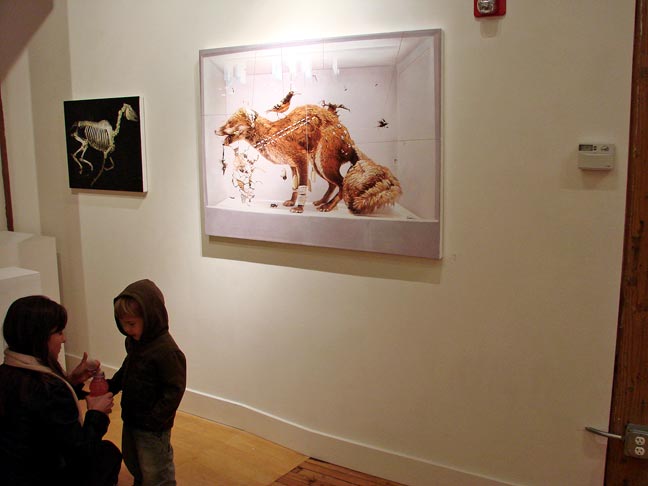 Art.


Art.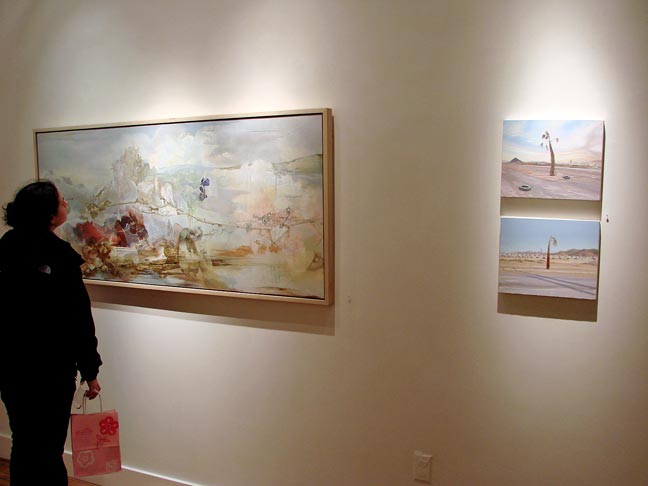 Art.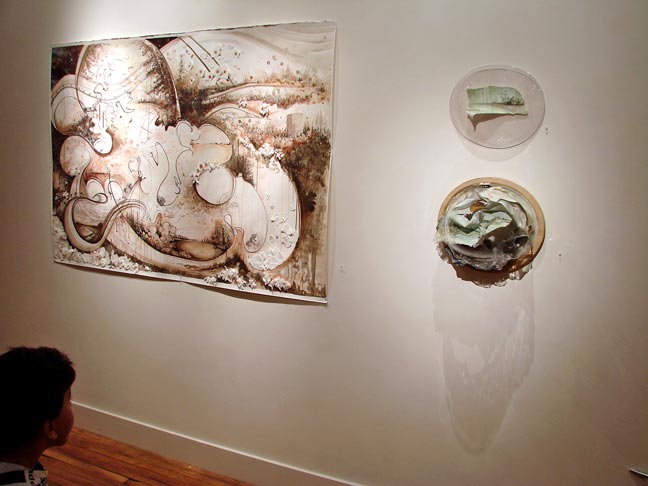 Art.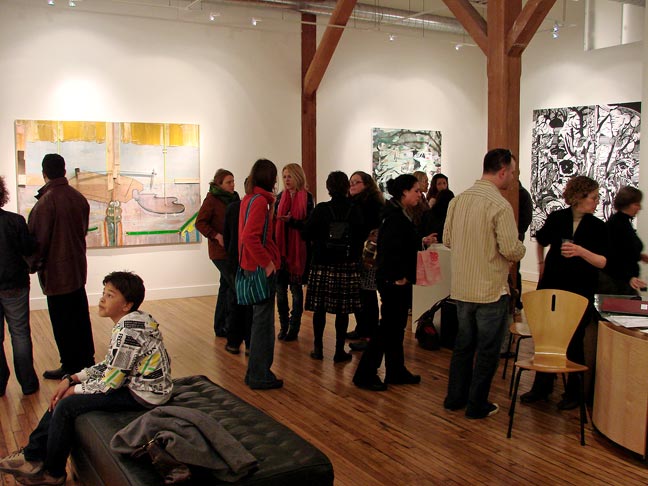 Art.


***
Electric Works: David Tomb - Birds of the Sierra Madre.
Review by Ben Rigby: Flora Grubb imports an impressive collection of plants for the "Birds of the Sierra Madre" show. Accompanied by a jungle bird soundtrack and high humidity generated by an abundance of enthusiastic gallery goers, you almost feel the damp Chiapan cloud forest that inspired the artist. With all works on paper in place, the show is set for success. While many of the compositions exhibit fine detail work, some seem hurried and attention to detail uneven. I'm left wondering whether this endeavor is an introduction to work yet to comeŠ
Art by David Tomb.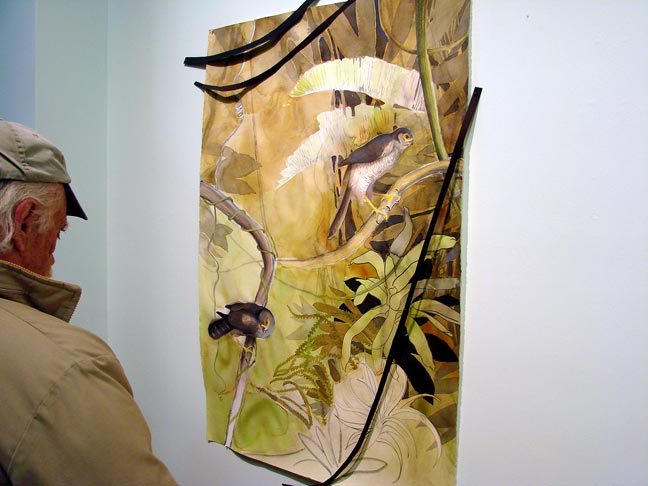 Art.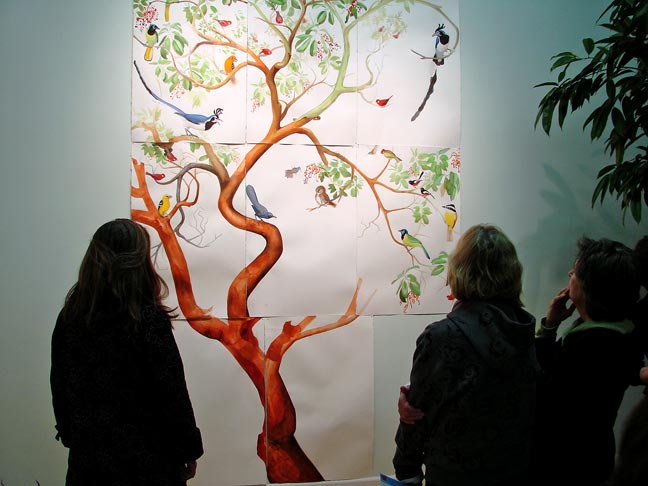 Art.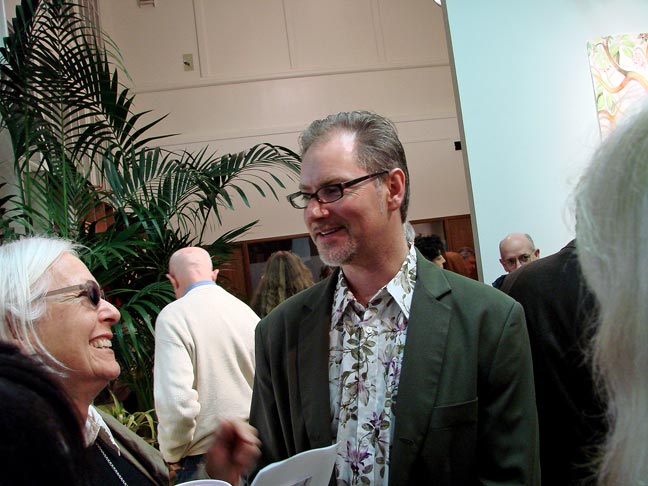 David Tomb (center).


Art.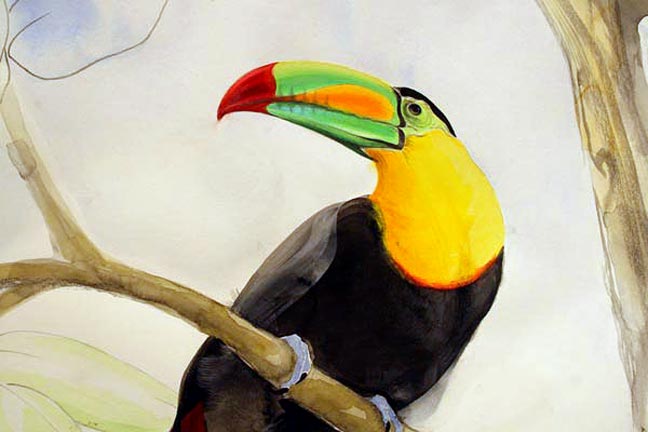 Detail of above image (photo c/o Ben Rigby).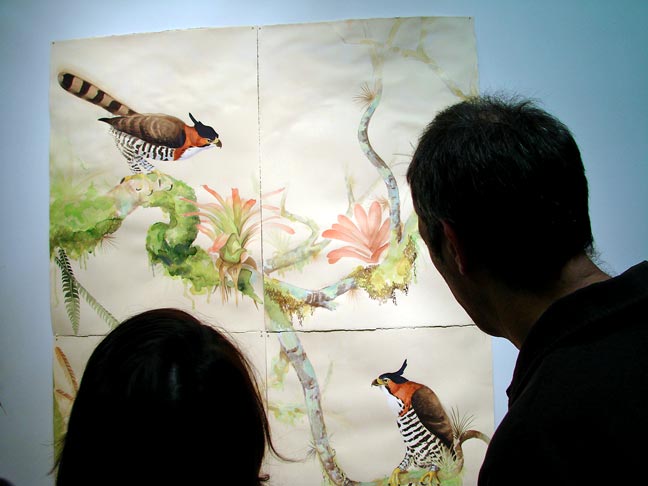 Art.


Plantscape by Flora Grubb (photo c/o Ben Rigby).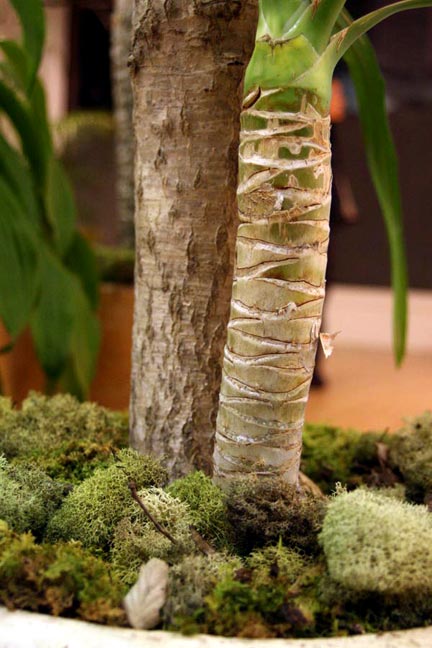 Plantscape by Flora Grubb (photo c/o Ben Rigby).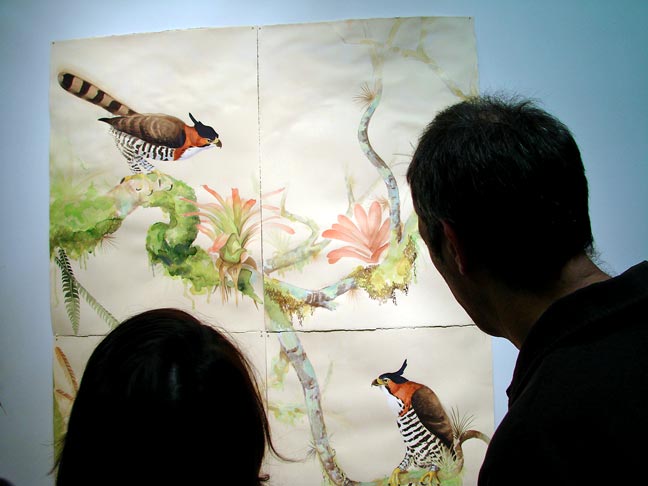 Art.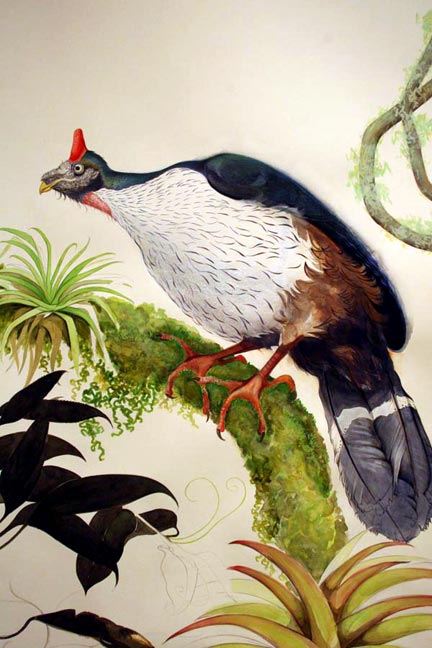 Art detail (photo c/o Ben Rigby).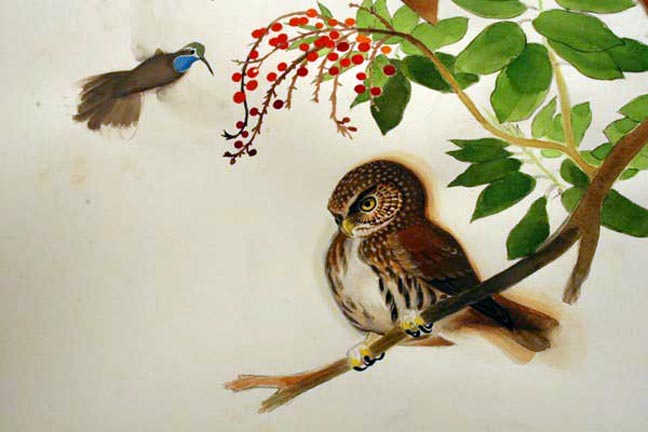 Art detail (photo c/o Ben Rigby).


Art.


Art.


Population sample.


***
In Color 2: Johanna Case-Hofmeister - Susquehanna.
Comment by AB: An autobiographical assay into the Susquehanna/Upstate New York underpinnings of Johanna Case-Hofmeister's life, via places she's been, people she's known, and on bonds reinforced or reinvigorated through the process of "I'm taking your picture." Plus it's a pretty decent slice of a glimpse at contemporary Americana, of the rural and small town variety.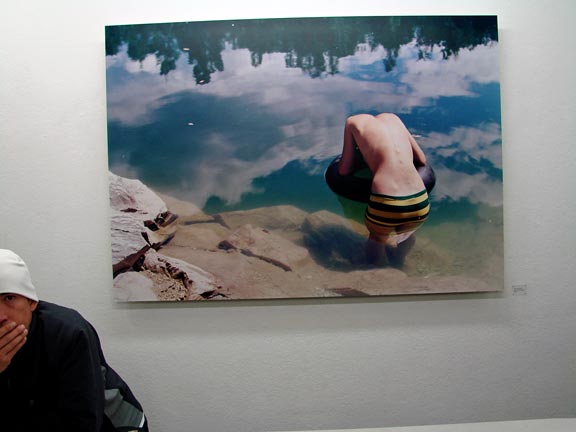 Photography.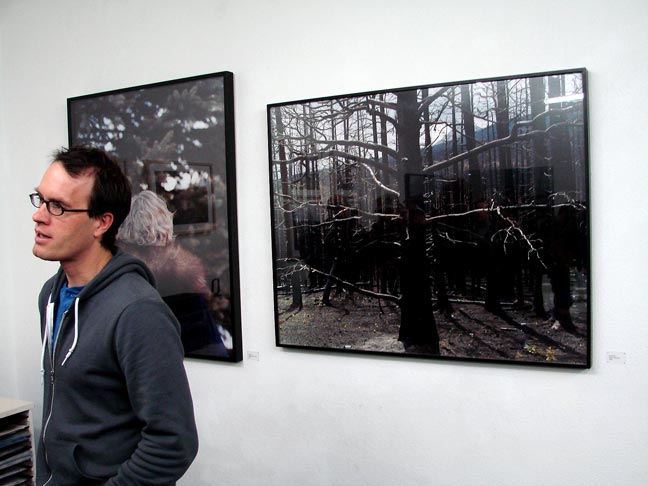 Photos.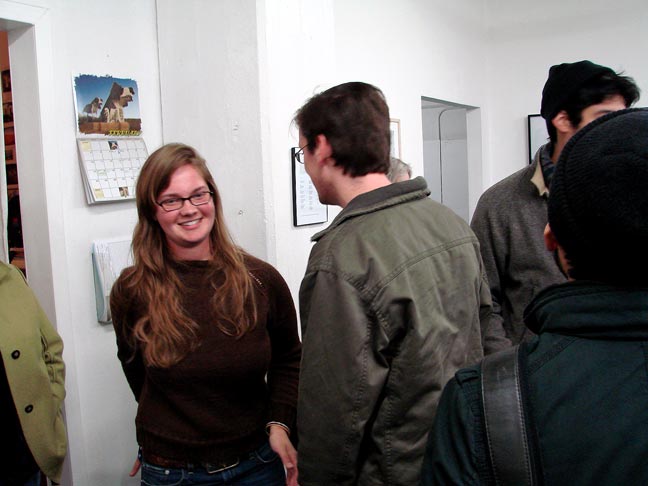 Johanna Case-Hofmeister.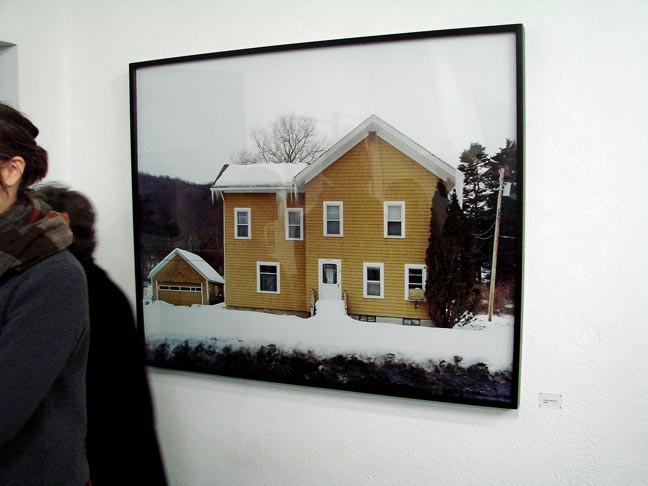 Photographs.


Photos.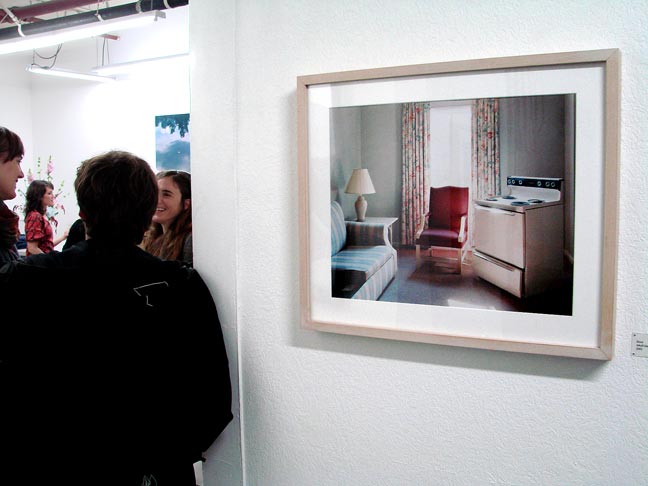 Photography.


Situational.


***
Southern Exposure at Verdi Club: 8th Annual Monster Drawing Rally.
Review by Ben Rigby: "Frenzied" may be the only word to describe the Monster Drawing Rally. Here¹s how it works:
• There are several one-hour art sessions from 5-6pm, 6-7pm, until the ballgame ends at 11.
• About 60 artists create one or many pieces during each session.
• When a piece is done, an auctioneer takes it to the wall and sells it for $60. Proceeds support Southern Exposure.
• If there are multiple people who want a piece, the auctioneer hands out playing cards; high card wins. The price remains $60.
It gets interesting when a work leaves an artist's station. Hoards of expectant art buyers throng as the work makes its way slowly to the wall. Like a stoned, drunk, and elated concert-goer, the art appears to swim over the canopy of the crowd. Visages of desperation and extreme desire wash through the assemblage as the auctioneer hands out fate's cards. Those holding the aces exult. The losers frantically look for the next piece making its way to the wall.
Since when are San Francisco artists rock stars? Since when do people part with $60 for less than an hour's work from the most underpaid of professionals? I've never seen this level of enthusiasm for an art event before. Maybe there's hope for us afterallŠ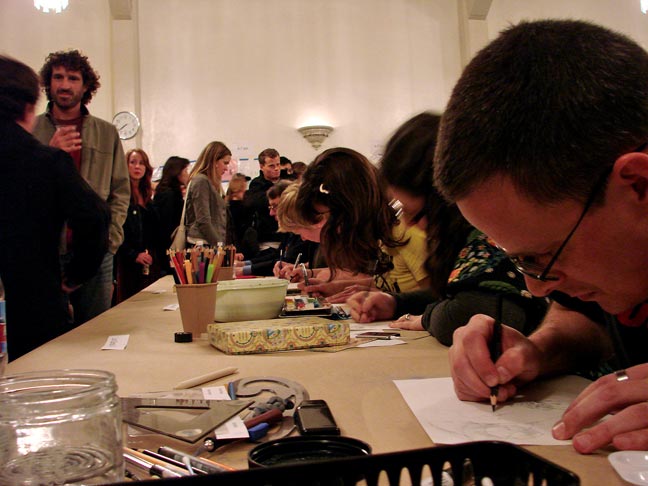 Artists arting.


Art - artist.


Ricardo Richey - art.


Haberdashery (photo c/o Ben Rigby).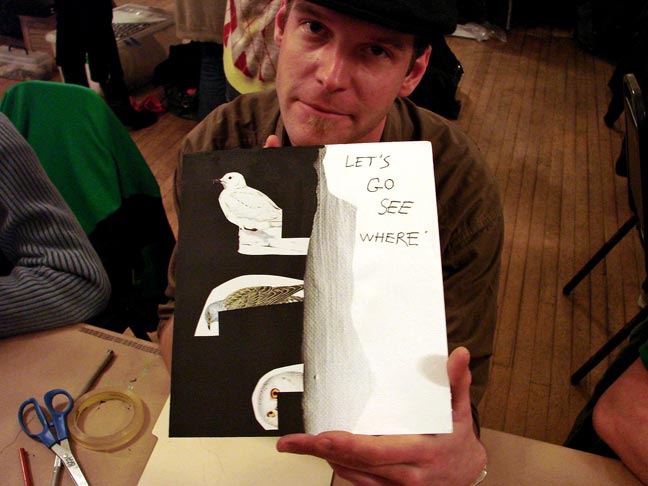 Brad K. Alder - art.


Suzanne Husky - art.


Yours truly (photo c/o Kal Spelletich).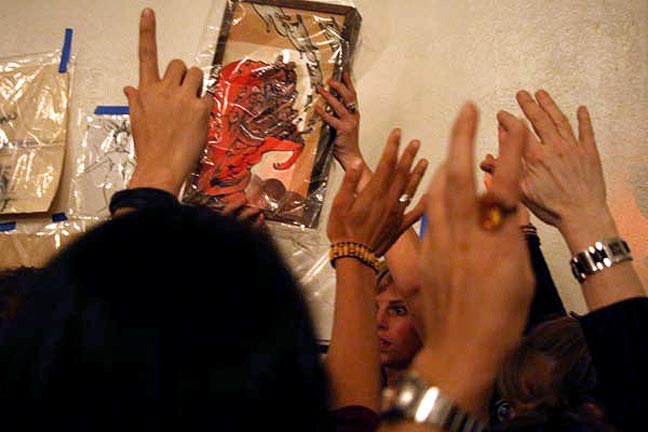 Adherents vie for freshly finished drawing (photo c/o Ben Rigby).


Vying from the side (photo c/o Ben Rigby).


Vying from above (photo c/o Ben Rigby).


Overwhelmed by vyers (photo c/o Ben Rigby).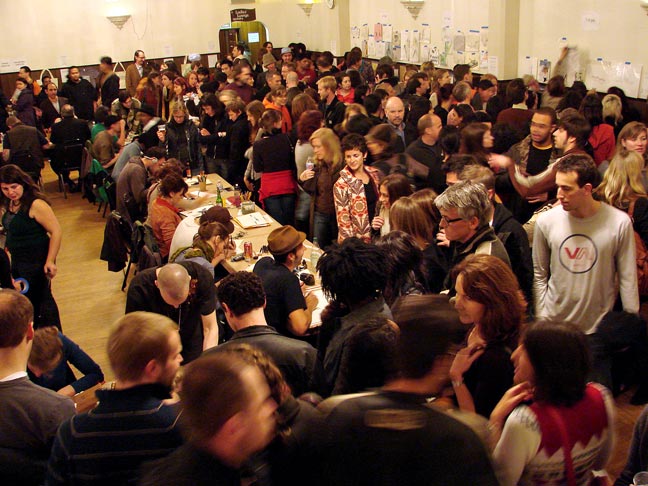 Culture clog.


Out front (like it).


***
Space Gallery: Collector.
Comment by AB: David Paul, proprietor of local hip-hop label Bomb Records, once again trots out his impressive vintage hip-hop memorabilia collection including album covers, 8-track covers, t-shirts, promo photos, and more. In answer to my question as to where Paul gets this stuff, he tells me he's been active in the realm ever since way back in the day. Among other avocations, he published a hip-hop magazine in the eighties, and that's how acquired pretty much everything on display here-- sent to him as promotional items when they were originally released. Most people threw these sorts of items out or mistreated them over the years; David Paul saved his and saved 'em carefully. And the rest, as they say, is history.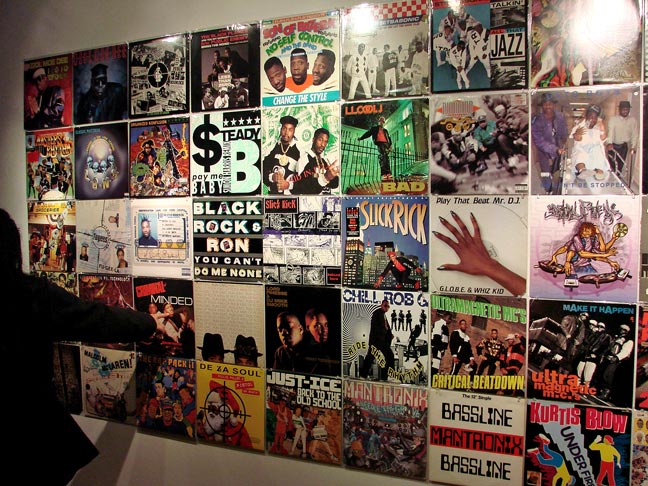 Hip-hop art.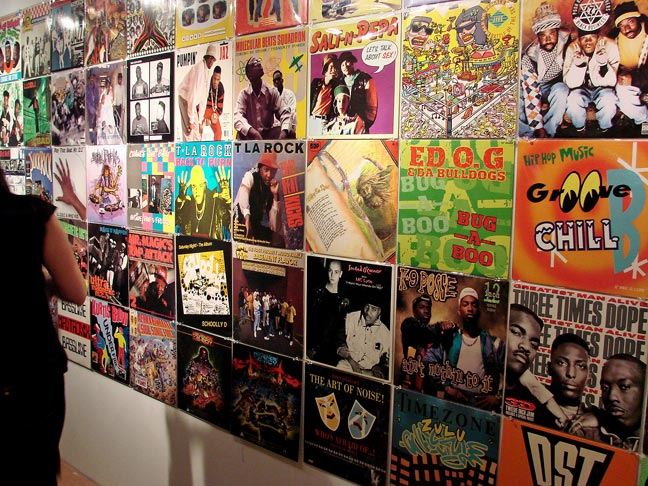 Hip-hop art.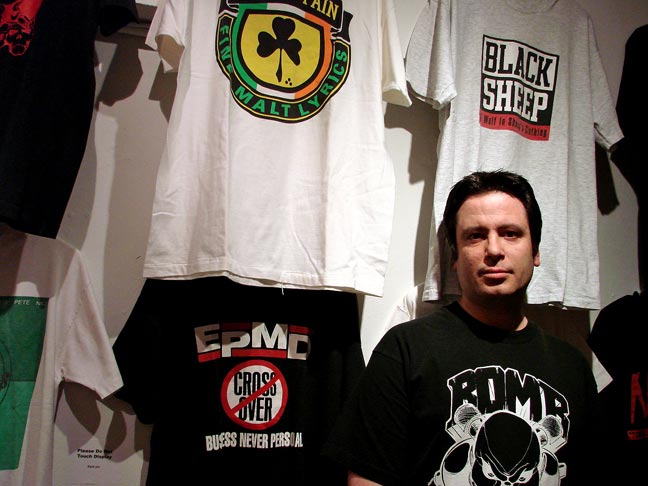 David Paul - hip-hop art.


Hip-hop art.


Hip-hop art.


***