SAN FRANCISCO ART GALLERIES OPENINGS
FECAL FACE DOT - ICEBERGER
LITTLE TREE - A.MUSE - BROWN BEAR
02.23.08
Fecal Face Dot Gallery: Grand Opening Celebration.
Artists: Kill Pixie, Jay Howell, Kyle Ranson, Jeremy Fish, Kelsey Brookes, Andrew Schoultz, Hilary Pecis, Tara Foley, Maya Hayuk.
Comment by AB: Fecalmeister John Trippe's got himself a brand new gallery on Gough just before market, and some crackerjack art to go with it. Expect good things here. Prices range $250-$2200.
Art (Kyle Ranson).


Art (Andrew Schoultz - Hilary Pecis collaboration).


Art (Maya Hayuk).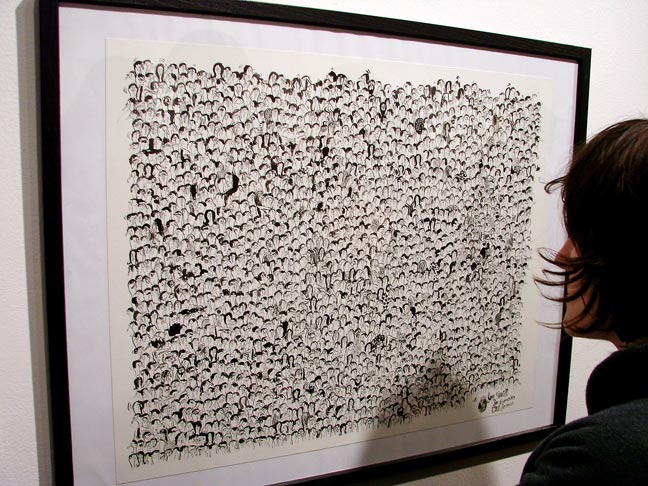 Art (Jay Howell).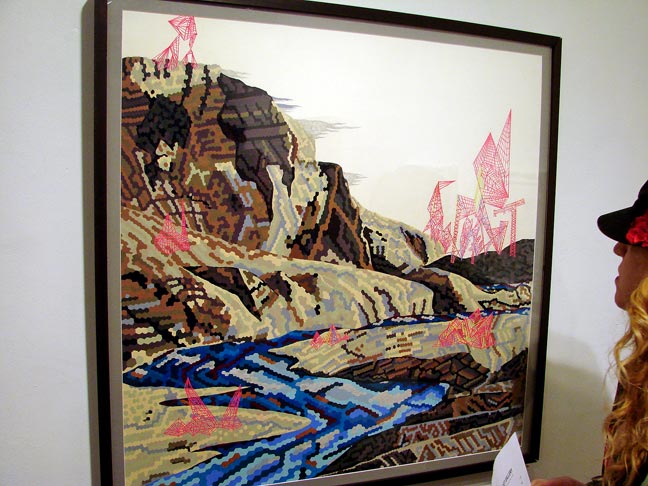 Art (Tara Foley).


John Trippe (proprietor).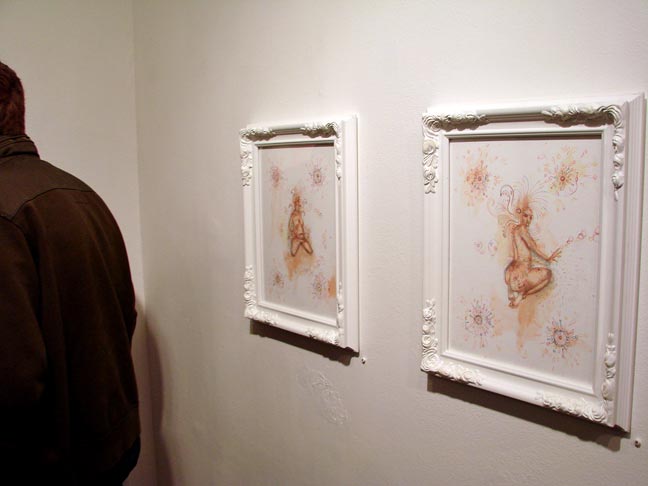 Art (Kelsey Brookes).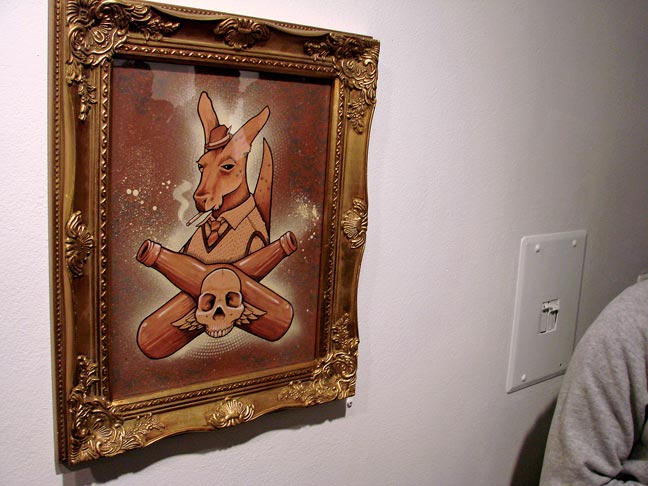 Art (Jeremy Fish).


Art (Kill Pixie).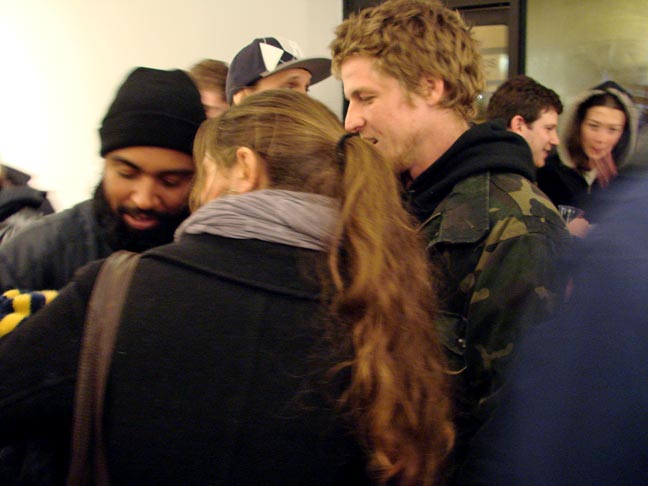 Population density.


Door delta.


***
Iceberger Gallery: Mark McKnight - Many Meanings are Attached to Mountains.
Comment by AB: Yet another fresh entrant into the ever expanding realm of Ess Eff art proffering options, Iceberger Gallery tonight debuts the slice-of-life journal-style photography of Mark McKnight. The gallery measures like 12 by 12 feet, and to heighten claustrophobiesqueness of it all, a great big table sits smack in the center of the gallery taking up about half the available floor space. I get pretty badly wedged, but thank God for yoga; otherwise, they would have had to pry me out with K-Y and a crowbar. For you students of anatomy, I haven't tangled with this many armpits since basic training. Notably robust turnout for the opening, by the way.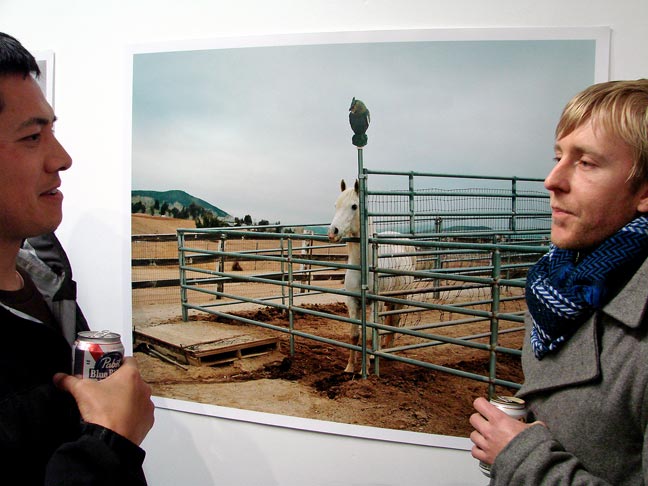 Photography by Mark McKnight.


Photos.


Photographs.


Photography.


"Excuse me, Sir, but could you possibly remove your ear from my nose?"


Spillage.


***
Little Tree Gallery: James Tantum - Time Matters.
Comment by AB: Curiously amusing assortment of works includes coupons good for 5% off any Tantum work of art produced between now and eternity ($30), photographs of the artist dressed in the clothes he wore most often during particular years, a progression of unrelated still images (spaghetti, rocket launch, sculpted bust, sushi, etc.) playing on a monitor in the gallery window, a reconfigured issue of Artforum magazine, and a limited edition accordion-fold book commemorating Tantum's week-long protest for change where he ate only oatmeal. The punchline on the protest? It happened 20 years ago (the book is brand new).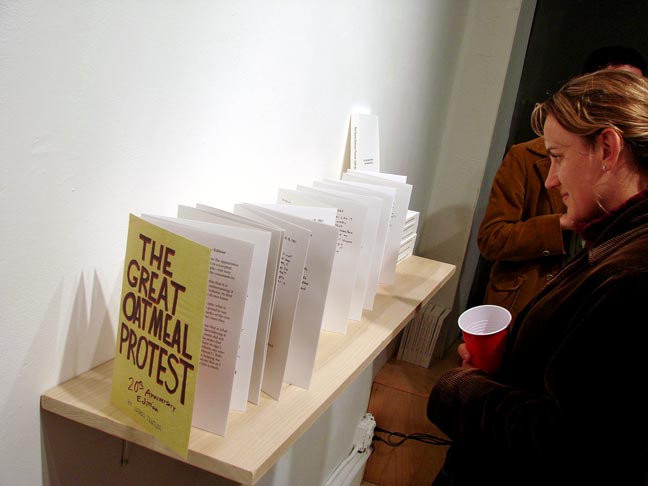 Oatmeal Protest book art by James Tantum.


Oatmeal Protest book art II.


James Tantum in his favorite outfits art.


5% off coupon art.


Reconfigured Artforum art.


James Tantum in white shirt at right (I think).


Spaghetti in the window art.


***
a.Muse Gallery: Robin Grass and Amandalynn - Wicked of the West.
Comment by AB: Amandalynn exports Robin Grass, her first and foremost art teacher, all the way from Everett, Pennsylvania for a tandem painting performance based on the book "Wicked: The Life and Times of the Wicked Witch of the West," a history of the Oz incident written from the perspective of the witch. Additional artists contributing works to the show include Reyes, Norm, Phil Holt, Pete the Painter, Yutaro Sakai, Holly Ellis, and others.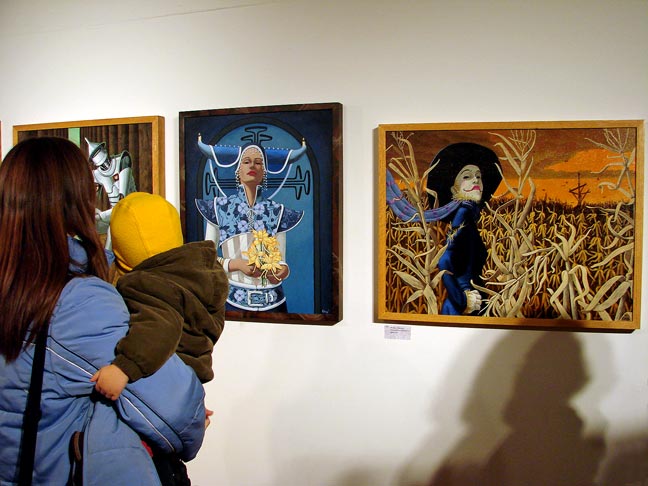 Art (Robin Grass).


Art (Amandalynn).


Robin Grass & Amandalynn in front of each other's art.


Art.


Art by other artists (like that Tin Man by Pete the Painter).


Circumstance.


***
Addendum: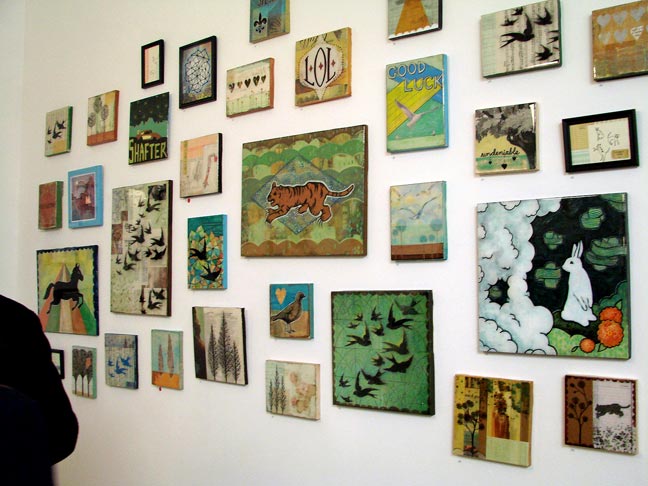 Wall of art at Brown Bear.


More art at Brown Bear.


Another wall of art at Brown Bear (nicely done).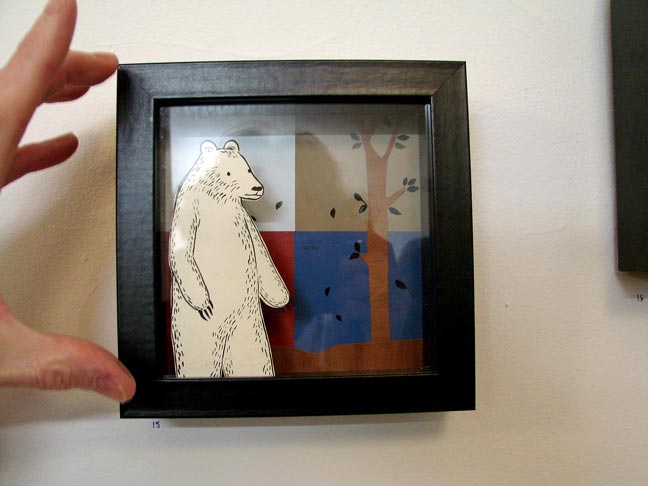 Detail from image above at Brown Bear.


***