***
Gump's: David Le Batard (Lebo) - Full Bloom.
Comment by AB: The art of David Le Batard aka Lebo could not be more perfect for the time and the venue. Yes, the floral glory of spring is upon us. As if that's not enough, Lebo paints live-- Basque boatneck shirt, back-up paintbrush in the mouth, artistic flourishes and all. Straight outta central casting. Yo!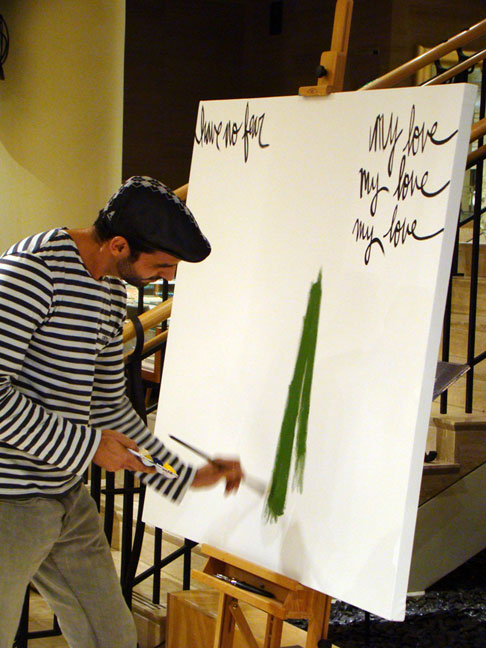 David Le Batard aka Lebo fires up a painting.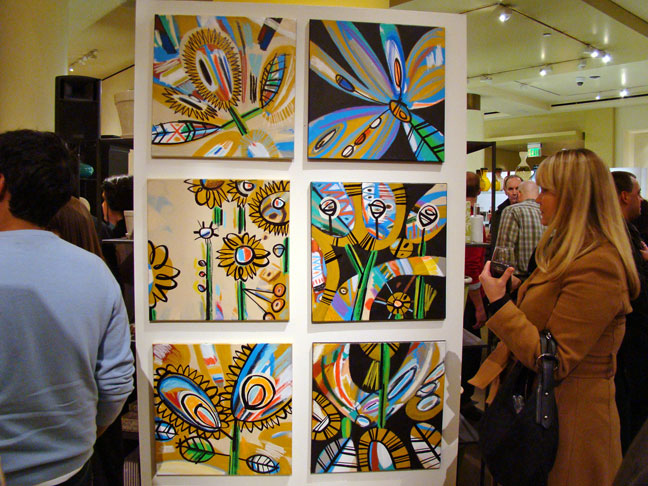 Art by Lebo.


David Le Batard aka Lebo painting in progress.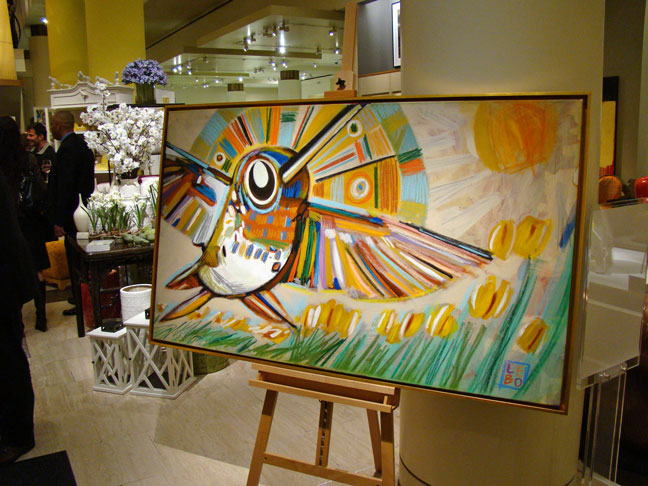 Art by David Le Batard aka Lebo.


Lebo painting coming right along.


David Le Batard aka Lebo limited edition book + art.


49er football great Joe Montana in da house.


Abraham Livingston Gump painted by Alfred Jonniaux.


Population sample.


***
Frey Norris Contemporary & Modern: Grand Opening, Gallery Artists and Modern Masters.
Artists: Rina Banerjee, Lionel Bawden, Susannah Bettag, Zhong Biao, Sean Cordeiro & Claire Healy, Andrea Dezs÷, Sherin Guirguis, Joshua Hagler, Dana Harel, Kate Eric, Mary Anne Kluth, Tomokazu Matsuyama, Keegan Mchargue, Julio Cesar Morales, Ranu Mukherjee, Surendran Nair, Shinji Ohmaki, Laurel Roth, Shen Shaomin.
Review by Kathryn Arnold: An generous evening of delight, the "VIP Preview," has the gallery swimming with people, an art gifting to forty lucky recipients, food from Chairman Bao Bun Truck, music and two exhibitions integrating the art interests of Wendi Norris and Raman Frey-- their international contemporary artists on the one side (they are all present and introduced) and a Modern Surrealist exhibition on the other.
Each work is given its own breathing space. There is a Tanguy to die for; it makes my heart skip a beat. What appears to be a painted cast by Frida Kahlo is sealed within a transparent Plexiglas enclosure. Paintings with skeletal images are on both sides of the gallery (Lam and Delvaux in the Modern) and, worth checking out, the graphite works on paper by Dana Heral in the Contemporary area.
Review by Clare Coppel: The opening of the new Frey Norris space offers two distinct shows of contemporary and modern artists. On the contemporary side Pangea - Art at the Forefront of Cultural Convergence features works by gallery artists including oversized dolls, large-scale paintings, abstract forms made from pencils and my favorite, a peacock made from fake nails and hair clips by Laurel Roth.
On the modern art side of things, enjoy eight master works by Surrealists Leonora Carrington, Paul Delvaux, Frida Kahlo, Wifredo Lam, Wolfgang Paalen, Yves Tanguy, Dorothea Tanning and Remedios Varo. Subconscious and conscious wanderings across strange landscapes populated with bizarre figures highlighted by Frida Kahlo's torso cast-- hammer and sickle on the chest, fetus on the stomach. Pretty cool to see these live and in person.
Review by RWM: Some amazing surrealistic images on display that you may have never have seen before, but will be sure to remember. Some are or should be classics with messages that will not be forgotten. See also newer art objects by gallery artists. One heck of a nice party as well.
Peacock art by Laurel Roth.


Laurel Roth peacock art from the back (photo c/o Clare Coppel).


Detail of art by Laurel Roth above (photo c/o Clare Coppel).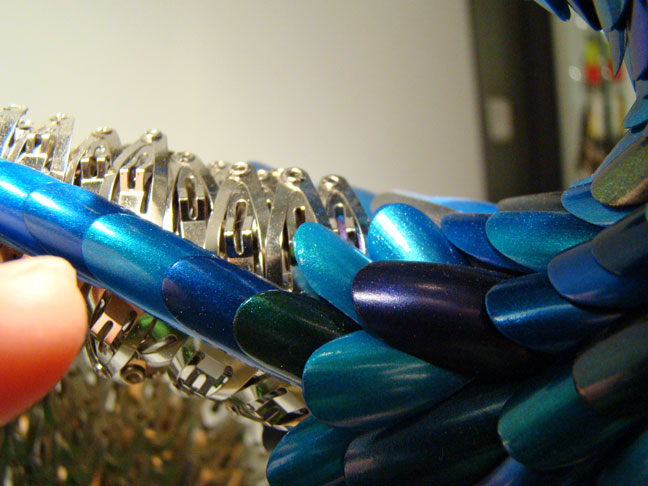 Pinkie cam detail of art by Laurel Roth in above images.


Artist Laurel Roth.


Plaudits & testimonials c/o Wendi Norris & Raman Frey.


Art by Remedios Varo (photo c/o DeWitt Cheng).


Collector Robert Shimshak oyster's himself up.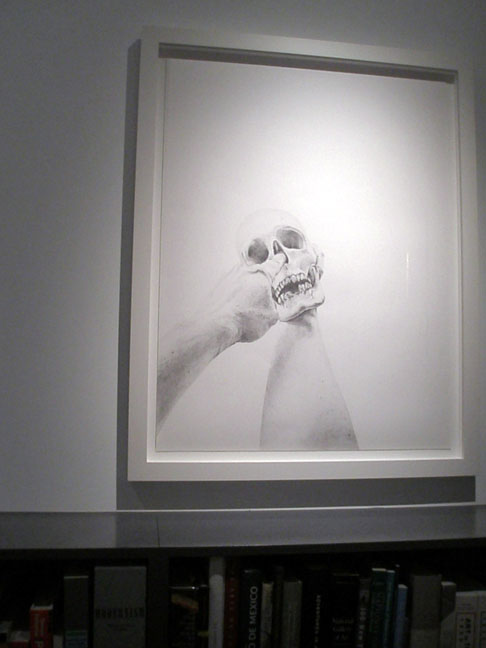 Skeletal art by Dana Heral (photo c/o Kathryn Arnold).


Frida Kahlo body cast (photo c/o Kathryn Arnold).


Surrealist art (photo c/o DeWitt Cheng).


Art by Lionel Bawden.


Sherin Guirguis art.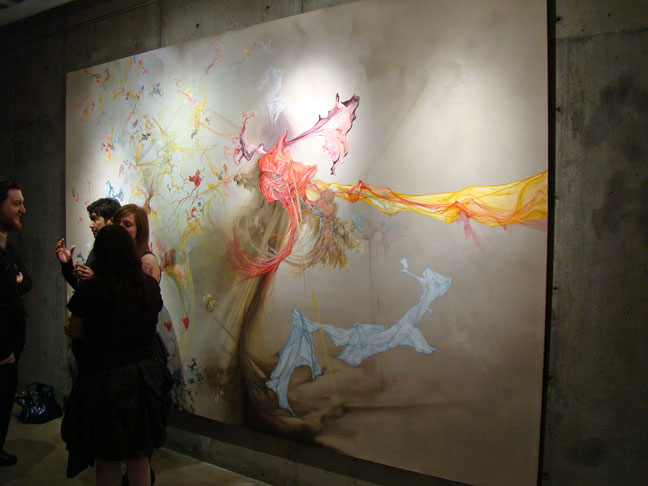 Art by Kate Eric.


***
San Francisco Museum of Modern Art: Shadowshop Featuring Imin Yeh.
Artists: Erin Allen, Kathy Aoki, Michael Arcega, Tim Armstrong, Miguel Arzabe, Ellen Babcock, Eliza Barrios, Eden Batki, Bonnie Begusch, Ray Beldner, Chris Bell, Jonah Emerson-Bell, JD Beltran, Bert Bergen, Amy Berk, Terry Berlier, Elisheva Biernoff, Libby Black with Kavamore Press, Michelle Blade / Sight School, Rebeca Bollinger, Chris Brown, Clark Buckner, Luke Butler, Castaneda/Reiman, Carolyn Castano, Anita Chang, Julie Chang, Ajit Chauhan, Susan Chen, Derek Chung, Josh Churchill, Brian Conley, Scott Constable, Andy Cox (Together We Can Defeat Capitalism), Amanda Curreri, Bill Daniel, Dina Danish, Lauren Davies, Anthony Discenza, Chris Duncan + Maria Otero, Steve Dye, Ala Ebtekar, Amy Ellingson, Christina Empedocles, Tia Factor, Sarah Filley, Linda Fleming, Harrell Fletcher, Tara Lisa Foley, Amy Franceschini, Erica Gangsei, N. Sean Glover, Narangkar Glover, Jim Goldberg, Rebecca Goldfarb, Michael Goodier, Terrance Graven, Michael Hall, Eleanor Harwood, Jamil Hellu, Stephen Hendee, Jonn Herschend, Liz Hickok, Todd + Audrey + Owen Hido, Daniel Hipolito, Amy Ho, Terry Hoff, Justin Hoover, Jesse Houlding, Amanda Hughen + Sweat Equity Co., Justin Hurty, Suzanne Husky, I, Daughter of Kong, Misako Inaoka, Marisa Jahn, Packard Jennings, Chris Johanson, Ernest Jolly, Kelly Lynn Jones, Evan Jourden + Heidi Anderson, Jason Kalogiros, Helena Keeffe, Scott Kildall + Victoria Scott, Kyle Knobel, Tony Labat, Steve Lambert, Robert Larkin, Saiman Li, Kenneth Lo, Christopher Loomis, Reuben Lorch-Miller/Fritz Welch, Jeanne Lorenz, Juan Luna-Avin, Nathan Lynch, Whitney Lynn, Kara Maria, Yuki Maruyama, Anne McGuire, Cheryl Meeker, Travis Meinolf, Brad Menninga, Jill Miller, Rebecca Miller, Karla Milosevich, Molly Mitchell, Elizabeth Mooney, Michael S. Moore, Ranu Mukherjee / Orphan Drift, Matthew Mullins, billy ocallaghan, Scott Oliver, Susan O'Malley, Ali Naschke-Messing, Tucker Nichols, Francesca Pastine, Alison Pebworth, Hilary Pecis, Johanna Poethig, Maria Porges, Maggie Preston, Genevieve Quick, Matthew Rana, Amy Rathbone + Charlie Callaghan, Lea Redmond / Leafcutter Designs, Laurie Reid + Benjamin Echeverria, Jerome Reyes, Lisa Ricci, Jim Ricks, Walter Robinson, Favianna Rodriguez, Lordy Rodriguez, John Roloff, Brion Nuda Rosch, Jessica Rosen, Leah Rosenberg, Lizabeth Rossof, Alena Rudolph, Anthony Ryan, Ari Salomon, Jovi Schnell, Zachary Royer Scholz, Andrew Schoultz, Azin Seraj, Steve Shada, Christine Shields, Byungjoon Shin, Joshua Short + Joel Dean Stockdill, Chris Sicat, Allison Smith, Sarah Smith + Andy Vogt, Valerie Soe, Travis Somerville, Kathryn Spence, Laura Splan, Gareth Spor, Tina Takemoto, Charlene Tan, Josephine Taylor, Gabrielle Teschner, Mary Tsiongas, Scott Tsuchitani, Merav Tzur, Chris E. Vargas + Greg Youmans, Jon-Paul Villegas, Annie Vought, Catherine Wagner, Lexa Walsh, Lee Walton, Josh Warren, Marci Washington, Mooky Wenceslas, Hillary Wiedemann, Hank Willis Thomas, Megan Wilson, Gordon Winiemko, Alexandra Wolfe, Christine Wong Yap, Imin Yeh.
Comment by AB: Shop for limited editions and originals by a mind-blowing lineup of artists at Shadowshop, the materialized brainchild of artist Stephanie Syjuco (in conjunction with the SFMOMA exhibition "The More Things Change" and supported by the Live Art program), an installation doubling as a retail establishment. Special added bonus-- the prices are absurdly affordable. Shop now and shop often. You've got until May 1 to augment your collections.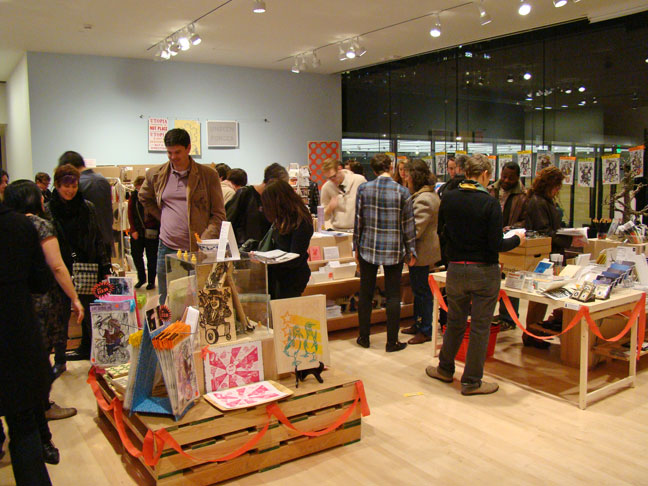 Stephanie Syjuco - retail installation art by Stephanie Syjuco.


Artists Stephanie Syjuco & Imin Yeh.


We like it!


Signage art by Anthony Discenza - $80 (if I recall correctly).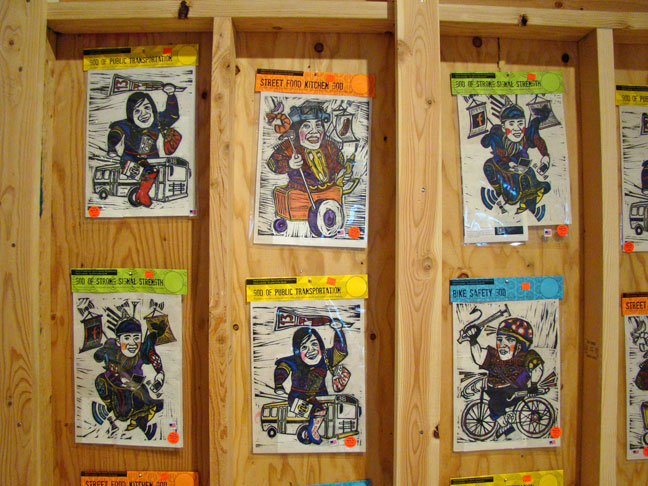 Signed original prints by Imin Yeh - $12.99.


Artful options.


Art Rocks.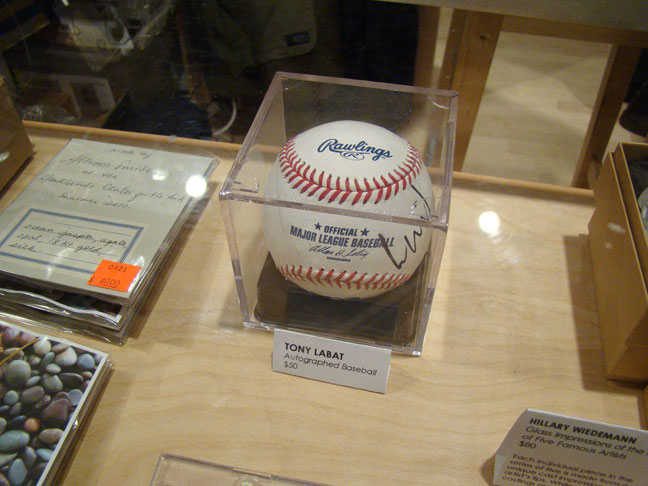 Tony Labat signed ball (I guess 'cuz he's got "bat" in his name).


Creative miscellany.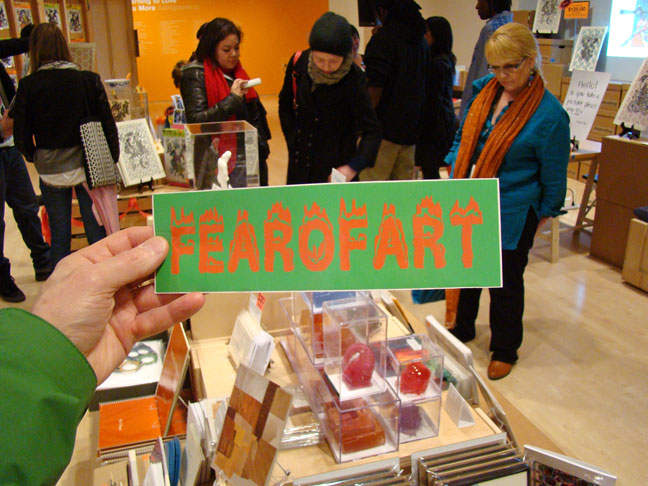 FEARO FART? I don't get it.


Assorted artibles.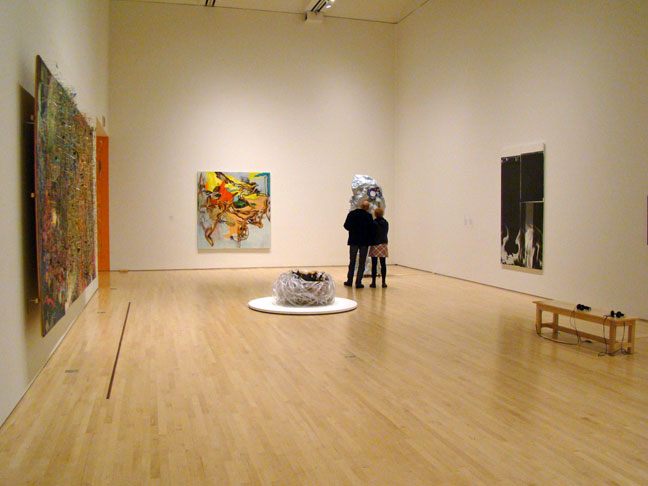 Meanwhile, back at the museum...


***
Adobe Books Backroom Gallery: stacked/multiplied.
Artists: Elisheva Biernoff, Julie Cloutier, Randy Colosky, Sonya Derman, Patricia Diart, Lydia Greer, Packard Jennings, David Kasprzak, Scott Kildall, Kyle Knobel, Greer McGettrick, Winston Morris, Alexis Petty, James Sterling Pitt, Jesse Schlesinger, Victoria Scott, Gareth Spor, Carolee Gilligan Wheeler, Keith Wilson, Daniel Yovino. Curated by Devon Bella and Katie Hood Morgan.
Review by RWM: Amazing to see books converted into art. I notice some nice homage to science fiction. The superordinary has become ordinary.
Comment by AB: Artists essay on the essence of the bookstore and in so doing, concoct some rather novel works of art.
Books into art at Adobe Books Backroom Gallery.


Book-related art.


Books into art.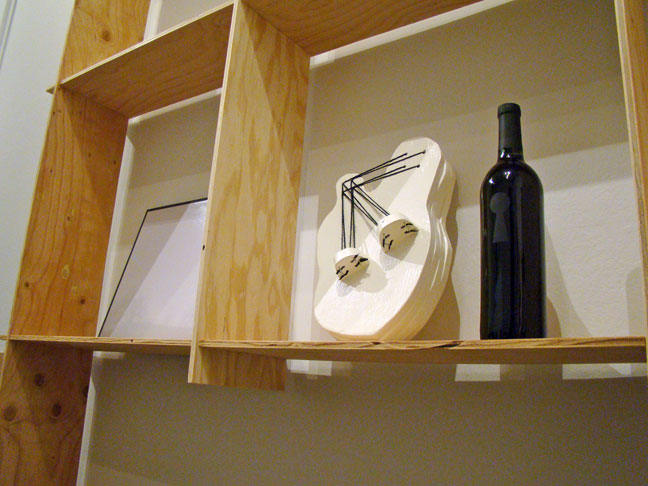 Art sourced from books.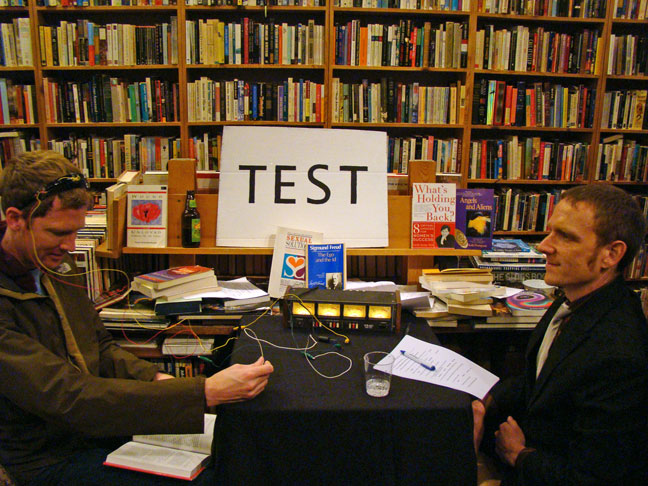 Scott Kildall (right) administers to Packard Jennings (left).


***