LOST IN THE MISSION, MOSTLY
SAN FRANCISCO GALLERY OPENINGS
02.25.05
General comment: I thought about calling tonight's art romp "Fear and Loathing in The Mission," out of deference to our dear departed Hunter S. Thompson, but seeing as I maintain pretty much of a sobrietous lifestyle (although I do take an occasional aspirin), and don't own any firearms, something about the concept just didn't quite mesh. Now don't get me wrong-- I neither advocate abstinance nor do I tsk-tsk those who own firearms, but I will say this: Facing life sober and weaponless is, at least in my opinion, a relative act of bravery.
***
TART Contemporary: The Insider; Eve Sussman, Anne-Marie Copestake.
Comment: According to the gallery's website, TART is "committed to showcasing cutting edge work which has had little or no exposure in San Francisco and the Bay Area." This plays to a pretty small collector base, so plaudits for risk-taking, and we'll see how things go. I arrived at the low-lit medium sized loft space, near SBC Park, to find perhaps ten people, detached either singly or into groups of two or three, standing motionless and in complete silence. Turns out they were watching a couple of videos projected onto the gallery walls. I snuck a few quick pics and skedaddled.
With flash.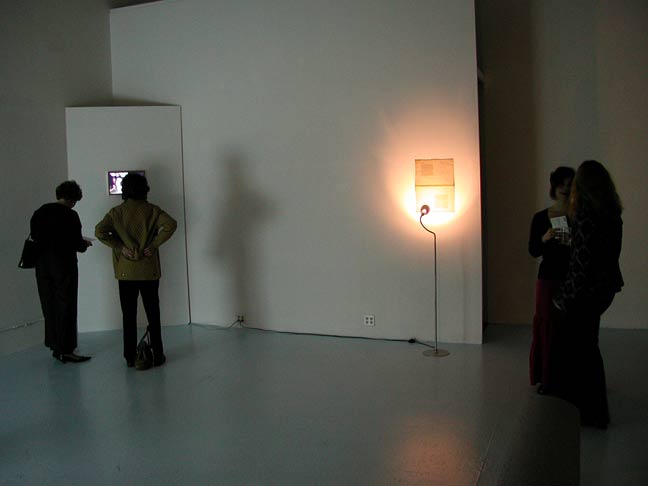 Without flash.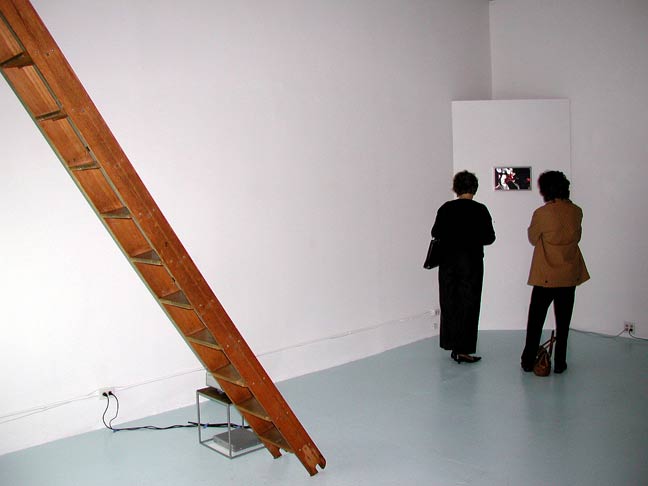 With flash.


Co-owner.


***
Pirate Tattoo: Feline-Themed Art Show.
Comment: Unquestionably feline, crowd as well as art. The best part was discovering Sofia Mini, named after Sofia Coppola, a sparking wine in cans with straws attached to the sides, like those kiddie juice drinks (possibly designed to ease the transition from non-alcoholic to alcoholic beverages). I was so entranced with this intoxicatory innovation that I read every word on the feline burgundy pink container to find that the elixer is canned in Indiana!! But wait-- there's more. On the Sofia Mini website I learn that the libation is also one of "Oprah's Favorite Things 2005." My thirst for knowledge then takes to Oprah's website where I see that the concoction was featured in the February 2005 issue of O Magazine. See how art educates us?
Art.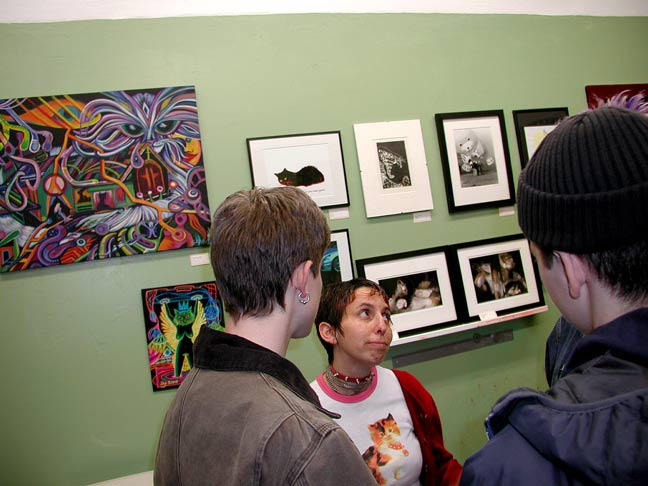 Art.


Art.


Out.


***
Ratio 3 Gallery: Mitzi Pederson; Unlet Me Go.
Comment: According to the liner notes, Mitzi Pederson presents "a combination of two- and three-dimensional works that display reconstructed actions and transformed 'accidents' initiated through chance. The pieces in the exhibition are partly determined by the accumulation of these events or the application of material to highlight particular moments." For those of you who aren't quite sure what that means (I hope I'm not the only one), she either sledges cinderblocks or has them sledged for her, collects the pieces, paints the break-lines with silver glitter, and then stacks them in a size progression, left to right, little to big. Hanging from the ceiling are intertwined circular rings, probably paper and foil, silver on one side, white on the other. Tacked to an adjacent wall is a sheet of paper with hundreds of meandering contiguous light blue lines, barely visible from a distance, not much easier to see up close.
Little side.


Big side.


Line and ring side.


***
The Drugstore, Vintage Decor & More, 3149 Mission St., San Francisco, 94110, 415.282.0544: David Benzler; Recent Work.
Comment: A rangy assortment by David Benzler, artist and partner in Woodward Flats printmaking studio at The Record Collector (14th near Guerrero), including paintings, drawings, photos, and more. Some sifting required, but it's worth the sift. Plus, if you like your vintage kicky, a visit The Drugstore's collectibles department should be on your things-to-do list.
Art.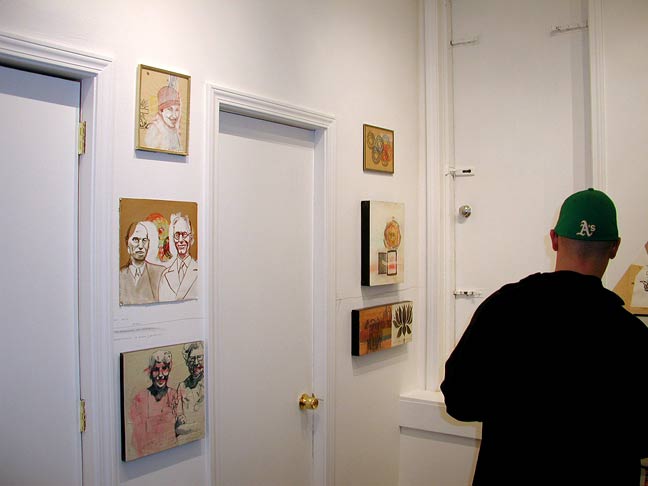 Art.


Art.


Art.


Art.


David Benzler.


Vintage collectibles department.


***
Mission 17 Gallery: Michael Wolf; Architecture of Density.
Comment: A gilt-framed flat-screen video of Chelsea Clinton plays on one wall. Along the window wall opposite, three vintage wood-encased floor model console televisions show verdict readings from "Law and Order." The walls to either side display oversized digital prints of newspaper articles featuring young hunters alongside their first kills (usually deer or bucks). The crib sheet is a mite cumbersome, but I persevered, and for the kind of art I tend not to like, I kind of tend to like it.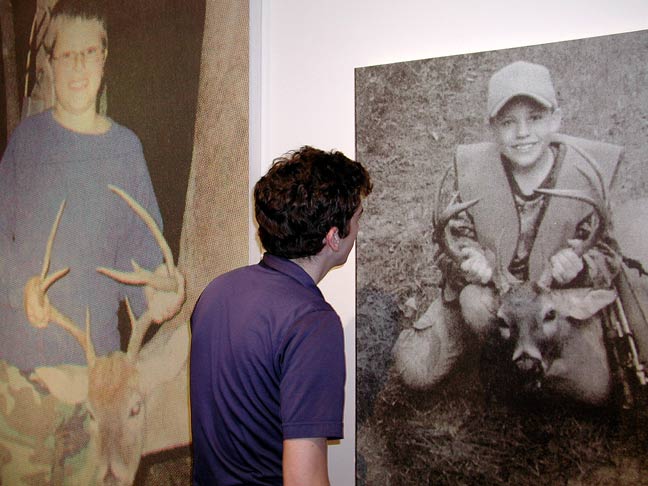 Art.


Chelsea TV.


Art.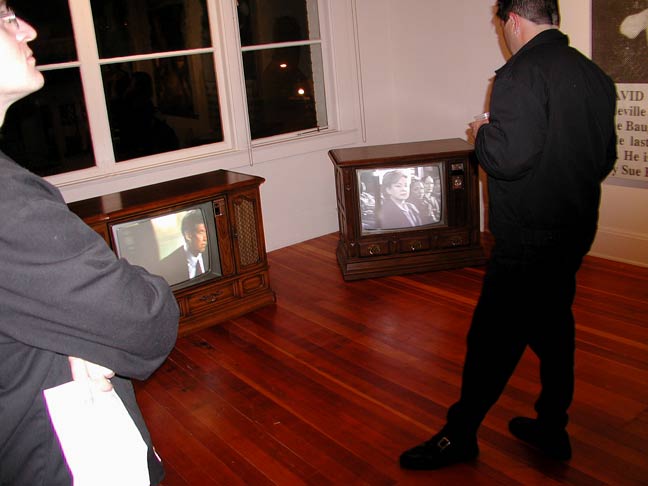 "Law and Order" verdict TV.


Art.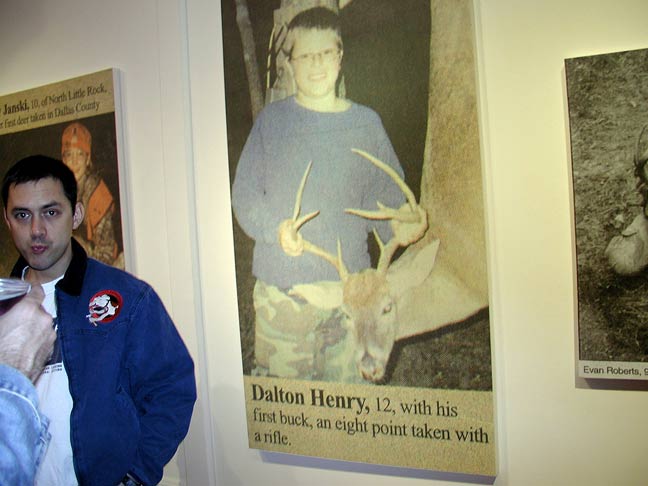 Art.


***
66 Balmy Gallery: STREET SKINS & Other Tactile Encounters; New Works by Daisy Eneix.
Comment: Rubbings made from metal covers, the kind that provide access to gas and water lines, commonly found embedded along city sidewalks and streets. A couple of Shroud of Tourin look-alikes are thrown in.
Art - Daisy Eneix (background left).


Art.


Art - artist.


Shroud art.


***
Adobe Books & the backroom gallery: Jets Warm the Come Here; Installation, Sculpture, and Drawings by Ian McDonald.
Adobe was so warm and fuzzy tonight, all I wanted to do was curl up by the fire with my precious little kitty, Snooklywinks, and read emails from artists around the world asking me for free advice. The musical duo serenading the event was tight and mellow (sorry, didn't get their names), and the artsters in attendance were polite, orderly, and well-mannered. Oh-- I almost forgot-- the art. Pick of the night overall, particularly the ceramic works, particularly the "FREE" floor mat, the ceramic "vents," and a line of small wall-mounted tiles, all in the back room. The rest of the art is good too, mainly works on paper and mixed media sculptures, but there seems to be a ceramic future here. Prices are reasonable: $125-$950. Buy now and beat the rush.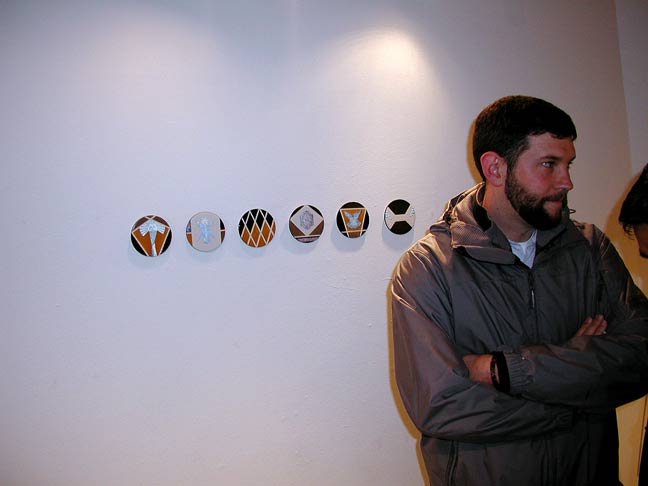 Wall tiles - pick.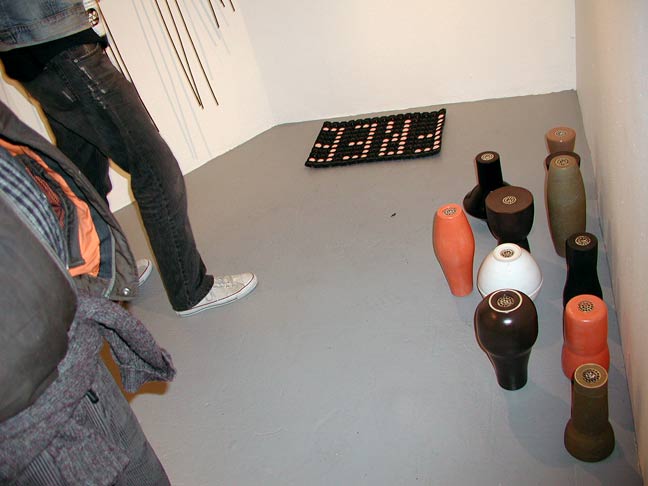 "FREE" floor mat and "vents" - double pick.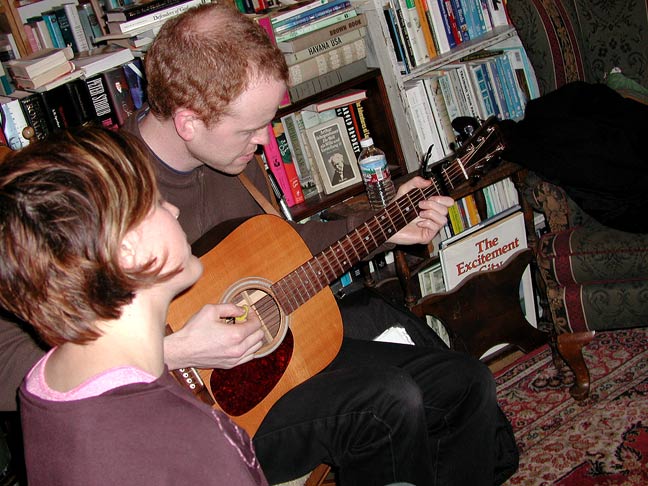 Mood.


Art.


Art.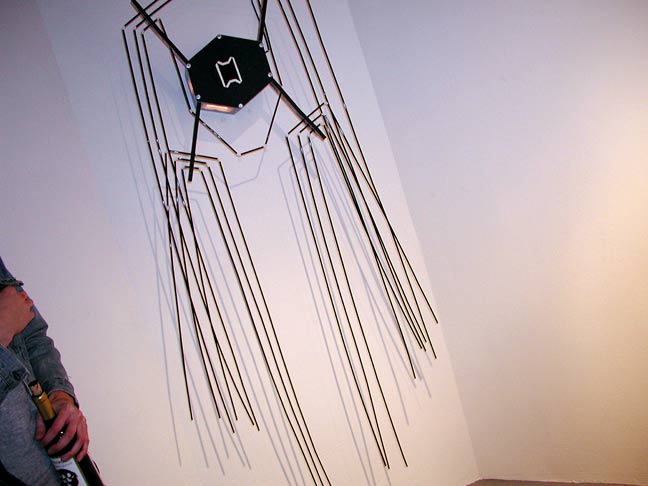 Art.


Ambience.


***
National Product: The Elephant Man vs The Vampire Woman; Collages by John Sheridan.
Comment: Another inexpensive installment from that vortex of affordable visuals, National Product. Artist John Sheridan makes art from stickers and decals that he buys almost exclusively on eBay. He's fascinated at how much these pop culture icons, trademarks, and logos teach him (and can also teach us) about our fellow Americans, particularly those regular folks with regular jobs and regular lives who form the fiber that holds this nation together. He collages these images over his original paintings, so it's like getting a two-fer, a painting plus a collage for one low price. And I mean low. The most expensive collage in the show is $350, with most priced either $44 or $88.
Art.


Art.


Art - John Sheridan.


Art.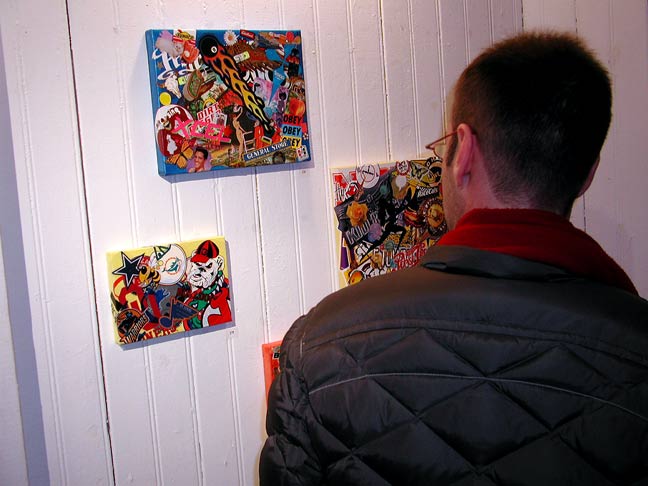 Art.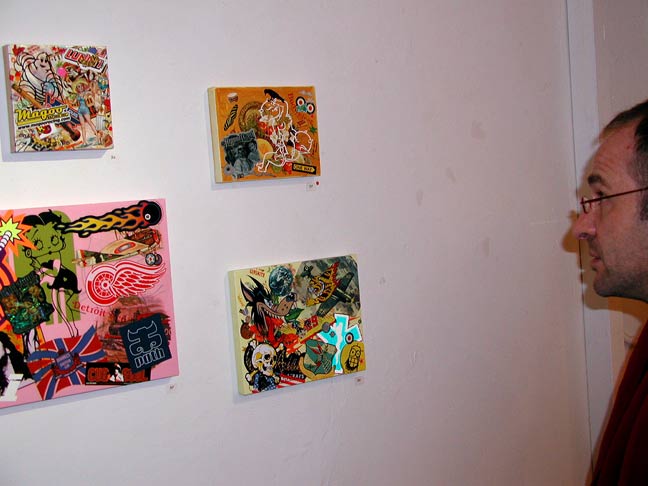 Art.


Art.