SAN FRANCISCO ART GALLERIES - OPENINGS
HESPE - BUCHEON - GALLERY 16
SAN FRANCISCO ARTS COMMISSION - THE LAB - GIANT ROBOT
QUEEN'S NAILS ANNEX - SPACE 743 - SOAP GALLERY
GALERIA DE LA RAZA - GRIFFIN DAVIS - GLAS KAT
CACHI ART STUDIO - BLANK SPACE - SOUTHERN EXPOSURE
02.23-25.06
Hespe Gallery at Bank of America Headquarters, 555 California Street, Plaza Gallery, San Francisco, CA 94104: Voyages - Paintings by Eric Zener.
Comment: Meditative freeze frame suspended action paintings for the most part, mainly in and around water-- striking, large, well executed. I start out OK with art like this, enjoying and/or introspecting on the captured moments, but after a while I'm gettin' a little antsy, thinkin' shit like, "Finish the damn dive already, will you?" or "I hope the pool's got water in it" or "Come up for air; you're gonna drown if you stay under much longer." That free float freedom irrevocably yields to uneasy anxietous tension, like say you're listening to a symphony and it's finale time, but the ferkin' orchestra refuses to play the last note. Am I right?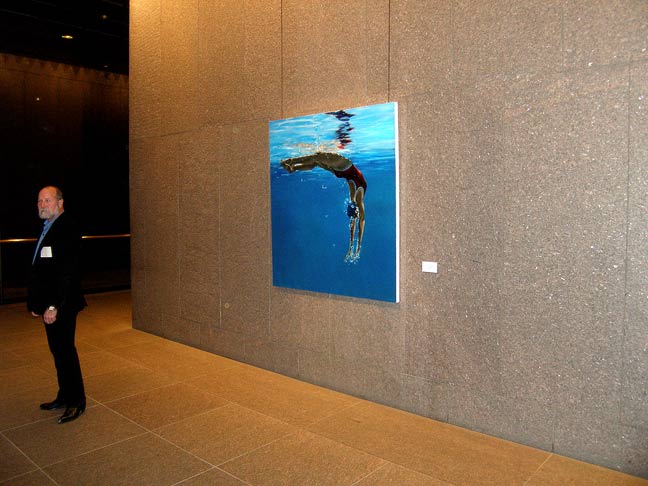 Art.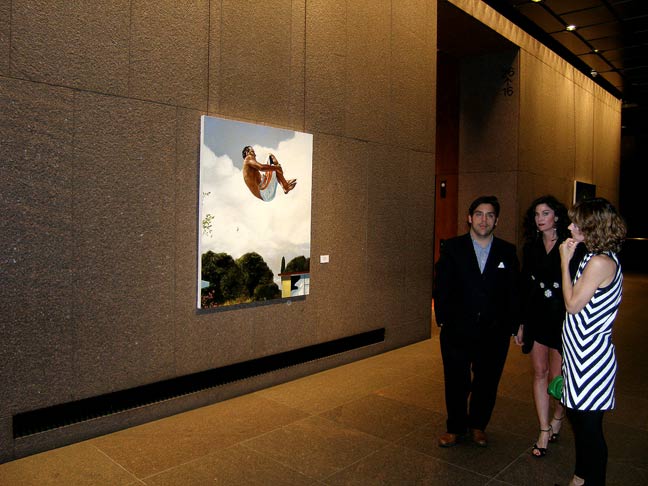 Art.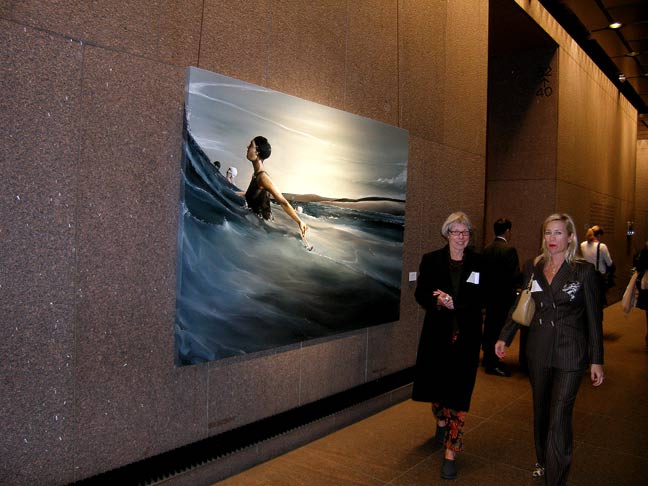 Art.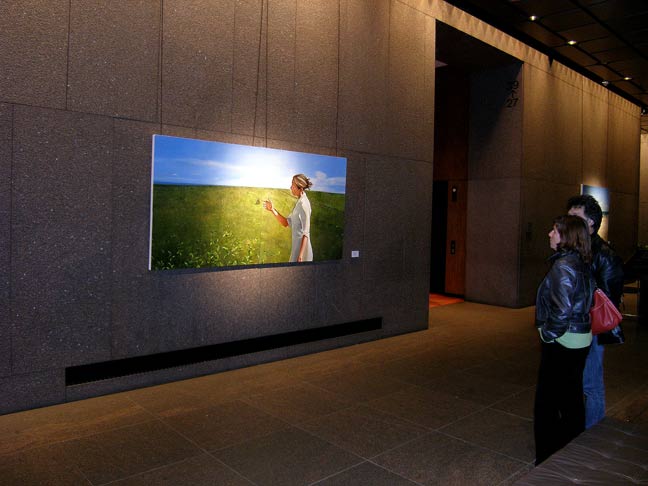 Wyeth lite.


Art.


***
San Francisco Arts Commission Gallery: Conversation 2: Marcel Dzama & Alice Shaw.
Comment: Marcel Dzama creates stark small simple naive-esque narrative illustration/cartoon blend painted drawings, some captioned, others not, some unexpected, others incongruous, dryside satire. Alice Shaw's got a slide show in the back room, presented from kind of a vacant undistinguished slice-of-life perspective, images mainly of objects you rarely pause to look at, things that get in the way or that you have to walk around, and uninspiring landscapes. I dunno. It's like the artists go, "Here's what I think; I made some art to prove it. I'm done; you do the rest."
Art (Marcel Dzama).


Art (Marcel Dzama).


Art (Marcel Dzama).


Photography (Alice Shaw).


Photography (Alice Shaw).


***
Aspect Gallery: Organic Form - Inkwork, Paintings, and Sculptures.
Artists: Cara Barnard, Duane, Neel Eargood.
Comment: Clean delicate super-detailed abstracted organic fantasy form ink drawings substantially composed of dots (similar to stipple engravings) by Cara Barnard make the show worth it.
Art (Cara Barnard).


Art (Neel Eargood, sculpture - Cara Barnard, drawings).


Ray Lobato, gallery owner.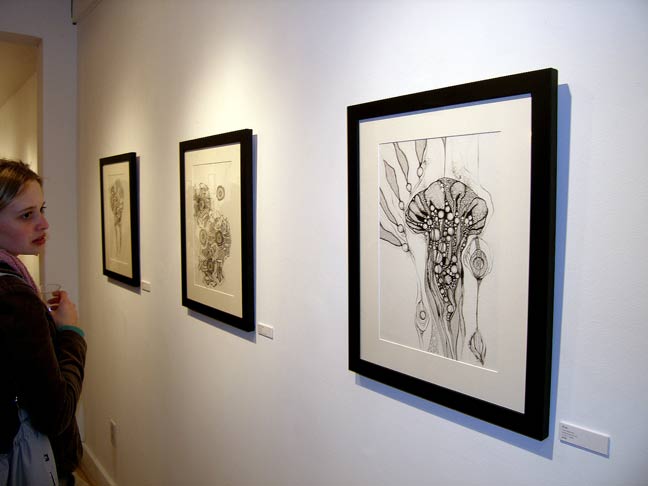 Art (Cara Barnard).


Art.


Art (Cara Barnard).


***
Blank Space Gallery, 731 Florida Street, San Francisco, CA 94110; 415.285.2707: The Flatmate Project, A One-Night Art Opening - Print Photography by Christopher Lucas.
Comment: Christopher Lucas puts an ad on Craigslist to rent out a vacant room in his flat. The concept and presentation are so good, I can't tell it any better than Lucas himself...
"Another room to fill in the flat. I've only been through it a zillion times before. As usual, I place the ad on Craigslist. Nothing new here; trying to find the perfect stranger to live with is always a crapshoot. But this time I'll make it interesting.
This is a chance to document the people who answer my ad, a cross-section of characters I inadvertently meet. The lower-haight flat I'm showing has been my home for eight years now, and I'd never forgive myself if I left without capturing this. I'll do it in three days straight. I'll greet them at the door, show them the bedroom. "Is there wireless here?" Continue down the hall to the living room. I try to make them feel as comfortable as possible: "A drink of water?" I ask. We sit. After fifteen minutes of conversation, I pitch the project. Most people are wary of this awkwardly proposed idea. Complete strangers. Conversation continues... I persuade all but the last to participate, twenty-four total. The lighting and composition of these portraits will be directly influenced by my perception of these strangers. Many people call to reschedule over the next three days. I make clear, precise notes to help me navigate through this mess. Wait, I hear the doorbell ring..."
Works for me. Pitch convinces; obstacles overcome; portraits compel. If only every show tied as tight as this. By the way, this dude's looking for a photography job with an ad agency or doing commercial work. He's a find. Somebody hire him. In the meantime, maybe we'll get lucky and he'll do another show.
Photograph.


Photography.


Christopher Lucas - photo.


Photos.


Images.


Photographs.


***
Galeria de la Raza: Mind Maps - Visiting the Unexpected Map of the Mind.
Artists: Pilar Aguero, Hector Dio Mendoza, Christina Dugan-Cuadra, Ana Fernandez, Mitsy Avila Ovalles, Anthony Pedia, Diana Sanchez, and Garth Viera.
Comment: Art by up-and-coming Bay Area Latino artists. I agree. There's an interior-lit sculptural architectural installation with proximitous mice in the back room you might wanna check out, and a curiously engaging semi-teasey Ninja combat slink video up front, and a festive floating doily installation, and... Actually, the whole show's good. Go see.
Art (like it).


Art.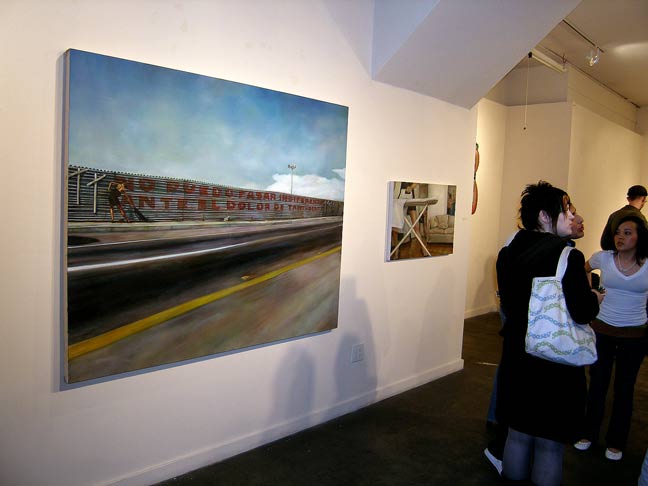 Art (like it).


Slinky Ninja video art (like it).


Translucent mouse house art (like it).


Art.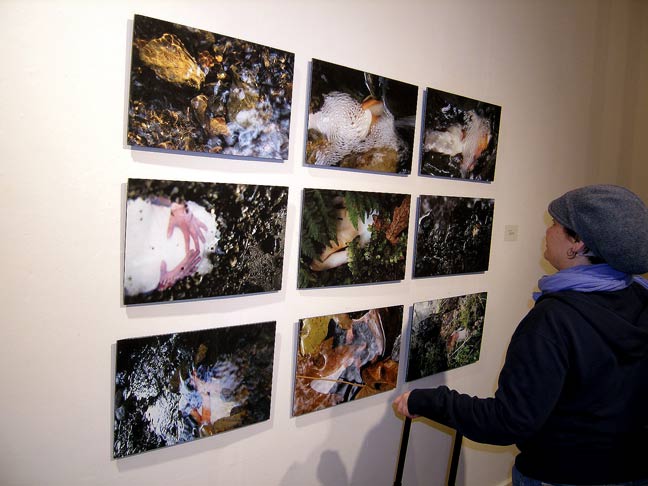 Art.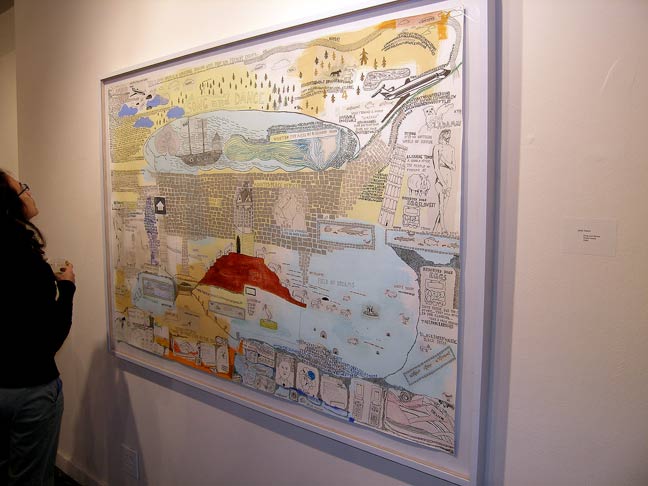 Art.


Art.


***
Arts Fundraiser At Space 743: Partially Told Stories.
Artists: Terry Cunniff, Jonn Herschend, Danielle Lawrence, Brian McDonald, Jennie Ottinger, Weston Teruya.
Comment: Six San Francisco artists "whose work is based on the narrative." What narrative? The synopsis is so convoluted, I can barely match the artists with their art. How convoluted? There's one artist I kinda like and who I try identify by reading the blurbs. I take my best shot, and guess wrong! Thankfully I've got a price list-- the artist is Weston Teruya's and the art is his paint collage combinations. Look close-- they're reasonably respectable on concern and detail.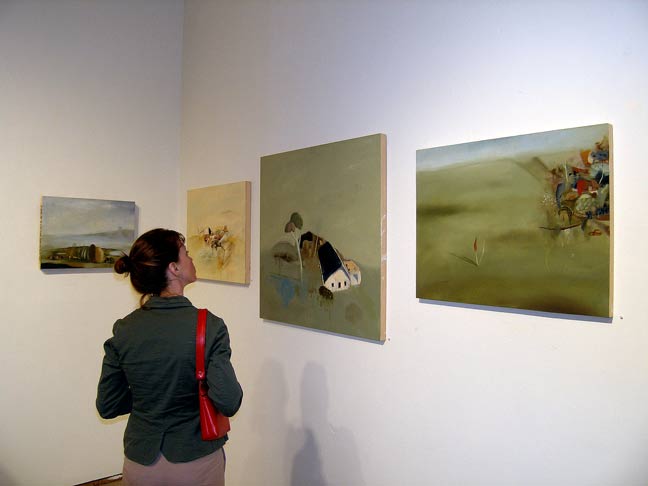 Art.


Art (sorta interesting).


Art.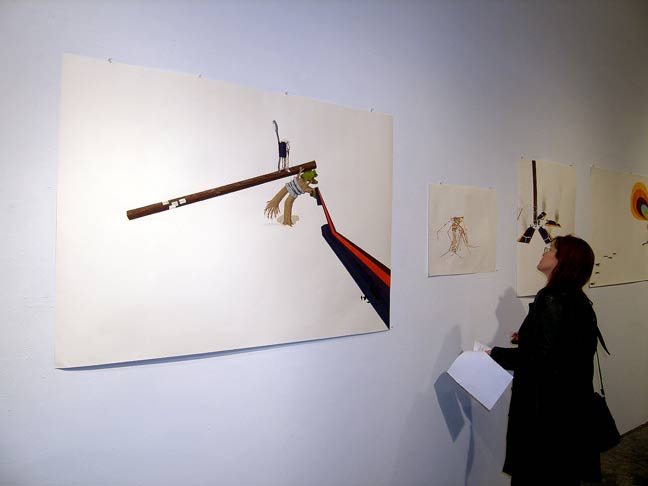 Art (Weston Teruya, kinda like it).


Not sure.


Art.


Art.


***
Soap Gallery: The Portrait Show- A Curious Interpretation.
Artists: Paula Pereira,, Bert Bergen, Lisa Mendelson, Karla Milosevich, Eve Mendelson, Karyn Yandow, Robert Cattan, Barbara Garber.
Comment: Six local artists. Five adhere to the show's theme and exhibit portraits. No idea what the "text photographs" by Paula Pereira are doing here. Word portraits?
Art.


Art.


Art.


Art.


Art.


Portrait poseur art.


***
Bucheon Gallery: New Paintings by Ken Kirsch.
Comment: Well, the crib sheet mangles Ken Kirsch's art in a pique of transcendent vernacular homicide like, for instance, "the painting is the visual record of his effort to create visual buoyancy out of material that will not go away. The decorative motifs used are at odds with this ever present physicality." Pfoing! Screw that. I'll just ask Ken Kirsch. So he tells me he uses all new materials to create his bubbly bouncy images, but makes 'em look aged, found, used, weathered, and rough on purpose. He's enamored with flaws, weakness, and imperfection, and incorporates them into his work, which appears to render the notable absence of finesse deliberate. At least now I got a grip. Thanks Ken.
Art.


Ken Kirsch - art.


Art.


Art.


Art.


***
The LAB: National Psyche - Feminine Vision, Thought, and Action During Wartime.
Artists: Jane Benson, Maria Bustnes, Carole Caroompas, Caroline Cox, Alyse Emdur, Oriana Fox, Linda Ganjian, Jean Lowe, Jyung Mee Park, Sabrina Raaf, Paige Sarlin, Nicole Tschampel, Saya Woolfalk.
Comment: Curator Elliot Lessing assembles talent from across the country plus London and Norway to create art embodying freedom, spirit, and independence, all steadfastly alive and well, though overshadowed by international imbalance, strife, and terror. For favorites, I've gotta go with Jean Lowe's painted paper mache book array-- campy lampoon commentaries on life's relentless tribulations, from alarming to vapid to absurd. And also Caroline Cox's (I think) elaborate light airy see-through suspended plastic meshed convex concave mirror lens mobilic fantasy-- that's a yes.
And the award for the most confoundingly bewildering catalog I've ever failed to hack is the one for this show. Each work of art is identified by title, name of artist, and paired with a geometric symbol. Then on the last page, the various symbols are superimposed on a measured drawing of the LAB's gallery space. But the actual works of art are not labelled-- no symbols, no numbers, no titles, no artists. So I'm twisting and turning the catalog around, trying hopelessly to orient myself and figure out what's what (guess I'm not good with higher math). I even try to use the measurements on the drawing to identify art by the distance a given symbol is to the nearest wall (assuming I have the right wall). Confused? Me too. Oh well. Regardless, it's a good show. Go see.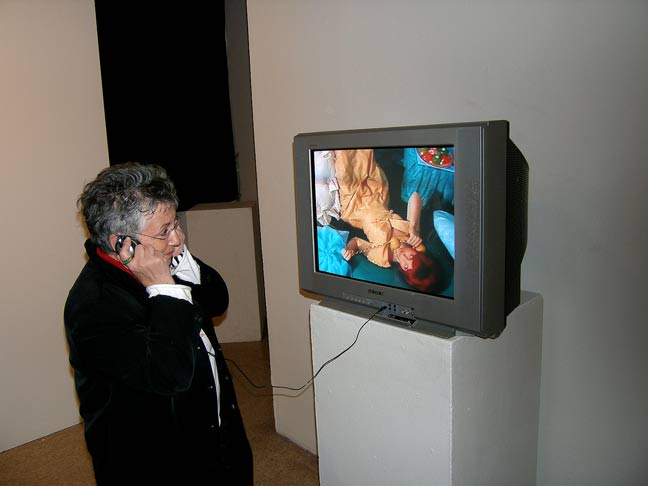 Art.


Art.


Convex concave mirror lens netted suspended art (pick).


Art.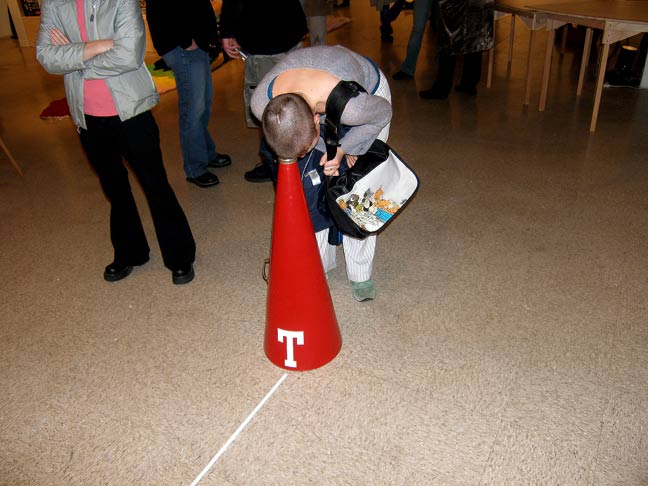 Art (there's a cheerleader video down there).


Two people don the contraption and combat on the video.


Art (like it).


Art.


Art.


Art.


***
Gallery 16: Natural History - Elliot Anderson.
Comment: Elliot Anderson grabs one of them antique film cameras, trundles on over to New York's American Museum of Natural History, holds it up against the glass that protects the various dioramas, and shoots away sans flash (the guards don't seem to care, he tells me). The results are a series of precarious landscape images, adjusted and artisticized by Anderson, then digitally reproduced in large format. On first inspection, you're not sure whether the mildly preternatural views are real or fabricated as you stand there waxing and waning, trying to cypher it out (I guessed right). Anderson says the idea is to take other people's art, in this case, that of the dioramists, and rework, rejuvenate, and repackage it. Mission accomplished.
Art.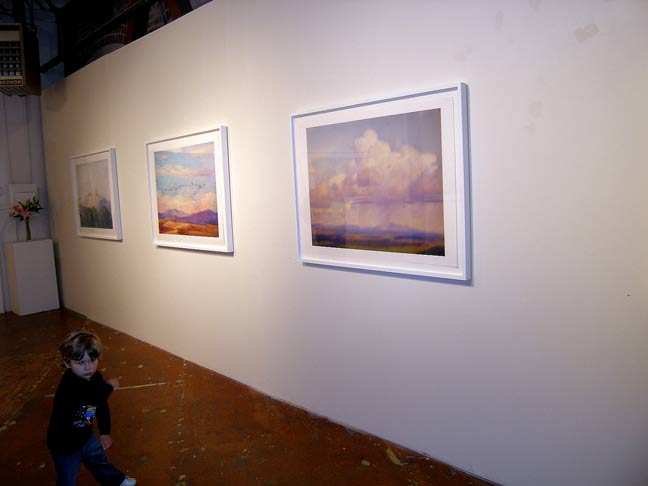 Art.


Elliot Anderson - art.


Art.


Art.


Art.


***
Queen's Nails Annex: Jim Jocoy - Photographs.
Comment: This is the hip hep hop hoop heep happenin' of the nanosec. The sycophants are exceptionally zippy, rising to Jim Jocoy's electric unrelenting barrage of LA/SF Punk Rock Polaroid portraitabilia, circa 1978-1980, top to bottom, fawner to famous. See these pix and more in the book, We're Desperate, The Punk Rock Photography of Jim Jocoy (Powerhouse Books, New York, 2002, 280 pages, 263 illustrations). His most recent crop of images is on display in the back room-- same progressive perspective, new faces. Jocoy captures character. Don't miss.
Vintage.


Vintage.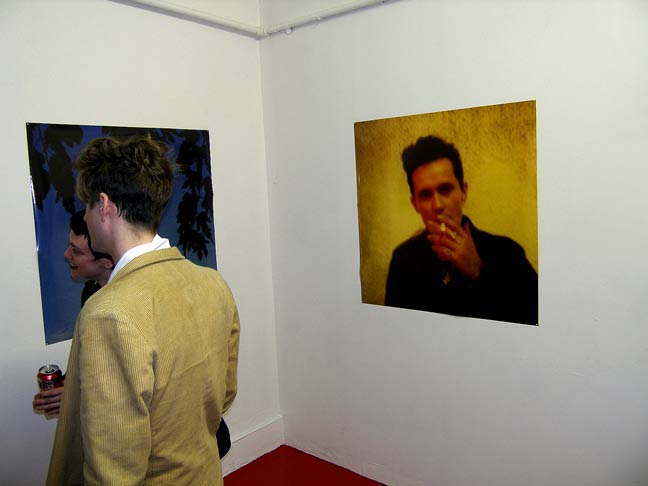 Contemporary.


Contemporary.


Vintage.


Vintage.


Contemporary.


Vintage.


Vintage.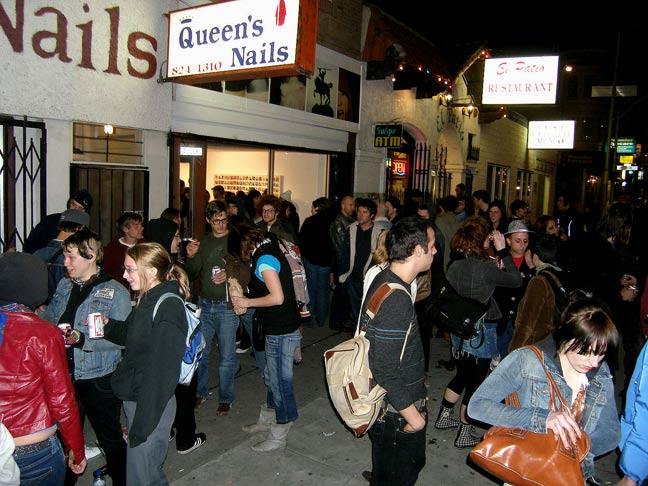 Door delta partial.


***
Southern Exposure: 6th Annual Monster Drawing Rally.
Artists: Lisa Allen, Lorene Anderson, Michael Arcega, Chase Bowman, Jon Brumit, Michael Campbell, Michelle Carlson, Sydney Cohen, Veronica De Jesus, Lucas Degiulio, Gabriel Delgado, Elizabeth DiGiovanni, Tina Dillman, John Dwyer, Ala Ebtekar, Nome Edonna, Jeremy Ehling, Amanda Eicher, Cathy Ellis, Tia Factor, Christiana Ferroggiaro, Matthew Flegle, Rhea Fontaine, Dustin Fosnot, Amy Franceschini, Erik Friedman, Cecilia Galiena, Lori Gordon, Chloë Greene, Debra Greene, Michael Hall, David Hamill, Catherine Harris, Jonn Herschend, Amy Hicks, John Hooker, Winnie Hung, Suzanne Husky, Packard Jennings, Monica Johnson, Kika Jonsson, Robert Larkin, Denise Laws, Carrie Leeb, Jenny Lovold, Tongsue Ly, Amber MacLean, Scott MacLeod, Hector Magaña, Kara Maria, Sheila Masson, Corrine Matesich, Mike McConnell, Ian McDonald, Dennis McNulty, Rebecca Miller, Mark Lee Morris, Moira Murdock, Ha den Nicholl, Cynthia Ona Innis, Jennie Ottinger, Kottie Paloma, Zane Peach, Mark Pearsall, Mitzi Pederson, Patrick Piazza, Ferris Plock, Emily Prince, Alejandra Rasvetaieff, Lisa Ricci, Ricardo Richey, Thorina Rose, Pico Sanchez, Jovi Schnell, Amanda Schoppel, Andrew Schoultz, Emily Sevier, Emanuela Sintamarian, Casey Smith, Jennie Smith, Chris Sollars, Nellie King Solomon, Heather Sparks, Gerone Spruill, Jennifer Starkweather, Rebecca Szeto, Charlene Tan, Weston Teruya, Kelly Tunstall, Adrian Van Allen, Jamie Vasta, Paul Wackers, Jerad Walker, Leigh Wells, Kyle Williams, Megan Wilson, Jenifer Wofford, Christine Wong Yap, Paul Zografakis, more.
Comment: Artist action vs collector congestion as over 100 artists create and donate art right before your eyes, immediately after which, collectors vie to pay fifty bucks a piece per donation, all proceeds to support Southern Exposure. The event is approaching epic in stature.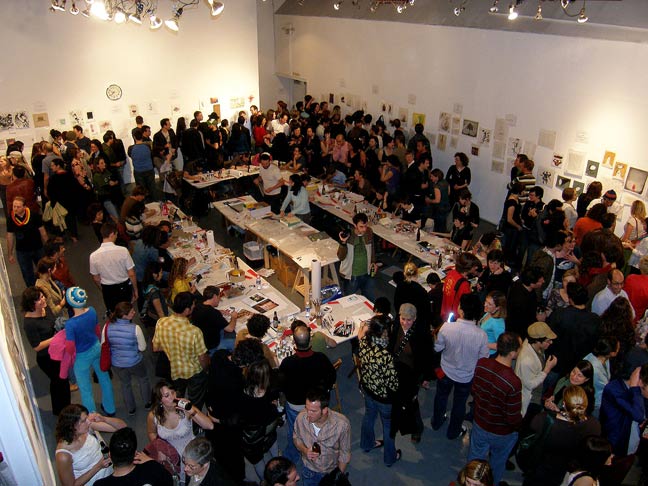 Altitudinary.


Planar.


Making art.


Making art.


Perusing art.


Choosing art.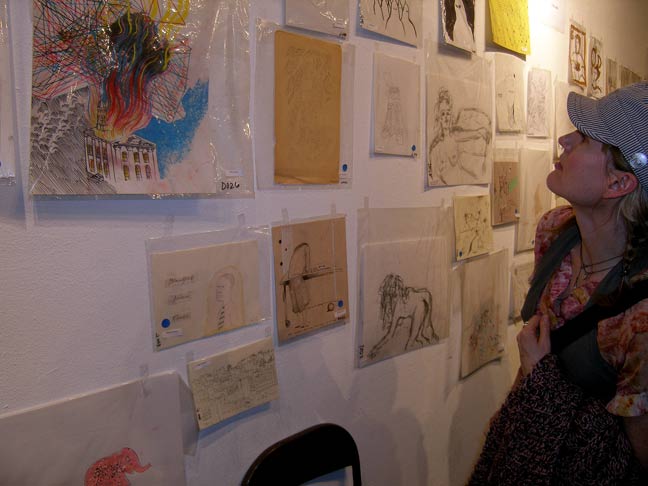 Considering art.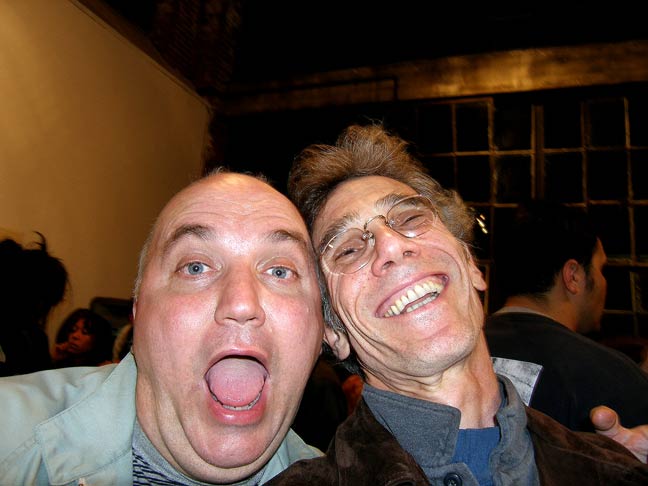 Not sure.


***
Griffin Davis at 69 Belcher Gallery: Everyday People.
Artists: Susan Bostrom-Wong, Rene Capone, Marta Fuentealba, Scott Mickelson, Tim Myers, Hadley Northrop, Fernando Reyes, Debi Tonge.
Comment: Everyday people. Everyday art.
Art.


Art.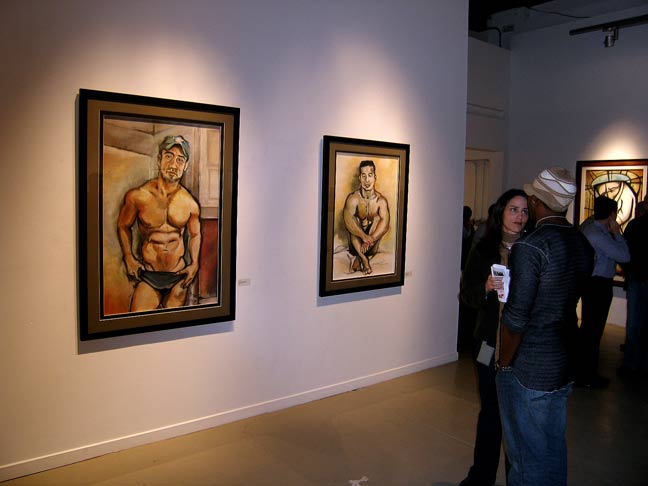 Art.


Art.


Art.


Art.


***
Cachi Art Studio, 312 Valencia Street, San Francisco, CA 94103; 415.863.8312: There's a Thing Which I Can't Remember, But I Feel Exactly Like That Now - An Exhibition by the Randomroutines.
Artists: Tamas Kaszas, Krisztian Kristof, Ninni Wager.
Comment: Budapest, Hungary art group installates the gallery as part of a local residency program. A little hazy on the construct, but it's a curious noteworthy medley nonetheless. The newspaper globe with squished protruding legs, and the paper faces on sticks jutting from a wall warrant perusal.
Here we are.


Krisztian Kristof, Ninni Wager - art.


Distorted countenances on sticks art (like it).


One more big paper ball art.


***
Giant Robot San Francisco: The Jingi - Japanese Yakuza Spirit Figure Exhibition by Yukinori Dehara.
Comment: Yukinori Dehara creates painted clay sculptures and packages 'em up to look like toys. They fool you pretty good unless you look close. Here he shows 100 lively entertaining colorful caricaturistic variations on "The Jingi" or Japanese gangster (I think), plus an extensive photo essay on the matter. Sculpture collectors take note; photo collectors take note. Prices reasonable-- good selection under $200. Talented hard working artist; healthy upside.
Art.


Art.


Art.


Yukinori Dehara - art.


Art .


Art.


***
Addendum:


Danyol and art at the Glas Kat Supper Club.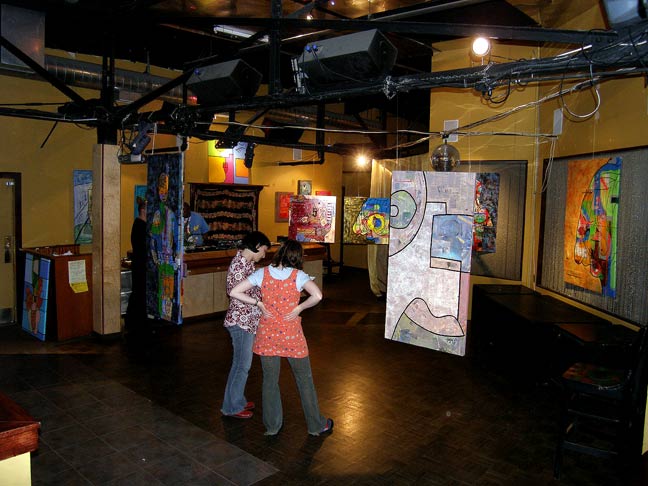 One more Danyol at Glas Kat.


David Bobb, owner of American Trails in Ashland, Oregon in town for
the Indian Art Show at Marin Civic Center.