VELVET DA VINCI - CAIN SCHULTE

YERBA BUENA CENTER FOR THE ARTS

PUBLIC WORKS - SOUTHERN EXPOSURE - COWBOYS & ANGELS

MANIAC - GOFORALOOP

02.25.11

(with assistance from Kathryn Arnold, Clare Coppel and RWM)



How to network at your art shows and openings. Click here.
***
Velvet da Vinci Gallery: An installation David Gates, including work by Helen Carnac, Robert Ebendorf, David Clarke, Thomas Hill, and Katy Hackney.
Comment by AB: London furniture maker David Gates tells me his abstract sculpture/assemblage/installations interpret the process around his furniture making. He blends in works by other artists to enhance the conceptuality of it all.
Art & installation by David Gates.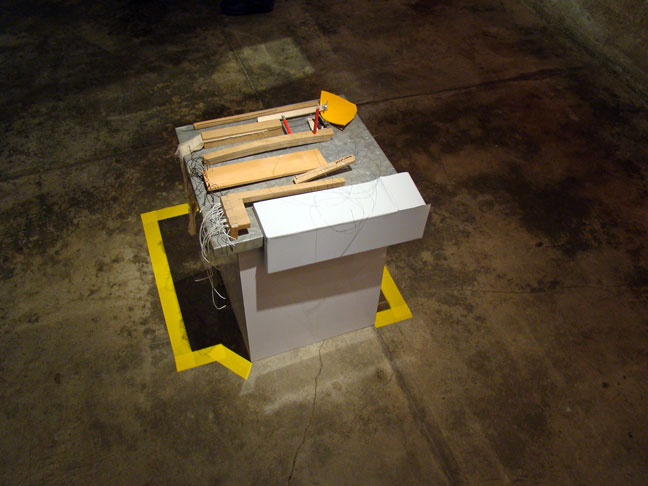 Art by David Gates.


Helen Carnac and David Gates + art & installation.


Art & installation by David Gates at Velvet da Vinci.


David Gates art & installation.


***
Cain Schulte Gallery: Eva and Franco Mattes, aka 0100101110101101.ORG - Colorless, Odorless and Tasteless.
Review by Kathryn Arnold: Great opening event and an important exhibition with artists Eva and Franco Mattes (Brooklyn-based). One work created by the artists over in an Oakland warehouse, 'Colorless, Odorless, Tasteless,' is an interactive piece created, a vintage Atari arcade game, interfaced with in internal combustion engine which emits carbon monoxide as the game is played. The work alludes to aspects of actions overriding awareness of inherent risks. The piece work operates on multiple levels-- the engaging interactive to the idea of possible death.
Additional video works, both on monitors and projected, are installed in this exhibition as well. "My Generation" sprawls on the floor-- a mass of computer peripherals alongside a monitor projecting images of 'gamers' with blue-ish episodes of fits and rages. In another, a Second Life appropriation of Marina Abramovic's and Ulay's "Imponderabilia" (recently reenacted at the MOMA last year), we see impersonal (in a way) avatars replacing the actual human figures which were a part of the original. Here art reality becomes entwined with the virtual world. And within this exhibition, it has been done it quite successfully.
Review by Clare Coppel: Powerful work where the viewer can become part of the action. "No Fun," a video of Franco Mattes going on a chat room site for hours and pretending to hang himself has to be one of the saddest pieces I have seen; watching people's reactions is truly disturbing.
Installation art by Eva and Franco Mattes.


Atari with internal combustion by Eva and Franco Mattes.


Atari video game warning - art by Eva and Franco Mattes.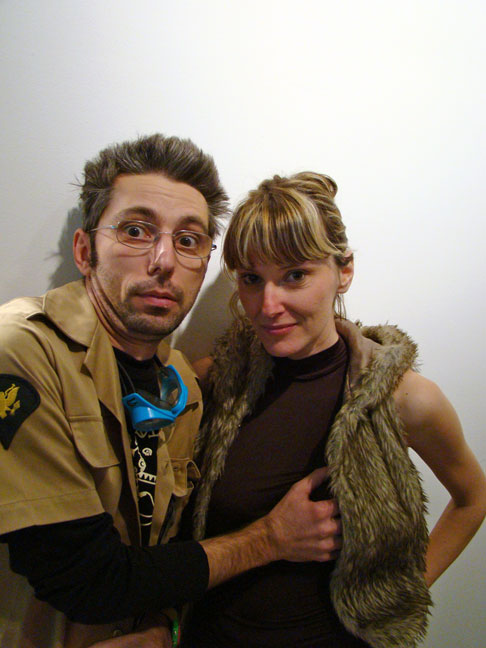 Artists Franco and Eva Mattes.


"No Fun" video - Franco & Eva Mattes (photo c/o Clare Coppel).


Installation art by Eva and Franco Mattes.


Video by Eva & Franco Mattes (photo c/o Kathryn Arnold).


Video art by Eva and Franco Mattes.


***
Yerba Buena Center for the Arts: Song Dong - Dad and Mom, Don't Worry About Us, We Are All Well; Daily Lives.
Daily Lives artists: Sita Kuratomi Bhaumik, Cynthia Tom, Jennifer Ewing, Liu Xianbiao, Imin Yeh, and Stella Zhang.
Comment by AB: The magnum opus here, especially for you pack rat fans (aka me), is Song Dong's incomprehensibly intricate display titled "Waste Not" consisting of 10000 assorted items accumulated by his mother over half a century. It's cleaned up and laid out with prodigious precision, an arresting commentary not only on the "save everything" ethos stemming from the Chinese Cultural Revolution, but also on all hoarders everywhere. Rounding out the exhibition are a number of engaging videos and video installations including one that viewers can actually insert themselves into. This one's a definite go-see.
Overview of amazing hoarder installation by Song Dong.


Installation by Song Dong at Yerba Buena Center for the Arts.


Song Dong installation art closer.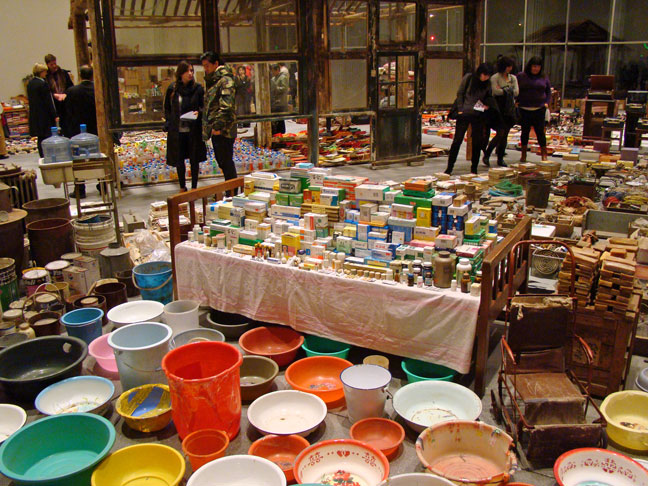 Artful installation by Song Dong.


Song Dong installation at Yerba Buena Center for the Arts.


Art by Song Dong.


Song Dong video art.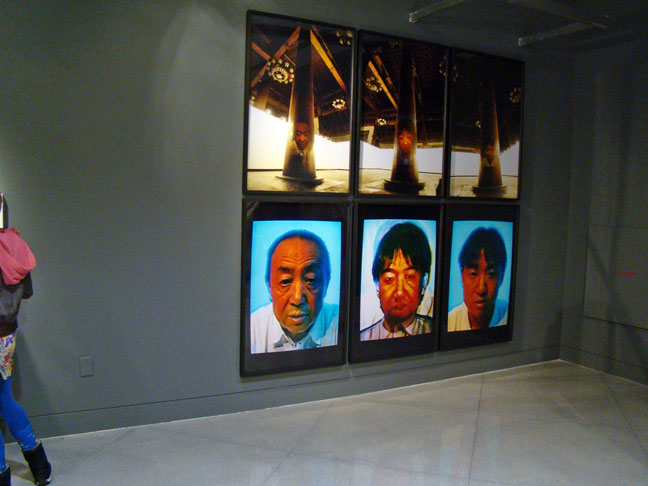 Video art by Song Dong.


Song Dong video art.


***
Public Works Gallery: Nick Zinner - 1001 Images.
Comment by AB: Labyrinthine photo show by Nick Zinner, guitarist for the New York-based Yeah Yeah Yeahs, is an intriguingly organized slice-o'-life look at the rock band lifestyle. Plenty to peruse here; check it out.
Photography by Nick Zinner.


Nick Zinner photography.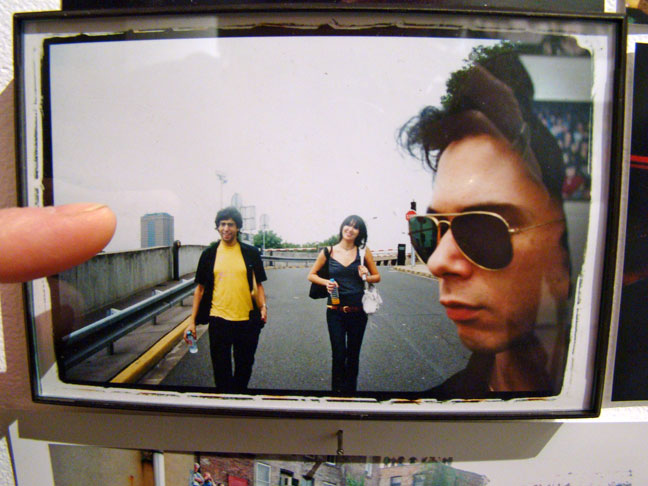 Index cam close-up. That's Nick Zinner on the right.


Photographs by Nick Zinner.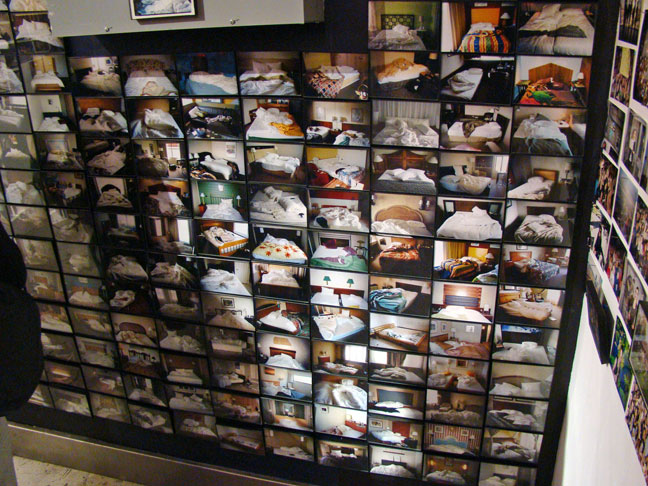 You seen one hotel room, you seen 'em all. Nick Zinner photos.


Nick Zinner Photographs at Public Works Gallery.


***
Southern Exposure: 11th Annual Monster Drawing Rally.
Artists: Zina Al-Shukri, Teppei Ando, Sarah Applebaum, Mara Baldwin, Steven Barich, Mark Benson, Bert Bergen, Michelle Blade, Brad Borevitz, Val Britton, Luke Butler, Eric Cabunoc, Jon Carling, Iris Charabi-Berggren, Beatriz Chavez, Mia Christopher, Claire Colette, Lisa Congdon, Gina Contreras, Jaime Cortez, Taylor Crawley, Mia Cristopher, Alberto Cuadros, Hugh D'Andrade, Ryan de la Hoz, Robin Denevan, Tina Dillman, Katie Dorame, Jessica Eastburn, Lafe Eaves, Jeff Eisenberg, Alicia Escott, Yukako Ezoe Onodera, Kristin Fialko, Rachel Foster, Angela Fox, Madeline Fried, Alison Frost, Matt Gordon, Veronica Graham, David Grant, Scott Greenwalt, Larissa Greer, Gilbert Guerrero, Maggie Haas, Michael Hall, Julie Henson, Queena Hernandez, Terry Hoff, Alexander Jackson, Lance Jackson, Ian Johnson, Judy Johnson Williams, Kara Joslyn, Jennifer Kaufman, Alison Kendall, Mike Kimball, Amelia Layton, Sean Leake, Carey L! in, Sam Lopes, Michael Louis Young, Juan Luna-Avin, Marina Luz, Kelly Lynn Jones, Martin Machado, Alexis Mackenzie, Monica Martinez, Yuki Maruyama, Mike McConnell, Gaelan McKeown Hickel, Honey Mcmoney, Masako Miki, Serena Mitnik-Miller, David Molesky, Paul Mullins, Carson Murdach, Fred Nocella, Erik Parra, Nathaniel Parsons, Marina Perez-Wong, George Pfau, Steuart Pittman, Ferris Plock, Jennifer Poon, Basil Racuk, Jasmine Rae, Michelle Ramin, Phil Ross, Zachary Rossman, Zachary Royer Scholz, Alena Rudolph, Chris Russell, Alice Rutherford, James Sansing, Jovi Schnell, Brian Singer, Allison Smith, Gareth Spor, James Strickland, Amber Stucke, James Tantum, Kevin Taylor, Sarah Thibault, Linda Trunzo, Trevor Tubelle, Kelly Tunstall, Gina Tuzzi, Jamie Venci, Ben Venom, Annie Vought, Josh Warren, Virginia White, David Wilson, Andrew Witrak, Jenifer Wofford, Lena Wolff, Nichole Wong.
Comment by AB: Over the years, the Monster Drawing Rally has evolved from simple fundraiser to social networking phenomenon, a night where a broad cross-section of San Francisco's art community gathers together as one. Executive Director Courtney Fink tells me that similar events are now popping up at arts non-profits across the country.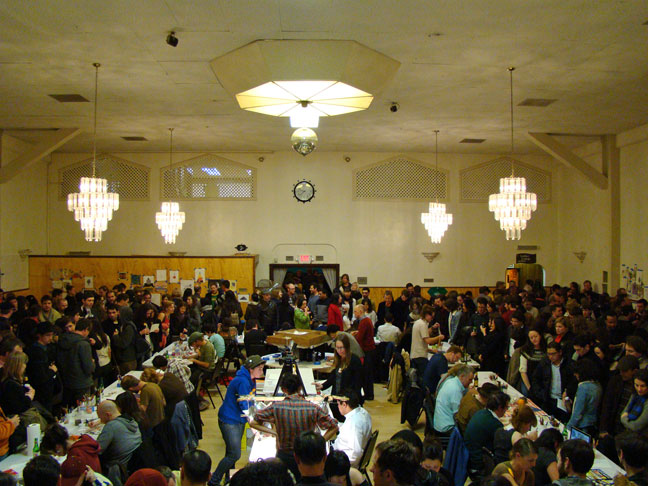 The whole enchilada - Monster Drawing Rally at Southern Exposure.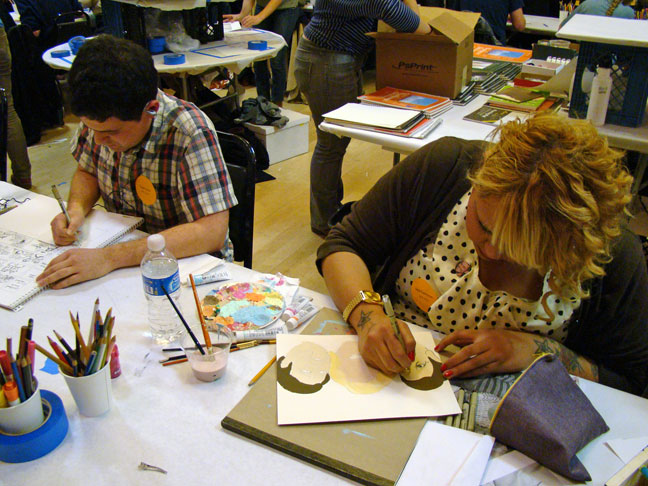 Artists arting - Gina Contreras (right).


Artist making art.


Ian Johnson - Ferris Plock.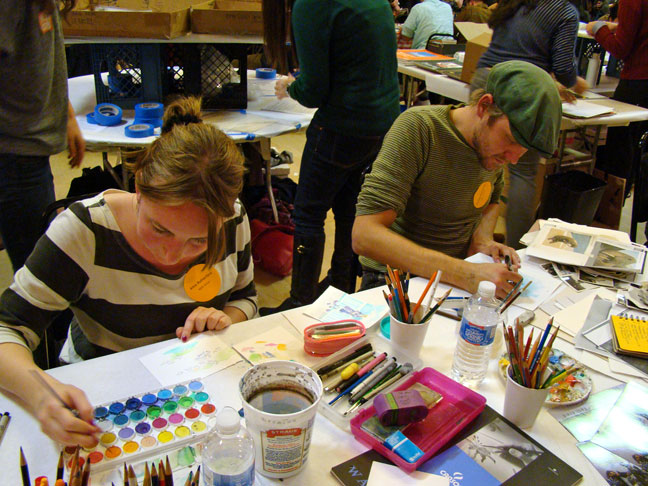 Artists arting.


Crowd crush - waiting for freshly completed art.


Artists in action.


Artists making art - Monster Drawing Rally.


***
Goforaloop Gallery: Dirt.
Artists: Dion Campbell, Daniel Chen, Jessica Daley, Andrew Han, Sebastian Karim, Hak Lee, Ian Padgham.
Review by RWM: Such interesting and self-revelatory work. A nice variety of approaches to broadcasting one's dirty laundry, at times evoking a sense of embarrassment. There is also dense and intense documentation of the lives of others.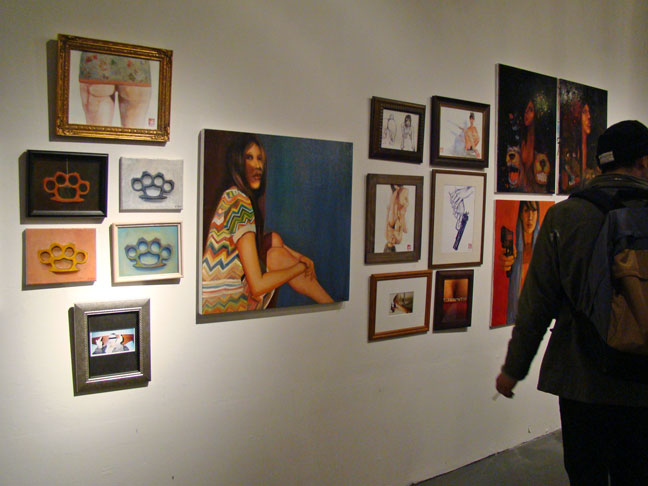 Art from Dirt, group show at Goforaloop Gallery.


Text art on recycled doors - Sebastian Karim at Goforaloop (nice).


Art.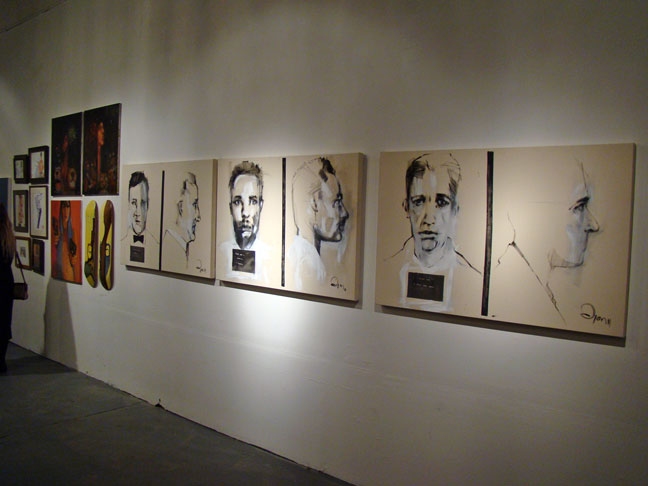 Portraits by Dion Campbell.


***
Addendum:


Christine Wolheim paintings at Cowboys & Angels.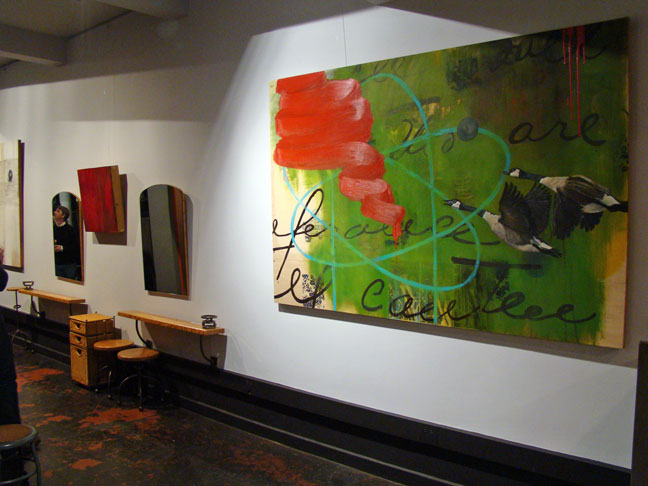 Another from Christine Wolheim art show at Cowboys & Angels.


Last one from Christine Wolheim paintings at Cowboys & Angels.


James Bradley paintings at Maniac Gallery.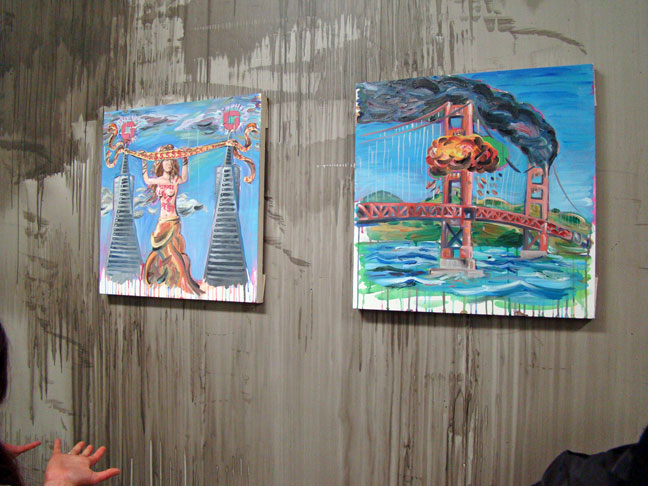 James Bradley art show at Maniac Gallery continued.


That's it from James Bradley paintings at Maniac Gallery.


***