SAN FRANCISCO GALLERY OPENINGS
LOLA GALLERY - ZIP ZAP HAIR SALON
02.26.05
Lola Gallery: Ghetto Metro; American Wildlife.
Artist/artists: Sirron Norris, Merikay MacKenna.
Comment: Lola Gallery's back in the mix after a bit of a lull with an uplifting double bill, some super tight ghetto lite by Sirron Norris, and fake fur, wall mounted, big game trophy head takeoffs by Merikay MacKenna. Norris is about as precise as artists get. He knows what he wants to paint, and paints it without the faintest hint of uncertainty. His trademark blue bears (also available in other colors), either float solo on small canvases (priced as low as $75) or lighten up his city scenes, the most populous bearscape weighing in at $2000. Norris serves up skillful artful affordable fun for the entire family.
Meanwhile, Merikay MacKenna has the perfect solution for those of you not quite macho or fem-cho enough to head for the hills, shoot you a buck, haul it over to the taxidermy dude in the bed of your pickup, and have the head severed, prepped, primped, plugged, and pimped to hang over the stone fireplace in your hunting lodge. Impress your friends with a decent sized trophy head for $150 or less-- or more if you want a big bad intimidating one-- although most of MacKenna's heads look more like they're smiling than anything else.
Sirron Norris (right) explains art.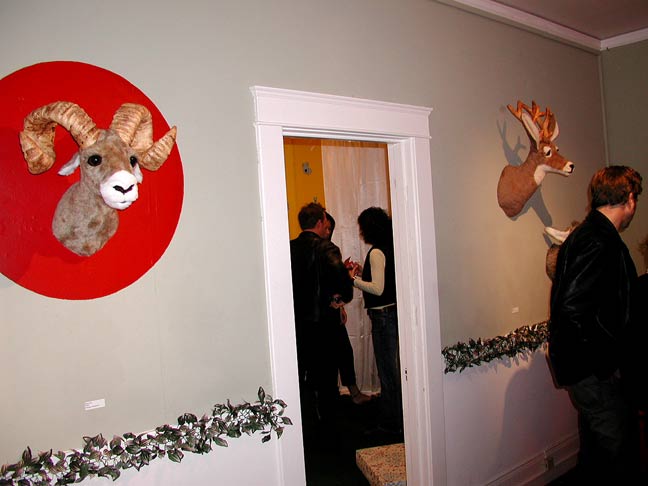 Art (MacKenna).


Art - Sirron Norris.


Owner Claire McGovern teasing the stock.


Art (Norris).


Art.


Art (Norris).


***
Zip Zap, 245 Fillmore St. @ Haight St., San Francisco, CA 94117, 415.621.1671: New Artwork.
Artists: Angela Boatwright, Brad K. Alder, Jasmine Pasquill, Alicia McDole, John Trippe, Victoria Keddie, Ben Weiner, Ray Potes, Andreas Trolf, Sfaustina, Bryan Collins, El Rey, Carlos Roque, Andrew Jeffrey Wright, Clare Hyland.
Comment: More or less of a jumble in the art department, but a pretty decent party in a creative interior in a hipster-infested neighborhood, miscellaneous agendized fashionistas darting about. Sponsored by Red Stripe Beer. Sponsor an art show; get a link.
Art.


Art.


Art.


Art.


Art.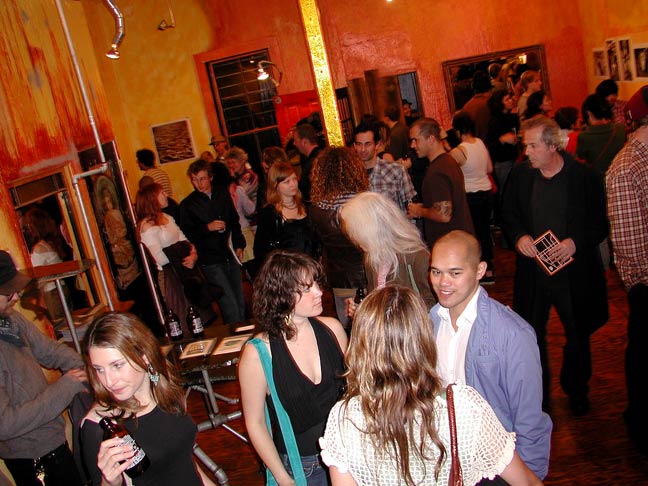 Agendizing.