SAN FRANCISCO ART GALLERIES OPENINGS
PARK LIFE - RENA BRANSTEN - CALIFORNIA MODERN
BAY AREA VIDEO COALITION - QUEEN'S NAILS ANNEX - PAUL MAHDER
02.27-28.08
Park Life: Sights of Sounds - Works of Art from the Music Community.
Artists: Yoko Ono, Jim Jocoy, Wesley Willis, Alissa Anderson, Andrew Paynter, Terri Lowenthal, Simone Rubi, Alex Tehrani, Peter Ellenby, Tuffy, Brendan Kiefer, Amanda Walker, Ally Trigg, Johnnie Cluney.
Comment by AB: Second annual Sights of Sounds show at Park Life, presented in conjunction with Noise Pop, blends art and music. A special interractive installation by Yoko Ono looks toward world peace, which we may one day be blessed to enjoy, but we gotta really want it.
Backlit art.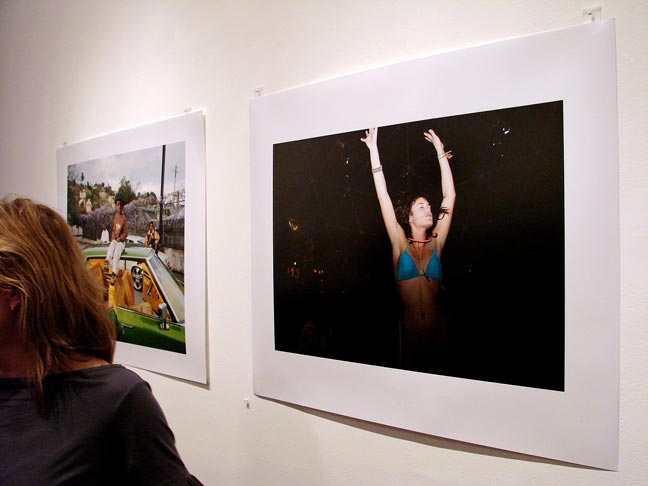 Art.


Part of the Yoko Ono installation.


Art.


Art.


Art.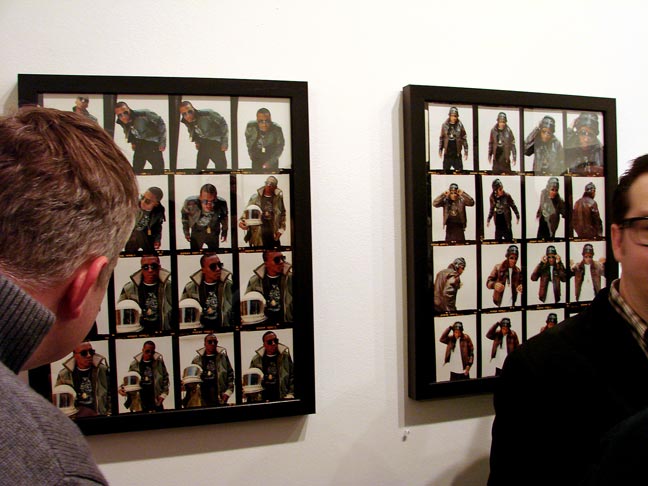 Art.


Art.


Art.


Relative density.


***
Rena Bransten Gallery: Candida Hofer - Recent Photographs; Ian McDonald - Optimism (If You Want It).
Comment by AB: Do you live in a dump? Candida Hofer's large format color photographs of extravagantly lavish interiors are the perfect solution for transforming your hovel into a palace. Hang one of these babies on your wall and instantly upgrade your lifestyle. Your dust mites will love you for it.
In the anteroom, Ian McDonald concocts a singular ceramic wonderland that's highly likely to stop you in your tracks. From finely turned vessels and urns to simulated rocks to homegrown crystals, all masterfully arranged, McDonald demonstrates a remarkable command of the medium. Large upside here. I'm puttin' out a strong buy on this dude.
Ceramic installation (Ian McDonald).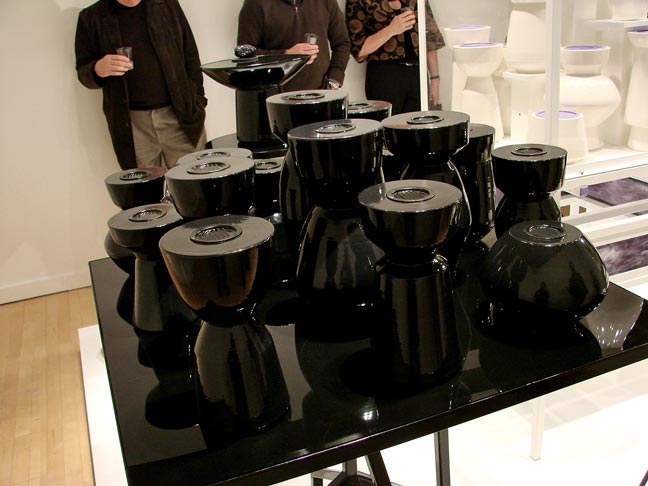 Black ceramics (Ian McDonald).


White ceramics (Ian McDonald).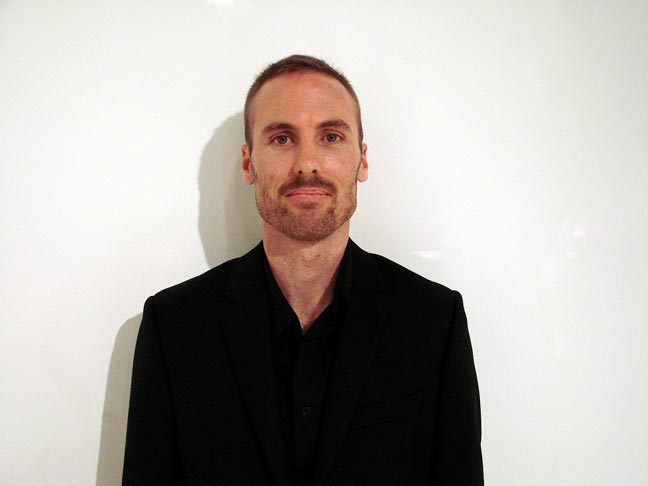 Ian McDonald.


Photography (Candida Hofer).


Photos (Candida Hofer).


Photographs (Candida Hofer).


Photography (Candida Hofer).


***
California Modern Gallery: Special Effects.
Artists: Andrzej Michael Karwacki, Laura La Foret Lengyel, Sydell Lewis, Mark Harris.
Comment by AB: Abstract extravaganza (along with a selection of representational and semi-representational figural works by Laura Lengyel) features paintings that spin and the winner of the Jackson Pollock lookalike contest.
Spinning art.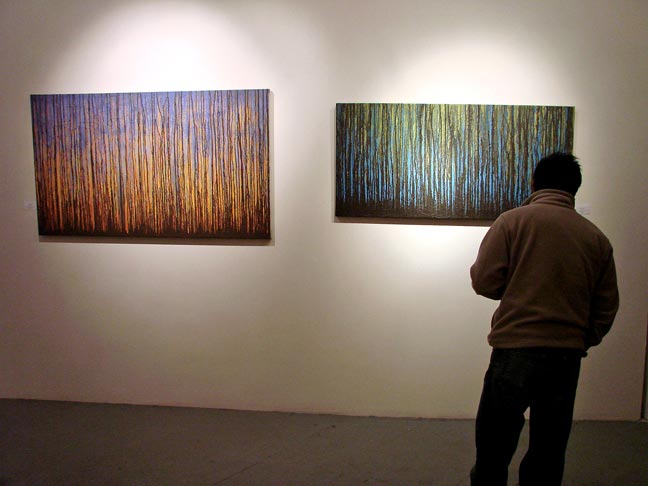 Art.


Art.


Splatter art.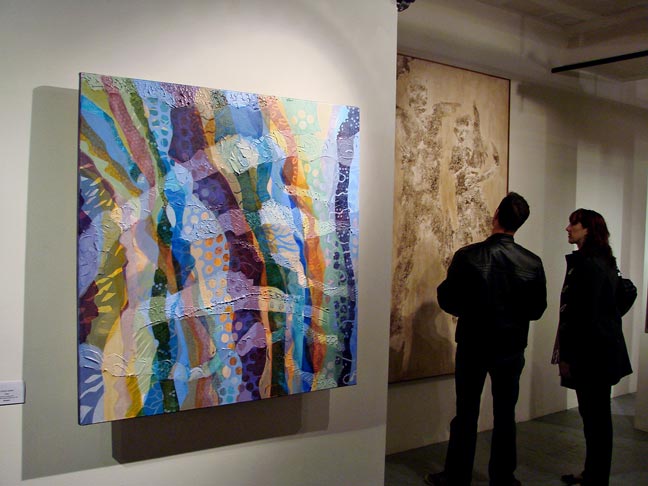 Art.


Art.


Art.


***
Bay Area Video Coalition: ROHSTOFF (raw material).
Artists: Brent Bowers, Liz Hickok, Mike Mages, Michele Sieglitz.
Comment by AB: Bay Area Video Coalation institutes a new quarterly visual art exhibition, tonight's inaugural episode spotlighting the work of four local photographers. BAVC is a video production and educational facility serving experimental video artists, media professionals, community activists, educators, and students.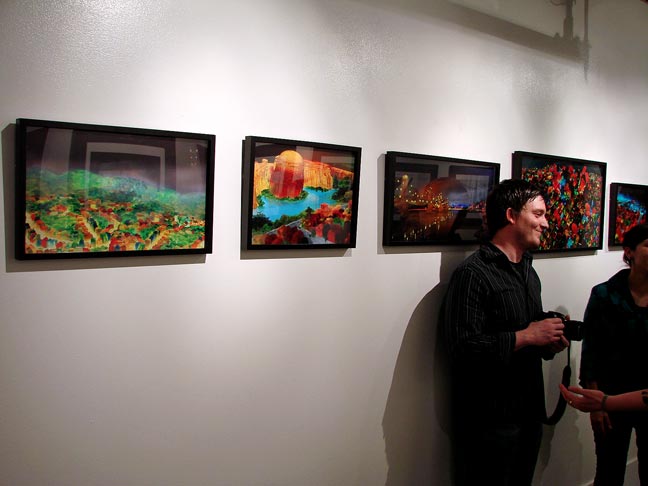 Photography.


Photos.


Photographs.


Photos.


***
Queen's Nails Annex: Autumn de Wilde - Pictures of Me, Rare Photographs of Elliott Smith.
Comment by AB: An intensely personal and heartfelt pictorial essay on influential singer, songwriter, and musician Elliott Smith as seen through the eyes and images of Autumn de Wilde, photographer and friend of Smith's during his last several years, right up to his sad and untimely demise in 2003. de Wilde's photographs comprise the book Elliott Smith (Chronicle Books, San Francisco, CA 2007, 8 x 10-1/2 inches; 224 pp ; 200 color and b/w photographs, 5-song CD), copies of which she's signing here tonight. The show is held in conjunction with Noise Pop.
Here we are.


Photography.


Photos.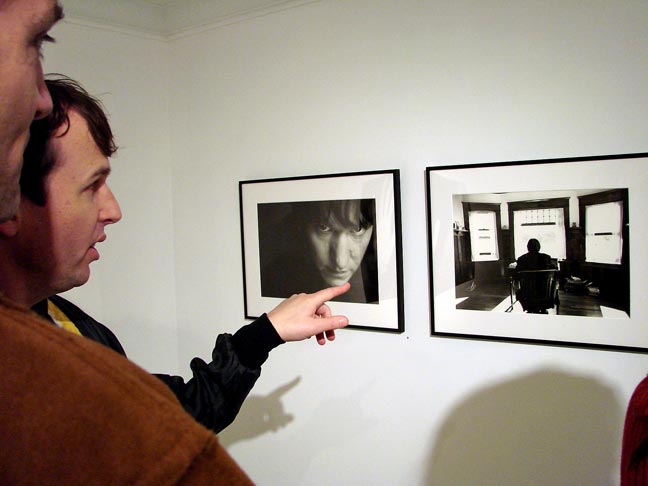 Photographs.


Autumn deWilde signing books.


Photography.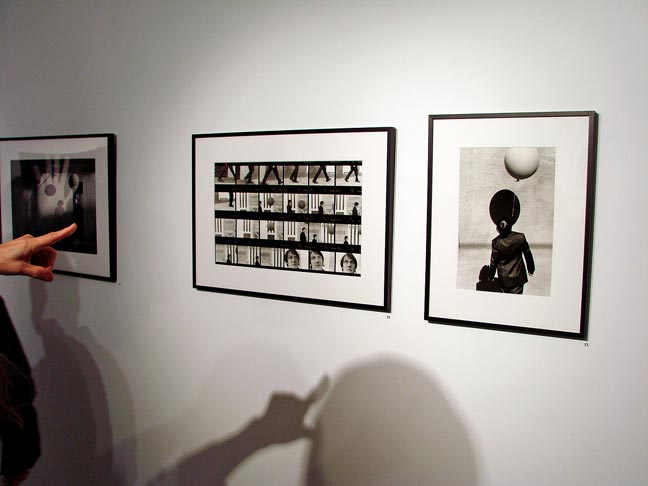 Photos.


Images.


Photography.


Photographs.


***
Paul Mahder Gallery: Rodger Roundy and Gallery Selections.
Comment by AB: The centerpiece of tonight's to do is "A Cute Girl" by Roger Roundy, 6 by 8 feet of kitsch play on "Raft of the Medusa" by Theodore Gericault plus a premier of Roundy's new series, "Us & Them." Mahder's tony digs on upper Sacramento Street angle toward indigenous Heightsters out for a stroll who might perchance be inclined to return home with something perty for their walls or pedestals.
Piece de resistance, Raft of the Medusa, Rodger Roundy - 6 x 8 ft.


Art after George Tooker (Rodger Roundy).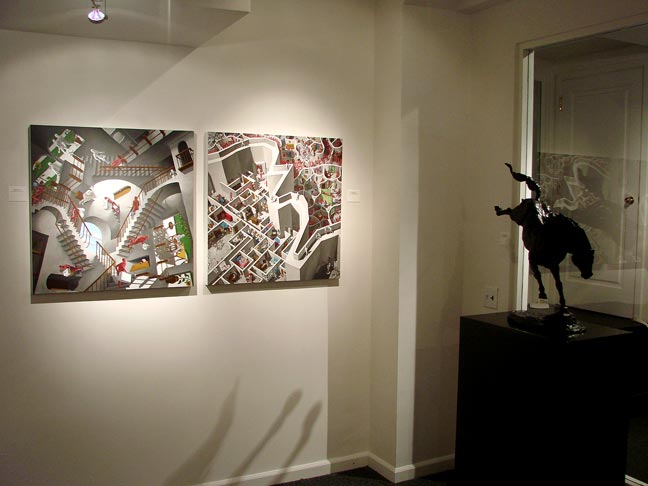 Art after M.C. Escher (Rodger Roundy).


Aerial.


Out front.


***