SAN FRANCISCO ART GALLERIES - OPENINGS
GALLERY 16 - MARKET STREET GALLERY - PORCELYNNE
ARTIST-XCHANGE - CITY ART - ELEANOR HARWOOD GALLERY
REPORTED BY STEVE MACDONALD
03.02.07
Gallery 16: Michelle Grabner - New Work.
Comment: Gallery 16 presents Chicago-based artist, Michelle Grabner, who has gained notoriety for her dotted patterned paintings.  This is Grabner¹s third exhibition with Gallery 16. The work is vibrant and creates the illusion of visual sound waves and water ripples.  Hypnotic abstract figures emerge from the simple techniques Grabner employs.  You must experience this exhibit in person to appreciate the effects.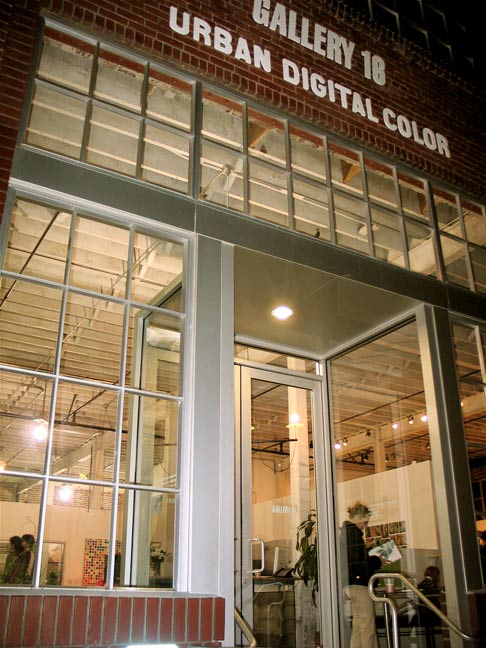 Gallery 16 @501 Third Street.


Michelle Grabner - dots of lots.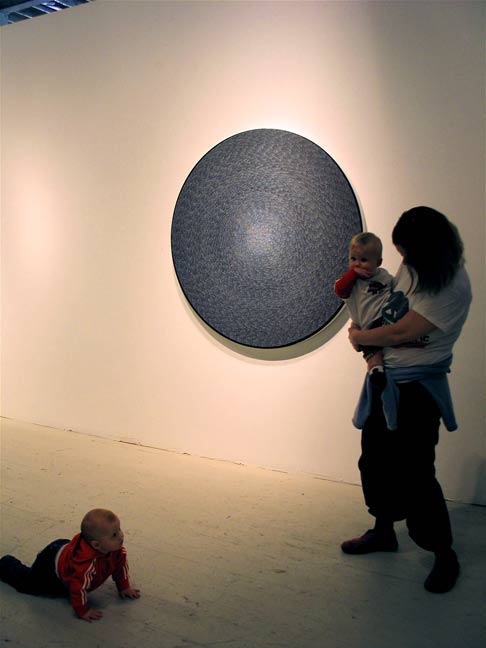 Art.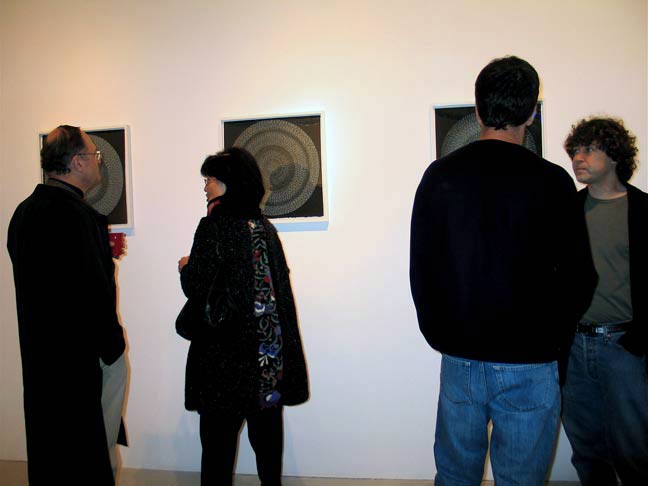 Art lovers.


***
Market Street Gallery: Susan Adame - Remnants of Floating.
Comment: Remnants of Floating is the current exhibit featured at Market Street Gallery by lifelong Bay Area artist, Susan Adame.  Her collages invoke a floating, dreamlike sensation.  She uses leaves, local maps and handmade paper as well as other pieces of found art to construct her collages.  At first glance, her pieces appear to be digitally made, but no-- on close inspection, many complex layers surface.
Market Street Gallery @ 1554 Market St.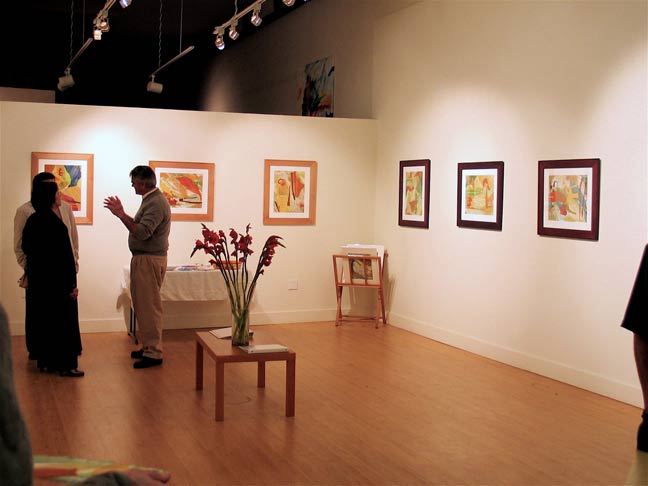 Nice space.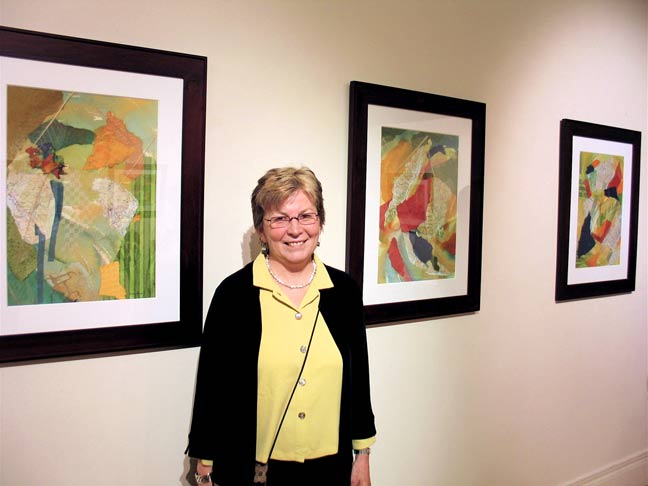 The artist, Susan Adame (seems like a very nice person).


Collage.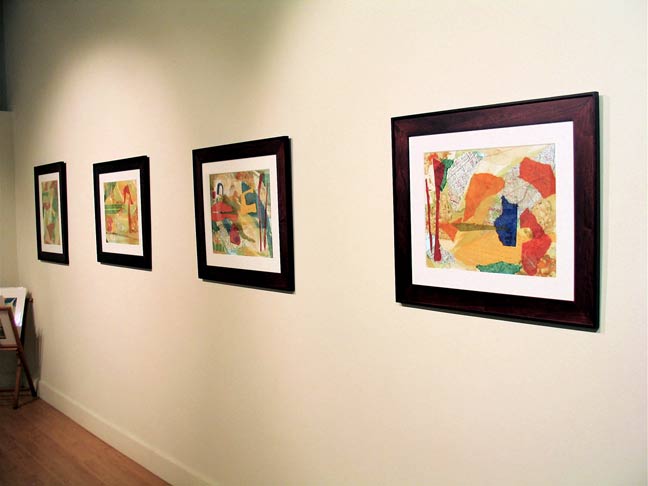 Art.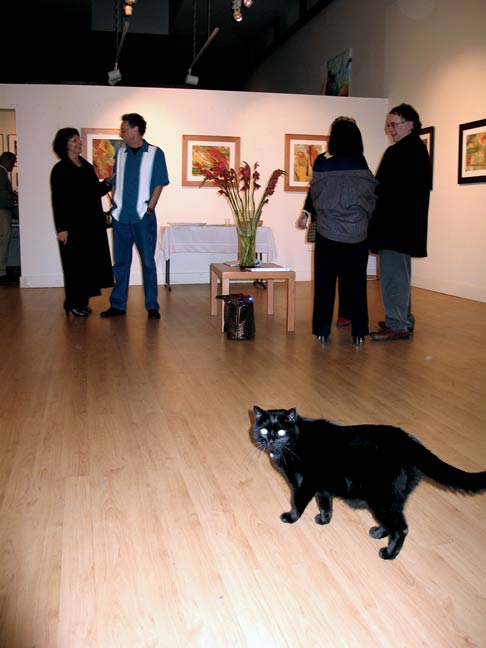 This cat's walking around like he runs the place-- maybe he does.


***
Porcelynne Boutique & Gallery: Cheeky.
Artists: Amelia Lewis, Flannery Bateman, Sandra Hart, Alice Stribling, Shawnee Batsch.
Comment: The Porcelynne Boutique & Gallery presents Cheeky, featuring five female artists in honor of Women's Month.  Eclectic show offering everything from photography and collage to painting.
Porcelynne Boutique & Gallery, 487 14th Street.


It was tight and cozy!


I love sewn art but it's a little high up to get a good gander.


***
Artist-Xchange Gallery: Group Show - New Works.
Artists: Nancy Cicchetti, Mary Patterson, Mr Riddle, Lora Finelli, Michael-Che` Swisher, Agustin Cas, Carrie Sieh, Chuck Drees, Cameron Forsley, Maya Delano, Hiroko Sakai, Kelcie Tinker, Ruth Jacobson, MZZ T RZZ, Howard Chew, Kato's Charm, Zannah Noe, Colin Williams, Steve Falbo, Lisa LaRocca, Ayu Tomikawa, Matt Delight, Will Russell, Joanna Mendicino, Hilary Williams, Mary Tivadar, Niana Liu, Joshua Ellingson, Kelcie Tinker, Kim Weinberg, Darwin Bell, James McPhee, Dana Robson, Hang Nguyen, Winsa Lam, JBalducci, Kmaley Design, Azukre Aho, Jester Swink, Anja Buckle, Gabriel Colaluca, Emine Keyishian, MeeshMeesh Designs, Grace Goce.
Comment: The Artist-Xchange is a community resource that allows local artists to display their work wall-to-wall salon style.  Lots of artists, lots of styles, lots to see!
Artist-Xchange Gallery, 3169 16th Street.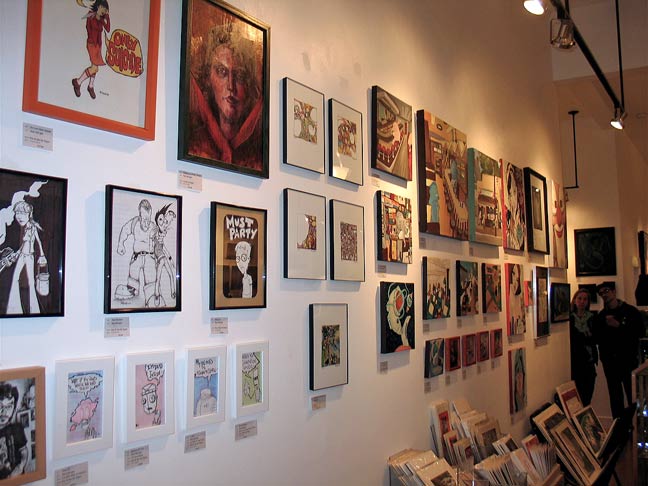 Salon style!


DJ Yoko. She was rockin' the Reggae 45's.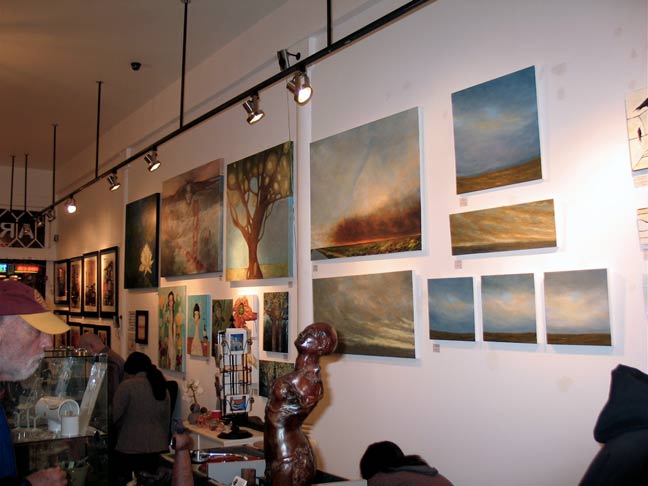 Art.


***
City Art Gallery: Group Show.
Artists: Marisa Escolar, Hilary Williams, Lilia Scott, Richard Dodds, Katie Gilmartin ,Jason Day, dk haas, Lynn Mechanic, Trish Tunney, Pete Villaseñor, Mary Patterson, Heather McFarlin, Garrett Robinson, Kate Knuvelder, Maria Rodriguez, Kaj Beck, Amy Levine, Gina Power, Hadley Northrop, Michael Barbee, Tedda Hughes, Luis Valverde, Jeanne Hauser, Catherine Shallcross.
Comment: The show is so packed that it's hard to see the work up close.  I can't believe how many people come out to support the arts. It's great.  The press release says, "Come one, come all..." And they do!
City Art Gallery @ 828 Valencia St.


PACKED.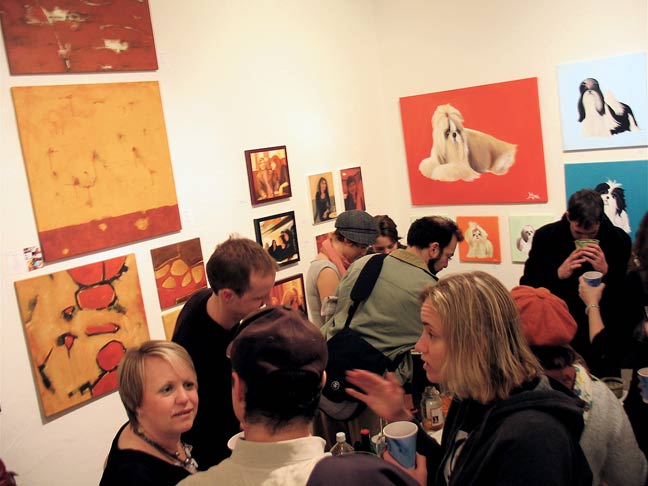 Squished in a little room around a table with free food and drink.


You have to love these!


***
Eleanor Harwood Gallery: HOT AND COLD #3 - U Must Not Know 'Bout Me - Release and Exhibit.
Artists: Nancy Chan, Jeremy & Claire Weiss, Jessie Rose Valla, Suro (music by David Benzler & Adam from the mall), Carson Ellis, Joe Brook, Veronica De Jesus, Kevin Hooyman, Keith Andrew Shore, Max Hubenthal , Maya Hayuk , Paul Urich, Mike Pare, Scott Hug (k48), Carolynn Ryder Cooley, Chris Duncan, Griffan McPartland.  
Comment: HOLD & COLD is a zine that spawned as a result of Griffin McPartland's and Chris Duncan's differing ideas, interests, and aesthetics. Each edition of 150 zines is hand-crafted all the way!
Comment by AB: Eleanor Harwood tells me the run's sold out. Get there early next time. Instant collectible. Most photos by me-- it's the only show I could get to tonight.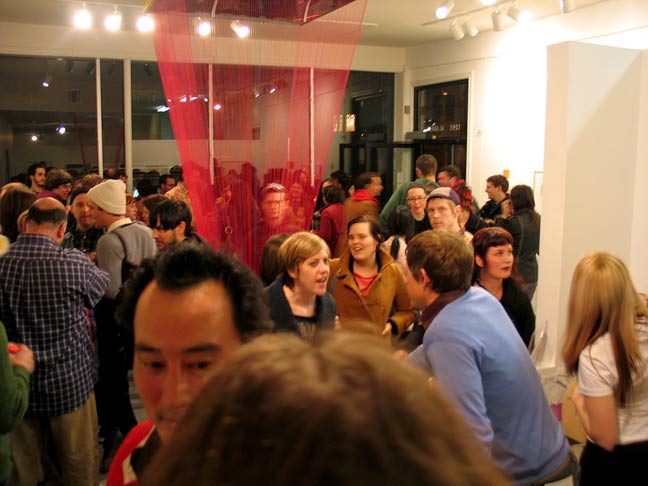 The basic situation (photo by Steve).


Nancy Chan peruses the publication.


Art.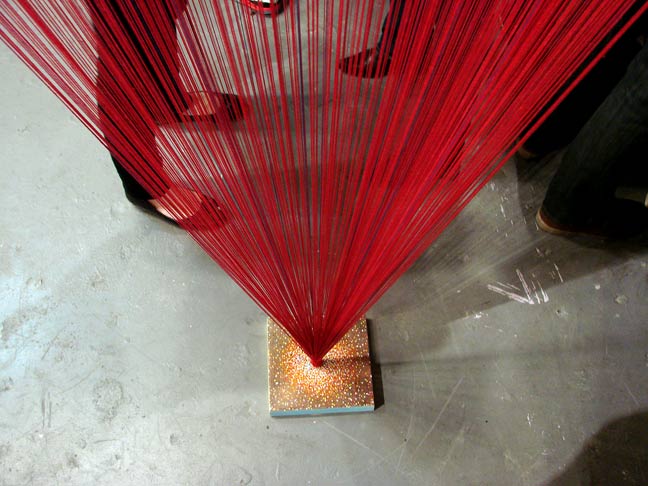 Art (Chris Duncan).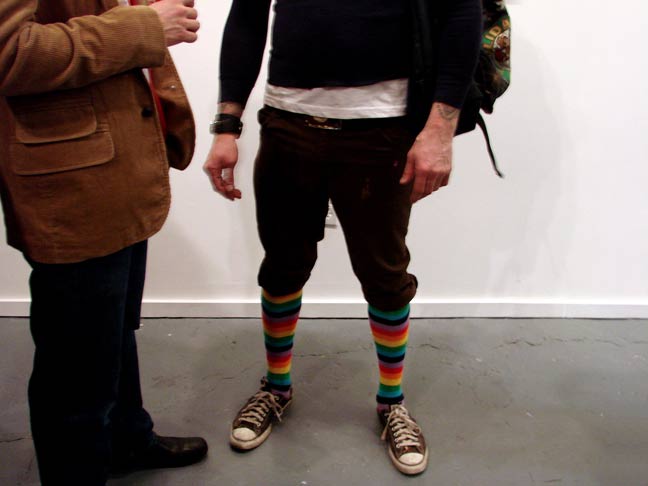 Fashion.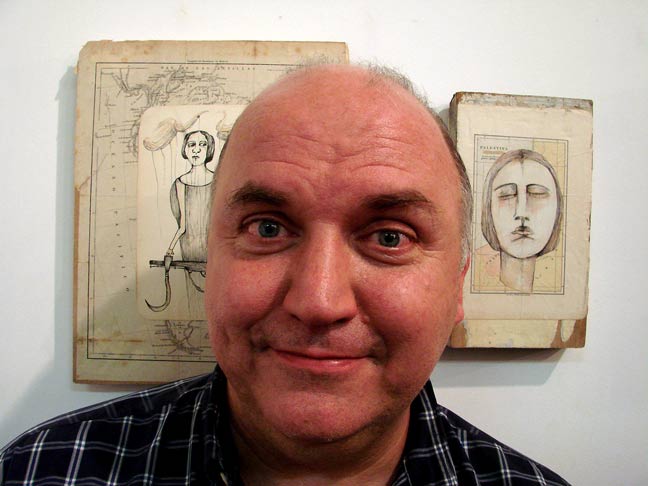 Andrew McKinley testifies that he likes this artist's art.


Art.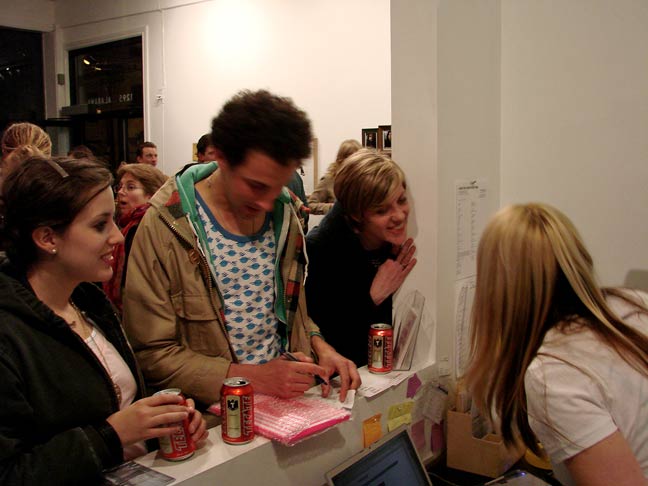 Dude writes check, snags bounty.


Griffin McPartland.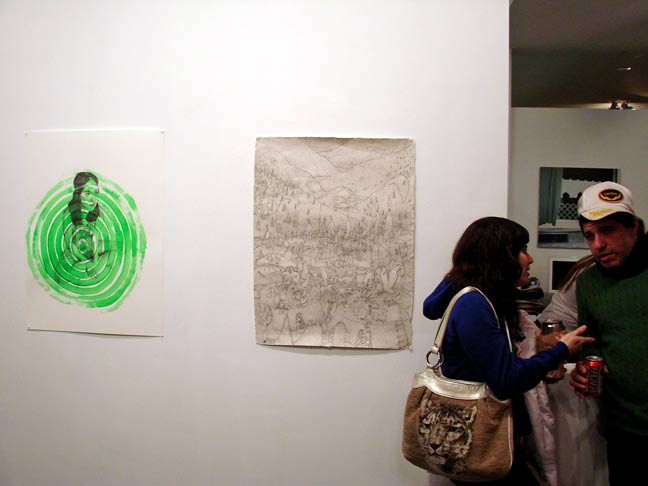 Art.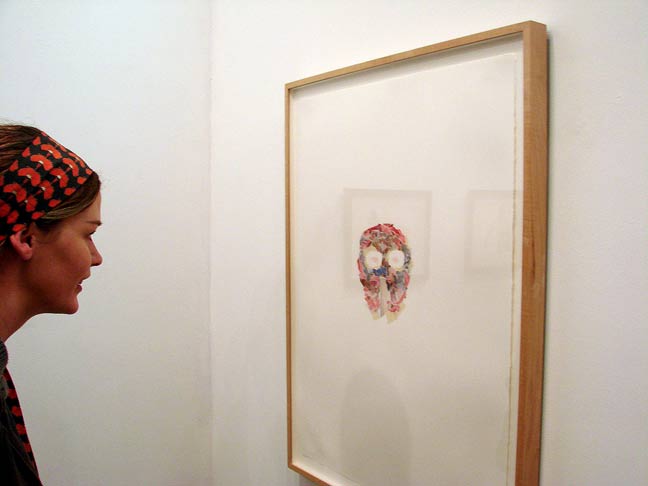 Art.


Thoroughfare (photo by Steve).


***