***
Gallery 16: Deborah Oropallo - Tale Spin.
Comment by AB: Deborah Oropallo's eerily riveting figural agglomerates consist of equal parts painting, printmaking and collage. What do they signify? Visual inquiries into fashion, fairy tales and female identity. Highly recommended.
Art by Deborah Oropallo.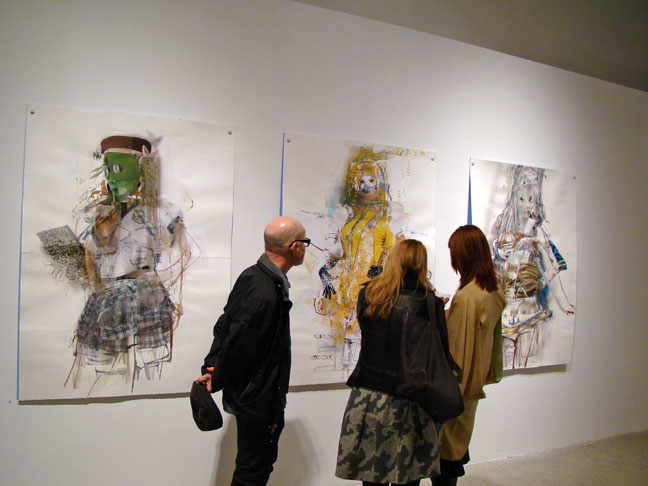 Art by Deborah Oropallo.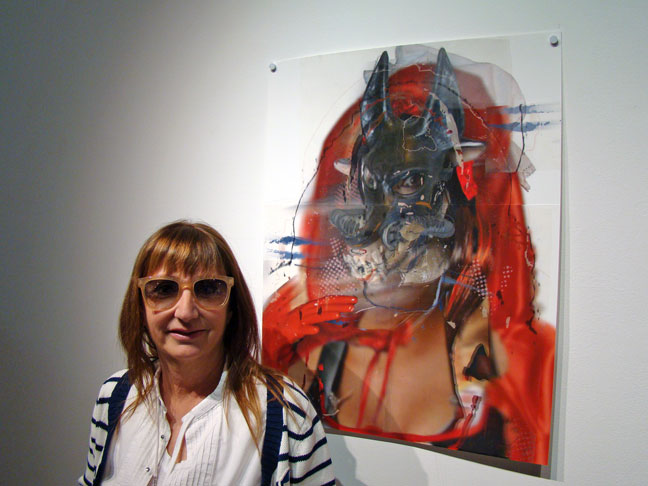 Deborah Oropallo and her art.


Art by Deborah Oropallo.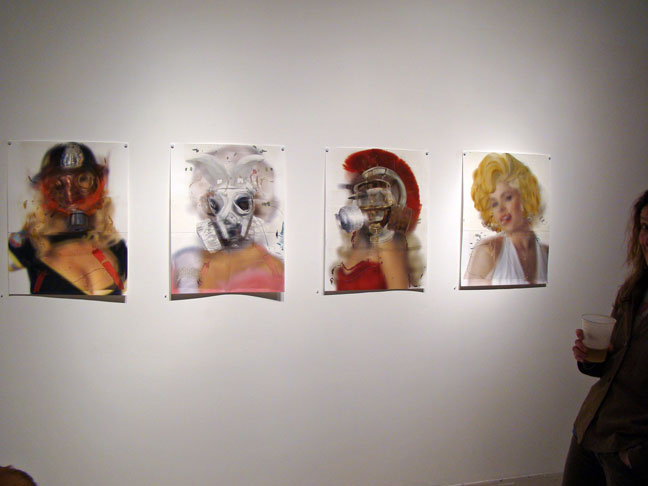 Deborah Oropallo art.


Art by Deborah Oropallo at Gallery 16.


***
RayKo Gallery: 4th Annual International Juried Plastic Camera Show.
Artists: Michelle Bates, Sam Grant, Thomas Michael Alleman, PuiQuan Chang, many many more.
Comment by AB: Annual free-for-all where photographers from around the world demonstrate their skills at exploiting the considerable capabilities of two brands of vintage toy plastic cameras, the Holga and the Diana. Don't believe me? Check it out...
Color photograph by PuiQuan Chang (right).


Michelle Bates photographs (six images, left).


Photography by Thomas Michael Alleman (two images, left).


Plastic camera photography closer.


Diana and Helga plastic camera photography at RayKo.


Plastic camera photographs.


Photography taken with plastic cameras.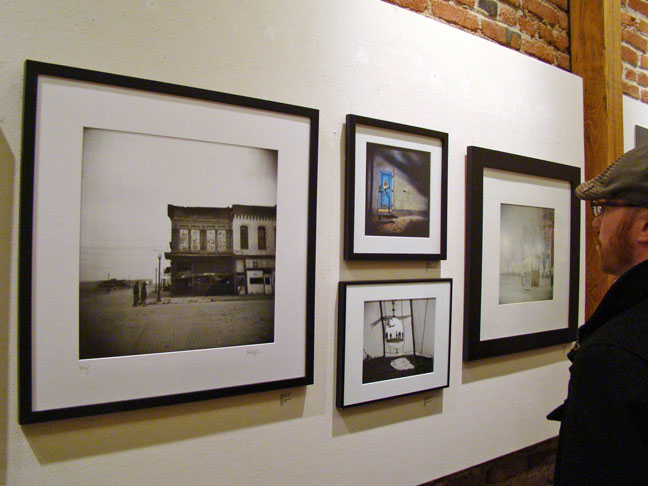 Annual plastic camera photography show at RayKo Gallery.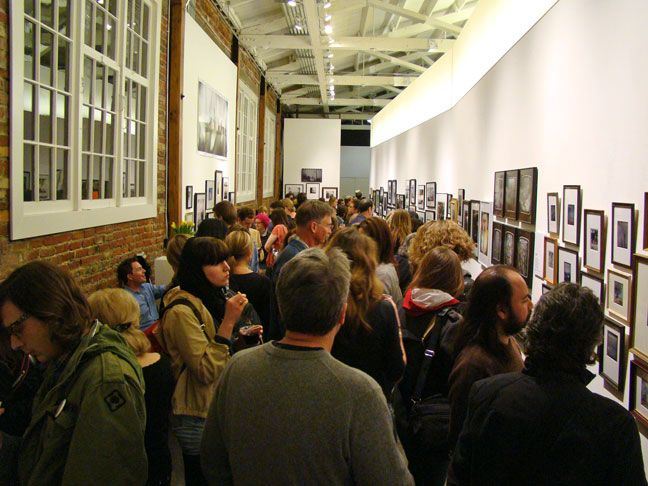 Relative density - plastic camera photography show.


***
Ampersand International Arts: Lisa Goldschmid - Liminal; Charlene Tan - 400%.
Review by RWM: Clean idealized domiciles constructed by Lisa Goldschmid and oversized mockups of yucky medicinal products and condoms by Charlene Tan round out the double bill here. All these "poisons" entering our bodies and our homes, even if we live way up on stilts. Thank you both for reminding us all to think about it again.
Oversized art & installation by Charlene Tan (nicely done).


Essayist David Buuck, Charlene Tan & art (they seem to know my size).


Installation art by Charlene Tan.


Art by Lisa Goldschmid.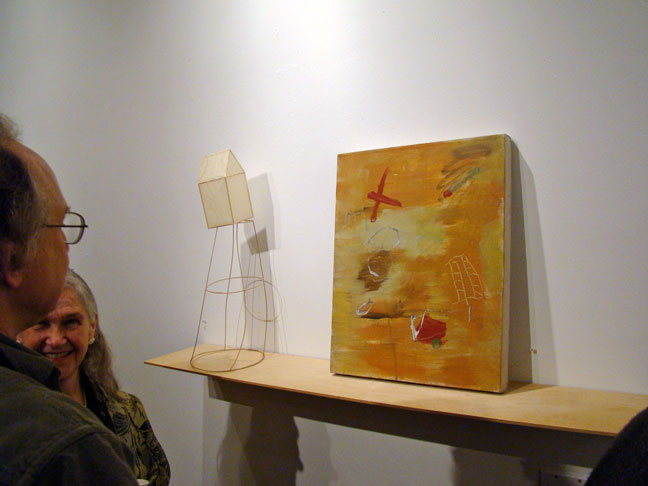 Lisa Goldschmid art.


Art by Lisa Goldschmid.


***
Bryant Street Gallery, Palo Alto, CA: Silvia Poloto - New Paintings.
Review and images by Geoff Smith: Recent and new work by Brazilian-born, San Francisco-based artist Silvia Poloto. Silvia Poloto's work cuts across different lines including sculpture, photography, printmaking, painting and mixed-media, among others. Her abilities in all these areas combine to present an impressive display of creative talent and interdisciplinary skills. The work is largely abstract, but the most recent pieces, such as "Family Tree #2," include photography-based figurative elements.
On much of her work she applies a thick varnish finish which is either left in an ultra-smooth, crisply focused, high gloss, and fully transparent state, or sanded to create a seductive yet still almost fully transparent velvety matte finish. The recent work is often comprised of an assemblage of smaller panels; either connected directly, or separated by carefully calculated spacing. This development in her work was initially motivated by cost considerations, since smaller photographic panels are considerably less expensive than larger ones. However, this approach led Poloto to discover new possibilities, and add more complexity and diversity to her work.
She is now exploring using different media such as real object-based panels, mixed with photograph-based image panels, and other panel types to create additional diversity and interest, and stimulate viewer thought and speculation. For example, "Family Tree #2" is a tightly packed assemblage of different panels with real and abstract content, and a mixture a glossy and matte finishes. Poloto's Bryant Street Gallery show will run through March 31st.
Art by Silvia Poloto.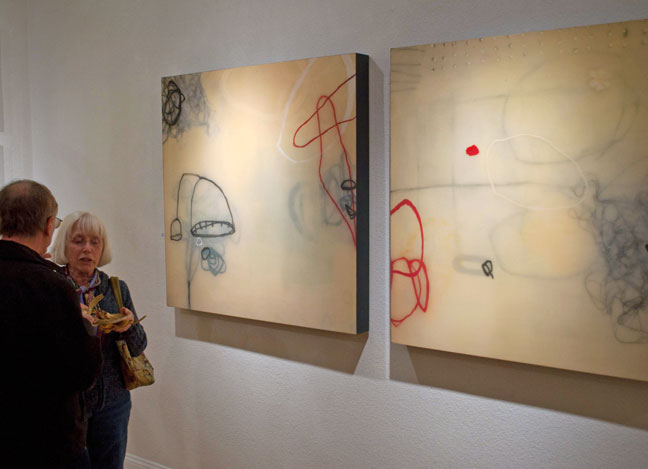 Silvia Poloto art.


Silvia Poloto and her art.


Silvia Poloto art at Bryant Street Gallery, Palo Alto.


Art by Silvia Poloto.


Silvia Poloto (left) - Gustavo Rivera (right).


***
Addendum: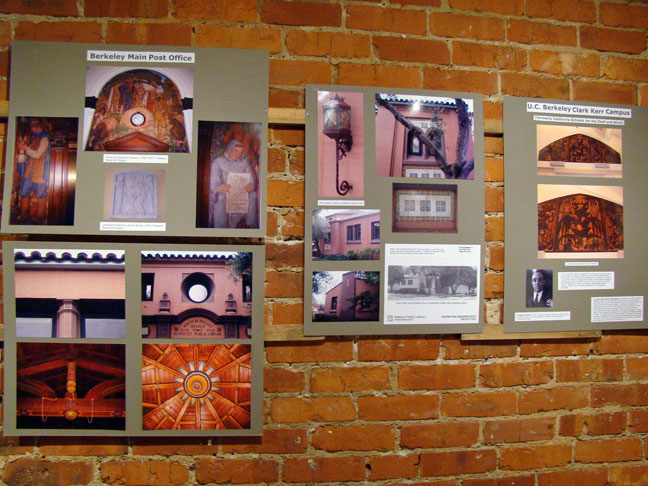 New Deal Era documentary show at Canessa Gallery.


More New Deal art, architecture, writing at Canessa Gallery.


Last one from New Deal Era arts show at Canessa Gallery.


***