SAN FRANCISCO ART GALLERIES - OPENINGS
MODERNISM INC. - HACKETT-FREEDMAN - LINC ART
ROBERT ALLEN FINE ART - CREATIVITY EXPLORED - ARSPACE
RED INK STUDIOS - HOTEL UNION SQUARE
03.09.06
Hackett-Freedman Gallery: Robert De Niro, Sr. - Works From the Studio; Paul Resika - Recent Paintings.
Comment: Paul Resika shows a series of tranquil contemplative reductionist semi-abstracts based on fishing boats anchored in harbors and out at sea. Also showing are paintings by Robert De Niro, Sr. dating from the 1960's through the 1980's-- a little Matisse, a little figurative, a little blurry, a lotta bucks. De Niro prices top around $350K; Resika prices mainly $20-$40K.
Art (Paul Resika).


Art (Paul Resika).


Paul Resika - art.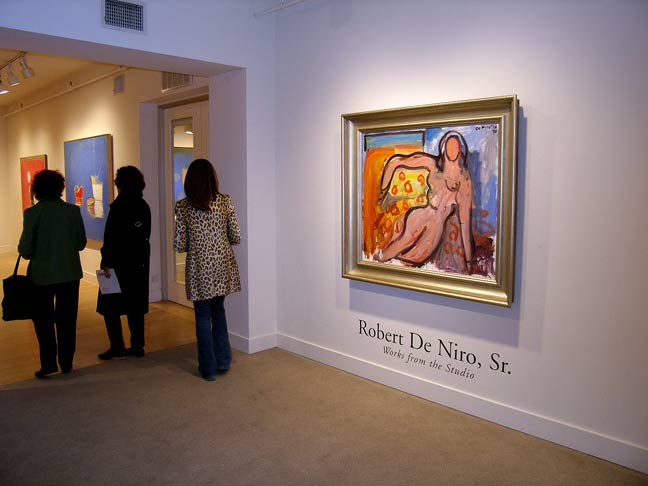 Art (Robert De Niro, Sr.).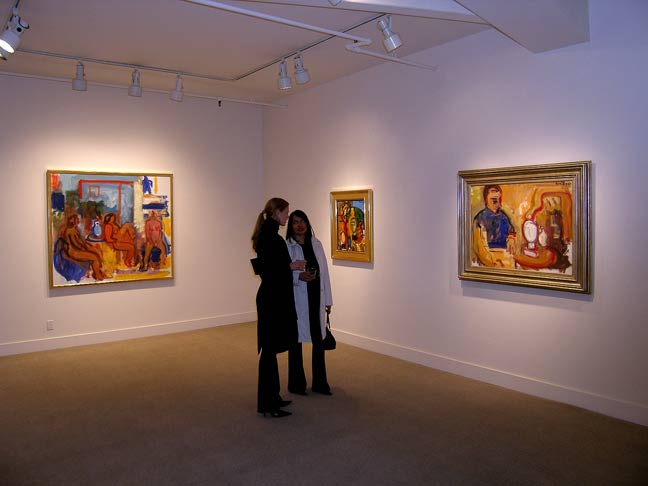 Art (Robert De Niro, Sr.).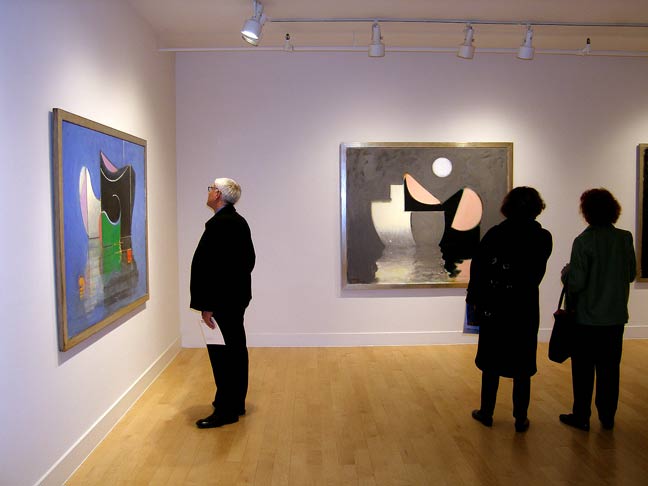 Art (Paul Resika).


***
Modernism Gallery: Erwin Blumenfeld (1897-1969), Paintings, Drawings, Collages, & Photographs.
Comment: Erwin Blumenfeld gained fame primarily as a commercial fashion photographer, but he had way more goin' on than that. The considerable and decidedly non-fashion selection here includes vintage black and white images of monolithic New York, Paris views from atop the Eiffel Tower, two intense antiwar portraits of Hitler's head superimposed over skulls, experimental avant-garde compositions, and more. But that's only half the show. In the back gallery are a number of Blumenfeld's modernist George Grosz-ian DADA-ist political social activist drawings and collage works. Excellent show. Go see.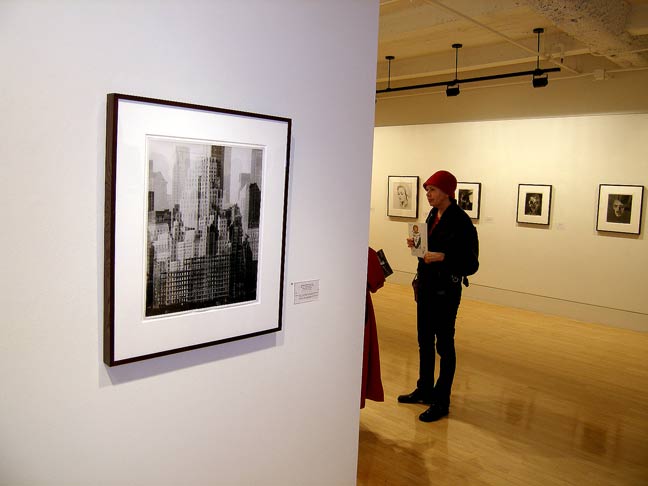 Photography.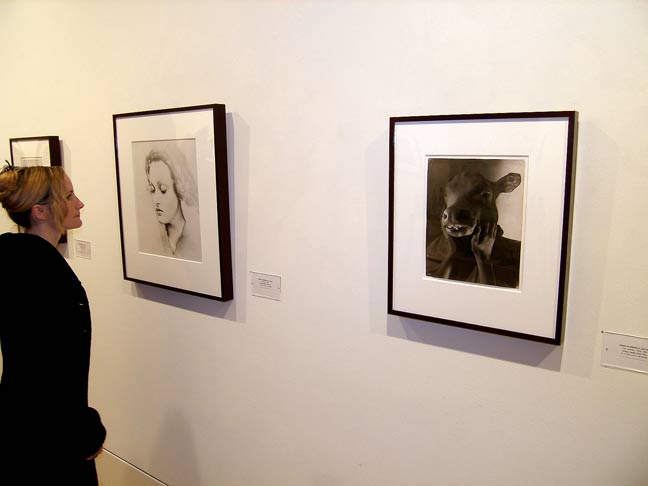 Photographs.


Photos.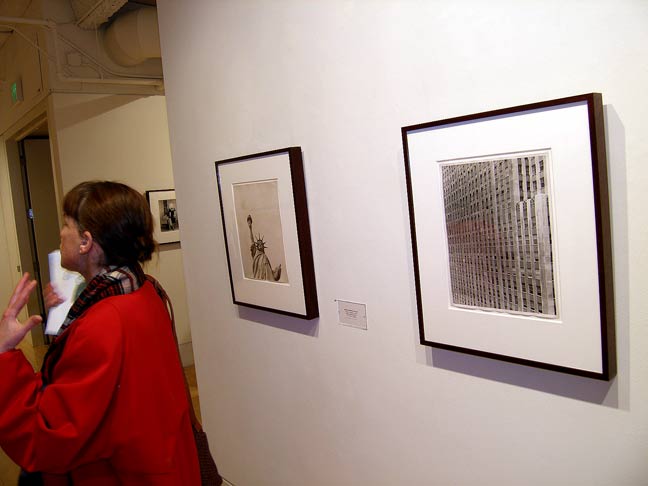 Photography.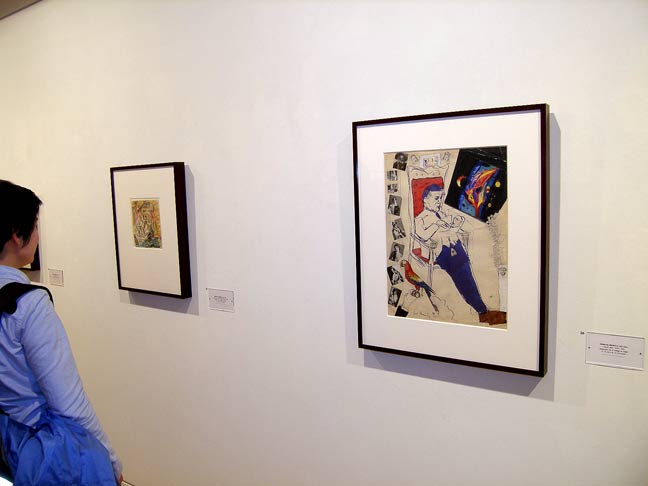 Drawing/collage.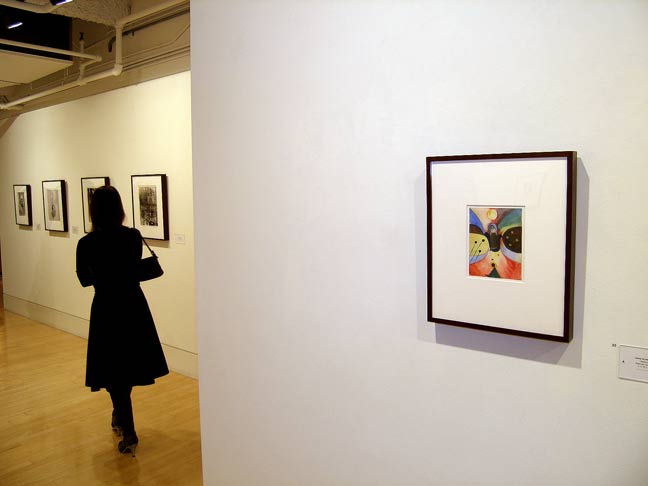 Drawing/collage.


Drawing/collage.


Hitler photos.


***
Robert Allen Fine Art: Kazuko Watanabe - Leaping Sihouette, New Multiple Color Intaglio Prints.
Comment: Memoirs of an art rover, continued... I don't know this place; it's my first time here. I walk into the two-story gallery, take a look around, see this dude who looks like he could be Robert Allen (the presumed owner), say hi, introduce myself, and discover that he is in fact Robert Allen. We exchange pleasantries, then I ask if the gallery's new. He tells me he's been in business 27 years, 22 at this location. Erk. He goes on to say he does a substantial amount of corporate work in addition to running the gallery, providing a full range of services such as framing, placement, and installation. Enlightened and over my embarrassment, I head upstairs to see the show of proficient appealing abstract color intaglio prints by Emeryville artist Kazuko Watanabe. Priced $500-$2200.
Kazuko Watanabe - art.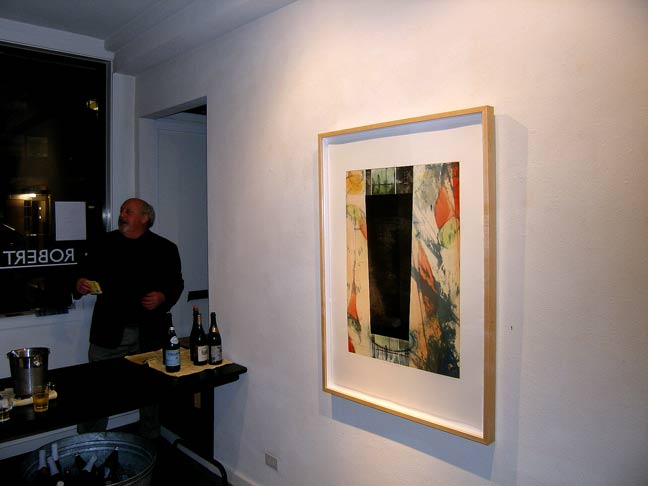 Art.


Art.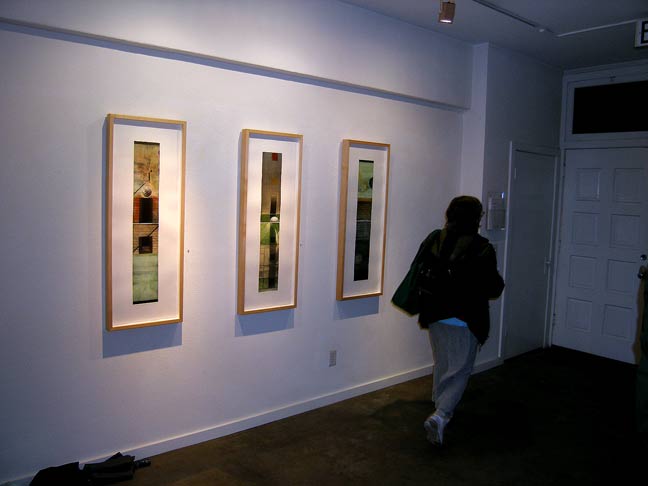 Art.


***
Linc Art: New Work by Graham Gillmore - Drawings by Christopher Pottruff.
Comment: You can't do much better in San Francisco's Department of Artland Merrymaking than you can at a Linc Art opening. And the Linc management team is magnanimous too. Well over halfway into the affair, they're still putting out cheese-- fresh unopened cheese-- the good stuff-- try finding that at those other galleries. From food to fashion, let's talk artist footwear. Tonight, Graham Gillmore hushes his puppies in a pristine pair of long low white slip ons with black piping, while Christopher Pottruff tricks out his tootsies in two-tone pink and mauve alligator sliders. Never have I witnessed such a tandem salvo of podiatric pageantry. And that's not all, kiddies. There's art too...
New Yorker Graham Gillmore makes art by arranging words and letters into what appear to be sentences, but then you read 'em and they kinda make sense and they kinda don't. I think it's one of those "open to interpretation" deals. His most impressive wordworks are carved into wood, then painted and finished deep thick and glossy. Christopher Pottruff, hailing from way up North, high in the mountains of British Columbia, Canada, creates confident intertwined enigmatic drawings. I can't quite cipher 'em (mainly because they're enigmatic) so I ask Pottruff what one is about and he tells me it's an aneurysm. I tell him it looks more Mayan. So we settle on Mayan Aneurysm.
Art (Graham Gillmore).


Art (Graham Gillmore).


Christopher Pottruff - art (Mayan Aneurysm).


Graham Gillmore (right) - art.


Art (Christopher Pottruff).


Appendage accouterments.


Charles Linder (owner) - tiny bike dude - Andrew McKinley (bon vivant).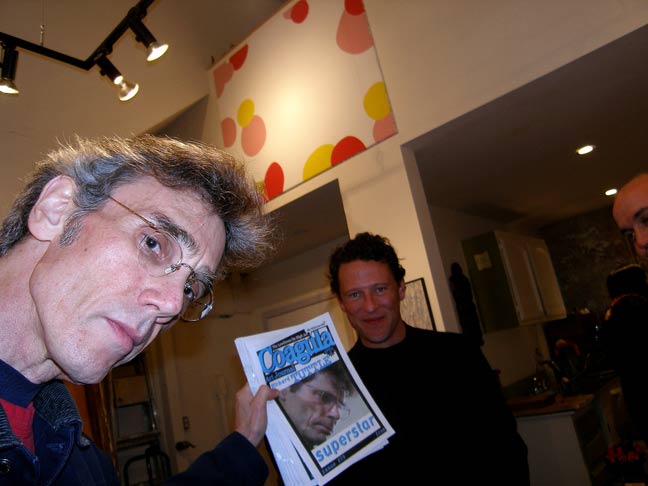 I got runnerup in the Richard Tuttle lookalike contest.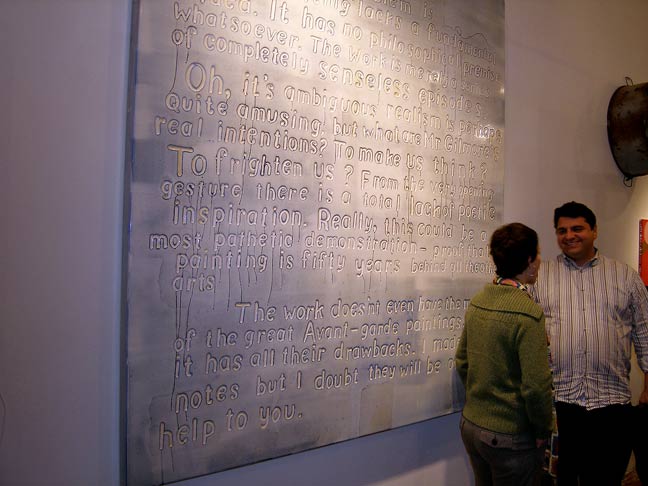 Art (Graham Gillmore).


Art (Graham Gillmore).


***
Creativity Explored: Vessels.
Artists: Steven Gin, Eric Boysaw, Anne Yamasaki, many more.
Comment: Creativity Explored is a working studio and exhibition space for artists with disabilities. Tonight's gallery show features sculptural works, particularly "containers for the home" meaning bowls, vases, lunchboxes, storage units, baskets, and even an animal carrier. Loads of works on paper are available back in the main studio area (plus live music). Prices always affordable. The quality and range of art produced by Creativity Explored artists gets better and better.
Baskets (like 'em).


Art.


Art.


Art.


Art and music listening in the studio.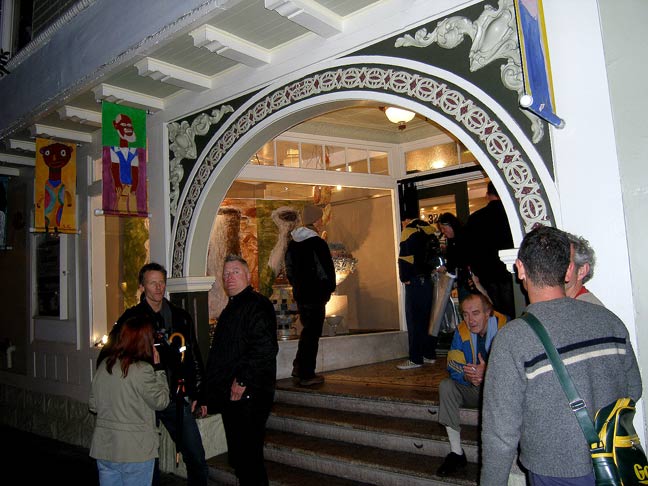 Veranda.


***
Arspace: Don't Call Me Fluffy.
Artists: Michael McConnell, Kerri Lee Johnson, Jennie Ottinger.
Comment: Three artists use "lighthearted imagery to explore weightier issues." Fair enough. Mainly works on paper. Good selection under $350.
Art.


Art.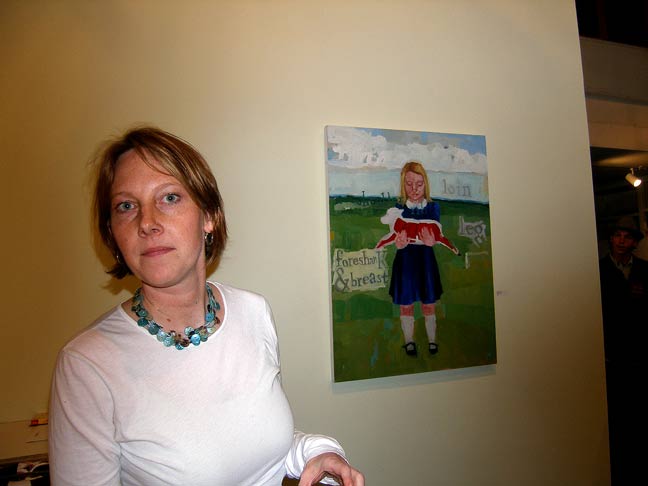 Jill Manthei, curator - art.


Art.


***
Red Ink Studios: Circle of Friends.
Artists: Tomoko "Momoca," Jasko Begovic, Kamau Amu Patton, Massan, Asa Turner, Batiste Fenwick, Justin Young, Isabelle Lumpkin, Jeremiah Nadya, Matt Scullin, Spectra-JC, Victor Pineda.
Comment: Unconstrained meandering creative anarchy, mainly installations, some photography, some paintings. This one dude's installation consists of an office chair set center on a carpet remnant, a small red light at one corner of the remnant, a severed ckicken foot resting at the end of each chair arm, talons facing front. I ask the artist for a verbal synopsis; he tells me the art speaks for itself. I put my ear up real close but can't hear a thing.
Art.


Art.


Red blue bandana collage art (kinda like it).


Art.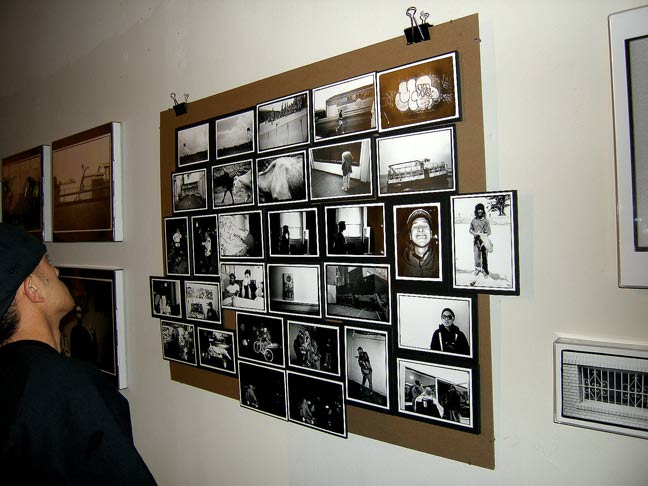 Art.


Art.


***
Addendum:


Michael Azgour paintings at Hotel Union Square.


One more Michael Azgour at Hotel Union Square.