SAN FRANCISCO ART GALLERIES - OPENINGS
GERAS TOUSIGNANT - MINA DRESDEN GALLERY
IN COLOR 2 - ROCKET WORLD - ONE TASTE
CALIFORNIA INSTITUTE FOR INTEGRAL STUDIES
03.09.07
Geras Tousignant Gallery: Ocean Theme Work by National and International Artists Featuring the work of Jacqui Eisenberg.
Artists: James Scott Geras, Matthew Frederick, Russell Pachman, Daniel Tousignant, Jay Tyrrell, Denise Laws, Norm Halm, Zheng Dong Sheng, Vonn Sumner, Monika Steiner, Alberto Cristini, and Matt Colagiuri.
Comment: Underwater photography by Jacqui Eisenberg headlines this event to benefit Oceana, an organization dedicated to conserving and protecting our oceans. Good show; the gallery is crammed; I can barely move. Excuse me. Excuse me. Pardon me. Sir, I think you're standing on my doppelganger. Thank you. Outta here.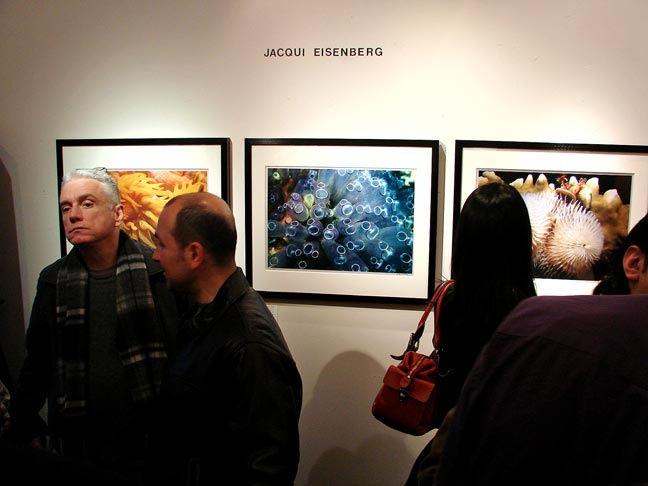 Featured artist, Jacqui Eisenberg.


This one's rather curious.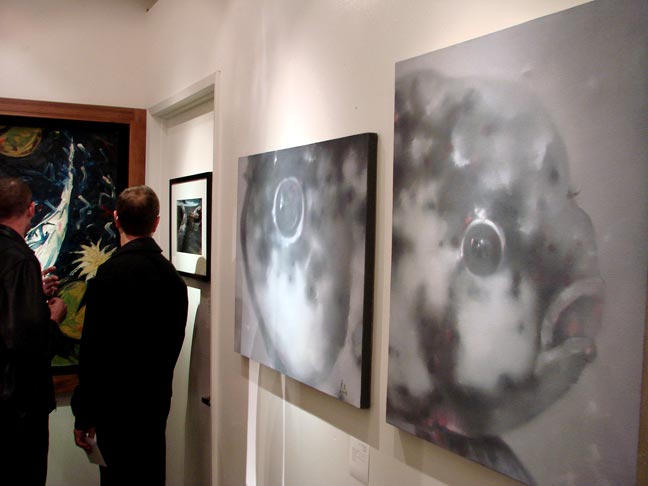 Art.


Art.


Underwater photography (Jacqui Eisenberg).


Here's another one of those oddities.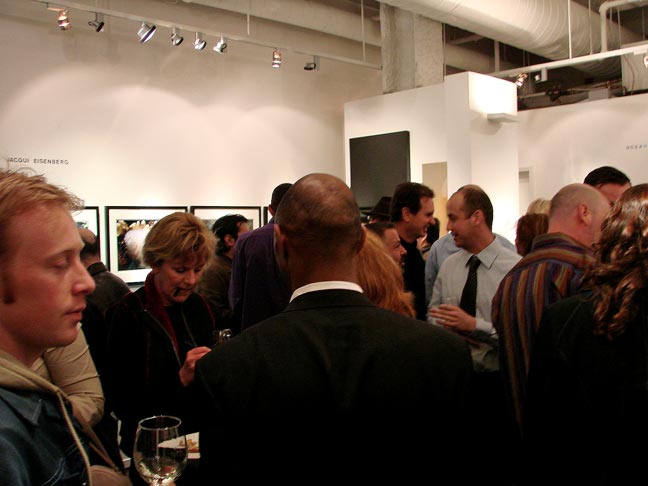 Oooof.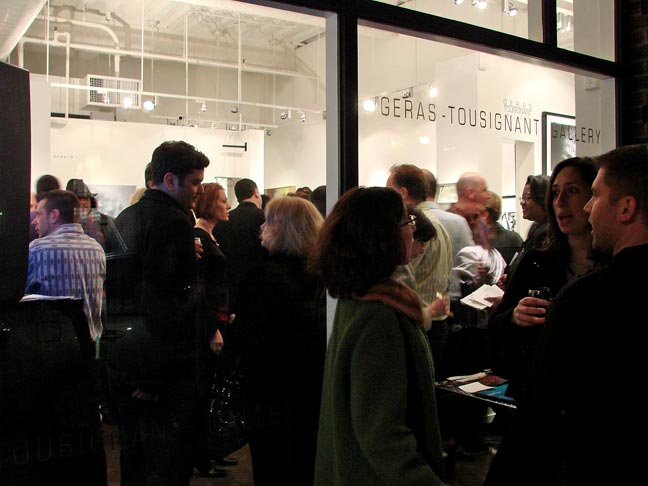 Free at last.


***
In Color 2: Robert Dufort - The Signs Are All Around You.
Comment: In Color 2 principal Erik Auerbach tells me Robert Dufort uses the In Color 2 facilities to process his photographs, which is how he came to appreciate Dufort's work-- and give him this show. Dufort ably jockey's a cheap plastic Chinese camera called a Holga to document imagery he finds on walls around town, from corporate advertising to graffiti. Fully exploiting the weaknesses of the Holga, he extends his moody images beyond the lens field to include fade-to-dark areas around the edges of the compositions, and Kodak company copy along the top and bottom edges of the film strips. Like it.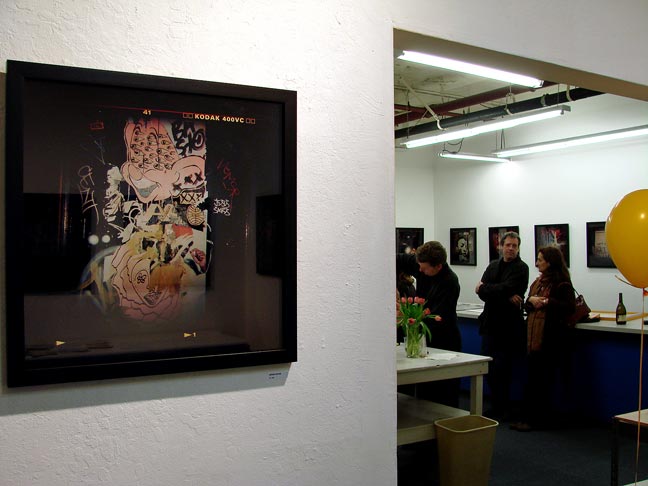 Photography.


Equipment.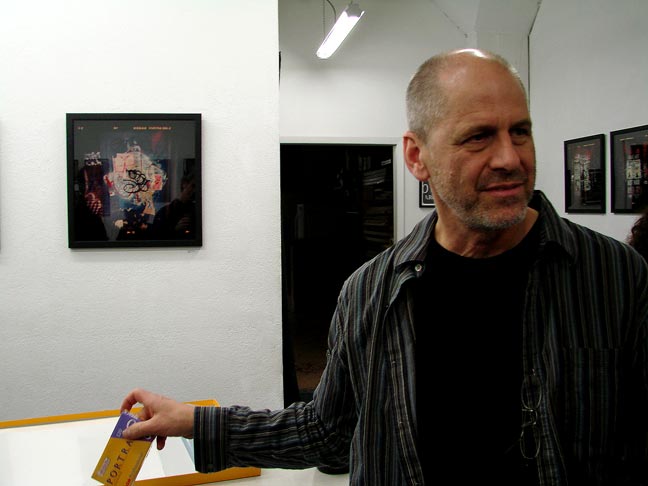 Robert Dufort - photos.


Images.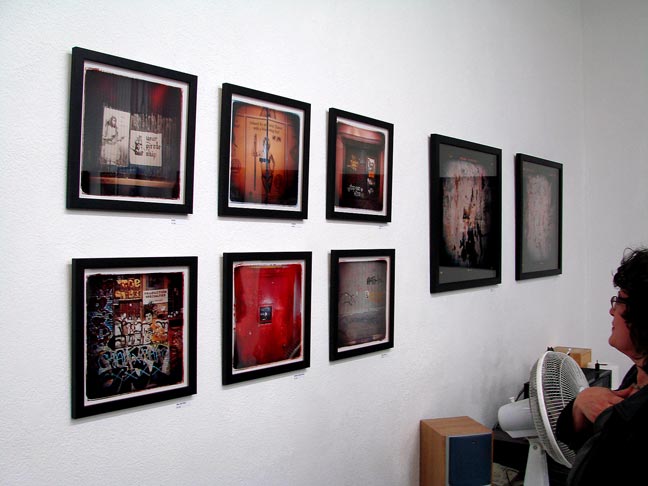 Photographs.


Photos.


Images.


Photographs.


***
Mina Dresden Gallery: Intimate Bodies Public Spaces.
Artists: Paz de la Calzada, Annamarta Dostourian, Vanessa Garcia, Susan Garry-Lorica, Cristina Ferrandez, Taraneh Hemami, Rachel Hoffman, Aurora Meneghello, Camilla Newhagen, Patricia Tinajero, Cristina Velazquez.
Comment: Art by women artists addresses aspects and perceptions of the female body as it transits public places. While I'm there, scantily clad Miami-based artist and performer Lady Danger (aka Rachel Hoffman) transits the gallery slink-style, gyrating this way and that. She's tricked out with a tentacled gold fabric appurtenance around her waist featuring an open-mouthed sharp-toothed centerpiece guarding the gateway to her inner pubis-- possibly positioned to am-bush unsuspecting penises. But I ain't falling for no Venus Flytrap gambit, and surreptitiously confirm that Mr. Zipper's topped and locked.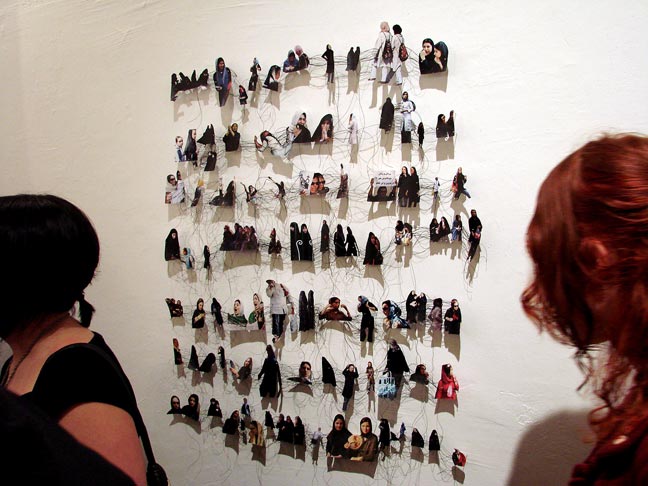 Art.


Vaginal veil art (right).


Paz de la Calzada - ersatz cosmetic line art.


Installation art (Annamarta Dostourian - like it).
A fine wire gown, barely visible, hangs from the ceiling.


Uh oh. Lady Danger in da house.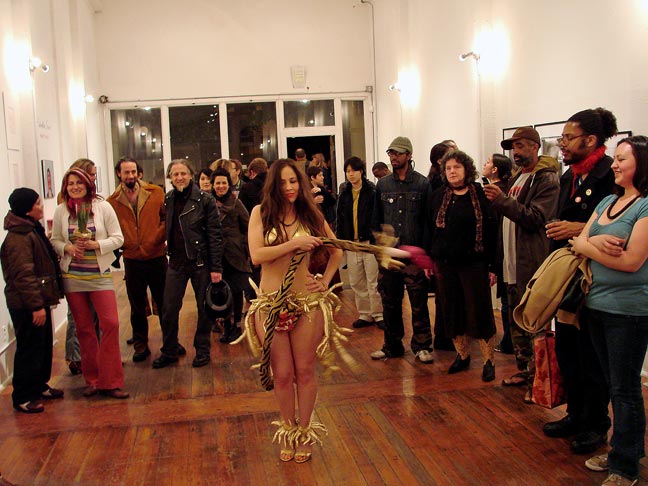 Lady Danger works the room.


Lady Danger takes a nap.


Bye bye Lady Danger.


Art.


Art.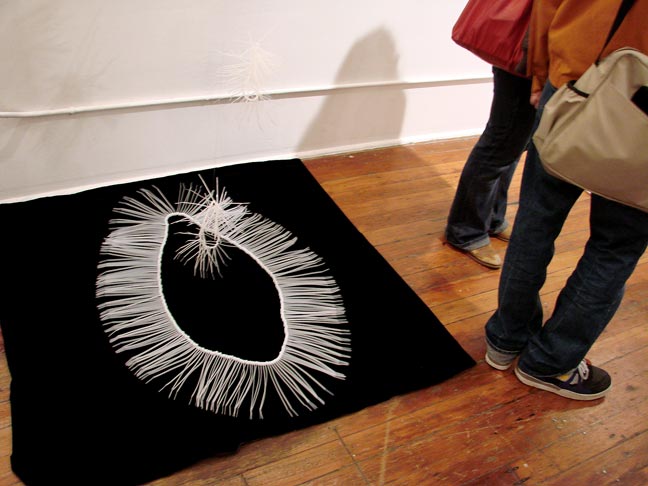 Art.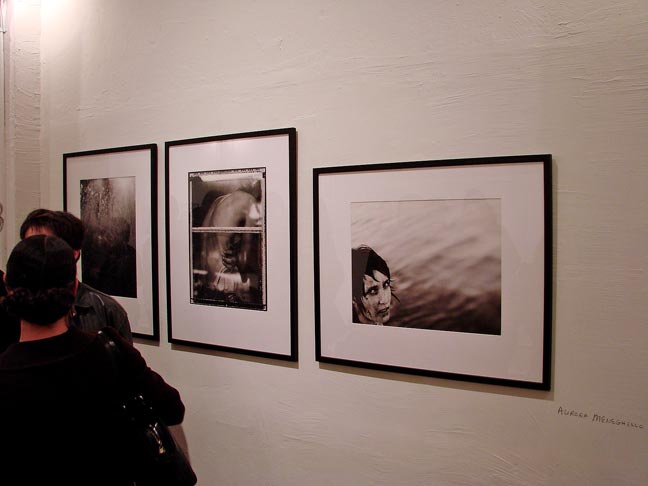 Art.


Art.


***
Addendum: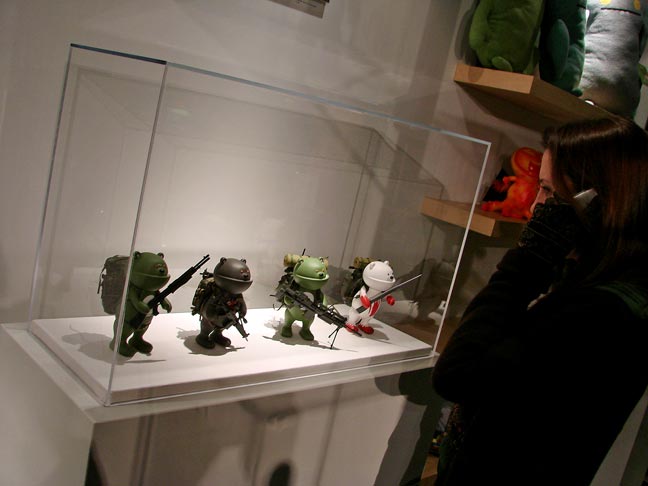 STRANGEco limited edition toy release at Rocket World.


One more from Rocket World STRANGEco toy launch.


Pamela Lanza & Ellie Barrett Wilder "mixed media works" at
California Institute for Integral Studies.


Mixed media? Not really. Inkjet prints, mainly.


One more from CA Institute for Integral Studies.


Richard Wisinski glass paintings at One Taste.


More Richard Wisinski glass paintings at One Taste.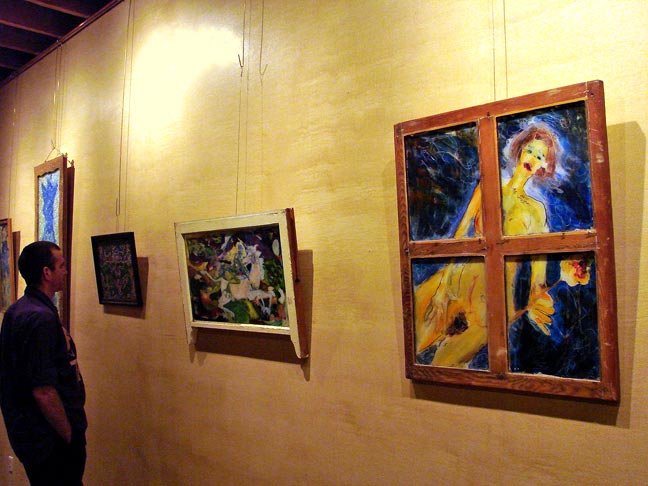 Last one from One Taste Urban Retreat Center.


***