SAN FRANCISCO ART GALLERIES - OPENINGS
JACK HANLEY - 301 BOCANA - GRAY AREA GALLERY
WHITE WALLS - THE SHOOTING GALLERY
03.10.07
301 Bocana Gallery: Val Britton - Near and Far.
Comment: Painting, drawing, collage, and dimensional paper assemblages reference maps, truck routes, and memories of Val Britton's past. Interesting creative take on the highway system, however considering the orderliness of the cartographic arts, the upshot here comes off uncharacteristically chaotic.
Art.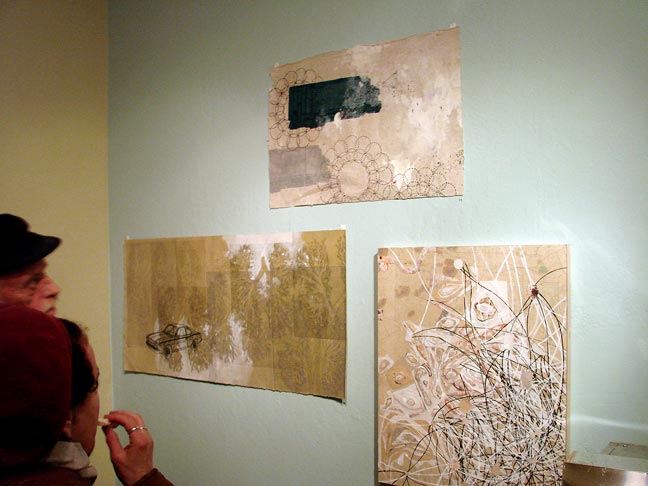 Art.


Art.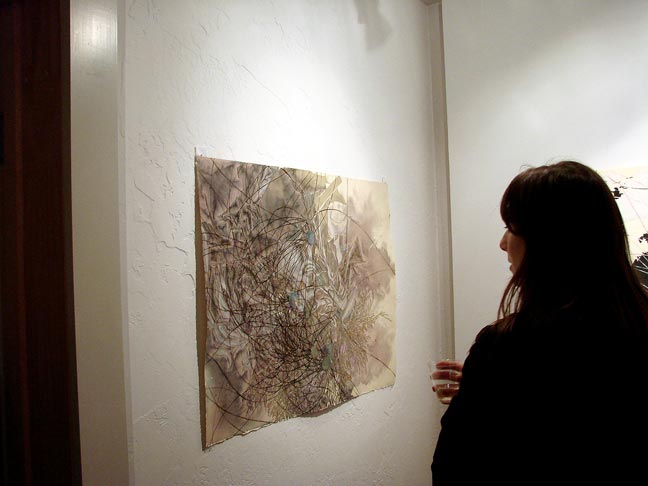 Art.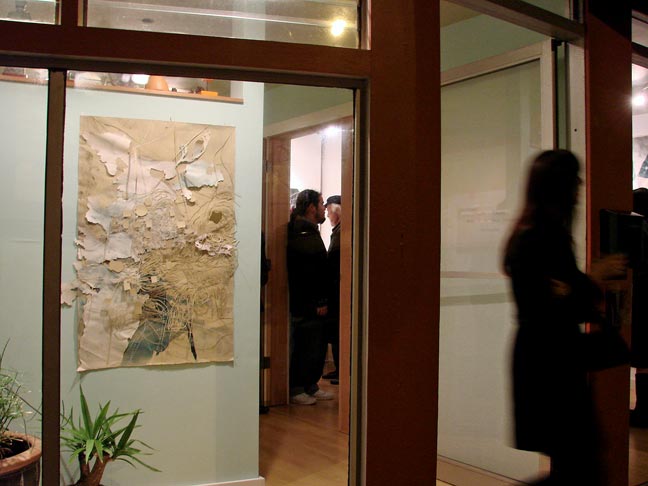 Frontage.


***
Jack Hanley Gallery: Michael Bauer - Basho's Friends.
Comment: Contorted abstractions peppered with sporadic figural flourishes, lone cigarettes, and dangling glandular appurtenances indicate that you'll inevitably cypher portraits out somehow. The liner notes draw comparisons between Michael Bauer's paintings and those of Giuseppe Arcimboldo. I see a little Paul Wunderlich too. However, in speaking with Bauer I reference Rudy Wunderlich instead of Paul-- which means neither of us know what I'm talking about (not all that unusual). Then Bauer says, "You mean Paul Wunderlich?" Yep. Anyway, in case you care, and I know you don't, Rudy Wunderlich was an influential figure in period American art collecting during the second half of the 20th century, and President of Kennedy Galleries in New York City.
Meanwhile, back at the show, Cologne Germany-based Bauer adroitly obscures the boundaries between abstract and representational, commingling 'em kind of like a two-fer (one or both - take your pick), plus he's got an enticingly uncommon color sense. In closing, I do a quick search on Basho from the show's title "Basho's Friends"-- probably Matsuo Basho, a 17th century Chinese poet-wanderer.
Art.


Art.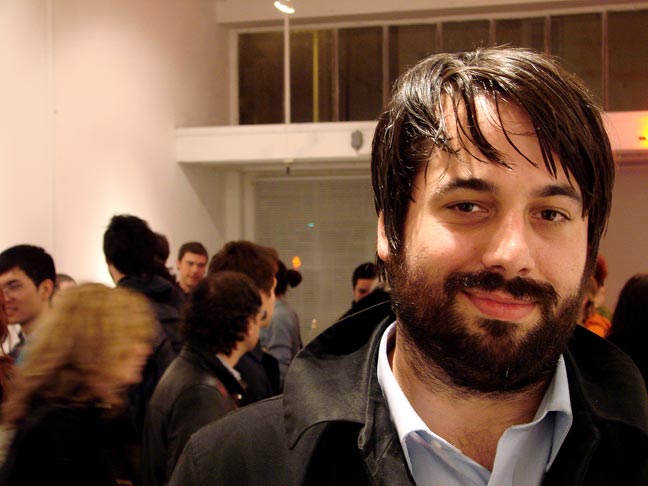 Michael Bauer.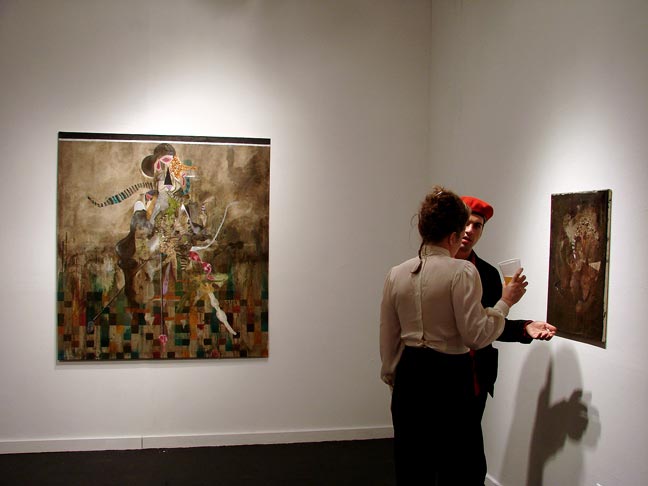 Art.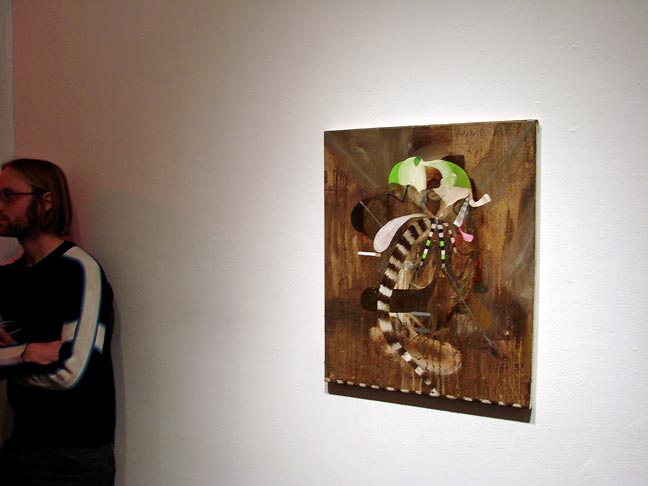 Art.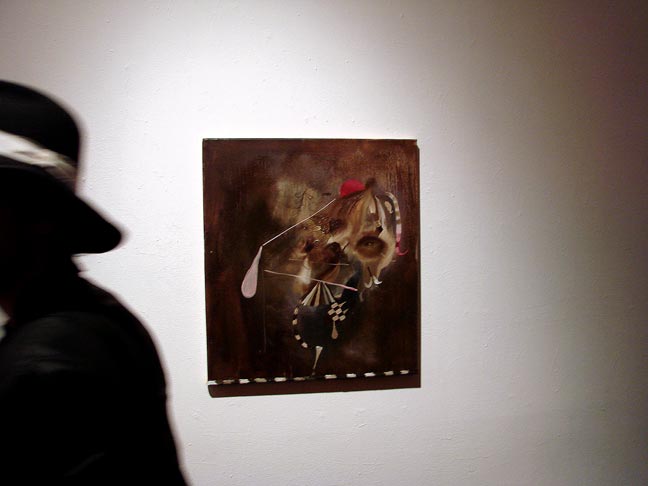 Art.


***
Gray Area Gallery: Lonesome Lover.
Artists: Trish Grantham, Amy Ruppel, Alphonso Solorzano, Jessica Huston, Jason Vivona, others.
Comment: Emerging talent, urban slant, trending illustrative, reasonably priced, generally creditable.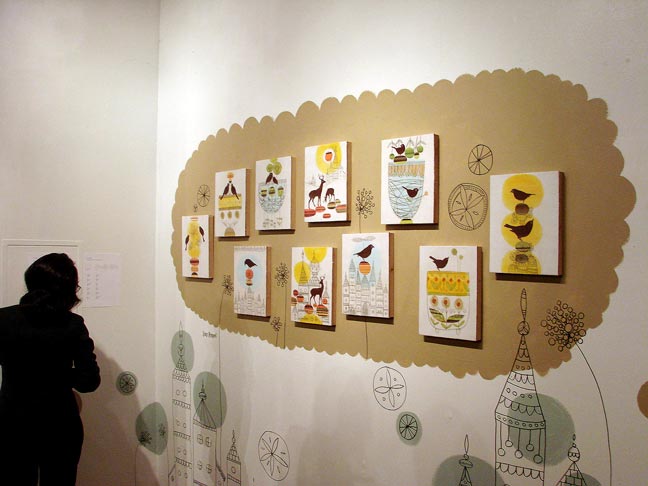 Art.


Art.


Art (Alphonso Solorzano - sorta like it).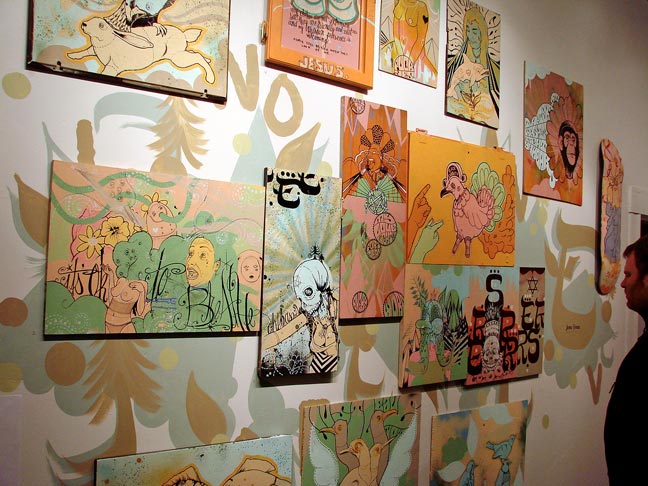 Art.


Art.


***
White Walls Gallery: Andrew Schoultz and Greg Lamarche (SP One) - Common Denominator.
Comment: Andrew Schoultz dazzling dynamic pinpoint paintings (some with collage) conscript your brain, and off the charts you go-- all action, all the time. Greg Lamarche tells me his penchant for vintage paper manifests itself in his meticulous methodical multicolor collages. The two artistic styles complement each other with an admirable degree of eloquence. What's that mean? Buy one of each. What else? Lamarche priced $800-$2200; Schoultz from $900-$11K (most under $2500).
Art (Greg Lamarche).


Art (Greg Lamarche).


Art (Greg Lamarche).


Greg Lamarche - art.


Art (Greg Lamarche).


Art (Greg Lamarche).


Art (Andrew Schoultz).


Art (Andrew Schoultz).


Art (Andrew Schoultz).


Art (Andrew Schoultz).


Art (Andrew Schoultz).


Art (Andrew Schoultz).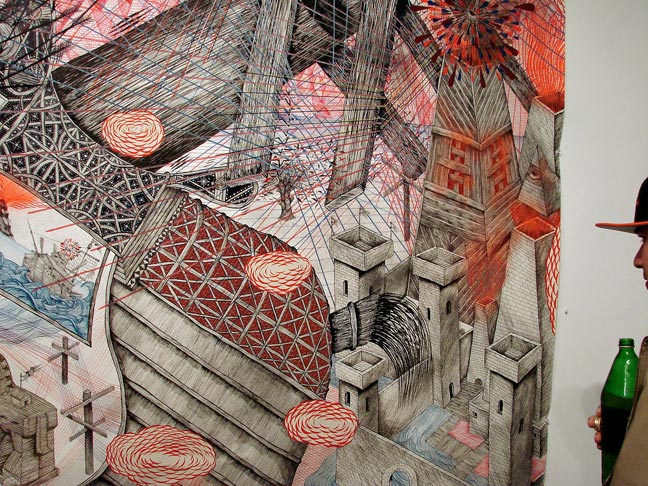 Art (Andrew Schoultz).


Andrew Schoultz out front.


***
The Shooting Gallery: Curve One - Cash Rules Everything Around Me.
Comment: Curve One elevates the urban idiom, committing monetary mayhem in a variety of media. I'm partial to the larger works on paper, but it's all good. Who says you can't hang cabbage on the wall? Pleasingly priced at $250-$5,000; most under $1000.
Cabbage art.


Scratch art.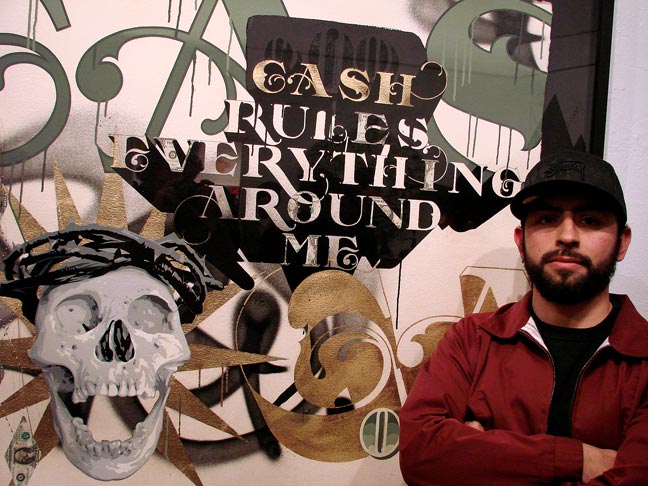 Curve One - art.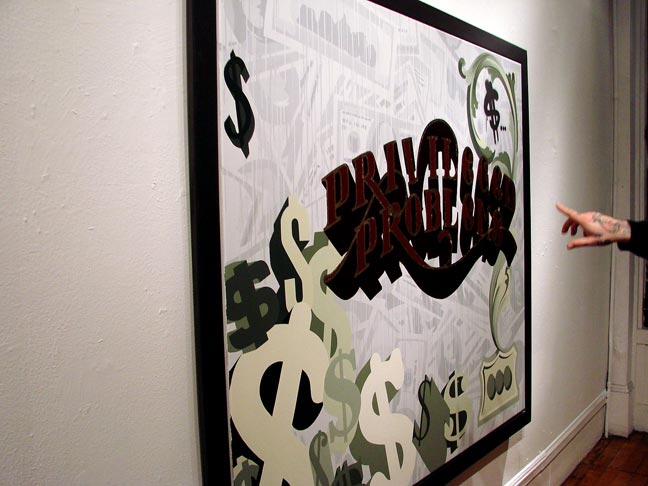 Legal tender art.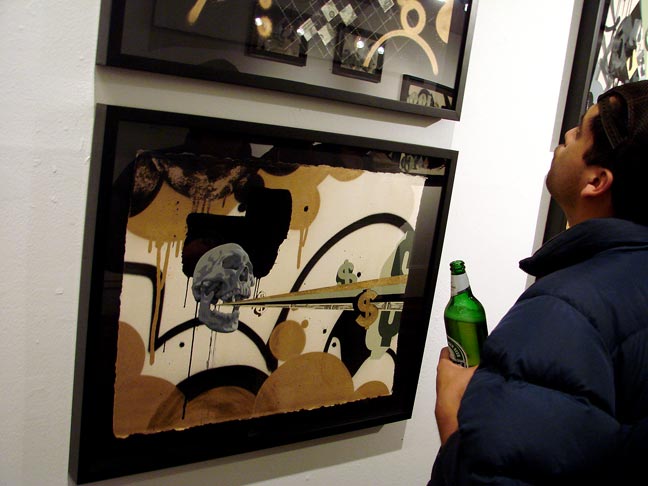 Green stuff art.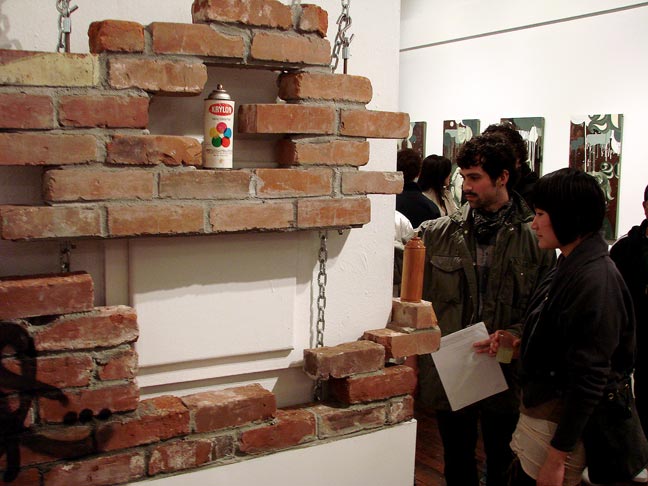 Mazuma art.


Currency art.


$$$ art.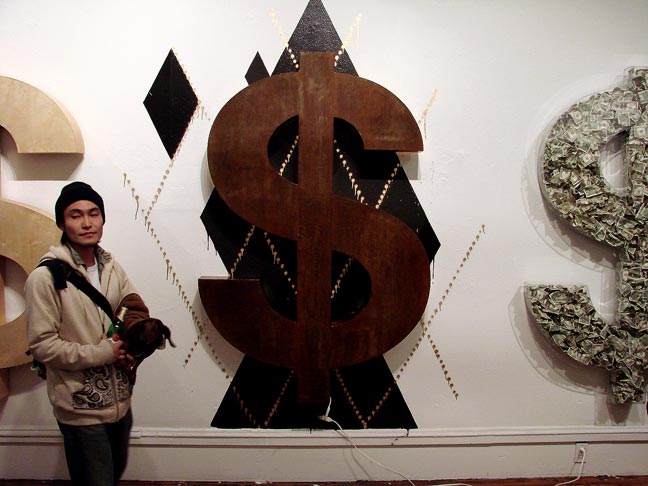 Clams art.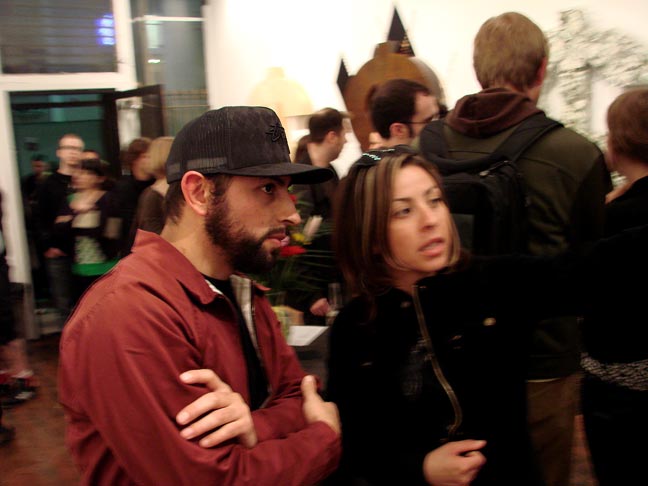 Curve One engaged in methodological discourse.


***