SAN FRANCISCO GALLERY OPENINGS
MARKET STREET GALLERY - POND - GALLERY 16 - CRICKET ENGINE (OAKLAND)
03.11.05
Market Street Gallery: Zhiyan "Zian" Wang, Paintings.
Comment: Competent portrait and figure paintings by Chinese realist painter Zhiyan Wang. The gallery appears to be affiliated with online artist resource, MesART.com, providing an "elegant and affordable internet presence with online sales capability to all new, emerging, and practicing artists."
Art.


Zhiyan "Zian" Wang - art.


***
Pond: Shopdropping, Experiments in the Aisle.
Artists: Michael Campbell & Coby Ellison, Marc Horowitz, Shannon Spanhake, Ven Voisey, The Art Dept at the Boys & Girls Club of San Francisco, Steve Lambert, Conrad Bakker, Amy Franceschini, Center for Tactical Magic, Eva Strohmeier, Packard Jennings, Chris Cobb, Eric Zassenhaus, Emily Abendroth, Amar Ravva, Terri Cohn, Biz Stone, Jason Andrews, Stacy Doris, Jo Cook, Hilde Jaegtnes, Summi Kaipa, Amanda Davidson, Jaime Cortez, Griffin McPartland, Ann Frost, Graham Barry.
Comment: Well, the art's good, and the "interventionist" premise works-- inserting art into non-art environments, in this case, retail stores. But the excruciatingly convoluted explanatory is a complete brain maul. What am I supposed to do with the following, for example? "Using beauty, humor, and intimate address to invite shoppers' self-reflection and second glance, the works eschew a reductivist commodity critique in favor of complex strategies that detourne situations, present alternatives to normative systems of exchange, and graft together alternate economic regimes." But never mind me. What's a shopper supposed to do with it? That's who this onslaught of meandering shrapnel appears to be aimed at.
If you want to make a point with art, which I suspect those of you who put this show together want to make, make it so that ORDINARY PEOPLE without advanced art educations, but who like art, such as myself, can understand it. Because you know what? Those kinds of people come to the show. And you know what else? They really really really want to appreciate and feel a connection with what they see when they get there. Being exclusionary doesn't help anyone.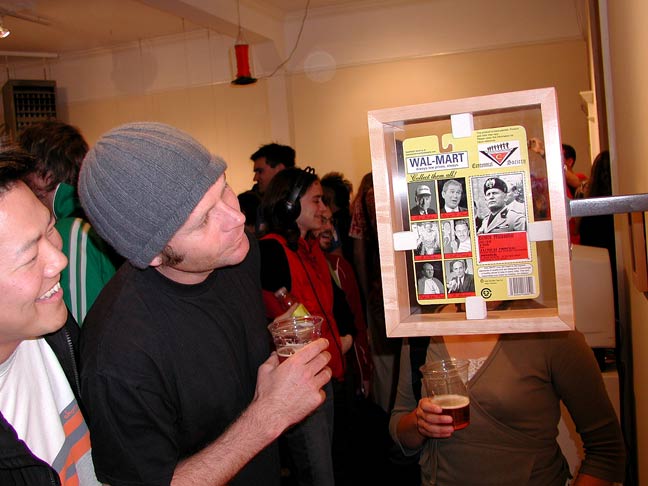 Current administration art.


Box art.


Medallion art.


Art.


Art.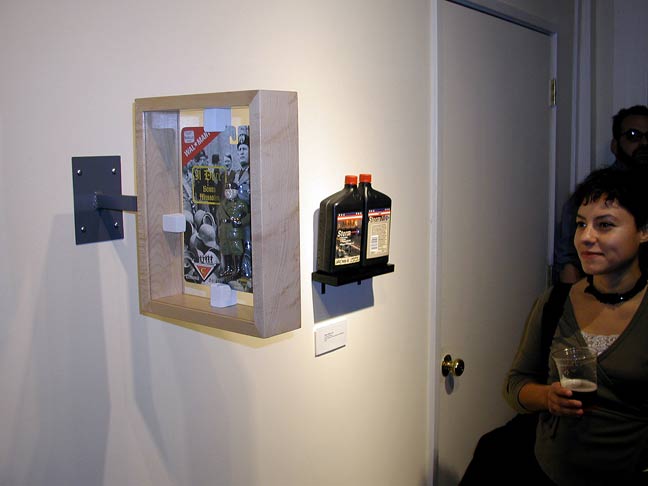 Oil war art.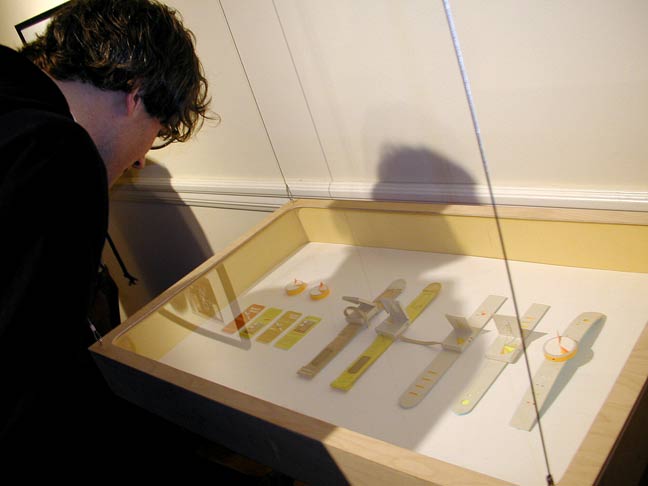 Art that looks like watches.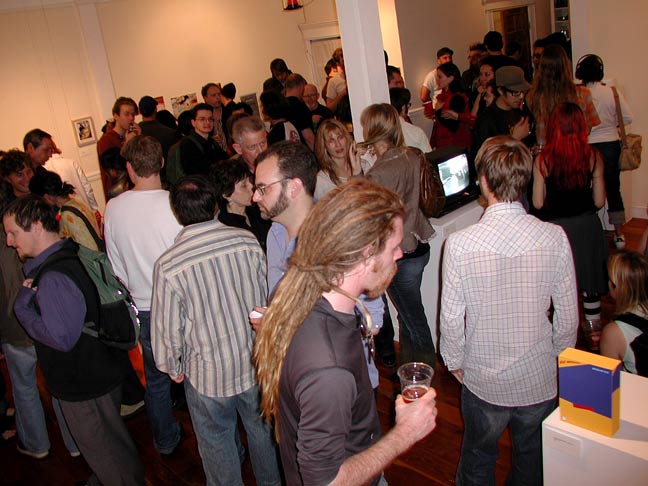 Relative density.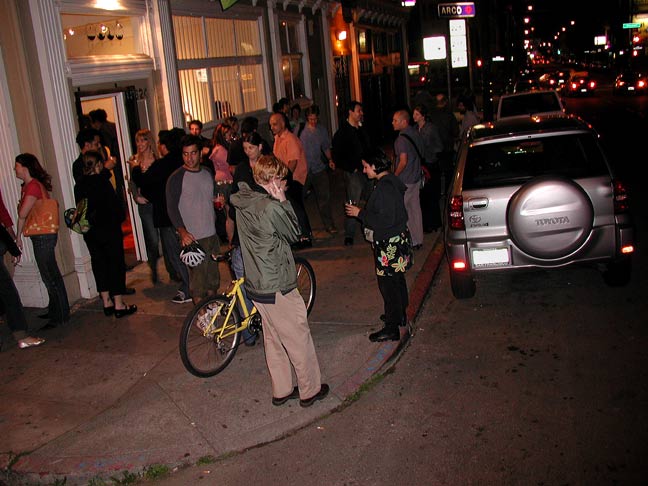 On the ave.


***
Gallery 16: Lauren Davies, As If; Carol Selter, Garden.
Comment: Lauren Davies explores taxidermy, dioramas like you see at natural history museums, and other aspects of how deceased wildlife is preserved and/or presented in either public or private settings. Using materials such as industrial rubber, a bath mat, face towels, foam, and astroturf, she creates faux versions of the real thing, does a pretty solid job, makes her point, even humorously so at times, my only concern being that the art looks a little haphazard or thrown together here and there. You see, I'm a big fan of purposefulness in art, meaning that I expect every last detail of a completed work to be where it's supposed to be for a reason, and not simply because that's where it happened to end up-- assuming, of course, the art's not about randomness.
Carol Selter photographs flora and fauna in her garden over a period of a year, prints them out on ceramic tiles, and arranges those tiles in grids. Everything works here. The time, effort, skill, and precision attention to detail are evident in Selter's flawless presentations. As a viewer, you can either appreciate the images as pure riots of living color, or you can get cognitive, go deeper, and explore the interrelatedness between the individual tiles, or the artist's motivations behind arranging them in the ways that she did.
Art (Carol Selter).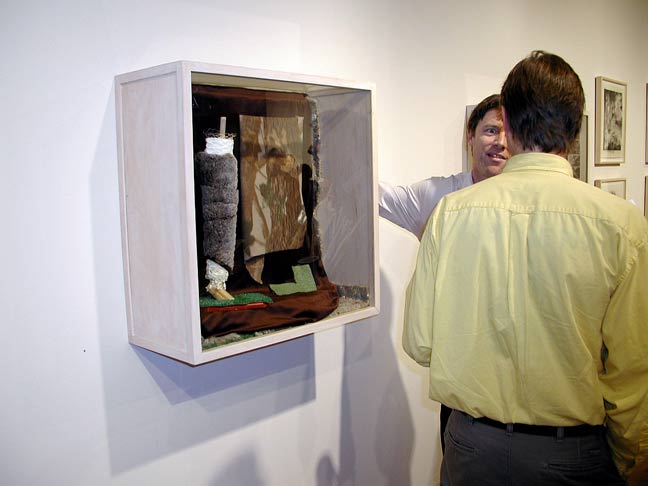 Art (Lauren Davies).


Art (Carol Selter).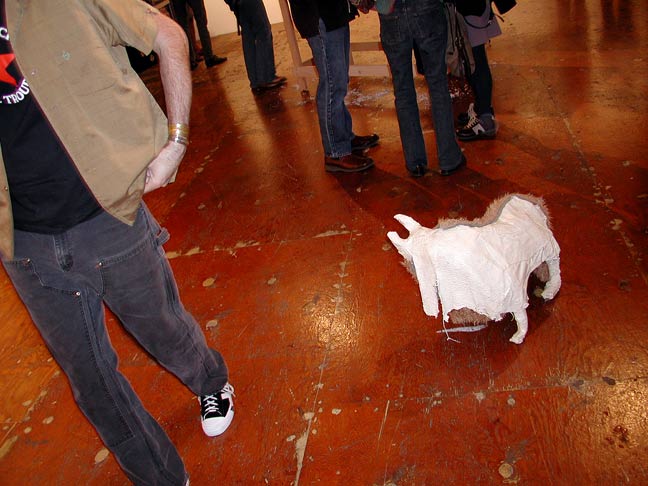 Art (Lauren Davies.


Art (Carol Selter).


Art (Lauren Davies).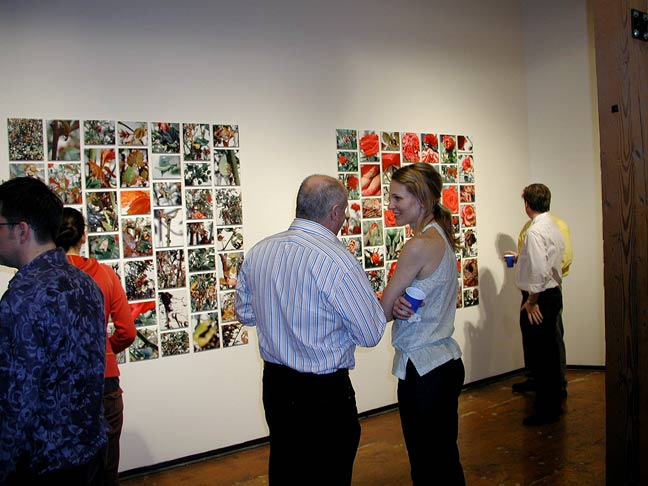 Art (Carol Selter).


Art (Lauren Davies.


***
Cricket Engine, Oakland: John Casey, Unusual Suspects, Sculpture and Drawing.
Comment: Cricket Engine is a gallery space in a quaint little artist colony down along the Oakland waterfront. This evening, John Casey shows ink drawings and sculptures, strange little imaginary creatures for the most part, cleanly and competently executed. The small sculptures are particularly fun, the larger small sculptures are more than particularly fun, and show potential. Prices are reasonable, nothing over $600, most much less.
Art.


Art.


Art - John Casey.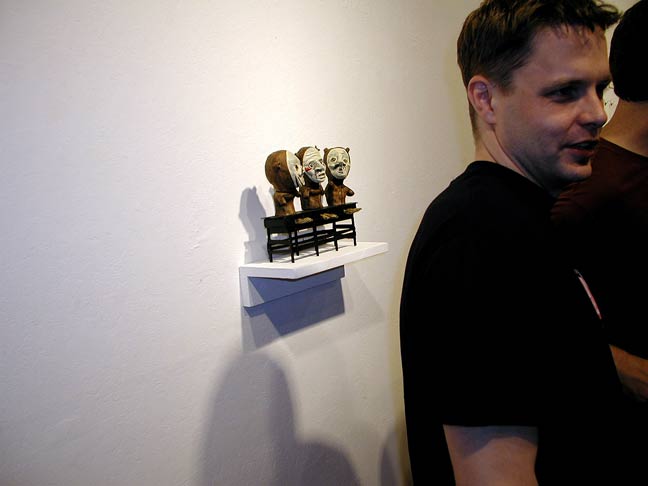 Art.


Art.


Art.


Art.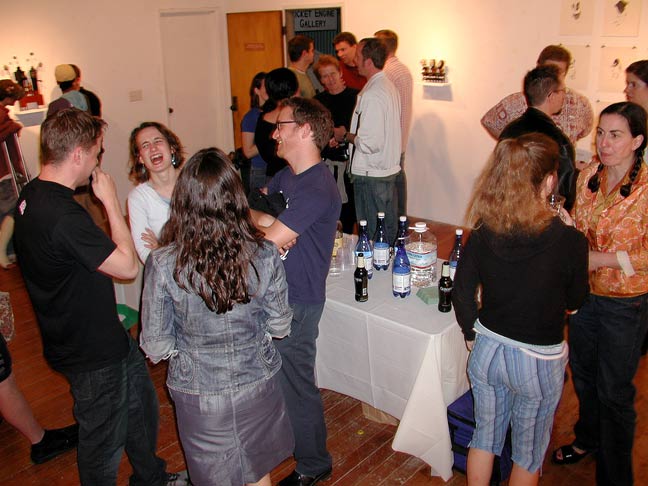 Planar.


Veranda.