SAN FRANCISCO ART GALLERIES - OPENINGS
LIMN - SF ART EXCHANGE - TRIPLE BASE - ONSIX
SOUTHERN EXPOSURE - NEEDLES & PENS - SOMARTS
CANESSA GALLERY - RED INK STUDIOS
IN COLOR 2 - GLAMA-RAMA
03.10-11.06
San Francisco Art Exchange: Sebastian Kruger.
Comment: Caricaturist Sebastian Kruger shows a range of supercharged full color in-your-face raunched up renditions of mainly movie stars and musicians. He is perhaps best known for his paintings of the Rolling Stones, but his crackerjack distortion portraiture (shades of Al Hirschfeld) is commendable no matter who he paints. Yes, it leans illustrational, yes it's a bit tricky, but the dude's really good. Nobody can argue that. Paintings range $50K-$75K; giclee prints $2100.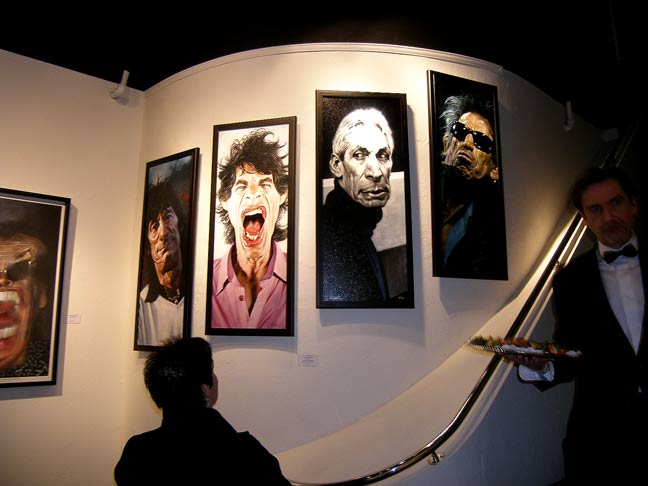 Art.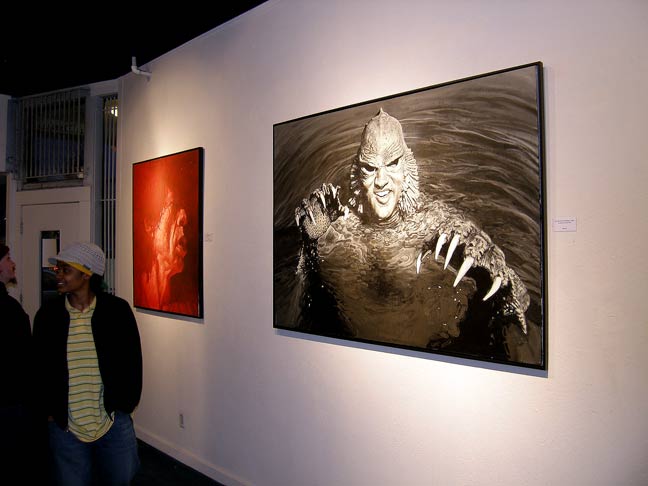 Art.


Art.


Art.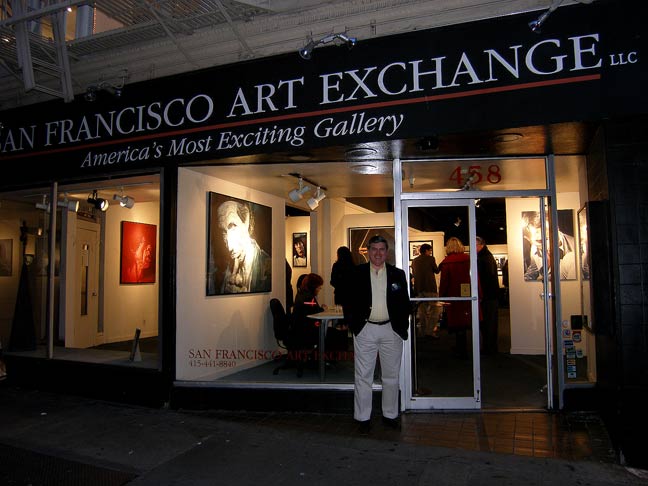 America's most exciting gallery? Imagine that.


***
Limn Gallery: Doug Kerr - Edge City; Out of This World - 1st Ave Machine, Mitra Fabian, Emily Hung, Dimitry Kozyrev, Sabrina Raaf, Tanja Rector.
Comment: Doug Kerr makes mainly pastellish monotoned architectural sculptures; some emulate buildings, others are more reminiscent of artified simplified freeway interchanges or Hot Wheels slot car tracks. The concept works as art, but the wall pieces in particular are a mite untidy along the edges (the car tracks are better). Meanwhile, over at the group show is a marvelous video by 1st Ave Machine that from a distance looks like plant life, but then you get up close and see that the plants have eyes and other moving parts all over 'em. Also in the I-like-it department are several elongated photographic compositions by Sabrina Raaf-- gravity-absent action scenes with floating characters coming at you from all directions.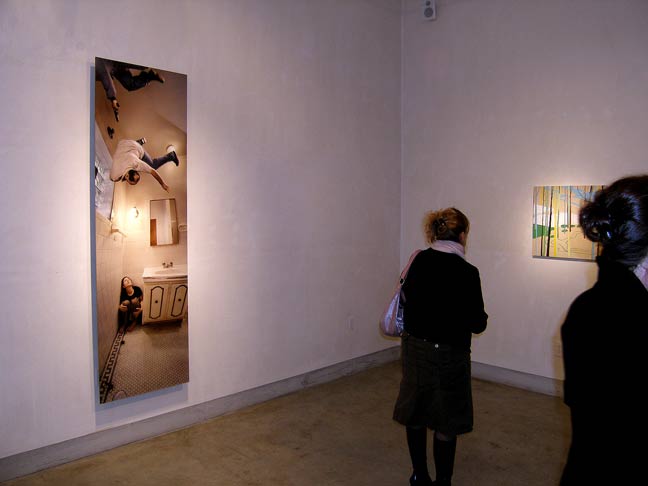 Photography (Sabrina Raaf - like it).


Photography (Sabrina Raaf - like it).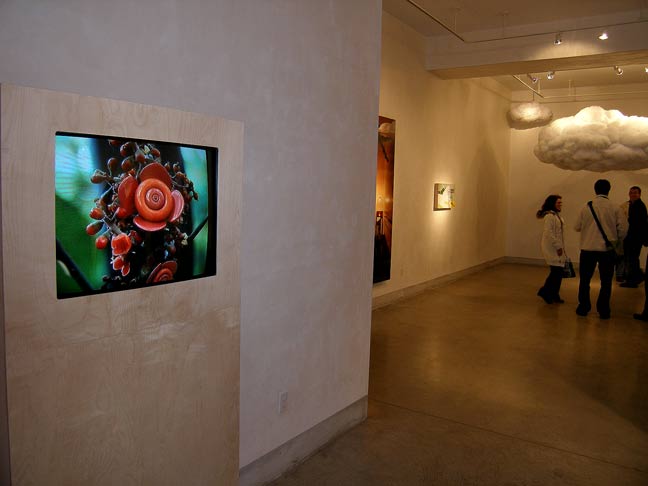 Video (1st Ave Machine - like it).


Art (Doug Kerr).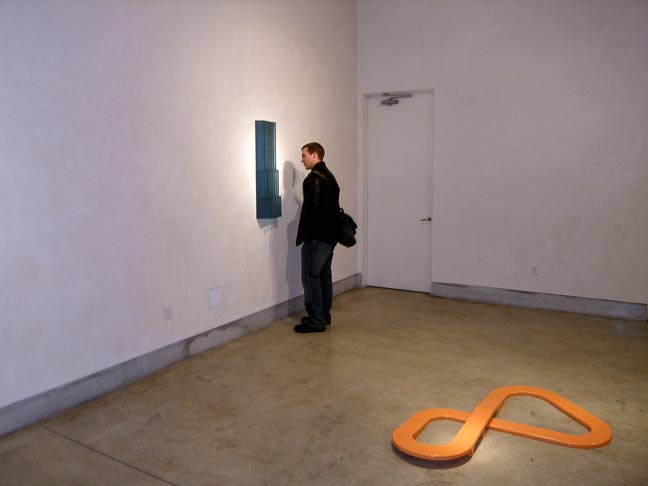 Art (Doug Kerr).


Art (Doug Kerr).


Art (Doug Kerr).


Art.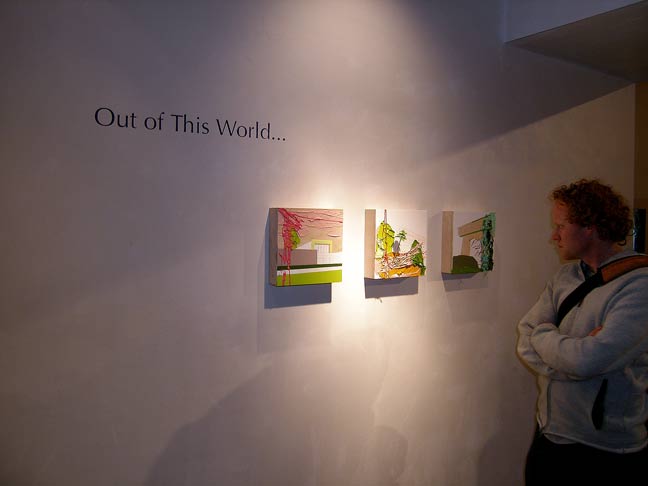 Art.


Art.


***
In Color 2 Fine Art Exhibition Printing: Jessamyn Lovell - Catastrophe, Crisis, and Other Family Traditions - New Work.
Comment: Jessamyn Lovell was born and raised un Upstate New York near Syracuse; she now lives here. Lovell periodically returns to her roots and documents that periodicity in photographs. Used to be that the homeland was pretty fresh, familiar, and just the way she left it, but it's become increasingly remote and foreign. So that's the theme and she's developed it well and she's querying publishers about maybe turning her introspective journeys into a photo essay. Her work is personal and universal at the same time, her intimate evolving geographic investigation of a truth we all know, that you can never go back.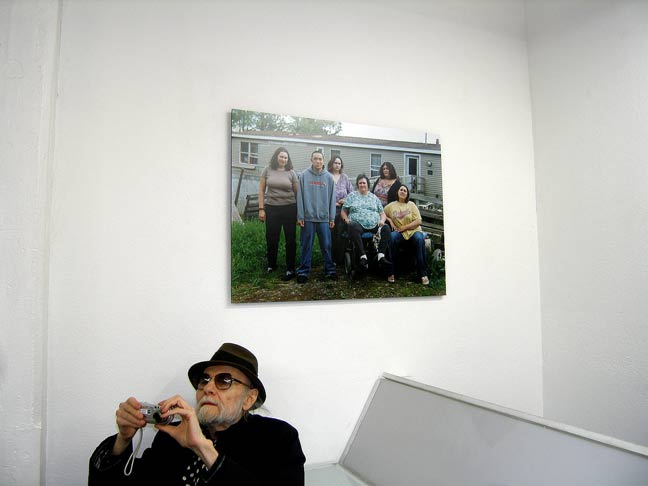 Photographic art.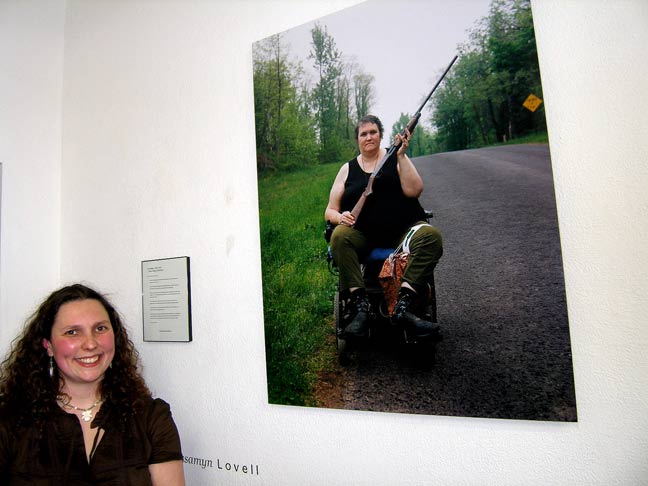 Jessamyn Lovell (left) and Mom.


Photos.


Photographs.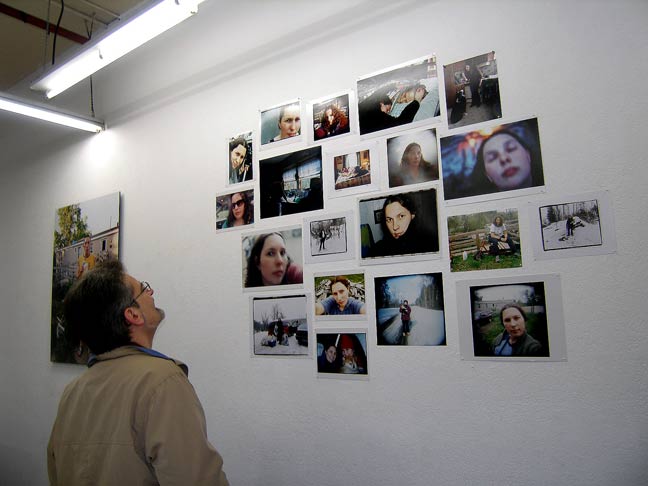 Images.


***
Southern Exposure: Smart Ass - Invisible-5 Audio Project.
Artists: Smart Ass artists - Dustin Fosnot, Kora Jünger, Virginia Kleker, Susan O'Malley, Shannon Plumb, Ben Riesman, Ryan Thayer, Dan Witz. Invisible-5 artist/participants - Amy Balkin, Kim Stringfellow, Bradley Angel, Jeannene Przyblyski.
Comment: Smart Ass is a show about humor in art, and the good news is the art's actually funny. Usually when art's supposed to be funny it's either "MFA" funny, or "art clique" funny, or "you have to know a whole crapload of arcane minutiae" funny, or "jargon garble" funny, or just plain NOT FUNNY. Here, the art is bright fresh intelligent ridiculous absurd silly and, most importantly, accessible to commoners like me. For instance, there's a working fountain spouting tiny styrofoam pellets like they use to stuff beanbag chairs, photos of sides of houses that look like clown faces, a photo of a lawn covered with leaves except no leaves inside the outlines of a tree's shadow, the butt half of a dude with no pants on slung over top of an urban concrete dividing wall, and a portable free-standing office cubicle looking kinda like a Porta Pottie.
On a serious note, the Invisible-5 Audio Project is a 2-CD social critical self-guided audio tour of the Interstate 5 corridor from SF to LA, highlighting roadside blights like the Harris Ranch cattle farm (you can smell the stench for miles and once you experience it, you will never eat Harris Ranch beef again) and the intimidating impenetrable Covanta Incinerator atop a hill in the middle of nowhere, surrounded by an evil three-story fence (I had no idea what that building was until now).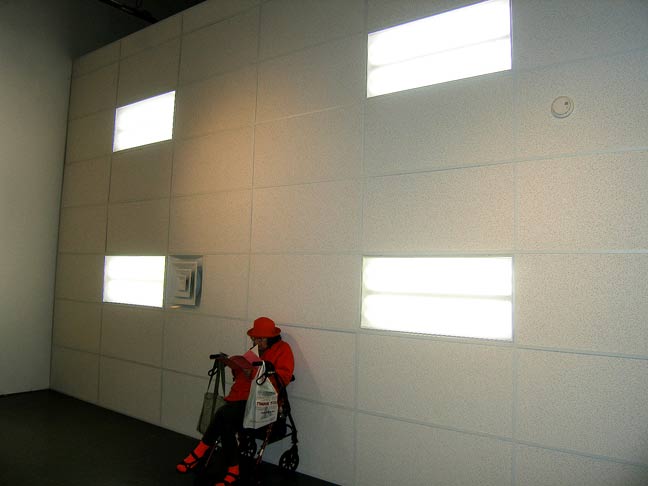 Wall ceiling art (like it).


Clown house art.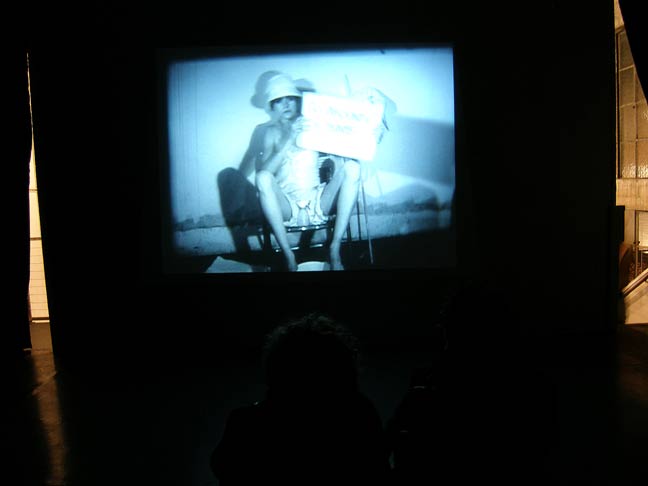 Art.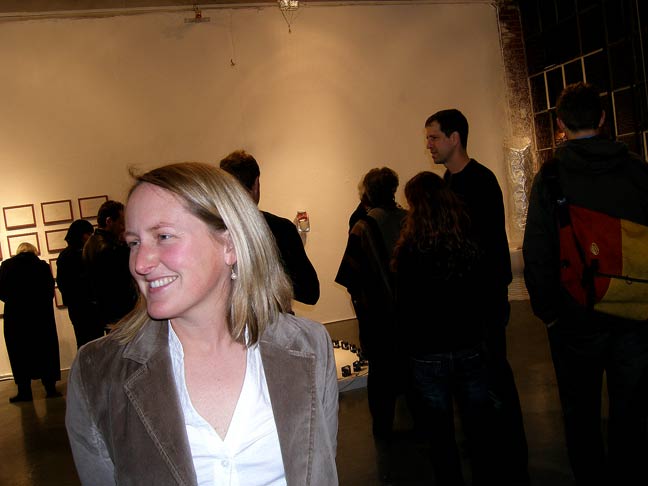 Kelsey Nicholson, curator.


Kora Jünger (artist, left) - Courtney Fink (Executive Director, right).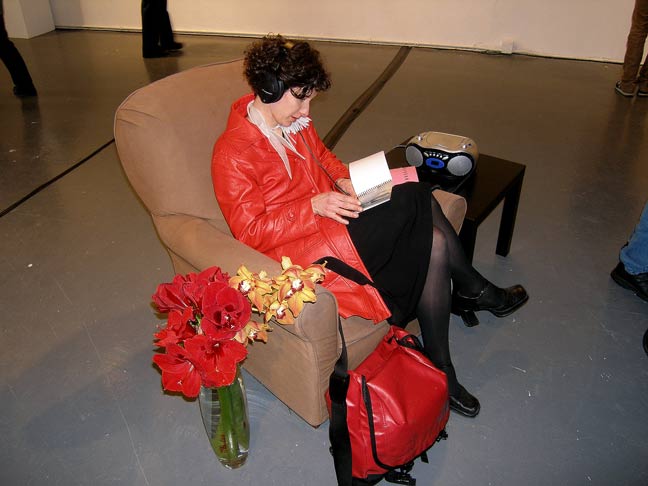 Art.


Outhouse office cubicle art.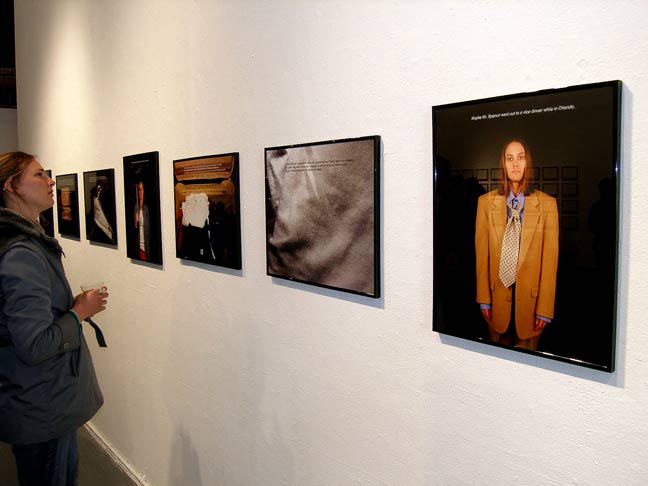 Art.


Lawn levity art.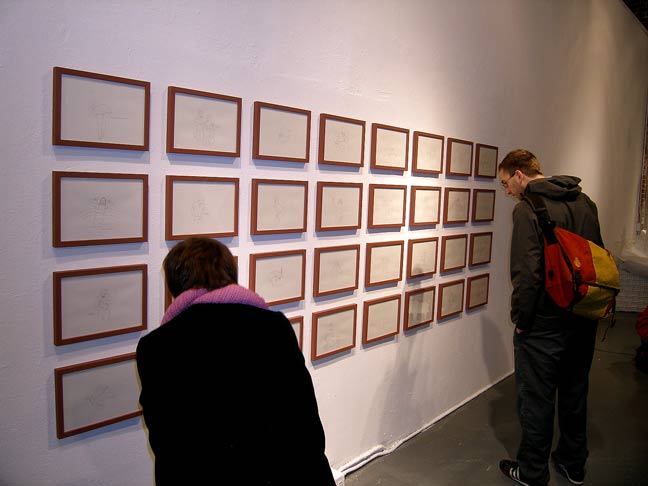 Art (Kora Jünger- you can't tell from this, but they're funny).


Upper.


***
Triple Base Gallery: Chris Cobb - Everything in a Drawing and Nothing in a Drawing.
Comment: Chris Cobb oversees the creation of a series of collaborative multi-layered drawings-- tight, loose, colorful, careful, not so careful, and so on-- and also a white powder word essay on the floor that doesn't make a whole lotta sense. He tells me the enterprise is an exercise involving himself, thirty friends, and Japanese artist Kazumasa Noguchi of Nakaochiai Gallery, Tokyo. I think the gist is that Noguchi emails Cobb some text that's mabye existential that maybe Cobb is supposed to translate and base the thirty-friend collaborative drawings on, but the decipher ain't easy, so he interpretates it up as best he can, and then he and his friends draw the drawings, and then Cobb impermanently enshrines his Noguchi textual guesstimate along the floor in cornstarch words so that we can participate in his befuddlement. It's that simple and no more complicated.
Chris Cobb - art.


Textual guesstimate cornstarch art.


Art.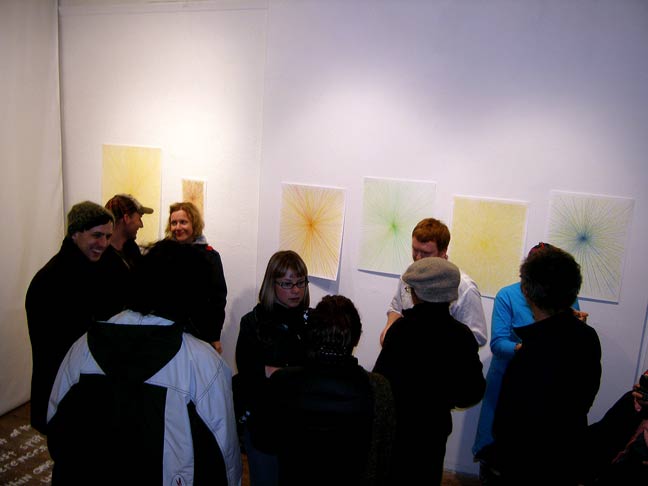 Head count partial.


***
ONSIX Gallery: Carpe Diem.
Comment: Jason Adams, Brian Anderson, Bigfoot, Joe Brook, Steve Caballero, Lance Dawes, Mark Desalvo, Randy Dodson, Curtis Hsiang, Bryce Kanights, Neckface, Luke Ogden, Steve Olson, Chris Pastras, Russ Pope, Sham, Stefan Simikich, Corey Smith, Jai Tanju, Ed Templeton, Mark Whiteley.
Comment: Another bodacious bounty of Big City bang seasoned with skate and low courtesy of ONSIX Gallery, sponsored in part by Juxtapoz and Slap magazines. The intimate new gallery features a sweet combination plate of paintings by Russ Pope, stencils by Jason Adams, and collaboratives by both. I gotta go with Adams's mildly Warholian Meister Brau cans for $200 a piece and Johnny Cash face-o-grams. The group show in the main bar is chocked with all kinds of goodies, including a pair of cigarette butt still lifes by Mark Desalvo ($400 each), a wall of scrappy action photos by various artists, a collaged portrait made of skateboard chards, and my pick, a group of framed minimalist book page and correction fluid compositions by the late pro skateboarder and artist Curtis Hsiang (1963 - 2000) dating from 1997-98. Anyway, my dorkometer (it measures my unhipness quotient at various venues) is completely off the charts here, so I'm gonna christen this clambake chill.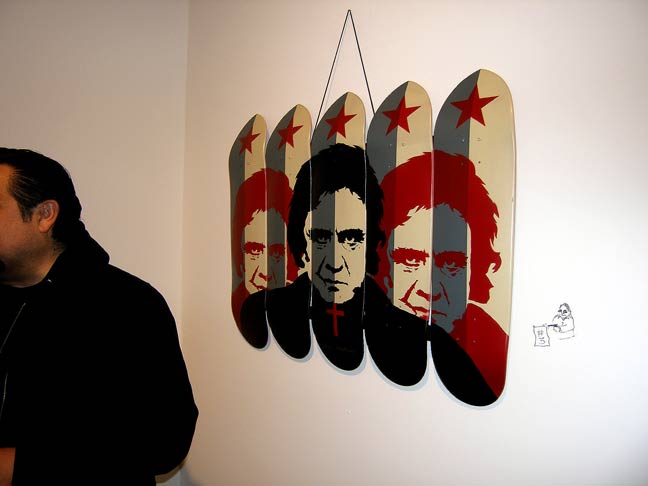 Johnny Cash deck art (Jason Adams).


Art (Jason Adams, left - Russ Pope, right).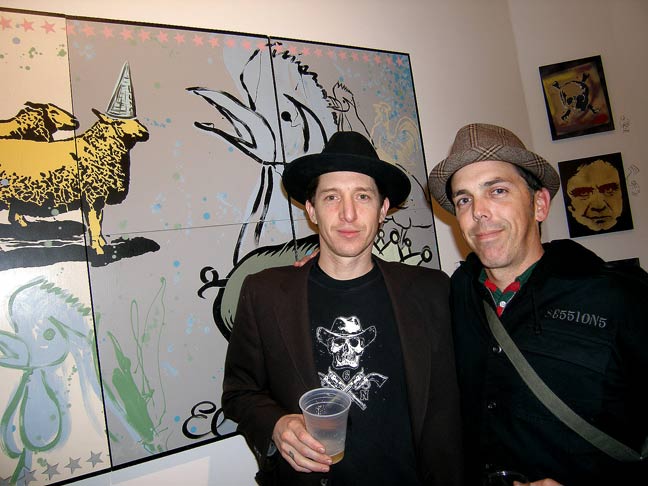 Jason Adams (left); Russ Pope (right); art (collab).


Art (Russ Pope).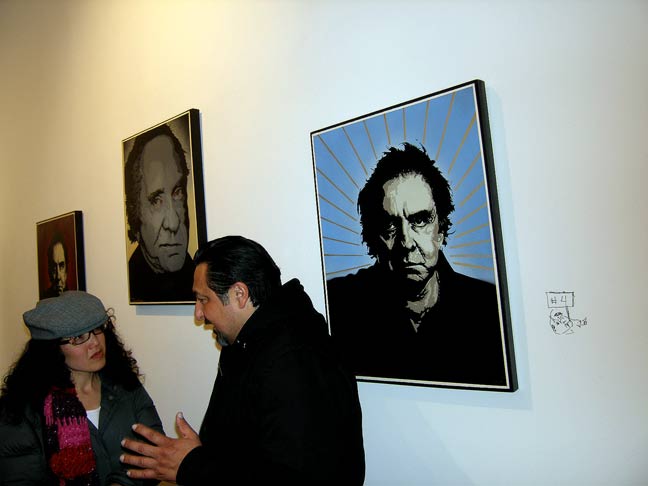 Johnny Cash art (Jason Adams, like it).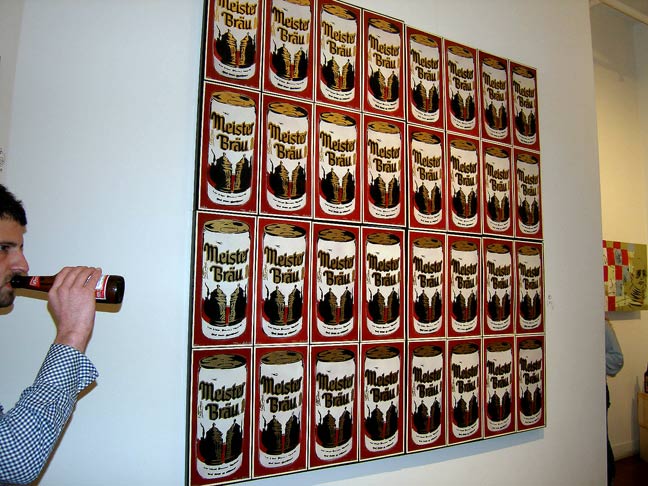 Art (Jason Adams).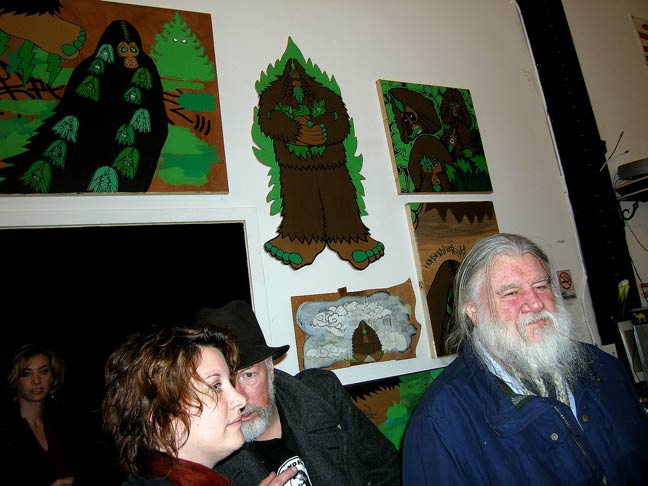 Art (Bigfoot) - Winston Smith (center partial), Ron Turner (right).


Pick (Curtis Hsiang).


Deck chard portrait (right, like it).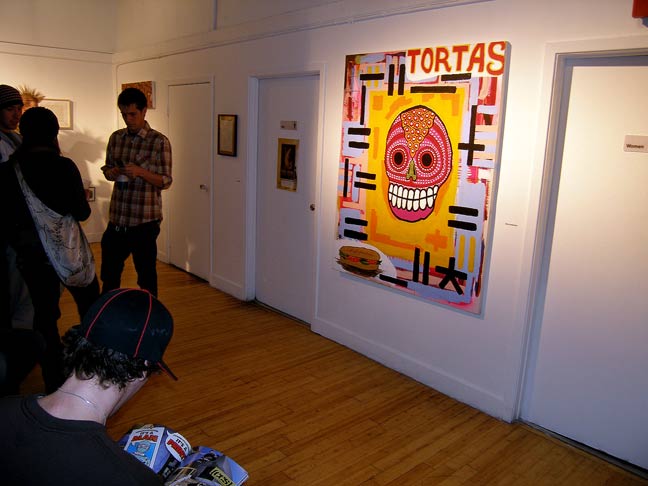 Art.


Art.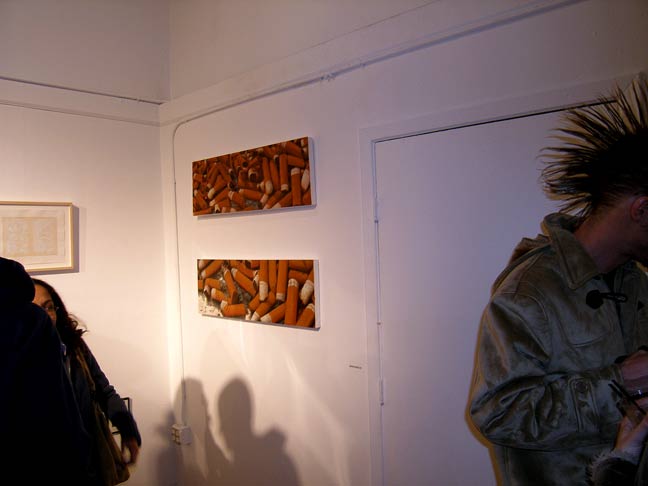 Art (Mark Desalvo).


Art.


Art.


Art.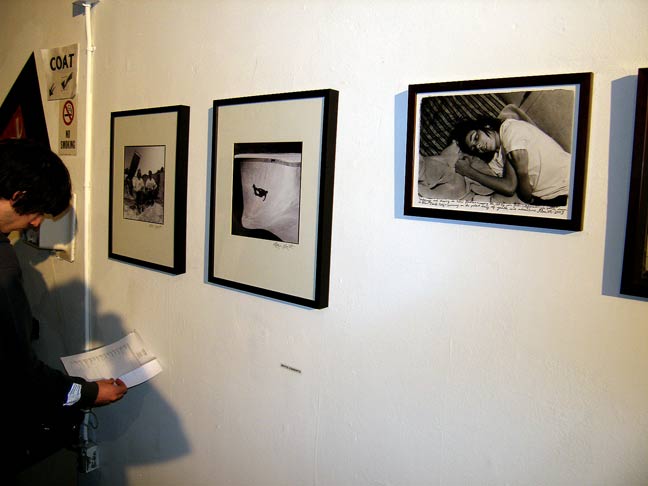 Art.


Our sponsors.


***
Needles & Pens: Biophilia - Letters and Drawings by C. Ryder Cooley and Lena Wolff.
Comment: The Mission District creative elite turns out in force for this esoteric hoedown. Needles & Pens principal Breezy Culbertson explains the affair, but I ain't got the antecedent infrastructure to process the palaver. No biggie. I don't have to know everything (hold the rejoinders please). Lena Wolff's work is a combination of painting, drawing, and traditional women's crafts; Carolyn Ryder Cooley is an artist, performer, musician. The gallery's packed, the rain's coming down, the tarp out back does its duty as several musicians prepare for their performance. Needles & Pens is about the only surviving pure Mission-style gallery, and they continue to improve undaunted (I think we'll be seeing them set up shop downtown one of these days). While you're there, don't forget to check out the new installation by Cooley and Wolff in the front room above the desk.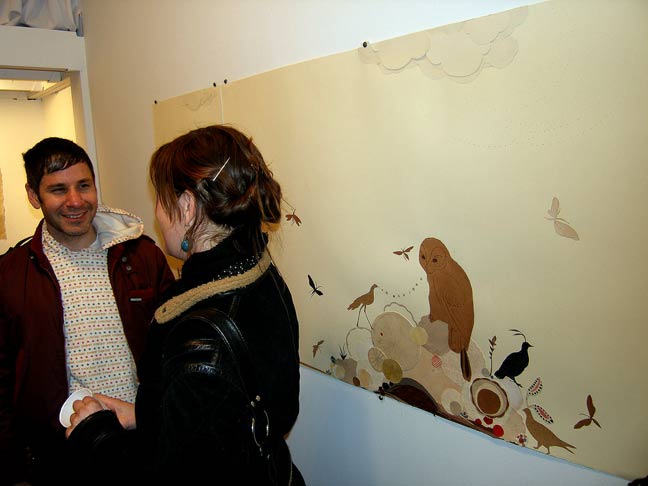 Art (Lena Wolff).


Art (C. Ryder Cooley).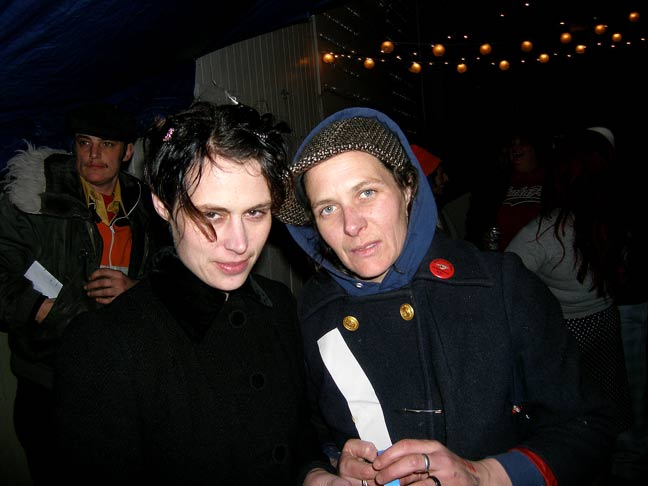 C. Ryder Cooley - Alicia McCarthy.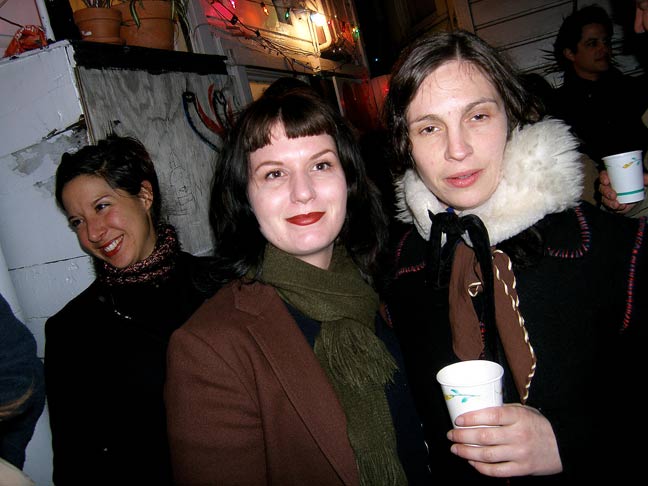 Breezy Culbertson - Lena Wolff.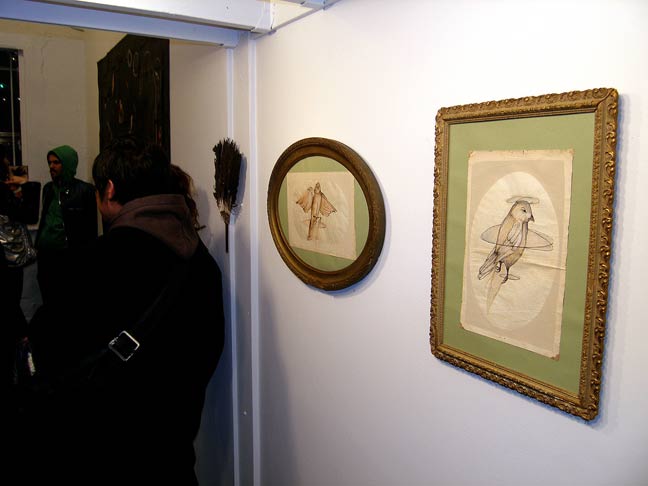 Art (C. Ryder Cooley).


Art (Lena Wolff).


Art (C. Ryder Cooley).


C. Ryder Cooley & Lena Wolff installation (deck over desk).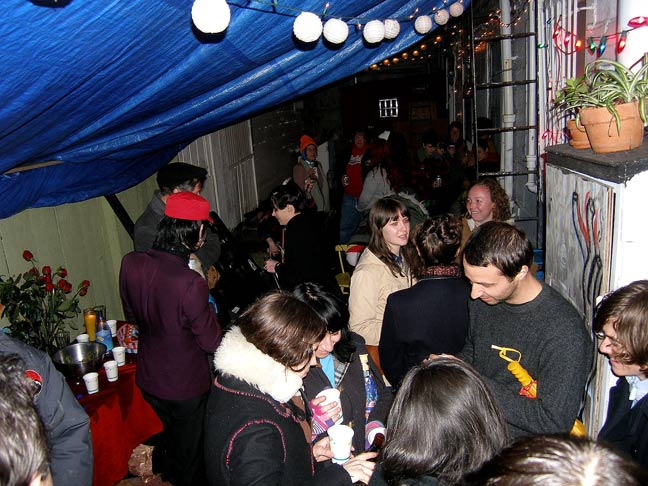 Tarp party.


***
Maria Allocco & Yoshi47, Tiffany Barbarash & Christine Wong Yap, Mark, Baugh-Sasaki & Nicomi Turner, Sara Blaylock & Dennis Somera, shiloh burton & Polly Moller, Vanda Chong & Chandra Nalaani, Claire Droney & Kwong Yuan Li, Frances Giron & Javier González Bernardo, Victoria Heilweil & A.P. Saito, Mung Lar Lam & Whitney Vosburgh, Sumir Rawal & Twincest.
Comment: The recipe is to pair artists who've never met each other, give the pairings two months to collaborate, let 'em make whatever they wanna make, and then show it all here. Nice idea, but the liberal latitude renders the upshot a trifle disjointed. There's also music and performances. Anyway, a substantial number of people pay to attend, so let's call it a success.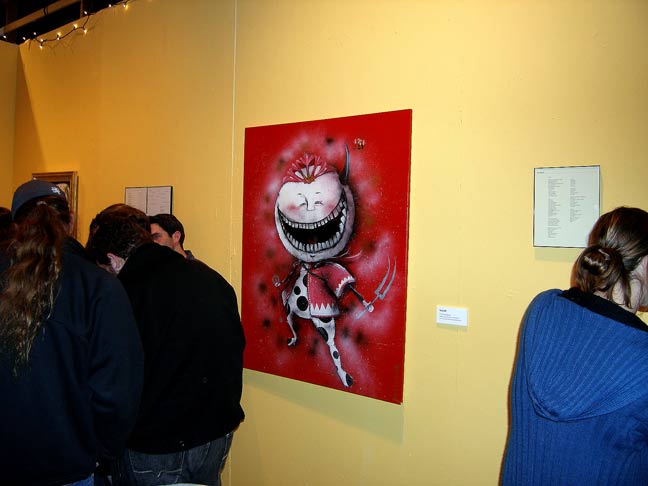 Art.


Art.


Art.


Art.


Art.


Art.


***
Red Ink Studios: Roller Disco Boogie - Space Apes vs Roller Cadettes.
Artists: Dylan Tellesen, Jasper Wong, John Casey, Christelle De Castro, Hillary Schwartz, Ashley Jones, Suzette Lee, Adrien Miller, Sebastian Carceres, Zefrey Throwell, Amanda Beane, Emily Wright.
Comment: Red Ink artist and manager Brad K. Alder tells me the show is an open invitational for artists who think they've got the goods and the gumption to go public. As you might expect, the selection's a mite uneven, but pretty decent overall. There's photography, fashion, painting, sculpture, and more. I have a brief chat with Chico, CA artist, Dylan Tellesen, who paints trucks and trailers against abstract backgrounds. He tells me he got into this groove by cogitating on the uselessness of unhitched trailers sitting alone and empty with no trucks to pull them, so he basically seeks out suitable subjects parked wherever, and when he finds 'em, he paints 'em. Sometimes words go through his head over and over while he paints, so he writes 'em on the painting and then he doesn't have to think about 'em anymore. He does not personally own a truck.
Art.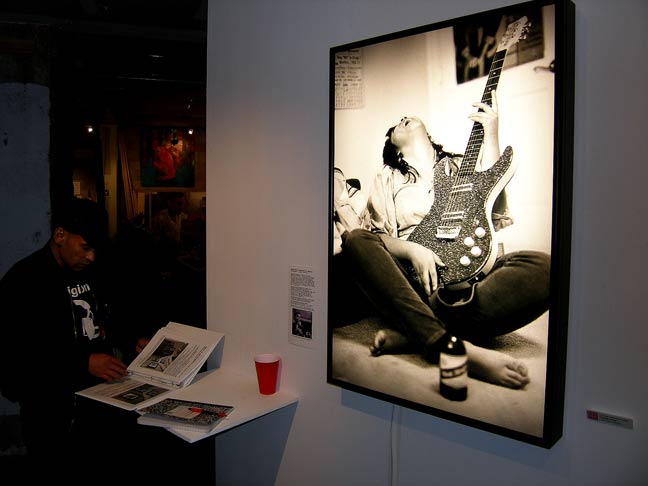 Art.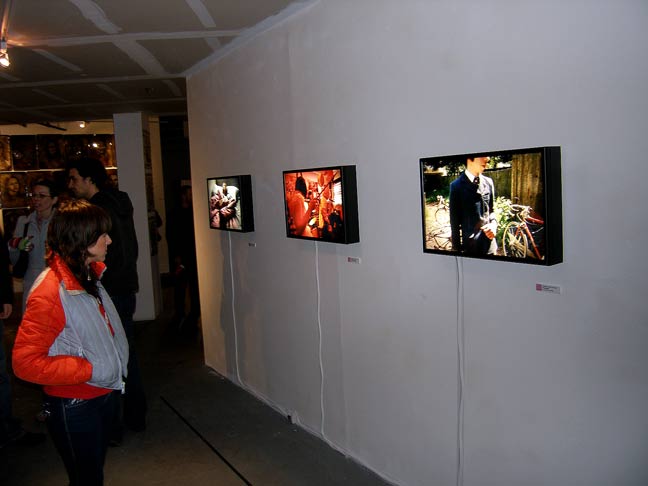 Backlit photo art (kinda like 'em).


Katrina Zerilli, CCA student - fashion art (made it herself).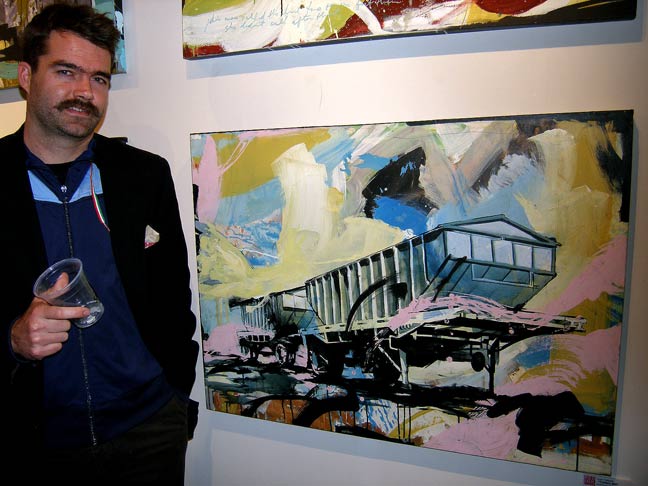 Dylan Tellesen - truck trailer art.


Art (John Casey).


Mr. T & Hulk Hogan art.


Art.


Art.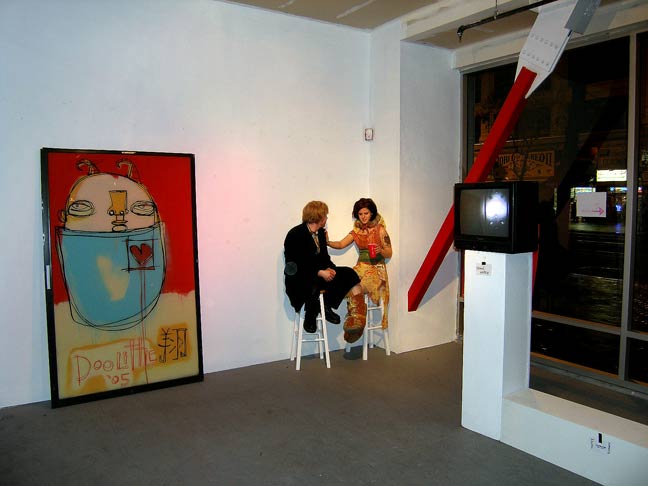 Art.


***
Addendum:


Nicholas Coley Bay Area landscapes at Canessa Gallery.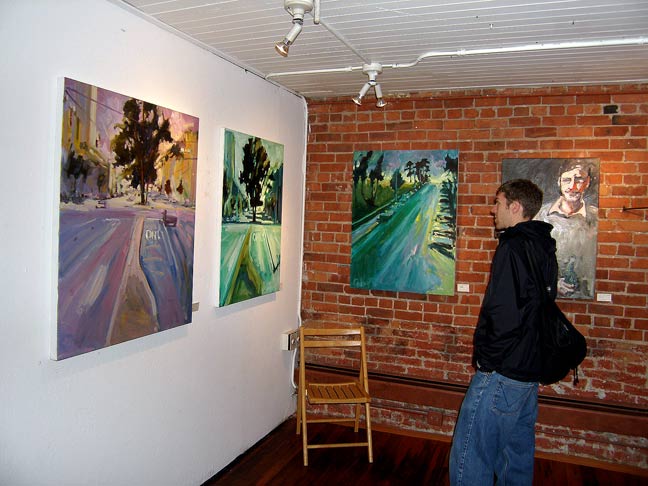 Nicholas Coley paintings at Canessa Gallery.


Canessa Gallery, 708 Montgomery St., San Francisco; 415.296.9029.


Kim Weller installs "Super Troopers" on the veranda at Glama-Rama.