***
RayKo Photo Center: 8th Annual International Juried Plastic Camera Show featuring Ernie Button and Jennifer Shaw.
Photographers: Thomas Alleman, Lilyan Aloma, Ben Altman, Alison Amick, M. Apparition, Jennifer Bacon, Dina Beigelman, Doug Birnbaum, Christa Blackwood, Richard Bonvissuto, John Bridges, Laura Brodax, Maggie Corwin, David Cory, Chris Cranford, David Cuetter, Carol Dass, Petra Davis, Dana Day, Adrienne Defendi, Barbara Dombach, Diane Durant, Jill Ensley, Diane Fenster, Don Feria, Mark Fisher, Brittonie Fletcher, Heather Frandsen, David Gardner, Dave Getzschman, Paula Rae Gibson, Brian Gliniak, J.M. Golding, Nancy Goodrich, Daniel Grant, Matthew Hanson, Tonee Harbert, L. Herrada-Rios, Robert Holmgren, Karen Janas, Randy Jennings, Priscilla Kanady, Marky Kauffmann, Ellie Kingsbury, Rocky Kneten, Nathan Koch, Ian Kramar, Jacqulyn Laffitte, Susan Lapides, Patty Lemke, Phoebe Lickwar, Lisa Lindamood, Eric Lindbloom, Janis Crystal Lipzin, Ernie Luppi, Erin Mahoney, James Malsich, Marco Marassi, Anette Marweld, Aleksandra Miesak, Reena Nemirovsky, Ron Orlando, Eben Ostby, Cynthia Pastore, Ludovico Poggioli, Vicki Reed, Deon Reynolds, Guy Reynolds, Jim Rohan, Danny Sanchez, Robert Schneider, Cromwell Schubarth, BK Skaggs, Yon Sim, Antonia Small, Jon Soliday, Arlene Stanger, Michael Starkman, Cody Swanson, Yuri Syuganov, Steven Taddei, Jonathan Trundle, Jacqueline Walters, Laura Alice Watt, Jan Watten, Allison Webber, Ed Wheeler, Jessica Wildman, Jonas Yip, Christine Zona.
Comment by AB: This annual show is an homage to the best photographs taken with the worst cameras, namely cheap plastic brands like the Diana, Holga and Bluebird. How good can photographs taken with the bad cameras possibly be? This good... and certainly worth seeing.
Photograph by Thomas Alleman (left) at RayKo Photo Center.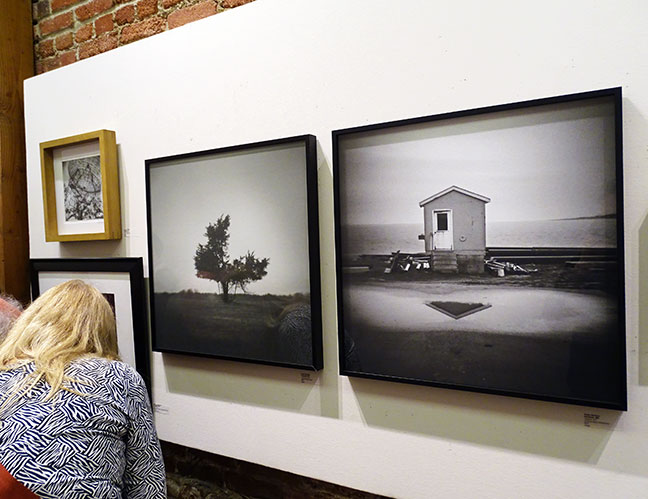 Plastic camera photographs.


Laura Brodax photograph, lower right.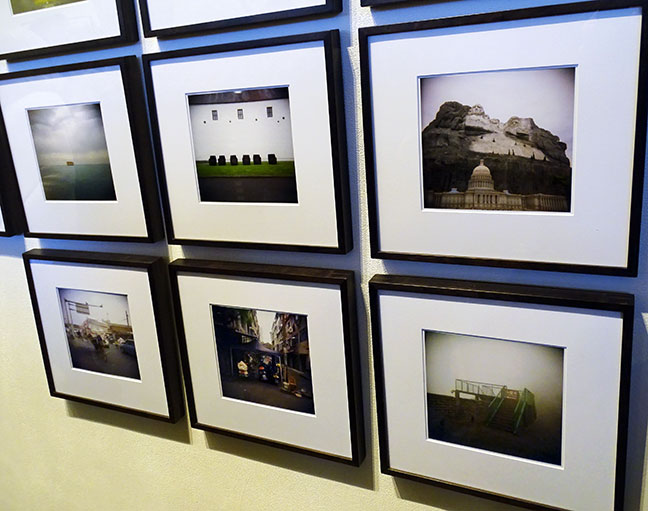 Plastic camera photographs by Ernie Button.


Ernie Button photography closer.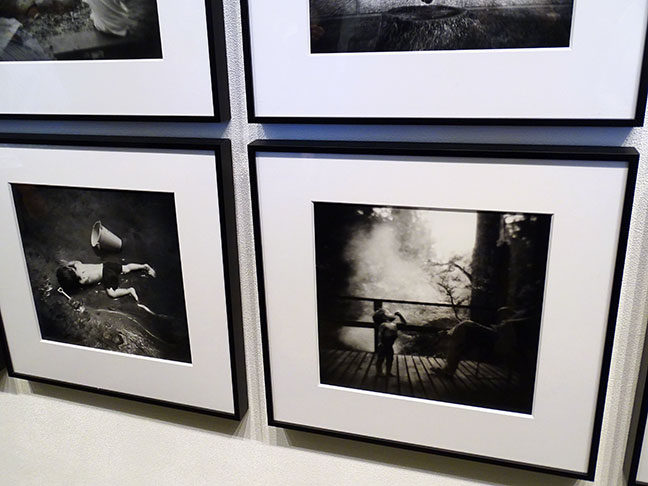 Photographs by Jennifer Shaw.


Jennifer Shaw photography.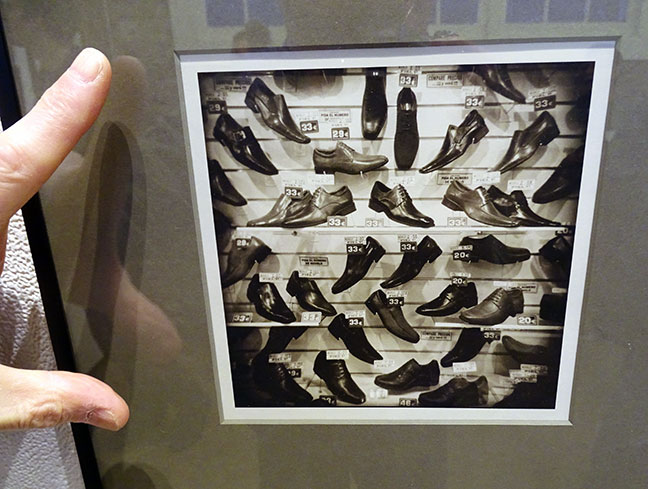 Old shoe store show window photograph.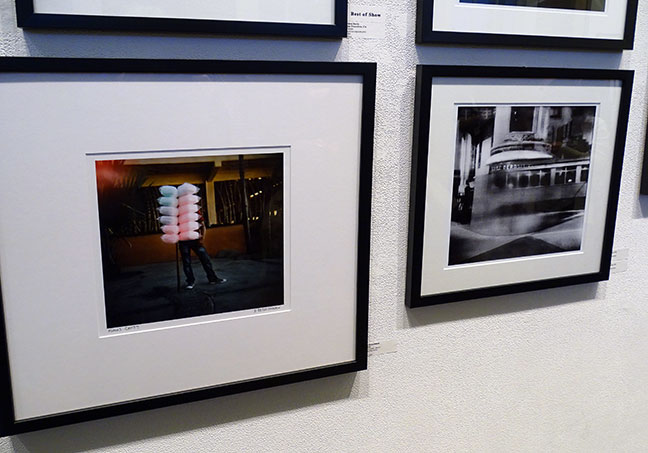 Dave Getzschman photograph (left).


Plastic camera photograph by Jessica Wildman (left).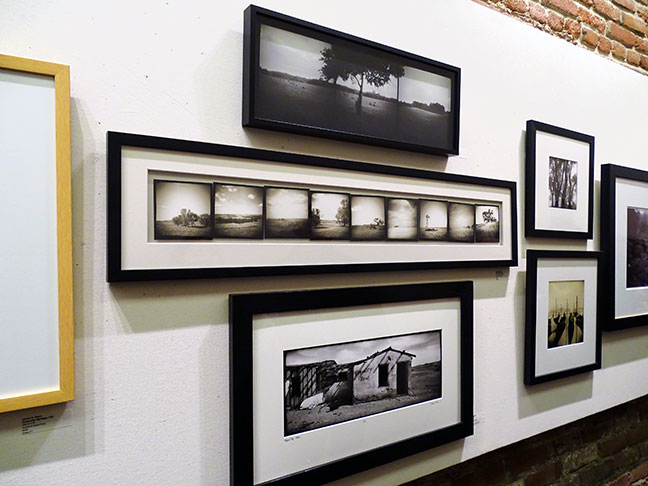 Plastic camera photography.


Pinkie cam detail of multi-frame panorama photograph in above image.


Always a good turnout for the plastic camera show at RayKo Photo Center.


***
1AM Gallery: Take Flight. Curated by Camer1.
Artists: Agana, Annie Preece, Grimnasty, Ivan "Gath" Preciado, Jenna Morello, Leba, Camer1.
Comment by AB: According to the explanatory, the art is themed on expressing what it feels like to be at one with the act of creating. The event is also an opportunity to introduce some of the artist contestants on Oxygen network's new reality TV show, Street Art Throwdown. This is the night before the opening where several of the artists are discussing their art.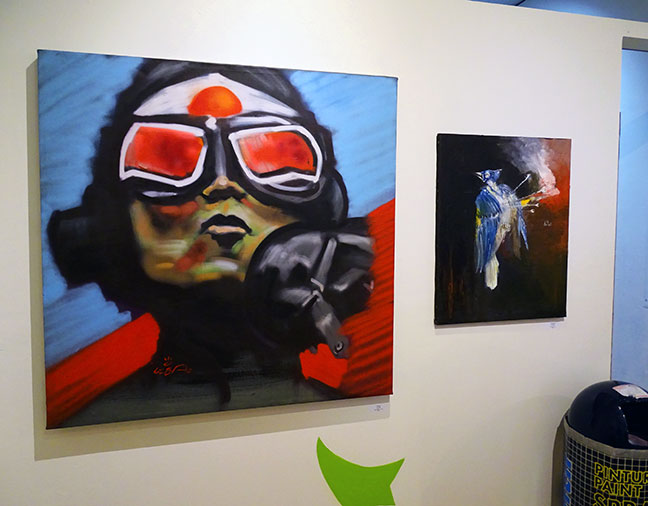 Art by Leba at 1AM Gallery.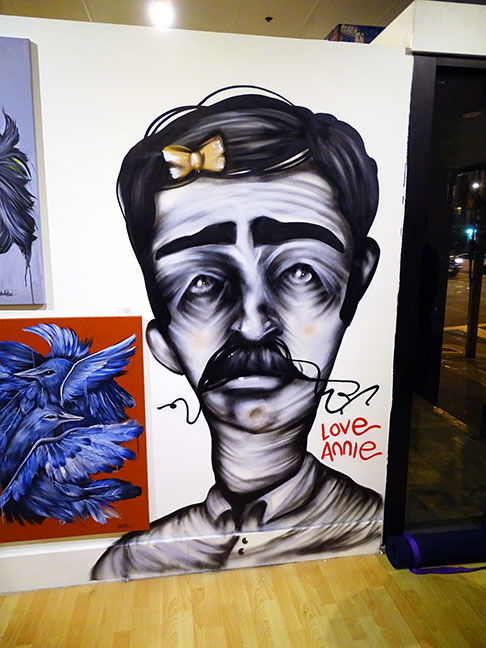 Annie Preece art.


Art by Camer1.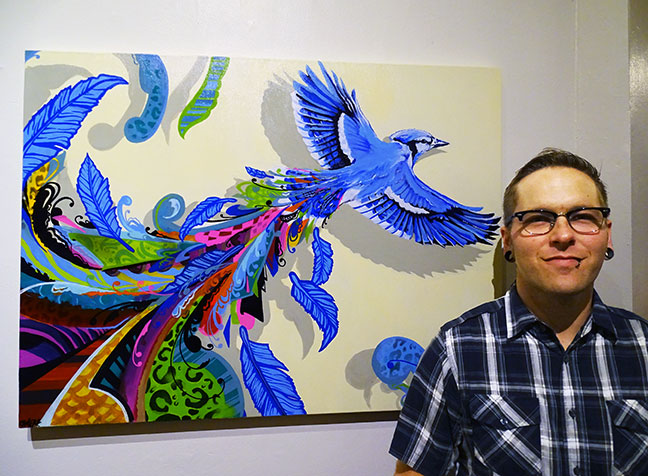 Camer1 and his art at 1AM Gallery.


Art by Agana.


Ivan "Gath" Preciado art.


Art by Jenna Morello.


Participating artists answer questions about their art.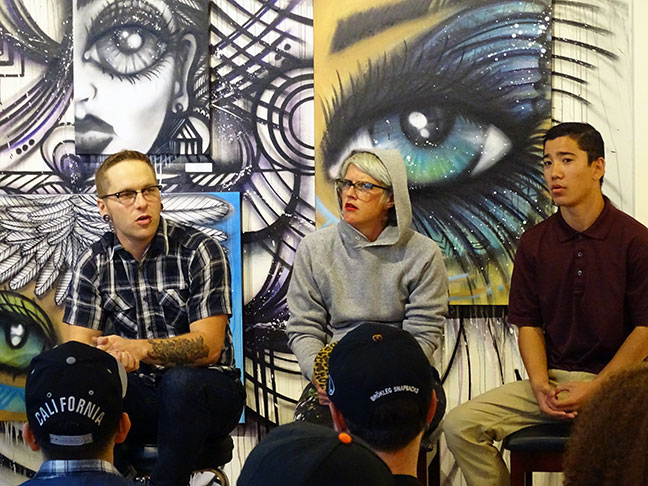 Participating artists closer at 1AM Gallery.


***