SAN FRANCISCO ART GALLERIES - OPENINGS
SFMOMA ARTISTS GALLERY - CHILDREN'S ART CENTER
BONNAFONT - GEORGE KREVSKY - FREY NORRIS GALLERY
MODERNISM INC - WORKSPACE LIMITED - GALLERIE 25
LOWER HATERS GALLERY
03.14-15.07
San Francisco Museum of Modern Art - Artists Gallery: City Life.
Artists: Michael Biscoe, Eileen David, Jessica Dunne, Maurice Lapp, Anthony Montanino, S. Newman, Norm Rosenberger, Terry Thompson, Cynde Valle, Charles Valoroso, Adam Vermeire.
Comment: A well-curated convergence of qualified artists exposing their opuses for a show all about metropolitan living, mainly from streetside perspectives, but sometimes we go indoors. Prices range up to $15K, most under $5K, many under $2K.
Art.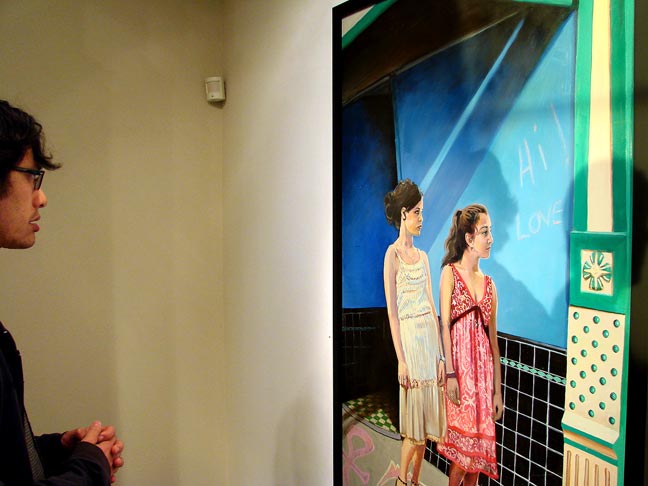 Art.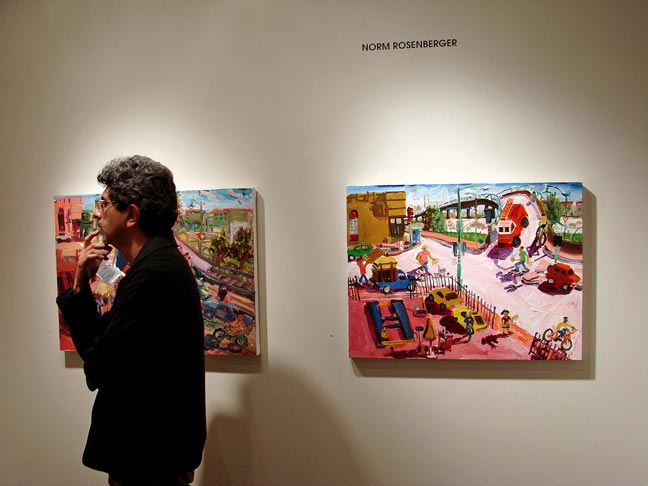 Art (Norm Rosenberger).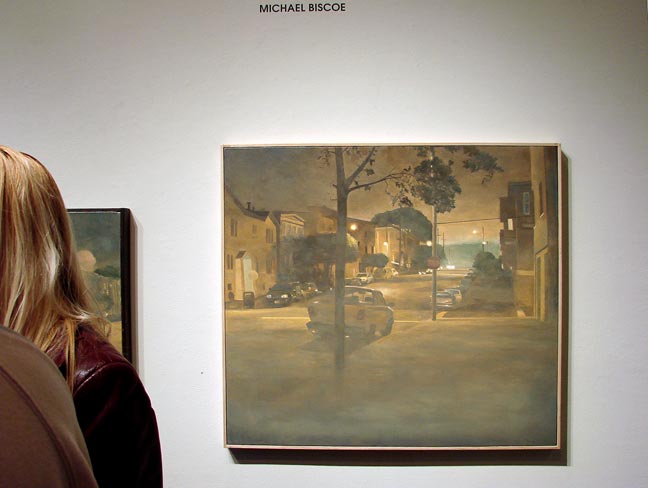 Art (Michael Biscoe).


S. Newman - art.


Art.


Art.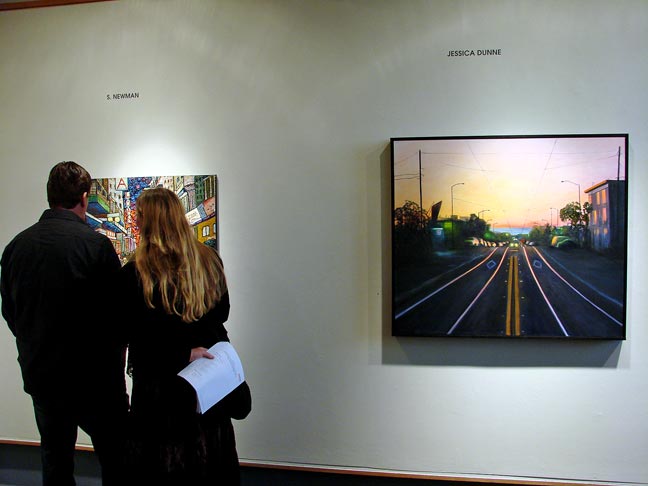 Art (Jessica Dunne).


Art.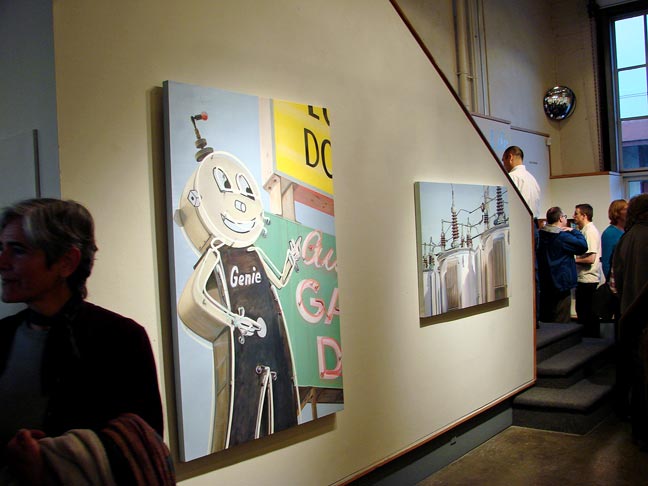 Art.


Art.


Art (Anthony Montanino).


Floorshow.


***
San Francisco Children's Art Center: PrintPourri - Printmaking Through the Ages.
Artists: Children ages 2-12.
Comment: A couple of doors down from SFMOMA Artists Gallery, the SF Children's Art Center debuts an impressive array of prints by future artists aged 2-12. Got kids? Here's an option for 'em-- learning to play, explore, create, and think as image makers.
Art.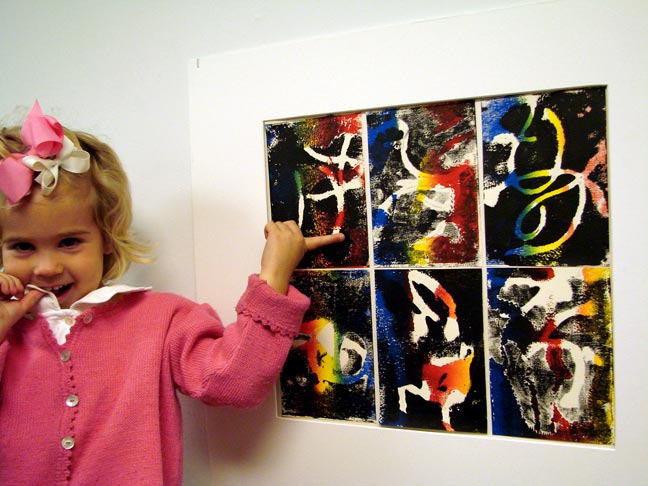 Artist - art.


Art.


Art.


Instructors Judith La Rosa and Gail Tarantino.


***
Bonnafont Gallery, 946a Greenwich Street, San Francisco, California 94133; 415.441.4182: Bill Sheets - Paintings and Drawings, Italy & California.
Comment: Bill Sheets splits his year between Kentfield, Marin County and Sommocolonia, in the Tuscan region of Italy, maintaining a home and studio at each location (some dudes have all the luck). But we get the consolation prize-- Sheets shares his blissful existence through art. Bonnafont Gallery, by the way, is down the stairs, through an enclosed walkway below a building, out the other side, and nestled in an intimate garden setting.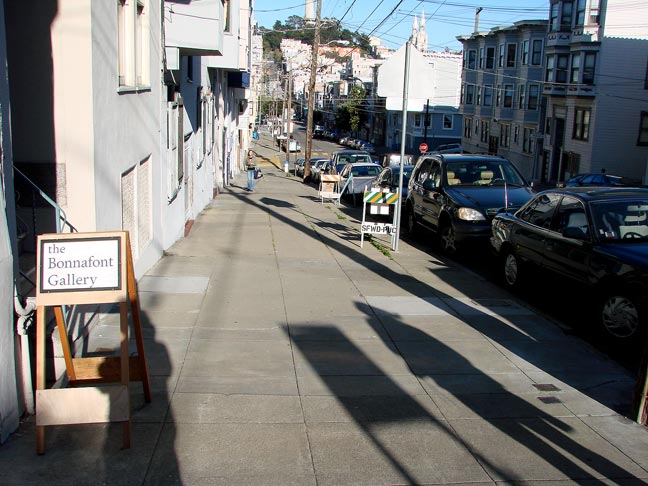 This must be the place...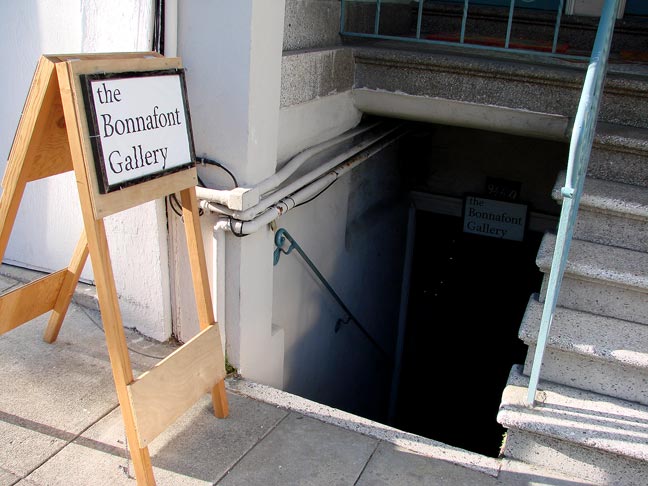 Hmmm.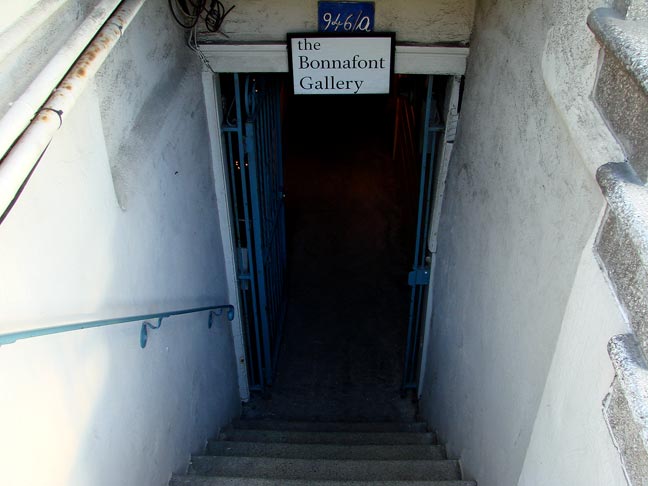 Why not?


Oooooohh. Kinda spooky.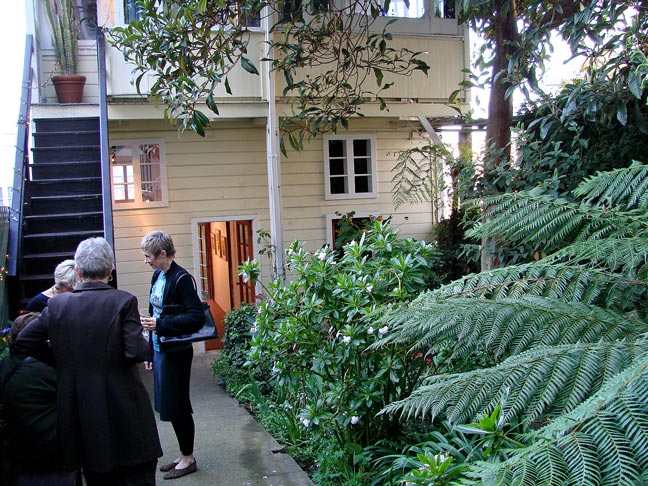 Ahhhh. This is better.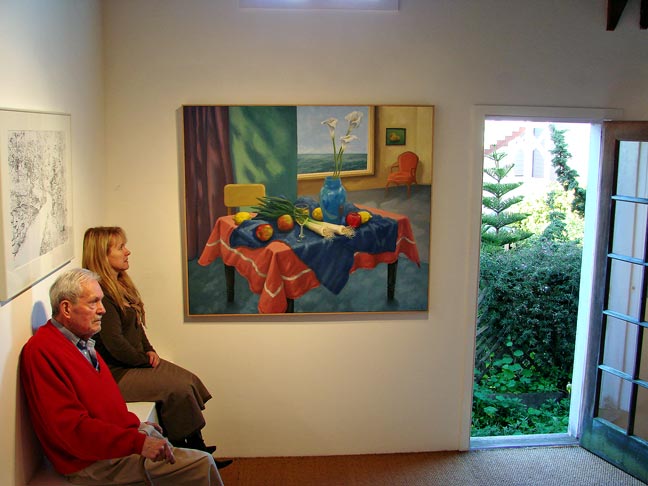 Art.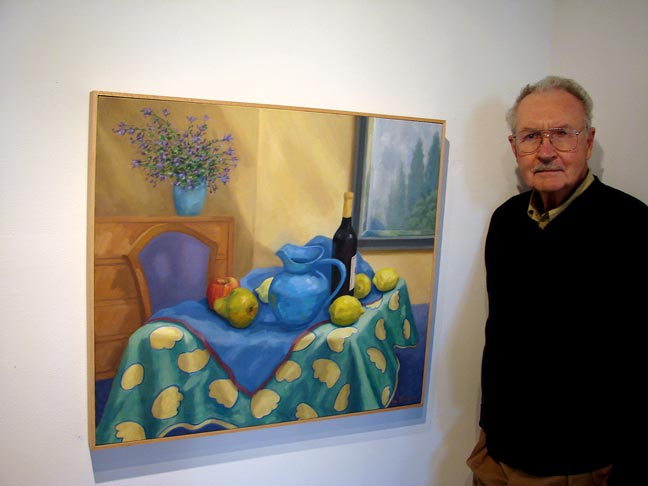 Bill Sheets - art.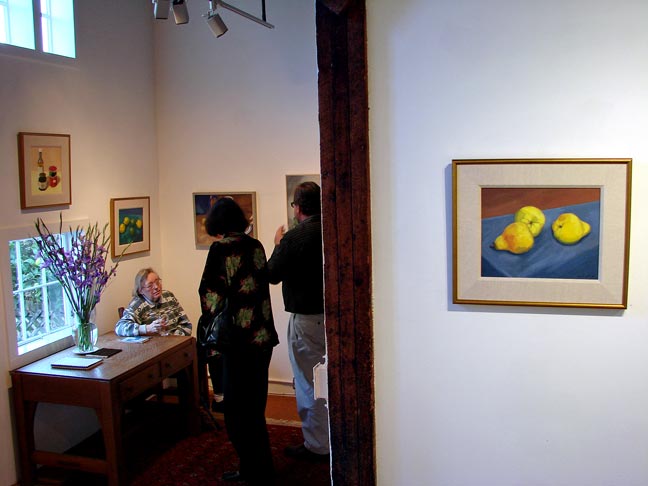 Art.


***
George Krevsky Gallery: Spring Training - The Art of Baseball.
Artists: Carl Hugo Beetz, Jeff Bender, Benjamin Blackburn, Stacey Carter, Claudia Chapline, David Cooke, Rob Cox, Kevin Dame, Dana DeKalb, Phil Dewey, Jennifer Ettinger, Ralph Fasanella, James Fiorentino, Jane Fisher, Jon Francis, Jesse Good, Louis Grant, Charles Hobson, Tina Hoggatt, Jacqueline Jolles, Ken Kalman, Louis LaBrie, Philomena Marano, Robert Marosi, Max Mason, Linda Masotti, Colin McRae, Arthur K. Miller, Richard Nagler, Roger Patrick, Gerald Purdy, Jason Robiehau, Jeffrey Rubin, Ann Savageau, Vincent Scilla, Karen Shapiro, Miklos Suba, Toby Tover-Krein, Mark Ulriksen, Angela Villegas, Fred Wade, Curtis Wright.
Comment: George Krevsky's annual baseball art extravaganza is better than ever. Opening night refreshments include Cracker Jack, Sierra Nevada Pale Ale, and that gourmet staple of the cholesteral set, Mini Corn Dogs.
Baseball art (like that one on the left).


Baseball art.


Baseball art.


Baseball art.


Baseball art.


Baseball art.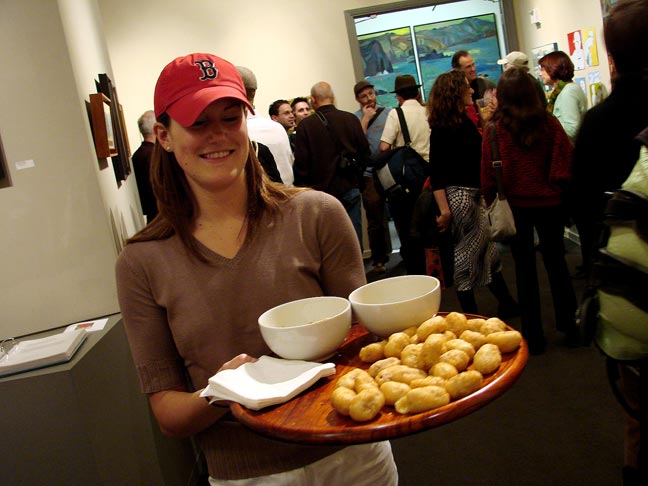 Whoa! Lemme at them puppies.


***
Frey Norris Gallery: Trek Kelly - Hotel California.
Comment: Debut solo show for Los Angeles artist Trek Thunder Kelly who here hacks his way through the Golden State's icon-o-sphere, trophying up a panoply of cagey plays on, among other things, stars, starlets, viagra, marijuana, Sequoias, wet suits, casting couches, surfer vernacular, Golden Gate Bridge suicides, immigration, and more. The dude gets busy. Check it out.
Art.


Art.


Weed man art (smells like the good stuff, too).


Functional medication-based art.


Winged taxidermy art encrusted with California homilies.


Immigration art.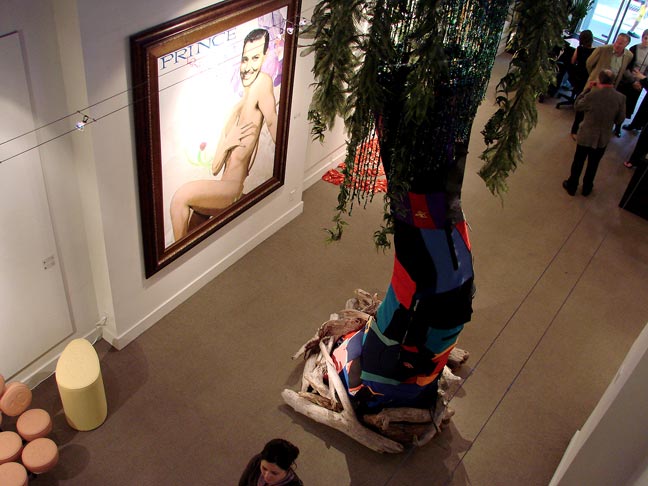 Art.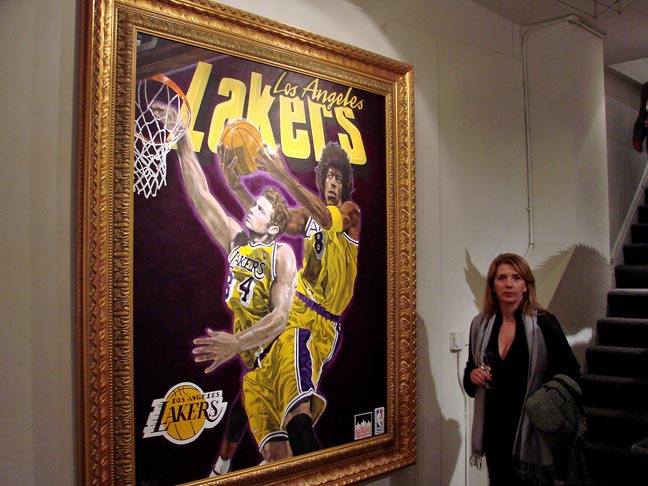 Art.


***
Modernism Gallery: Charles Arnoldi - Recent Works; Gary Baseman - I Melt in Your Presence.
Comment: Gary Baseman totes his peculiar rap on reality north for his premier San Francisco solo, his wiggy bouncy Garden of Eden vs The Decline and Fall of the Roman Empire vs Ghost Bunny characterscapes intertwining innocence with depravity, then laced with lust and frosted with gore. My kinda pizza. I gotta respect Baseman for his ability to play (and win) the game on both ends-- mainstream and deviate-- apparently without fluffing feathers on either extreme. Disney meets daisy chain. Yo! But wait. Baseman's brushwork appears a smidge hasty on the zoom in. Could be that his formidable schedule has the assembly line in overdrive. Or maybe the artplane's on auto pilot as convention supplants invention. Hmmm.
Meanwhile in the main gallery, Charles Arnoldi's intensely confident composite abstractions simultaneously soothe and energize, visually viable virtually anywhere.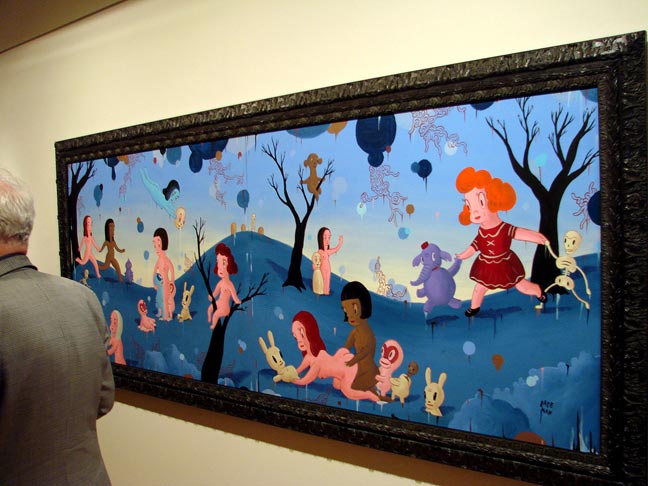 Art (Gary Baseman).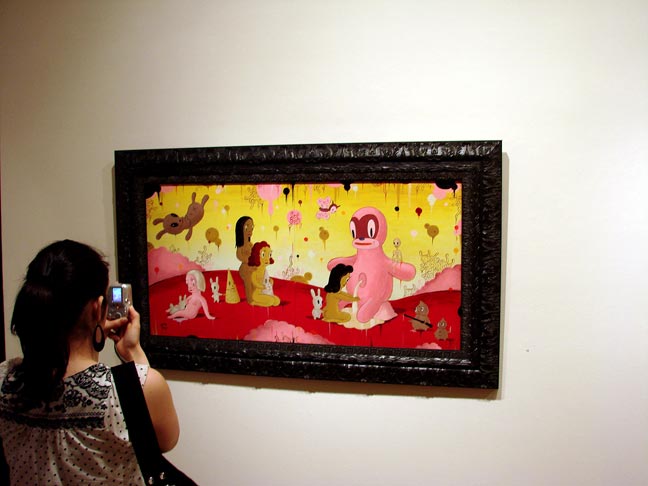 Art (Gary Baseman).


Gary Baseman (second from right).


Art (Gary Baseman).


Art (Gary Baseman).


Art (Charles Arnoldi).


Art (Charles Arnoldi).


Charles Arnoldi (center) chat up with Mel Ramos (left).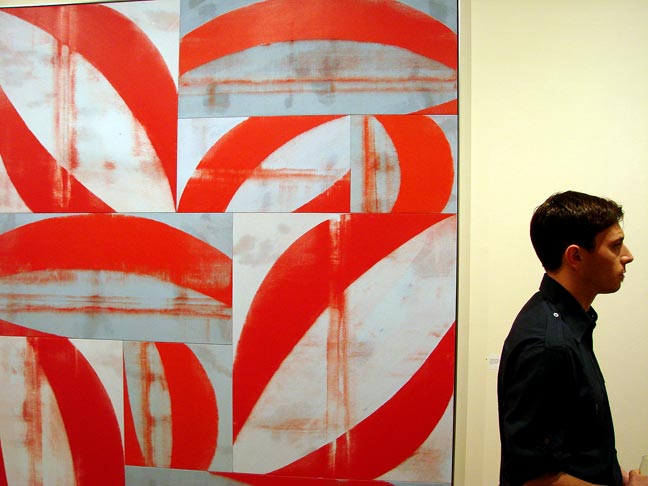 Art (Charles Arnoldi).


Art (Charles Arnoldi).


Art (Charles Arnoldi).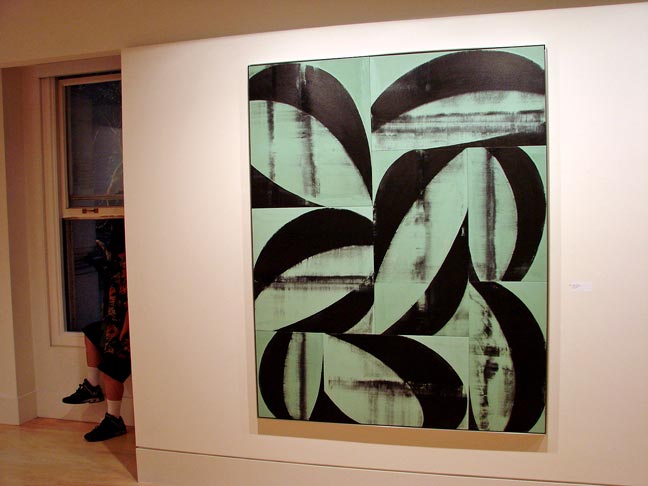 Art (Charles Arnoldi).


Art (Charles Arnoldi).


Art (Charles Arnoldi).


***
Workspace Limited: Art Show Fundraiser for Bay Area Youth Running Partners.
Artists: David Ames, Rodney Artiles, Brad Braune, Maria Capolongo, Marcus Collar, Matt Lever, Jesus Marez, Scott McBee, Chiara Mondavi, Paul Razo, Jon Rogers, Grant William Thye, Michael Townsend.
Comment: Bay Area Youth Running Partners establishes running programs for children of elementary school age with special emphasis on fighting obesity and serving disadvantaged populations within the community. So let's have a party, auction some art, and raise $$$ for the cause. Excellent.
Art.


Rodney Artiles - art.


Art.


Art.


Not sure.


***
Gallerie 25, 3418 25th Street, San Francisco, CA 94110; Elisabeth Calderon (415.571.0923) or Indira Urrutia (415.806.5255): Group Show.
Artists: kt Andresky, Ella Noe, Indira Urrutia, Anna Rigau, Sabina Nieto, Consuelo Mendez, Tania Padilla.
Comment: New gallery; warm, welcoming, intimate space. If you're in the neighborhood, stop by.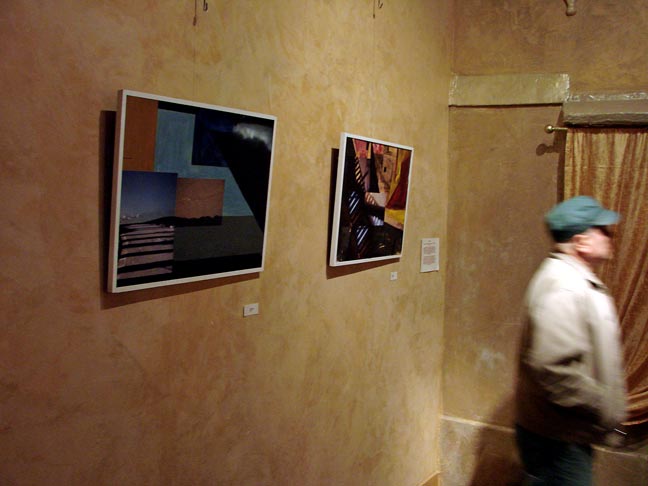 Art.


Circumstance.


Tunes (the portrait in the center's made out of straight pins).


Art.


***
Lower Haters Gallery: GALO - The Art of Andrea Galvagno.
Comment: The former Future Primitive space is back on the art wagon, this incarnation christened as Lower Haters Gallery, tonight featuring the rollicking mug shot medleys of Andrea Galvagno.
Art.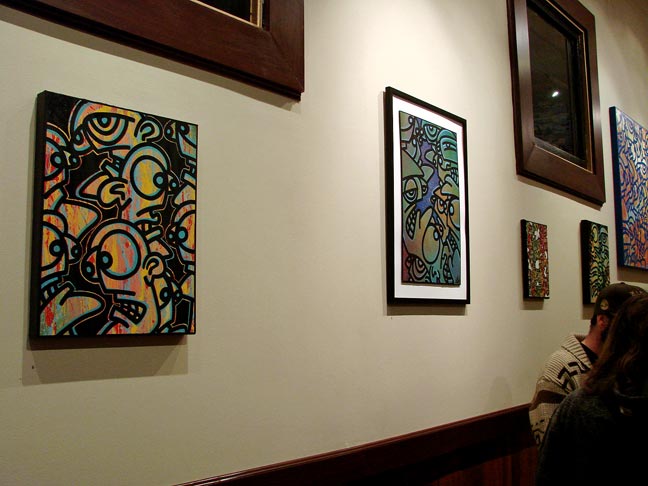 Art.


Art.


Andrea Galvagno - art.


Art.


In.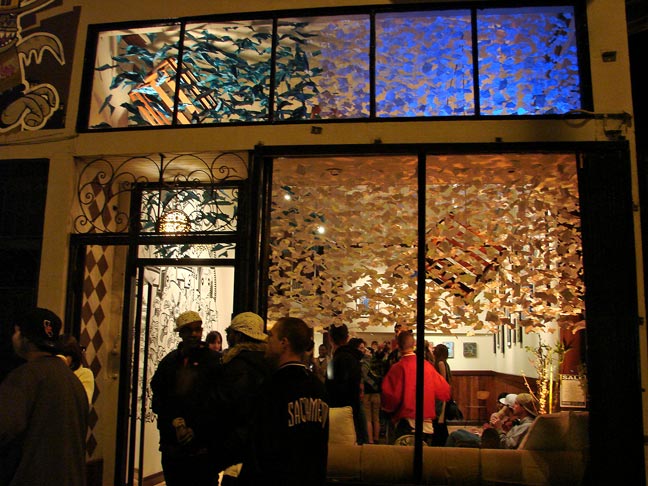 Out.


***
Addendum:
Natasha Dikareva - ceramic art at Workspace Limited.


***