SAN FRANCISCO ART GALLERIES - OPENINGS
MISSION 17 - BLUE SPACE GALLERY - ROSS MIRKARIMI
ADOBE BOOKS - SOUTHERN EXPOSURE - QUEENS NAILS ANNEX
I SPY - YERBA BUENA CENTER FOR THE ARTS - LIVE WORMS GALLERY
BRAUNSTEIN/QUAY - HOSFELT GALLERY - NEEDLES & PENS
03.16-17.07
Mission 17 Gallery: Scott Kildall - Imaginary Souvenirs; Video Installations.
Comment: Scott Kildall explores the notion that even though hard evidence may exist in the form of videos or photos, meanings and significances evolve and transform over time. In the extreme, histories are rewritten, transiting from indisputable fact to pure fiction-- and every step along the way, we've got the goods to prove it.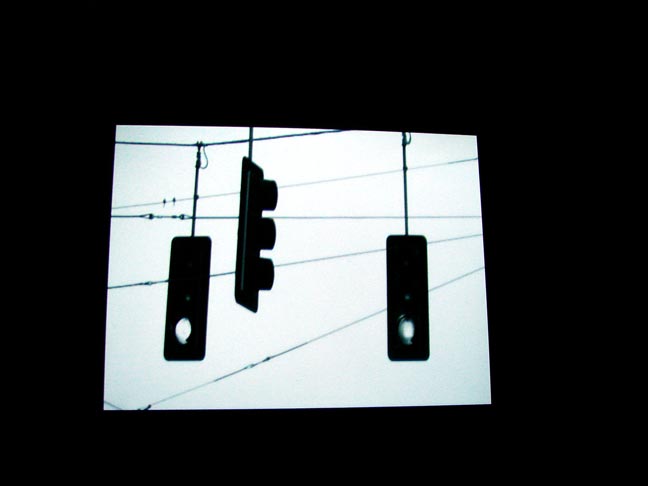 Video art.


Video art.


Watching video art.


Video art.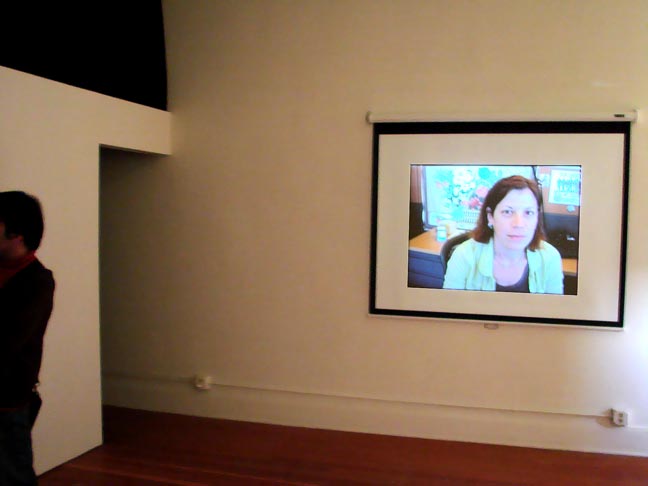 Video art.


***
Blue Space Gallery: Bayete Ross Smith - Passing.
Comment: Simple but effective prey on prejudice-- Bayete Ross Smith takes the same face and puts it on different passports. So how do you like me now?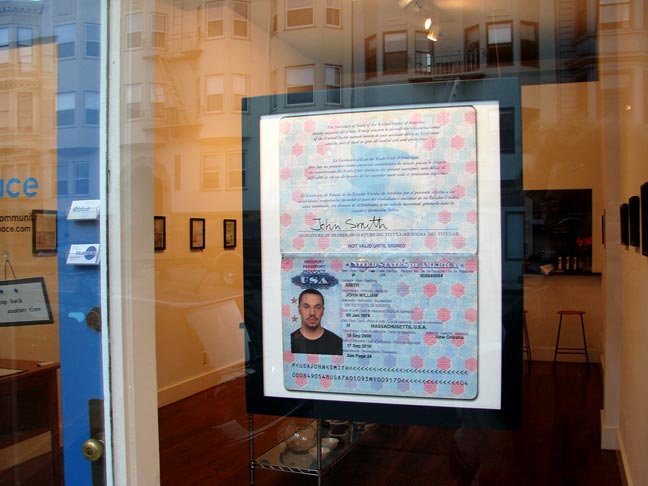 He's a US citizen.


Now he's from Columbia. Same dude; different country.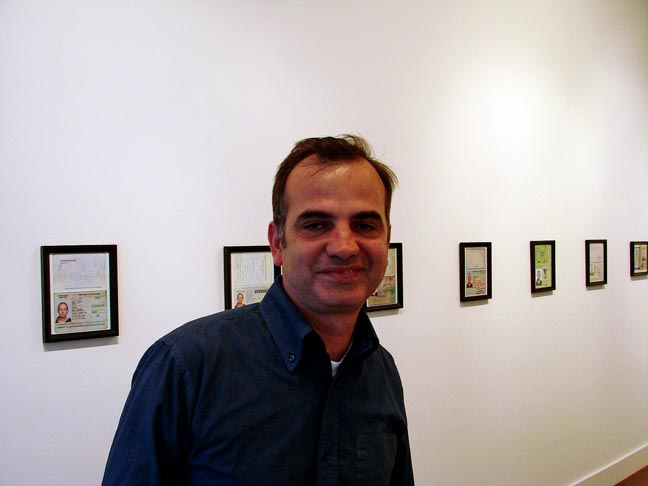 Cliff Leonardi - Blue Space proprietor.


Art.


Floor plan.


***
Adobe Books and the Backroom Gallery: Bert Bergen - Vessels of Acquiescence.
Comment: Bert Bergen inks and threads his way through an allegory about a dude who gets himself swallowed by a whale in order to find a crystal. Presiding over the intricate ink & thread drawings is a large vertical wood, epoxy, and automobile paint construction (but I suppose it could go horizontal too). Priced real right-- stitched drawings $190, show poster $20, construction $780.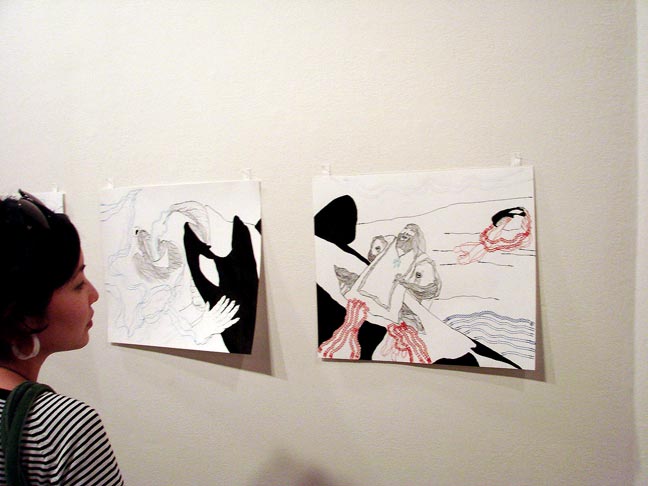 Art.


Art.


Bert Bergen - art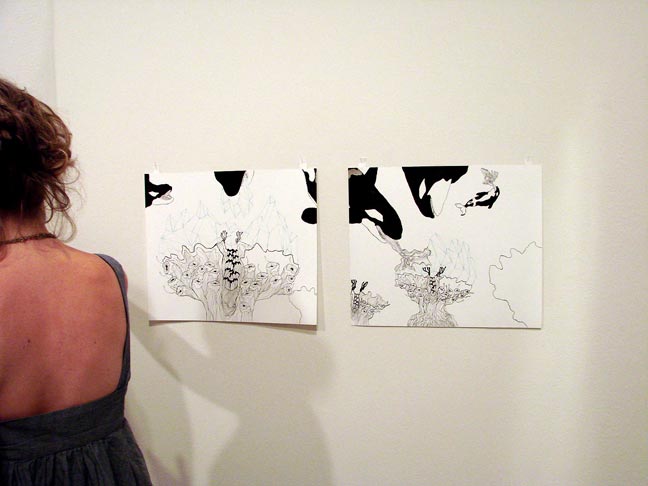 Art.


***
Southern Exposure Gallery: Christina Ray & Kurt Bigenho - Glowlab Launches NOSO.
Comment: NOSO is the opposite of MySpace, LinkedIn, Facebook, and countless other communities, online and otherwise, that you can join these days as you progressively network your life into an interminable terminal tizzy. What's the antidote? NOSO-- the anti-network alternative where you basically commit to interracting with no one ever again. Wanna sign up? Go to the NOSO website. I'll know you did if next time you see me, you don't even say, "Hi." Bye.
Networkless art.


Networkless art.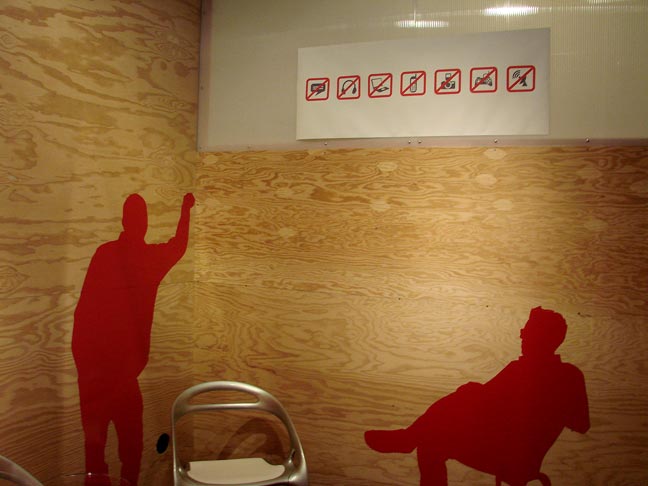 Networkless confinement cell.


Christina Ray explains networkless art.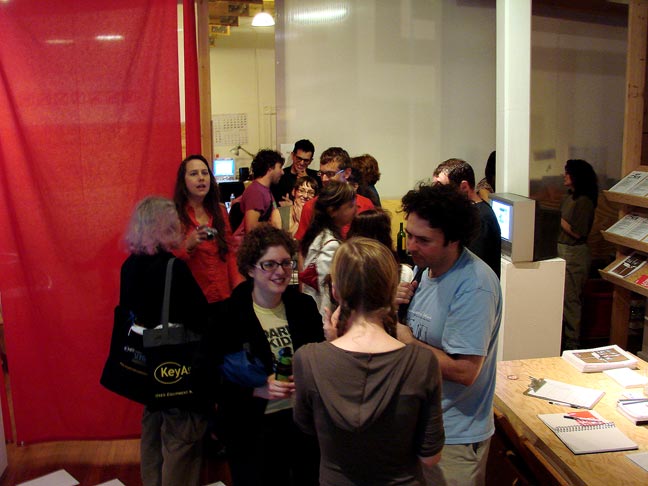 Attendance figures.


***
Queens Nails Annex: Erlea Maneros.
Comment: Erlea Maneros perpetrates to slice, dice, reduce, dissect, fractionate, partition, and otherwise ply pre-existing images of famous art and famous art museums. Why? To make us think about what museums mean today, about how the stuff that ends up there does, and about comparably knotty issues surrounding these anointed enshrined archetypes we somehow deem to be great.
Art.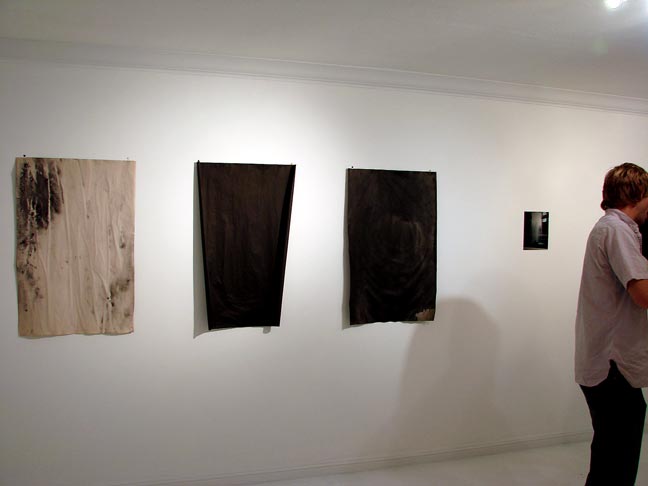 Art.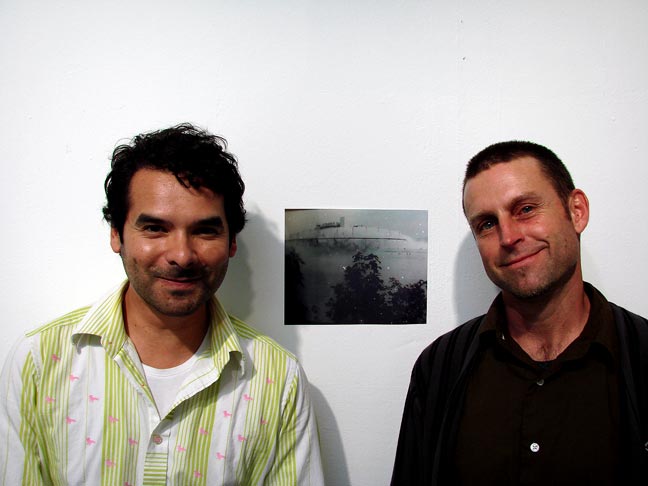 Julio Morales - Brian Storts (Queens Nails principals).


Art.


Space.


***
I Spy Vintage Decor and More (formerly The Drugstore Gallery), 1845 Market St., San Francisco, CA 94103 (formerly National Product); 415.282.0544: Angela Baker - Preoccupied Transitions.
Comment: Small format abstract oil paintings, some with wax, some with collage. That simple and no more complicated.
Art.


Art.


Angela Baker - art.


What it is.


***
Yerba Buena Center for the Arts: R. Crumb's Underground; William Pope.L - The Black Factory and Other Good Works.
Comment: R. Crumb settles in as one of the more influential artists of the twentieth century, first coming to prominence as Zap Comix founder and inadvertent chronicler of the unbridled turn on, tune in, drop out reactionary Sixties and the characters who inhabited it. Crumb's not here for the opening, but in person and in full throttle is Mr. Natural himself, holding court with a nonstop monologue that makes sense only to those who've been there. Even if you could care less about the Sixties and don't know who Mr. Natural is, check the show out for no other reason than to marvel at Crumb's prodigious and consummate mastery of the graphic arts. But wait. There's more. He's also got the vision to resonate that mastery. And yes, dear artsters, this magical combination is what makes an artist great.
In the main gallery, William Pope.L pokes and pries at sensitive cultural customs, conventions, and perceptions demanding that you open your brain and use it rather than con yourself into thinking you already know. Black... what exactly is that? Come here and see; then go back home and think about it. Running concurrently with the opening is an auction of Pope.L's art to benefit Project Open Hand.
Art (R. Crumb).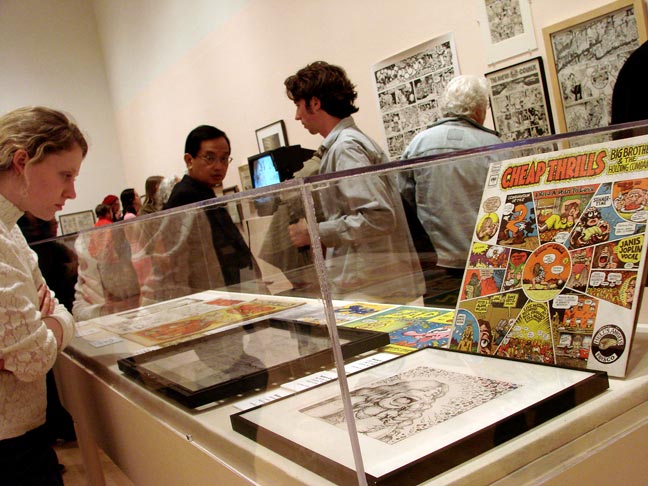 Art (R. Crumb).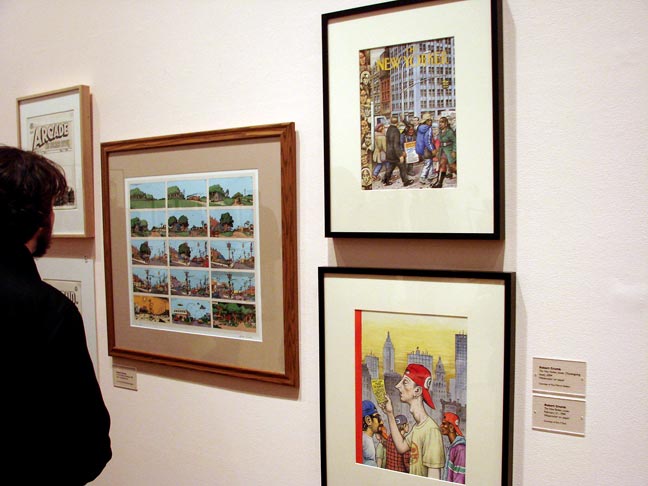 Art (R. Crumb).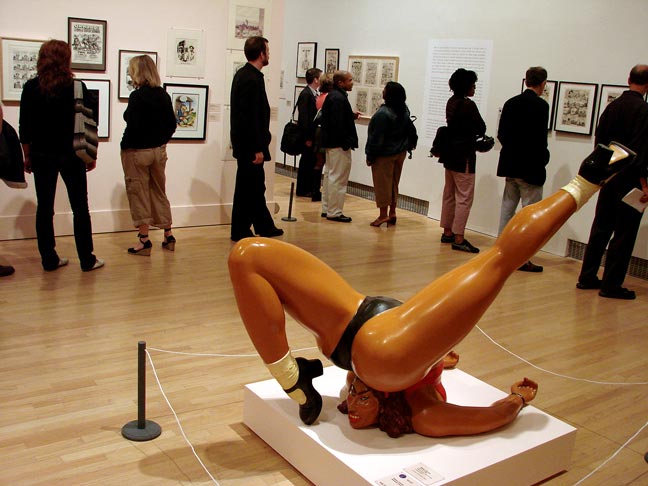 Art (R. Crumb) (I think I went out with her once).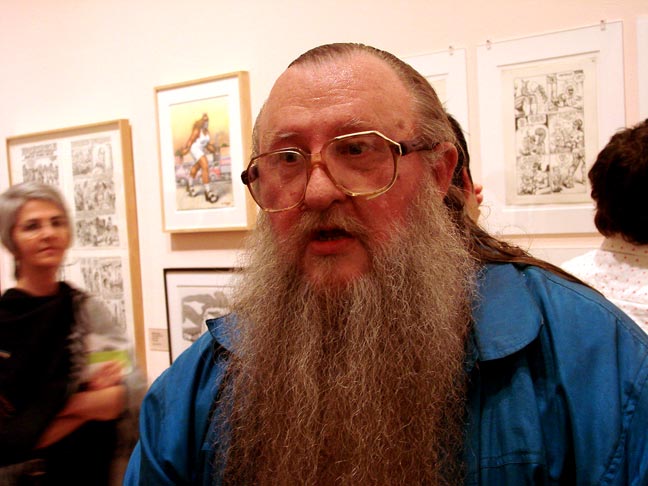 Mr. Natural in da house.


Mr. Natural is always in da house.


Mr. Natural according to R. Crumb.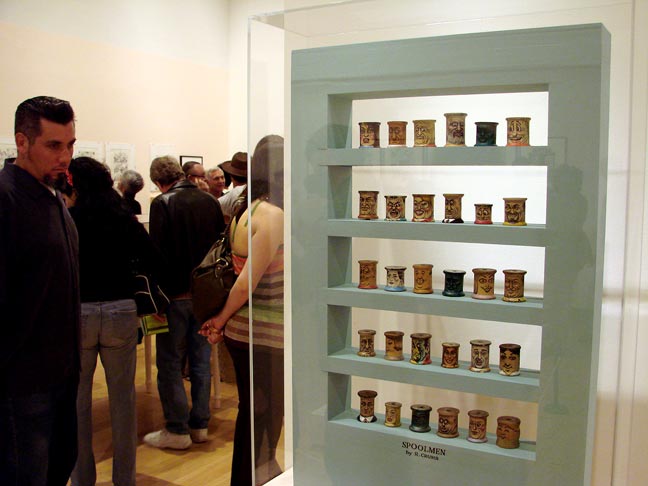 Art (R. Crumb).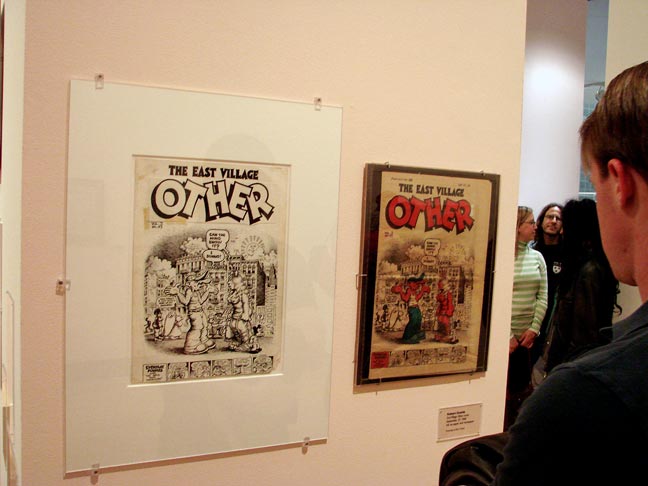 Art (R. Crumb).


Awesome sketchbook art (R. Crumb).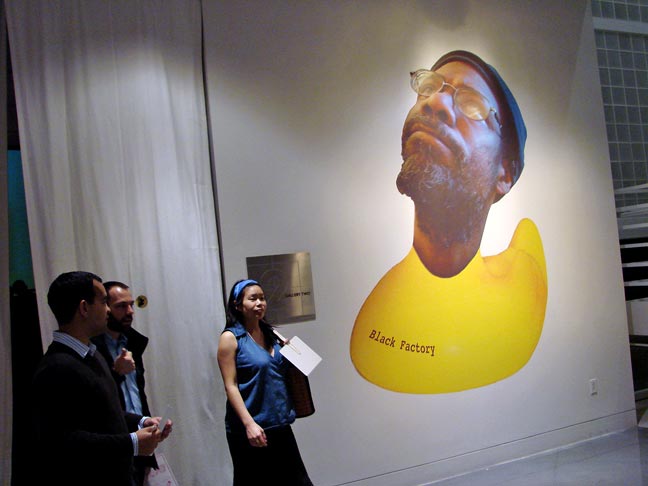 Art (William Pope.L).


Art (William Pope.L).


Art (William Pope.L).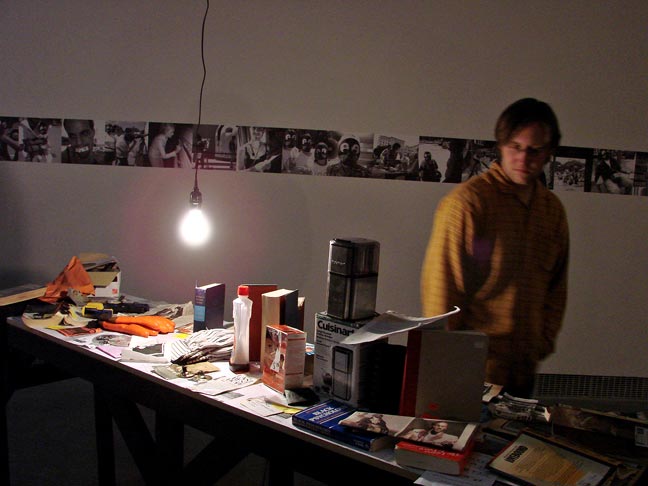 Art (William Pope.L).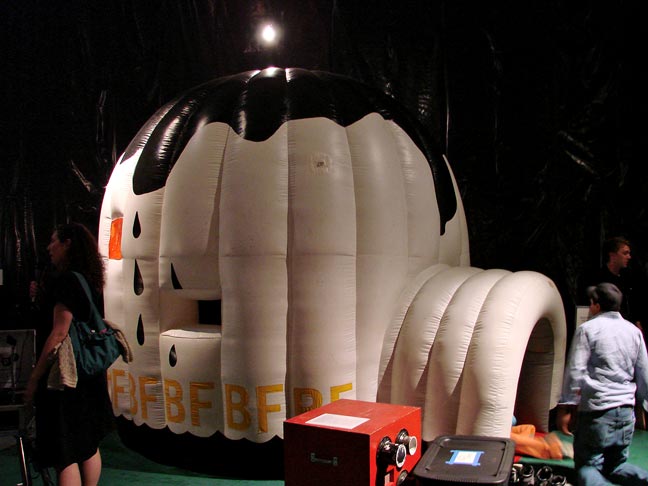 Art (William Pope.L).


Art (William Pope.L).


***
Live Worms Gallery: shhh!
Artists: Amy Wright, Ronald Patrick, Kimberly Avanna Lawson, Brad K. Alder, Michael Mason, Greg Pond, Kyle Monk, Cory Cerreia, Ryan Ward.
Comment: Group show art party puts forth a pleasantly peppy array of creative product. Unfortunately, I miss the zenith where these two women take their tops off and then Michael Mason rubs paint all over their frontal vicinities and environs (some dudes have all the luck), to tunes courtesy of Mozart, and then he basically makes human block prints by pressing the two against canvases, separate and together... I'm told. Like I said-- I missed it.
Human block print art (Michael Mason).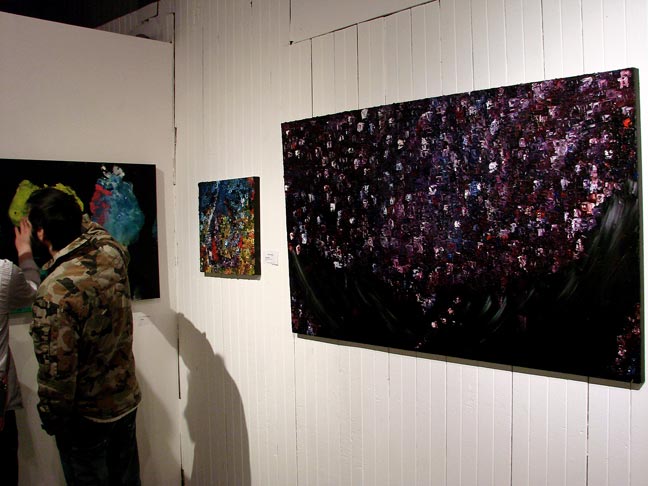 Art.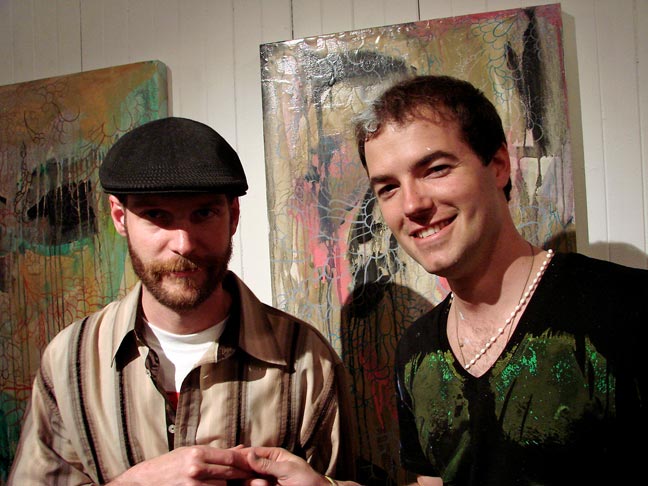 Brad K. Alder - Michael Mason.


Ice floe photos (kinda like 'em).


Kyle Monk - photography (sorta like it).


Art (Brad K. Alder).


Art.


Dude interviews me while I'm on the toilet. No, my lascivious lovelies-- it's not what you think. The cramped bathroom is the only place in the gallery he can record decent sound. Y'all get those naughty little minds out of the gutter.


***
Braunstein/Quay Gallery: CCA at 100 - Alumni Looking Forward.
Artists: Jules de Balincourt, Sarrita Hunn, Rajkamal Kahlon, Pepe Mar, Robert Olsen
Comment: Braunstein/Quay celebrates the 100th Anniversary of the California College of Arts with a commendable group show of work by CCA graduates. Like it.
Art (Robert Olsen).


Sarrita Hunn - art.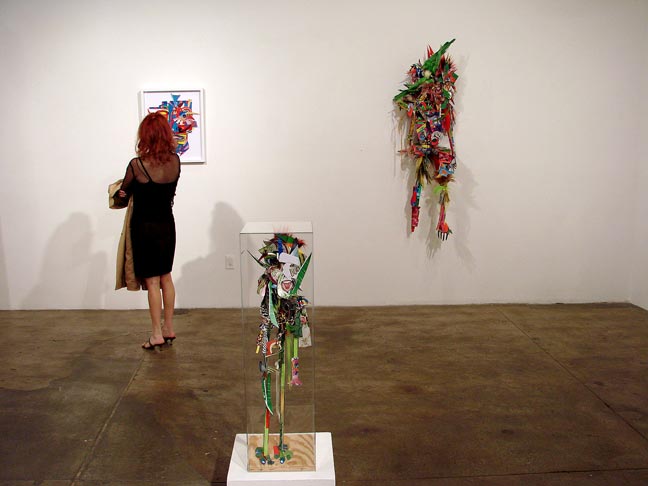 Art (Pepe Mar).


Art.


Art.


Art.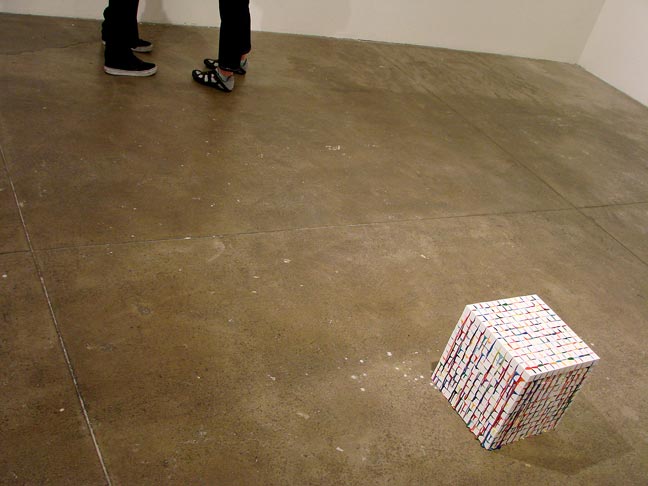 Art (Sarrita Hunn).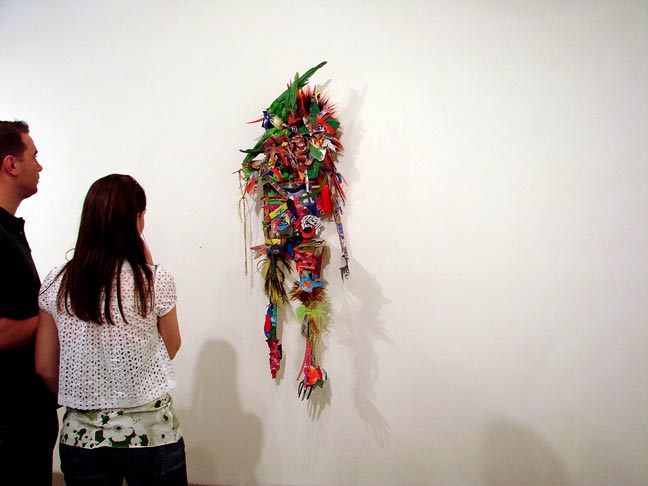 Art (Pepe Mar).


***
Hosfelt Gallery: Jim Campbell - Home Movies.
Comment: OK. Right off the top, I gotta lay the big fat Pick on this one-- best show I've seen in a while. Basically, Jim Campbell arranges and digitally programs LED's (light-emitting diodes) to project exceptionally low-resolution versions of films and videos. His largest piece might be called the art world incarnation of a Jumbotron-- columns of equidistant LED's hung from the ceiling several inches out from a blank white wall, light sides facing in, black backsides facing out, projecting vague moving images onto the wall, the viewer seeing not the actual images, but rather their reflections, interrupted only by the hanging columns that project them. It's kinda like a really blurry griddy black and white TV. You follow me? Excellent.
Anyway, the idea is that even though the images are unrecognizeable, your good buddy, the brain, resolves the quandary in such a way that you believe you're actually looking at something and, better yet, you think you know what it is. Isn't that just ducky? I sure think so. Technical mastery, flawless presentation, aesthically elevating, plus there's cognitive cabbage to cogitate on for you neocortical junkies.
Art.


Art.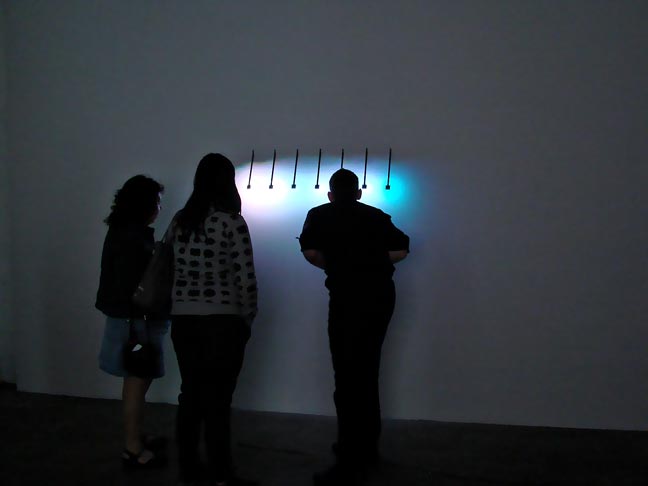 Art.


The magnum opus.


The magnum opus up close.


The magnum opus looking out from behind the LED's.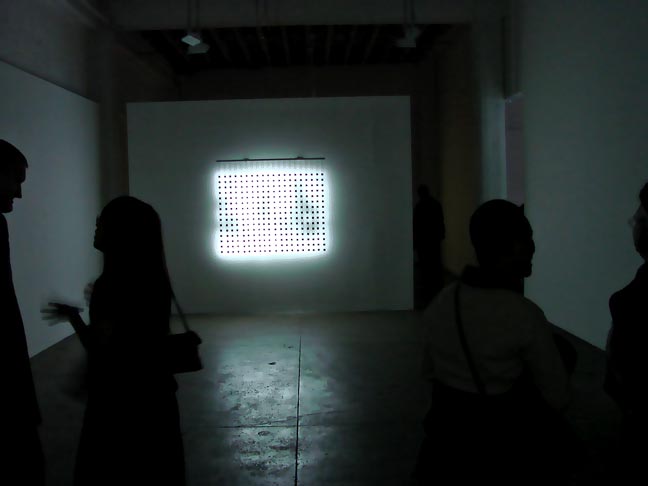 Art.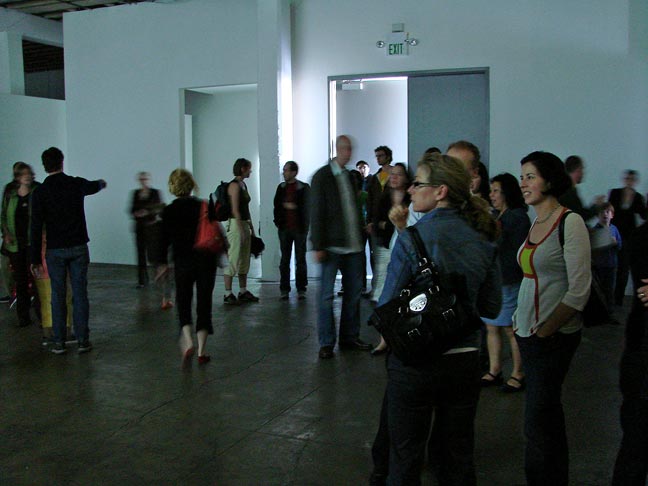 Playing field.


***
Needles & Pens: Bill Daniel - Texas Punk Pix by Who's Bozo Texino Film Tramp.
Comment: Hark back to the good old eighties with a little o' that down home Punk-side slam, Lone Star style, courtesy of documentary photographer and videographer Bill Daniel. Plus Needles & Pens principal Breezy Culbertson tells me Daniel went on this sixteen-year odyssey, repeatedly crisscrossing and crosscrissing the country to ID some dude who's monnikered countless thousands of railroad cars. I won't give away the ending; the DVD's 20 bux. The photos are eminently affordable too-- and there's plenty to choose from.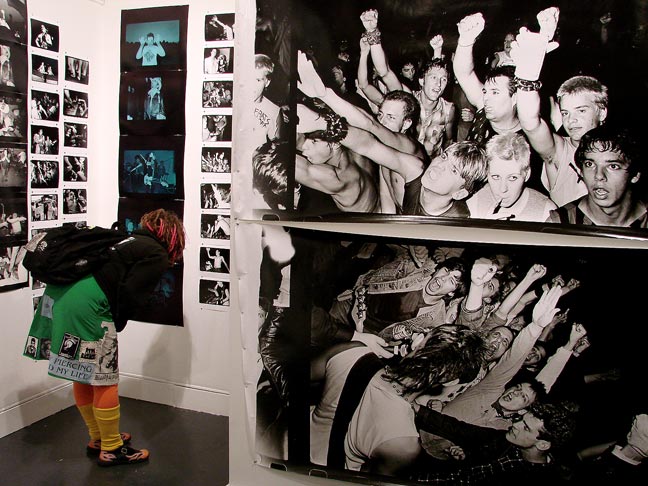 Photography.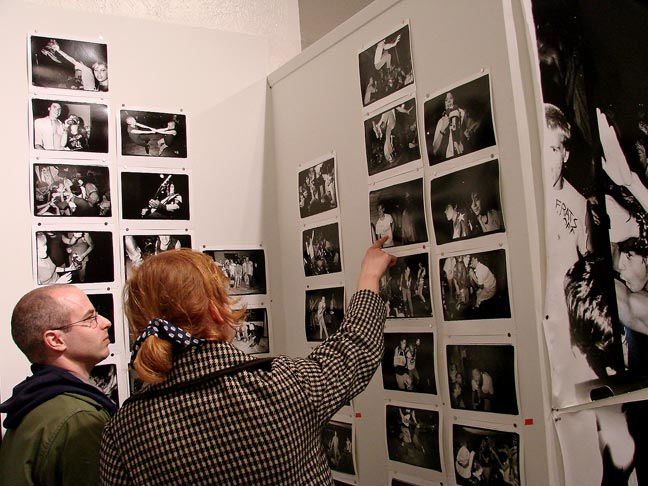 Photos.


Bill Daniel - documentary images.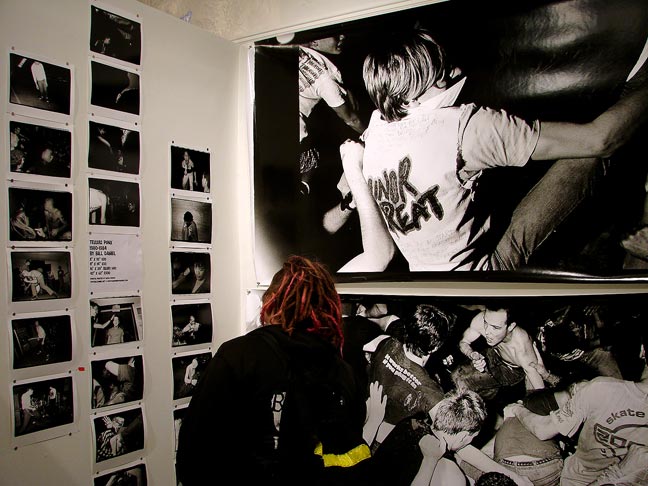 Photographs.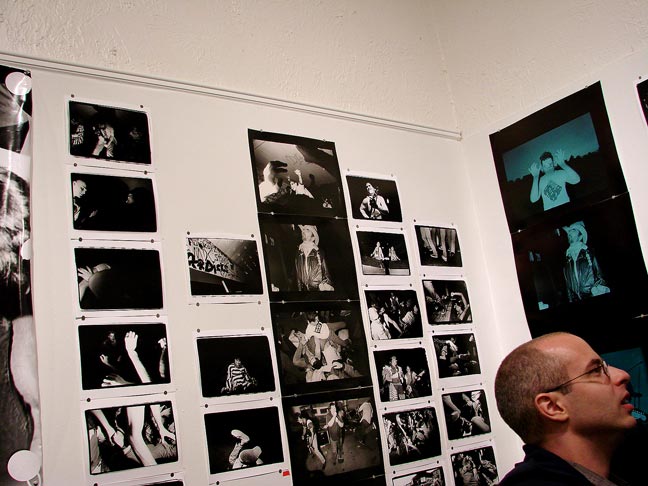 Photos.


***
Addendum:
Nathan Segovia - paintings and photos at Supervisor Ross Mirkarimi.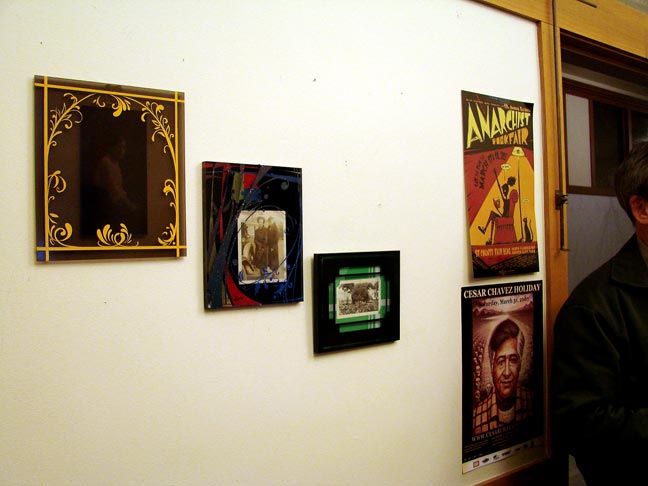 One more Nathan Segovia - paintings and photos at Supervisor Ross Mirkarimi.


***