SAN FRANCISCO GALLERY OPENINGS
PRESIDIO OFFICERS' CLUB - GERAS TOUSIGNANT - PIER 5 LAW OFFICES
RECEIVER GALLERY - SF ARTS COMMISSION - SUB ROSA SALON DES ARTS
AMPERSAND INTERNATIONAL ARTS - FLAMING LOTUS GIRLS
03.18.05
Presidio Officers' Club: From Above, A Robert Cameron Aerial Photo Exhibit.
Photographer: Robert Cameron.
Comment: Robert Cameron was 57 in 1969 when he published "Above San Francisco," a book of aerial photographs of San Francisco and environs. Already a successful author/publisher, having published "The Drinking Man's Diet" in 1964 (selling over 2,000,000 copies), "Above San Francisco" was his official artist/photographer debut. But that was just the beginning. Now 93, he has over fifteen "Above" titles to his credit. To summarize, he starts out by drinking martinis, then writes a book about the dietary upside of drinking martinis, then sales of the book make him wealthy, then he spends the rest of his life flying over the most beautiful places in the world taking pictures, then he publishes books of those pictures, then sales of those books keep him wealthy. All that and he still signs and inscribes every book bought through his website, Above Books. Take note artsters: No matter how huge you get, never forget your fans.
Photography.


Photography.


Robert Cameron (center left).


Books.


Perusal.


Photography.


Photography.


Photography.


***
Geras Tousignant Gallery: Daniel Tousignant, Recent Works.
Comment: Daniel Tousignant paintings are both artful and decorative. Here, he shows sparse peaceful slightly surreal high-gloss landscapes, and a selection of simple still lifes against pure black backgrounds (my favorites). Prices are reasonable, ranging from upper hundreds to low thousands. Open a gallery, sell your own art, avoid the fray. This is nice if you can pull it off, and Daniel Tousignant does just that. Before you rush out to sign your lease, however, keep in mind that you need a modicum of social skills, and the fortitude to field endless moronic inquiries from the general public. Oh-- and remember to keep a roll of quarters handy for people who need change for the parking meter.
Art (note the finished edges).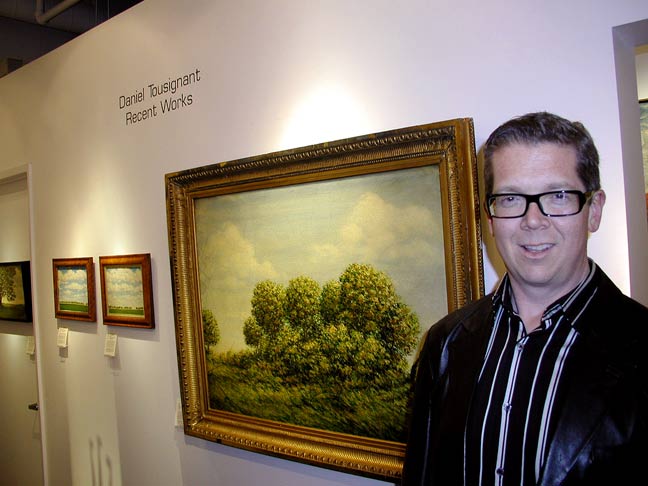 Daniel Tousignant.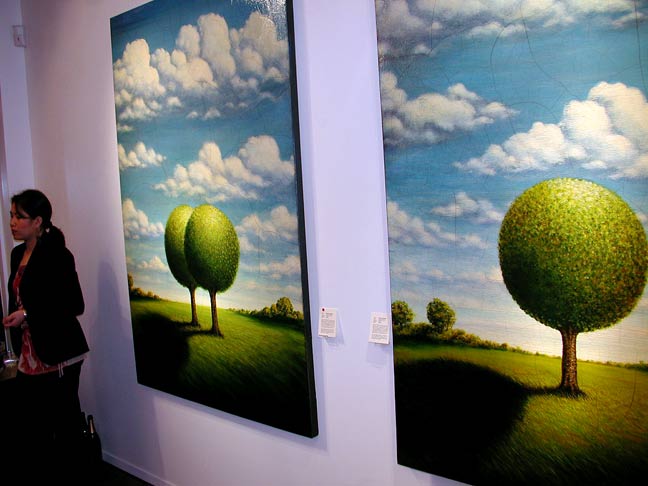 Art.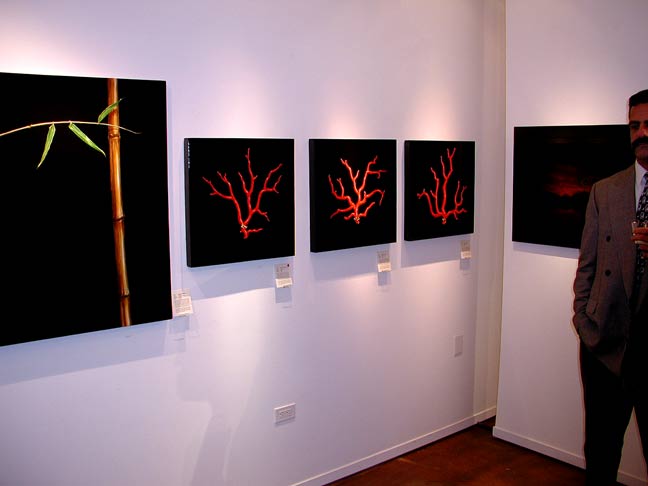 Art.


***
Pier 5 Law Offices, 506 Broadway, San Francisco, 94133; 415.986.5591: Prison Art Show.
Artists: Many.
Comment: Always festive-- that pretty much describes prison art shows at legal legend Tony Serra headquarters. You know, every once in a while, take a moment to think about our correctional system, its institutions, who inhabits those institutions, and why many of these people are there. You might be surprised. As for the art here tonight, my personal picks are the intricately skewed color-filled diamond-patterned naive watercolors with interspersed birds and butterflies by Sonny Lucero, the large ones selling for a super sweet $90 each (smaller, $60). Get 'em while you can. They're upbeat, more than competent, and way worth it. This guy's got talent.
Here it is.


Art - entertainment.


Picks - Sonny Lucero.


Sonny Lucero closer.


Tony Serra (left).


Art.


***
Ampersand International Arts: Anatomy of La Mentira - Red Noses, Victor Cartagena.
Comment: First off, a pile of plaudits to Victor Cartagena and Ampersand for finally offering up an artist statement that ordinary college graduates can understand. Ampersand has been a chronic offender in the inoperable statement category, but Cartagena nicely offsets numerous previous infractions by simply saying that his art is about lying and the role lies play in our lives. With his pointy red nosed poker faced characters refusing to let on that what they say is not what is, Cartegna's art will hopefully make us consider the consequences before we let our next lies fly. Priced $800 - $10K, most under $5K.
Lie art.


Lie art.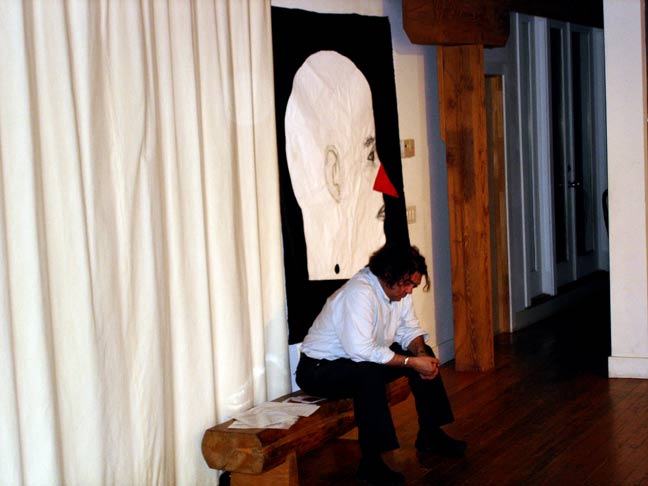 Lie art.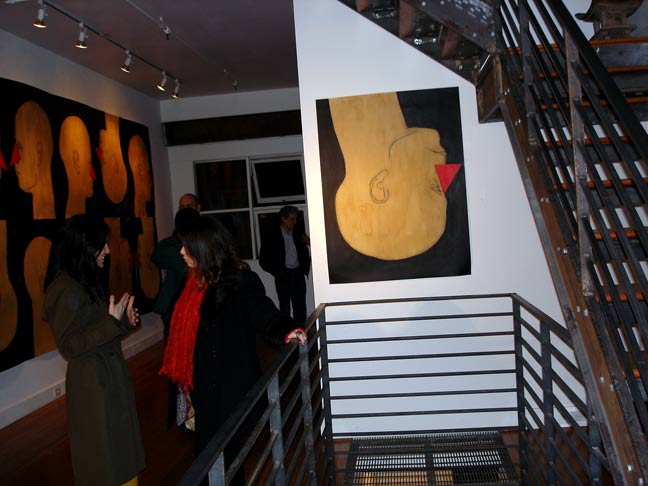 Lie art.


***
Flaming Lotus Girls: Flames, Fun and Fundraising.
Comment: The Flaming Lotus Girls is a group of male and female artists, sculptors, and metalworkers who incorporate flame into art, and spend whatever time is left over teaching others their skills. Tonight's event is an auction/sales fundraiser to finance their next burning Burning Man project, a mock up of which is on display for inspection. I'm not a Burner myself, preferring room service to camping, but I love the Burning Man ethos and all that it stands for. Plus Burner parties are always good for a sensually creative mood boost. Oh that we could spend our lives celebrating ourselves and our existence, sharing artfulness, being community, setting differences aside, respecting one another's autonomy, and living in peace. Oh that we could...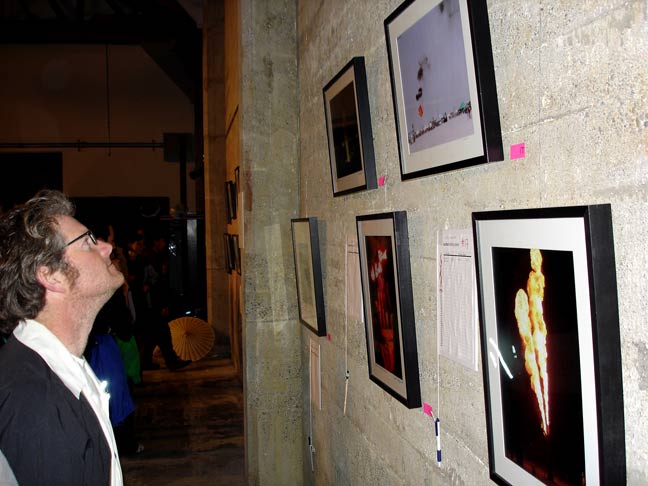 Photography.


Art.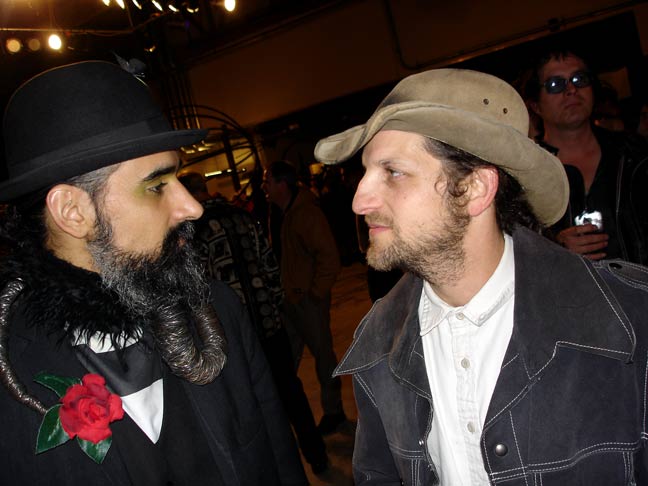 Steven Raspa - Dan Das Mann.


Flaming Lotus Girls-abilia.


Show curator Catherine Lynch.


Danger Ranger verso.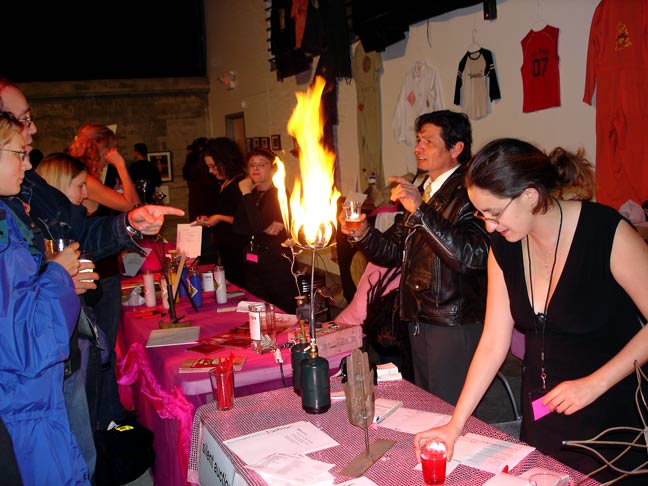 More Flaming Lotus Girls-abilia.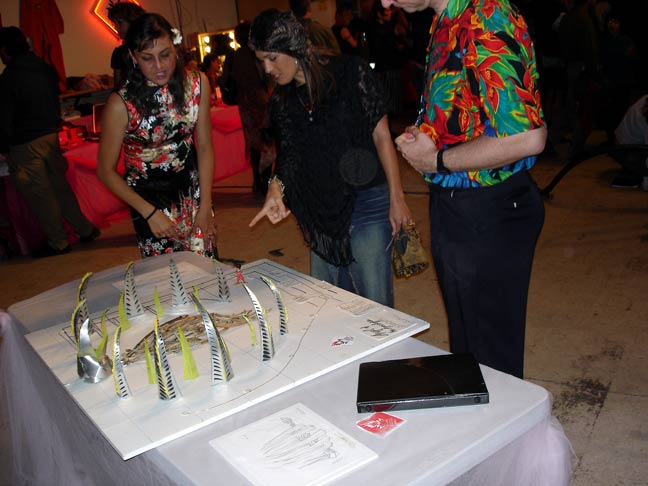 Mock up.


Photography.


Looking West.


***
Addendum:
Oakland artist Ogi at Receiver Gallery.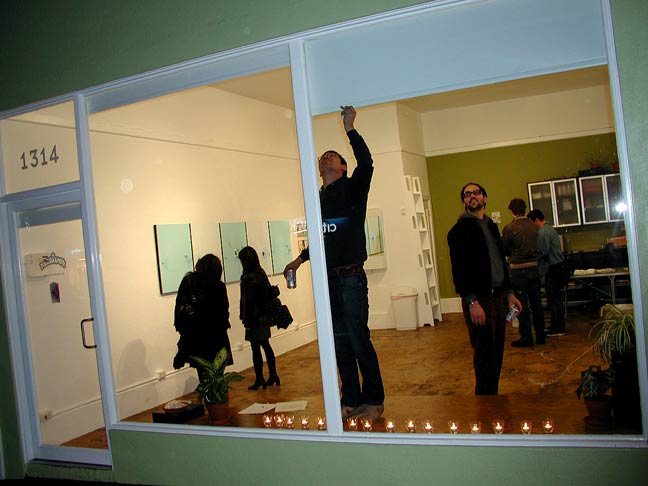 Receiver Gallery frontal.


William Swanson at San Francisco Arts Commission Gallery.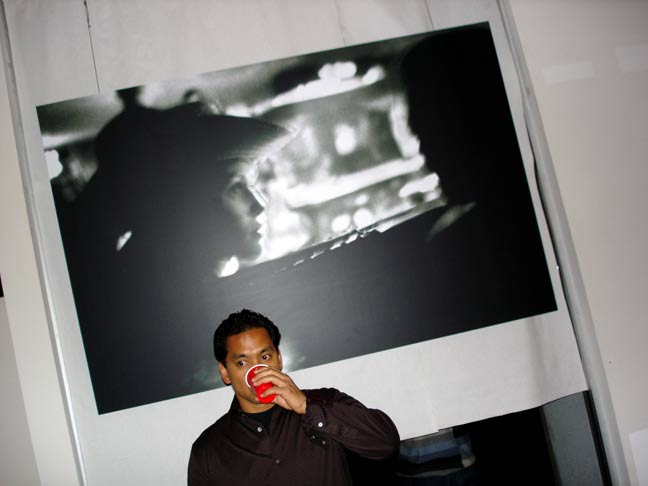 Charlie Nucci photos at Sub Rosa Salon des Arts (Appt: 415.867.6005).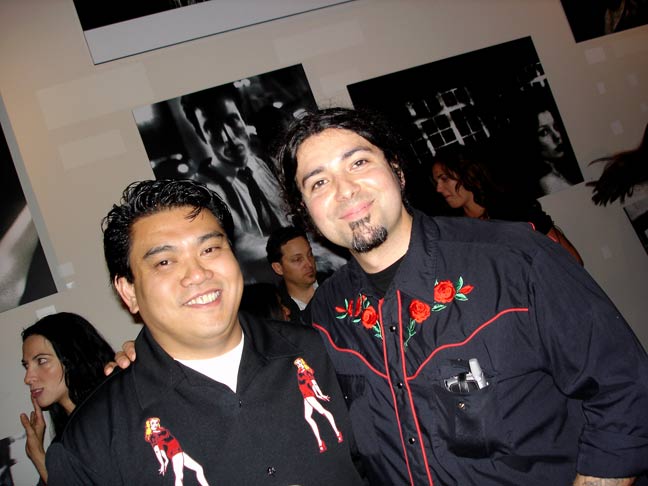 Charlie Nucci (right).