SAN FRANCISCO ART GALLERIES - OPENINGS
ANDREA SCHWARTZ - URBIS-ARTIUM - TOGONON GALLERY
NEW LANGTON ARTS - FTC SKATEBOARDING - AFTERMODERN GALLERY
SUPERVISOR ROSS MIRKARIMI - YERBA BUENA CENTER FOR THE ARTS
PING PONG - HEATHER MARX GALLERY - MOLLUSK SURF SHOP
ANARCHIST BOOK FAIR - KOTTIE'S HOUSE - SUPPERCLUB
03.16-18.06
Andrea Schwartz Gallery: Jorge Santos - Paintings.
Comment: Jorge Santos has the skills and talent to paint whatever he wants, all extremely well; no question there. He plies his versatility by creating implausible chimeric visionary dreamscapes, and explains them by saying, "I think of my paintings as snapshots of ordinary life, in which I combine naive optimism with the impossible." OK. So do I take each painting at face value? Together or separate? Or make of 'em what I want? Or marvel at the imagery? Or focus emotional? Or introspect? Or is there a story? Or do I make up my own story? Do the characters have names? The overriding essence is elusive, and painting strange for strange's sake doesn't quite nail it for me. The fewer questions I have, the more I enjoy the art.
Art.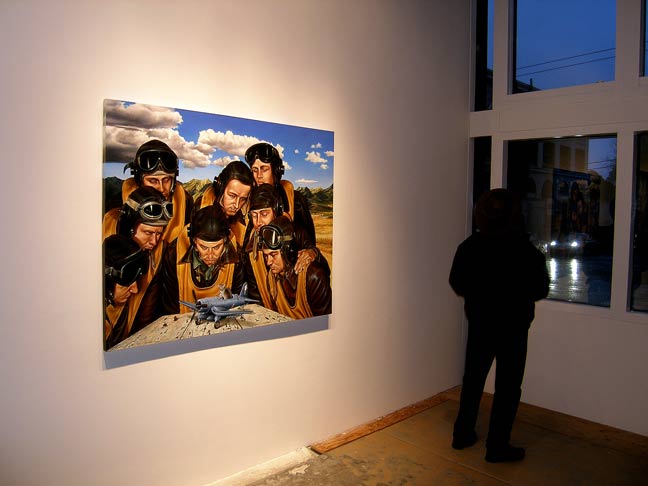 Art.


Jorge Santos - art.


Art.


Art.


Art.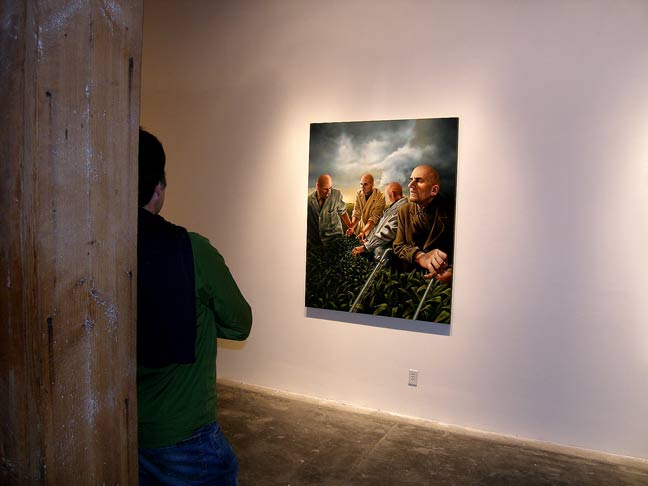 Art.


***
Urbis Artium Gallery: Layered - New Stencil Paintings by Logan Hicks and Adam5100.
Comment: Two premium stencil jockeys demonstrate mettle with two unique takes on big city living. Adam5100 leans artfully abstract, nuancing his compositions with odd angles, intricate cuts, multiple layers, and indeterminate subject matters. Logan Hicks starts straight architectural, and then romances the atmospherics with pattern, color, finish, and repetition. Challenging medium enjoying a resurgence; off the streets and into the galleries. Good show. Go see.
Stencil art (Logan Hicks).


Stencil art (Adam 5100, foreground - Logan Hicks, background).


Stencil art (Adam 5100, left - Logan Hicks, right).


Stencil art (Adam5100).


Stencil art (Adam5100).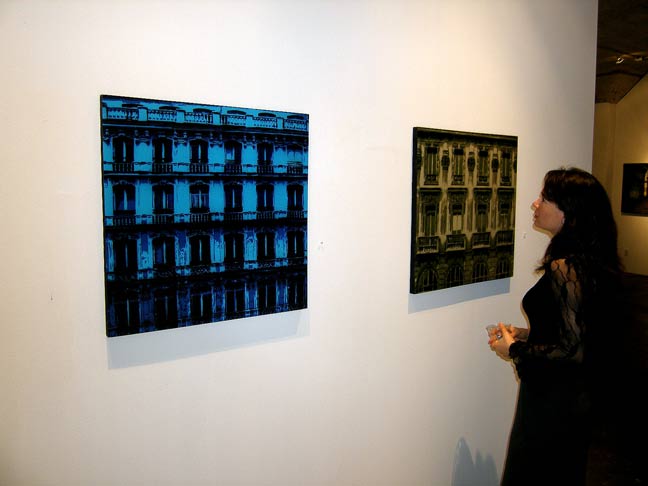 Stencil art (Logan Hicks).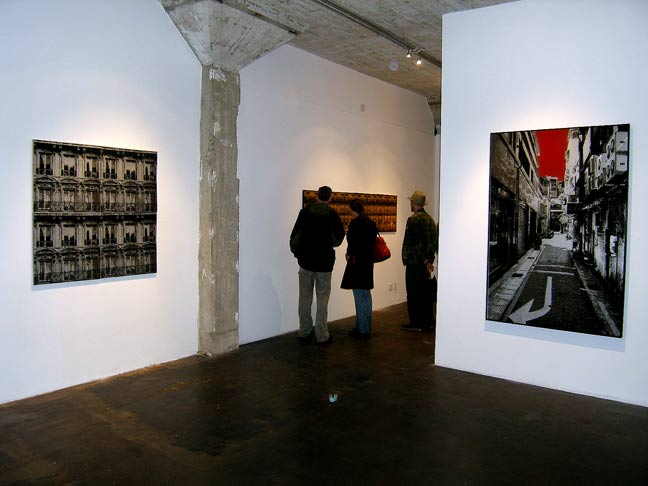 Stencil art (Logan Hicks).


***
Togonon Gallery: Selected Works - Paintings by Leo Valledor (1936-1989).
Comment: Sort of an Ellsworth Kelly-ian take on geometric abstraction. Crisp, clear, colorful, clean.
Art.


Art.


Art.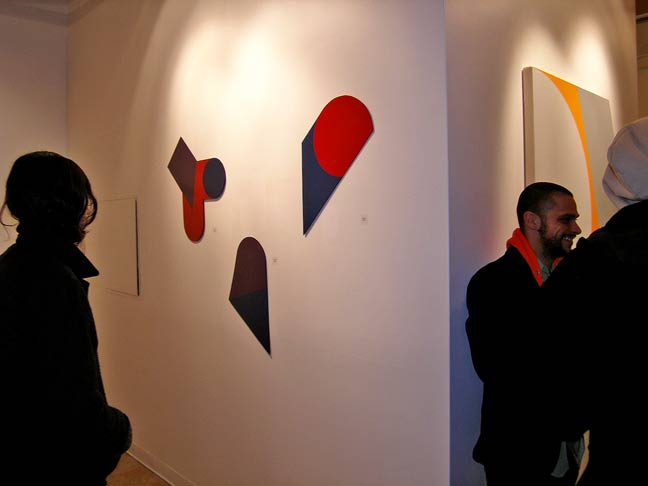 Art.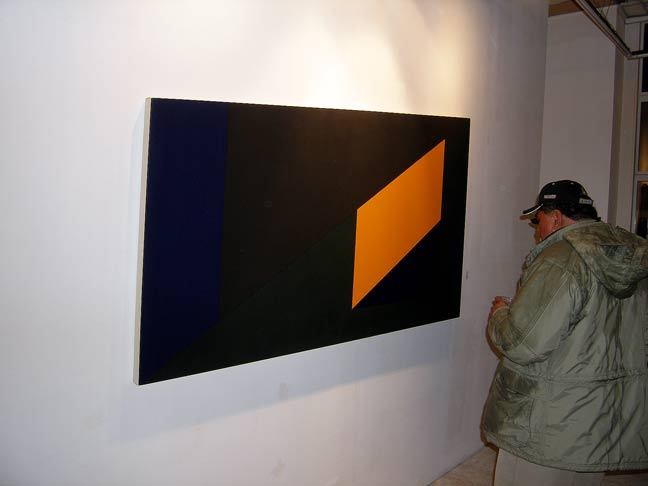 Art.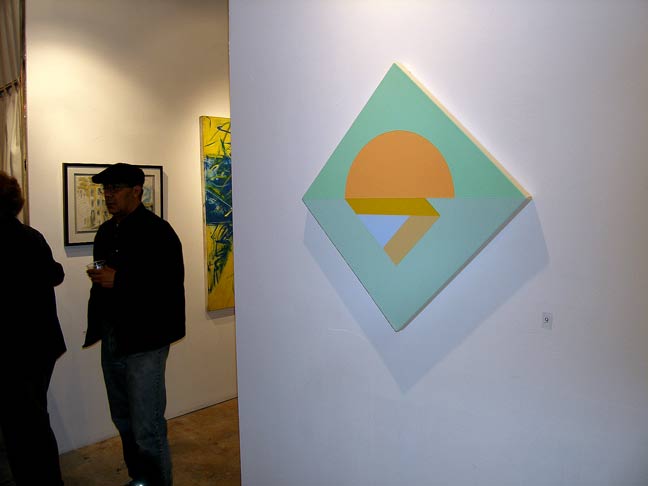 Art.


***
New Langton Arts: Elusive Materials.
Artists: Eleanor Antin, Douglas Huebler, Colter Jacobsen, Nina Katchadourian, Lynn Hershman Leeson, Antonio Muntadas, Maria Nordman, Martha Rosler, Allen Ruppersberg, and James Tantum.
Comment: New Langton Arts continues its 30-year anniversary celebration with a show about compiling, accumulating, classifying, and documenting information and events over time. All participating artists in all anniversary shows have exhibited at New Langton in the past. Anyway, for this show, the explanation is rather lengthy, rather complicated, rather small print, I can't find my reading glasses, and my brain's at the cleaners. My favorite artwork-- James Tatum's handwritten high density autobiographical appointment-packed desk calendar sheets arranged chronologically into rows along an entire wall of the gallery.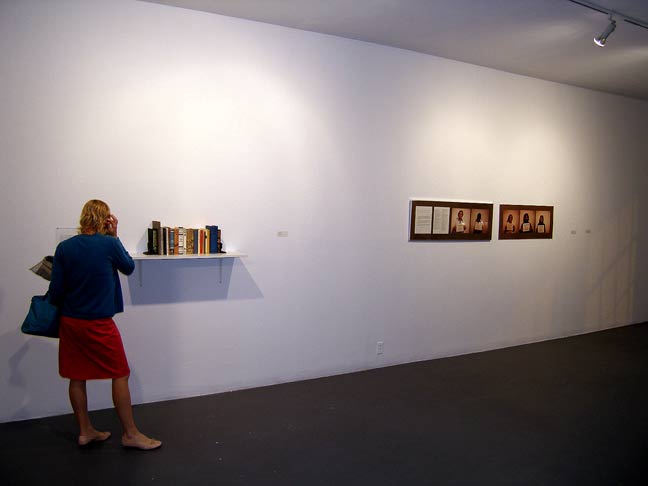 Art.


Art.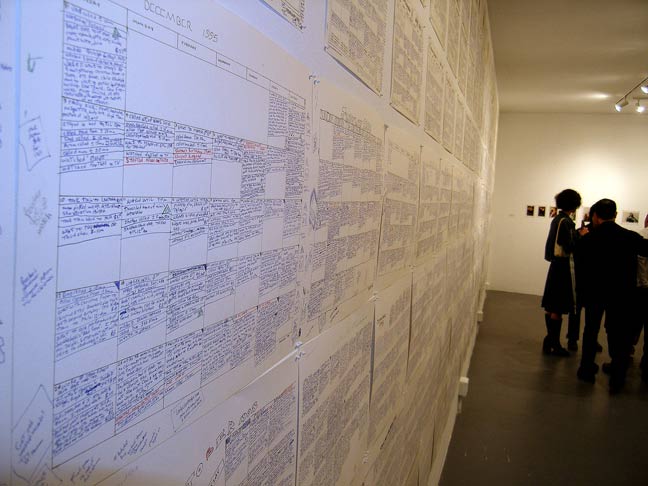 Calendar wall art (James Tatum).


Art.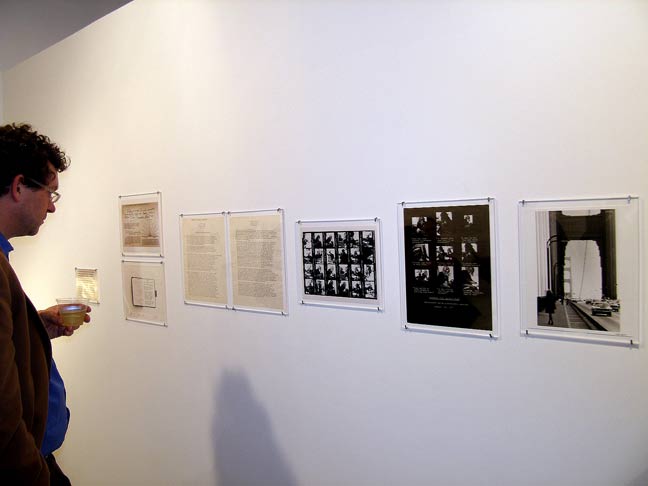 Art.


Art.


Art.


***
FTC Skateboarding - FTCart: Chubby Killers - Angry Woebots.
Comment: Versatile Oahu, Hawaii artist designer illustrator Angry Woebot makes paintings, outdoor art, sculpture, fashion, plush figures, and more. Prices reasonable; nice stuff. The best part about FTC shows is that they're so tight, they get me deeply in touch with my nerdness.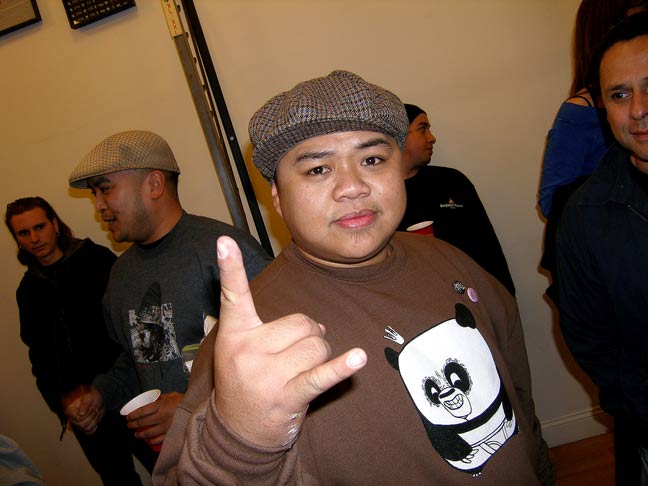 Angry Woebot - sweatshirt art.


Art.


Art.


Art.


Art.


Altitudinary.


***
Supperclub: Fine Line - A Hypnotic Exhibition of Low Relief Sculptures by Chris Lattanzio.
Comment: What better place to show entirely white art than at an entirely white club? Chris Lattanzio cuts, forms, and glues uniformly thin wood strips into landscapes, portraits, etc., then has the finished compositions professionally sprayed, baked and finished in white auto paint. The framed reliefs hang in a backlit room that constantly changes color, creating a mildly mesmeric effect. For you clubbing-in-San-Francisco historians, Supperclub is a recent Dutch important. Lattanzio's prices range $1000-$2500.
Room.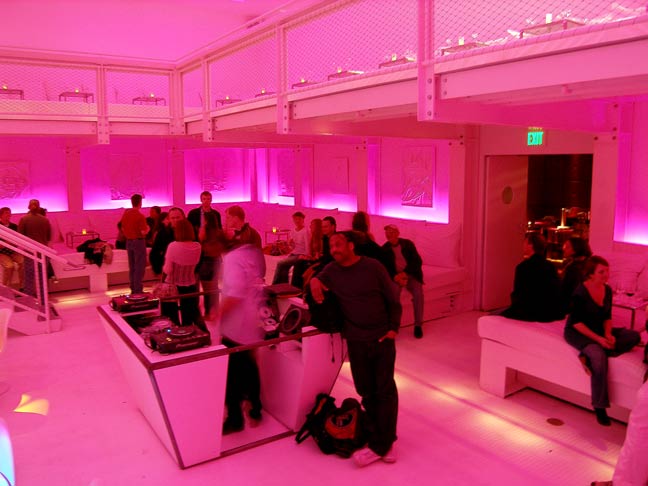 Room.


Room.


Art.


Art.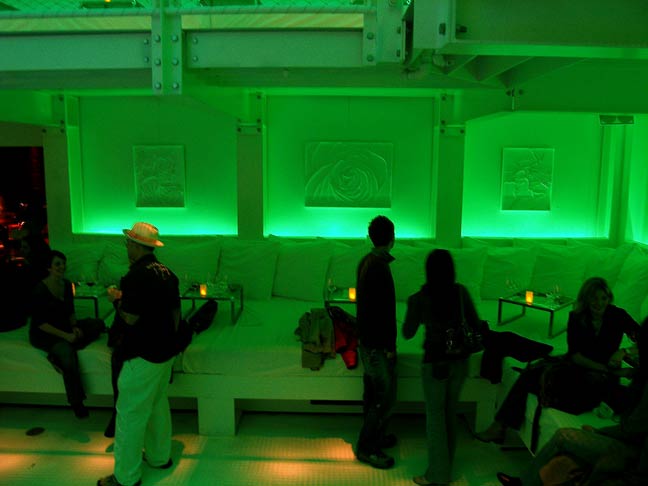 Art.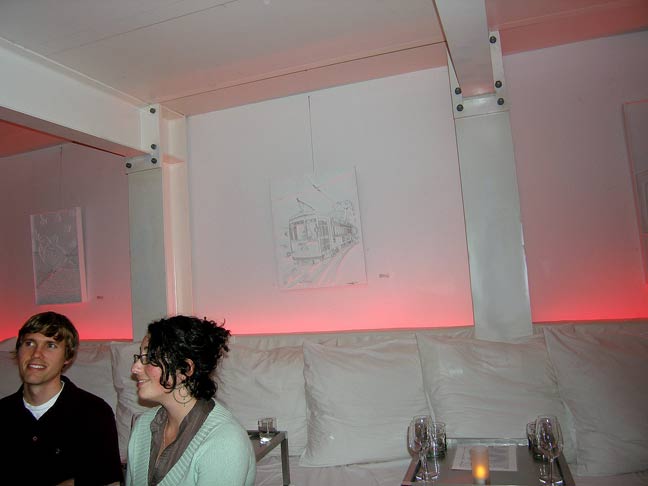 Art.


Art.


***
Supervisor Ross Mirkarimi: The Artwork of Shiva Pakdel.
Comment: Iranian-born Shiva Pakdel's mediums include watercolor, acrylic, oil, charcoal, and collage either solo or in combination as paintings, prints, drawings, and works on paper. Much of her work is autobiographical/self-portraitist in nature. Says Shiva on her website, "My true passion has always been art."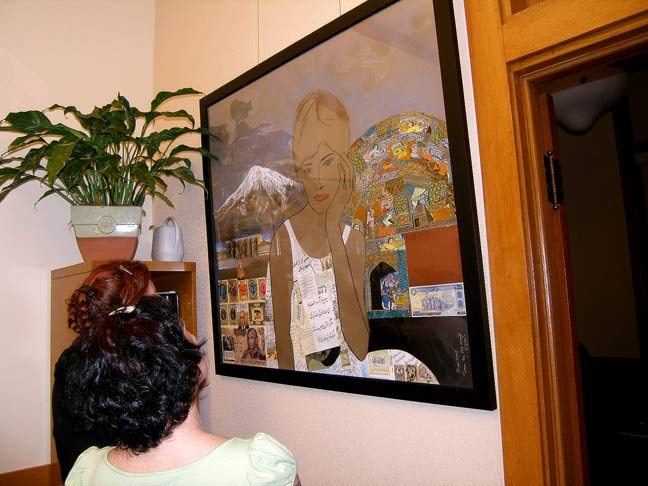 Art.


Art.


Shiva Pakdel.


Art.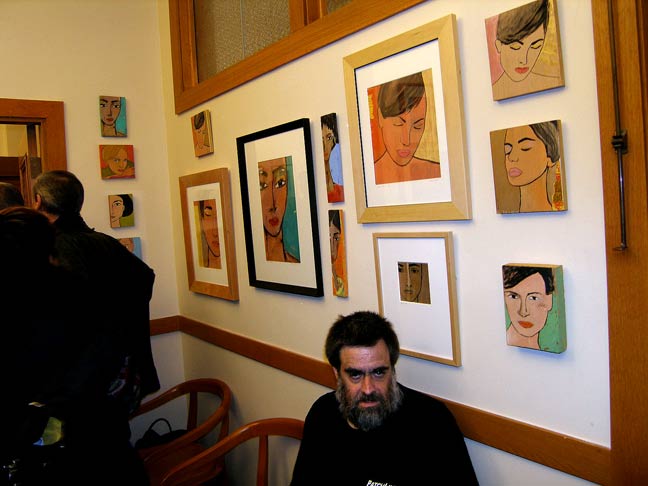 Art.


***
Ping Pong Gallery: Everytime a Scientist Dies... A Collection of Sculptures, Videos and Digital Prints by Chad Stayrook.
Comment: Chad Stayrook explores the limits of fantasy and reality, what happens when fantasy meets reality, and how much fantasy might be interjected into reality (or visa versa) in order to blur distinctions between the two. He then mocks up a bit of pseudo-science to legitimize his contentions including equations for calculating the "proposed artistic value" and "overall artistic value" for any given work of art. Hmmm. If he proves we can quantify art's import simply by plugging numbers into equations, that would eliminate the need for art criticism. Hey-- I can dream, can't I? You know what's weird, though? It's St. Patrick's Day and Stayrook's wearing Fourth of July pants.
Chad Stayrook - July 4th pants - art.


Periodically inflating floor whale art.


Art.


One more Chad Stayrook & art.


***
Yerba Buena Center for the Arts: Black Panther Rank and File.
Artists: Radcliffe Bailey, John Bankston, Ruth-Marion Baruch, Joseph Beuys, Margaret Bourke-White, Nick Cave, Emory Douglas, Ducho Dennis, Sam Durant, Coco Fusco, Ellen Gallagher, Leon Golub, Tony Gray, David Hammons, Ilka Hartmann, Barkley L. Hendricks, Lonnie Bradley Holley, Jeff Hull, Itıs About Time, Arthur Jafa, Paa Joe, Pirkle Jones, Kerry James Marshall, Daniel J. Martinez, Chris McNair, Zwelethu Mthethwa, Refa 1, Steve Jones and Toons, Paul Sequeira, Stephen Shames, Gail Shaw, Jeff Sonhouse, Carlos Vega, Roberto Visani, Andy Warhol, Carrie Mae Weems, more.
Comment: Impressive combination art exhibit and social political African-American history documentary featuring rare Black Panther Party documents, film footage, recordings, photographs, publications, and memorabilia alongside an African-American art survey themed primarily on social issues. The works of art date from the 1700's to the present and include art created during the rise of the Black Panther Party. In case you actually believe that America is "the land of the free," you might wanna check out this show and find out where freedom's boundaries lie. Maybe we're free according to Nike, but anything beyond that is a bit of a hard sell.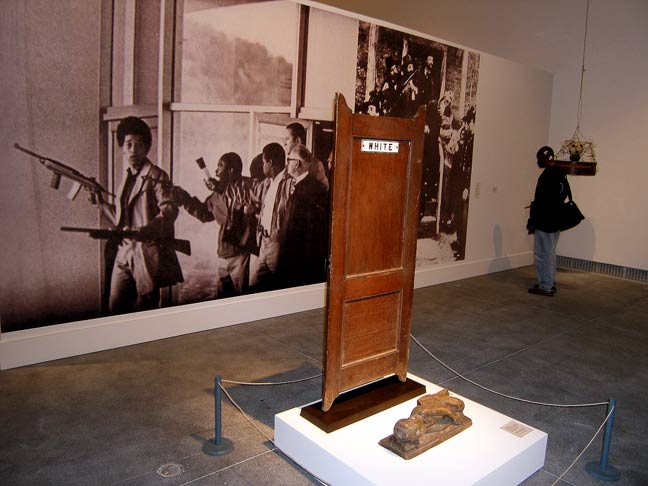 Art - artifacts.


Publications.


Art.


Posters.


Art.


Woven metal art - pick.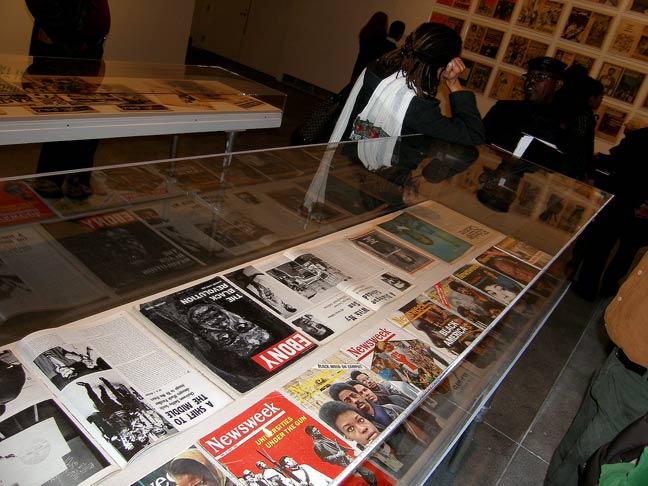 Publications.


Art.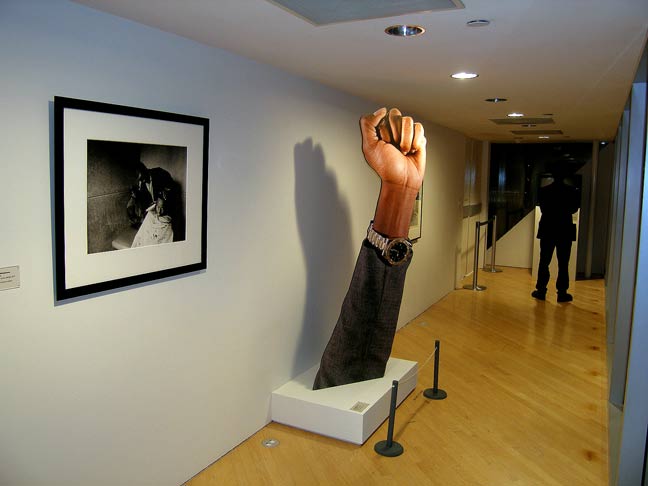 Art.


Publications.


Documentary photographs.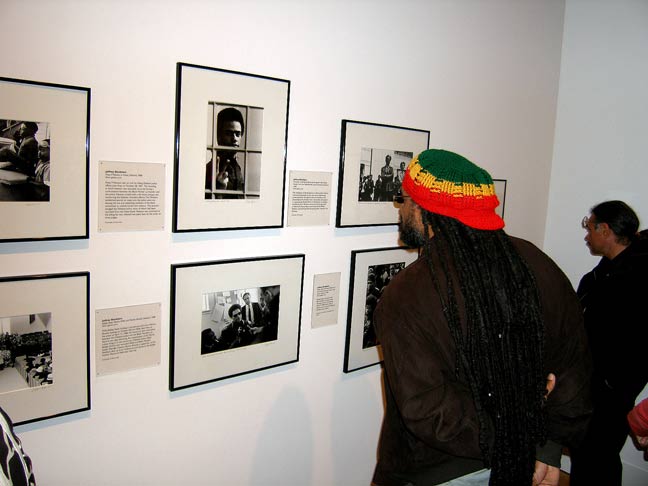 Documentary photographs.


Art.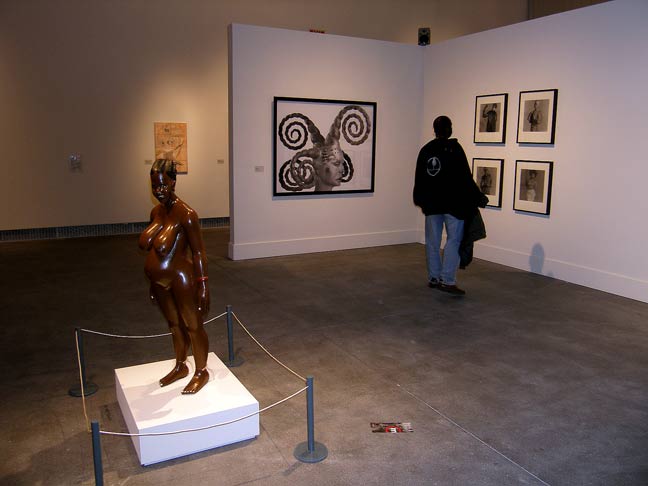 Art.


***
Mollusk Surf Shop: Drawings and Paintings by Andy Davis.
Comment: Smooth surf art grab bag, small format mainly, ranging artful to kitsch to stylish to sixties/seventies toned. Excellent turnout. Pure art party. Special bonus-- live tunes by Japanese Motors-- good.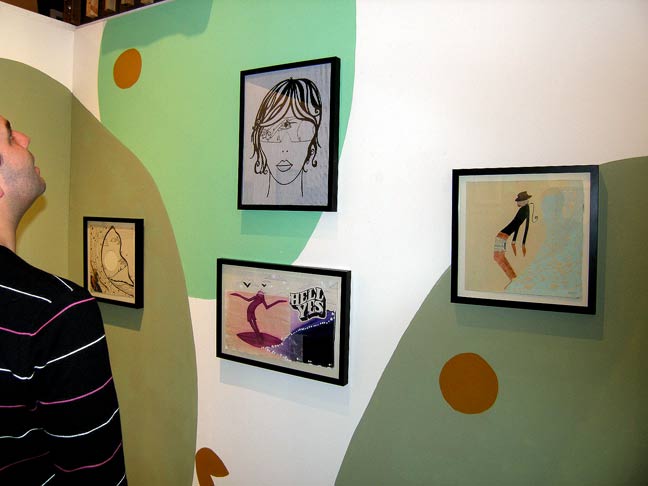 Art.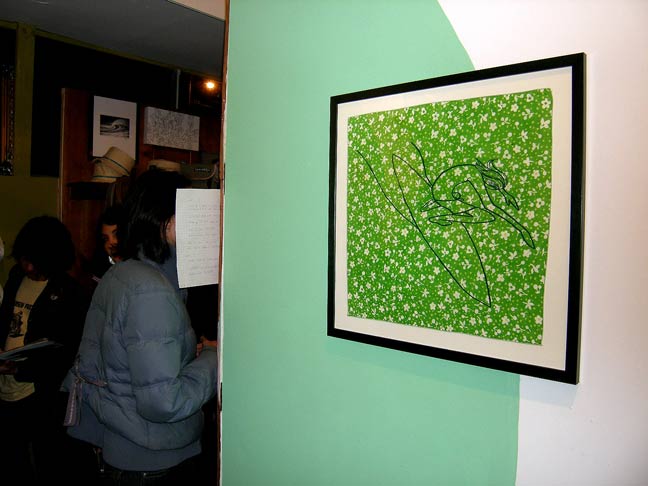 Art.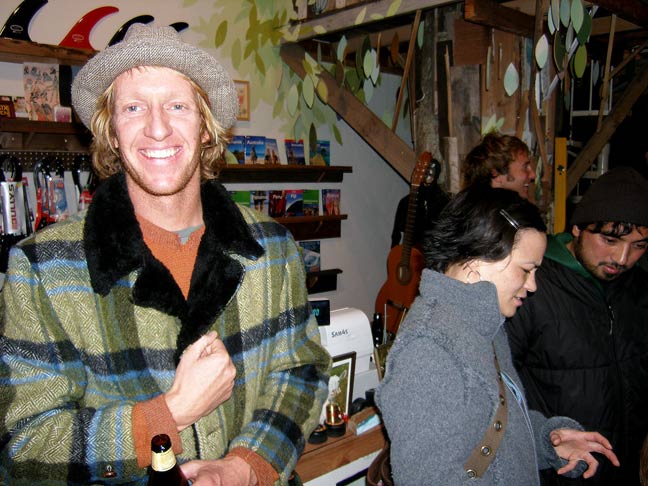 Andy Davis.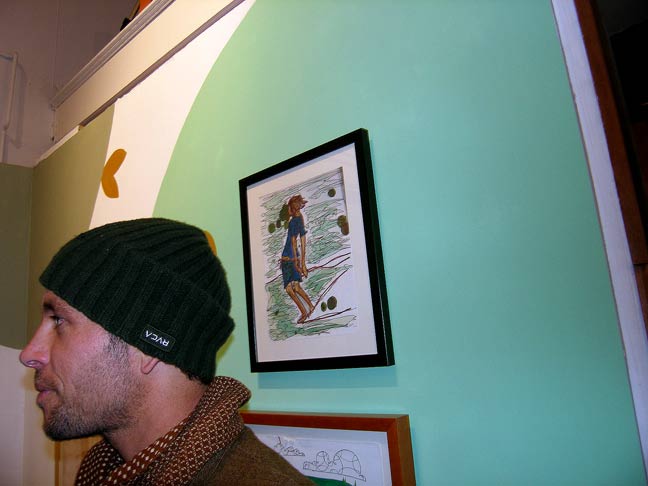 Art.


Art.


Tunes.


***
San Francisco Bay Area Anarchist Book Fair: 11th Annual Anarchist Book Fair.
Exhibitors: IWW, Kerbloom, Slingshot, Haight Ashbury Literary Journal, Microcosm Publishing, Crimethinc, Flor y Canto, Evil Twin Productions, Times Change Press, Black Diaper Baby, International Indian Treaty Council, Black Rain Press, Just Seeds, City Lights, Manic D Press, Moonshine Books, IDP, Against Sleep and Nightmare, J.L. Hudson Seedman, Kieth Knight, Bolerium Books, Project Censored, Dispatch, Guillotine the Greedy, Venomous Butterfly, Eberhardt Press, People's Art Works, C.olumbia Anarchist League, Alternative Press Review, Free Mind Media, Regent Press, War Resistors League, Catholic Worker, LAGAI, Quit, Green Anarchy, Michael Smith, Fifth Estate, Bureau of Public Secrets, See Sharp Press, Peace Supplies, Tarantula Dist., Left Bank, IDA, Counterpulse, Organic Collective, Earth First, Indybay.org, Maximum Rock & Roll, Kate Sharply Library, Entarte Kunst, Balazio Gallery, Noksi Press, Zen Baby 'Zine, Cutlass Pub., Flash Publications, Free Radio Berkeley, Bibliomania, Time Tested Books, Groundwork, Bitch, 1984 Printing, AK Press, Research Publications, San Francisco Bike.
Comment: This only-in-San-Francisco event held annually at the Hall of Flowers in Golden Gate Park is jammed to overflow. In keeping with the theme, there's plenty of free stuff including manuals on how to disarm security systems, break and enter, commit all manner of sabotage, and more more more. Plus there's speakers, an art exhibit, superior people watching, a concentrated issue-oriented education, a glimpse at crest-of-the-wave counterculture lifestyling, and plenty to think about. Highly recommended.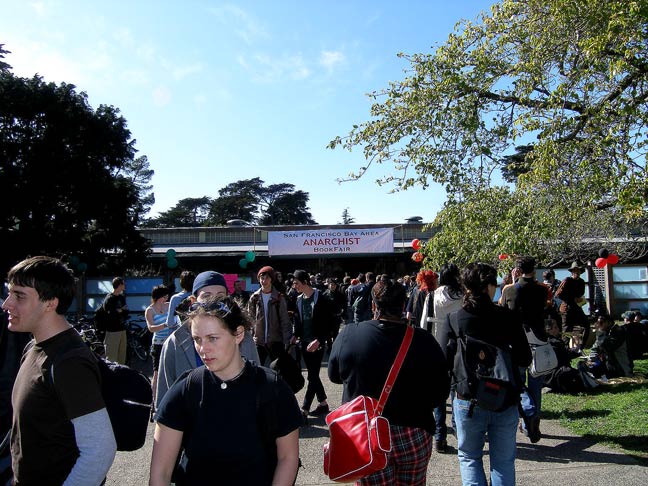 Here we are. Let's go inside.


Hmmm. Guess it's time to shop.


Free stuff.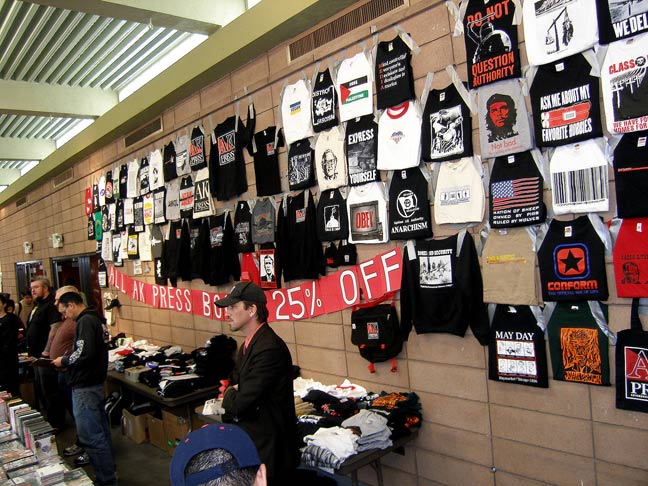 Fashion and accessories for today's dapper anarchists.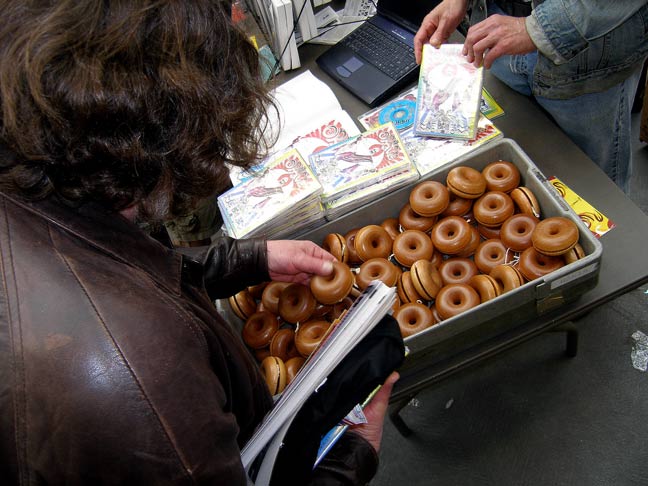 What have we here? Bagel yo-yo's?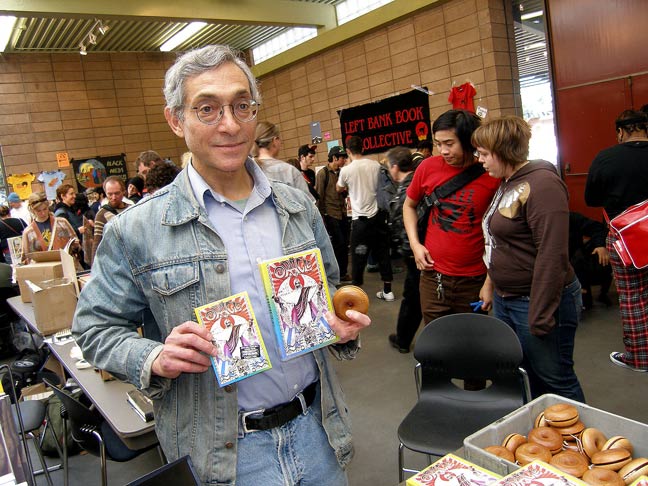 Free bagel yo-yo if take literature about this dude's digital reissue
of the famed hippie psychedelic newspaper, The San Francisco Oracle,
now available on CD-ROM.


Readables.


The Bay Area's premier purveyors of rare and collectible
books, catalogues, and pamphlets about social movements.
John Durham (left) of San Francisco's Bolerium Books;
Darryl Van Fleet (right) of Oakland's Bibliomania Books.


Art.


Art.


Art.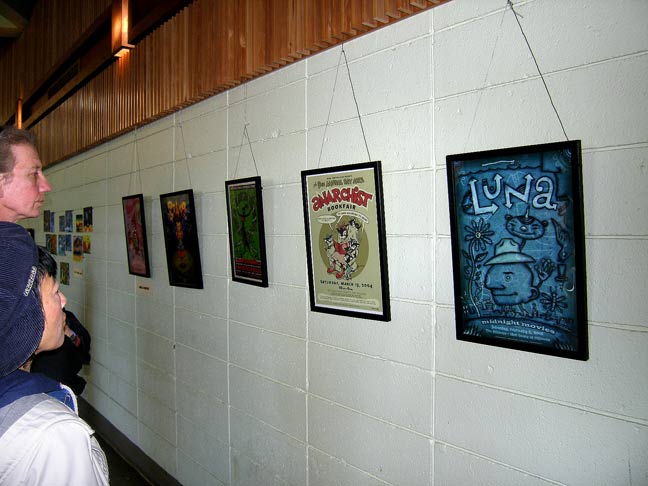 Art.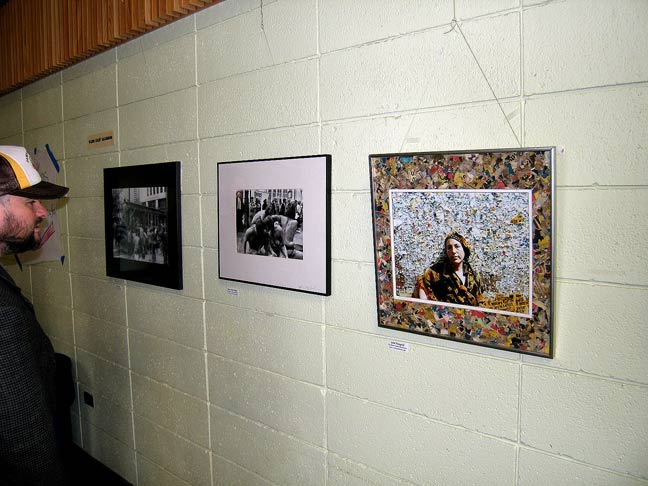 Art.


Lecture hall.


***
Heather Marx Gallery: Dana DeKalb - Tableau Vivant.
Comment: Dana DeKalb tells me one aspect of her art concerns human travails, learning to confront and overcome life's endless aggravations and inconveniences. I ask her about the Chinese imagery in several paintings and she answers that she grew up overseas. She layers and works the paint to yield stark elemental depthy muted richness; the mildly surreal compositions accessible either as art for art's sake or as essays on weightier matters.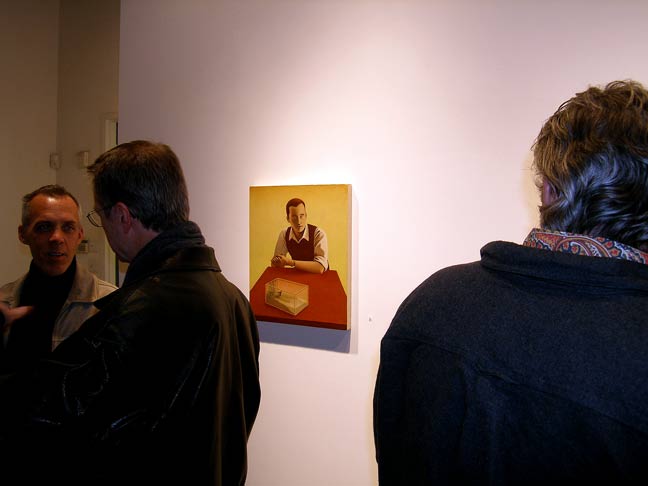 Art.


Art.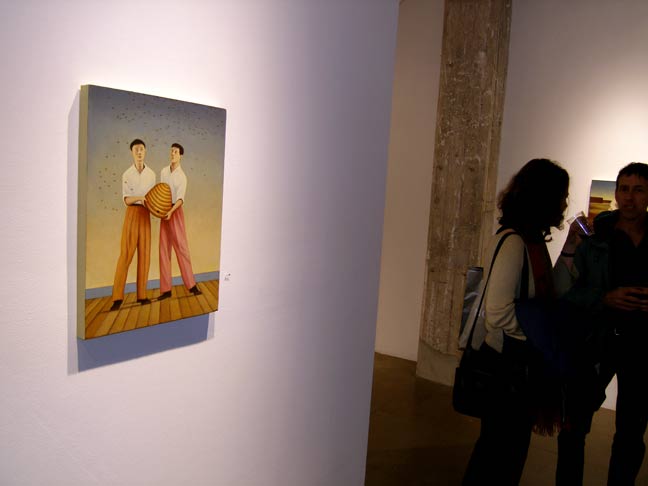 Art.


Art.


Art.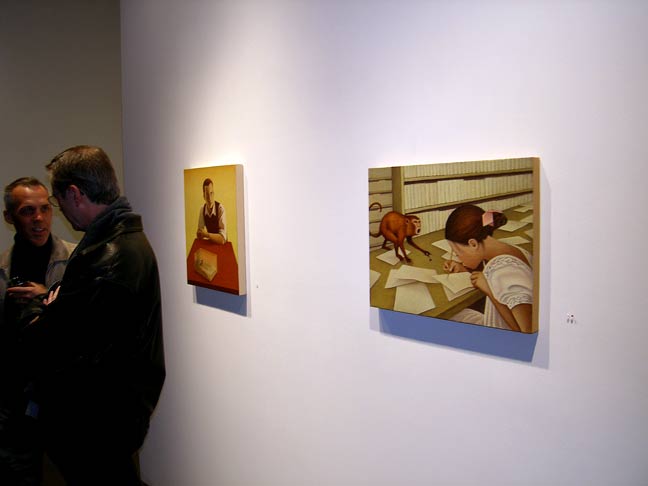 Art.


***
Kottie's House: A Fine Time to Hang Out at Kottie's House.
Artists: Andrew Junge, Eleanor Harwood, Chris Corales, Mary Elizabeth Yarbrough, Jennifer Mattson, Archie McKay, John Dwyer, Paul Wackers, Brion Nuda Rosch, Sean McFarland, Anthony Anchundo, Doug Clark, Liz Walsh, Jarrett Mitchell, and Eric Landmark.
Comment: It's not exactly an art opening, but the linup's certainly respectable, there's art all over the walls (and on a pedestal), most is priced and for sale. So I check the Official San Francisco Art Openings Rule Book, and according to Section 14, Paragraph 6, Sentence 2, Clause B, that's adequate to transgress the threshold for inclusion in the weekend's events. The good news is the art's eminently affordable-- even twenty bucks buys. In the wistfulness department, the casual congenial collegial comraderic ambience of the party/event/opening harks me back to my jaunty expansive upstart days when every freewheeling instant was a boundless adventure. (Sorry, no contact info-- I forgot to ask who Kottie is.)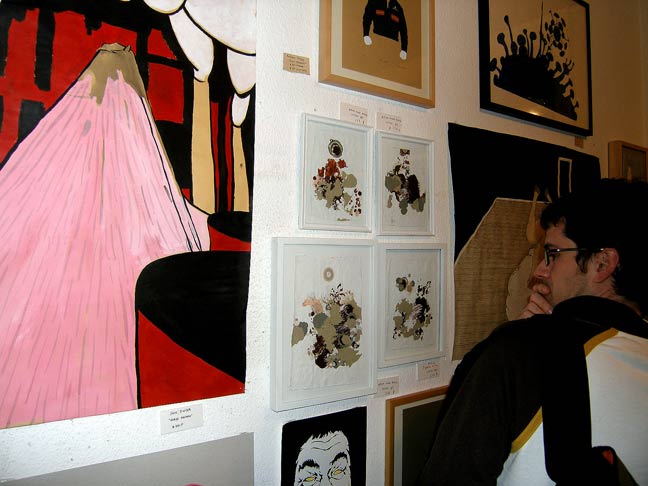 Art.


Art (like that large one on the left - pick).


Art.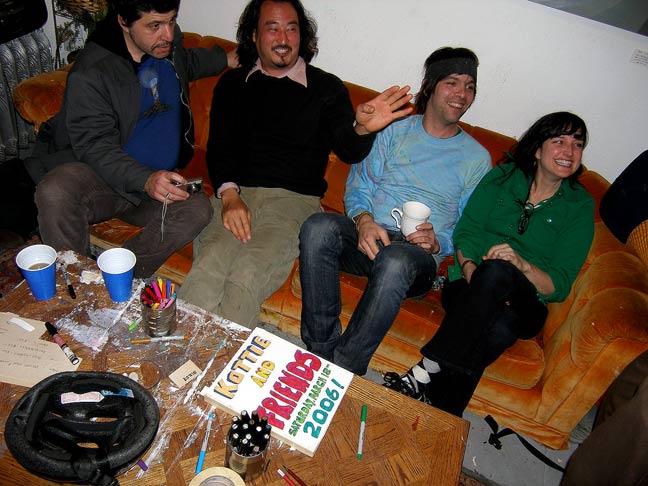 Circumstance.


Art.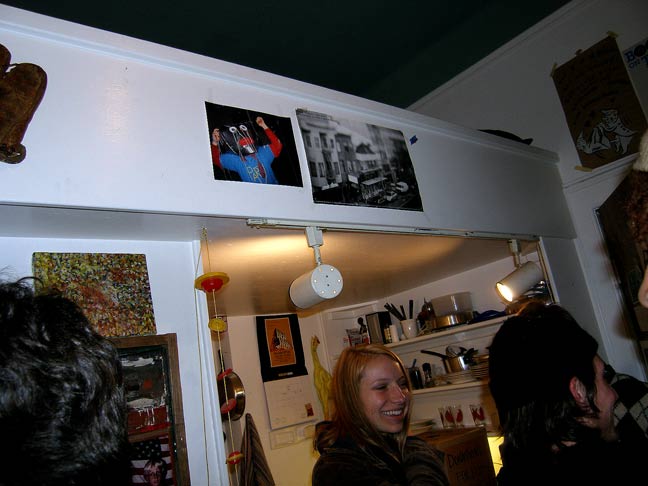 Art.


***
AfterModern Gallery: Aaron White - Pullstring Youth.
Comment: Metropolitan life in modern America, Angelino tinged, complete with peril, onslaught, obstacle, and hard truth, but you also get perseverance, baseline optimism, exuberance, and a soundtrack. Communication mode of choice for Aaron White-- four by eight foot panel paintings. Painterly, confident, thoughtful, intense, direct. White's father was notable New York/LA artist, musician, and poet Saul White; you can see similarities in their work.
Art.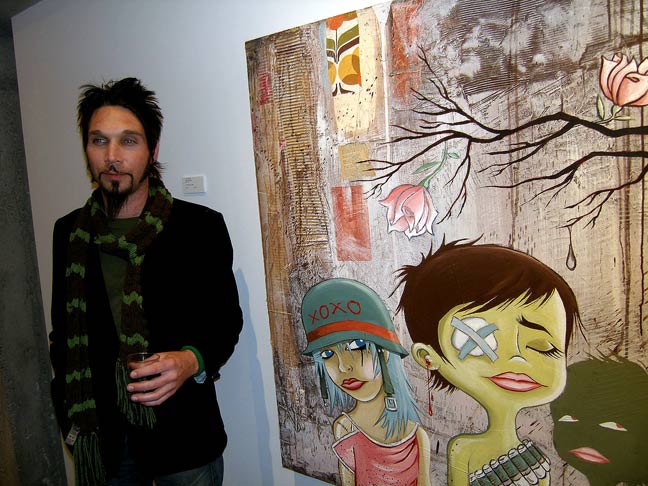 Aaron White - art.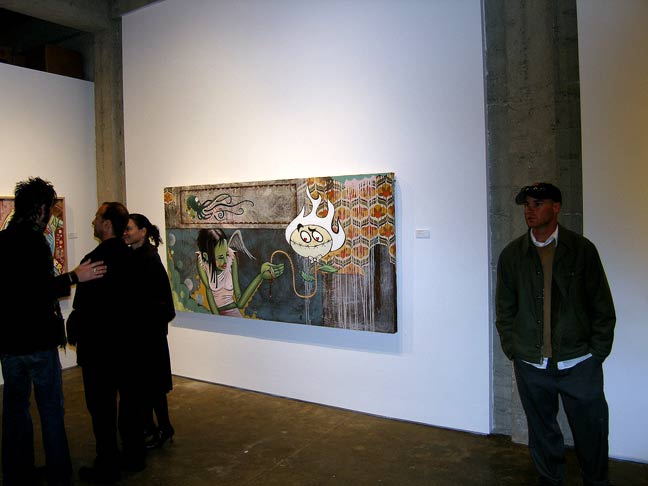 Art.


Jonathan D. Joseph (AfterModern owner) and wife.


Art.


***