SAN FRANCISCO GALLERY OPENINGS
CALDWELL SNYDER - LOUIS ARONOW - LOW GALLERY
WOODWARD FLATS - MILLION FISHES - LOBOT (OAKLAND)
03.19.05
Caldwell Snyder Gallery: Ross Penhall.
Comment: Vancouver Canada artist Ross Penhall paints large soft tasteful easy people-less landscapes characterized by puffy, almost mushroom-like, trees and shrubs. The art's certainly attractive, but I need more meat on the bone. However, most of the art in the show is sold, which reminds me that different people like different things, and that many people prefer palatability to busting their brains trying to figure art out. The general population has neither the time nor inclination to go deep on art-- but they love art, they want art in their lives, and they buy art. Penhall enjoys considerable success in his career, by the way, but the prices (upper thousands to over twenty grand) seem a trifle altitudinous to smart shoppers like me.
Art - tunes.


Art.


Art.


Art.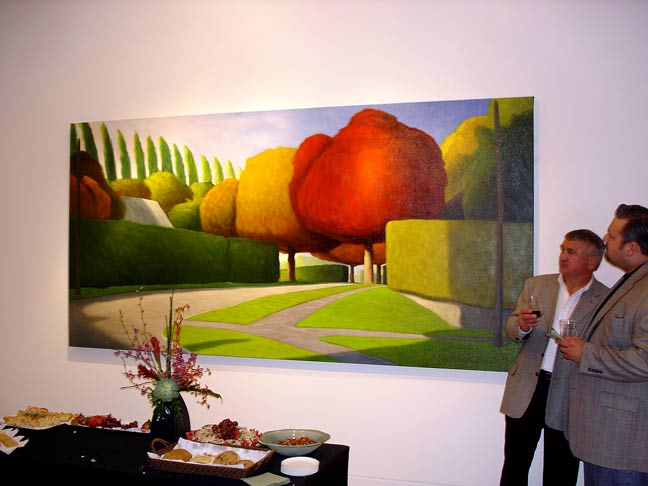 Art.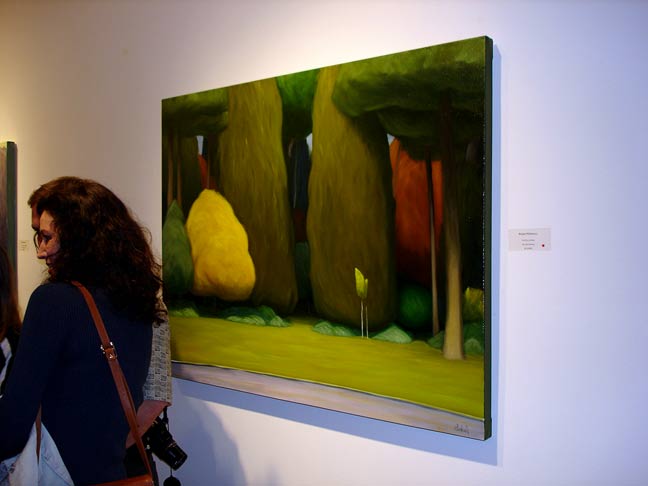 Art.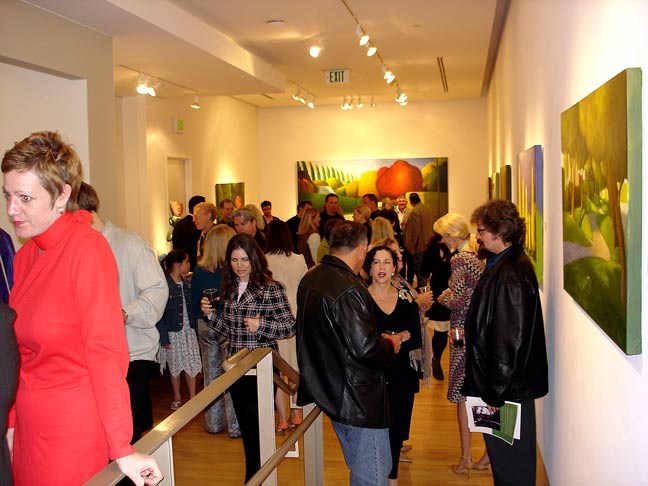 Tone.


***
Louis Aronow Gallery: Michael Flohr, An Exhibition of New Works & Limited Edition Prints.
Comment: Michael Flohr paints big-stroke impressionist street scenes and interiors, particularly restaurants, cafes and bars. It's heartstring art, the kind of art that plays on emotions rather than slays you with style. I've got an issue here: Much of the "art" at the show is computer prints of Flohr's paintings with sporadic hand-applied brush strokes, and is variously described by the gallery as "mixed media on canvas," "mixed media limited edition prints," and "hand embellished giclees on canvas." They range in price from upper hundreds to low thousands each. To repeat, these are reproductions of Flohr's paintings printed out by computer printers, with a few strokes of paint added by hand. I'd be curious to hear what some of the people who buy these prints think they own.
Mixed media on canvas.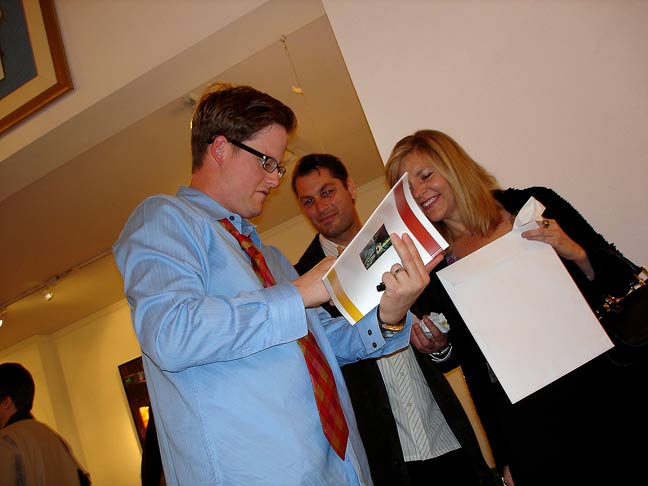 Michael Flohr satisfying the fan base.


Mixed media limited edition prints.


Hand embellished giclees on canvas.


***
Low Gallery: New Works, Caitlin Kuhwald.
Comment: From San Diego to San Francisco and now to Philadelphia, off goes Caitlin Kuhwald. Why Philadelphia? Because it's livable, affordable, and close to New York City. Oh... her art... she's a really good illustrator, paints in great detail, and with complete confidence and accuracy. Illustration is a bit of a dying art form these days, with computer graphics and all, but rest assured that talents like Caitlin Kuhwald will keep the discipline alive. Prices are reasonable, ranging $350 - $850.
Art.


Art.


Caitlin Kuhwald - art.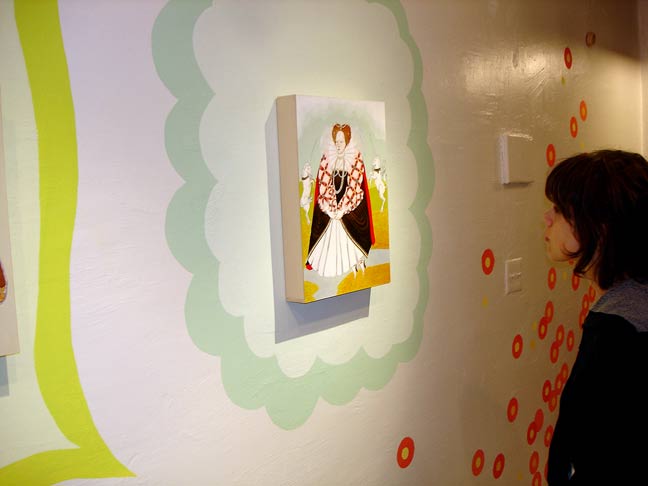 Art.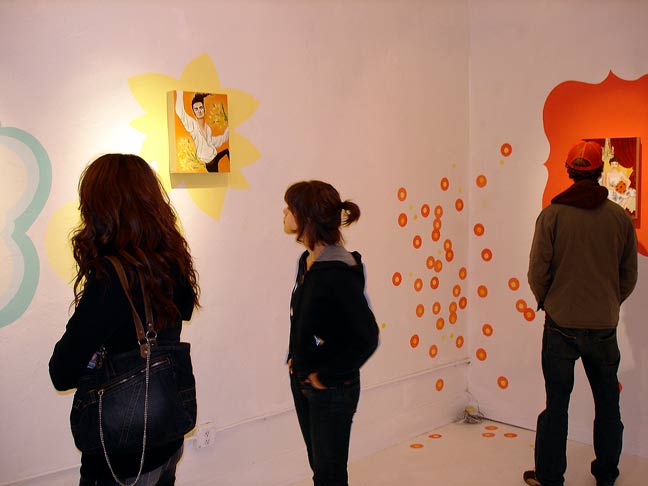 Art.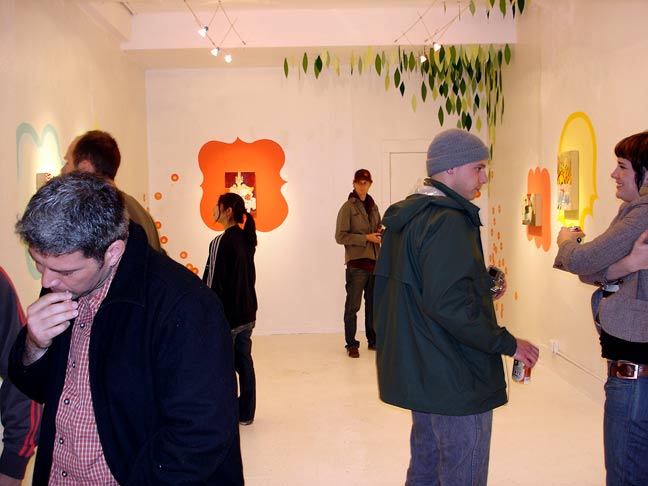 Setting.


***
LoBot Gallery, Oakland: Shadowbox (Seeing Art in its Own Light).
Artists: Andrew Eyeman, Presley Martin, Eliot K. Daughtry, Clint Imboden, Gerry Chow, Jeremy Kirsch, Tim Kunze, Jessica Miller, Cameron Brian, Stephanie Pau, Torreya Cummings, Elise Irving, Romuald Picard, Sarah Hirniessen, and more.
Comment: Best LoBot show so far. Refreshing, unusual, not the kind of show you repeatedly see in San Francisco (or Oakland either). Anchored by a 400 square foot Clint Imboden wall installation, "Soul," the object of tonight's game is that no outside sources of light are allowed, meaning that all works of art must light themselves. Imboden, for example, takes dozens of coat hangers, hangs a single chest x-ray from each one, then mounts the hangars on the wall in rows. Centered behind each x-ray, also wall-mounted, is a single back-lit vintage 1960's color photograph transparency, usually with middle America family-type subject matter. Also notable on exhibit are two bed installations, one with hanging price tags by Tim Kunze, the other incorporating plastic encased soil samples by Sarah Hirniessen. But really-- everything's good.
Clint Imboden - art.


Art (Cameron Brian, I think).


Art (Presley Martin, I think).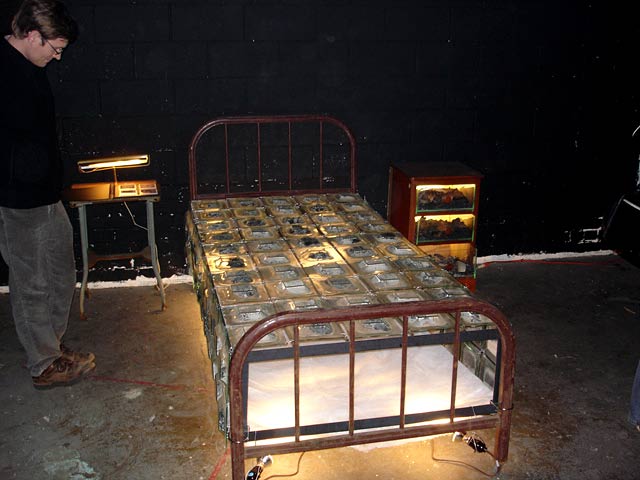 Art (Sarah Hirniessen).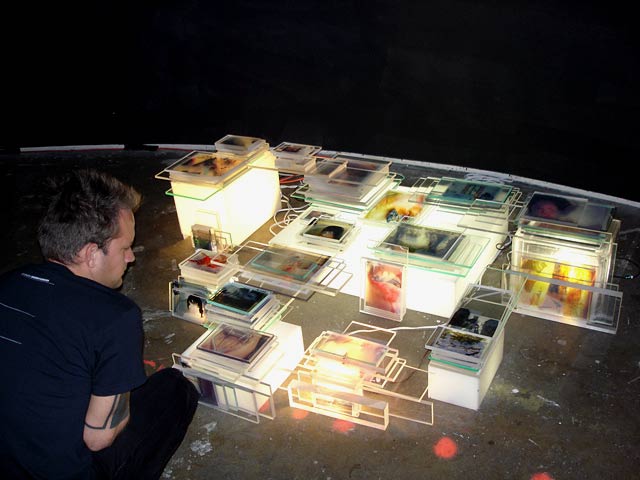 Art (Elise Irving).


Art (Stephanie Pau, I think).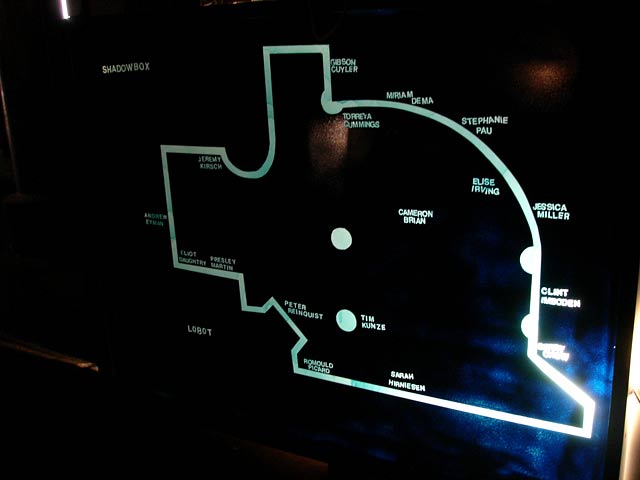 Show map.


Art (Andrew Eyeman).


Price tag bed art (Tim Kunze).


Art (Gerry Chow, I think).


Partial.


***
Addendum: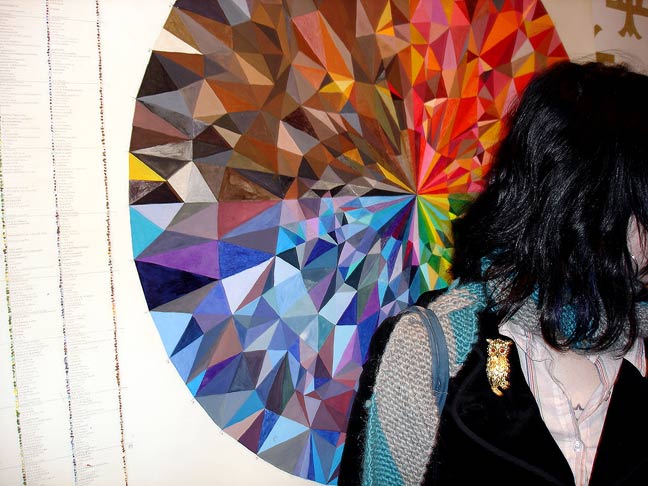 Lettie Jane at Woodward Flats.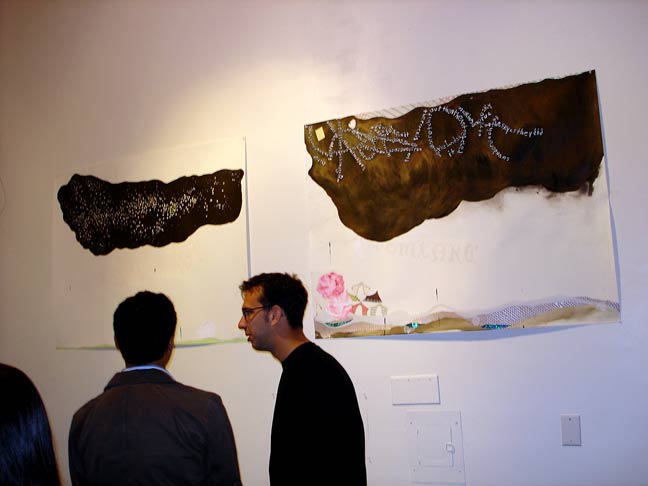 Casey Watkins at Million Fishes.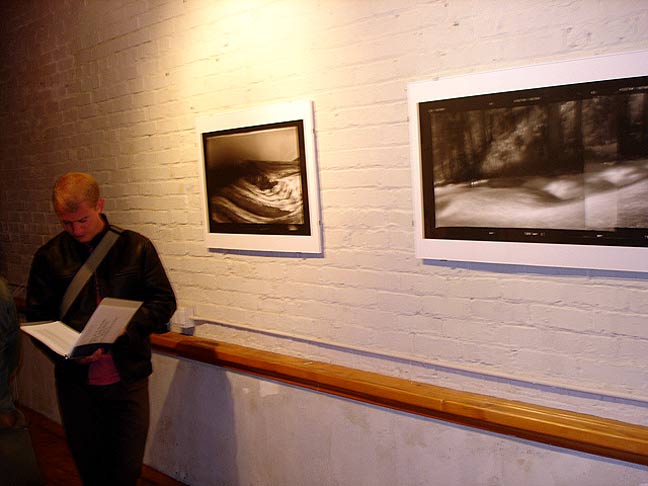 Photography at Million Fishes Studio South.