SAN FRANCISCO GALLERY OPENINGS
BRIAN GROSS FINE ART - VIRGINIA BREIER GALLERY - VISUAL AID
NATIONAL PRODUCT - THE GALLERY LOUNGE - 66 BALMY
03.23-25.05
V. (Virginia) Breier Gallery: Animal Tales, Featuring the Artists of Creative Growth Art Center.
Comment: V. Breier works the fanciful fun side of the business, often blending folk, naive, and outsider works of art with top shelf artistic craft. She's been around for quite some time, has a seasoned eye, and is one of the better options in town for those whose tastes in art synch up with the above options. Tonight, Breier celebrates the reknowned Creative Growth Art Center, exhibiting a wide array of art with animal subject matters by Creative Growth artists including ceramics, paintings, cut painted wood, weavings, and more. Plenty available for under $200.
Art.


Art.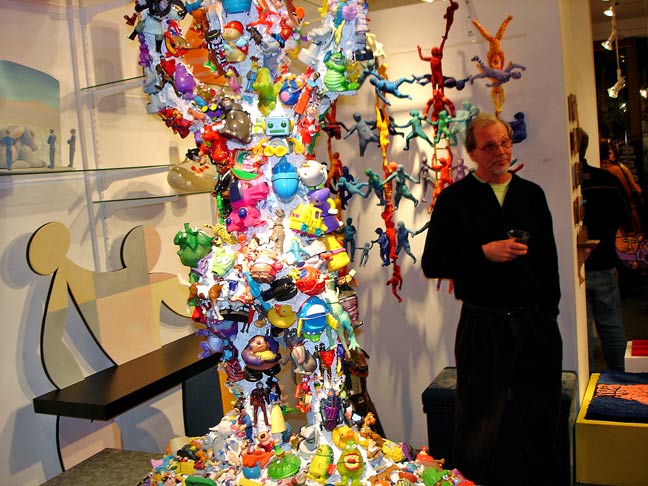 Art.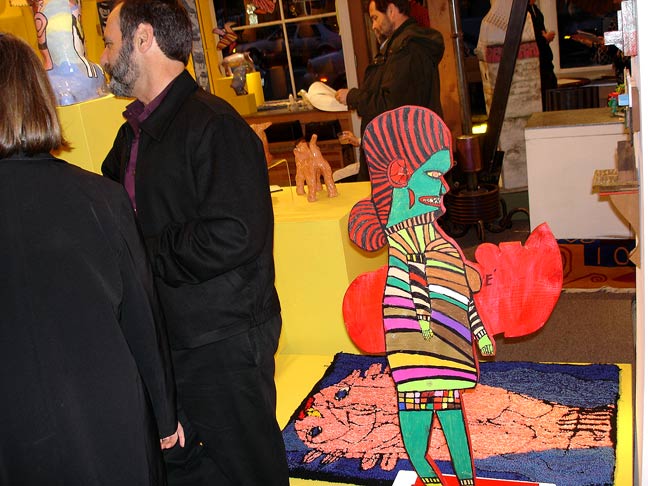 Art.


Art.


Frontal.


***
Brian Gross Fine Art: Meridal Rubenstein - Belonging, Selected Works; Sono Osato - Angels in Dust.
Comment: Sono Osato works in found objects, incorporating them into paintings, sculptures, and assemblages. Her dense deeply textured oil and wax paintings better come with instructions for long term care and maintenance (they look deliciously sumptuous now, by the way). You see kids, several decades ago, way back in the primordial sludge of my long and circuitously peculiar career, I transacted in art by deceased and semi-deceased artists. During that era, I received numerous sustained browbeatings from savvy slicksters, mainly in attempts to bargain me down, about how condition problems negatively impact art's value over time-- and they do-- in many ways. To complicate matters, I befriended several accomplished fine art conservators who schooled me well in damage's ravages firsthand. So always remember-- your art will one day be 100 years old, and hopefully, you will be too.
Photo virtuoso Meridel Rubenstein double-dings you with artistry, engaging viewers with creative imagery as well as technical acrobatics. Two large photographs of trees, for example, appear to float within their plain-finish wood frames, those and other of her images being printed in small editions on heavily textured bark paper, and subsequently mixed media-ized. Also of note are several oversized collages, and a set of images laminated between glass, then assimilated into a weathered wooden model of a boat. Some of Rubenstein's pieces are iris prints, however, and last time I checked, and correct me if I'm wrong, iris printers only use dye-based inks, meaning that iris prints fade, meaning that iris art eventually goes Bye-Bye Miss Invisible Pie.
Photography (Meridal Rubenstein).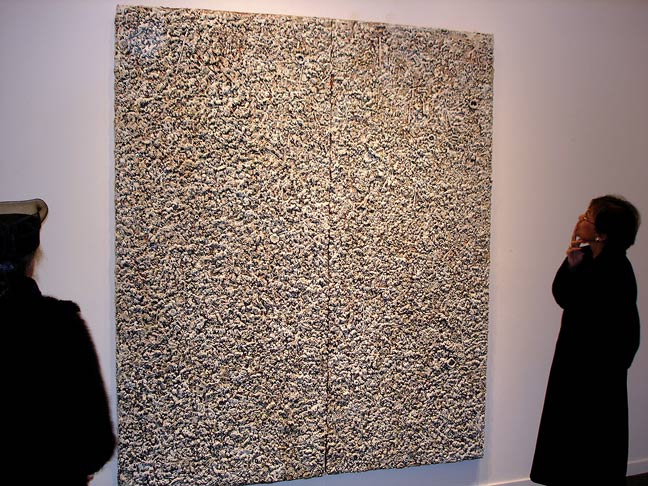 Art (Sono Osato).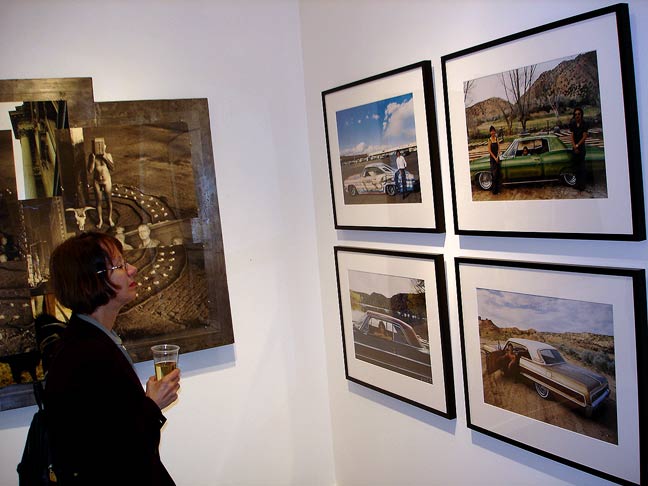 Photography (Meridal Rubenstein).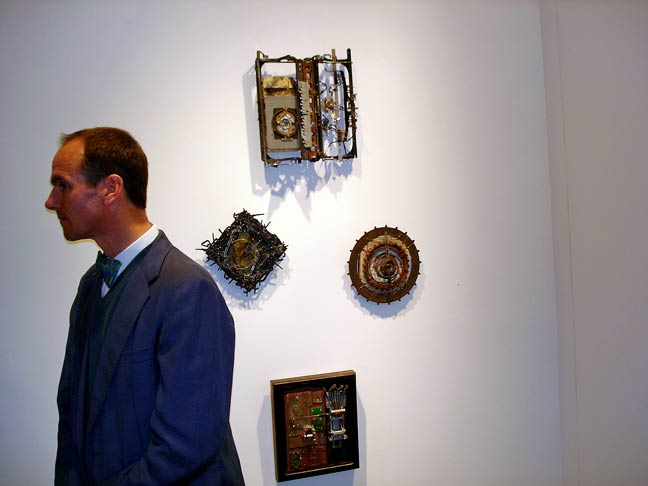 Art (Sono Osato).


Photography (Meridal Rubenstein).


Art (Sono Osato).


Art (Sono Osato).


Art (Sono Osato).


Art (Sono Osato).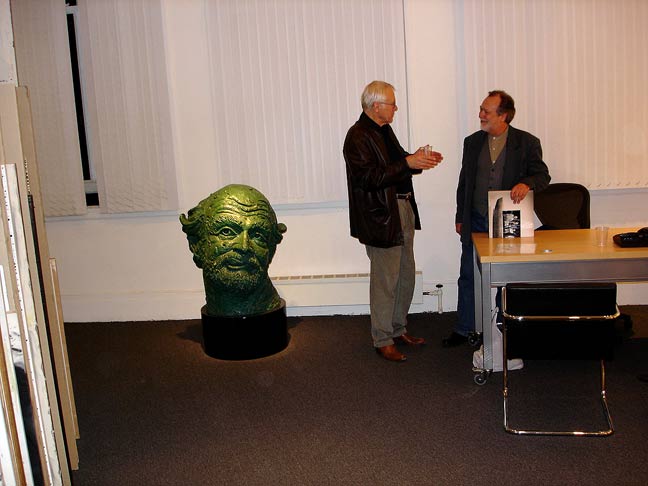 Back room (art - Robert Arneson).


***
Visual Aid: Fourth Annual Art Auction at the Clift.
Comment: A packed and lively event featuring celebrity auctioneer Stephen Tourell of Toomey-Tourell Gallery, complimentary wine and cocktails, light hors d'oeuvres, and plenty of schmooze. Over 40 works of art were auctioned, proceeds to benefit Visual Aid, an organization dedicated to assisting artists with life-threatening illnesses.
Art.


Auctioning art.


Bidding on art.


***
National Product: Her Imaginary Friends, Paintings by Michael Page.
Comment: Another patented National Product afford-a-fest, this time comprised of strange little creature paintings by Michael Page, all cleanly executed permutations of the same basic face, but with enough variety to keep things interesting, especially the creepier characters lacking one or more features. A little warp, a little gore, a little weird, but in the end, good clean aberrant entertainment. Do your friends think you're too normal? Integrate a Michael Page eccentricity or two into your decor. That should sufficiently quease doubters into speculating on what may or may not be amiss in the subterranean dorsal fissures of your psyche. Plenty to choose from under $100, the rest, with several exceptions, not costing much more.
Art.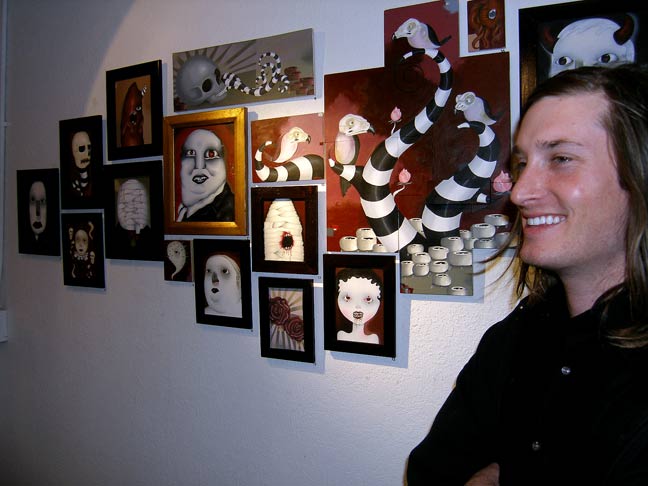 Art - Michael Page.


Art.


Art.


Art.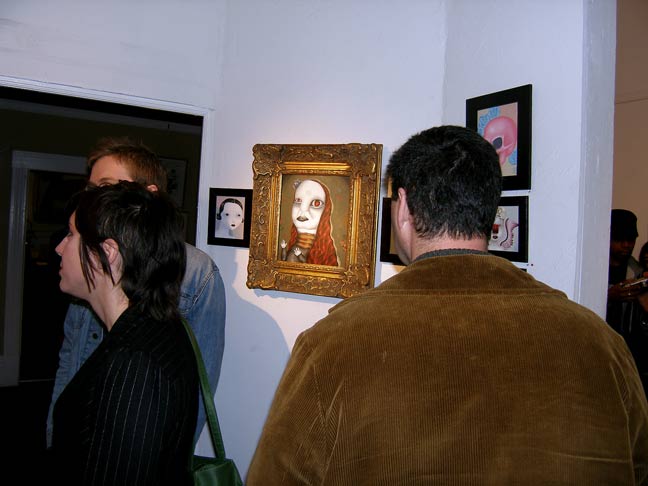 Art.


***
The Gallery Lounge: Additive, A Two Person Show of New Work by Kristina Lewis and Josh Feldman.
Comment: The Gallery Lounge art bar shows digital art by Josh Feldman and mixed media "toner transfers," and cut paper works by Kristina Lewis. Feldman creates his images by layering a hundred or more individual computer generated compositions, then encases them in one inch clear acrylic, creating futuristic subatomic patterns, crystalline in nature, reminiscent of what one might see when studying super-magnified minerals under various wavelengths of light. Lewis applies solvents to digital prints, and thereby "transfers" the toner to new papers. She reworks the resulting images with pencil to achieve her finished effects. She also wields the exacto knife to produce some extremely surgical cut paper concertos.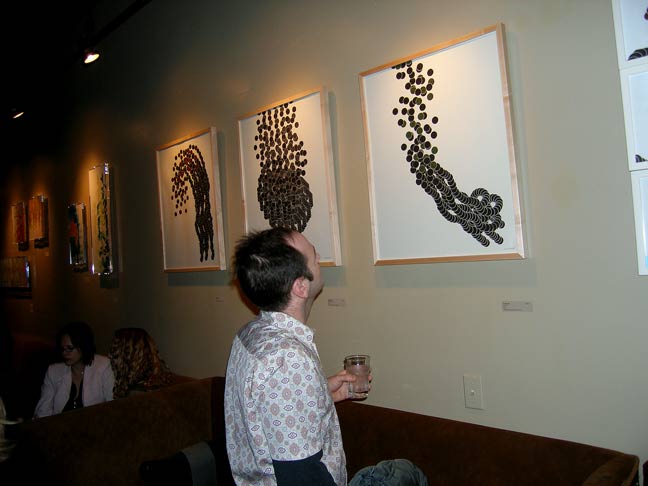 Art (Kristina Lewis).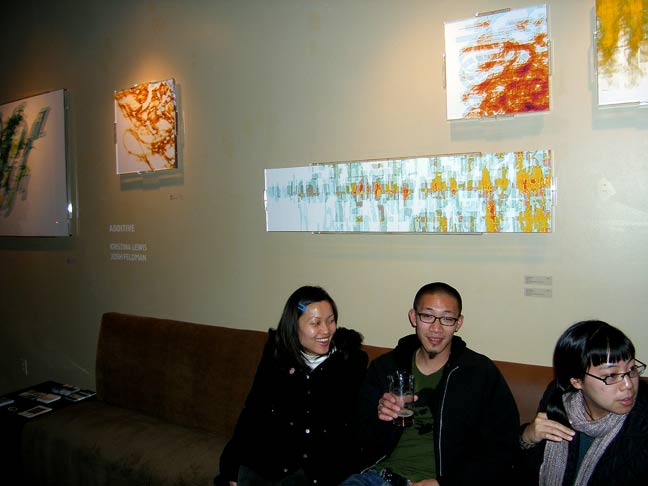 Art (Josh Feldman).


Josh Feldman - art.


Kristina Lewis - art.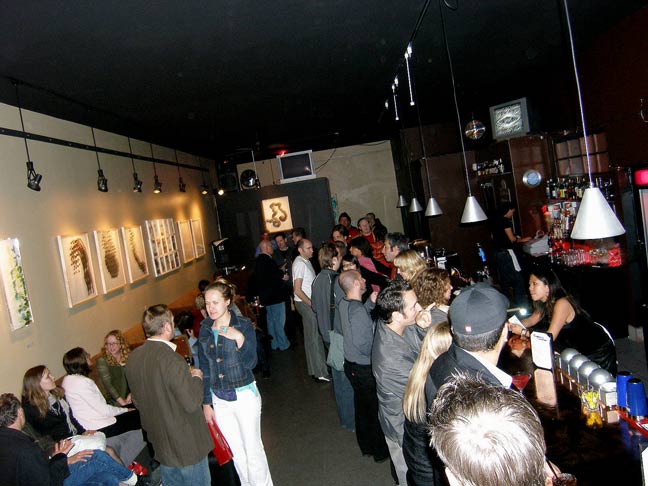 Upper.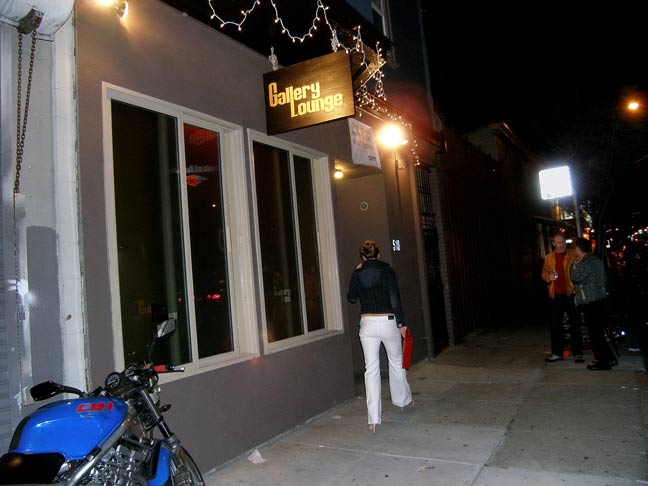 Outer.


***
Addendum: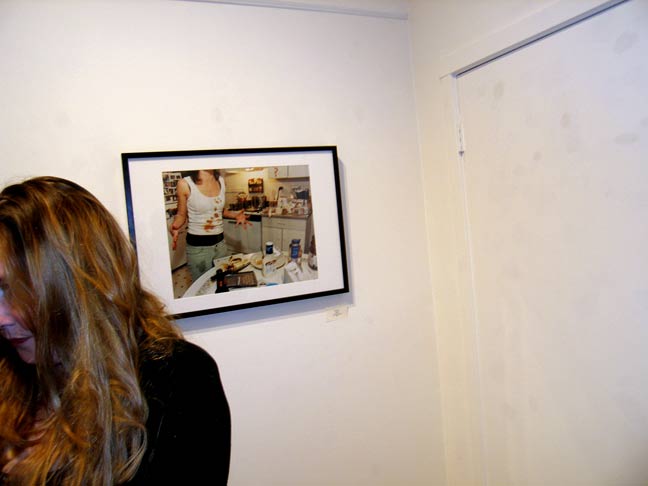 Natalia Cerqueira trashes her apartment and documents it at 66 Balmy.