SAN FRANCISCO ART GALLERIES - OPENINGS
ANTHONY MEIER - ICTHUS GALLERY - NEEDLES & PENS
MOLLUSK SURF SHOP - PARK LIFE - RITUAL ROASTERS
BACK TO THE PICTURE - JUICE DESIGN - ASPECT GALLERY
VARNISH FINE ART
03.23-24.07
Anthony Meier Fine Arts: John Chamberlain - New Work.
Comment: First San Francisco gallery solo for renowned sculptor John Chamberlain, famous for his assemblages fashioned from old crumpled car parts. He's been exhibiting for some fifty years, been a significant figure in American sculpture for most of those years, so I guess it's about time he finally appears here. Two large painted bent twisted spiralled welded rolled festive aluminum sheetmetal donuts anchor the show, his first so-called "outdoor" works, according to the ballyhoo (or keep 'em indoors-- your choice). Either way, they're excellent; go see.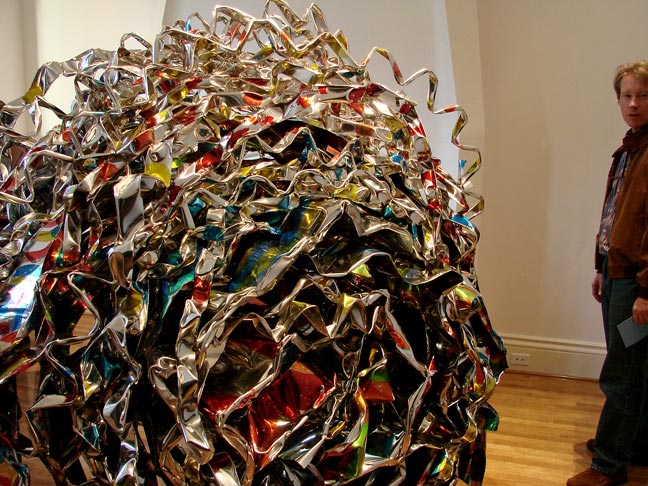 Art.


Art.


Art.


Art.


Art.


Art.


***
Icthus Gallery, 1769 15th St., SF CA; 415.359.7500: Artist Reception.
Artists: Alfonso Kellenberger, Orlando Lacro, Adam Nowling, Marc Angelo Ramos.
Comment: Group show; four arrestingly unrelated styles of art. The robotic digital images by Marc Angelo Ramos agreeably engage.
Art.


Art.


Art.


Art.


Art.


Causeway.


***
Needles & Pens: Mat O'Brien and Nick Nuebeck - Image is the Master.
Comment: There's not much in the way of explanatory to be had, and I don't ask, so I can't really tell you much other than that the capable melange holds together well and exceeds my aesthetic threshold. The show's centerpiece is a photo of a dude holding an incised tortilla over his face. Yummy. Most pieces under $300.
Art.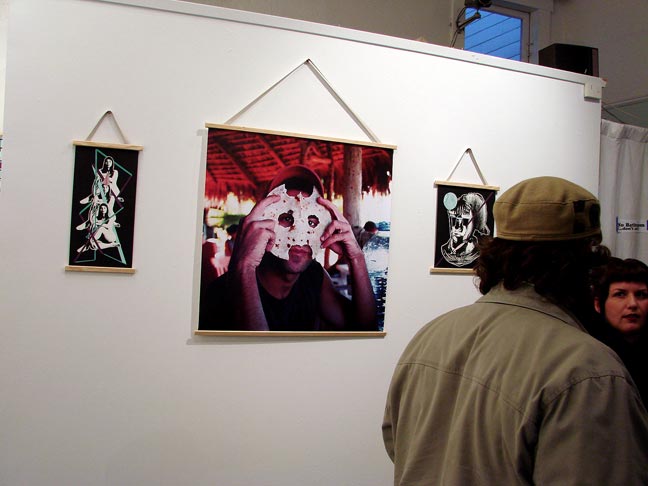 Tortilla dude art.


Altar art?


Sorry. Couldn't resist.


Art.


Art.


Art.


***
Mollusk Surf Shop: Nathaniel Russell - Galaxy's Fountain.
Comment: Nat Russell tells me that his competent contemplative mildly disquieting introspective drawings represent characters and/or concepts that inhabit a hypothetical universe.
Nathaniel Russell - art.


Art.


Art.


Art.


Art.


***
Park Life: Daytime Forever.
Artists: Matt Haber, Maxwell Loren Holyoke-Hirsch, Holly Stevenson.
Comment: Maxwell Loren Holyoke-Hirsch's caricatures remind me a little of Edward Gorey; Matt Haber's got a vivid imagination and the dexterity to materialize it; Holly Stevenson goes a mite too minimal for me to make an official ruling.
Art (Matt Haber).


Art (Maxwell Loren Holyoke-Hirsch).


Art (Holly Stevenson).


Art (Matt Haber).


Art (Matt Haber).


***
Back to the Picture, Mission Gallery: Silver/Silicon - 5 Photographic Perspectives.
Photographers: Lynnly Labovitz, Laurie Toby Edison, Trish Tunney, Sonia Gresham, Elena Anaya.
Comment: Elena Anaya photographs herself in a variety of poses, mostly masked; she's particularly pleased about the ones where she's tied up (I would have requested an elaboration, but the smallish exhibition area of this art and frame shop is crammed to the max, and my corpuscles are crimped). In solidarity with her imagery, many of her fans attend the event masked. Interesting show from what I can see over the tops of all the heads. Ooof. "Excuse me, M'am, but I believe your nose is wedged in my ear." Next.
Photography.


Photos.


Self-portraiture (Elena Anaya).


Photographs.


Photography.


Photos.


Photographs.


***
Ritual Coffee Roasters: Eric Joyner - Signed and Numbered Limited Edition Prints.
Comment: Eric Joyner debuts editions of his signature science fiction scope on life. Robots are such nice people; humans... not so sure. Ritual Roasters, meanwhile, has something serious to say about the caffeinated state with a line of fix-needy CDD (Caffeine Deficit Disorder) gab-heads extending out the door at 10 PM (way way past my bedtime). If you savor the jolt, I'd cop a cup here; word has it they've upgraded the idiom. But dress right and don't forget your laptop; the joint's got a touch of a tude.
Art.


Art.


Eric Joyner - art.


Art.


Scenario.


***
Aspect Gallery: Locals Art Show.
Artists: Marion Wickstrom, Jokie Wilson, Tina Tarnoff, Kellyann Gilson, Powell St. John, Jagmo.
Comment: You want art? Plenty to choose from here, and according to the promotional brochure, Aspect has options for arting your ass up-- "buy, bid, rent, enjoy." I meet Nels Jacobson, aka Jagmo, who tells me he's designed hundreds of rock & roll and performance posters over the past 25 years for a remarkable diversity of artists including Willie Nelson, Grace Jones, John Lee Hooker, Bootsy Collins, The Dead Kennedys, Iggy Pop, Dave Chappelle, and that's just the beginning. Yo!
Art (Tina Tarnoff).


Nels Jacobson aka Jagmo - poster art.


Art.


Art.


Art.


Poster Art (Jagmo).


Tunes.


***
Varnish Fine Art: Michael Page & Thomas Wargin.
Comment: They're good, they're creepy, they're painted by Michael Page-- and he's got the rest of his life to price himself out of the market, so what's the rush? Take your time. You're precisely as good as you are no matter how hefty the tariff you place on your art-- remember that-- ALL OF YOU. Whether it's 10¢ or $10,000,000-- it's still the same exact piece of art. Does it suck if it's a dime and become a masterpiece if it's $10 million? I don't think that's how it works. Have I made myself clear? Excellent.
And then there's Thomas Wargin in the pedestal department, casting up an appetizingly aberrant array of complex bronze contraptions (several of which incorporate additional materials). In this case, they're priced right.
Sculpture (Thomas Wargin).


Sculpture (Thomas Wargin).


Art (Michael Page).


Art (Michael Page).


Sculpture (Thomas Wargin).


Art (Michael Page).


Art ((Michael Page).


Aerial.


***
Addendum:
"Hi there... I'm looking for the Nicole Andrijauskas mural christening at Juice Design. Can you help me? This is Juice Design, isn't it?"

"Right you are, but the mural's outside. Bowwow, bozo."

"Uh OK. Thanks."


"Killer Cupcakes" mural by Nicole Andrijauskas outside Juice Design. Nice.


***