SAN FRANCISCO ART GALLERIES - OPENINGS
BRIAN GROSS FINE ART - MEXICAN CONSUL GENERAL - SPACE GALLERY
SEVENTH HEART - SOUTHERN EXPOSURE - NATIONAL PRODUCT
LEVY ART & ARCHITECTURE - BACKSTAGE SALON - BLASTHAUS
LO-FI CUSTOMS - DRUGSTORE GALLERY - ADOBE BOOKS
BRAUNSTEIN/QUAY - AXELLE GALLERY - GIANT ROBOT
GARAGE BIENNALE - 222 CLUB
03.23-25.06
Brian Gross Fine Art: Linda Fleming - Nebula Ether Wisp; Sculpture and Drawings.
Comment: In the center of the gallery, Linda Fleming transforms heavy steel plates into a dominant delicate white labyrthine sculpture which seems to rest precariously on one side, but it's perfectly balanced and firmly in place. A candelabra sits on the floor next to the sculpture, the dyad purportedly symbolizing the "coexistance of the mundane and the cosmological." Sure, why not? Also in the show are a series of precise appealing lacey maquettes for similarly styled sculptures, and some meandering abstract graphite drawings one of which reminds me a tad of Patty Hearst and the SLA. Ahhh... the good old days.
Art.


Art.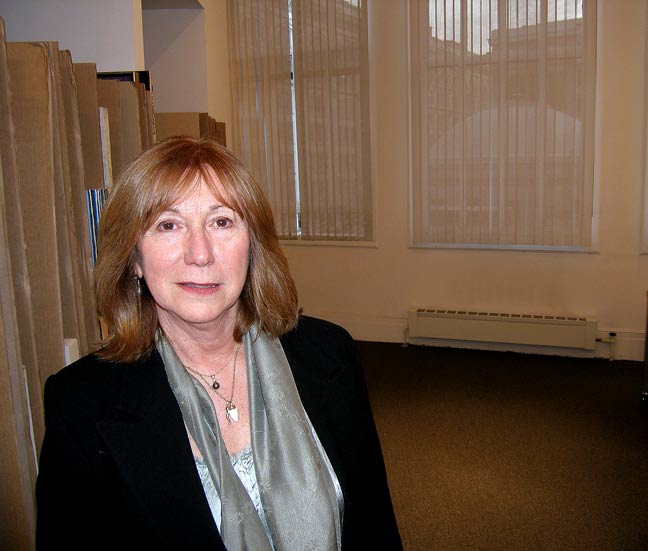 Linda Fleming.


Art.


Art.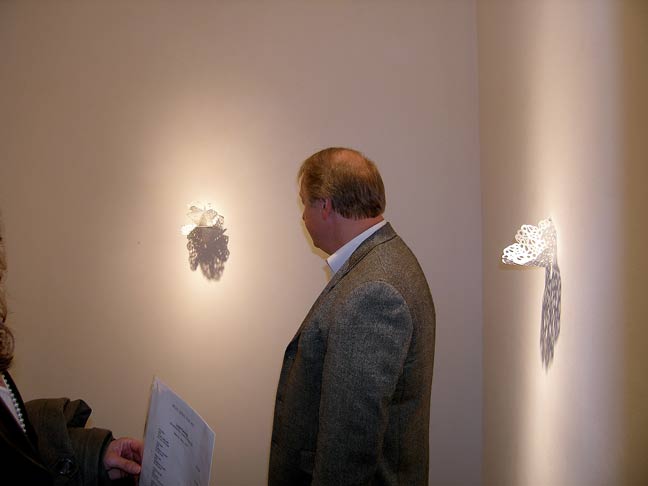 Art.


***
Consulado General de Mexico (Mexican Consulate): Universal.
Artists: Victor Martin del Campo, Nino Magana, Luis Bayod, Victor Hugo, Miguel Angel Martin del Campo.
Comment: Group show of five artists from the state of Jalisco; all different, all competent. Artist Victor Martin del Campo represents the group and tells me he's looking to increase their exposure here in the Bay Area and elsewhere in the United States. Getting a show at the Mexican Consulate is a good way to start.
Art.


Art.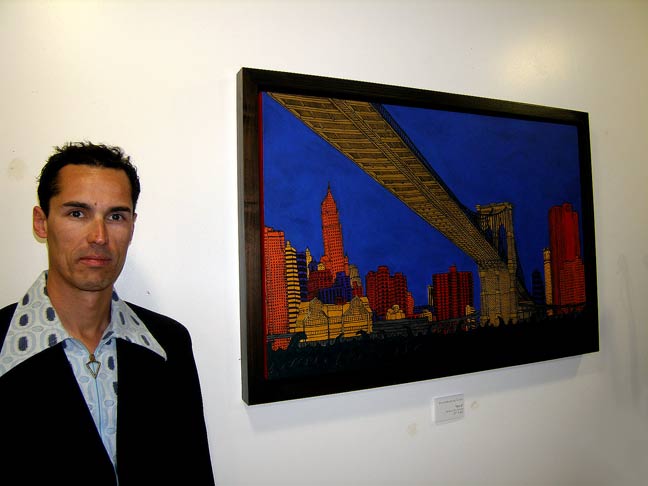 Victor Martin del Campo - art.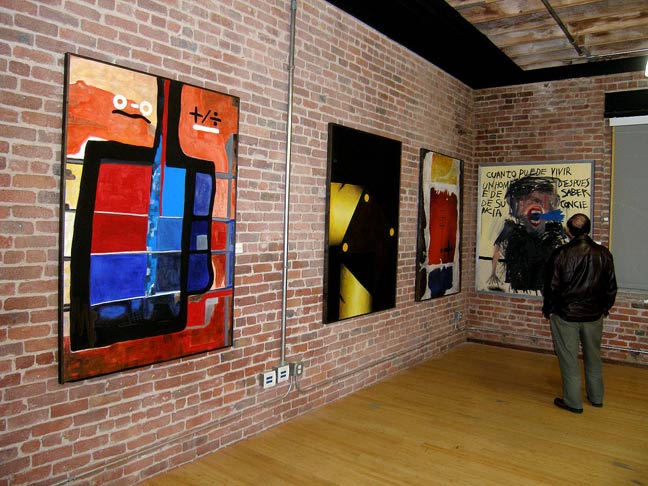 Art.


Art.


***
The Seventh Heart, 1592 Market St., San Francisco, CA 94102; 415.431.1755: Joshua Barry - Our Beautiful World is Dying.
Comment: Complicated psychological cosmological allegorical essays on the current state of the planet. Every picture tells a story.
Joshua Barry - art.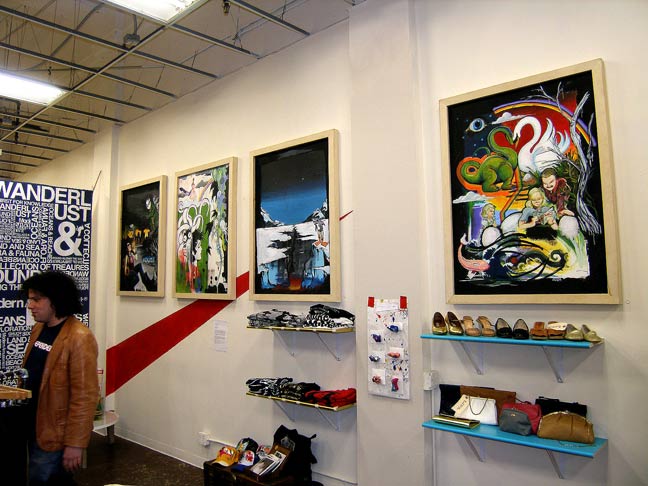 Art.


Art.


***
Southern Exposure Gallery: Release Party for the San Francisco Visual Arts Network.
Comment: The San Francisco Visual Arts Network (SFVAN) introduces their map of nearly fifty non-profit and artist-centered organizations, spaces, galleries, and resources in The City (plus a half dozen websites including artbusiness.com-- thank you very much). Each entry includes a brief description of the organization plus full contact information. Get yours now-- it's good.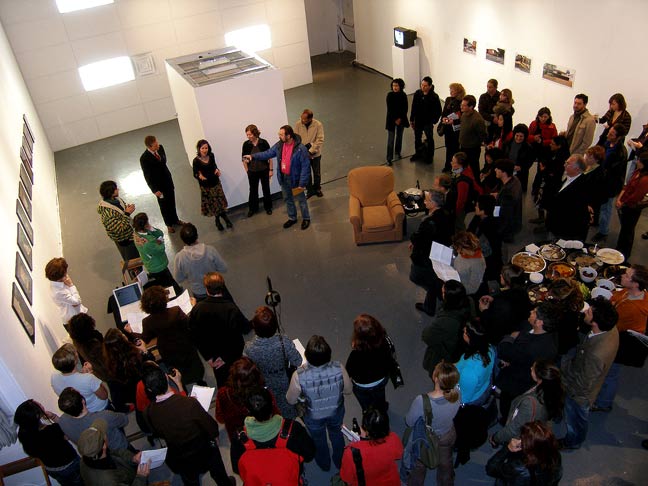 SFVAN release party.


***
Levy Art & Architecture: Portals by Christophe Piallat.
Comment: Christophe Piallat photographs abandoned military bunkers and their surroundings, then seasons 'em up to look almost otherworldly.
Photography.


Photos.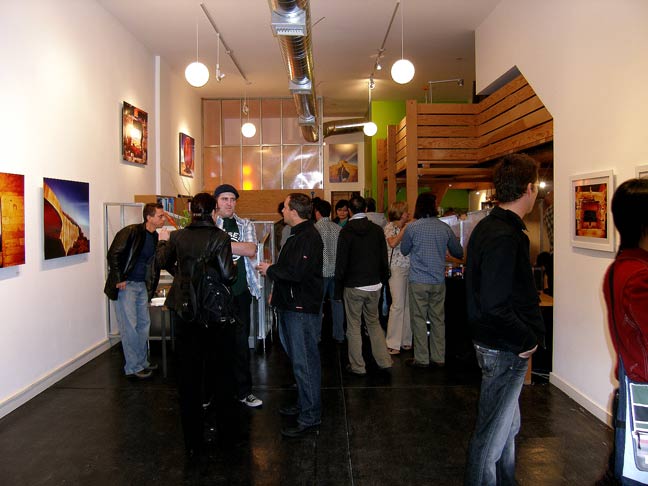 Space.


***
National Product: Stain Alive - Prints, Drawings, and Ephemera.
Artists: Andrew Junge, Mike Green, Jarrett Mitchel, Elias Crouch, Lettie Jane Rennekamp.
Comment: Mainly limited edition prints; nothing over $250, plenty under $100. There's a fractionated reconfigured reconstituted monetary collage that's nice, and also a slick shiny set of peppy pastel abstracts-- silkscreens, I think.
Art.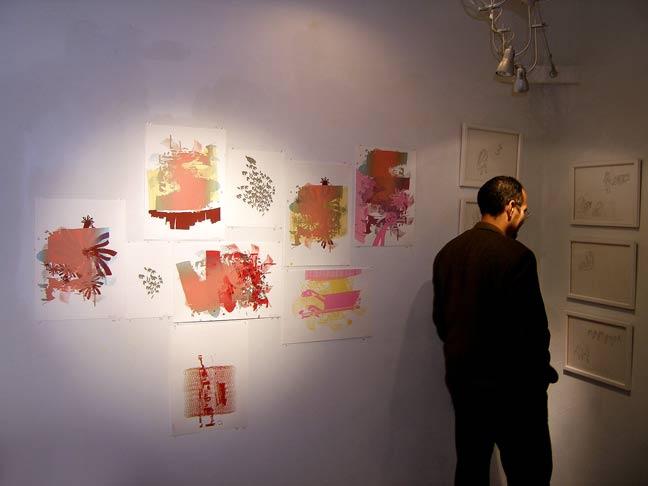 Art.


Art.


***
Backstage Salon: Lost and Found.
Artists: Rob Jenkins, Jeannie Dougherty, David Zuttermeister, Lori Marie Jenkins.
Comment: Recycled found object assemblage. The show's called "Lost and Found," basically a mish-mash leaning lost. There's merit, but you gotta seek it out.
Art.


Art.


Art.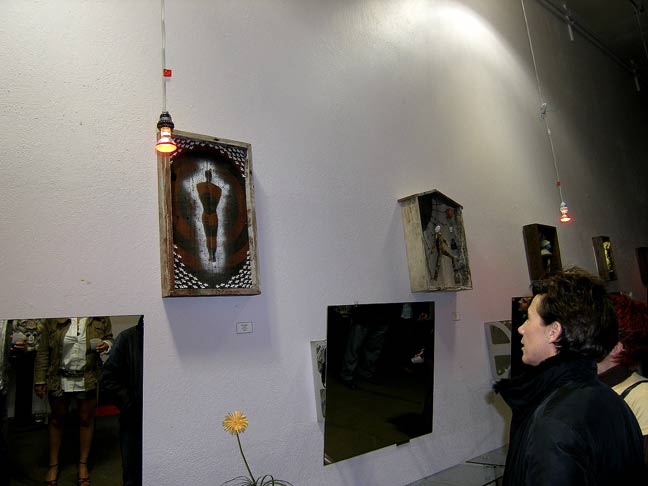 Art.


***
The Drugstore Gallery, 3149 Mission St., San Francisco, 94110; 415.282.0554: After the Flood - Paintings by Georgianne Fastaia.
Comment: The paintings are inspired by Hurricane Katrina, Georgianne Fastaia tells me (and also in part by a devastating Connecticut snowstorm of 1972). She's never been to New Orleans, but rather is taken with the idea of floods, their impact, their devastation, what it means to be hopelessly engulfed by water, and even the beauty of natural disaster. She advances her argument not only with her compositions, but also by painting them on abandoned canvases, then framing them with sections of old floorboards, thereby incorporating the idea of rebuilding after a deluge. Priced $225-$1800. Good show, thoughtfully presented and persuasive.
Art.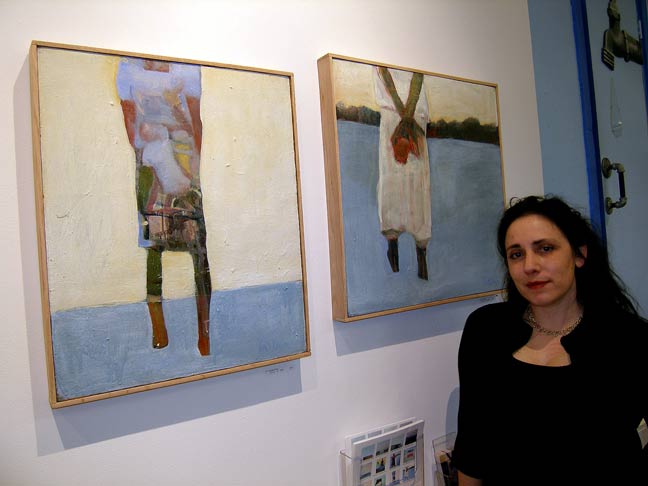 Georgianne Fastaia - art.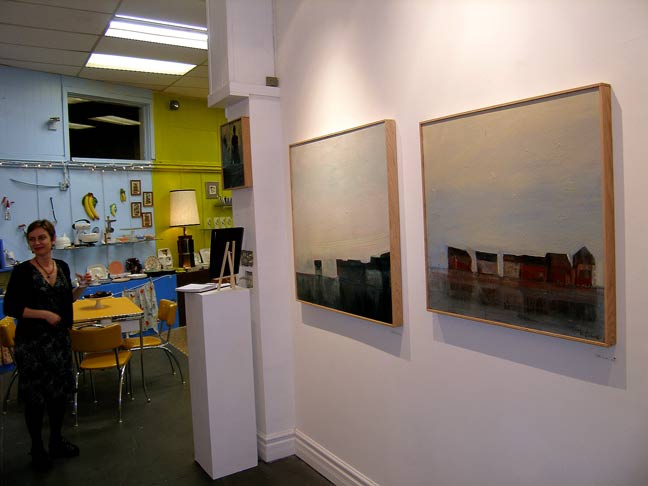 Art.


Art.


***
Adobe Books and the backroom gallery: Falling in Love - Alison Blickle in the backroom; Sophia Amoruso in the main space.
Comment: Alison Blickle paints glistening sexy sensual androgynesque portraits mainly of herself and her new boyfriend-- she's in love, it's hot, it's obvious. Her portraits have that extra something-- you can't put your finger on it, but you know you're not just looking. You're feeling. And that, dear artsters, is called making magic with paint. In the front room, Sophia Amoruso documents Russian Orthodox monastic life by tracking, shadowing, and photographing priests and nuns, indoors and outdoors, all spontaneous, nothing posed.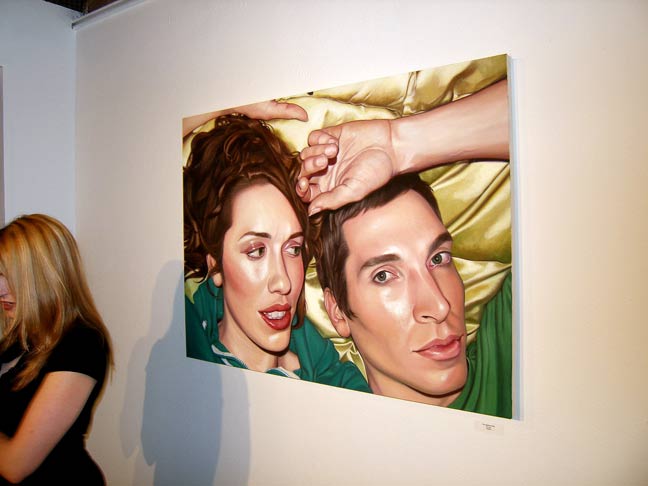 Art (Alison Blickle).


Art (Alison Blickle).


You can tell the dude's looking at one of Blickle's paintings.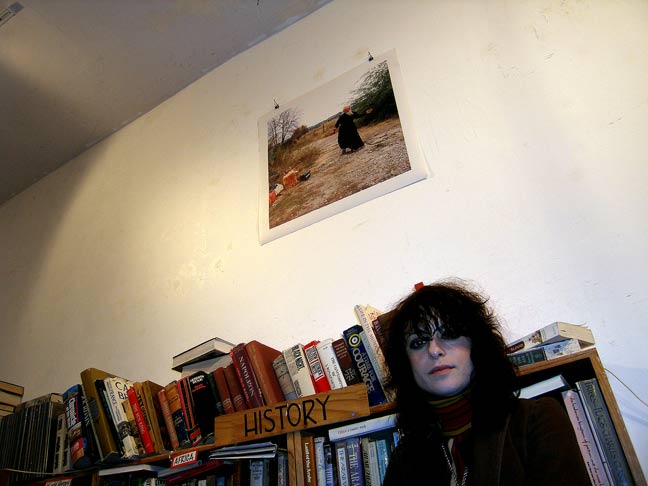 Photography by Sophia Amoruso - up high on the wall.


Sophia Amoruso photos - up high along the wall.


***
Lo-Fi Customs: John Stuart Berger - What Went Wrong?
Comment: Good journeyman artwork by Sacramento artist John Stuart Berger and plenty of it; perhaps a smidge derivative, but hey-- you can't beat the prices-- real affordable-- even the bigguns are under a grand. Once Berger stakes out and claims his territory, things could get interesting. He's got the talent and he's definitely dedicated.
John Stuart Berger - art.


Art.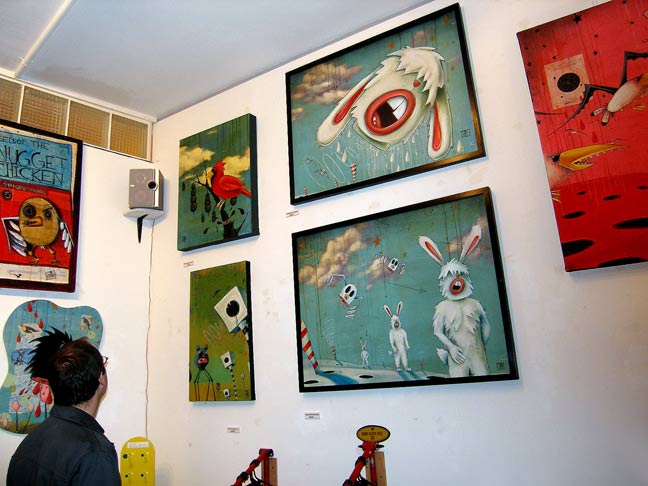 Art.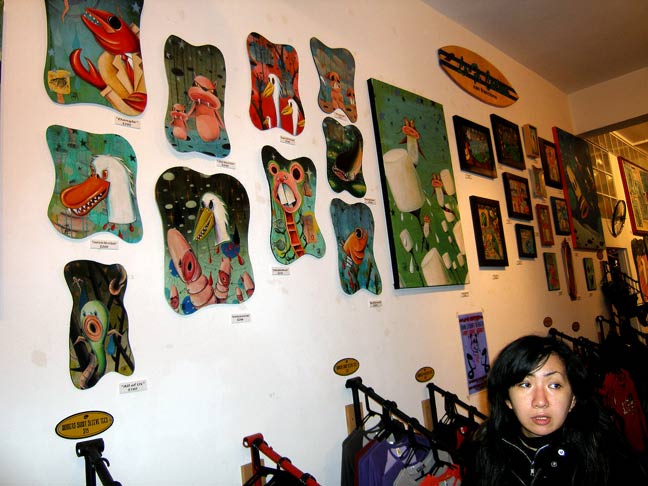 Art.


Art.


***
Blasthaus presents at BOCA: Nathalia Edenmont.
Comment: First things first-- BOCA stands for Bar of Contemporary Art. I like it. And you can always count on interesting events from Blasthaus, this episode comprising strange solo photographic florals by Nathalia Edenmont. The somewhat arresting images look like flowers at first glance, but then you look again and there's stuff in 'em like eyeballs, egg yolks, butterfly wings, and more. Regarding the eyeballs, the crib sheet says that for the "first time in art history, the still life is not inanimate but stares back at the viewer with intense inspection." I think that's a hint not to hang 'em in the bathroom.
Photography.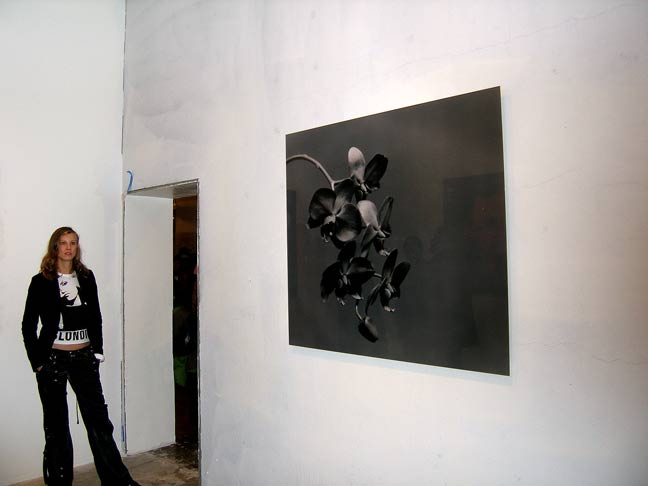 Photo.


Photographs.


Photography.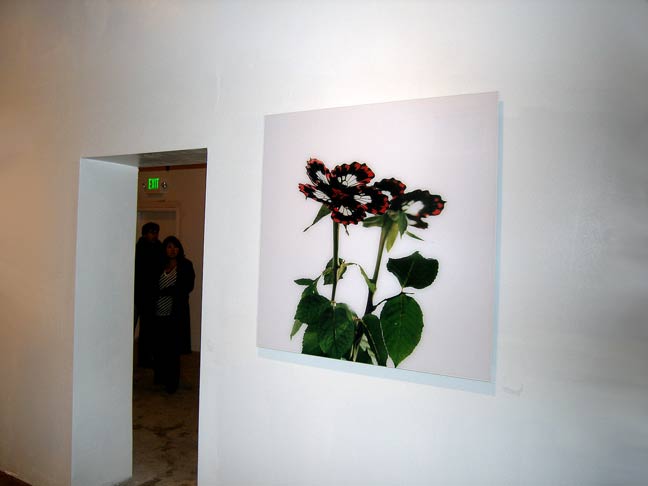 Images.


Photos.


Interior partial.


***
Space Gallery: The Escape Artist - Shadowed Views from the Private World of William Noguera.
Comment: William Noguera sits on Death Row at San Quentin Prison. A Death Row existance is mighty cruel on the psyche, and giving up on life is always an option, but Noguera triumphs over his abject adversity by creating remarkable intricate pen and ink stipple drawings-- all kinds, one after another. You can see a great selection here, they're $10K a piece, giclees soon to be available. Perhaps the most compelling part of the show is that it includes an exact replica of Noguera's San Quentin jail cell. Unconditional torment.
Art.


Art.


Art.


Noguera's Death Row jail cell replica.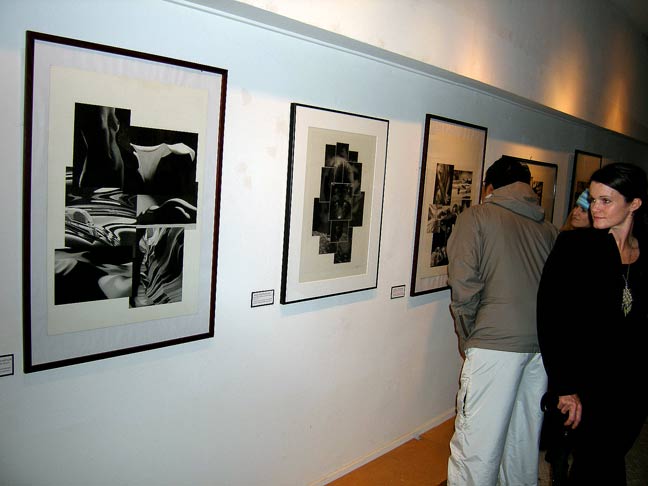 Art.


Art.


Art.


***
Braunstein/Quay Gallery: Kyle Reicher - Sculpture; Will Holub - Paintings.
Comment: Kyle Reicher sculpts balloons from steel-- a pretty good trick if you can do it, and she does it exceptionally well. The balloons are so finely executed, they almost pass for real, but then Reicher blunts the effect by attaching rough random arbitrary steel strands meant to approximate strings. The balloons are so spontaneous, the strings so forced. Haven't seen such a qualitative contrast in single works of art for quite some time. Also on display-- Will Holub light-hearted upbeat works on paper.
Art (Will Holub).


Art (Will Holub).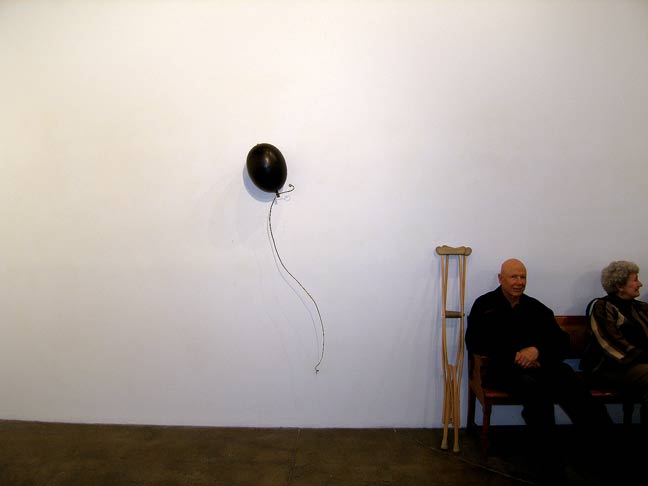 Art (Kyle Reicher).


Art (Kyle Reicher).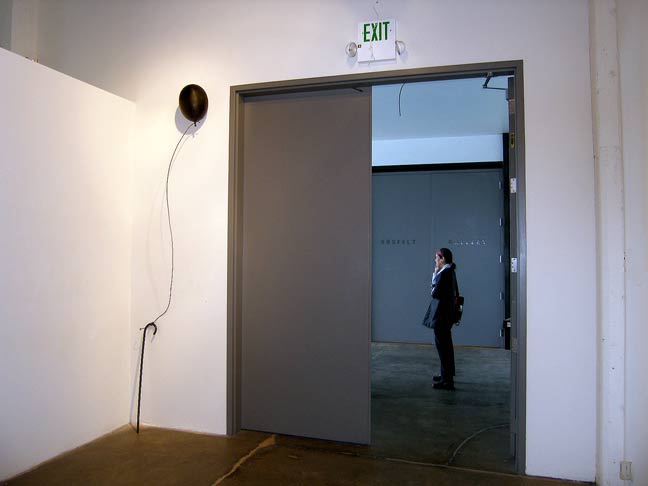 Art (Kyle Reicher).


Art (Will Holub).


Art (Kyle Reicher).


***
Axelle Fine Arts Galerie de L'Europe: Albert Hadjiganev.
Comment: Bulgarian-born painter Albert Hadjiganev escaped Bulgaria in the early 1980's by simply walking across the border to actualize his dream of living and studying art in France. Life was tough for a number of years, but that's ancient history now. His tasteful sparse muted atmospheric brush and palette seascapes, countryscapes, and still lifes mellow you down easy. Priced $4000-$17000.
Art.


Art.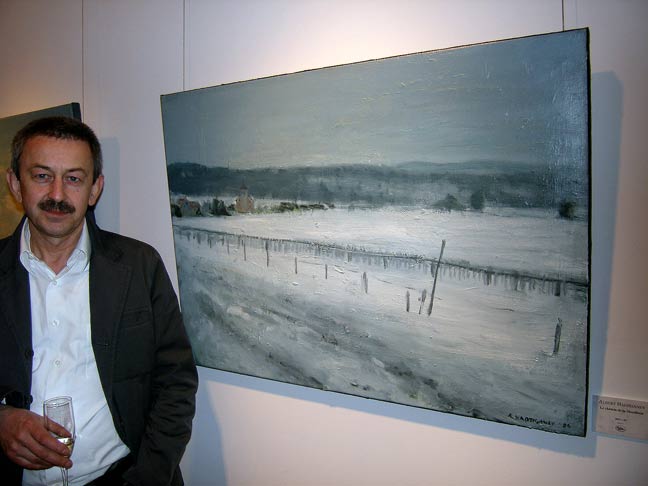 Albert Hadjiganev - art.


Art.


Art.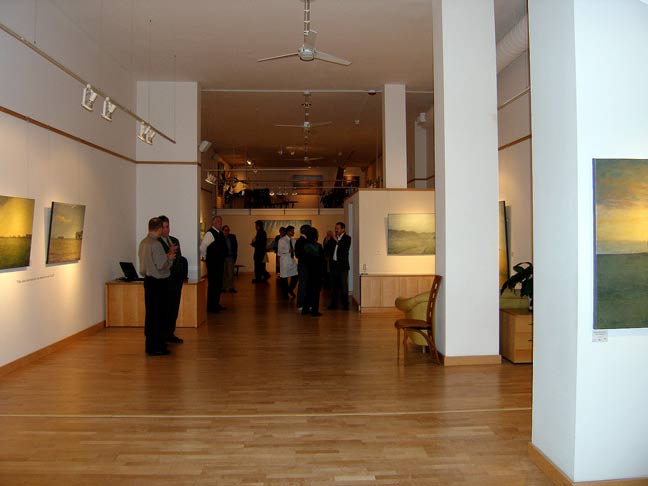 Playing field.


***
Garage Biennale: The Illustrated Encyclopedia of Sex.
Artists: Peter Foucault, Brayan Hewitt, Vita Mei Hewitt, Justin Hoover, Lauren Scime, Samantha Sherry.
Comment: High atop the golden bluffs of Pacific Heights sets one of the more improbable gallery venues I've had the pleasure of perusing-- a vintage brick three-car garage trimmed in painted white wood, accessed by walking a long concrete drive, through an archway, and back behind a monster mo-fo megamanse. There's a hole in of the concrete floor of one of the garage's three berths, apparently where automobiles were once serviced from beneath-- but tonight it's the bar, covered in plexiglass with a serving hole for the bartendress to take your bucks and give up the beverages.
The art's based on an old 1920's book called The Illustrated Encyclopedia of Sex, here updated in a variety of ways including silly, steamy, serious, droll, prurient, gruesome, quirky, and generally pretty decent. Artist curator Bryan Hewitt says most of the participating artists attended or met through SFAI, and that the Garage Biennale has five more scheduled events between now and summer's end.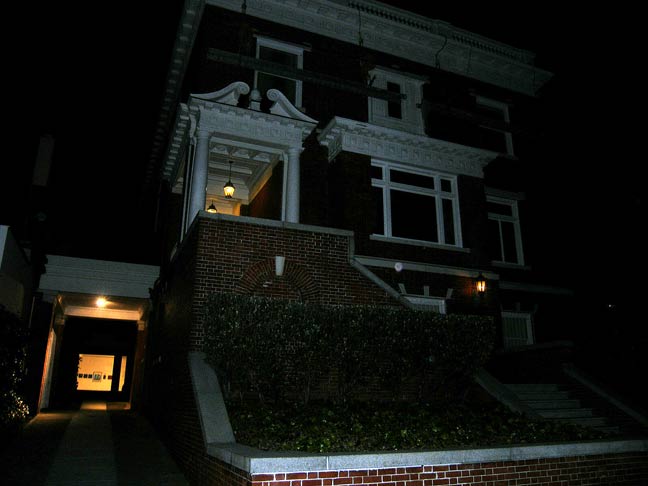 Hmmm. Here we are. Looks like it's way in the back.


Just like the announcement says-- a garage full of art.


Curatorial trifecta Mind Strata;
Lauren Scime, Vita Hewitt, Bryan Hewitt.


Art.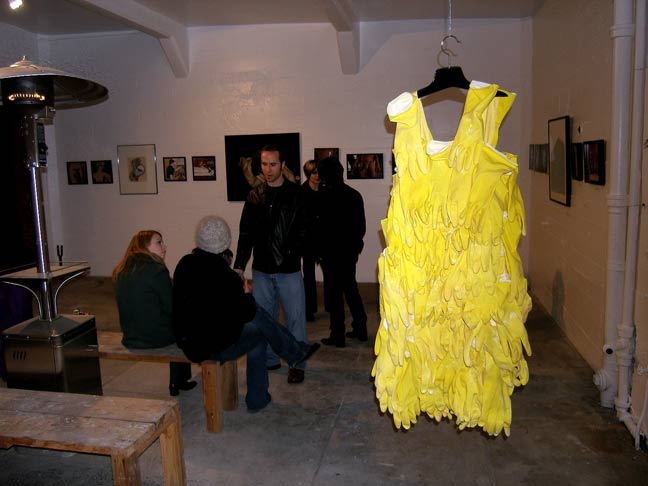 Rubber glove miniskirt art.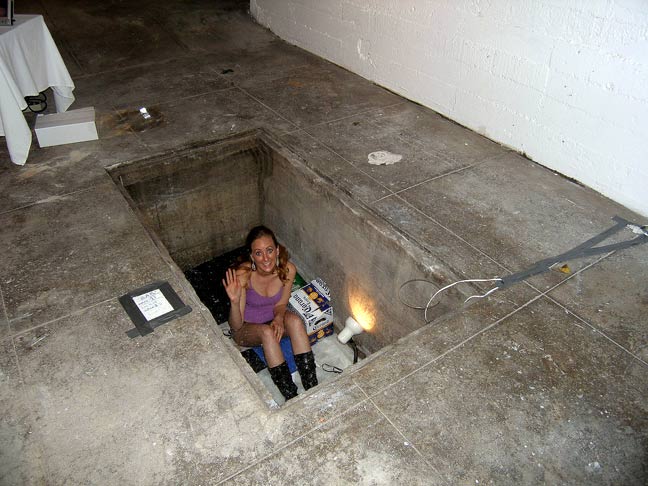 Refreshments.


***
Giant Robot San Francisco: Easy Like - Work by Greg "Pnut" Galinsky.
Comment: Smooth survey by artist designer Greg Galinsky. Mostly paintings, several reverse on glass, but my favorite piece is a painted varnished Eames Chair, conclusive proof that sitting can be fun.
Art.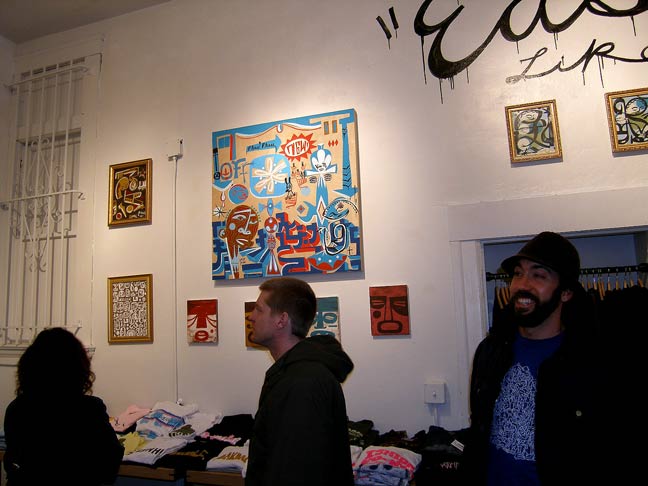 Art.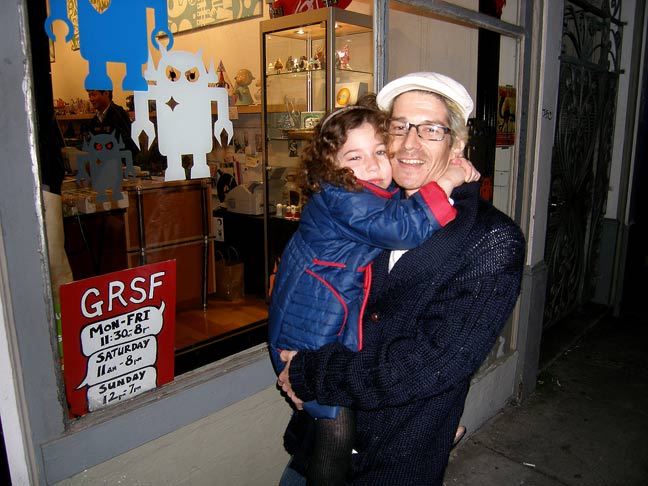 Greg "Pnut" Galinsky & daughter.


Art.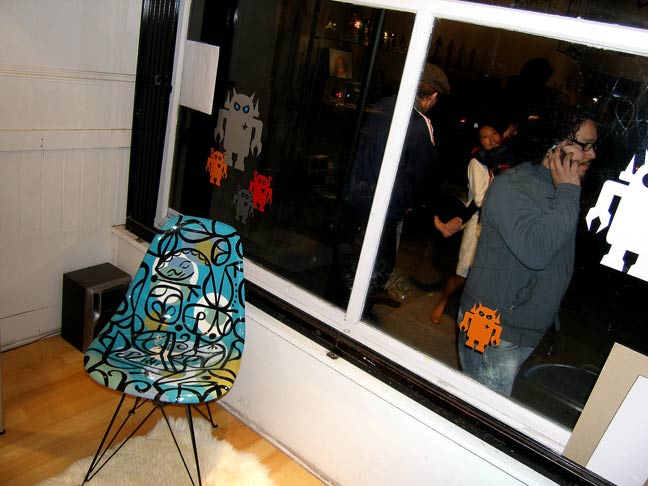 Eames art - like it.


***
222 Club, 222 Hyde St., San Francisco, CA 94102; 415.440.0222: Friends of the Arts Show.
Artists: Chi Birmingham, Jefferson Cheng, Rachel Corry, Shad Davis, Matt Furie, Michael Guidetti, Lizzi Kitaen, Isaac Lin, Carol Anne McChrystal, Gaelan McKeown, Kyle Mock, Lindsey Muscato, Jay Nelson, Angel Oloshove, Orion Shepherd, Eric J. Palgon, Clare Price, Mark A. Rodriguez, Peter Scherrer, James Seevers, Daren Wilson, Casey Watson, Dustin Wong.
Comment: Artist Kyle Mock curates a low key hepcat art and music extravaganza at fresh easy long slim crammed Tenderloin cavern surprise 222 Club.
Art.


Art (kinda like that one on the left).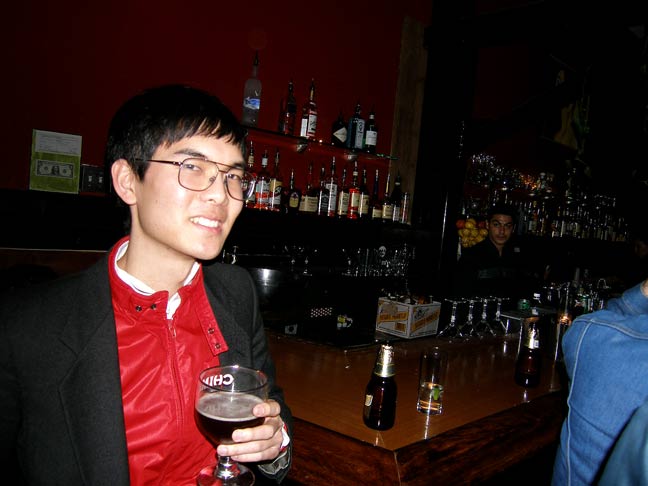 Kyle Mock.


Tunes (liked 'em).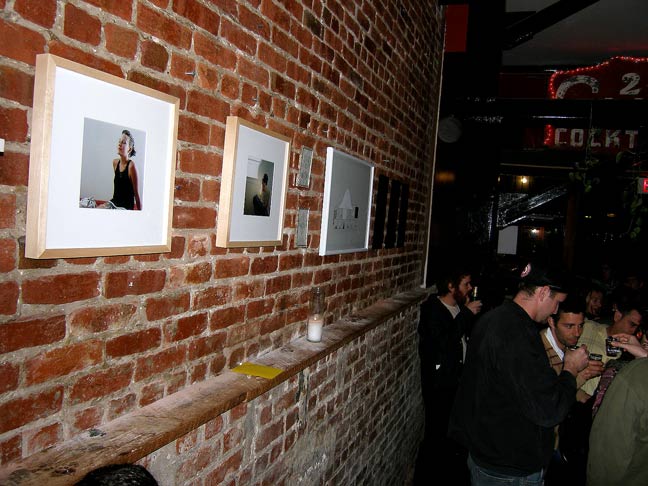 Art.


***