SAN FRANCISCO GALLERY OPENINGS
JOHN BERGGRUEN - GEORGE KREVSKY
JACKSON SQUARE PROMENADE - FIFTY24SF
03.31.05
John Berggruen Gallery: Enrique Martin Celaya - Boy in the Landscape; Richard McLean - Recent Paintings.
Comment: Enrique Martinez Celaya is the only artist I'm aware of who, in addition to making art, has also built a laser, received prizes from the Department of Energy, and studied quantum electronics at UC Berkeley, but since I rarely ask artists whether or not they've accomplished any or all of these things, it could be that a number of them actually have. Anyway, Celaya's boy paintings (and a sculpture) reference the artist's son as well as the fragility and potential of youth. They're distinctly Latin American in style, atmospheric, and even a bit magical in how they impart feeling to the viewer. In his liner notes, Celaya pays homage to one of my favorite artists, Albert Pinkham Ryder. (The ultimate kick-ass Ryder, in my opinion-- Death on a Pale Horse at the Cleveland Museum of Art.) Price range: Low to upper-mid ten of thousands.
Photorealist Richard McLean paints sparse farmy everyday country landscapes, each approximately half sky and half land, and if you've spent time in the Central Valley, for instance, you know he paints (and draws) them pretty seriously superbly well. The show's statement informs us that McLean's "immaculate brushwork demands reverence," but I'll tell you, if you're in the shower or on the phone and your art's over there demanding reverence, that can be pretty irritating. Speaking of demanding reverence, Mclean's list of exhibitions is seven pages long. His first solo show was at San Francisco's Lucien Labaudt Gallery in 1957 (in case you care, my first published article, "Know Your Paintings," appeared in The Antique Trader in 1983). Price range: $13K - $120K.
Art (Celaya).


Art (McLean).


Art (Celaya).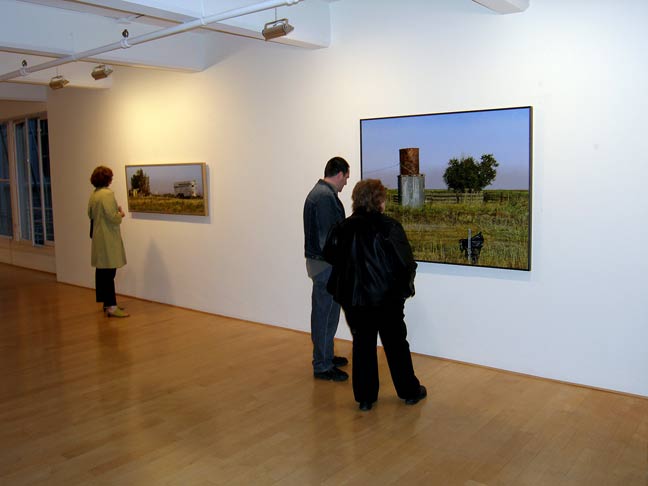 Art (McLean).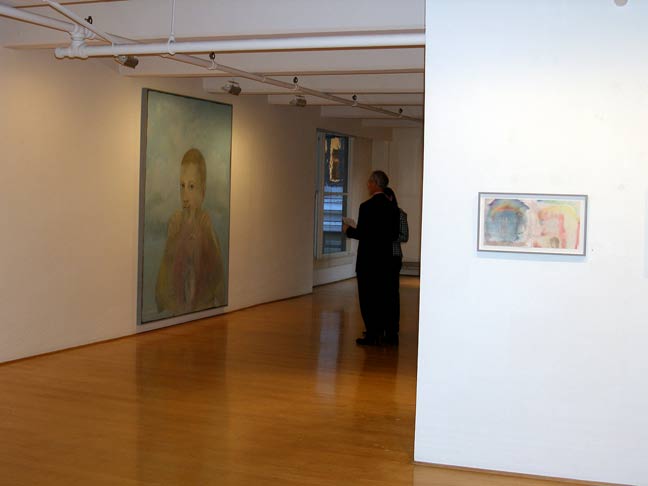 Art (Celaya).


Art (Celaya).


Art (McLean).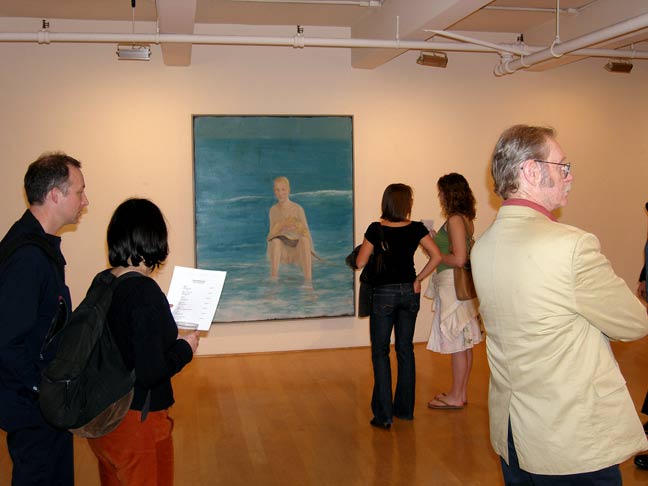 Art (Celaya).


Art (McLean).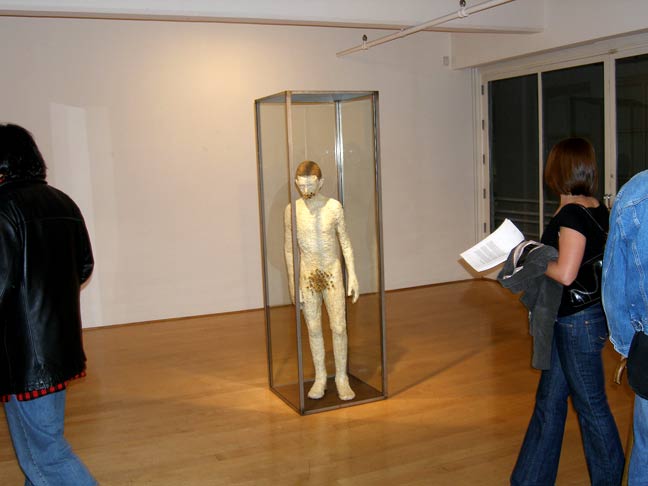 Unclear intent art (Celaya).


***
George Krevsky Gallery: More Than a Game - The Art of Baseball.
Comment: George Krevsky's niched himself a good one with his annual baseball art extravaganza. If you like baseball, and you like art, see this show. Or if you like baseball, but you're not comfortable around art, but you like art, see this show. Or if you're not comfortable around art, but you like art, but you don't care that much about baseball, but you're comfortable around baseball, see this show. Try art; you'll like it. Art improves your quality of life. Anyway, at the opening, there was a dude walking around serving corn dog minis (for those of you unfamiliar with corn dogs, they look like turds, but don't taste quite as good). Plenty of affordable art available for purchase.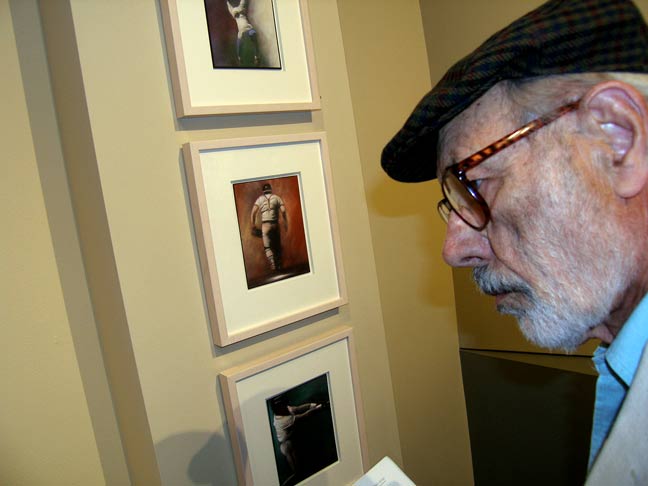 Baseball art.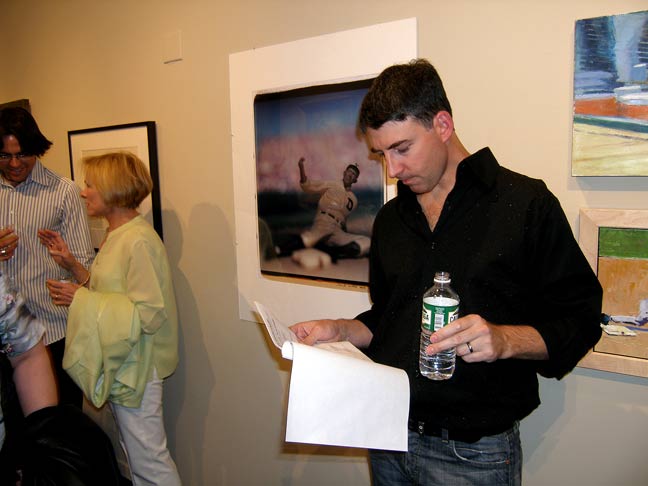 Baseball art.


Baseball art.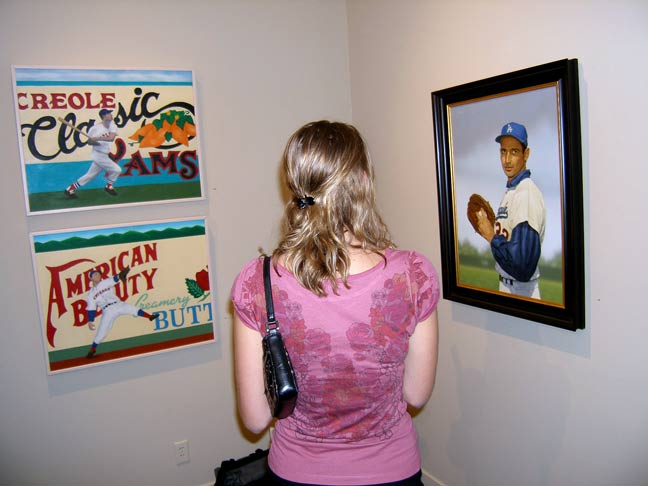 Baseball art.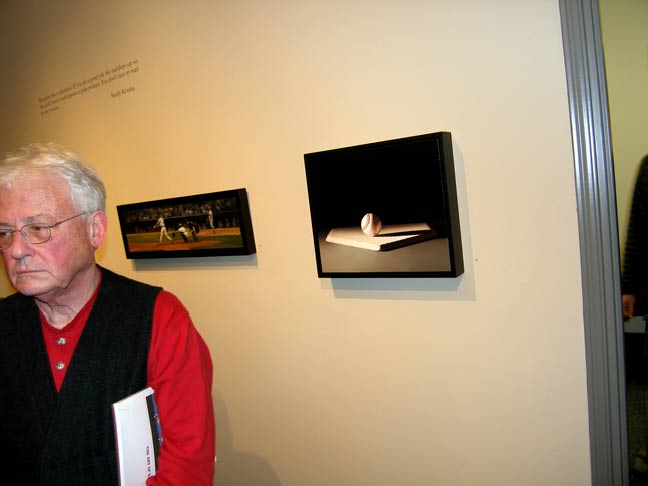 Baseball art.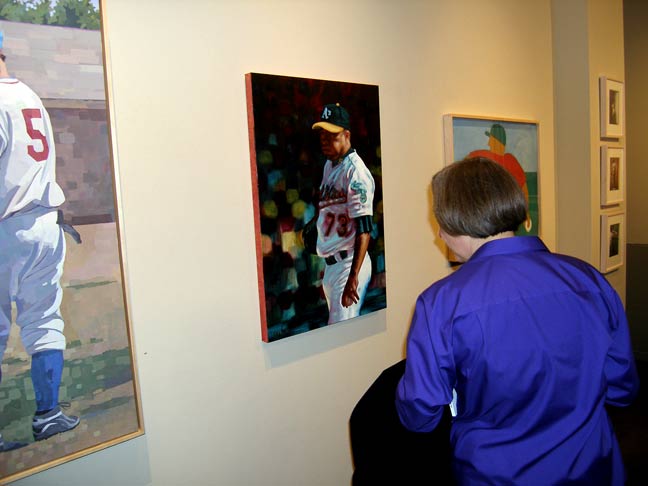 Baseball art.


Baseball art.


Fans.


***
Jackson Square San Francisco Art & Antiques Dealers Association: Spring Promenade 2005.
Comment: You artsters who don't get out much might be interested in knowing that Jackson Square is home to a number of San Francisco's-- in fact, the West Coast's-- top period art and antiques dealers. So once a year, I think, these dealers stay open late, party it up, and strut their stuff plus ample food and beverages. There's no slam dancing, however.
Thomas Livingston (center right) of Thomas Livingston Antiques.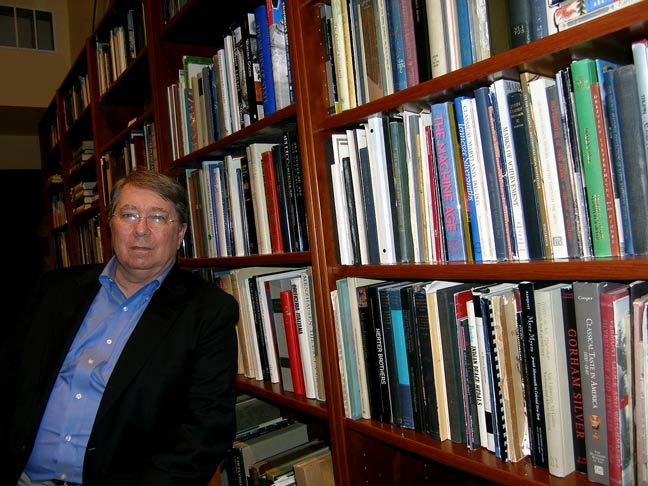 Michael Weller of Argentum - The Leopard's Head.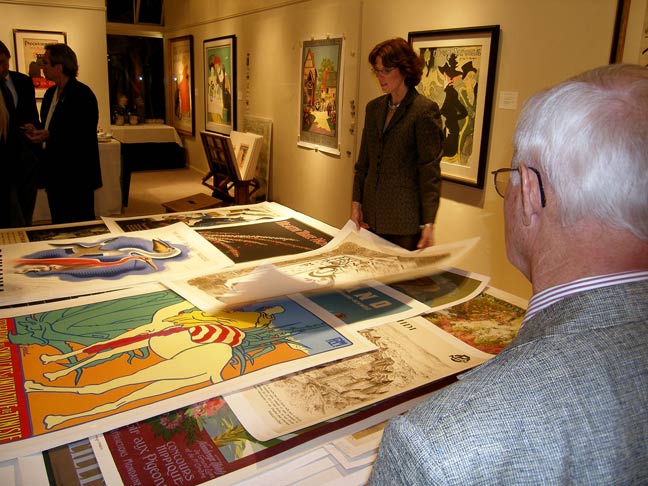 Sarah Stocking stock flipping at Sarah Stocking Antique Posters.


More Sarah Stocking (higher quality/lower prices than Geary Street).


Alfred Harrison of The North Point Gallery.


Historic California art at The North Point Gallery.


Clay St. looking toward Yerba Buena Island, 1853, at Montgomery Gallery.


Interior, Peter Pap Oriental Rugs.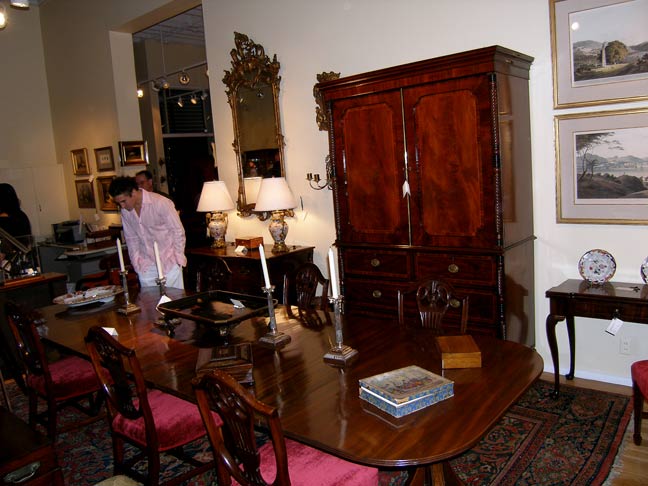 Interior, Daniel Stein Antiques.


Jackson Street.


***
Fifty24SF Gallery: Writers vs Ryders.
Artists: Steve Caballero, Jeremy Fish, Nate Crane, Tobin Yelland, Andy Jenkins, Andy Muller, Lance Mountain, Chris Pastras, Ed, Renos, Revok, Reyes, Saber, Norm, Daze, Gryme, Curve, Diet.
Comment: OK. Some of the West Coast's premier outdoor artists have work in this show. I'm all too aware of the polarity, contentiousness, and cathection of opinions and feelings regarding outdoor art, particularly of the unsolicited varieties. But think about this... plenty of young people get their first tastes of art, and compellingly so, as they transit our cities and experience art on the street, or what many disparagingly refer to as "graffiti." Yes, street art is everywhere; we can't help but see it. Nobody owns it; everybody owns it. It's inexorably intertwined in the fabric of urban life.
So these young people, perhaps casually at first, start learning about the artists who make this art, and about how they make it. Many are captivated by what they learn-- by the calligraphy, the graphics, the colors, the hazardous romance of the profession, whatever-- and they begin to actively seek this art out. Many end up at galleries like Fifty24SF that show this art (the opening here was packed plus major overflow). Hmmmm... street artists responsible for introducing our young people to "art" and actually getting them into art galleries. This is interesting. Now play along with me here...
Those of you who run our cities, who make our laws and who administer their enforcement (as well as those of you who own our art galleries and who curate our museums), might cogitate, if only for a moment or two, on the fact that outdoor artists, in their own unique and controversial ways, impart culture to our youth. And I'll wager that some of these young outdoor art fans will eventually end up shopping the galleries of 49 Geary or Bergamot or Chelsea or Williamsburg, Brooklyn or wherever. Stranger things have happened. I have no answers to this perplexing predicament, by the way, but I'm willing to participate in the dialogue.
Plenty of interesting stuff crammed into a small space. Price range: Low hundreds - $5K.
Art (Steve Caballero).


Art (left, Hense - pick; right, Sever).


Photo, Tobin Yelland; either side of photo, Jeremy Fish.
Art (left, Curve, I like it; right, Saber).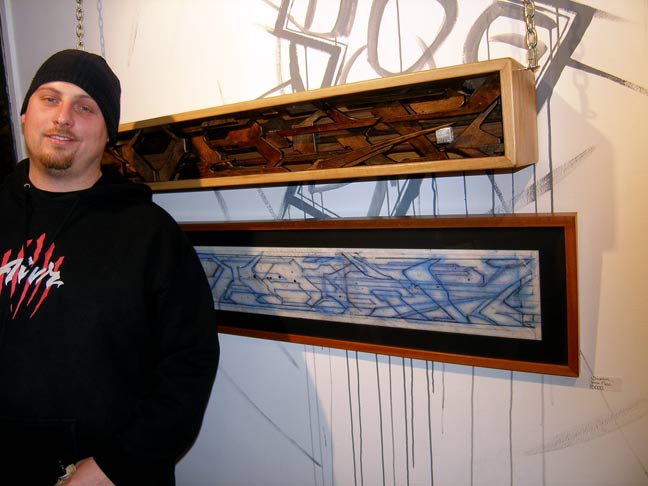 Saber - art (I like it).


Curator Ben Belsky (right).


Art (center, Ewok; right, Reyes).


Art (decks, Renos).


Art (center, Chris Pastras; far left, Nate Crane).


Art (Andy Jenkins - pick).


Art (Revok).


Art (center, Lance Mountain).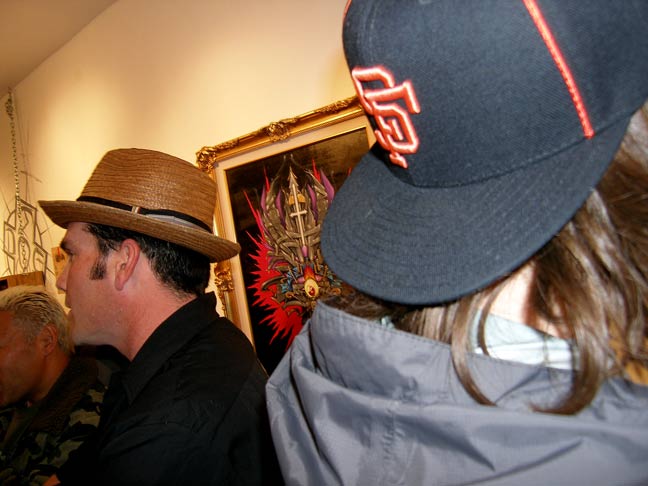 Compaction in.


Compaction out.