SAN FRANCISCO ART GALLERIES - OPENINGS
GEORGE KREVSKY - HIMMELBERGER - ANTHONY MEIER FINE ARTS
JACKSON SQUARE PROMENADE - EXPLORATORIUM - SPACE GALLERY
QUEENS NAILS ANNEX - RED INK STUDIOS - CHARLES CAMPBELL GALLERY
SWEETIE'S ART BAR - LIVE WORMS - GALLERY 276
WAREHOUSE 1310 - POTRERO HILL ARTISTS - MILLION FISHES
WHITE WALLS - PLAYSPACE - LIVE ART - ALDEA
03.30.06-04.01.06
George Krevsky Gallery: Top of the 9th - The Art of Baseball.
Artists: Claes Oldenburg, Raymond Saunders, John Dobbs, Guy Diehl, Mark Ulriksen, Jay Mercado, Louis Grant, Stanley Goldstein, Jon Francis, Arthur K. Miller, Vincent Scilla, Linda Masotti, Rob Cox, Ken Kalman, John Dobbs, Curtis Wright, more.
Comment: George Krevsky's been doing the annual baseball art show for years; it's one of his best and most popular. The art's as good or better than ever; the crowd spills way out into the hall. A baseball glove trompe l'oeil be Jay Mercado is pretty slick at $4200, as is a catcher's mask still life by Guy Diehl, and a large carved (I think) polychromed glove bas relief in the back office (can't remember the artist). Special added bonus this year-- piping hot microwaved mini corndogs with stadium mustard. Yummy. Special added bonus for when you get home-- Pepcid AC.
Baseball art (Jay Mercado - like it).


Baseball art.


Baseball art.


Baseball art (Guy Diehl - like it).


Baseball art.


Baseball art.


Attendance figures.


***
Himmelberger Gallery: Norbert Schlaus - Inner Strength.
Comment: Artist Norbert Schlaus is 92, infirmed, and can't make it to the opening. The retrospective consists mainly of his figure paintings and etchings. The figure paintings are remniscent of WPA-era art from the 1930's and early 1940's; the muted mildly anatomically quirked nudes with marked musculature appeal in a moody moonstruck way. The etchings are every bit as good as the paintings, maybe better. Gallery owner David Himmelberger tells me that at one point in his career, Schlaus became so despondent about his art that he destroyed over 200 of his etchings, plates and all. Hey artists-- no matter how despondent you get, please don't do that. When you're 92 and you finally get a show at a really tony gallery, you'll be glad you didn't.
Art.


Art.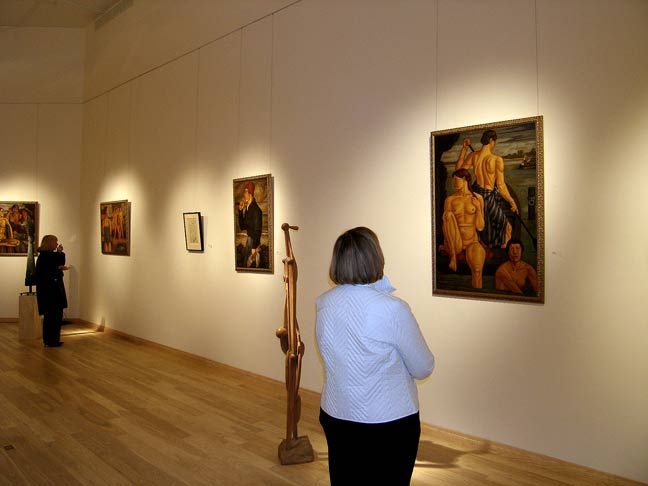 Art.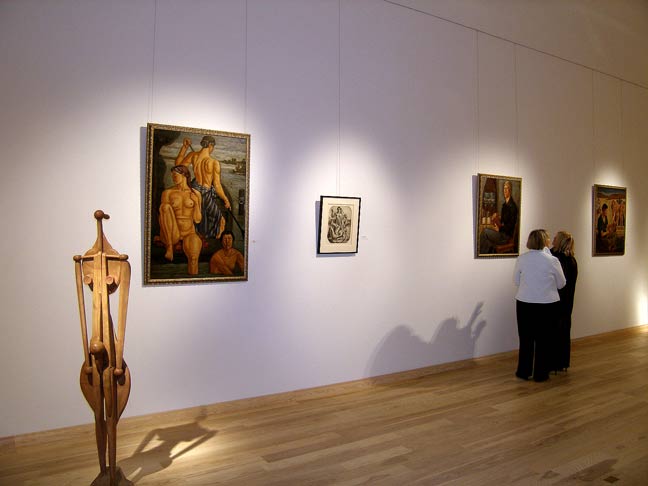 Art.


Art.


Art.


***
Jackson Square San Francisco Art and Antiques Dealers Association: Jackson Square Promenade.
Comment: Ever wonder how the other one percent lives? Well, there's no better way to find out than to stroll in and out of nearly twenty of San Francisco's finest antiques, painting, print, poster, and rug shops during the semi-annual Jackson Square Promenade. The event is a great way to meet dealers, peruse the goods, eat, drink, and enjoy live music in a relaxed festive pressureless atmosphere. Plus the shops are located in some of San Francisco's finest restored pre-earthquake buildings, primarily along Jackson St. between Montgomery and Battery, one of the most beautiful blocks in The City-- day or night. (I sound like a ferkin' copywriter. Hmmm. Maybe I can be an ad man when I grow up.)
Thomas Livingston of Thomas Livingston Antiques.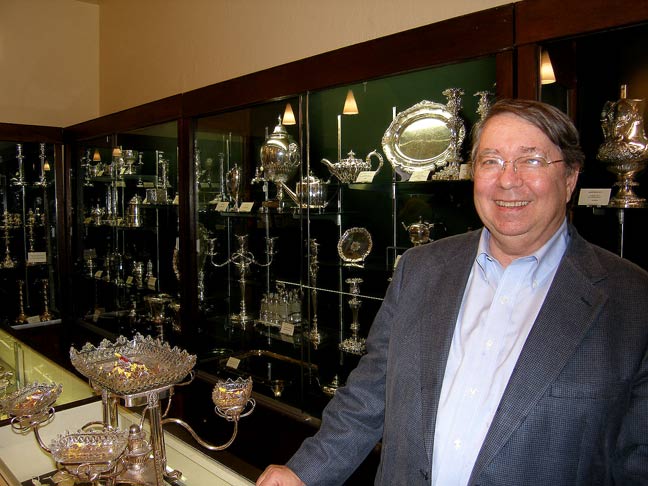 Greg Weller of Argentum - The Leopard's Head.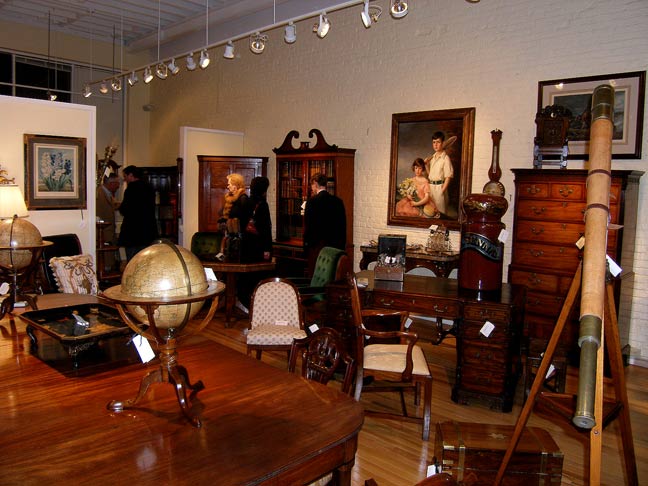 Daniel Stein Antiques.


Alfred Harrison of The North Point Gallery (Early California art).


Sarah Stocking of Sarah Stocking Antique Posters.


W. Graham Arader III (antique prints).


Foster Gwin Antiques.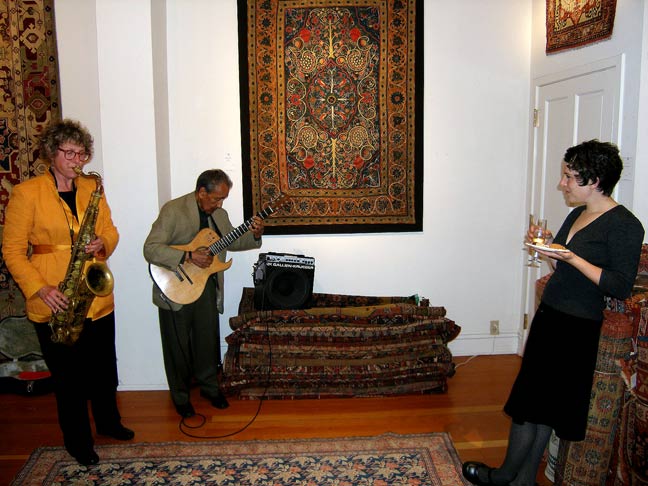 Tunes at Peter Pap Oriental Rugs of San Francisco.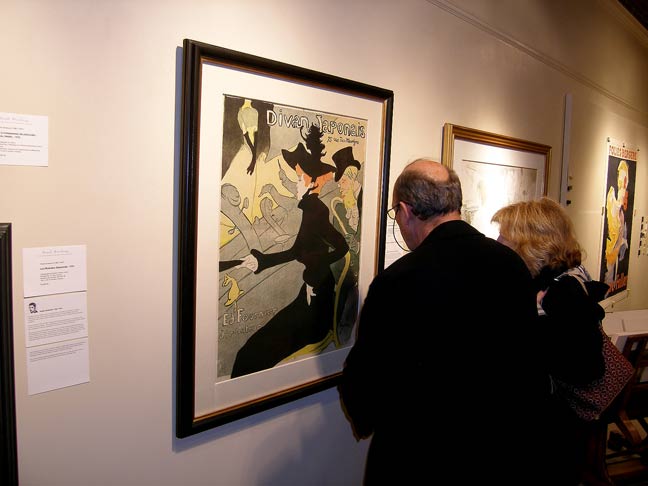 Toulouse Lautrec at Sarah Stocking Antique Posters.


Early California paintings at The North Point Gallery.


***
Space Gallery: VELOTREE - A Group Show of Bicycle Culture; SF - New York - Tokyo - Amsterdam.
Artists: Andrew Georgopoulos, Asa Turner, Aurora Crispin, Booooooo, Christopher Russell, Crykit, Demarco, Dice, Dirt, Ebi, Eddie Williams, James Newman, Joseph Becker, Juan Leguizamon, Kaity Rose, Kevin White, Loren Purcell, Massan, Monmon, Orion Shepherd, Pei, Ramblin Worker, RK, Sam Spetner, SS Armstrong, Takuya Sakamoto, Yohei, Yoshi 47, Youngski.
Comment: Group show focuses on bicycle culture and its incumbent benefits such as getting more exercise, using less fuel, driving smaller cars, driving smaller cars less, not driving at all, saying no to military-industrial lifestylers, waging less war, blowing up fewer countries, killing fewer people in the name of overconsumption, allowing other nations to determine their own destinies, and most importantly, thinking less about what we can do for ourselves and more about what we can do for others. Better living through art.
Bicycle art.


Bicycle art.


Joseph Becker (curator) - photography.


Bicycle art.


Bicycle art.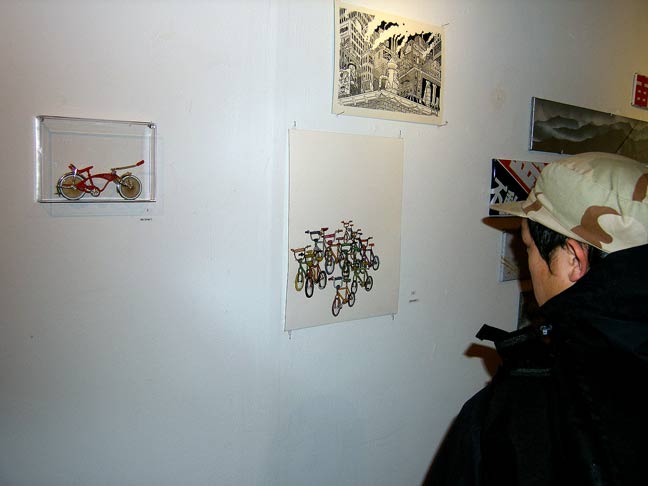 Bicycle art.


Bicycle art.


Bicycle art.


Bicycle art.


***
Exploratorium: Turning Tables - An Installation of Tectonic Spaces by Franz John and Ed Osborn.
Comment: German artist Franz John and Oakland sound artist Ed Osborn combine talents to visually project a constantly updated stream of current international seismological data onto a wall of a darkened room while simultaneously simulating sounds and shakes of earth movements that continually rock and reshape our world. Co-presented by the Goethe Institute. Nicely done; worth a see.
Out.


In.


***
Anthony Meier Fine Arts: Jeremy Dickinson.
Comment: London artist Jeremy Dickinson explores three passions-- collecting vintage toy trucks and cars, mapping, and modes of transportation in an entertaining exceptionally competent and clever series of paintings. The best of the lot is a "map" of California ($18.5K) delineated by regional transit system buses positioned corresponding to their respective metropolitan areas, the remainder of the canvas filled with colorful kiddie building blocks (except for a Las Vegas bus to the far right of the canvas, perhaps to balance out the composition). I ask Dickenson whether he's been to all the cities and checked out their buses; he says no, he did most of his research online. He's is a delightful intelligent character and a great sport about answering my typically atypical questions. In case you're interested, Art Dealers Association of America (ADAA) member Anthony Meier works quietly from an imposing Willis Polk mansion on California St.
Art.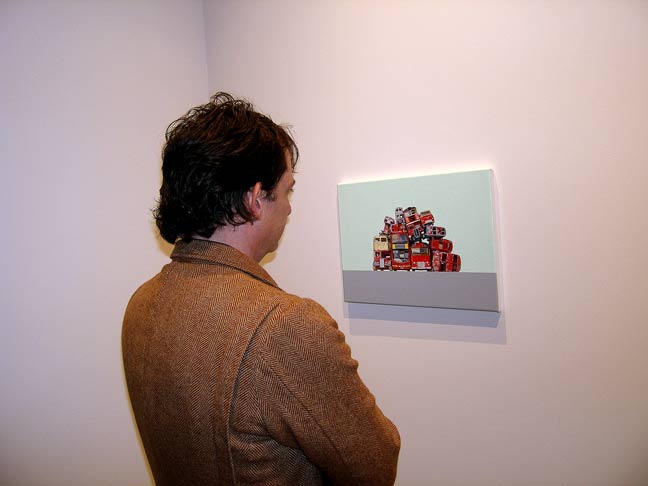 Art.


Jeremy Dickinson - California transit map art (pick).


Art.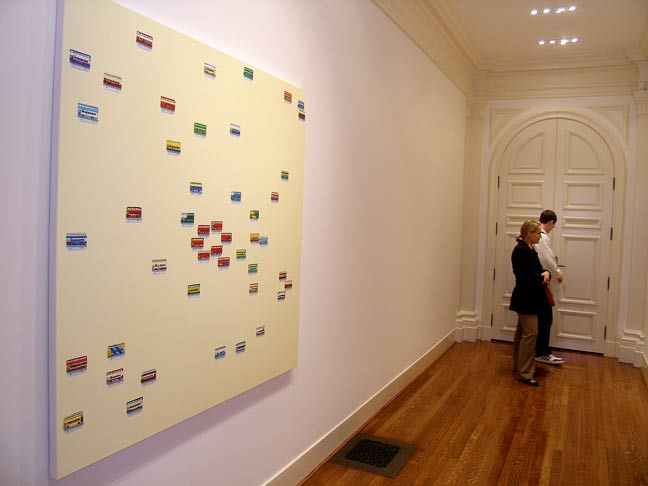 Art.


Gallery outer.


***
Queens Nails Annex: overundersidewaysdown - Works by David Hatcher, Mitzi Pederson, Wayne Smith.
Comment: Wayne Smith cuts and pastes a meandering stretch of mini Johnny Carson heads along part of a wall (Johnny Carson was the best); along the rest of the wall, he shows a group of surf illustrations cut from magazines and finely cross-hatched with a rollerball pen. Softened amd muted by their grids, the surf pics look a mite Tonalist from a distance. On the rear wall of the front room, David Hatcher blends forty glassed framed "perforated prints" into a 4 by 9 foot wall installation that works perfectly as a single work of art (nicely done). Meanwhile, I have no idea what Mitzi Pederson's up to with her cinderblock plywood mylar constructions in the back room, but she's got an MFA, so maybe that explains it. The scorecard says "Pederson plays with visual and spatial conditions to confuse perception." Uh huh. Now tell me something I don't know.
For those of you into brain vex, the overflow show essay by Kevin Killian includes references to Beech-Nut Fruit Stripe Gum, Playboy, The Yardbirds, Wittgenstein, Flaubert, the decongestant Con-Tac, LSD-- and that's for starters.
Art (David Hatcher - like it).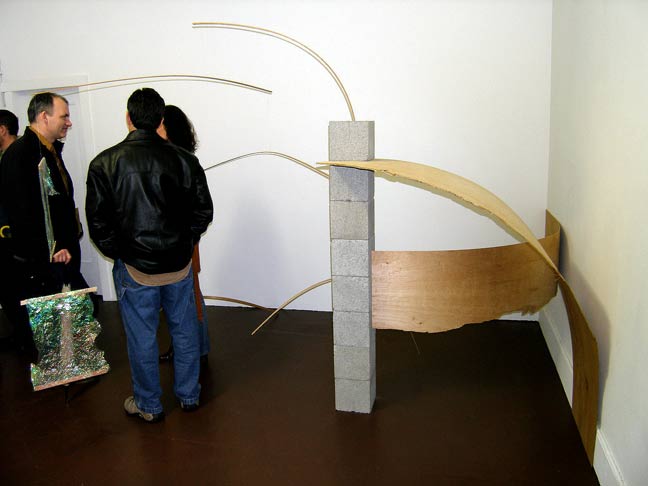 ? (Mitzi Pederson).


Wayne Smith - surfer grid art (like it).


Heeere's Johnny art (Wayne Smith).


Gallery frontal with hot pink art (David Hatcher).


***
Red Ink Studios: Picture Progress 2006 - Art Auction Fundraiser for The League of Young Voters.
Artists: John Fortes, Lewis Watts, Ray Potes, Norman Locks, Brian Barneclo, Brad K. Alder, Ingeborg Gerdes, Mary Law, Gary Holt, Ian Scalzo, Louise Stroe, Andrew Stanbridge, Jason Adams, Rene Fressola, Sofia Bowart, Shelby White, Belle Chesler, Terry Cunnif, Andy Taiko, Lars Rasmussen, many more.
Comment: Soup to nuts silent auction; there's some good stuff cheap if you look hard. I see a couple of sharp-eye veteran collectors placing bids. Healthy turnout.
Why we're here.


Art.


Art.


Art.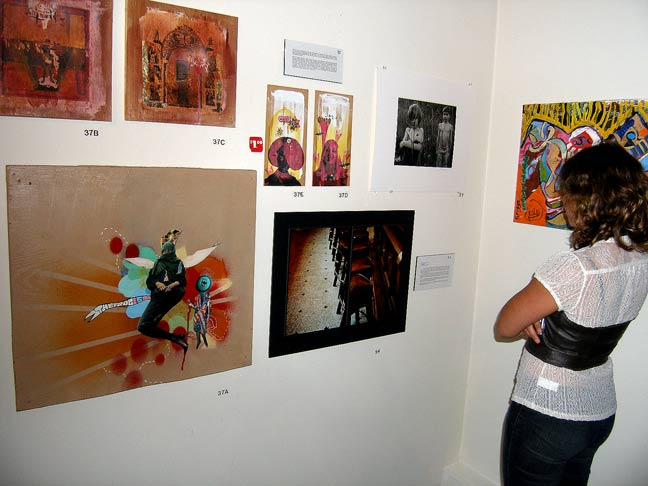 Art.


Turnout.


***
Charles Campbell Gallery: Gordon Cook - Paintings, Sculpture, Works on Paper.
Comment: Gordon Cook ranks among the Bay Area's best artists, active and accomplished in a variety of media from the 1960's until his untimely death in 1985. This impressive retrospective covers pretty much all phases of Cook's work including his whimsical fluid movement totally believable found wood figure sculptures, a number of which he subsequently cast in bronze. Gallery associate Eric Koehler tells me that Cook collected wood for these sculptures while taking family walks. Good show; go see.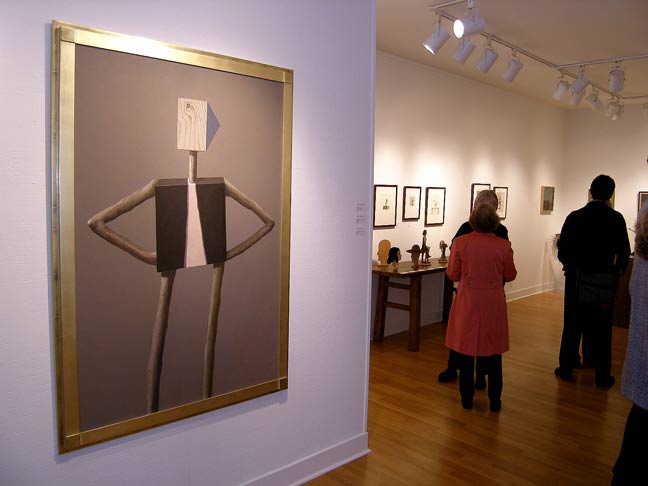 Art.


Art.


Art.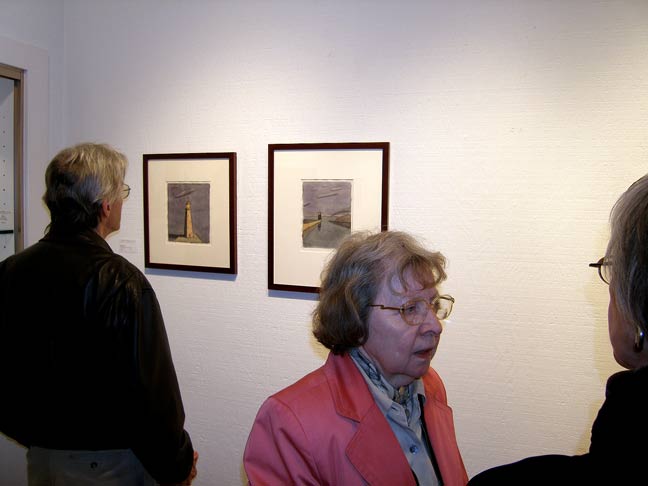 Art.


Art.


Art.


***
Sweetie's Art Bar & Gallery, 475 Francisco St., San Francisco, CA 94133; 415.433.2343 : Dreams & Nightmares - A Comix Art Show.
Artists: Spain Rodriguez, S. Clay Wilson, Michael Wolf, Whisky Pills (aka Ryan Blanchard), Sho Murase, and Jonathan Wolf.
Comment: Classic North Beach copacetic hepcat funkout, headlined by hippie legends Spain Rodriquez and S. Clay Wilson, featuring Zap-tinged paintings and drawings, mostly contemporary, but with a smattering of vintage full-page comic strips thrown in. I wasn't familiar with this bar/gallery, but it's a viable venue, looking like your basic drinking establishment up front, but opening to a large high-ceilinged gallery space in the back, and concluding with an intimate outdoor deck area for smokers, hikers, and campers.
Art.


Art.


Art.


Art.


Art.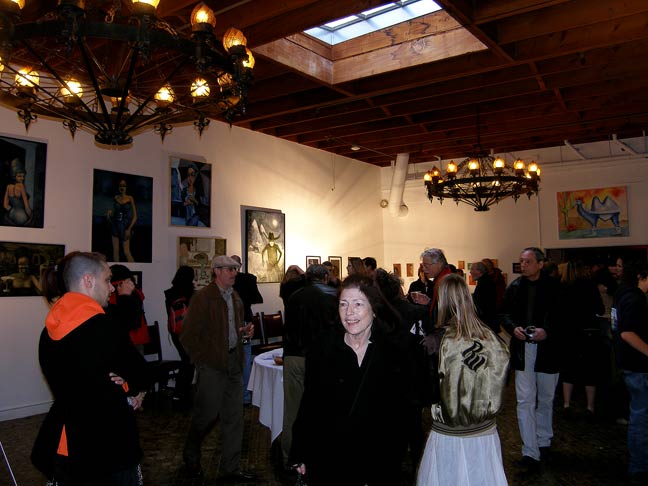 Room.


***
Live Worms Gallery, 1345 Grant Ave., San Francisco, CA 94133: Painting in the South of France.
Artists: Iqbal Ahmed, Kevin Brown, Marcia Middleton, Alanna Spence, Sandy Yagi, Gelen Moriwaki, Julie Montgomery, Lisa Stewart, Eiko Yamamoto.
Comment: Group show of art produced during the summers of 2004 and 2005 by artists from Glen Moriwaki's "South of France Advanced Painting Workshop" (including art by Moriwaki himself). For additional information, contact Glen Moriwaki at 510.531.7585.
Art.


Art.


Art.


Art.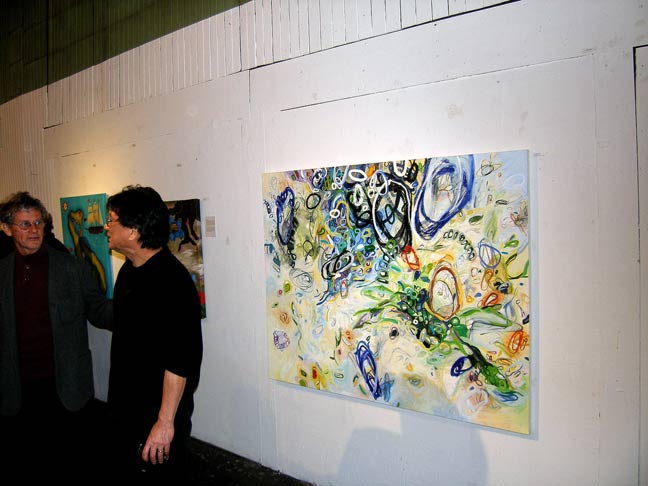 Art.


Art.


***
Gallery 276: David King - Sculpture; Melani McKim - Fictional Scenes from Life.
Comment: I'm liking Gallery 276. I don't know where owner Stephen Headley finds his artists although my hunch is he's known 'em for years. They're all experienced, established, skilled, and capable of producing eminently gratifying art-- and us inveterate artsters can never get too much of that. This time around it's wife/husband combination Melani McKim and David King. McKim manifests her draughtswomanship in a series of campy upbeat small-format paintings and drawings, mainly portraits (especially a series of precise color pencil portraits of artists like William Wiley, Wayne Thiebaud, Nathan Oliveira, Joan Brown, and more). David King's animated anthropomorphized figure sculptures make the perfect complement, and elevate the mood even further. Prices range $400 to $2500.
David King - Melani McKim - art.


Art.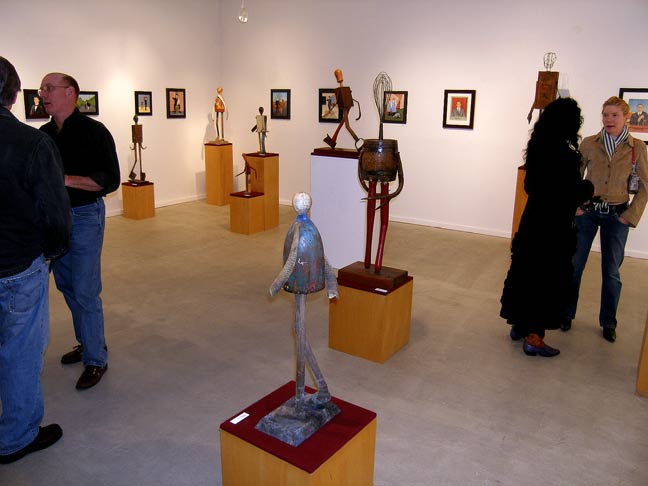 Floor plan.


Art.


Esplanade.


***
Warehouse 1310: Second Try.
Artists: James Albee, Athena Aronow, Fred Baptista, Lee Benson, Nancy Chan, Evelyn Chaubert, Marcus Civin, Dale Cook, Jake Correa, Luciano Duran, Missy Edwards, Will Francis, Gina Gaiser, Jasmin Granados, Lyle Guanzon, Abo Greenwald, Derek Havat, Claire Haynie, Wini Hung, Kenneth Hung, Dee Dee Hunt, Madhavi Jagdish, Molly Lochem, Young Jung, MaryAnne Kluth, Cheryl Leonard, Seth Linden, Zach Lipson, Aira Long, Chris Mccaw, Kevin McElroy, Gregory McMannis, Abel Morfin, Graham Myhre, Rob Prideaux, Mike Ray and Jerry Blue, Sam Rodriguez, Noah Reinhertz, Sadie Savoy, Celia Sparks, Falon Stoval, Jasper Stoval, Walter Sulenta, Zefrey Throwell, Annie Wong, Jasper Wong, Stefan Zlatev.
Comment: Rangy group show of artists affiliated in various ways with the 1310 Warehouse space. That's about it for thematics other than that the event is the second annual episode of First Try.
Art (Kenneth Hung - like it).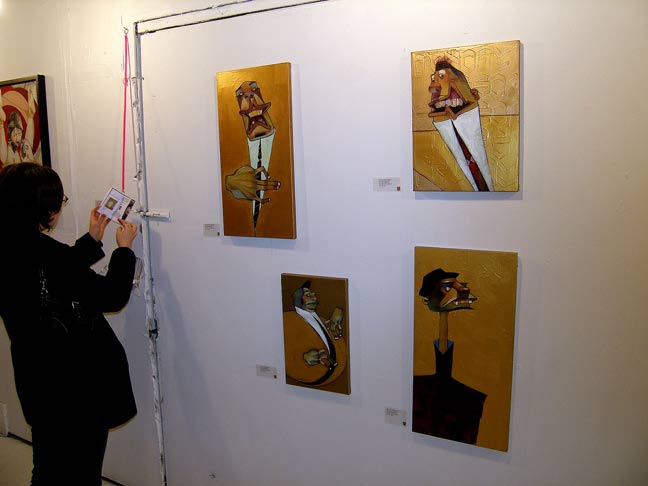 Art.


Art.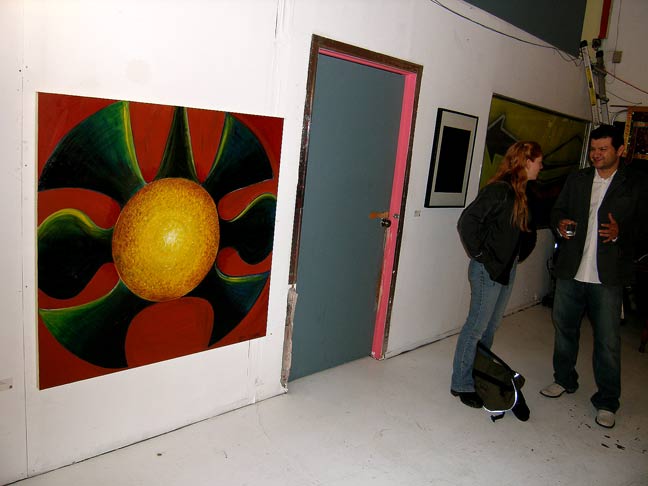 Art.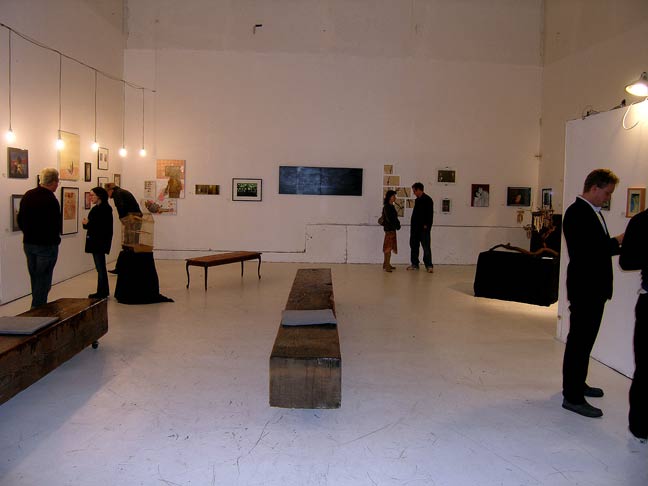 Planar.


***
Potrero Branch of the San Francisco Public Library, 1616 20th St., San Francisco, CA 94107; 415.355.2822: 51st Annual Potrero Hill Artists' Exhibition.
Artists: Plenty.
Comment: More of a down home social event than an art opening, really, as it nicely points up the interractive aspects of art, that is, how art transcends barriers and brings people together. There's all kinds of art here, amateur to professional, including a smattering of commendables.
Art.


Ted Pushinsky - photography (lower).


Art.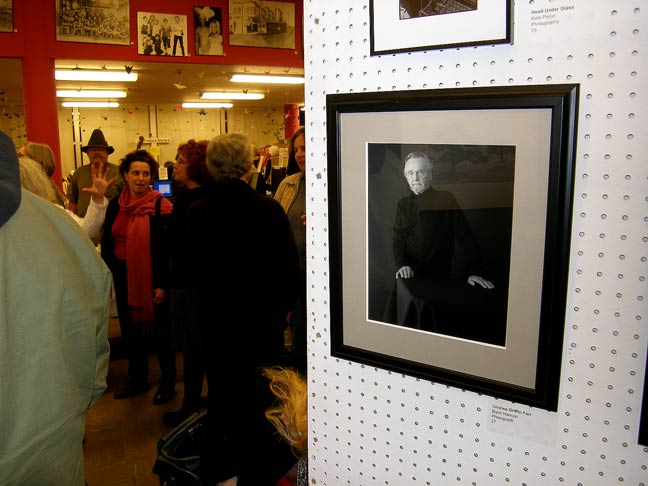 Art (portrait of artist Charles Griffin Farr).


Ambience.


***
Million Fishes Arts Collective: Kevin Clarke - Paint Wood and Concept.
Comment: Kevin Clarke fills several rooms at Million Fishes with paintings, woodworks, photographs, and more. Perhaps a bit of a disjointed overreach but the dude's dedicated, hard working, innovative, and not afraid to experiment-- all qualities that pay big dividends later.
Art.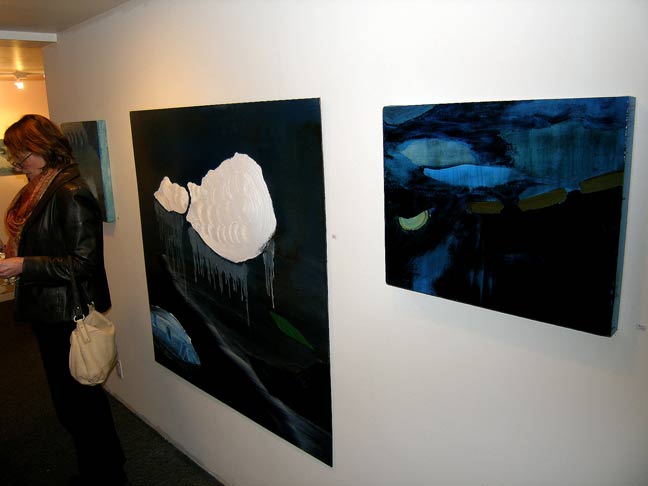 Art.


Kevin Clarke.


Art.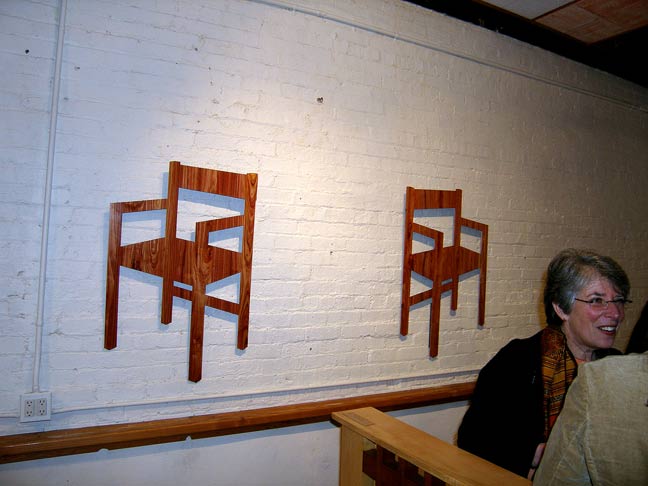 Art.


***
White Walls Gallery: New Works by Shepard Fairey.
Comment: This is more of a feeding frenzy than an opening with the art selling as fast as White Walls co-owner Andres Guerrero can write up the receipts. Wait. Actually the art is selling faster than Guerrero can write it up. The reason, of course, is that Shepard Fairey has ascended to mythic status among urbanites, and at this point, word of mouth controls the show-- the word being BUY-- as syncophants scramble for in on the action. I can't remember ever seeing anything quite like this. A good percentage of Fairey's signature silkscreened propaganda and pattern art is now printed and finished on collaged torn paper, effectively increasing it's depth and impact, and then further embellishing it with a bit of a vintage twist. His work is dramatic, compelling, and superbly themed as it stops you cold and stokes your mind. This dude delivers.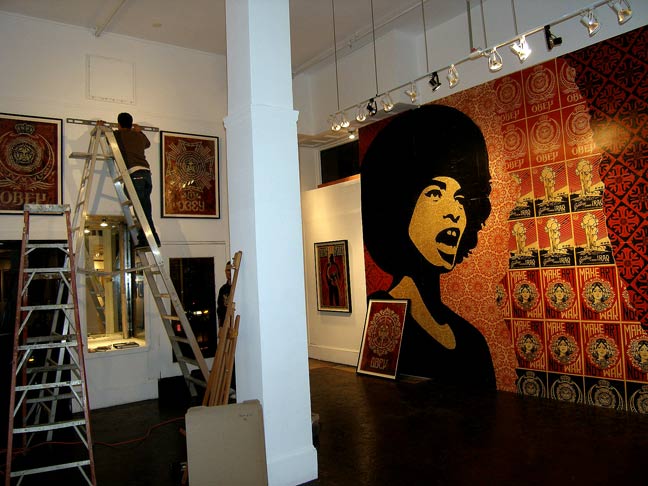 Setup, Thursday (I just happened to be in the neighborhood).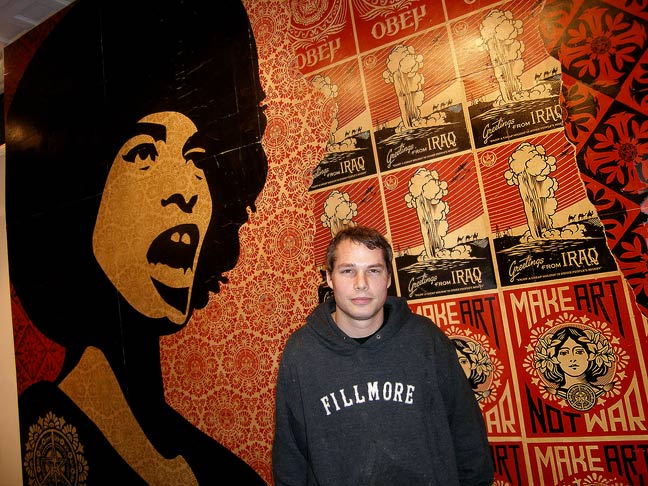 Shepard Fairey, one more from Thursday setup.


Showtime....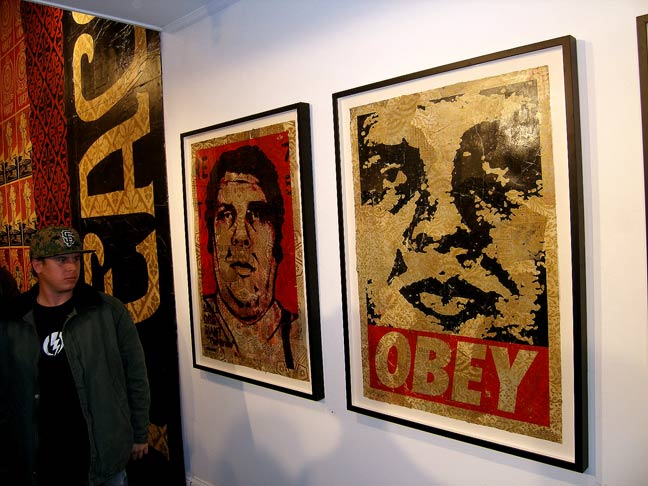 Art.


Art.


Art.


Shepard Fairey gladdens the fan base.


Art.


Art.


Art.


***
Addendum: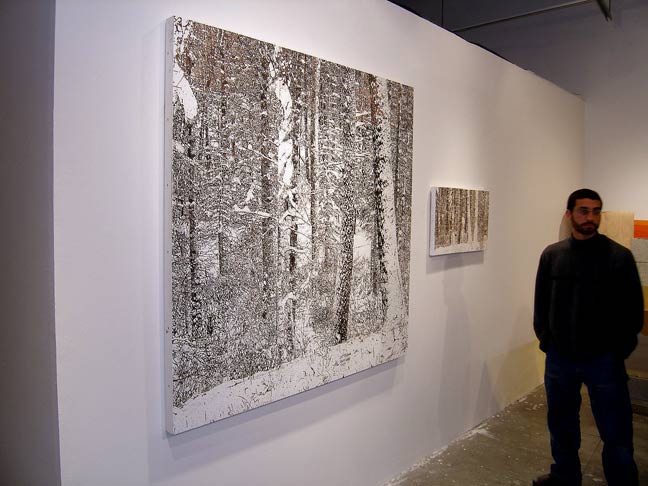 Snap, Crackle, Pop at PLAySPACE Gallery (Best of Show - like it).


One more PLAySPACE Gallery.


Last PLAySPACE Gallery.


I thought Aldea was a gallery, but it isn't.
I'm here so this is what it looks like.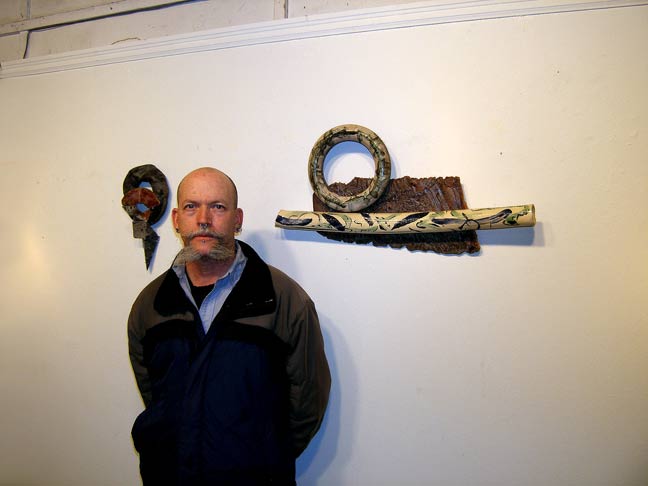 Michael Gosbeee and ceramics at Live Art Gallery ($40 - $525).


One more Michael Gosbeee and ceramics at Live Art Gallery.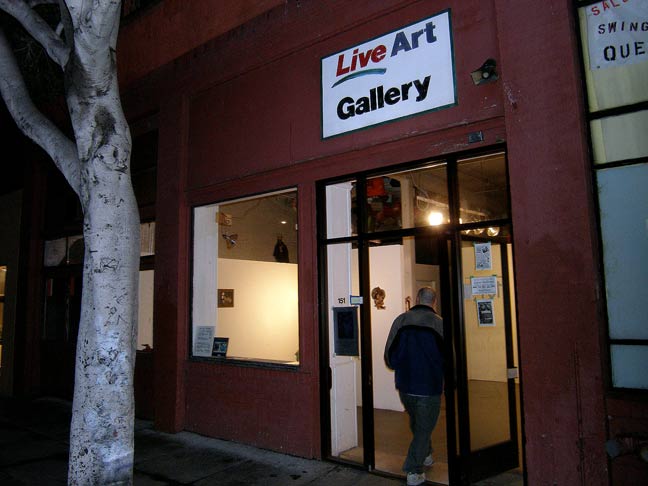 Live Art Gallery, 151 Potrero Ave., San Francisco, CA 94103; 415.263.0980.


***