SAN FRANCISCO GALLERY OPENINGS
LIMN - BALAZO - MIXED USE MODERN - WAREHOUSE 1310
HOUSE OF SHIELDS - SAN FRANCISCO ART INSTITUTE AUCTION
04.2-3.05
Comment: First stop was Anthony Meier Fine Arts, but I was courteously informed that the gallery does not allow photographs to be taken of the art. One quick question... why? Explanation will be posted if received.
***
Limn Gallery: Alex Donis - The Opium Wars; Marcus Hanschen - The Gangsta Rap Project.
Comment: Street culture meets high design as Limn Gallery, in a major departure from all previous shows, goes deep downtown for an in-your-face urban double shot. San Francisco photographer Marcus Hanschen documents gangsta rap artists, photographing them in black and white against plain backgrounds with no extraneous messaging-- isolating the essential personalities of his subjects. The images range from contemplative to intimidating, induce viewers to experience a culture they may not be familiar with, invite introspection on the diverse nature of society, and hopefully bring us all a teensie weensie bit closer together. Yes, art is a gateway through which we walk in order to discover ourselves and each other.
And continuing with that walk, Los Angeles artist Alex Donis pays tribute to women who have inspired and influenced him in his life-- his "Heroinas"-- by painting them alone or in cloned multiples, in motion or at ease, floating against plain white backdrops. Several pieces from the artist's controversial series "War" are also on display, showing, for instance, a gang banger doin' the do-si-do with a member of the LAPD, and similar incongruities.
Art (Marcus Hanschen).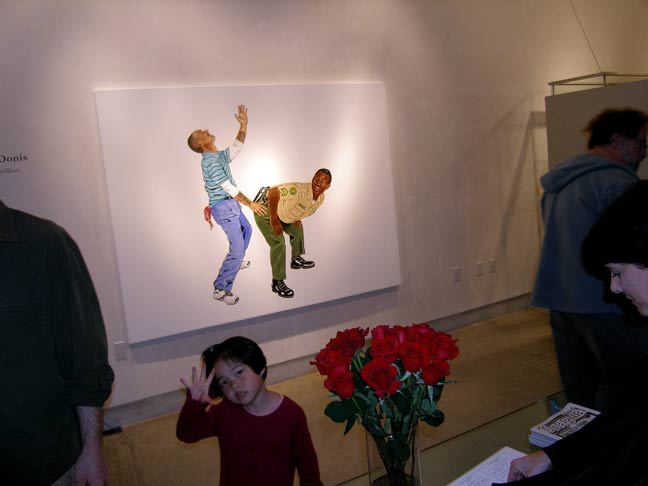 Art (Alex Donis).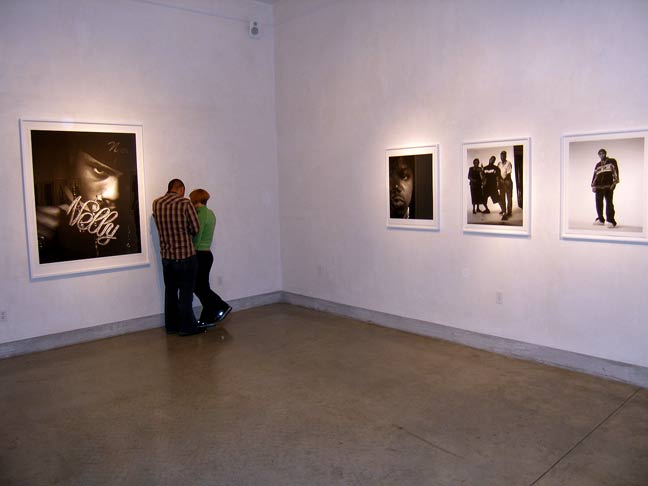 Art (Marcus Hanschen).


Art (Alex Donis).


Art (Marcus Hanschen).


Art (Alex Donis).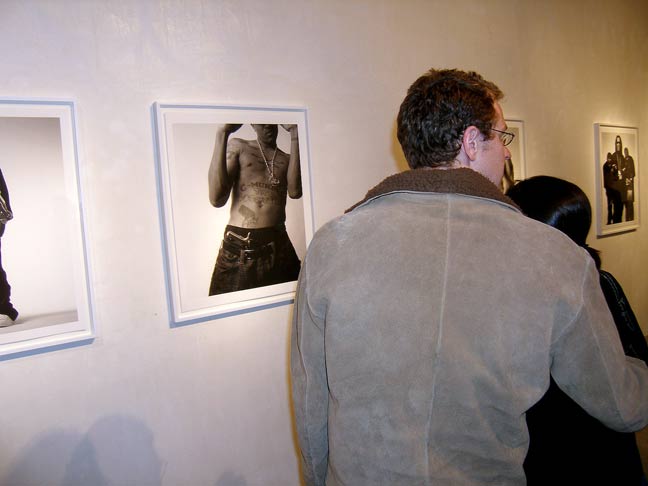 Art (Marcus Hanschen).


Art (Alex Donis).


Art (Marcus Hanschen).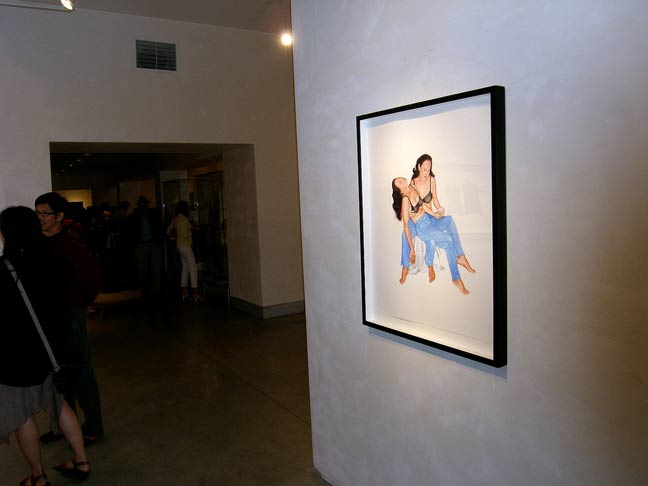 Art (Alex Donis).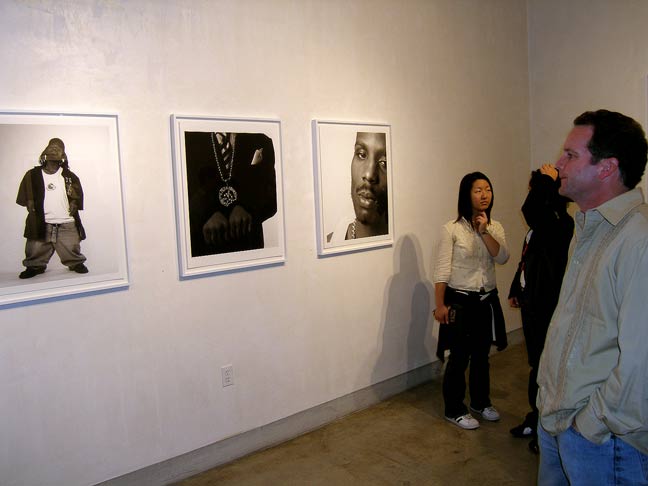 Art (Marcus Hanschen).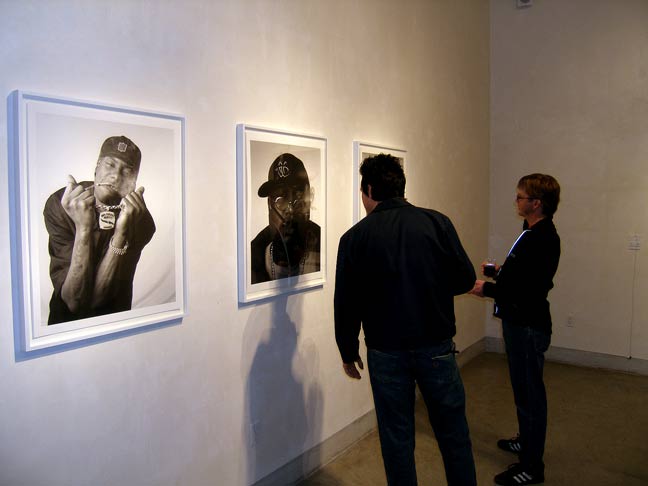 Art (Marcus Hanschen).


***
Balazo 18 Gallery, 2183 Mission @ 18th; 415.550.1108 or 415.430.7091: Art Auction Fundraiser.
Artists: Rigo 23, Winston Smith, Spain Rodriguez, Enrique Chagoya, Andrew Schultz, San Francisco Print Collective, Dara Santhai-Sherman, more.
Comment: Balazo's got some new digs, and they're auctioning art, primarily prints, to help finance the geographic transition. The space is a large empty starkly lit room on Mission near 18th Street. It's seriously in need of a makeover-- labor and donations welcomed-- and it'll be really nice once it's primped. Auction bids started at five bucks, and bargains were surely had.
Art.


Art.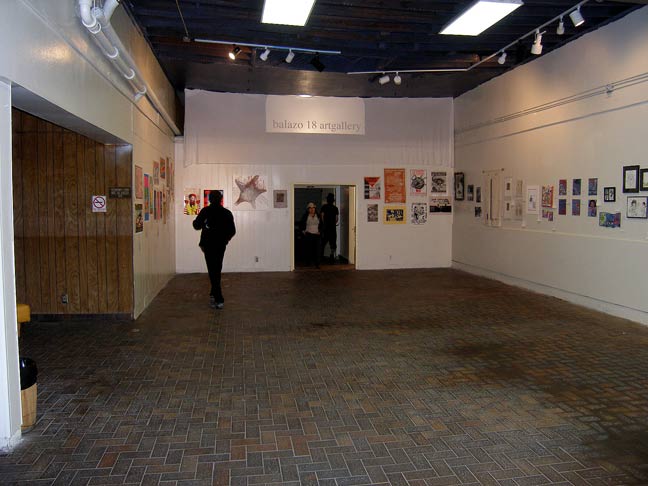 Playing field.


Marquis.


***
Mixed-Use, 2917 24th Street, San Francisco, 94110; 415.970.0560: Peeing in the Sandbox.
Artists: Pete Nelson, Nancy Mizuno Elliot, Jeremy Arlo Simmons, Tim Miller, Keith Boadwee, Lauren Barcelon, Constance Maher, Kika Jonsson, Tonya Solley Thornton, John Colle Rogers.
Comment: I took pictures. You decide. In addition to showing art, Mixed-Use also sells vintage furniture, decoration, and wearables.
Art.


Art.


Art.


Art.


Art.


Gastronomic adventure.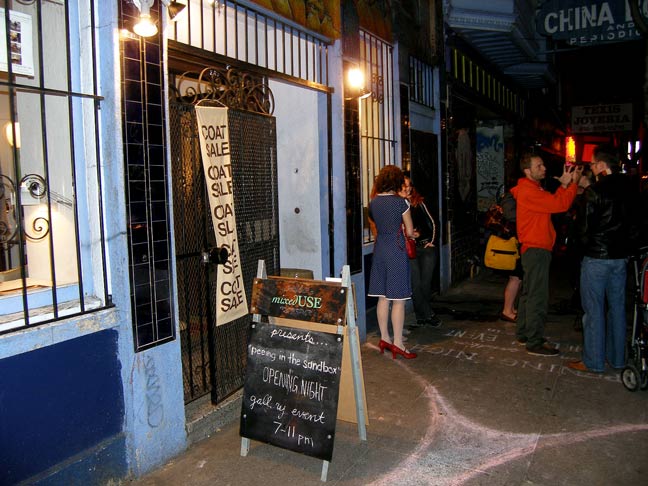 Veranda.


***
Warehouse 1310: First Try.
Artists: James Albee, Fred Baptista, Jerry Blue, Tim Blue, Nancy Chan, Evelyn Chaubert, Josh Churchill, Dale Cook, Dean Coppola, Demarco, A.L. Dentel, Dr. Optimator, Missy Edwards, Mik Gaspay, Jasmine Granados, Abo Greenwald, Claire Haynie, Tim Hancock, Kenneth Tin-Kin Hung, Deedee Hunt, Dustin Jacobsen, Madhavi Jagdish, Emile Janicot, Molly Jochem, Hyun-Young Jung, Max Kahan, Clay Kilgore, Cheryl Leonard, Patti Liu, Aira Long, Luciano, Chris McCaw, Arielle Myhre, Donny Phan, Alix Pola, Ramses, Noah Reinhertz, Ryan Riehl, Joe Reihsen, Sadie Savoy, Shoka, SkinniWini, Celia Sparks, Walter Sulenta, Fergus Tanaka, Toad, Darcy Totten, Vicky Schlepp, Justin Visser, Daniel Eric Wilson, Annie Wong, Emily York.
Comment: One of these soup-to-nuts kind of deals where just about anything goes. Entertaining overall, and not too shabby in its engagement factor, though you had to sift for the goodies. There was a television propped on the diagonal in an armchair, the head of Dr. Phil shopped onto the body of a huge-nippled sumo wrestler set against a neo-psychedelic backlit backdrop (somebody's crying out for therapy), a yellow caution light that people periodically stared blankly into, a curious contraption made out of miked-up dried thistles so that each thistle-tweak produced an amplified sound through speakers, and paintings, drawings, photographs, sculptures, doodads, dealie-bobs, gizmos, contrivances, and a culinary couple creatively concocting hors d'oeuvres in the kitchen.
Art.


Dr. Phil and the caution light.


Audio thistle.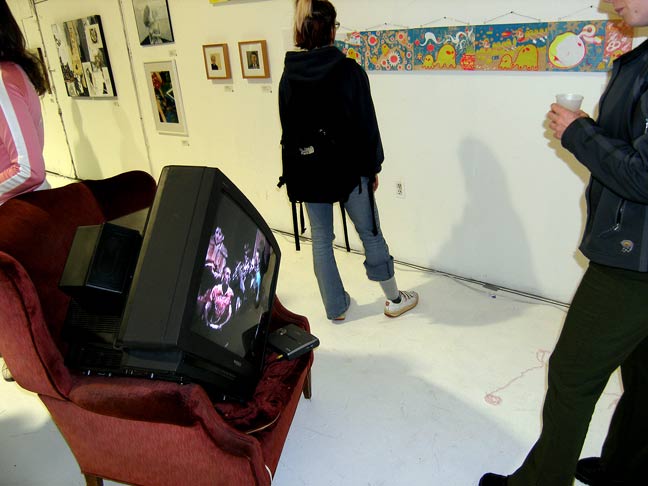 Cockeyed TV.


Art.


Pick.


Art.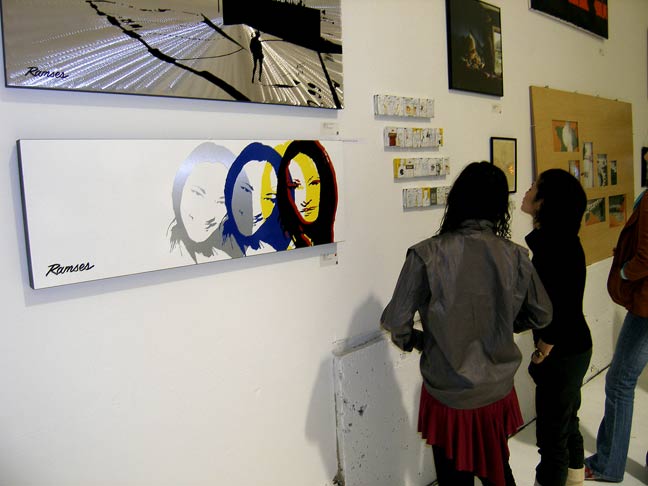 Art.


Art.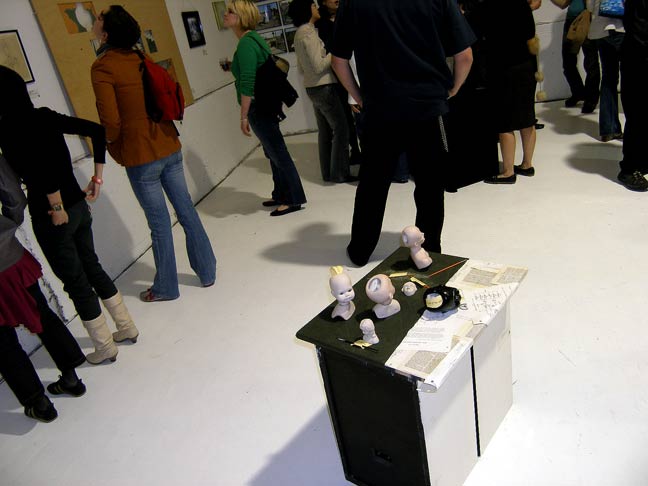 Art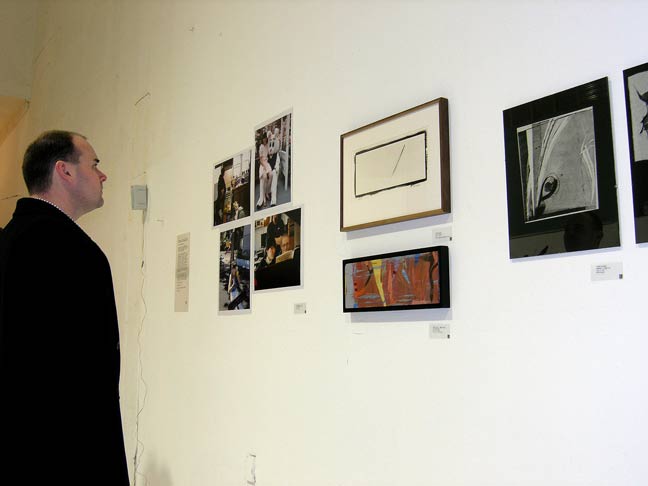 Art.


Aerial.


Welcome mat.


***
San Francisco Art Institute: Annual Art Auction.
Donors: Aurobora Press, Andrea Schwartz Gallery, Bobbie Greenfield Gallery, Braunstein/Quay Gallery, Catharine Clark Gallery, Charles Campbell Gallery, Crown Point Press, Dolby Chadwick Gallery, Fraenkel Gallery, Gallery Paule Anglim, Hackett Freedman Gallery, Haines Gallery, John Berggruen Gallery, K Kimpton Contemporary Art, Marcel Sitcoske Gallery, Linda Fairchild Contemporary Art, Paulson Press, Richard Levy Gallery, Stephen Wirtz Gallery, Toomey Tourell Gallery, Traywick Contemporary, Trillium Press, more.
Comment: Your chance to bid on some pretty spiffy art by some pretty well-known artists, swill with the swells, and hob with the nobs. The place was packed, bidding was heated, art was selling faster than a greased quark ignoring the speed limit in the Stanford Linear Accelerator. And, of course, plenty to eat and drink for those compromised by abdominal vacuity. One of San Francisco's better art parties. A hundred bucks gets you through the door, and all for a great cause... assuming you believe that painting is dead.
Live auction.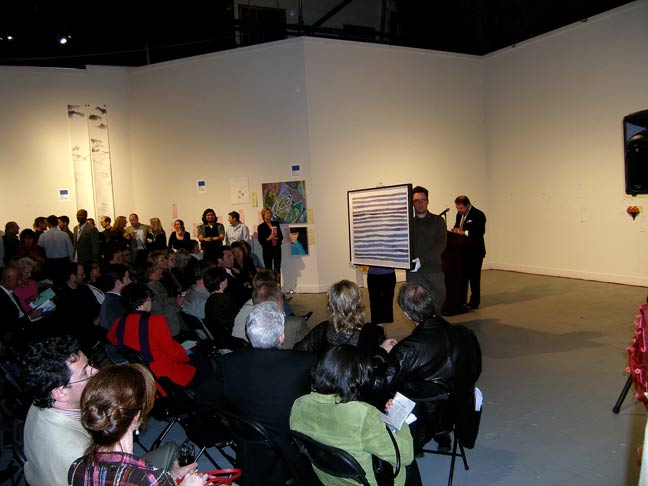 Live auction


Art.


Art.


Silent auction bidding.


Art.


Art.


Selection process nears completion.


***
Addendum:
Brian Barneclo and Greg Galinsky live painting at House of Shields.


Ferris Plock breaks from live painting at House of Shields.