SAN FRANCISCO ART GALLERIES - OPENINGS
BUCHEON - MICAELA - JACK HANLEY GALLERY
PING PONG - MINA DRESDEN GALLERY
HARDWARE STORE GALLERY - PORCELYNNE
04.06.07
Bucheon Gallery: Dave McDermott and Timothy Hull -Until I Know the Pattern.
Comment: Of interest here, Dave McDermott ennobles depressingly unmemorable cityscape and landscape photographs by substituting select details with colorful upbeat accents, thereby rescuing the images from oblivion and evolving them into art. Gets you thinking about what uninspiring environments might look like if anybody took the time to care. Extra added bonus-- the exercise is kinda like graffiti-ization with no downside. In fact, graffiti artists might co-opt the methodology by photographing blank walls, printing the images large, and plying their trade portable-style for their legions to own and appreciate. Timothy Marvel Hull, meanwhile (and among other things), replaces regions of maps with bright angular stripe fields making for a festive witty twist on cartography. The magnum opus of the show is a curious quilt-like appurtenance comprised of multicolor fluff balls by Dave McDermott.
Art (Timothy Hull).


Art (Timothy Hull).


Art (Timothy Hull).


Allergy art (Dave McDermott).


Art (Dave McDermott).


Art (Dave McDermott).


Art (Dave McDermott).


***
Micaela Gallery: Martine Jardel - Sites.
Comment: According to Martine Jardel's statement, paintbrushes are too masculine, so she feminizes her work with rags, knives, fingers, sticks, drips, and the like. The upshot is shimmering abstract irridescence.
Art.


Art.


Art.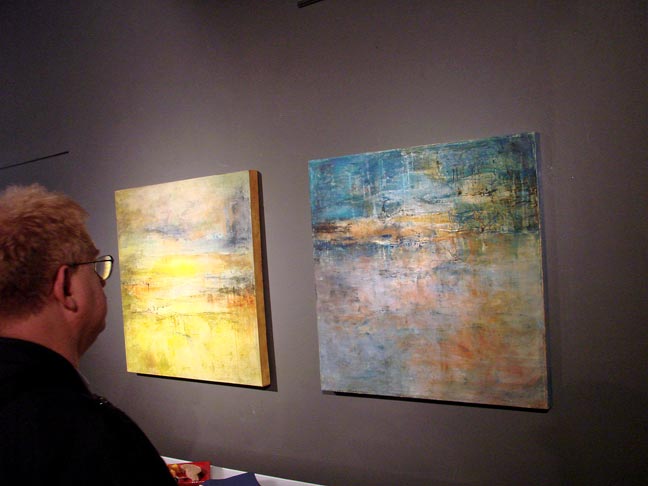 Art.


***
Jack Hanley Gallery: Keegan McHargue - The Yellow Spectrum.
Comment: The gallery floor is painted electric yellow for the exhibition; you can hardly keep your eyes off it in spite of stiff competition from Keegan McHargue's resplendent imaginative articulate soft-toned surrealesque genre-logues. But my eyes meander toward the rate schedule to see that McHargue-- born in 1982 which when you do the math ensconces him firmly in the 25 to 26 year-old age bracket-- currently tops at $22K. Now we all know there's no such thing as art prodigies-- only art promises. And promises in artland take decades to fulfill. I often marvel at the rush to break the bank by speculatively pre-pricing prognostications of fame and fortune as though they've already come to pass. I say give precocious dudes like McHargue room to stride steady and successful without piling on price pressures. It's a long game, my lovelies, a long game indeed, and there's no fudging the finish line.
Art.


Art.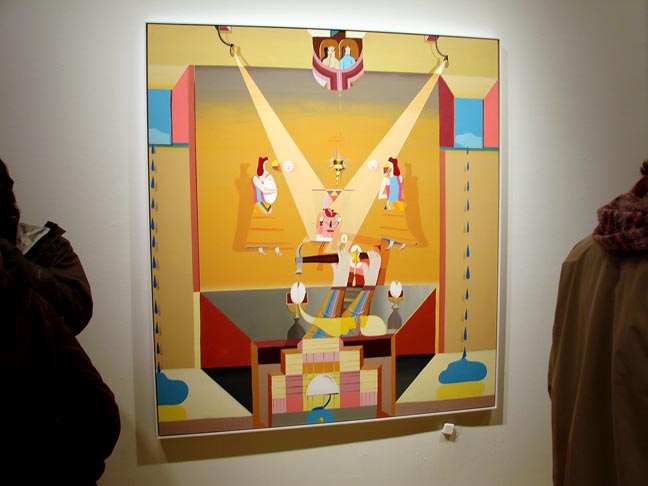 Art.


Keegan McHargue (right) & associate out front.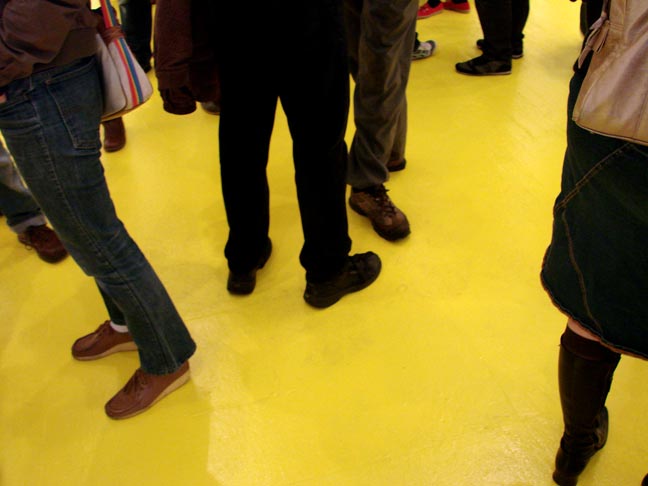 Floor show.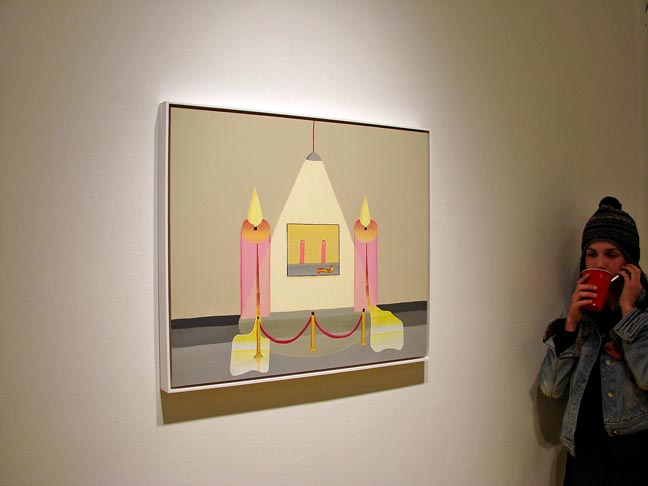 Art.


Art.


Art.


Art.


Art.


***
Ping Pong Gallery: Jeff Eisenberg - Automatic Transmissions.
Comment: Jeff Eisenberg tells me he does automatic writing to get himself in the mood to make art (if I recall correctly), and then proceeds to perpetrate crisp deliberate colored pencil drawings on layers of translucent mylar (averaging 5 layers per drawing), resulting in dreamy science fiction landscapes with subtle dimensionality. Entirely competent and worth a look.
Art.


Art.


Jeff Eisenberg - art.


Art.


Art.


***
Addendum:
Krzysztof Krzysztof figure drawings at Mina Dresden Gallery.


More Krzysztof Krzysztof drawings at Mina Dresden Gallery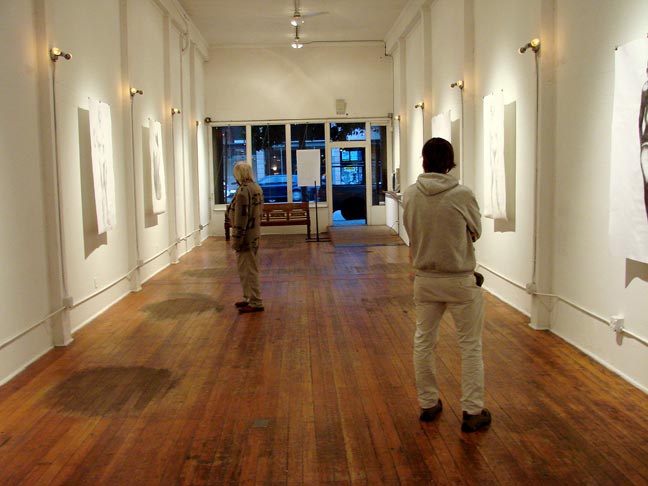 Mina Dresden Gallery facing East.


Chandra Baerg paintings at Porcelynne Boutique and Gallery.


Another Chandra Baerg paintings at Porcelynne.


Porcelynne Boutique and Gallery.


Lillian Cartwright works on paper at Hardware Store Gallery.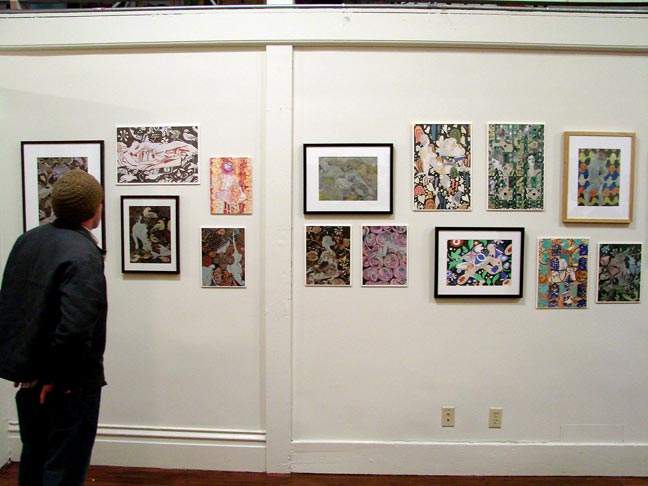 One more Lillian Cartwright at Hardware Store Gallery.


***