SAN FRANCISCO ART GALLERY OPENINGS
RENA BRANSTEN - LARRY EVANS - LISA DENT GALLERY
RATIO 3 - ARC CAFE - MAIRE RUA HAIR SALON
TRIPTYCH - PATRONS OF ART - CRUCIBLE STEEL
CALIFORNIA MODERN - GERAS TOUSIGNANT GALLERY
LIVE WORMS - SCULPTURESITE GALLERY - RED INK STUDIOS
04.13-15.06
Rena Bransten Gallery: Vik Muniz - Bulfinch's Recycling Yard, Vik Muniz Pictures of Junk.
Comment: Vik Muniz arranges junkyard scrap into rusty renditions of Old Master paintings of Greek and Roman gods by artists like Titian and Velasquez. Well, he doesn't actually arrange it himself; he's on a scaffold maybe 75 feet off the ground directing assistants to arrange it for him-- major junk-- everything from nuts and bolts to old washing machines, computer monitors, fifty-five gallon drums, truck tires, machinery, and even a piano. (An entertaining time-lapse video of one composition's arrangement process plays on endless loop in the back left room.)
When the debris designating is done, Muniz photographs his junksterpieces, super sizes 'em up in editions of ten prints each (priced $28K), and that's the show. The premise works, using the inevitable impermanence of material culture to comment on the cyclic nature of great civilizations. Between you and me, I think this category of debris is too unwieldy to arrange accurately; the results are uneven, some images requiring more effort to resolve than I care to expend on expensive art. Engaging yes; consummate no. But you gotta hand it to Muniz for tackling AND completing these dauntingly difficult deadweight donkeywork dealie-bob consolidations.
Art.


Art.


Vic Muniz (center).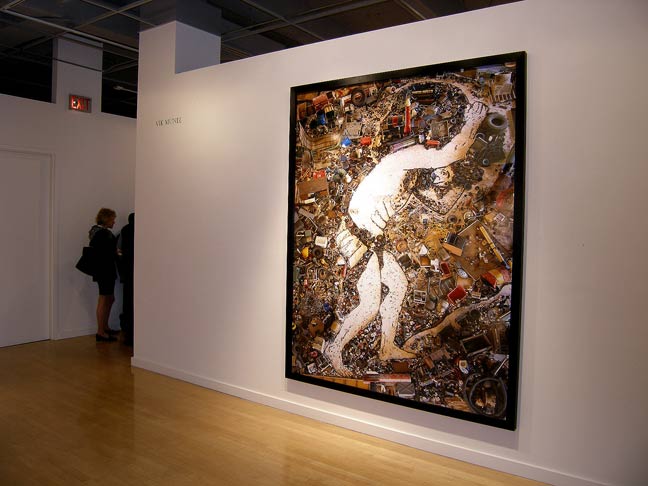 Art.


***
Larry Evans Gallery: Charles Brown - New Work.
Comment: Trompe l'oeil paintings of mineral spheres (and one of ivory spheres) floating against black backgrounds, looking kinda like planets. Most compositions are variously lit random groupings with overlay; several show single spheres, one shows a row of spheres. Effective illusion; mildly mystical in essence.
Art.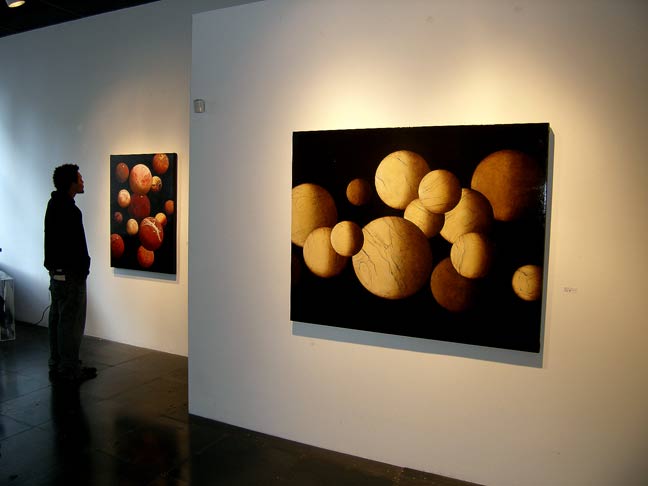 Art.


Art.


Charles Brown - art.


Art.


Art.


***
Lisa Dent Gallery: Thomas Chang - Selected Works.
Comment: Working as a docent at the former Angel Island Immigration Station (the West Coast version of Ellis Island), Thomas Chang noticed historical underpinnings and evolving continuities in the ways we perceive immigrants and ethnicity. He presents his findings in a series of Immigration Station photographs, some accessorized, some with posed mannequins in traditional Chinese garb, all effectively portending hard life in a new land.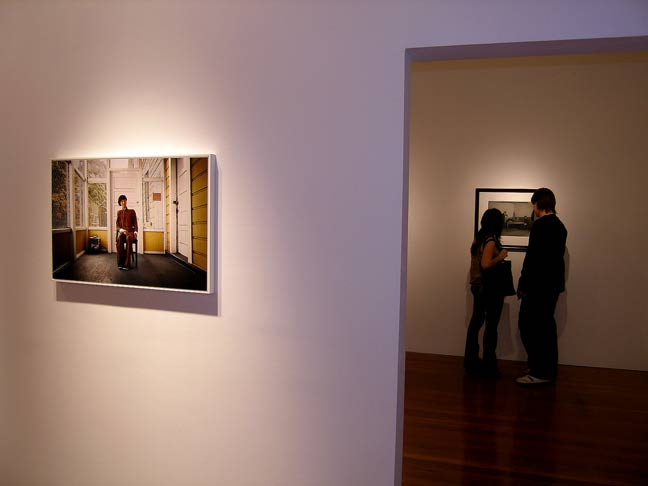 Photography.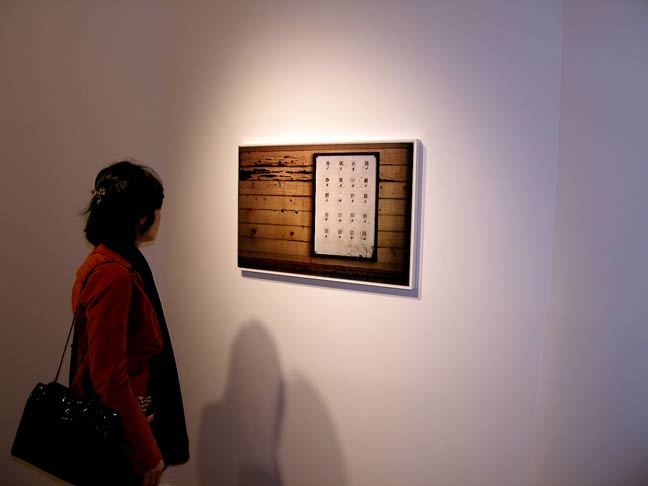 Photo.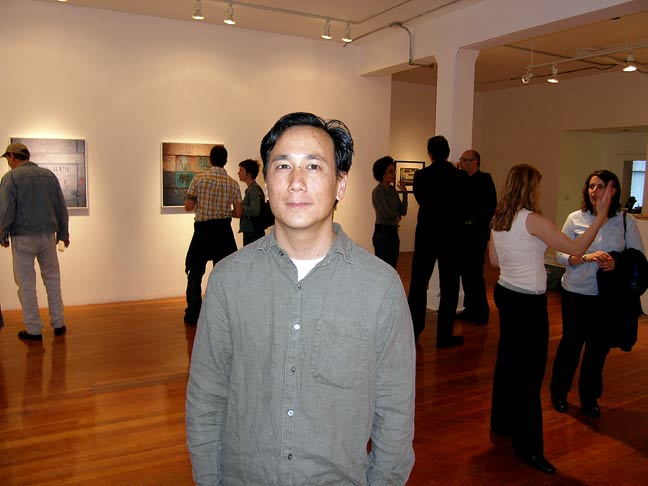 Thomas Chang.


Photographs.


Imagery.


Photography.


***
Ratio 3 Gallery: Lutz Bacher - Organic.
Comment: The press release is in the form of a "No Subject" email from Lutz Bacher to Ratio 3 CEO Chris Perez, dated March 3, 2006, reading "yes let's do it! -- what are we getting into? -- maybe timothy leary followed by 10 minutes of nothing!" So it's a video, I get there during the "nothing" part which, true to the email, lasts about 10 minutes. Then the "something" part starts, and it's kind of like nothing part, except slightly more.
Then I ask Lutz Bacher if she's the artist and she tells me she is. Or maybe first I ask this dude if he's the artist and he says "no," points to Bacher, and tells me she's the artist. Whatever. Anyway, I introduce myself to Bacher, profess unmitigated cluelessness and petition for guidance. She tells me Timothy Leary has nothing to do with the video. I tell her I used to occasionaly see Leary at art events (usually flanked by babes, but I didn't tell her that part because it's irrelevant). Now knowing what the video isn't about, but still wanting on what it is about, I ask the obvious. "Well, what's the video about?" She says it's a compilation of nothings, kind of a suma of nothings. "I suppose that's something," I reply. She agrees.
Nothing.


Nothing.


Something.


Something.


Lutz Bacher (center).


***
Arc Cafe: Mistakes Is What Makes It - A Resurrection of Failed or Broken Photography.
Artists: Jamie Atherton, Joshua Churchill, Brook Dillon, Indra Dunis, Eve Ekman, Massan Fluker, Mariah Gardner, Lars Knudson, Amanda Lopez, Archie McKay, Donal Mosher, Dave Potes, Durward Rackleff, Heather Russ, Sophia Wang.
Comment: It starts out as a mistake, but then you look at it again and maybe it's really a lucky accident, a fortuitous twist of fate, an oblique opportunity to assimilate miscue into mastery. Good show.
Photography.


Photos.


Images.


Photographs.


Layout partial.


***
Maire Rua Hair Salon, 798 Haight St., San Francisco, CA 94117; (415) 626-6674: Ron Travelletti.
Comment: Drawing, collage, and assemblage; clean, kicky, upbeat, and real reasonable-- most $150 - $200.
Art.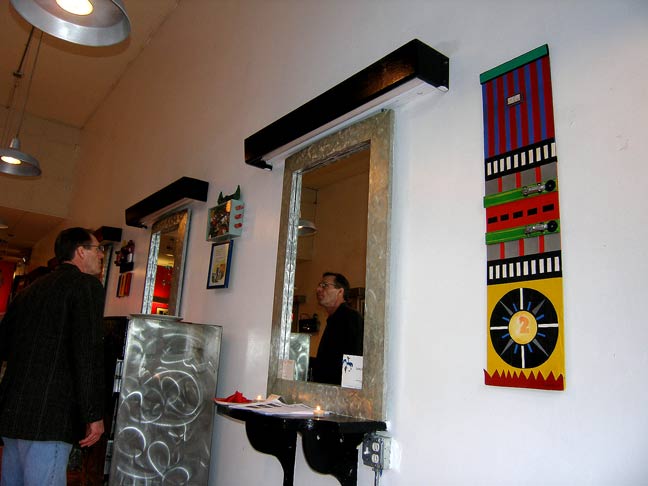 Art.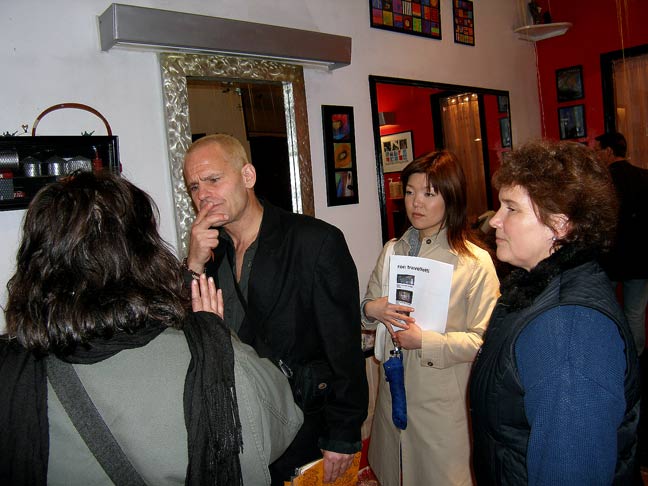 Ron Travelletti (left center).


Art.


Circumstance.


***
Addendum:


Beth Grundvig pastelscapes at Triptych Restaurant.


Tom Erikson photography at Triptych Restaurant.


Paul Baker and science art at Patrons of Art.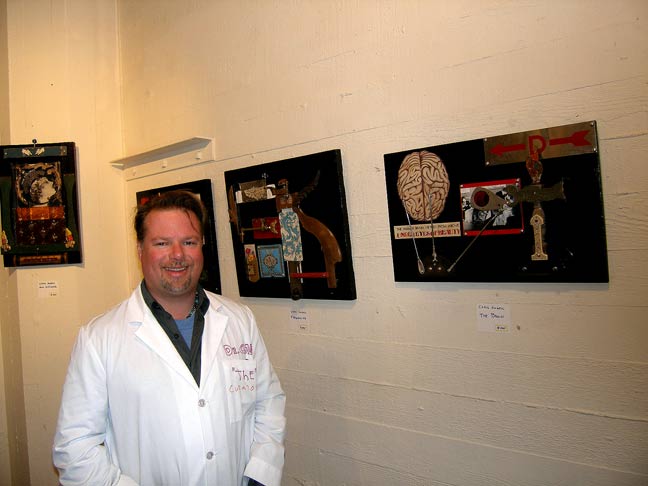 Another from Patrons of Art (that's curator James Cloer).


One more from Patrons of Art.
(The lab coats are cuz the show's science-related.)


Group show at Crucible Steel Gallery
Saddam's Beard art (right - like it).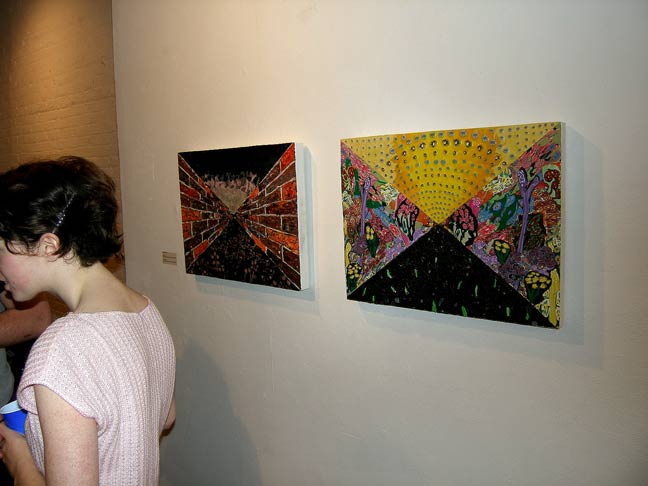 Another from Crucible Steel Gallery (at Cell Space).


Last one from Crucible Steel (RISD grad artists, mainly).


Susan Mall photographs at California Modern Gallery.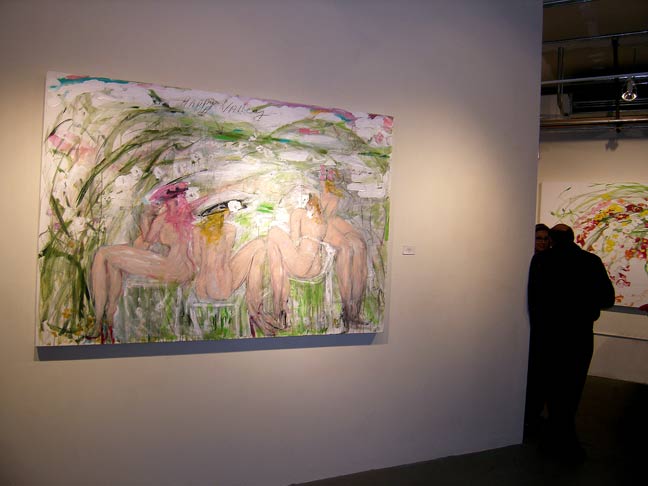 Barbara Brooker paintings at California Modern Gallery.


Daniel Tousignant at Geras Tousignant Gallery.


Birch bark on black art at Geras Tousignant Gallery.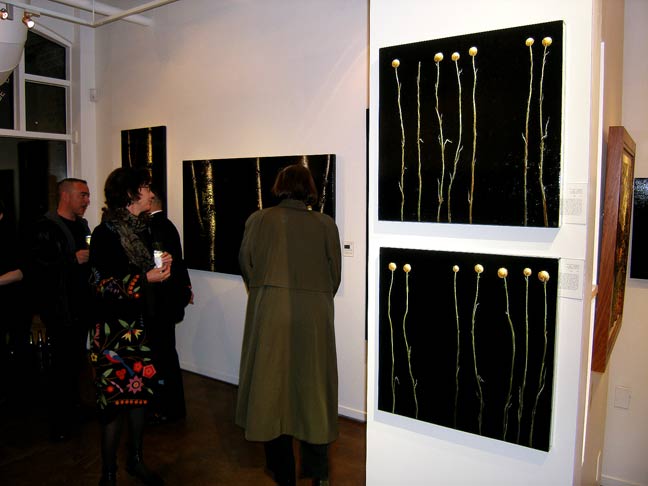 Last one from Geras Tousignant Gallery.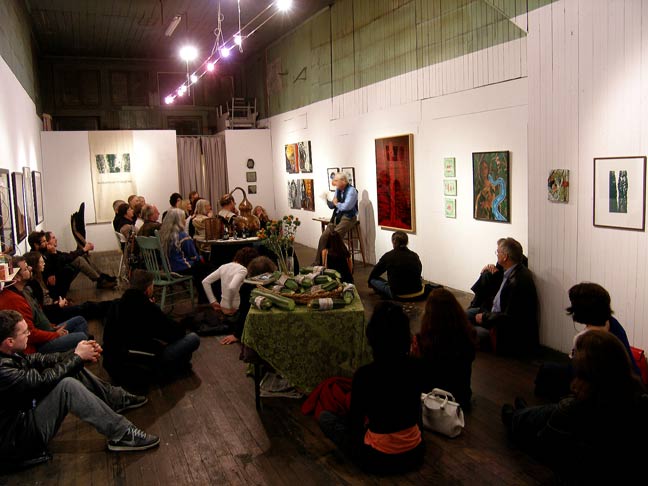 Botanical art + a rambling Ralph Metzner, Ph.D. disquisition
at Live Worms Gallery.


Art + Ralph Metzner rap cont. at Live Worms Gallery.


Art + listening to Ralph Metzner rap cont. at Live Worms.


William Wareham sculpture at Sculpturesite Gallery.


William Wareham - sculpture at Sculpturesite Gallery.


Last William Wareham at Sculpturesite Gallery


David DeRosa - art at Red Ink Studios.


***