SAN FRANCISCO GALLERY OPENINGS
SUPERVISOR ROSS MIRKARIMI - YERBA BUENA CENTER FOR THE ARTS
LOW GALLERY - WOODWARD FLATS - NEEDLES & PENS
JUICE DESIGN - ROCKET WORLD - MEZZANINE
04.15-16.05
Supervisor Ross Mirkarimi: Andrew Schoultz - Paintings & Drawings.
Comment: Supervisor Ross Mirkarimi takes up where Matt Gonzalez left off, continuing to give the gift of monthly art shows at City Hall. San Francisco's art community is as fortunate to have these shows as Mirkarimi is generous to give them, even though he's likely not as close to artists and art people as Gonzalez was. So artsters, that means it's your job to get him close, make him a believer, and show him how artists perk a town.
This month's featured artist is Andrew Schoultz. I can only say good things about Schoultz-- he's fearlessly dedicated to his art, he keeps on churnin' out the product, and it's all good. He's on his way up and we get to watch as he begins to show in New York and faraway art places like that. His prices are on the way up too, but good quality smaller works can still be had for $400-$800.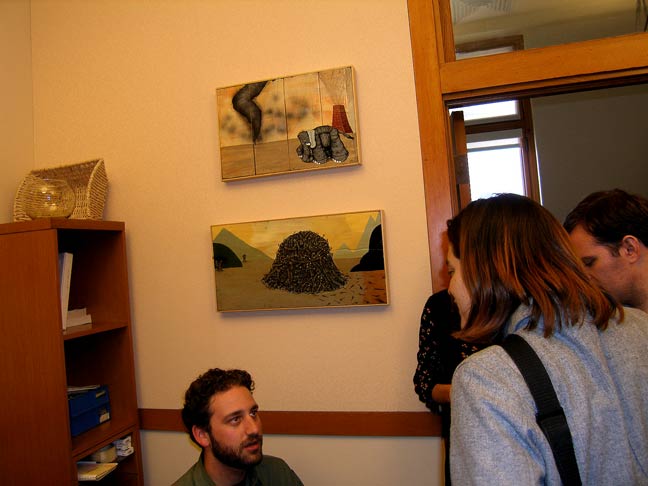 Art.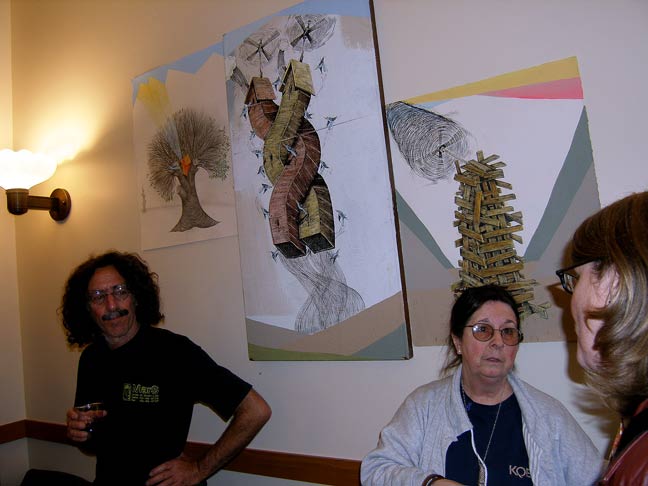 Art.


Andrew Schoultz - art.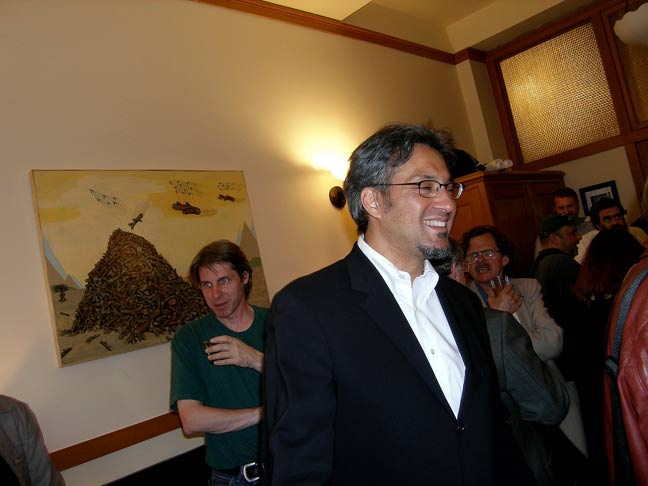 Supervisor Ross Mirkarimi.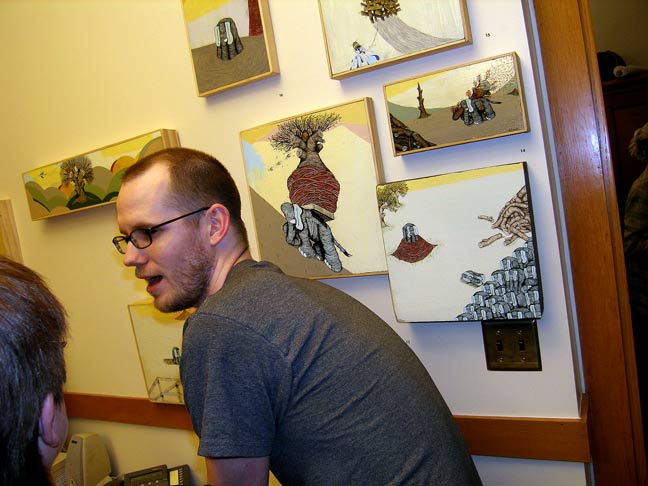 Art.


Art.


Art.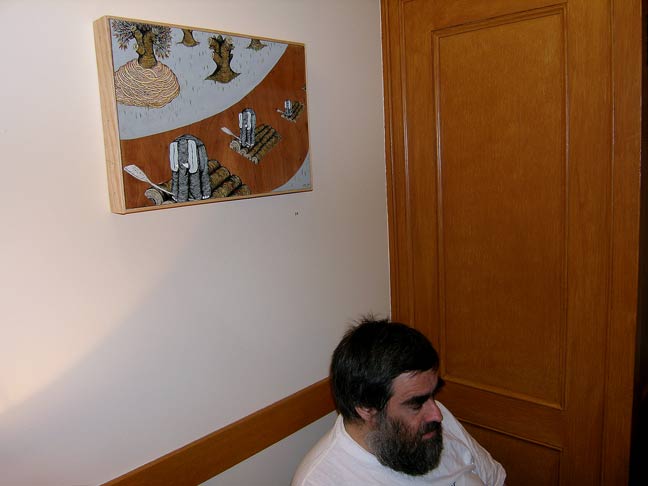 Art.


***
Yerba Buena Center for the Arts: Perfect Spaces - Pictures and Films by Oliver Boberg; Visual Aid at Sixteen with David Cannon Dashiell's Queer Mysteries; The Museum of the Lost Artwork - New Work by Robert Kusmirowski.
Comment: Another fun triple-header from YBCA, and that's what's great about this museum-- they make art fun-- even serious art. More importantly, they make art accessible. (How can you know it's fun if it's not accessible?) And they play to a younger audience, which is brilliant because younger people frequently get older, plus some of them get really rich and successful, and when that happens, you don't want them wasting all their discretionary capital on Ferraris, thoroughbreds, Presidential Suites at the Ritz, and tripe like that. So, OK. Let's talk art.
You know those videos of fish swimming around in fishbowls that you buy for your cat and then play on the TV? Well, that's what Oliver Boberg makes, except they're for people. He constructs scale model dioramas, usually nondescript generic industrial or street scenes, and then either takes still photographs or makes videos of them. His work is near perfect-- you can't tell his mock-ups from the real thing, but they're better than the real thing because Boberg completely controls the outcomes. The results are idyllic mini-meditations on reality, places you can go to be at complete peace where you know exactly what happens forever and ever and ever.
Robert Kusmirowski transforms a large room. He covers a third of the floor with dirt, props it with several dead schrubs and a large wooden packing crate set on its end. On the far wall center, he constructs a plain white frame that looks like a fireplace mantle. Then, according to the crib sheet, he glues a fly in the center of that framed blank wall space-- you can see a tiny black dot there with the naked eye, but you can't make out what it is. You're supposed to be able to see the fly in detail through a telescope positioned at the opposite end of the room, but you can't because something's wrong with the scope's focus or position. Kusmirowski can't fix the scope himself because he's standing motionless on top of the upended packing crate, wearing only a loincloth, all painted up like a weathered marble sculpture, holding a sceptre, butt cheeks to the viewers. But back to the fly, next time Kusmirowski should show an assistant how to reset the scope, unless, of course, the crippled scope is a meaning-infused ruse, in which case, he got me-- and everybody else who struggled to see the fly. The installation's got messages, mainly specific to Kusmirowski's native Poland, but you don't need those to enjoy and appreciate the imagination and effort that went into creating it.
David Cannon Dashiell used a series of Pompeian frescoes as the skeletal structure for his roomful of oversized reverse paintings on plexiglass showing people either doing really strange things to each other or engaged in solo acts of equivalent strangeness, many of those acts being highly sexually charged. It's sort of a raunched up version of Fornicon by Tomi Ungerer (Grove Press, New York, 1969).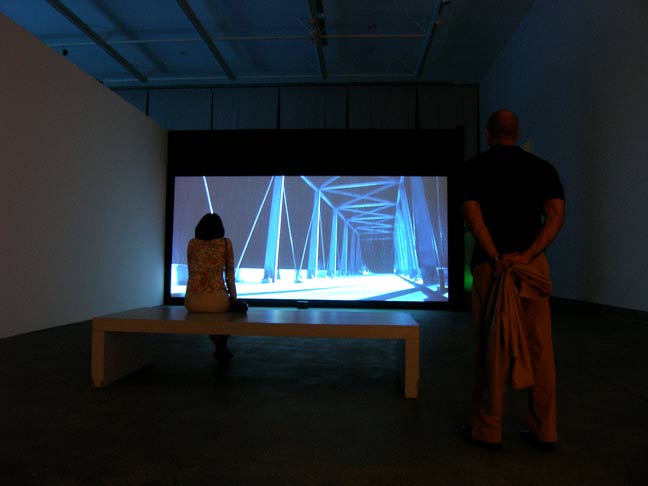 Video art (Oliver Boberg).


Video art (Oliver Boberg).


Watching video art (Oliver Boberg).


Photography (Oliver Boberg).


Photography (Oliver Boberg).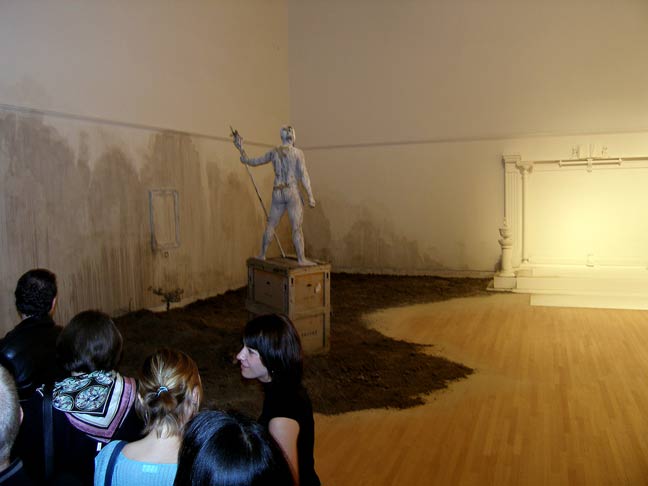 Installation art (Robert Kusmirowski).


Trying to see the ferkin' fly (Robert Kusmirowski).


Installation art (Robert Kusmirowski).


Art (David Cannon Dashiell).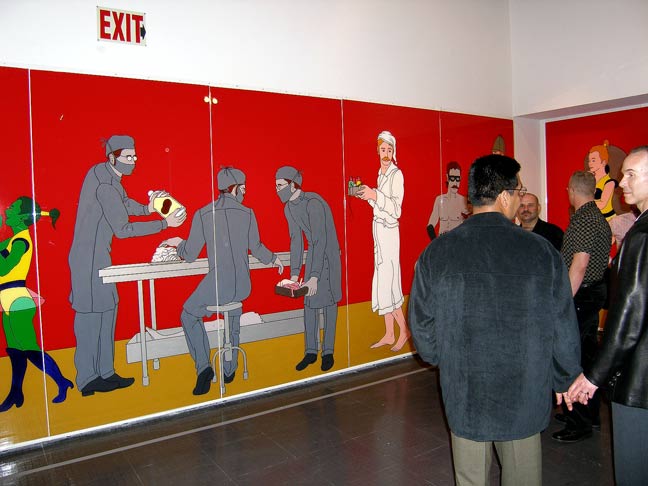 Art (David Cannon Dashiell).


Artist Horea with his installation, "The Engagement."


Part of the "Visual Aid at Sixteen" show.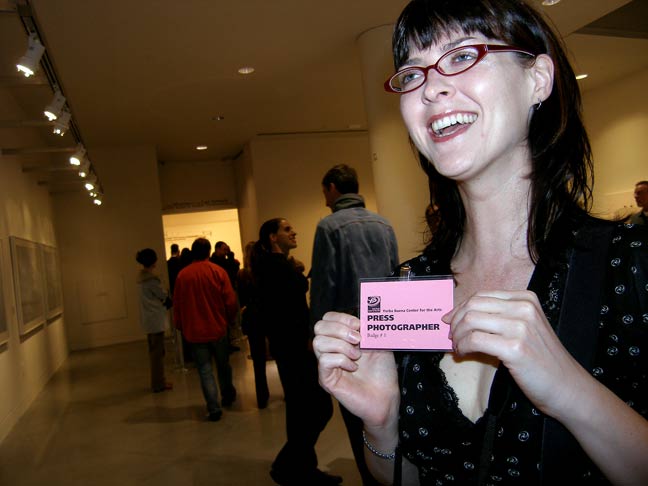 Ert O'Hara from Fecal Face Dot Com gets her first press pass.


Not sure.


***
Low Gallery: Braille - New Works by Kyle Ranson.
Comment: Kyle Ranson paints the room, and then fills it with paintings and drawings. And-- here's a great idea-- large portions of two of his wall paintings are actually removable, so that instead of having to be painted over for the next show, they can be saved for another day. Ranson's art has been getting fuller, thicker, meatier (or vegetablier for the vegans, or breatharier for the breatharians, or whatever-- you have to be so all-inclusive these days), meaning that it just plain has more of everything it's always had. Color drawings for $65; nice paintings for $250-$500. Keep it affordable y'all; never forget that people of modest means like art too.
Art.


Kyle Ranson (left) - Brad K. Alder.


Art.


Art.


***
Woodward Flats: Infinite Horizons - New Work by Isaac Lin.
Comment: Precise complicated calligraphic exercises by Isaac Lin, both painted and silkscreened, similar to the work of Ulfert Wilke (the ones toward the bottom of this link, that is). In the front room, The Record Collector is showing art by John Dwyer.
Art (Isaac Lin).


Isaac Lin - art.


Art (Isaac Lin).


Art (John Dwyer).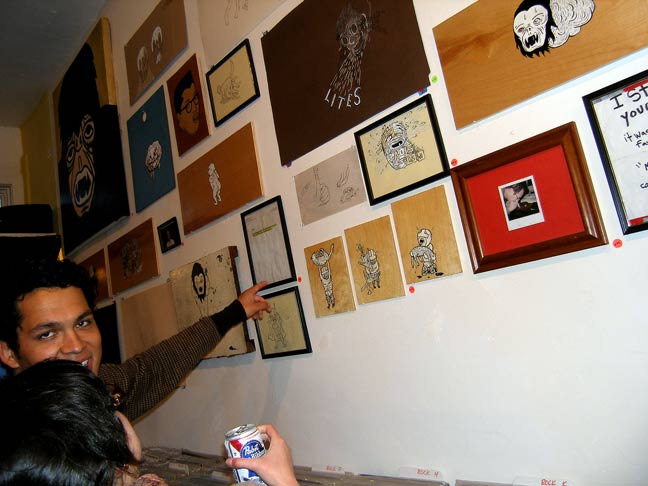 Art (John Dwyer).


***
Needles & Pens: New Work by David Benzler with Aaron Curry and Seth Childs.
Comment: A little bit of everything-- paintings, drawings, video. The larger works on paper are pretty tasty, plus the video holds my attention. (Time now for a soapbox moment: Much of the video art I see is so terminally boring I can't believe doctors haven't figured out how to use it to treat insomnia. Hint to video artists-- test it on your friends before you go public.) Art prices start at 20 bucks. Buy now; worth it.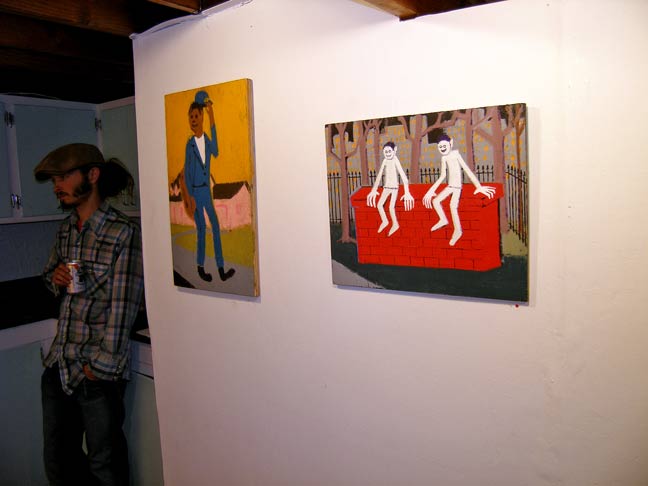 Art.


Art.


Art.


Art.


14th St. Freakout.


***
Juice Design: Art4Tibet, a Benefit Art Show for Students for a Free Tibet.
Comment: Fundraiser auction for Students for a Free Tibet with lots of art by lots of name artists, pretty much all pieces with delightfully low minimum bids. Bargains were likely had here. Artists included Shepard Fairey, Chris Duncan, Mike Maxwell, Aaron Terry, Thom Lessner, Ian Lyman, Howie Tsui, Alex Digard, Isabel Samaras, JK5, South, Upso, Kayana, David Fenton, and lots more.
Art.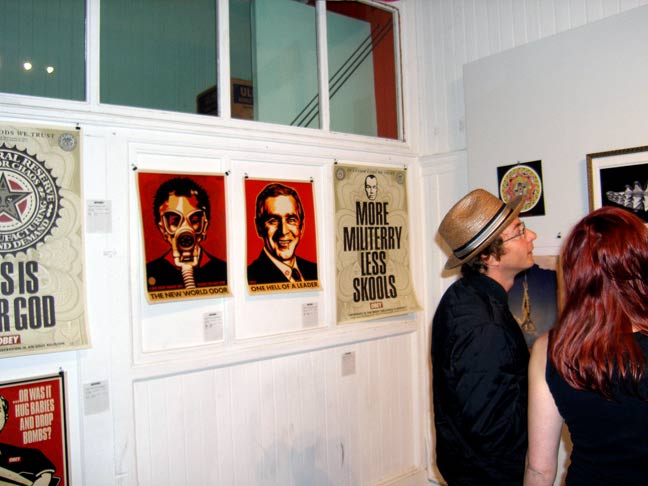 Art.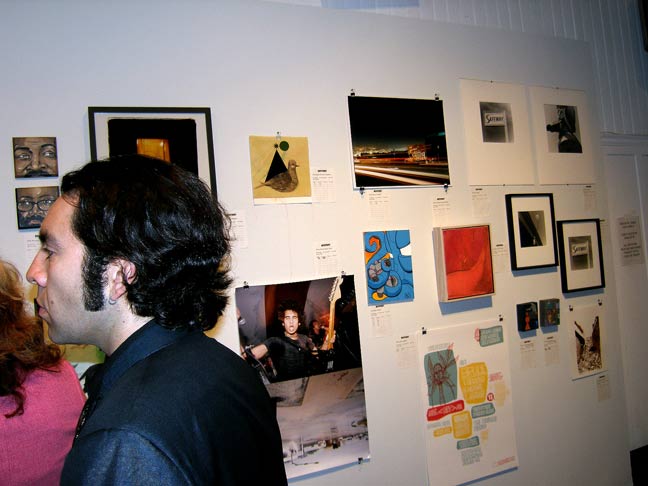 Art.


***
Rocket World Gallery: POP vs SODA.
Artists: Babsi, Brin Berliner, BB. Birdy, Eric Broers, Sam Borkson, Antoinette Celes, Dora D., Joshua Ellingson, Brian Flynn, Saphryn Follicle, Steve Forde, Brian Forde, Shiro Fujioka, David Horvath, Kid Robot, Aaron Lazansky, Sun Min Kim, Patrick Ma, Magmo the Destroyer, Mark Nagata, Keith Noordzy, Brandt Elling Peters, Juel Nafala, Kathie Olivas, Nathalie Roland, Tony Shiau, Brandon Sopinsky, Colin Stinson, Polly Taylor, Mr. Pickles.
Comment: Group show of pop art, sort of an outer space Japan mix including painting, sculpture, toys, vinyl, illustration, drawing, sleeping bags, Swiss Army knives, hi-tech lighted bicycle helmets, and so on-- all in a buffed up warehouse space way down Third Street.
Art.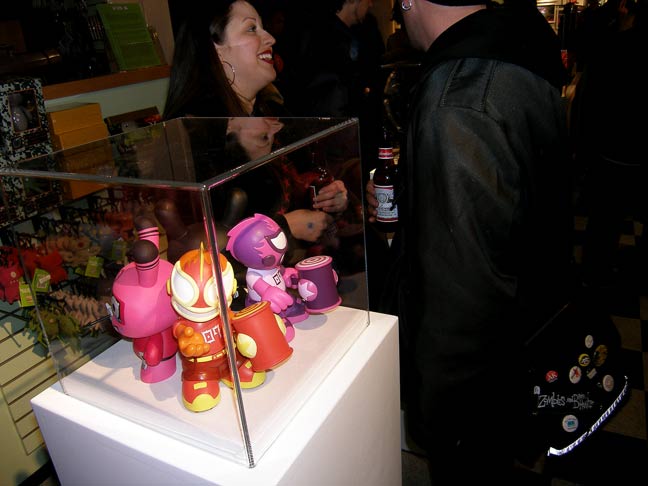 Art.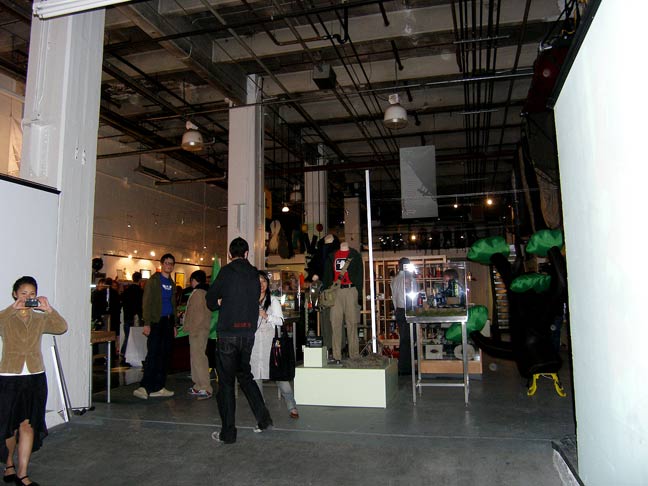 Layout.


***
Addendum: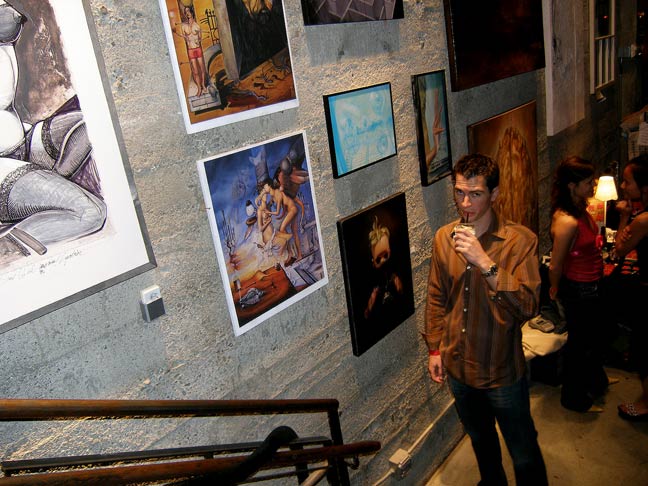 Chillin' 7th Anniversary Party at Mezzanine.


Art at Mezzanine.


Relative density at Mezzanine.