HAINES - CORDEN POTTS - ARTZONE 461 - FABRIC8

MARKET STREET - AIR CASTLE - SUPER 7

04.17.10

(with assistance from RWM)


***
Haines Gallery: Ai Weiwei.
Review by RWM: Conventions are thrown away here in artworks that defy expectations. The work is so unusual that it commands the gallery space and is sure to have you stopping to think what it is all about. Even those who are not in-the-know are likely to be impacted anyway.
Comment by AB: My fave? Ai Weiwei's "Snake Bag," an imposing super-sized gallery-length python of a piece made from 380 children's backpacks, a memorial to the thousands of children who died in the 2008 earthquake in Sichuan Province, China. It's all good here. Go see.
Backpack serpent art by Ai Weiwei (like it).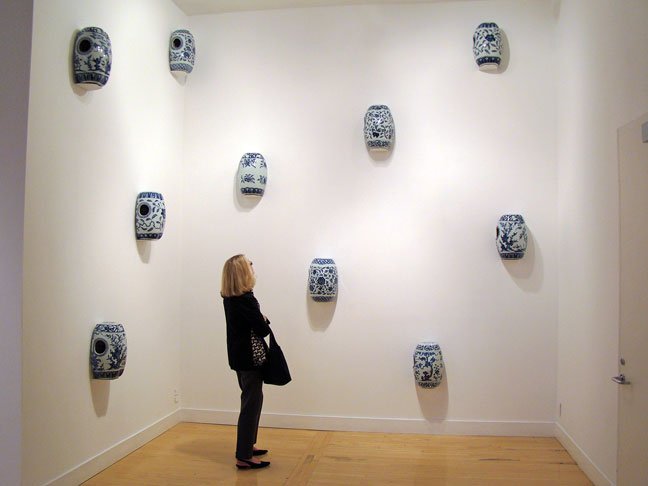 Porcelain art by Ai Weiwei.


Ai Weiwei art.


Porcelain fashion art by Ai Weiwei.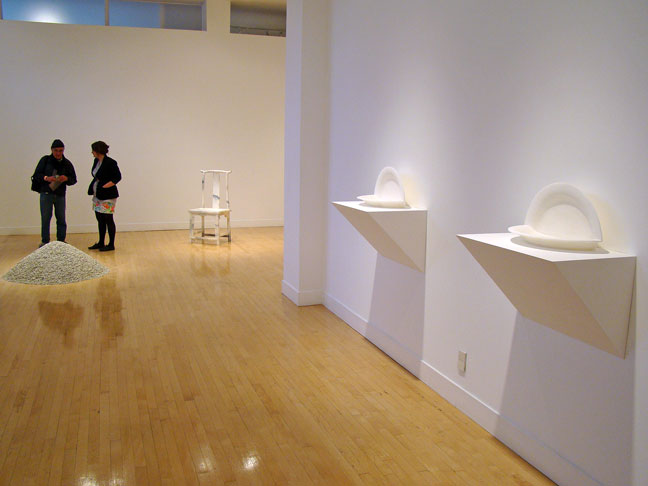 Art and installation by Ai Weiwei.


***
Corden Potts Gallery: In Roy Lichtenstein's Studio - Laurie Lambrecht.
Review by RWM: Nice to see photographs by Laurie Lambrecht that reveal the inner workings of Pop Art titan Roy Lichtenstein, depicted here painting his colorful and startling comic book images. It is almost like you are looking at an exhibition of his art, but other points are being made here.
Laurie Lambrecht and her photography.


Photographs by Laurie Lambrecht.


***
ArtZone 461 Gallery: Introductions 2010; Gordon Cook - Unseen, Works from a Family Collection.
Artists from Introductions: Jhina Alvarado, Randy Beckelheimer, Holly Downing, Heidi McDowell, Ryan Reynolds.
Comment by AB:In the main gallery, the debut showing of work by five artists. In the side gallery, a good solid retrospective selection of paintings, prints and works on paper by Gordon Cook.
Art by Gordon Cook.


Etchings and works on paper by Gordon Cook.


Gordon Cook art.


Art by Gordon Cook.


Vintage exhibition posters from life and career of Gordon Cook.


Group show in the main gallery.


Group show in the main gallery.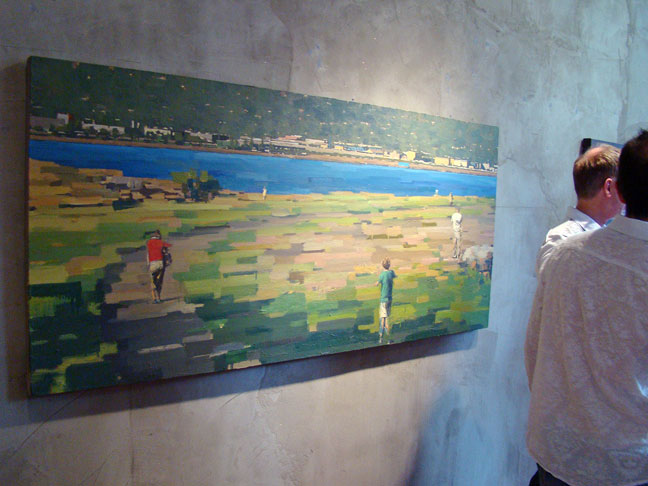 Art in the main gallery.


***
Fabric8 Gallery: Supernatural.
Artists: Sarah Coleman, Megan Wolfe, Kenneth Riley, Daryll Peirce, Brandon Dicks, Honey McMoney, Geoff Campen, Diana Ruiz, Maureen Shields, St. Monci, Zaldy Serrano, Andy Stattmiller.
Review by RWM: Quite a hodgepodge of work with all sorts of beings presented and emotions evoked. There are mermaids, insect swamis, fields, planes, and more. The diverse works are part alien, part wonderful, and part strange. Odd and disjointed, but something here for everyone.
Megan Wolfe and her art.


Quaint knickknack art.


Art.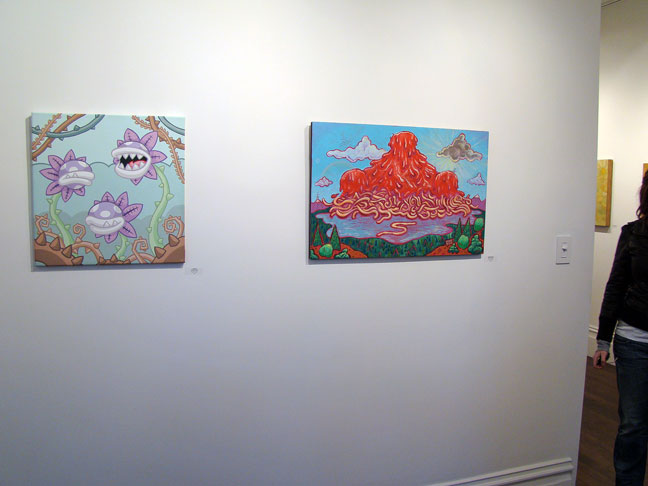 Art.


Art.


Party out back.


***
Market Street Gallery: Exquisite Corpse II Exhibition.
Artists: Vera Costa, Ymke Dioquino, Anna Efanova, Alexa Giron, Dilcia Giron, Mirena Rhee, Anna Taranenko.
Comment by AB: A little bit of this and a little bit of that, Surrealism being billed as the thread.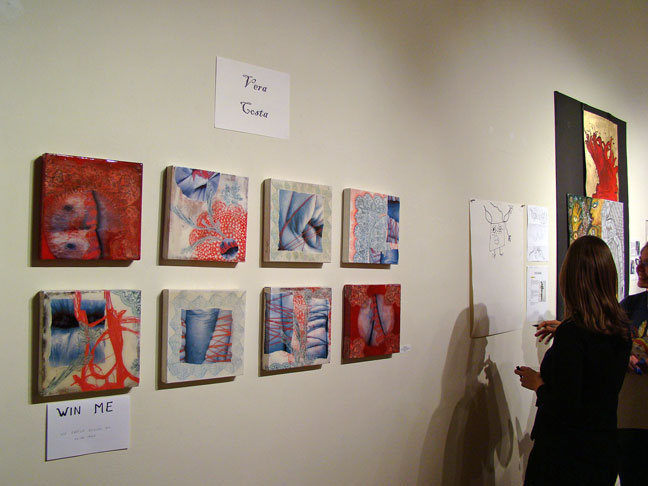 Art by Vera Costa.


Art.


Art by Dilcia Giron.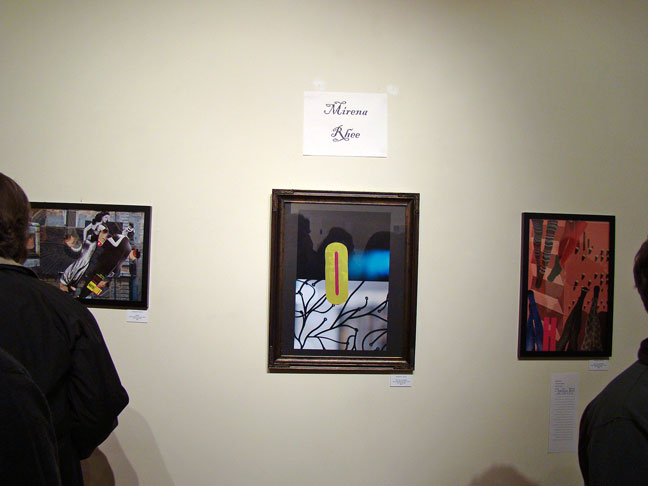 Art by Mirena Rhee.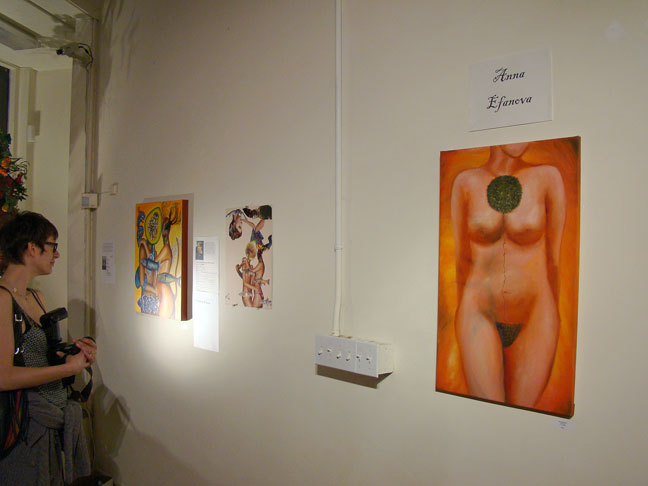 Art by Anna Efanova (right).


***
Air Castle Gallery: Ghost Ghost Teeth.
Review by RWM: Odd fantastical forms in green to surprise and inspire. You are likely to never have seen many of these odd beings.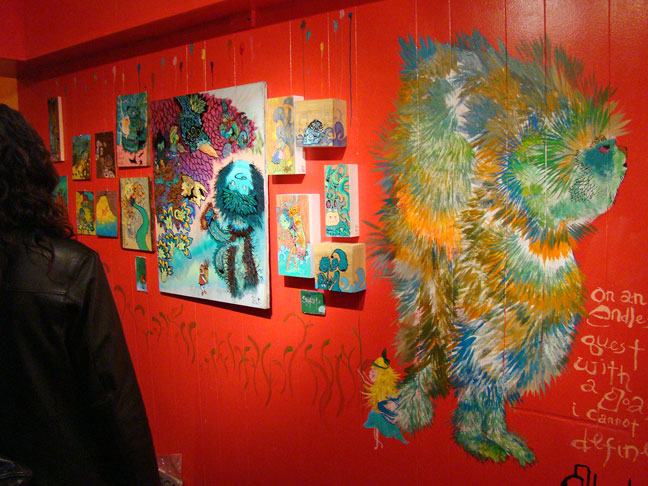 Ghost Ghost Teeth art.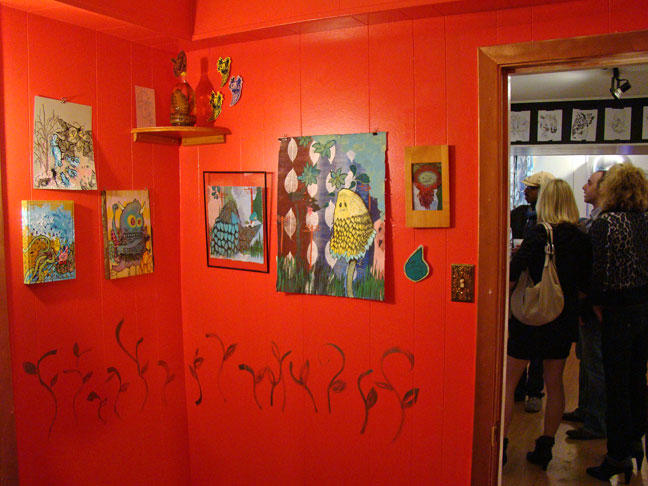 Ghost Ghost Teeth art.


***
Addendum:
Joshua Herbolsheimer art at Super 7 Store.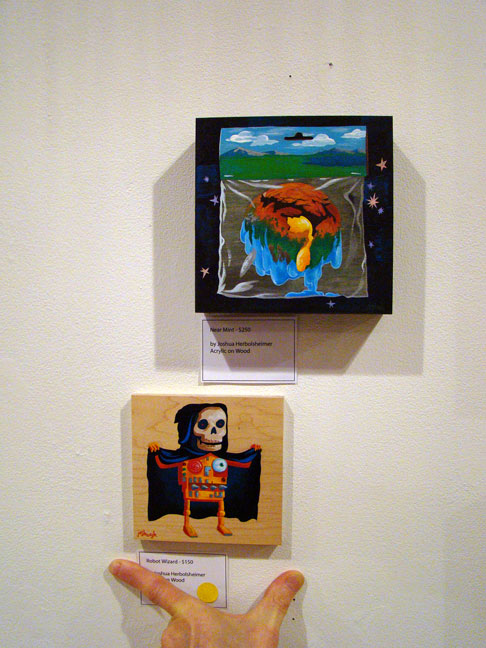 Art by Joshua Herbolsheimer closer - at Super 7 Store.


One more from Joshua Herbolsheimer show at Super 7 Store.


***