GET OUTTA TOWN, PART II
SANTA MONICA ART GALLERY OPENINGS
BERMAN TURNER PROJECTS - THE LOWE GALLERY
04.21.06
Berman Turner Projects: Queen of the Night - Dolls to the Walls.
Artists: Tom Akawie, John Altoon, Chris Anthony, Roxann Arwen Mills, Bill Barminski, Allison Behrstock, Susannah Bettag, Tiffany Bozic, Ray Caesar, Jeff Charbonneau & Eliza French, Tawd B. Dorenfeld, Hanna Dryland, Britt Ehringer, Ron English, James Gill, Irene Hardwicke-Olivieri, Lun*na Menoh, Raymond Pettibon, Amy Podmore, Alex Prager, Roland Reiss, Hannah Ruskin, Marla Rutherford, Ben Talbert, Ed Templeton, Arthur Tress, Masami Tsuchikawa, Stephan Von Huene, more.
Comment: The announcement describes the fare as "art inspired by the theme of women on the outskirts of reality," the event presented in two spaces, the West Gallery featuring primarily painting, sculpture and video, while the East Gallery shows photography. The West Gallery is a mix of vintage and contemporary, the most venerable piece being The Queen of Hearts, a 1963 oil on canvas by Ben Talbert (price on request). Also in the vintage category are several early Raymond Pettibon inks on paper (none for sale), two Roland Reiss paintings from 1970 ($5K and $6K), and a John Altoon ink on paper (not for sale). Matthew's Heroine, an 8 by 4 foot acrylic on maple panel by Tiffany Bozic anchors the room ($14K). Considering that you've got all kinds of art by all kinds of artists in a variety of styles and mediums from a variety of time periods, the agglomerate's respectably cohesive and on point.
The East Gallery is all photos, mostly new work, tightly presented, pinnacled by Alex Prager's action oriented surreal-lite portraits and genre pieces ($850/$1300 mounted & framed), and Chris Anthony's macabre allegorical oblong expository portraiture ($3K-$4K). All good. Both galleries are so packed you can hardly move (thankfully, only white wine is served), and the anthropoid visuals abundantly rival the art in every conceivable aspect.
I'm also including, at no additional charge, an image from the Don Sorenson retrospective of jagged electric overlay abstracts dating from the seventies through the early 1980's. The show opens Saturday, April 22, 2006.
Photography (Alex Prager).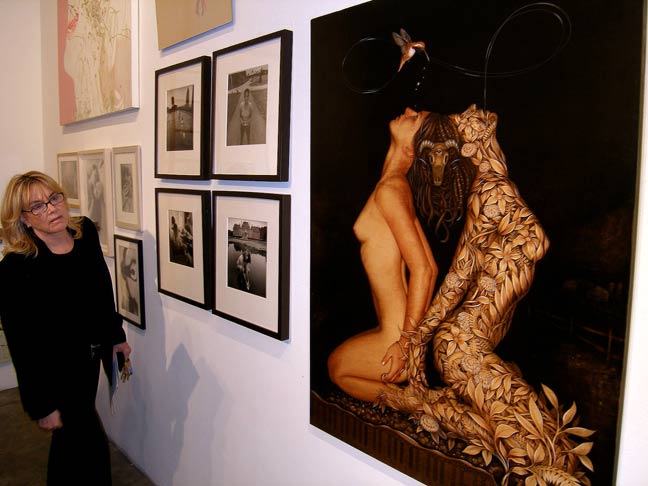 Art (Tiffany Bozic, foreground - nice).


Art (Bill Barminski).


What it is.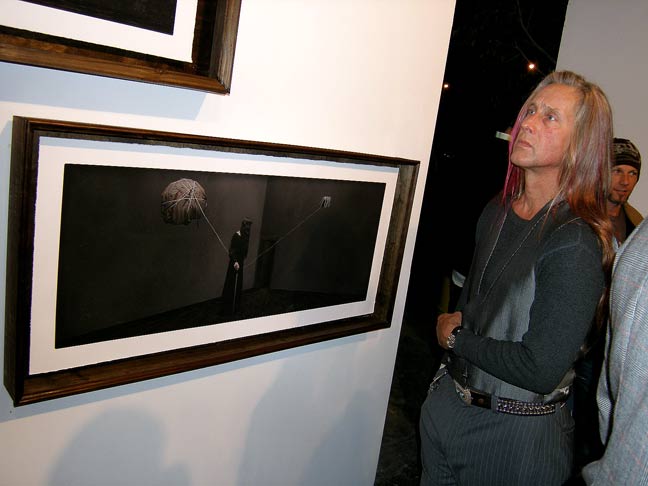 Photography (Chris Anthony - like it).


Robert Berman (owner) - Elk (curator).


Photography.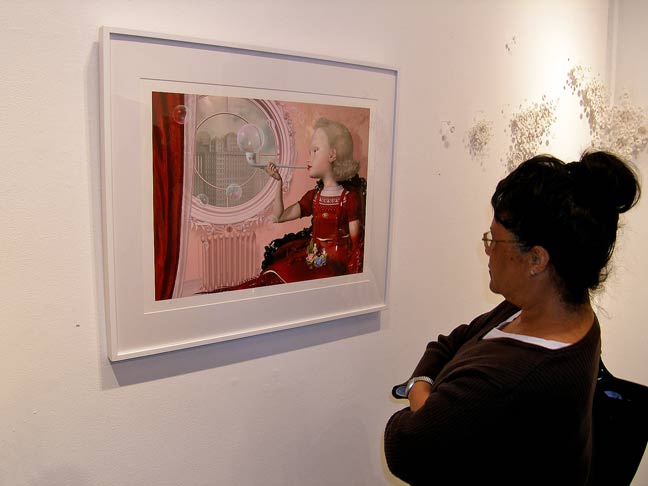 Art.


Photography (Marla Rutherford).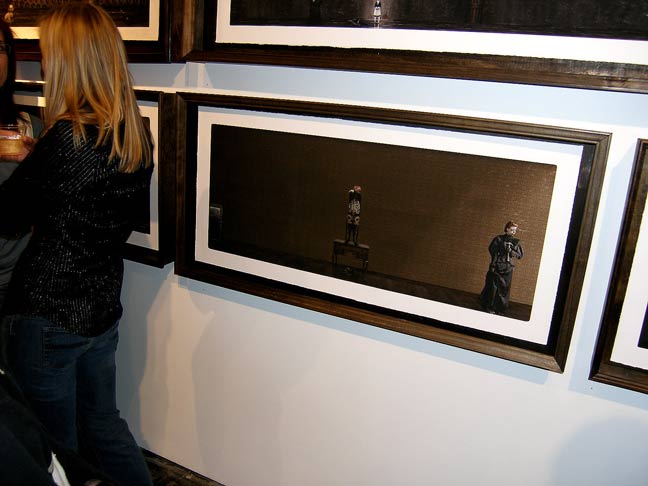 Photography (Chris Anthony).


Art (Tiffany Bozic, tall nude).


Art.


Mungo door delta.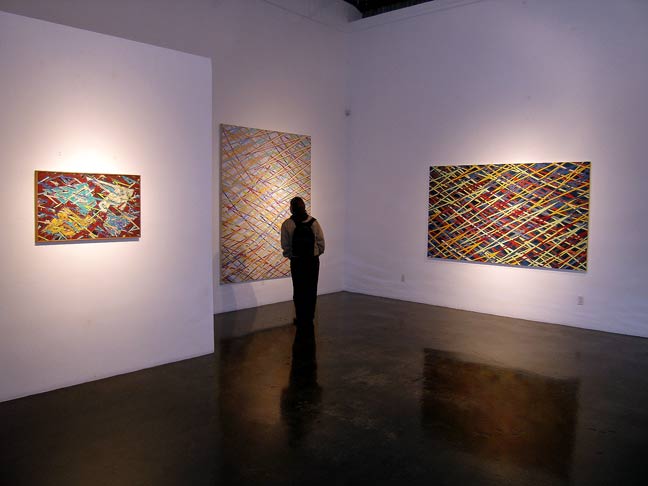 One from the Don Sorenson retro.


***
The Lowe Gallery: Ancestors - In Search of Source.
Comment: Tribal and ethnographic art displayed against a backdrop of contemporary abstract paintings in a spacious congenial appealingly labyrinthine setting. The mix-n-match nature of the show, atypical for an art gallery, effectively presents tribal arts from a decorative perspective, exemplifying the complementary aspects of two entirely different art forms while treading lite on the cognitive component. You see, tribal art is normally shown in settings where the focus is as much (if not more so) on intellectual considerations including history, symbolism, ceremony, customs, and ethnology as it is on aesthetic appeal (which can be gruelling for those who prefer to enjoy art without having to sustain dissertations).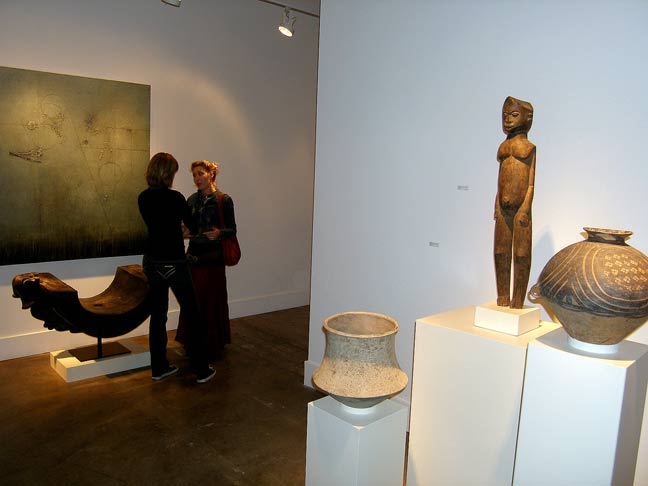 Art.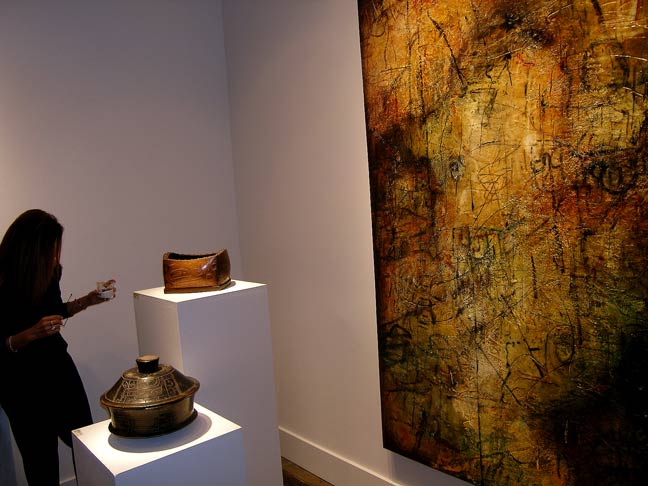 Art.


Art.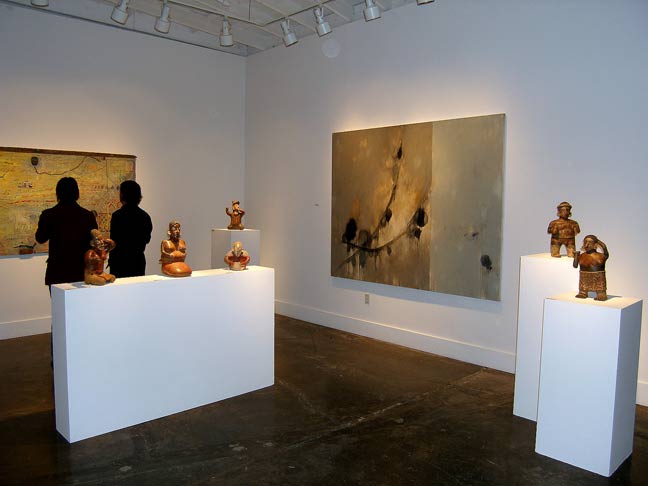 Art.


Art.


Art.


Sorry, couldn't resist.


Attendance partial.


Art.


Lowe Gallery frontal.


***