SAN FRANCISCO ART GALLERIES - OPENINGS
GALLERY 1988 - 3131 CLEMENT
MILLION FISHES - SF MART
04.21.07
Gallery 1988: The Indie Art Show Celebrating Alternative Press Artists - Grand Opening.
Artists: Albert Lozano, Andrice ArpAnna Chambers, Annie Owens, Attaboy, Brandon Bird, Bwana Spoons, Camilla d'Errico, Daniel Arriaga, Daniel Lopez Munoz, Dave Crosland, Dave Long, Derek Thompson, Dice Tsutsumi, Don Shank, Eric Tan, Eric Wight, Food One, Graham Annable, Heiko Windisch, Jason Deamer, Jason Sho Green, Jen Wang, Jeremy Tinder, Jerome Ranft, Jesse Reklaw, Joe Sayers, Joe White, John Lee, Jon Klassen, Joshua Ellingson, Kevin Dart, Kevin Scalzo, Lark Pien, Lesley Reppeteaux, Lou Romano, Louis Gonzales, Martin Cendreda, Nate Wragg, Nathan Stapley, Nick Sung, Paul Maes, Rich Tuzon. Robert Kondo, Sam Henderson, Sanjay Patel, Scott Campbell, Scott Morse, Steve Purcell, Thien Pham, Vera Brosgol.
Comment: Los Angeles's 1988 Gallery spins off a San Francisco subsidiary. Tonight marks the grand opening of this independent, small press, illustration oriented endeavor, the event garnering big support from APE artists and aficionados in town for the weekend (Alternative Press Expo-- happening at The Concourse). Business is brisk; you gotta wait to pay.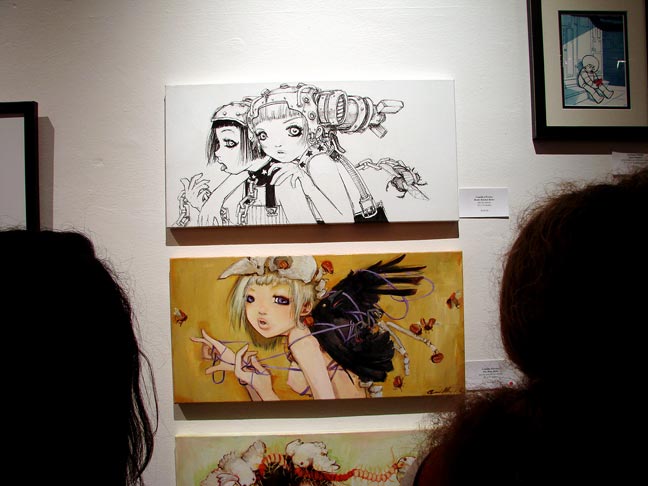 Art.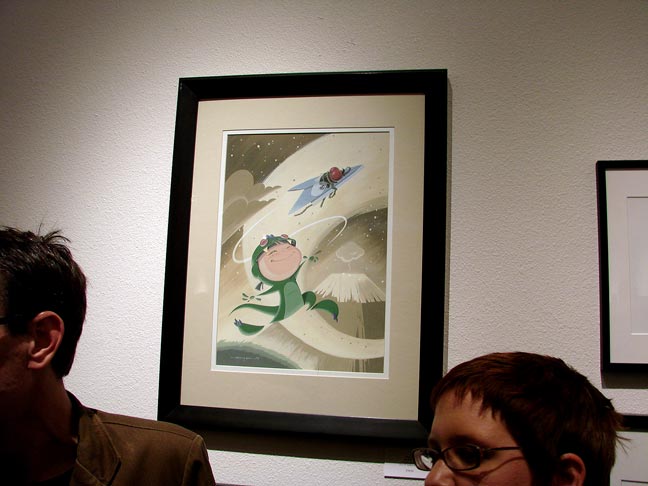 Art.


Art.


Art.


Art.


Art.


Art.


In.


Out.


***
3131 Clement Street: Stereo Sound Agency's 15 Year Anniversary.
Artists: Chris Pastras, Jason Lee, Clint Peterson, Tobin Yelland, Chris Miller, Matt Irving, Sean Cassidy, Ian Johnson, Sage Vaughn, Yoon Sul, Isaac McKay Randozzi, Bryce Kanights, Christian Cooper, Todd Francis, Gabe Morford, more.
Comment: Founded right here in Ess Eff in 1992 by Jason Lee and Chris Pastras, Stereo Sound Agency celebrates 15 years of defining skateboard culture lifestyle. The fan base turns out in force to witness art, photography, decks, memorabilia, a video preview of "A Journey Through Sound," a sneak peek at the Stereo/Kangol Spring/Summer '07 hat line, and my personal favorite-- mungo kickass Q from the bar next door.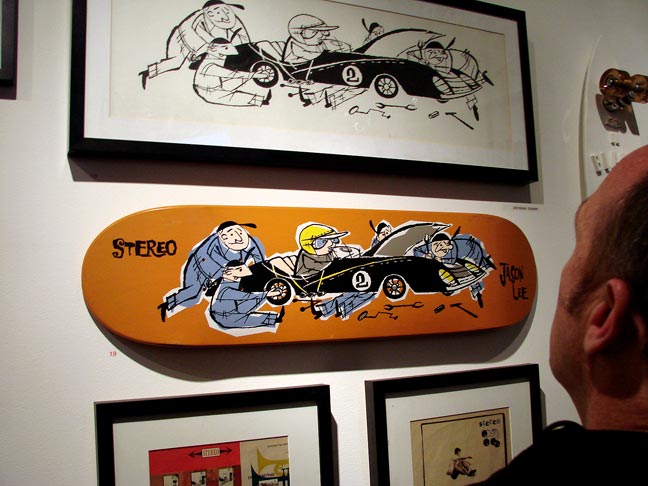 Art.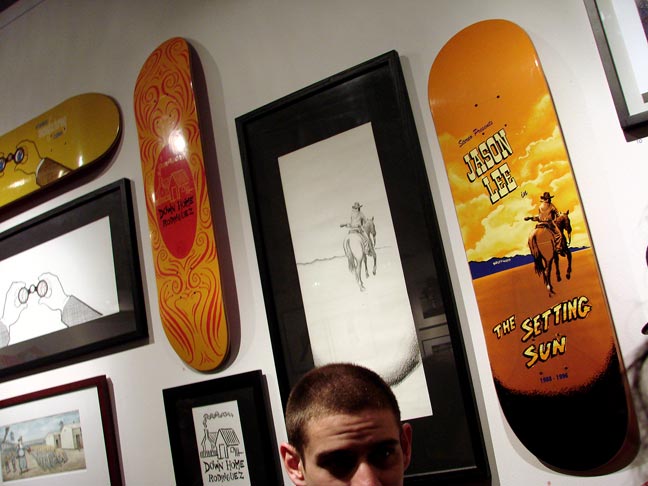 Art.


Art.


Art.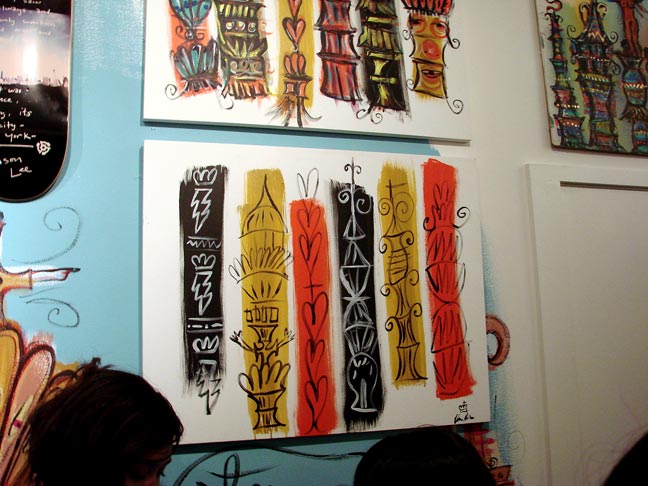 Art.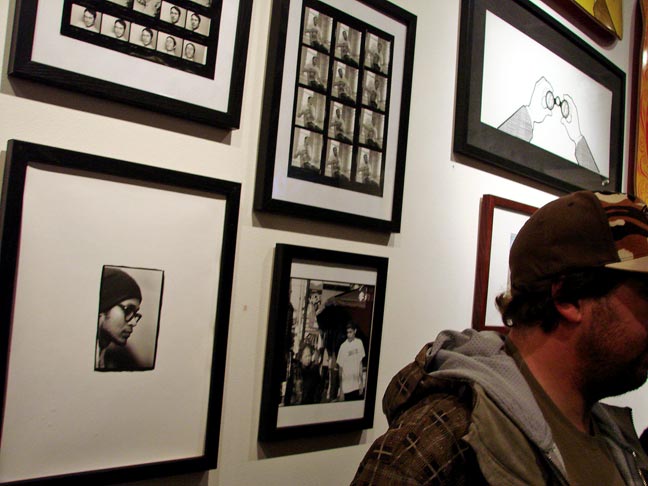 Art.


Art.


Video preview.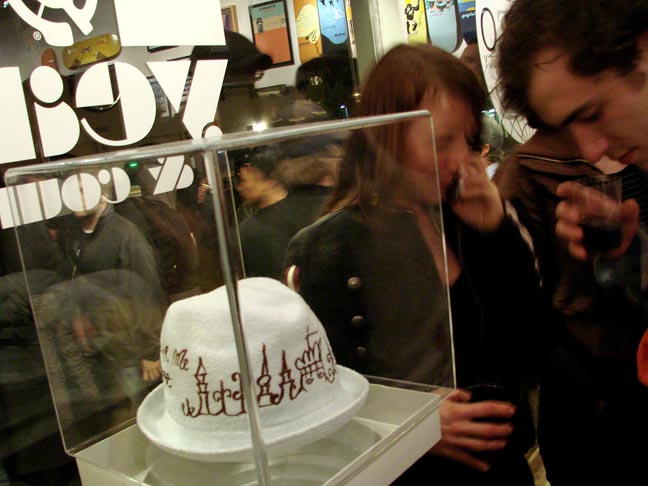 Chapeau preview.


Equal Dist CEO & 3131 owner Yong-ki Chang out front.


***
Addendum:
Living Pulse Art Installation fundraiser Million Fishes to ultimately show at Burning Man and various SF locations.


Ink Pushers Ball APE afterparty & art show at SF Mart.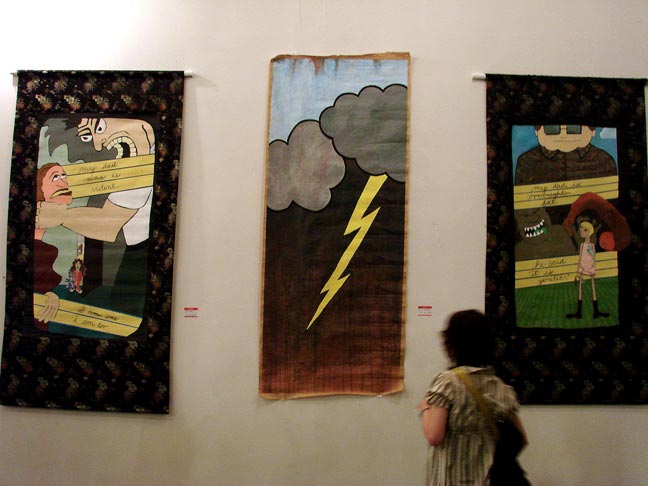 One more from Alternative Press Expo afterparty.


***