***
Modern Eden Gallery: Storybook. Curated by Warholian's Michael Cuffe.
Artists: Amandalynn, Jaclyn Alderete, Brianna Angelakis, Susanne Apgar, Paul Barnes, Jasmine Becket-Griffith, CIOU, Cory Benhatzel, Pakayla Biehn, Zofia Bogusz, Brenton Bostwick, Robert Bowen, Jana Brike, Laurie Lee Brom, Valentina Brostean, Leilani Bustamante, C3, Adam Caldwell, Simona Candini, Steve Chmilar, Joshua Coffy, Michael Cuffe, Lara Dann, Lena Danya, Sheri DeBow, Jel Ena, Kohshin Finley, Ashton Gallagher, Jacqueline Gallagher, Lyrica Glory, Alec Huxley, Steve Javiel, Aunia Kahn, Tara Krebs, Marcos LaFarga, Marie Larkin, Edith Lebeau, Chris Leib, Steven Lopez, Calvin Ma, Malojo, Megan Majewski, Kelly McKernan, Amy Minchew, David Molesky, Catherine Moore, Melissa Morgan, David Natale, Lori Nelson, Johannah O'Donnell, Richard James Oliver, Augie Pagan, PECA, Rich Pellegrino, Bradley Platz, Michael Ramstead, Joshua Roman, Isabel Samaras, Erika Sanada, Eve Skylar, Laura Startzman, Ania Tomicka, Daniel J. Valadez, Helice Wen, Sandra Yagi, Hannah Yata, Trevor Young, Rick Berry.

Wild Winnie the Pooh art by PECA at Modern Eden Gallery.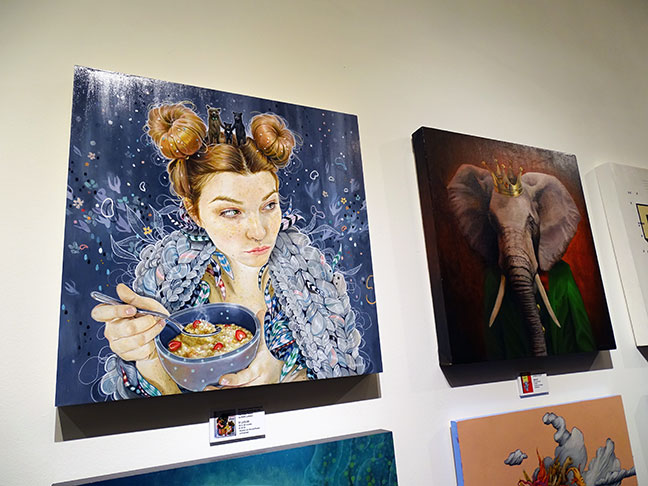 Edith Lebeau art (upper left).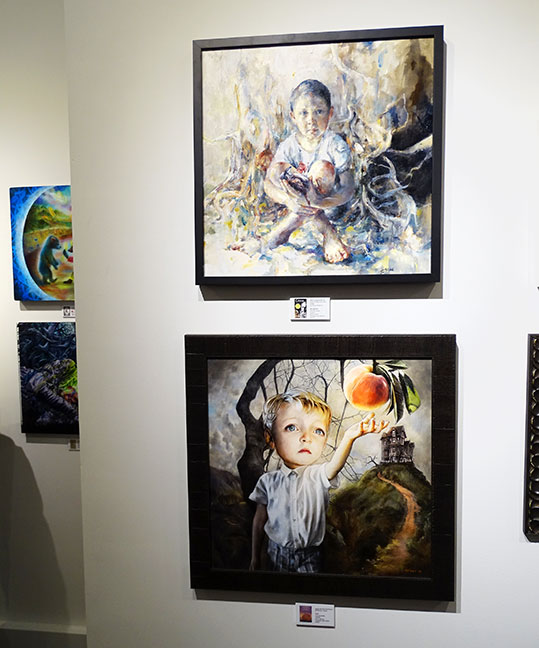 Art by Jaclyn Alderete (up) & Richard J Oliver art (down).


Isabel Samaras and her art at Modern Eden Gallery.


Incredibly detailed art by Ciou.


Pinkie cam detail of art in above image.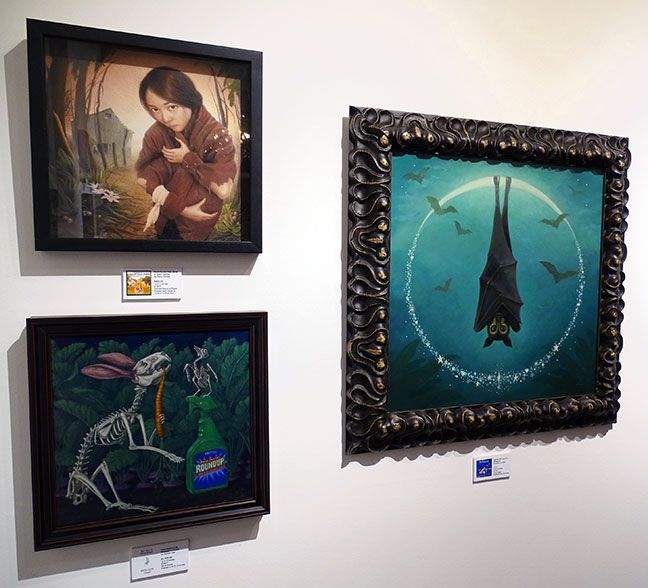 Clockwise from right- art by Laurie Lee Brom, Sandra Yagi, Steve Chmilar.


Storybook group show features all kinds of art.


More examples from Storybook group show curated by Michael Cuffe.


***
Gauntlet Gallery: Triumvirate - Group Show; Speculative Hunting - Mako Miyamoto, guest curated by Sven Davis.
Triumvirate artists: Akira Beard, Alex Garant, Fab Ciraolo, Graham Curran, Jason Bryant, Justin Kane Elder, Phil Noto, Rebecca Adams, Roland Tomayo, Sam Lamott.

Weird Wookiee art by Mako Miyamoto at Gauntlet Gallery.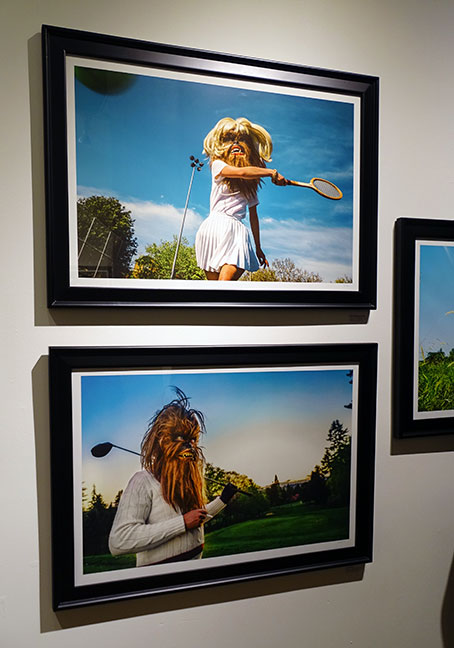 Mako Miyamoto art.


Art/installation by Akira Beard.


Akira Beard and his art in above image closer at Gauntlet Gallery.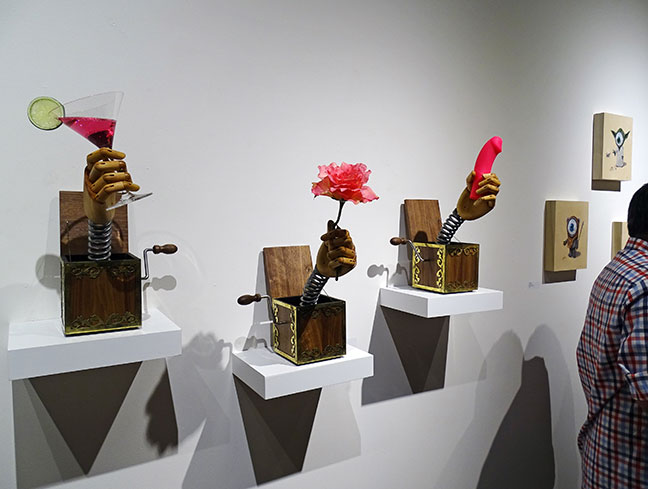 Twisted jack-in-the-box art by Sam Lamott.


I've got eyes for you (and several other people) art by Alex Garant.


***
Bash Contemporary: Visions From the Attic.
Artists: Jeff Christensen, Julianna Menna, Erich J Moffitt.

Macabre art by Jeff Christensen at Bash Contemporary.


Meticulous surreal art by Julianna Menna.


Pinkie cam detail of art in above image.


Dark art by Jeff Christensen.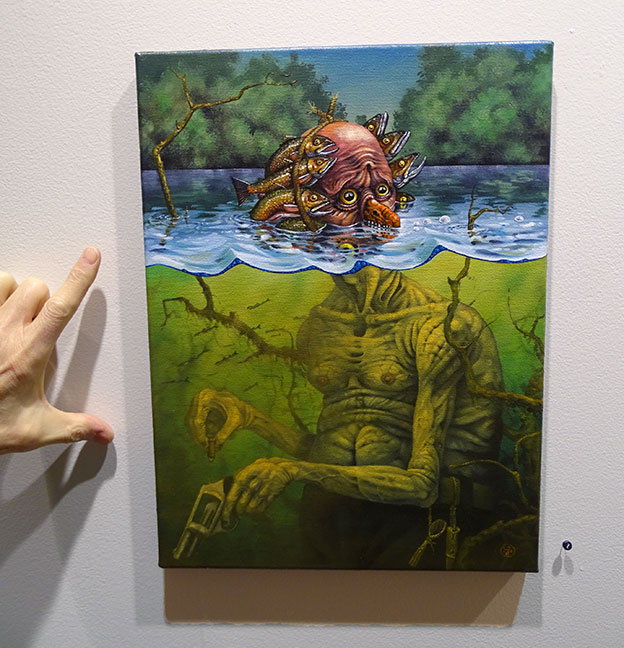 Stranger than strange art by Jeff Christensen closer.


***
Savernack Street Gallery: Carissa Potter - Your Body Remembers/& It Will Go On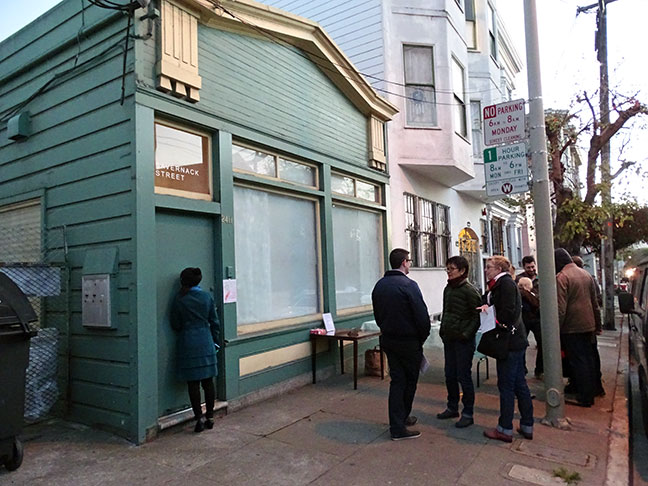 Tonight at the Savernanck peephole, Carissa Potter cogitates on time.


Through the peephole-- it's supposed to be an hourglass.


Carissa Potter and her art in the Savernack Street Gallery peephole.


Limited edition letterpress print by Carissa Potter, only $20.


Rubber time stamp c/o Carissa Potter, optional.


***