SAN FRANCISCO ART GALLERIES - OPENINGS
SF MUSEUM OF CRAFTS AND DESIGN - LIGNE ROSET - ARTSPAN
04.26.07
San Francisco Museum of Crafts and Design: Tools as Art - The Hechinger Collection.
Artists: Jim Dine, Claes Oldenburg, Richard Estes, Wayne Thiebaud, Walker Evans, Fernand Leger, Red Grooms, William T. Wiley, William Eggleston, many more.
Comment: John Hechinger, head of the hardware and building materials Hechinger Company, collected art about tools and hung it all over company headquarters. According to Hechinger, "It was the hope that surrounding employees with artistic expressions of the same objects they handled in the tens of thousands would bring a sense of dignity to their jobs." What an excellent idea for a collection from a dude who certainly understood the considerable fringe benefits of art. The cull here is entirely satisfying-- famous names to artists you may never have heard of but every bit of it good. See for yourself; you won't be disappointed.
Art.


Art.


Art.


Art.


Art.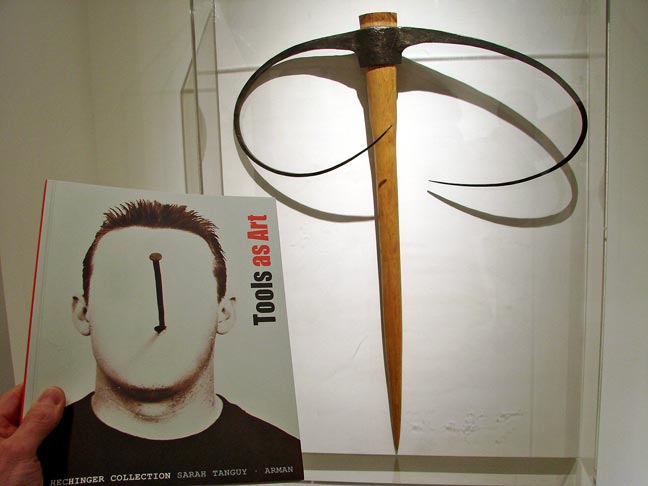 Show catalogue available at the museum - art.


Art.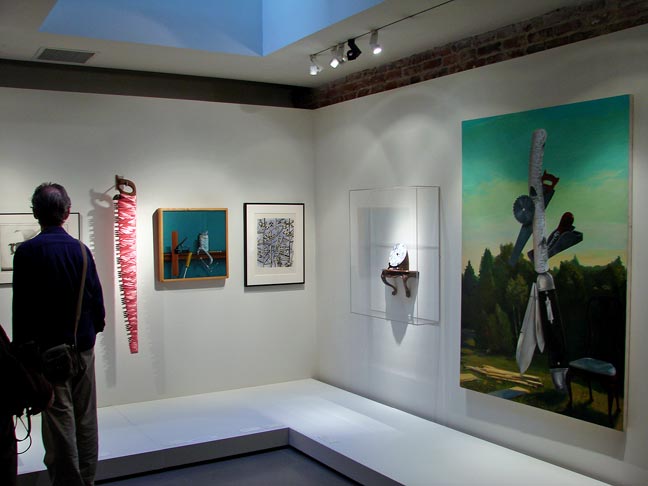 Art.


***
Lignet Roset: Jonah Burlingame and Adrienne Eberhardt - Closer Still.
Comment: Adrienne Eberhardt's abstract realistic photomontage blends nicely complement Jonah Burlingame's richly finished smooth-yet-textural abstracts. You dealers with non-representational propensities might give Burlingame's work a look-- it's distinct in style and the better efforts verge pro.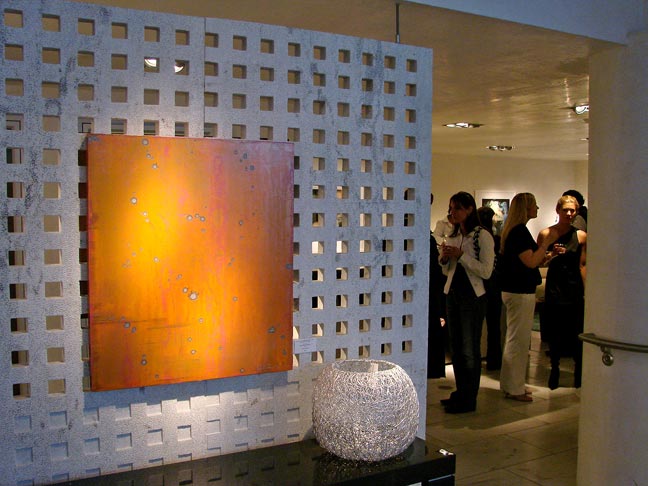 Art (Jonah Burlingame).


Art (Jonah Burlingame).


Art (Jonah Burlingame).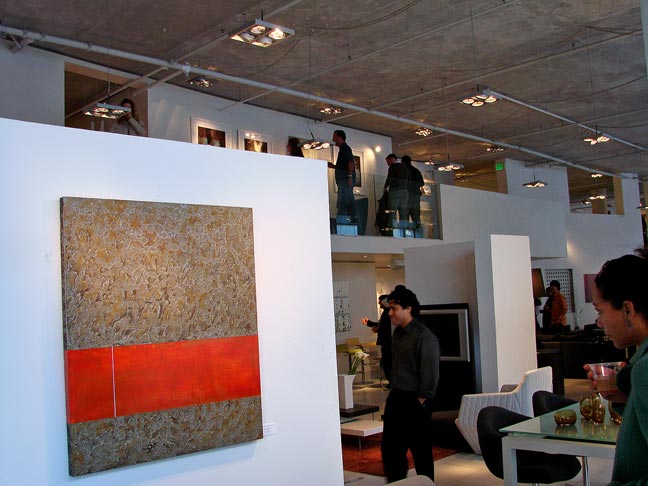 Art (Jonah Burlingame).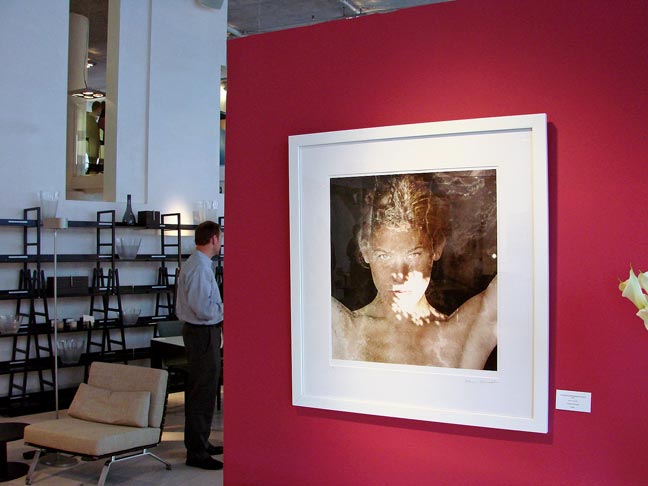 Art (Adrienne Eberhardt).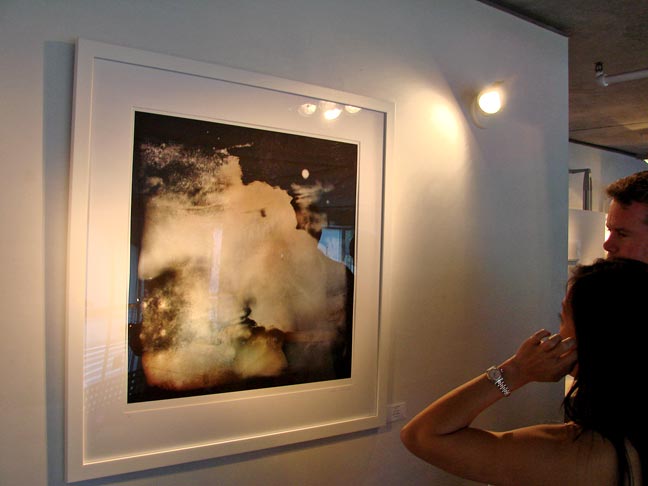 Art (Adrienne Eberhardt).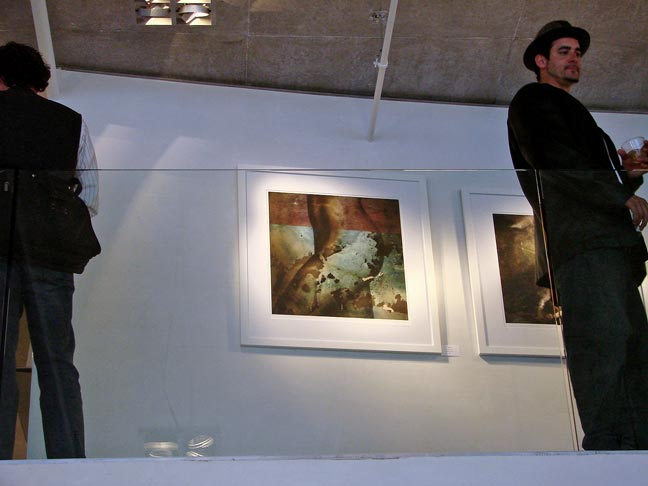 Art (Adrienne Eberhardt).


Book (Adrienne Eberhardt).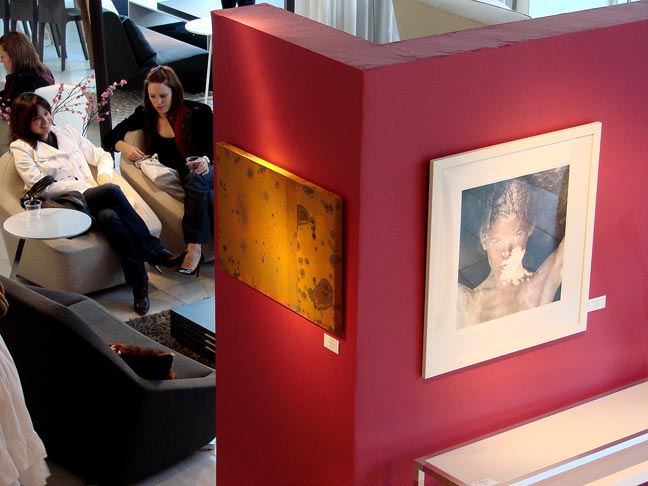 Art (Jonah Burlingame, left - Adrienne Eberhardt, right).


***
ArtSpan Benefit Art Show and Auction hosted by California Modern Gallery.
Artists: Diane Abt, Gilbert Joseph Alexander, Lauren Alexander, Don Anderson, Amy Auerbach, Angela Baker, Jenny Balisle, Emily Blaschke, Ann L. Bontatibus, Blair Bradshaw, Elaine R. Brindle, J. Oliver Brooks, Sylvia Buettner, Margie Burke, Brent Bushnell, Sofia Carmi, Erin Carney, Stacey Carter, Bruce Cohen, Elaine Coombs, Ilana Crispi, Sidnea D¹Amico, Herbert Dang, Flora Davis, Larry DeDionisio, Monica Denevan, Robin Denevan, Denise Denis, Arlene Diehl, Raymond Difley, Paule Dubois Dupuis, Renée Eaton, Bernadette Emrick, Nancy Ewart, John Fitzsimmons, Kat Flyn, Rebecca Fox, Matthew Frederick, Taiko Fujimura, Alice Gibbons, KellyAnn Gilson-Lyman, Anne Karin Glass, Kristin Grahn, Sachiko Green, Jana Grover, Tracy Grubbs, dk haas, Marc Ellen Hamel, April Hankins, Mark Harris, Lyall Harris, Jeanne Hauser, Patter Hellstrom, Carolyn Hinman, Aisjah Hopkins, Anne Howson, Ivy Jacobsen, Martine Jardel, Soad Kader, Sara Kahn, Mike Kimball, Barbara Kleinhans, Karn Knutson, Cara Koffel, Isabel Koopman, Dimitri Kourouniotis, Elana Kundell, Laurielu, Jim Leff, Constance Lewis, Hava Liberman, Godfrey Lim, Lois Llewellyn, Carlos Loarca, Leslie Lowinger, Paul Madonna, Maggie Malloy, Michael Markowitz, Kay Marshall, Linda Masotti, Kristine Mays, Alan Mazzetti, Peter Leone McCormick, Marti McKee, John F. Melvin, Molly Meng, Marcia Middleton, Adam Moore, Gloria Morales, John Musgrove, Lisa Neimeth, Julie Nelson, Ronald Newman, Sarah Newton, Zannah Noe, Hadley Northrop, Gage Opdenbrouw, Priscilla Otani, Monique Passicot, Ben Pax, Michelle Peckham, Kevin Piyatilake, Silvia Poloto, Jenn Porreca, Tana Powell, Patricia Preble, Nanci Price Scoular, Fernando Reyes, Samuelle Richardson, Carol Rienecker, Michael K. Ross, Thierry Rosset, Ron M. Saunders, Eric Saxby, Manu Schnetzler, Adele Louise Shaw, Stuart Sheldon, Addie Shevlin, Mike Shriver, Ann Simms, Joseph Smooke, Kathryn St. Clair, Toru Sugita, Elizabeth Tana, Richard Tauber, Deloris Thomas, Veerakeat Tong Pai Boon, William Ulrich, Victoria Veedell, Kay Weber, Audrey Welch, John Whitmarsh, Michelle Wilcove, Laura Williams, Roxanne Worthington, Laurie Wyman-Heron, Melissa Yarbrough, The Zellerbach Collection, Jie Zhou.
Comment: Annual fundraiser live and silent auction to benefit ArtSpan to benefit San Francisco Open Studios offering up a ton of art. A curious footnote here is that the art being auctioned off was juried beforehand and award ribbons are displayed alongside the winners. Not sure how this impacts the bottom line or whether it makes any difference at all. Certainly a good party.
Art.


Art.


Art.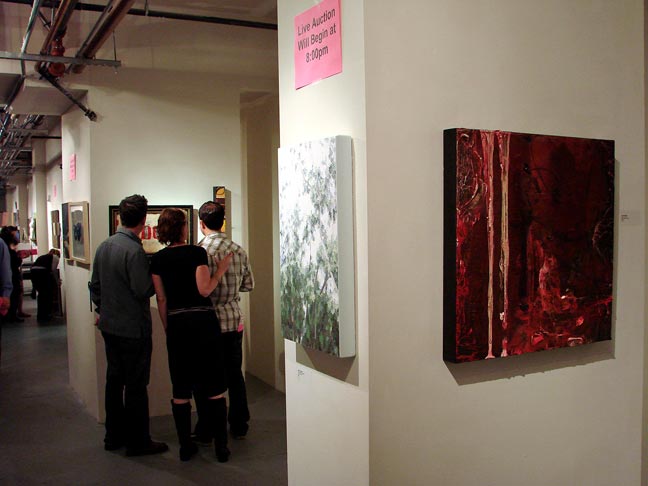 Art.


Art.


Art.


Art.


Getting ready for the auction.


***