SAN FRANCISCO ART GALLERIES - OPENINGS
MISSION 17 - BLUESPACE - MOLLUSK SURF SHOP
PARK LIFE - HARPUTS MARKET
04.27.07
Mission 17 Gallery: Eunjung Hwang and Miriam Dym - Blabbable Doodads.
Comment: Complex engaging enigmatic computer graphics by Eunjung Hwang offset cut-and-assembled constructions by Mariam Dym. The majestically convoluted show statement begins, "The great narratives, which once organized modern life have broken down into fragmentary micro-narratives, each of which 'blabs' by itself with innumerable links to other narratives in its own apparently arbitrary system..." and plops promptly into the toilet from there. Maybe sometimes just let it be and don't try so ferkin' hard to explain it?
Art (Miriam Dym).


Art (Eunjung Hwang).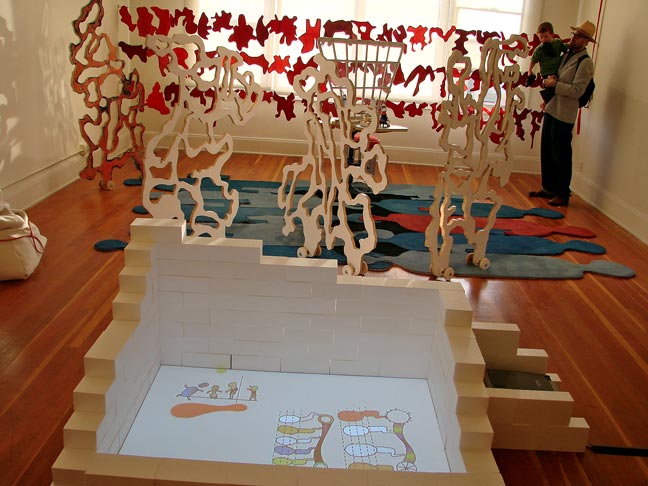 Art (Eunjung Hwang, foreground - Miriam Dym, background).


Art (Eunjung Hwang).


***
Bluespace Gallery: Garrett MacLean - No Fat Hatians, Images from Haiti's Central Plateau.
Comment: Garrett MacLean's documentary photographs convincingly underscore the urgency at this fundraiser for Partners in Health, a nonprofit organization treating AIDS, TB, and malnutrition in Haiti for over 20 years.
Garrett MacLean - photography.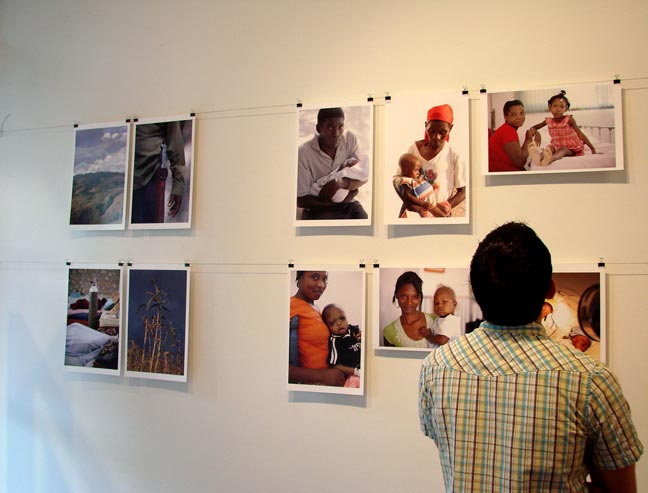 Photographs.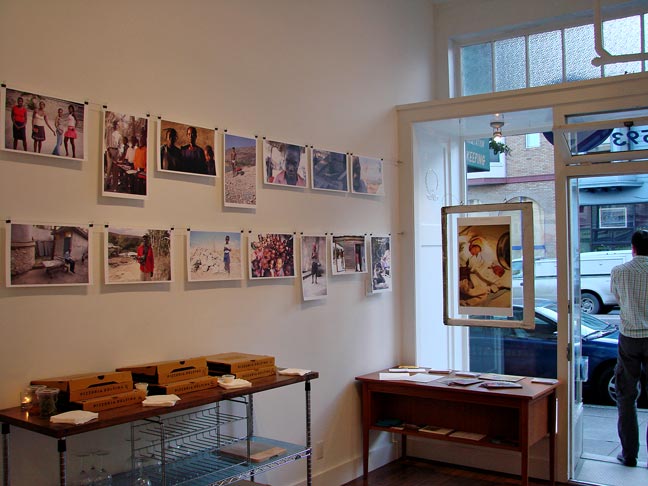 Photos.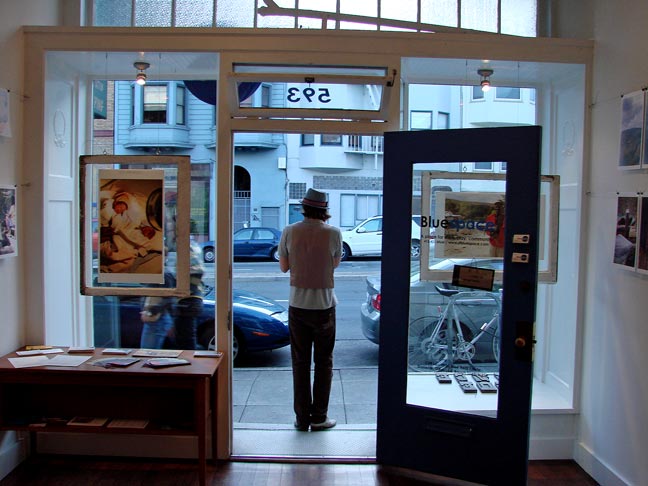 Photography.


Outer.


***
Mollusk Surf Shop: The Society of Driftwood Shack Enthusiasts.
Founding members and shack builders: Jeff Manson, Tyler Manson, Dave Mueller, Serena Mitnik-Miller.
Comment: Driftwood shack enthusiasts honor their creed by constructing an artfully elegant intimate habitable structure in the rear gallery. Shackster Tyler Manson tells me that the informally organized group has no contact information and no website, but you can see from their handwork that they've got a bona fide and dedicated handle on the driftwood idiom.
From the front.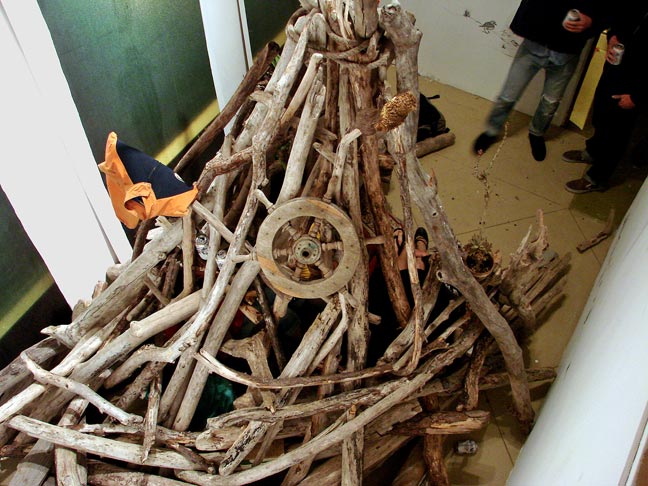 From above.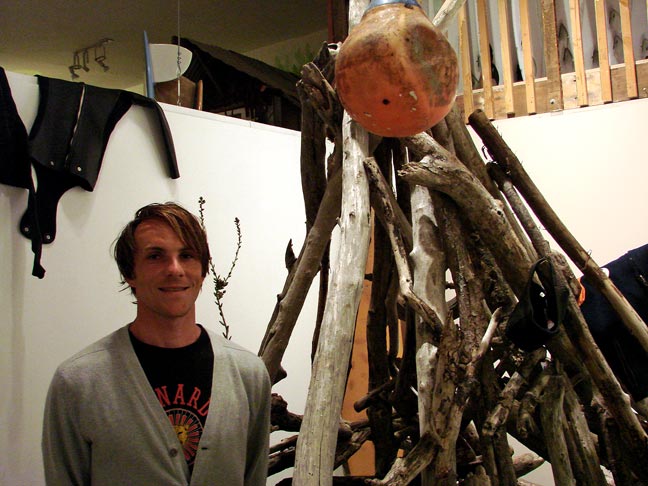 Spokesperson Tyler Manson.


***
Park Life: Ian Johnson - Moods in Free Time.
Comment: Ian Johnson's killer portraits of Jazz artists are alive with insight, respect, and reverence for their subjects as they seize the essence of the discipline. This dude's got talent. Superb work; must see.
Art.


Art.


Ian Johnson - art.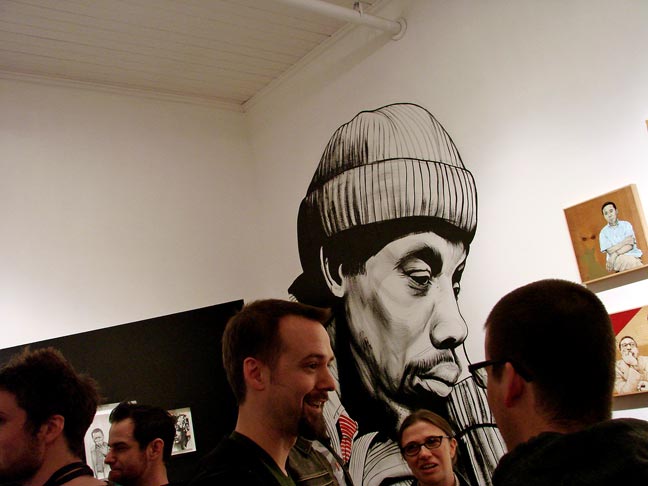 Art.


Art.


***
Harputs Market: Fundraiser for Our Conservatory + Charles Linder - Seventeen Reasons.
Comment: OurConservatory Music Instrument Library, the beneficiary of tonight's festivities, provides a safe environment and rehearsal space for kids at risk to find their passion through music by playing instruments, taking lessons, and forming positive friendships. Meanwhile, Charles Linder assures meta-trendy Harputs looks its elegant best by lining the balcony with natty dripwork paintings on wood.
Circumstance (art - Charles Linder).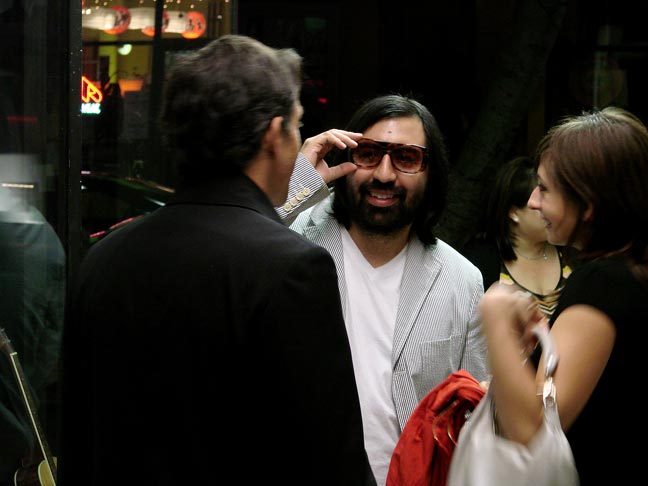 Matt Harput aka Bootsy - Harputs owner.


Charles Linder explains art.


Art.


Guests.


From the balcony.


Out back.


***