SAN FRANCISCO GALLERY OPENINGS
HAINES - NEWMARK - MODERNISM GALLERY
VIRGINIA BREIER - SFMOMA ARTISTS GALLERY
GALLERY LOUNGE - BLUE CUBE - IN YOUR ELEMENT
04.27-28.05
Virginia Breier Gallery: Furniture - Form and Function.
Artists: Don Carlson, Jennifer Colliau, David Comfort, Michael Cullen, Patricia Dreher, Maurice Hamburger, Yang Jun Kwon, Laurie Marson, Alison McLennan, Michael Oleson, Florian Roeper, Jeanice Skvaril.
Comment: Furniture as art, the kind favoring form over function, most priced low to mid thousands.
Furniture.


Furniture.


Furniture.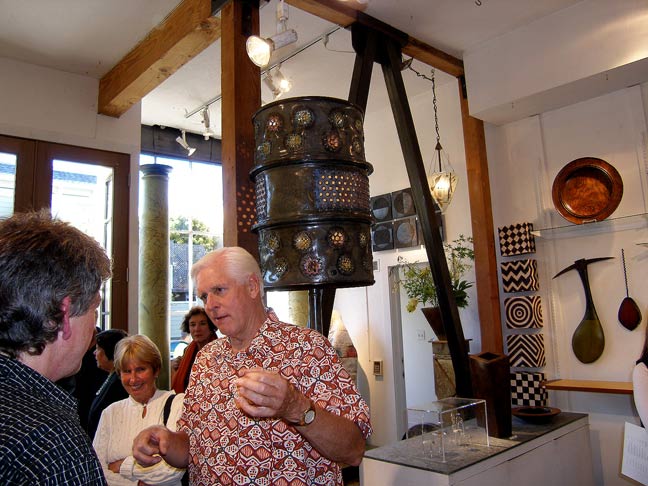 Furniture.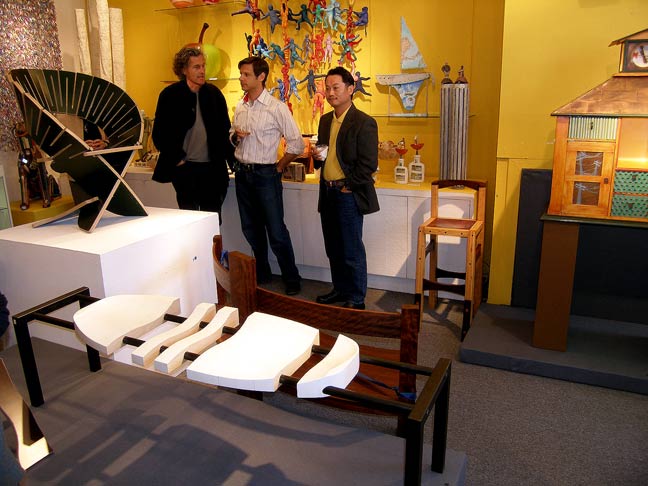 Furniture.


***
San Francisco Museum of Modern Art SFMOMA Artists Gallery: 12th Annual Artists Warehouse Sale.
Comment: Well, I can't say much about the art, all of which was 50% off, however in spite of the aesthetic dearth, multitudinous throngs jammed the joint, perpetrating a substantially higher than average jostle factor. As we all know, a high jostle factor is a leading indicator of a good party which, when combined with greatly reduced prices, typically results in a frantic scamper to buy whatever it is that's cheaper now than it was yesterday, all proceeds going to a great cause-- SFMOMA. And you can't beat the setting, right there on The Bay. You missed the sale? Not to worry. Half-off opportunity part two happens May 7-14.
Art.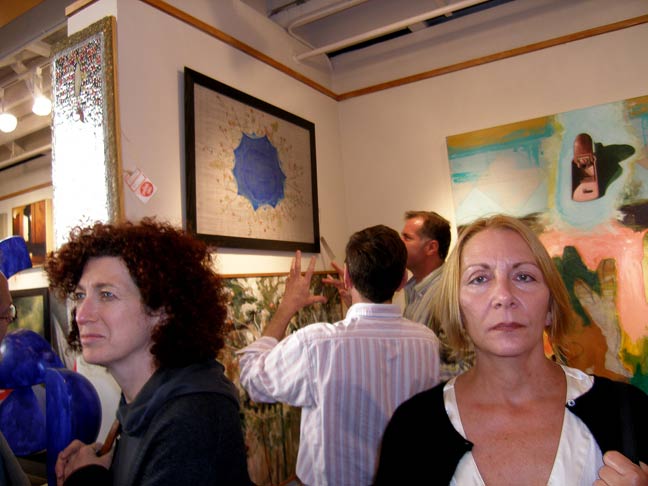 Art.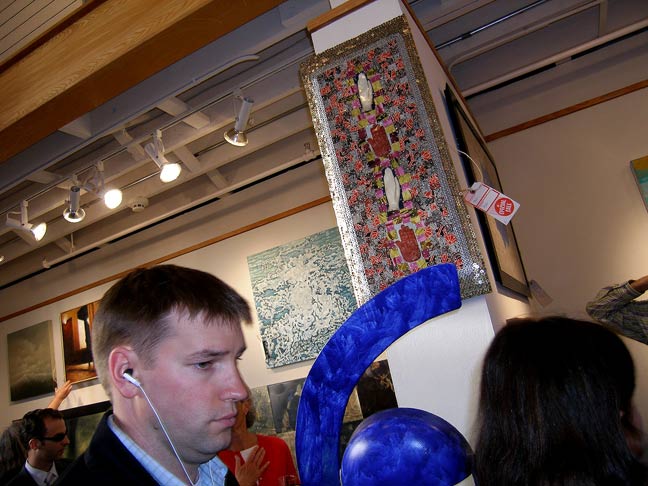 Art.


Art.


Art.


Art.


Tunes.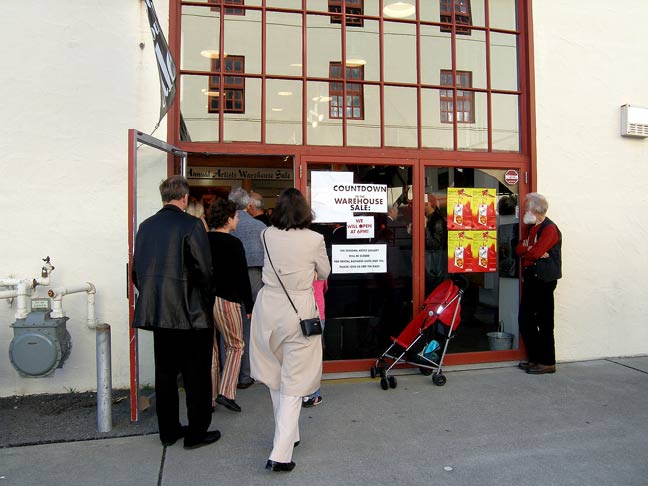 Out.
In.


***
The Blue Cube: Elements, Presented by Tribal Surf, a SurfAid + Fashion Benefit Party.
Artist: Photographs by Bob Barbour; fashions by Aaron Chang / GirlStar, Carve Designs, Mooloolaba, UltraNectar, more.
Comment: About as close to surfing as I'll ever get.
Photography.


Photography.


Photography.


Photography.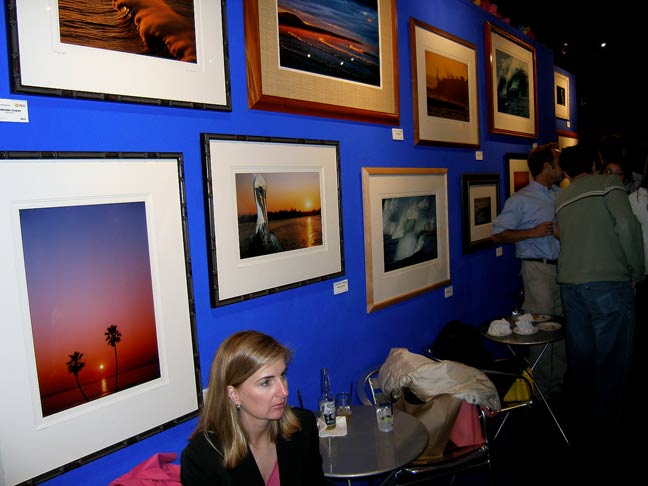 Photography.


***
In Your Element: Durwood Zedd - Marbles and Objects.
Comment: In Your Element sells modern designer furniture and accessories. But high stylers need art too, in this instance, large photographs by Durwood Zedd that meld well with the curvy clean vibrational scheme that the store proffers. The images are mainly close-ins of marbles and kitchen utensils. Prices on the bigguns top out at $1850; smalls available for as little as $225.
Photography.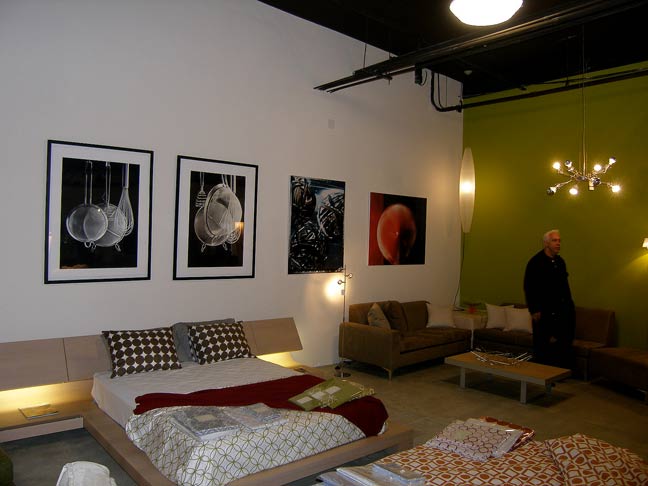 Photography.


Photography.


***
Newmark Gallery: Essentialism - Krzysztofa Zwierz-Ciok.
Comment: The image on the show announcement did not excite me-- another nondescript abstract, I thought-- so I was hesitant to breach the opening, fearing the worst, but I did, and liked what I saw. The richly colored and textured paintings are more abstract than representational, but kind of both, and satisfyingly appealing from technical as well as visual standpoints. They're also distinctly not American, which is nice, in this case saving me plane fare to Poland. According to the explanatory, "Essentialism" has something to do with Zwierz-Ciok creating "her own kind of painting, her own language for this transmission of essence."  But don't all artists create their own kinds of art? Or maybe some artists create other artists' kinds of art. I dunno. Pix priced under $5K.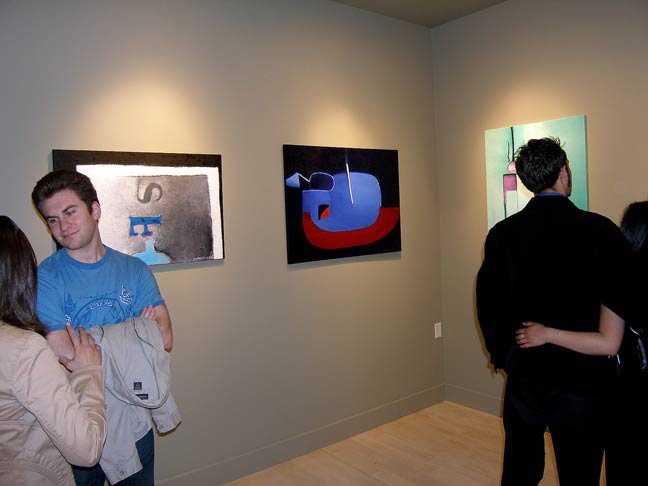 Art.


Art.


Art.


***
Haines Gallery: Darren Waterston - Turning Back In; Jim Toia - Spore.
Comment: Darren Waterston's womby embryonic nebulaic journey paintings, particularly the large ones on wood, are serenely mysterious whether you zoom in close or step way back. Prices top around $32K, but Waterston's got a very substantial track record with a number of museum shows (and acquisitions) to his credit. In conjunction with the exhibit, he painted a floor-to-ceiling mural covering three walls of the gallery, like you tend to see at "urban art" shows, however in a fine art context such as this, where extreme subtlety and detail are critical ingredients of the art, the relative coarseness of the mural doesn't quite work, and may even detract.
Jim Toia places mushrooms onto sheets of Art Spectrum black paper, then somehow preserves and transforms into art the patterns resulting from the release and settling of countless millions of mushroom spores onto those papers. Art, nature, and randomness combine to produce whispy light-on-black abstractions that look almost like frozen smoke. I read a whole bunch of stuff trying to grip the mechanics of the process, even listened to the artist talk about it, didn't get very far, so I guess I'll just have to appreciate the work for its distinctly unique flawlessness.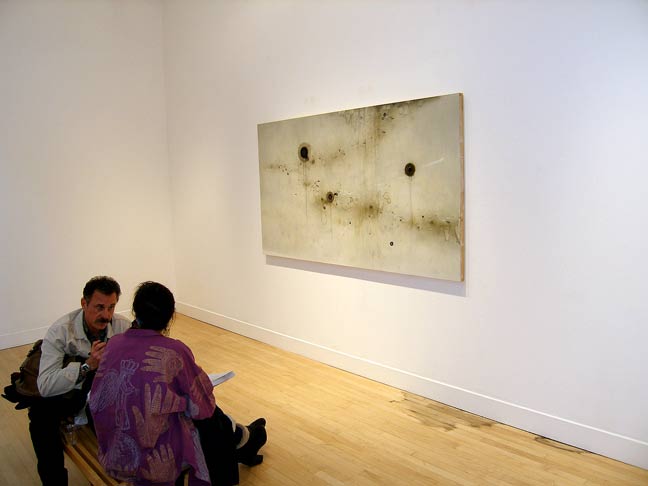 Art (Darren Waterston).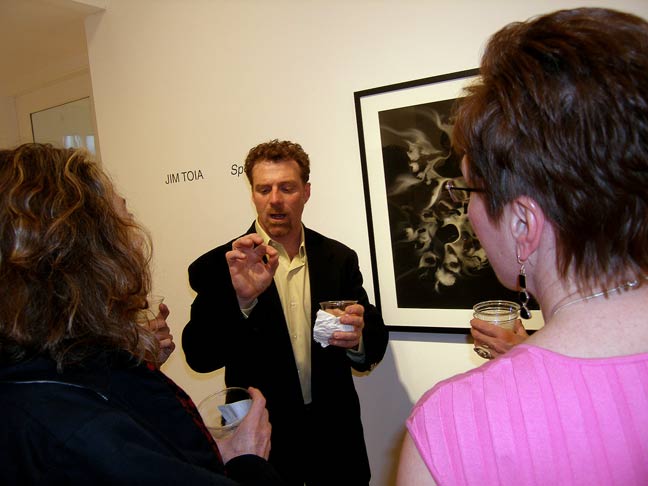 Jim Toia explains process.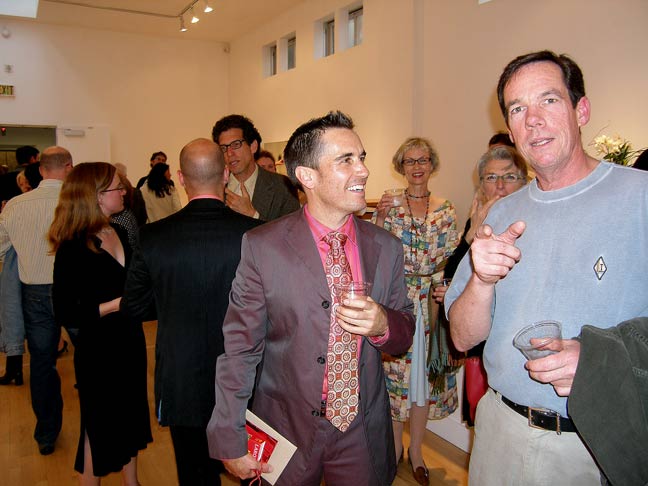 Darren Waterston (center).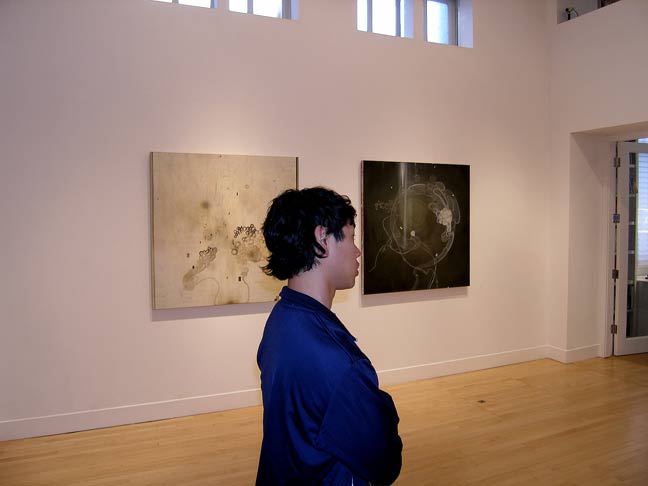 Art (Darren Waterston).


Art (Darren Waterston).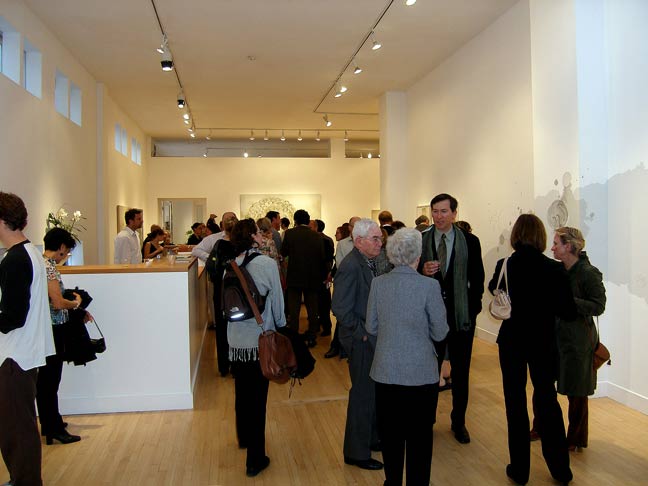 Main showroom.


***
Modernism Gallery: Tony Hernandez - Paintings & Drawings from the Broken Promised Land; Robert Stivers - New Works.
Comment: Modernism is one of my favorite galleries. It's the space, the feel, the art, the tastefulness, the people who show up for the openings, the whole ball of wax. This time around, Tony Hernandez paints figural solos (and one with an airplane, but it's sold). His childlike figures are set in simple landscapes or against plain backgrounds, maybe wearing gas masks or pointy hats, maybe accompanied by an object, maybe alone, painted in oil and encaustic on wood. The compositions are super softly soothing, finely executed and preserved beneath luscious layers of slightly translucent glaze and varnish.
The photography of Robert Stivers reminds me of Subjektive Fotografie, a German movement of the 1950's characterized by the use of technical means to alter, interpret, and personalize images. At first glance, the photographs look vintage, but they're quite contemporary. In addition to the subject matters, the fact that they're gelatin silver prints further contributes to the period feel.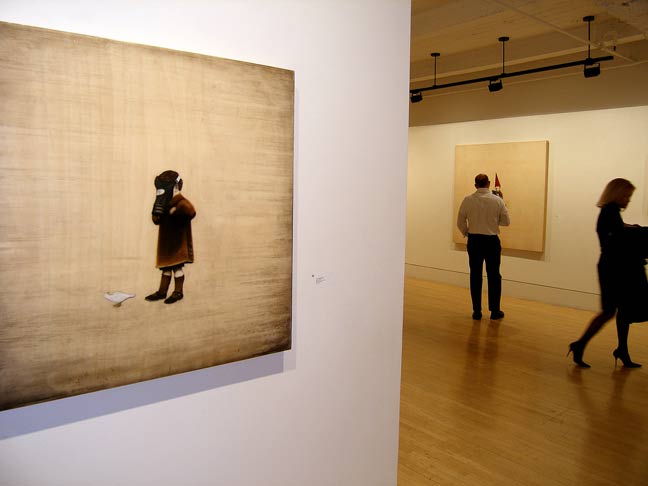 Art (Tony Hernandez).


Photography (Robert Stivers).


Art (Tony Hernandez).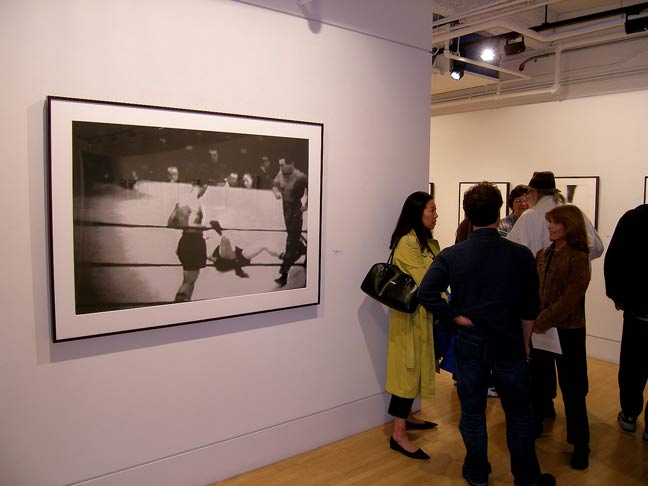 Photography (Robert Stivers).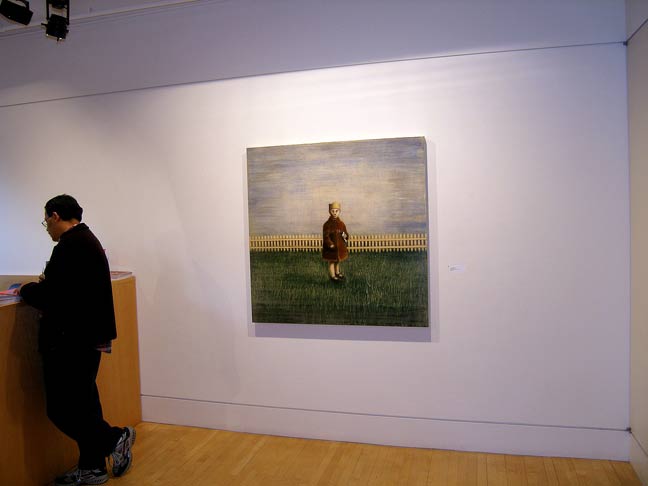 Art (Tony Hernandez).


Photography (Robert Stivers).


Art (Tony Hernandez).


***
The Gallery Lounge: The B Team - Amanda Lynn, Vic Chapa, Norm, Chris Kelly.
Comment: A small but respectable serving of urban art. Amanda Lynn's flamey custom auto paint compositions work nicely and could possibly look better larger-- worth experimenting with. Vic Chapa's got a big painting up front that's quite the eye-pleaser. Norm nicely captures pure urban fundamentals. And Chris Kelly paints neat, clean, lined, and detailed on various flat unfinished stock wood shapes.
Vic Chapa - art (pick; only $950).


Art (Amanda Lynn - fore; Norm - aft.


Chris Kelly - art.


Amanda Lynn.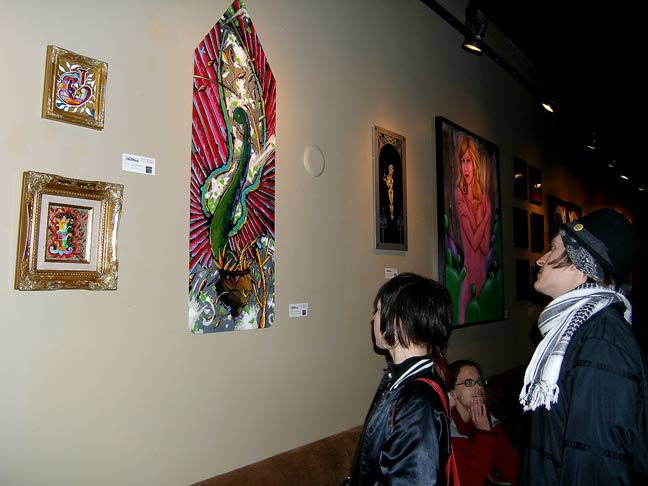 Art (Vic Chapa - fore; Amanda Lynn - aft.


***
Addendum:
Group show at Triptych restaurant and art gallery.


One more from Triptych.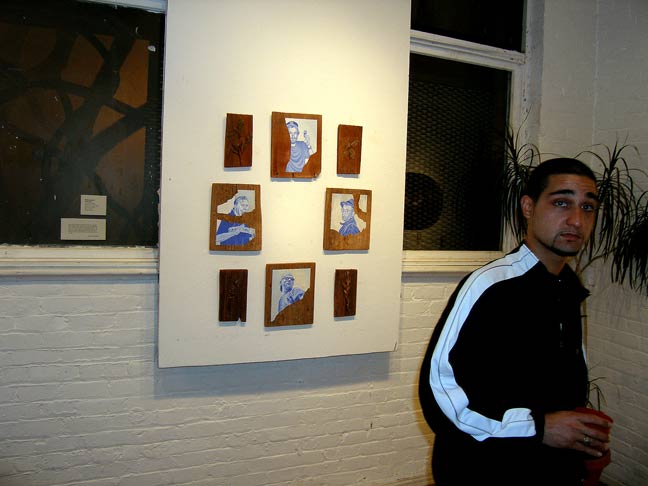 Group show, Haunted, at Crucible Steel.