SAN FRANCISCO ART GALLERIES - OPENINGS
NEEDLES AND PENS - 301 BOCANA
SOUTHERN EXPOSURE - THE ARTISTS ALLEY
04.28.07
The Artists Alley: Best of the Bay Group Show #1. John Vila, Eugene Zukowsky, John Melvin, Opie Snow, Merritt Grooms, Danny Buskirk, Mik Kitagama.
Comment: Group show; miscellaneous media.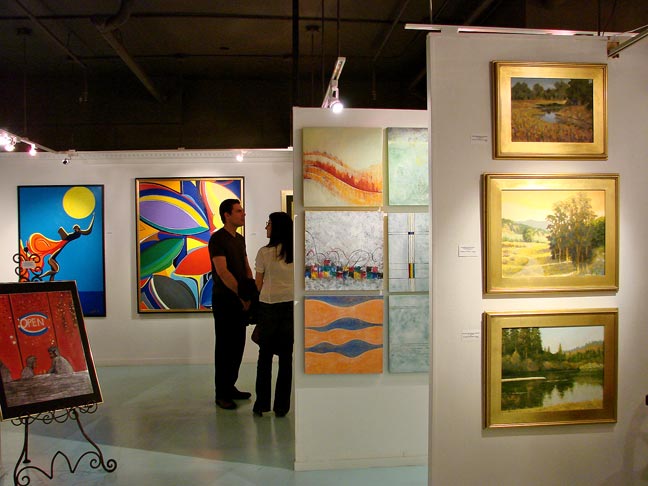 Art.


Art.


Art.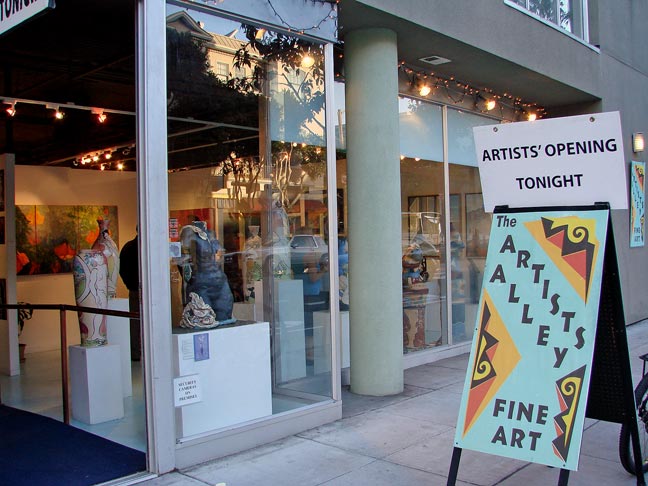 What it is.


***
301 Bocana Gallery: Sarah Wagner - Roots Grow Both Ways.
Comment: According to the briefing, Sarah Wagner is in the process of creating a parallel universe, monikered Invisible Healing World, which is deliberately positioned to "heal the woes of the world." This chapter in that evolutionary process involves the creation of various artworks about roots-- genuine framed preserved roots, root drawings, root paintings, and suspended bottoms-up roots fashioned from silk and burlap.
Art.


Art closer.


Sarah Wagner - art.


Art.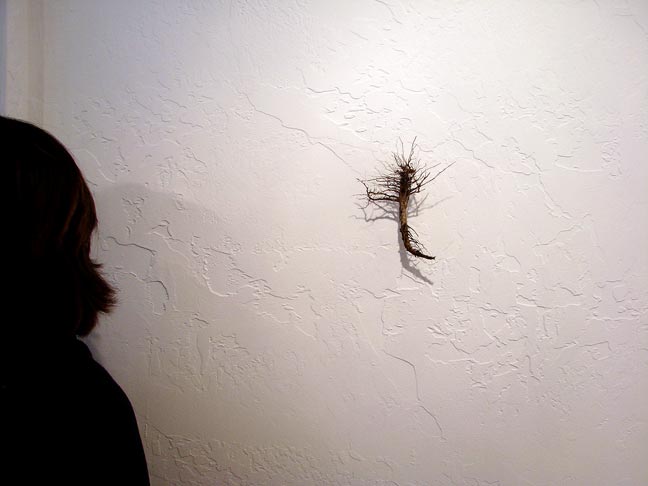 Art.


***
Needles and Pens: Neil Burke & Sam McPheeters - Human Hair, A Collaborative Art Show.
Comment: Strange screenprint interplay between Neil Burke and Sam McPheeters yields an assortment of idiosyncratic images including fictional broadsides, perplexing elemental abstracts, mystery caricatures, and more. All nicely done and priced to sell at $11-$250 (most $15-$20).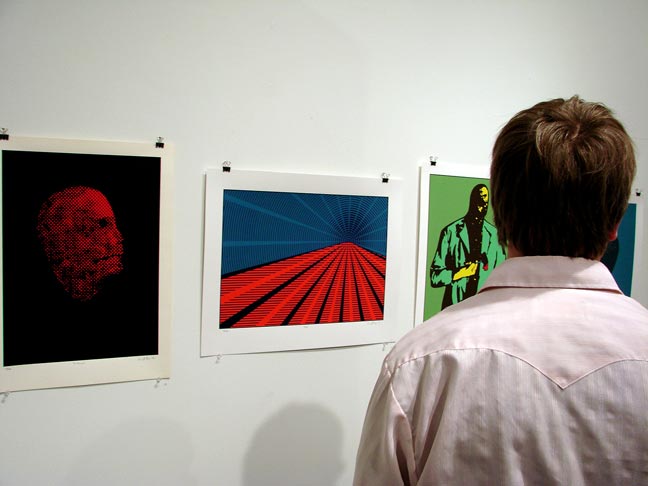 Art.


Art.


Art.


Art.


***
Southern Exposure: Southern Exposure's Annual Spring Fundraiser and Art Auction.
Artists: Michael Arcega, Caitlin Atkinson, Kim Austin, Ellen Babcock, Emilio Banuelos, Michael Bartalos, Leo Bersamina, Tyler Bewley, Sandow Birk, Vanessa Blaikie, Cari Borja, Michael Campbell, Ledia Carroll, Castaneda/Reiman, Kevin Chen, Joshua Churchill, Ishan Clemenco, Chris Cobb, Adriane Colburn, Timothy Cummings, Binh Danh, Lauren Davies, Tim Davis, Ala Ebtekar, Amanda Eicher, Steven Elliott, Catherine Haley Epstein, Kota Ezawa, Tia Factor, Lawrence Ferlinghetti, Matthew Flegle, Harrell Fletcher, Rhea Fontaine, Dustin Fosnot, David Fought, Stephen Galloway, Benicia Gantner, Linda Geary, Maizie Gilbert, Tanya Hastings Gill, Jim Goldberg, Rebecca Goldfarb, Lori Gordon, Robert Gutierrez, Doug Hall, Michael Hall, Nicole Hayden, Angela Hennessy, Jonn Herschend, Amy Hicks, Todd Hido, Terry Hoff, David Huffman, Amanda Hughen, Suzanne Husky, Misa Inaoka, Packard Jennings, Hellen Jo, Chris Johanson, Kathyrn Kenworth, Christina La Sala, Olivier Laude, Carrie Leeb, Laren Leland, Katie Lewis, Frederick Loomis, Nathan Lynch, Dharma Strasser MacColl, Michelle Mansour, Laura Mappin, Kara Maria, Vanessa Marsh, Chris McCaw, Sean McFarland, Dennis McNulty, Cheryl Meeker, Jason Middlebrook, Rebecca Miller, Julio Morales, Apollonia Morrill, Jeff Morris, Paul Mullins, Julie Nelson, Kelsey Nicholson, Abner Nolan, Brion Nuda Rosch, Shaun O¹Dell, Scott Oliver, Kelly Ording, Gay Outlaw, Stephanie Peek, Sasha Petrenko, Job Piston, Joey Piziali, Suzy Poling, Basil Racuk, Albert Reyes, Lisa Ricci, Will Rogan, Thorina Rose, Eric Ryan, James Sansing, Emily Sevier, Alice Shaw, Joshua Short, Jennie Smith, Sarah Smith, Jessica Snow, Chris Sollars, Ari Salomon, Lisa Solomon, Nellie King Solomon, Lynn Sondag, Susan Spies, Miya Ando Stanoff, Jennifer Starkweather, David Stein, Maiko Sugano, Michael Swaine, Stephanie Syjuco, Hadi Tabatabai, Charlene Tan, Margaret Tedesco, Ryan Thayer, Hank Thomas and Kambui Olujimi, Lava Thomas, Zefrey Throwell, Dan Tierney, Andy Vogt, Ven Voisey, Catherine Wagner, Tyson Washburn, Benji Whalen, Lindsey White, Gail Wight, Griff Williams, Megan Wilson, Jenifer Wofford, Clare Wren, and Arngunnur Yr.
Comment: Southern Exposure (along with ongoing support from many of the area's most talented artists) throws some of San Francisco's preeminent creative wingdings and tonight's is no exception. The joint is thick with artists, artsters, and those who adore them. The walls are sardined with art for auction, both live and silent-- a relatively cherry selection. And there's tunes, and booze, and not enough food, but I manage to finagle the minimum number of Dolmases required to keep from collapsing. In related news, auctioneer Durwood Zedd demonstrates prodigious proficiency at transferring funds from bidders wallets to SoEx coffers. But more about that later; first the art...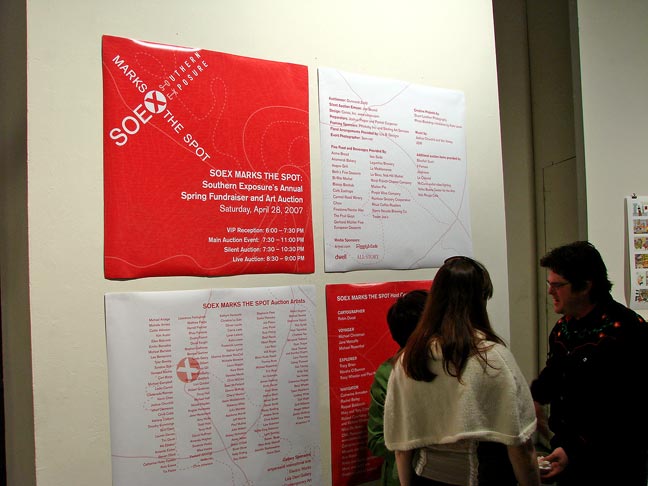 The purpose of the occasion.


Art.


Art.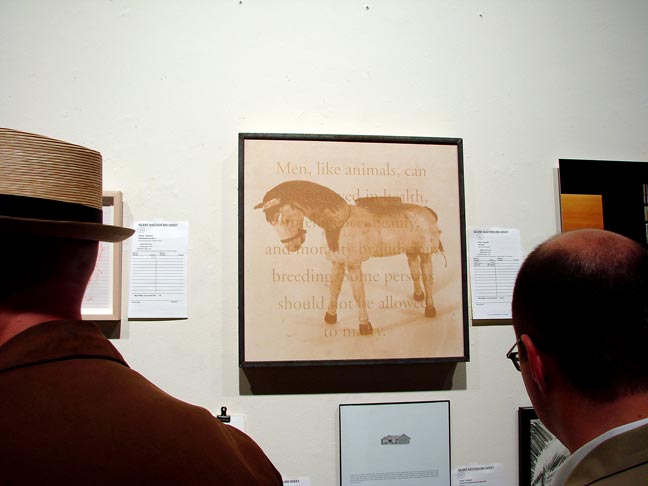 Art.


Art.


Art.


Art.


Jack Hanley and I, totally unbeknownst to each other, simultaneously commence spawn scruff (we must be on the same menstral cycle).


Art.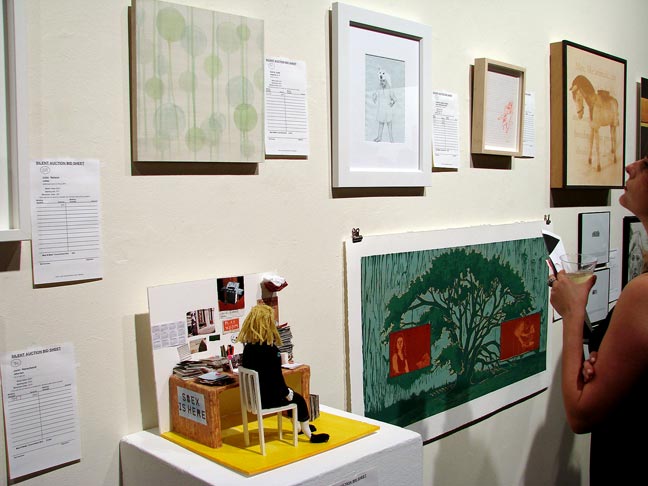 Art.


Art.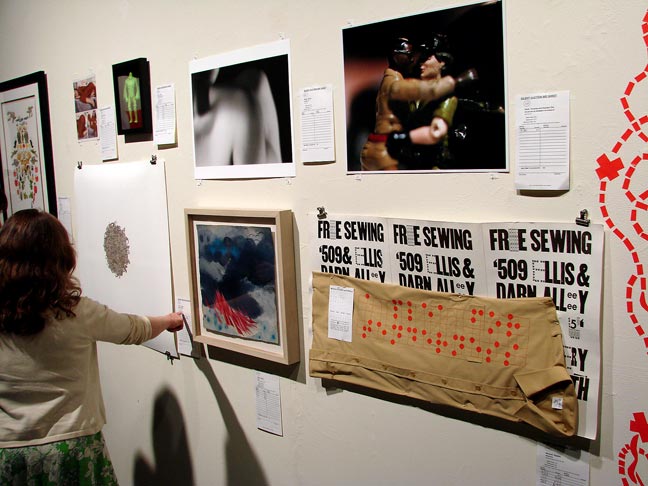 Art.


Almost time for the auction.


Lineup of auctionables.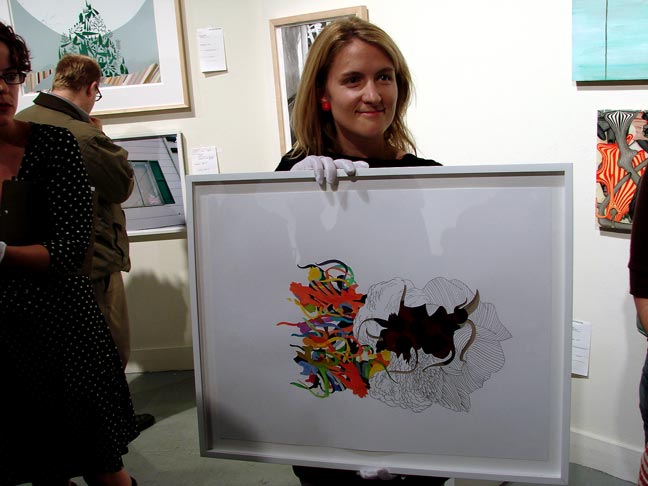 Auction time.


Durwood Zedd in action.


Dude knows how to work a room.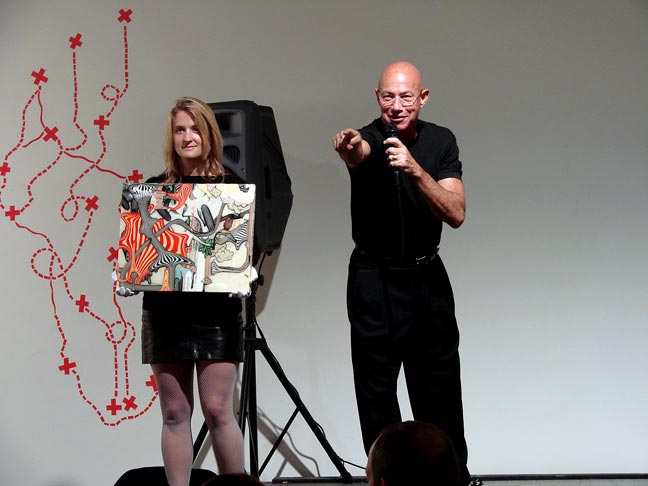 Auction.


Me getting called for a bid when I hoist my camera to shoot the stage. Fuck! Sorry-- my mistake-- I won't do it again. Promise.


Auction continues.


One more auction perspective.


Durwood Zedd, professional auctioneer, 415.292.6226. Worth it.


That's a wrap. Outta here.


***