SAN FRANCISCO GALLERY OPENINGS
CATHARINE CLARK - THE LAB - GALLERY 16
NATIONAL PRODUCT - ONSIX - CACHI ART STUDIO
SOUTHERN EXPOSURE - SEX WORKER FESTIVAL
04.29-5.1.05
Comment: Some of you degreed artsters out there may occasionally wonder why I write what appears to be uninformed uneducated philistine commentary. Well, I'll tell you. You know those people who walk into galleries, take a look, turn around, and walk out? Or the ones who approach an artist's art, wherever they happen to see it, take a look, say nothing, and move on? I write for those people. You know why? Because many of them think about buying art. But then they visit galleries or speak with artists, get confused or intimidated, and go back to shopping for Thomas Kinkades at Fisherman's Wharf. That, dear artsters, is why I write what I write.
People don't buy what they don't understand, so if you wanna sell it, it's your job to make sure that someone out there understands it well enough to buy it. And the more someones who understand it, the greater your chances of selling it. Which brings me to the overarching paradox of the art business: Everybody wants the bigtime, yet few do what's necessary to get there.
Catharine Clark Gallery: Ray Beldner - Hot; Anthony Discenza - Ignis Fatuus.
Comment: Basically, Ray Beldner takes images from internet porn sites, many with backgrounds that include artwork (paintings or prints hanging on the walls, for example), crops out the anatomical details of the sex acts, leaving just enough in the way of body parts and art to suggest the circumstances and their surroundings. The liner notes state that Beldner got the "inspiration" for the show while "attempting to delete one of many dozens of unsolicited porn sites" from his email inbox, but then saw a work of art hanging in the background of one of the ads, behind the sex. He subsequently felt "compelled to look at more spam that filled his inbox." I generally feel compelled to look for the following two reasons: I'm a guy. It's porn.
Anthony Discenza takes scenes of audiences viewing performances, excises the performances themselves, and then reworks the audiences into nameless, faceless, context-less still images and videos. This visually engaging nebulization is supposed to make us ponder the spectating aspects of society as well as those who spectate. The significance of the exercise remains unclear.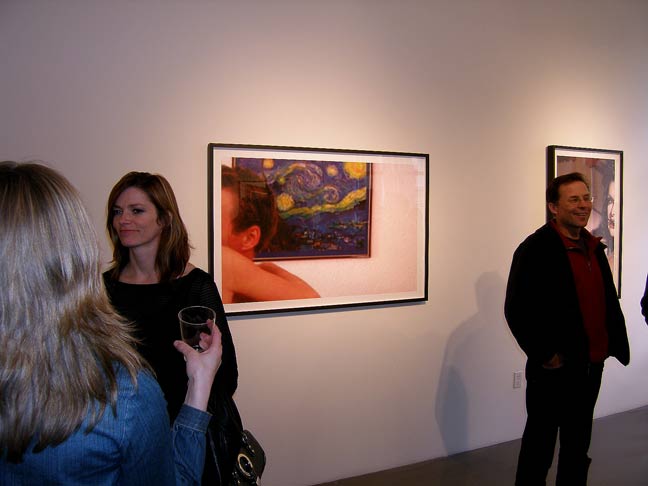 Art (Ray Beldner).


Art (Ray Beldner).


Art (Anthony Discenza).


Art (Ray Beldner).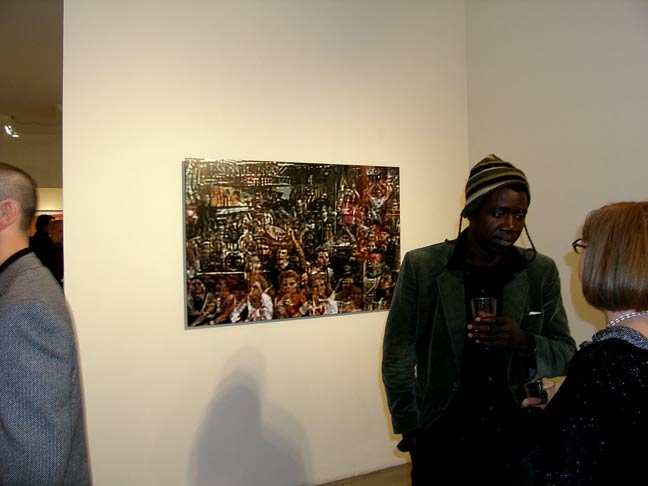 Art (Anthony Discenza).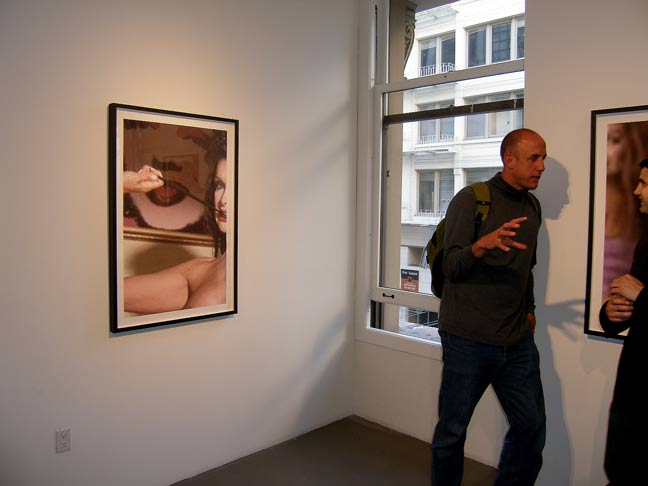 Art (Ray Beldner).


Art (Ray Beldner).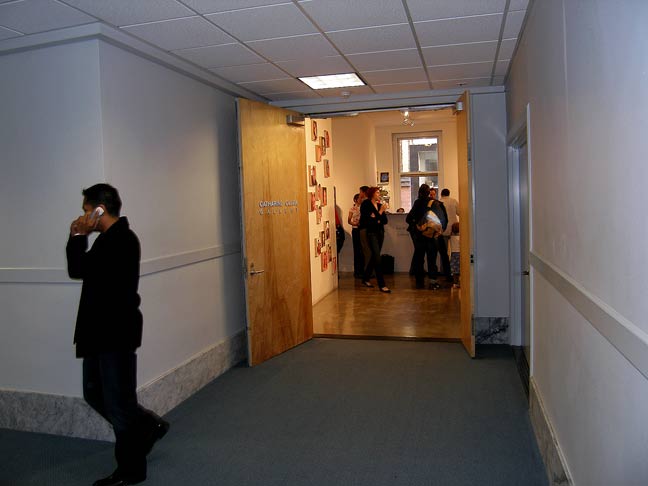 Out.


***
The LAB: Trevor Paglen - Recording Carceral Landscapes.
Comment: An agendized look at the "Prison Industrial Complex" and mass incarceration, including photographs, video, audio, and proposals for redesigning prisons.
Political art.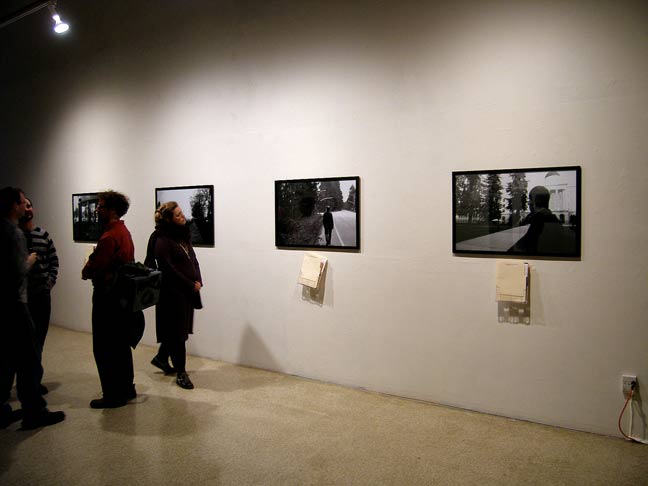 Political art.


Political art.


***
Gallery 16: William Laven - War Models.
Comment: Unassembled toy models of aircraft used in the War on Iraq are neatly laid out and photographed against plain black backgrounds in 1/50 scale. The most noteworthy aspect of the show is its open-endedness. Far too often, an artist's bias is so obvious, not to mention polarizing, that any who disagree with the premise automatically dismiss the art. Those who agree love the art, even consider its mission successful, when in fact it's not, failing to reach the most crucial audience-- those with opposing points of view. Consequently, no one gets anywhere; nothing changes. William Laven, on the other hand, incorporates particular implements of a particular war in such a way that anyone who sees his art, regardless of their politics, will be required to reflect on war and its consequences. And that makes the show a winner.
Photography.


Photography.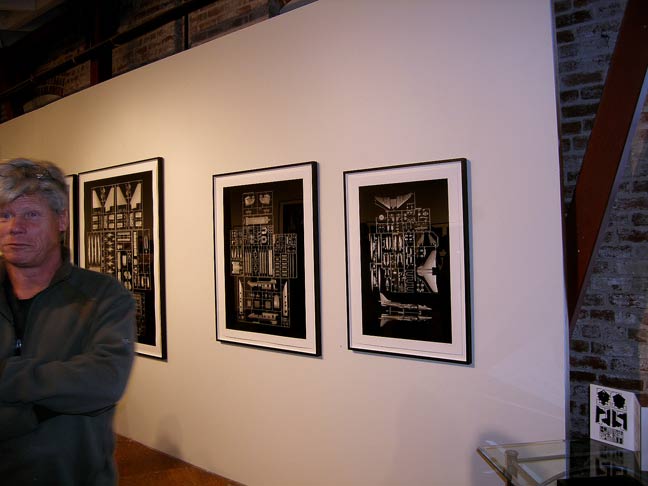 Photography.


Photography.


***
National Product: The Glory is Totally Me - Art by Bill Dunlap.
Comment: The most expensive piece in the show is $250. Small paintings on wood sell for as little as $40; most are already sold. The art is good clean mildly twisted slightly sinister fun with a touch of exposed genitalia and a dash of potty mouth. If that's not enough to sell you, artist and illustrator Bill Dunlap is a very nice guy.
Art.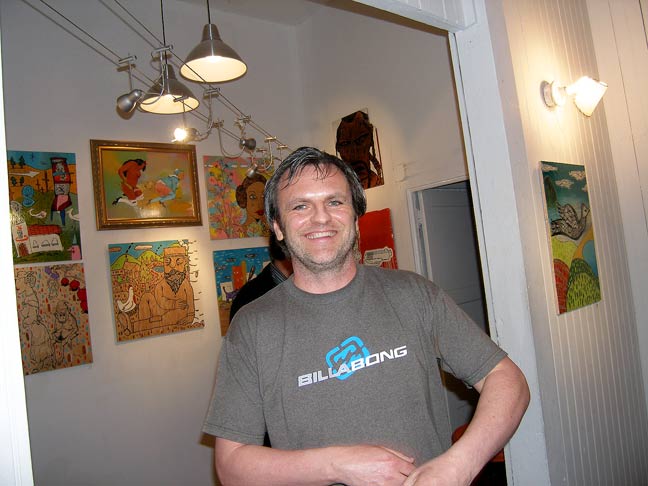 Bill Dunlap - art.


Art.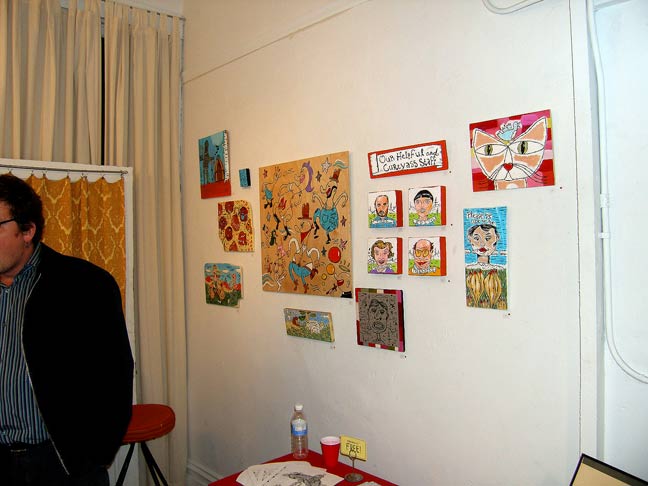 Art.


***
ONSIX Gallery: I'll Put My Trust in You.
Artists: Chris Lindig, Bigfoot, Ray Potes, David Potes, Dave Schubert, Stefan Simikich, Jason Roberts-Dobrin, John Groshong, Ethan Indorf.
Comment: Best show of the night. The photography of Ray Potes, Dave Shubert and the rest of the Hamburger Eyes contingent continues to impress bigtime. The stuff's kinda like Larry Clark's Tulsa-- except way updated, revitalized, de-patronized, and roughed up, as it unerringly artfully documents the rank raw blunt end of big city life. In the art department, Bigfoot's trademark alter egos are as hairy and omnipresent as ever while veteran Chris Lindig's wall of art distills street justice right down to the exposed marrow. Prices all affordable, especially the photos with none over $300, most in the $100-$200 range, starting at $50. The biggest Bigfoot is $1300; starting at $125. Chris Lindig paintings priced $300-$950.
Photography (Dave Schubert) - art (Bigfoot).


Photography.


Photography.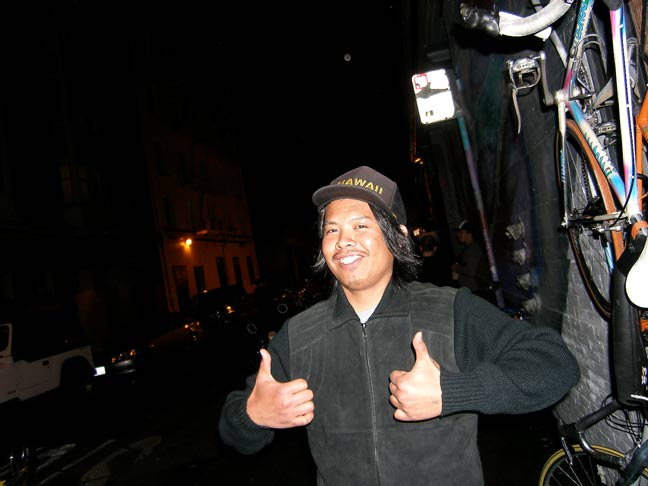 Ray Potes.


Bigfoot - art.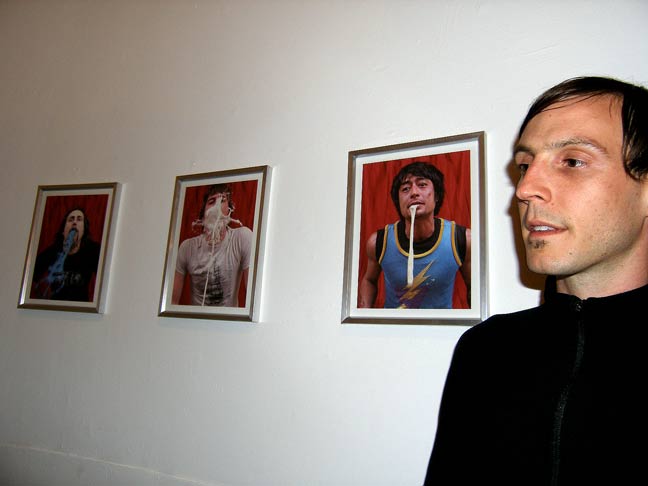 Photography.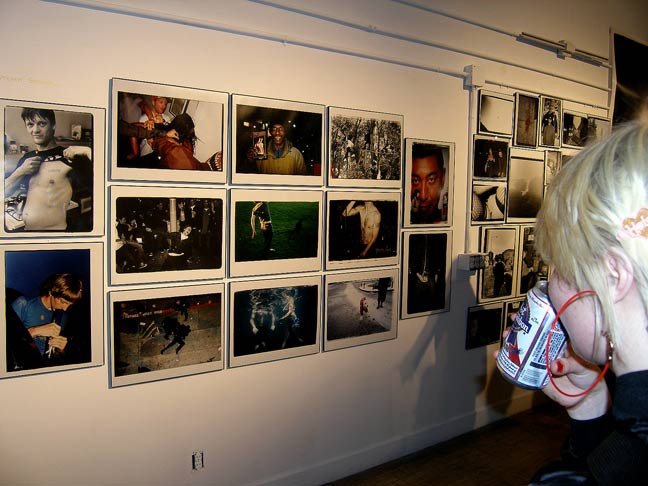 Photography.


Art (Chris Lindig).


Art (Bigfoot).


Photography (Ray Potes).


Photography.


Photography.


***
Cachi Art Studio, 312 Valencia St., San Francisco, CA 94103; 415.836.8312: Art Union 86.
Artists: Pastime, Alex Pardee, Rob Bowen, Jake Won, Jeben Berg, Eric Kneeland, Mr. Quake, Matt Jacuzzi, Marcos Lafarga, Andrew Chapman, Andy Silvestri, Ricky Watts, Neckbeard, Defie, others.
Comment: Graffiti urban mix; variable quality.
Art.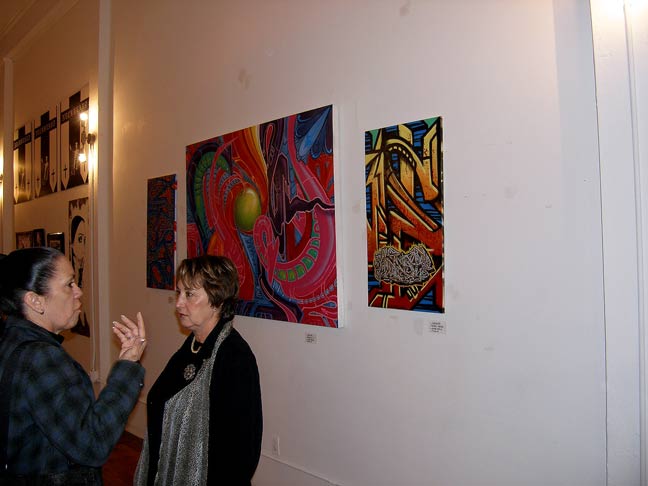 Art.


Art (I like 'em).


Art.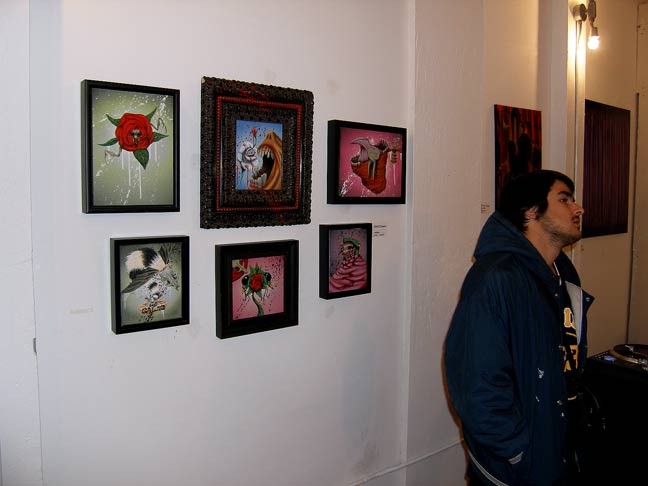 Art.


Art.


Scope.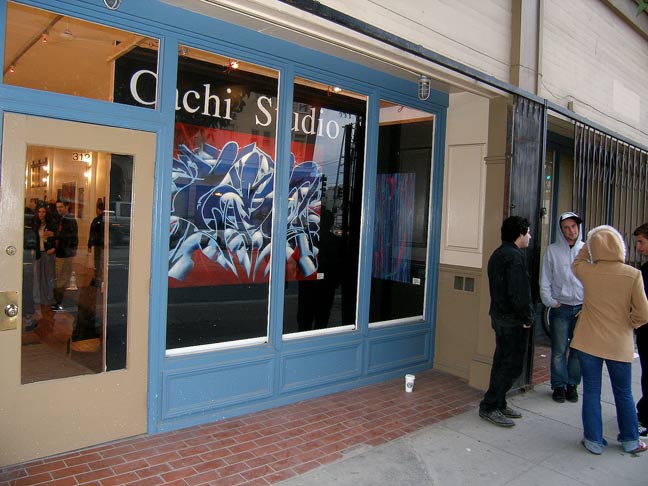 Exterial.


***
Southern Exposure: 30th Anniversary Spring Fundraiser and Art Auction.
Artists: Donna Anderson, Mike Arcega, Caitlin Atkinson, Kimberly Austin, Ellen Babcock, Conrad Bakker, Michael Bartalos, Amy Berk, Leo Bersamina, Libby Black, Jaren, Bonillo, Cari Borja, Jon Brumit, Jason Byers, Tammy Rae Carland, Castaneda/Reiman, Rick Chapman, Kevin Chen, May Chan, Jim Christensen, Teri, Claude Dowling, Adriane Colburn, Veronica De Jesus, Joseph del pesco ,Jay DeFeo, Luis Delgado, Paul  DeMarinis Kathryn Dunlevie, Amanda Eicher, Reanne Estrada, Tia Factor, Chris Finley, Harrell Fletcher, Rhea Fontaine, Jim Gaylord, Maizie Gilbert, Jim Goldberg, Rebecca Goldfarb, Charles Goldman, Josh Gorchov, Robert Gutierrez, Michael Hall, David Hammill, Todd Hido, Terry Hoff, Heather Holt, Amanda Hughen, Suzanne Husky, David Ireland, Xylor Jane, Chris Johanson, Evan Jourden, Henrick Kam, Keira Kotler, Carrie Leeb, Oliver Laude, Heike Liss, Frederick Loomis, Reuben Lorch-Miller, Brendan Lott, Kristin Lucas, Michelle Mansour, Ari Marcopoulos, Kara Maria, Vanessa Marsh, Alicia McCarthy, Clive McCarthy, Molly McCracken, Ian McDonald, Sean McFarland, Dennis McNulty, Cheryl Meeker, Rebecca Miller, Leah Modigliani, Julio Morales, Ace Morgan, Apollonia Morrill, Paul Mullins, Tucker Nichols, Kelsey Nicholson, Abner Nolan, Brion Nuda Rosch, Shaun O'Dell, Justin O'Neill, Scott Oliver, Stephanie Peek, David Peterson, Maria Porges, Nathaniel Price, Corinna Press, Sara Press, Gustavo Ramos Rivera, Lisa Ricci, Rigo 23, Thorina Rose, Bayeté Ross Smith, Jon Rubin, Kirsten Russell, Emily Sevier, Alice Shaw, Jen Smith, Sarah Smith, Tracy Snelling, Scott Snibbe, Jessica Snow, Lisa Solomon, Susan Spies, Laura Splan, Allen Spore, Nellie King Solomon, Jennifer Starkweather, Brian Storts, Tim Sullivan, Stephanie Syjuco, Claudia Tennyson, Sara Thustra, Michael Trigilio, Jessica Tully, Claudia Valdes, Marina Vendrell, Anna Von Mertens, Sara Wagner, Robert Weinstock, Dodi Wexler, Gail Wight, Megan Wilson, Jenifer K. Wofford, Lena Wolff, Sandra Wong, Reid Yalom, Kelli Yon
Comment: Unlike many fundraiser auctions I go to, this one offered plenty of good art by plenty of good artists. That simple and no more complicated. So mark your calendars for Southern Exposure's 40th Anniversary Spring Fundraiser and Art Auction. Note for artists who donate art to fundraiser auctions-- donate something you're proud of.
Art.


Art.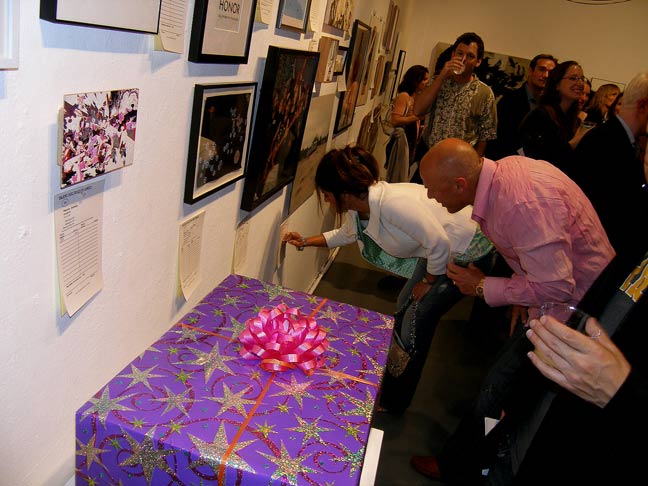 Silent auction bidding.


Art.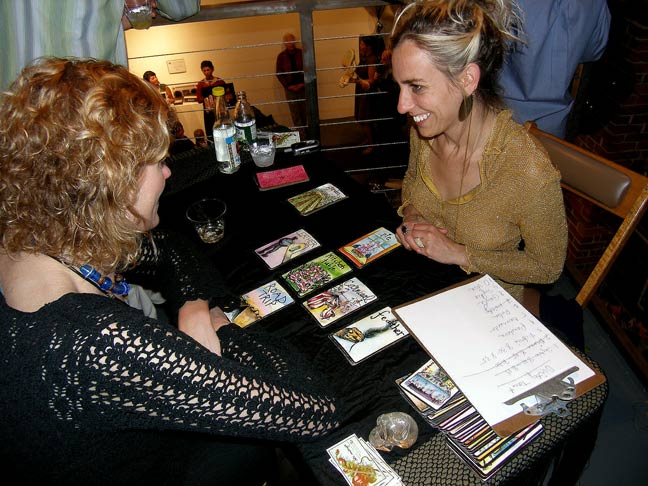 Prognostication art (somebody's gonna be takin' a road trip).


Art.


Art.


Auction.


Support base.


***
Sex Worker Film & Arts Fest: Sex Worker Art.
Artists: Carol Queen, Annie Sprinkle; Tallulah Bankheist; Duran Ruiz; Elizabeth Stephens, Kevin P. Mosley, Nellie Wilson,  Mim Weisburd, Katie Gilmartin, Carol Queen, Norma Jean Almodovar, Dara S., Sharon Leong, Frog, Jane Cassell.
Comment: Art Opening and Festival Opening Party to benefit the St. James Infirmary. Curator Jane Cassell informs me that all participating artists are required to have performed sex for money at some point during their lives. I ask whether that includes barter. No. I ask whether that includes dinner and a movie. No. Only cash or cash equivalent. Cassell adds that the artists also have to be good at making art. So there you go. Another San Francisco original-- the world headquarters for freedom of expression. Stuff happens here that can happen nowhere else on the face of this planet. And it happens safely, respectfully, responsibly, peacefully, and without anybody trying to impose their "values" on anybody else.
Art.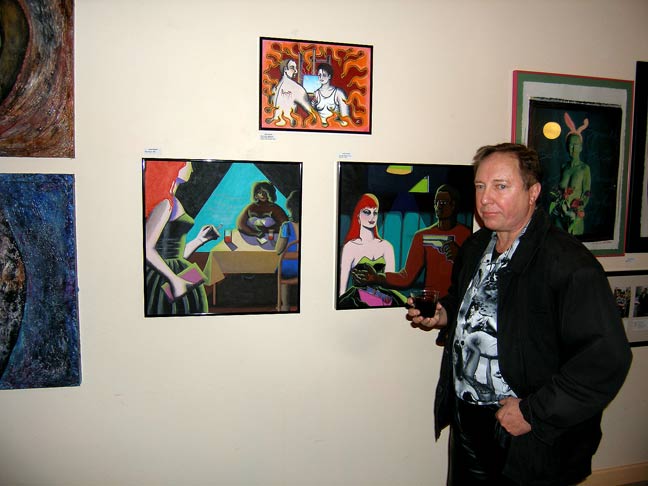 Art.


Curator Jane Cassell.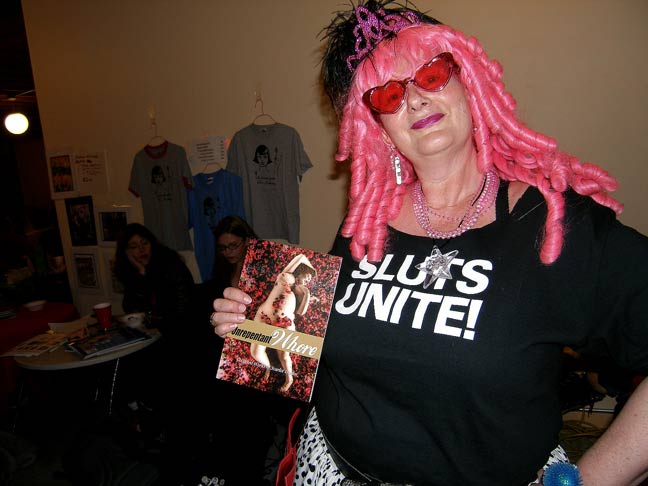 Sex Worker Festival Director Carol Leigh aka Scarlot Harlot.


Art.


Art.


Art.


Art.


Art.


Art.