***

Get your art fix fast: Instagram @alanbamberger
***
Parking Lot Art Fair 2016 at Fort Mason Center
Artists: Meegan Barnes, Sad Vicious (Scott Vermeire and Steuart Pittman), Mitsu Okubo, Brett Walker / George and Lennie Cafe, The Thing Quarterly, Et Al Gallery, Reenie Charriere, Kristian Kabuay, Charlie Leese / Hunt Projects, Laura Halsey Brown / senseofplace LAB, Matthew Goldberg, Penelope Anstruther, Luca Antonucci / Colpa Press, Koak / Alter Space Gallery, Marshall Elliott, BONANZA BONANZA, 2nd floor projects + Nicki Green, Kerri Conlon, Erika Petryszyn, Lidija Ristic, Barbara Obata, Justin Beale, Ray Haguisan, Cathy Lu, Christopher Renfro, Jon Levy-Warren, Ryan Zweng, Maria Dawn, Kat Geng, Erik Bakke, Dallas Holfeltz, Amber Jean Young, Joey Enos, Maryam Yousif, Sarah Thibault, Nick Makanna, Nancy Sayavong, Lindsey Lyons, Gina Tuzzi, Michelle Morby, Richard Daigle, Kimberlee Koym-Murteira, Julian Dash, Beth Waldman, Niki Korth, Chelsea Pegram, Kyle Knobel, Uma Rani Iyli, Joseph Koon, Sarah Tell, Graham Holoch / Eggy Press, Rafi Aji, Sara Kerr + Natasha Loewy, Rachel Payne, Tania Houtzager, Joseph Ferriso + Jenny Sharaf Collaboration, Monica Westin, Joanne Easton, Brooke Westfall, Nina Vichayapai, Em Meine, Colin Christy, Yarrow Slaps / Luggage Store Gallery, t.w.five, Joseph Weaver, John Duket, Chris Cook, Carol Molloy, Matthew Bajda, Lex Kosieradzki, Oscar Padilla, Derek Macario, Frankie Fleming, Shelby Drabman, Isa Amalee, Emily Gui, George Pfau, Gabriela Cobar, Chelsea Wills, Vanesa Gingold, Dan Bortz, Milo Moyer-Battick, Victoria Wagner, Charlie Ertola, Julie Sadowski, Nayeli Nava, Clayton Eisaman, Jennie Lennick, Christine Sosin, Eric Whitley, Katie Wheeler-Dubin, Erica Dixon, Nellie Solomon, Jess Smith, William Koone, Eli Thorne, Megan Leppla, Kelley O'Leary, Lauren Licata, Cella Constanza, Annie Vought, Hunter Franks, Kerri Conlon, Gregory Smith, Jaimie Morgan, Gary Sheldon, Gina Hendry, Mary Durell, KunstCapades and JRtiki: Tim Sullivan, Josh Pieper and Robyn Carliss, Mary Elizabeth Yarbrough, Amy Cella, more.
Comment by AB: Conceived and produced by Jenny Sharaf, this wacky ephemeral only-in-San-Francisco convocation is the perfect antidote to those other art fairs. The dealie-bob materializes in a Fort Mason parking lot starting early in the morning and commences to dissipate a mere few hours later. Artists showcase their wares in parking spaces, tents, on the ground, out of the backs of their vehicles and in occasional shipping containers. Only a handful of hearty survivors are left by mid-afternoon, and not being known as an early riser, those who endure are who I get. Lucky them, right? But it's all good. Don't miss next year's entertaining episode.

Sculpture by Joey Enos at Parking Lot Art Fair.


Brett Walker and his photographs.


All dressed up with nowhere to go 'cuz we forgot our heads.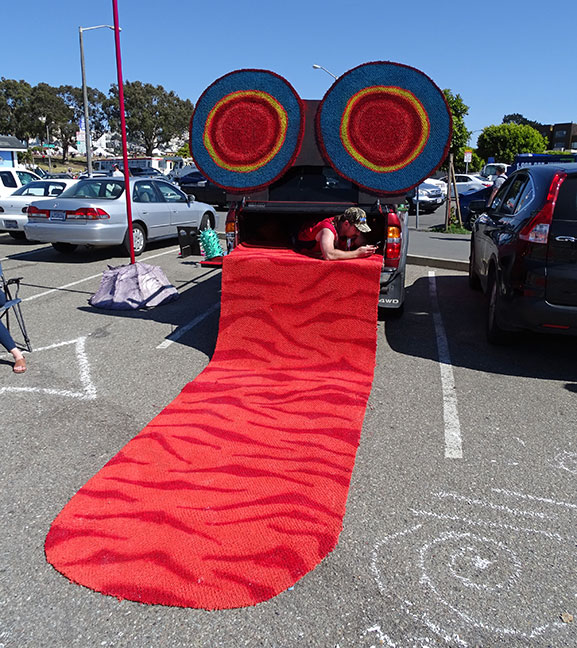 Charlie Leese doing office work out of the back of his truck.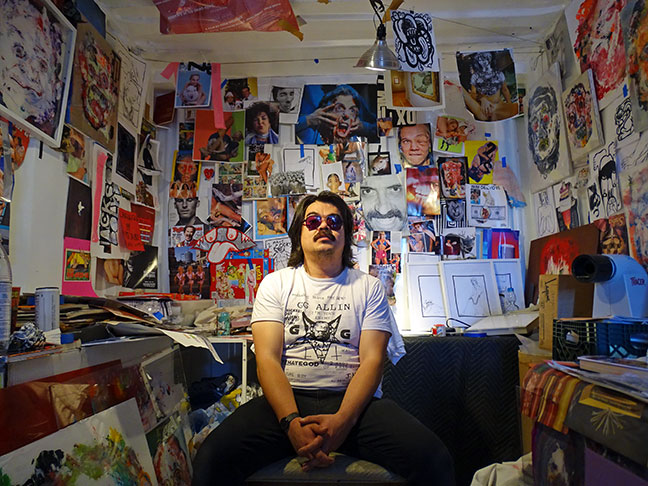 Mitsu Okubo and his art.


Art by Jenny Sharaf.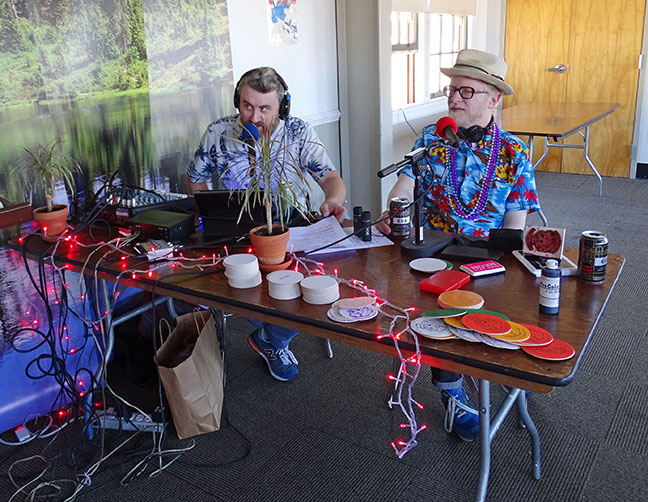 KunstCapades (Josh Pieper & Tim Sullivan) broadcast live from the event.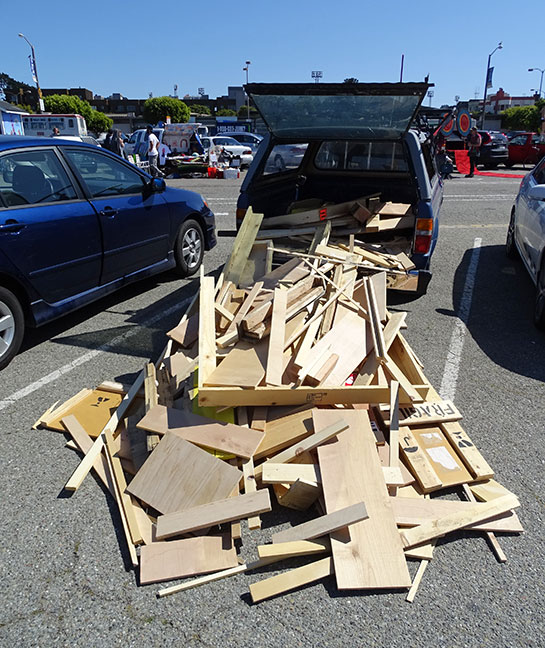 Art shipping crate installation by Marshall Elliott.


And this.


***
John Pence Gallery: Zack Zdrale
Comment by AB: Quality portrait and figure paintings by Wisconsin artist Zack Zdrale.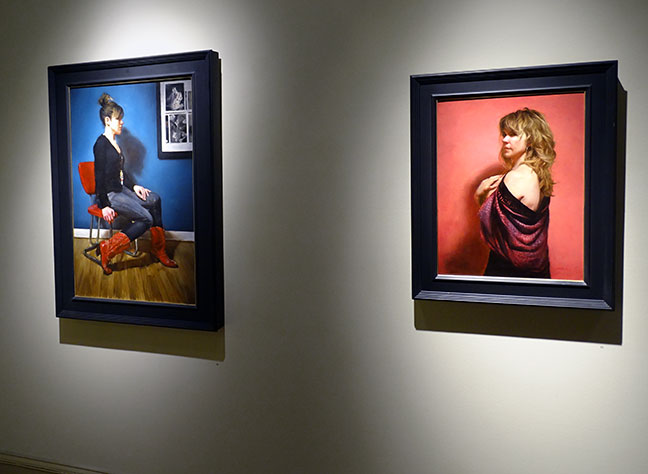 Portrait paintings by Zack Zdrale at John Pence Gallery.


Nudes with eggs by Zack Zdrale.


Zack Zdrale & self-portrait from when he was younger, at John Pence Gallery.


Art by Zack Zdrale.


Art in above image closer.


Wanted art by Zack Zdrale.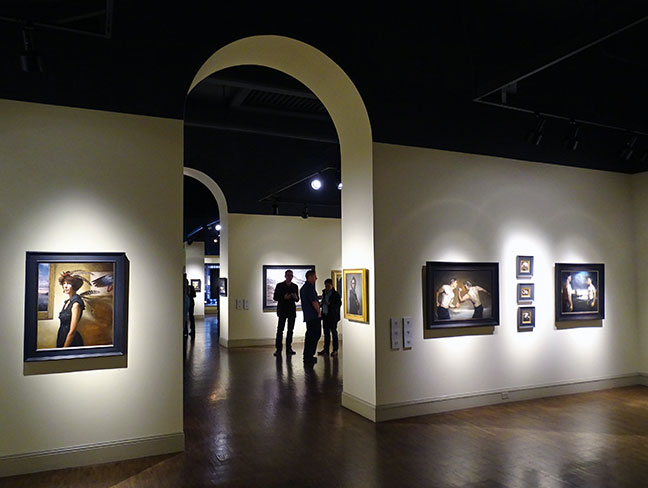 Ambiance - Zack Zdrale art show at John Pence Gallery.


***
Alter Space: Courtney Johnson - Lion Lair; Alyssa Lempesis - Gulp; Lauren Strom-Berg - Cooked Feels
Comment by AB: We've got Courtney Johnson abstracts and grotesque visages in the main gallery, otherworldly sculptures and a nightmarish video by Alyssa Lempesis in the dungeon gallery, and a grab bag of video snippets by Lauren Strom-Berg in the peephole gallery.

Art by Courtney Johnson at Alter Space.


Courtney Johnson art.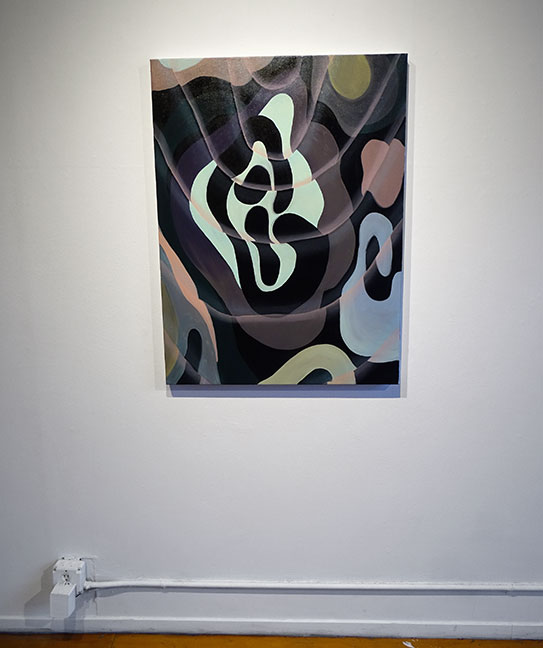 Art by Courtney Johnson (sorta like it).


Sphynx takes a break - sculpture by Courtney Johnson.


Painted seating by Courtney Johnson.


Curiously alluring sculpture by Alyssa Lempesis.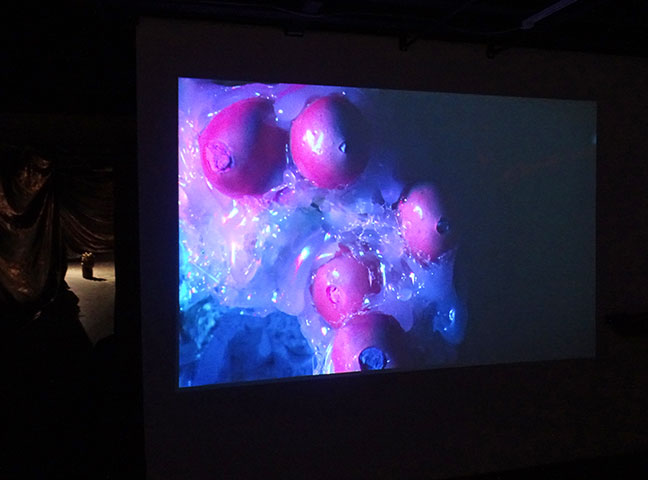 Video art by Alyssa Lempesis.


Alyssa Lempesis sculptures.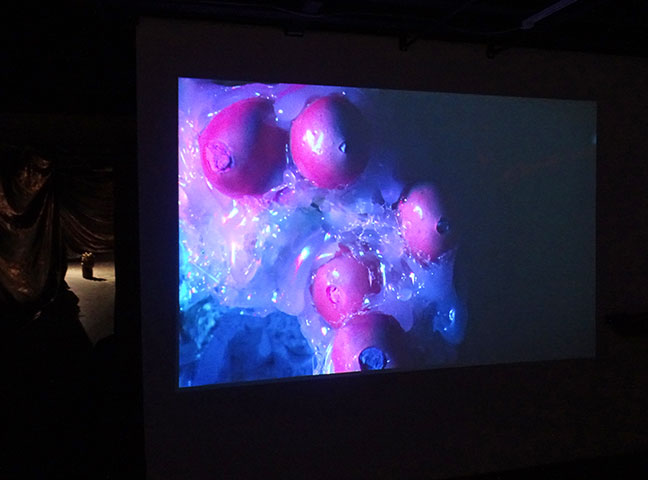 Porthole video by Lauren Strom-Berg.


Long view - group art show at Alter Space.


***
Smash Gallery: Spring Show
Artists: Agnieszka Pilat, Britt Snyder, Matthew Saba, Abigail Drapkin, Dana Nehdaran, Andreina Davila, Ytaelena Lopez, Rich Stergulz.

Art by Dana Nehdaran at Smash Gallery.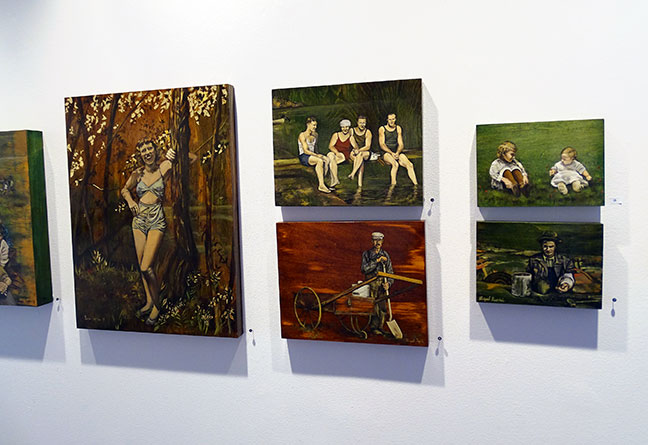 Abigail Drapkin art with a vintage feel.


Britt Snyder art.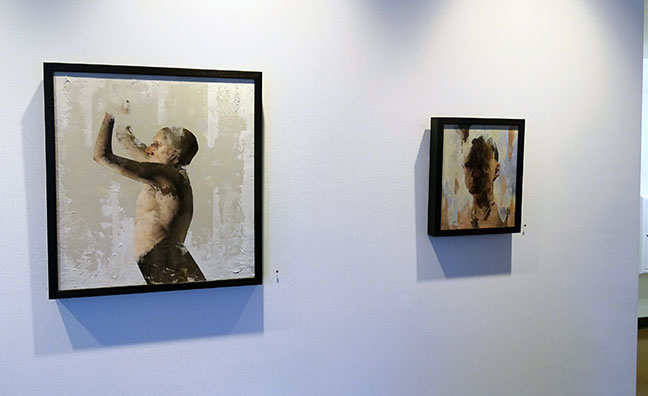 Art by Matthew Saba.


Art by Agnieszka Pilat.


Installation view - group art show at Smash Gallery.


***