SAN FRANCISCO ART GALLERIES - OPENINGS
RATIO 3 - JACK HANLEY - FEMINA POTENS
MINA DRESDEN - MARKET STREET GALLERY
THE LAB - REAVES GALLERY - 349 25TH AVE.
and SPACE GALLERY REVIEWED BY KRISTIN FARR
05.04.07
Ratio 3 Gallery: Ara Peterson - Multidimensional Warp.
Comment: Sometimes art and science ain't so far apart, as evidenced by Ara Peterson's orderly nonrepresentations, their stunning textural upshot mimicking the rhythmic behaviors of waves frozen in time and space. Ratio 3 principal Chris Perez tells me the complex compositions are fashioned from hundreds of thin painted laser-cut panels bonded together. Excellent. I ask Perez $$ how much $$, and he tells me tariffs are yet to be determined. Erk. Maybe I don't know the secret handshake. In any event, it's a show worth seeing-- certainly a contender for a Pick in any arena.
Ratio 3 principal Chris Perez - art (like it).


Art at a distance.


Art close in (I told you it was good).


Art (hardly anybody's there yet 'cuz I'm early).


***
Jack Hanley Gallery: Tauba Auerbach - The Answer/Wasn't Here.
Comment: Tauba Auerbach engages in exceptionally intelligent wordplay (and occasional numberplay) through art as she picks apart language, then systematically reassembles it different, conclusively proving that knowing what it means depends as much on definition as it does on position, sequence, and alignment. Sometimes art and linguistic theory ain't so far apart.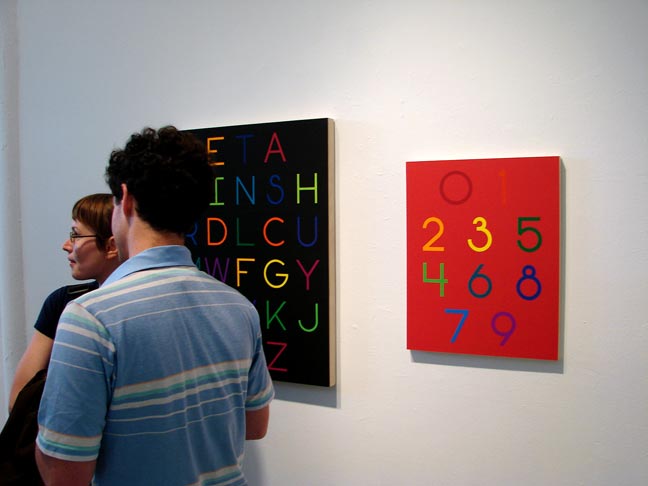 Art.


Art.


Art.


Tauba Auerbach.


Art.


Trade whatever you got for a limited edition book (generous).


Art.


***
Mina Dresden Gallery: Paul Madonna - All Over Coffee.
Comment: Combination art show and book release for All Over Coffee (Paul Madonna, 176 pages, illustrated, hardcover, dustjacket, City Lights, San Francisco, 2007). Madonna's pen and ink wash drawings of San Francisco and environs eclipse illustration, embodying atmosphere, tone, and mood while remaining true to their real life counterparts in terms of scale, detail, and accuracy-- everything you could possibly want is part of the package. Sepia toned, perhaps, but your brain quickly fills in the blanks.
Art.


Paul Madonna makes it official.


Art.


Art.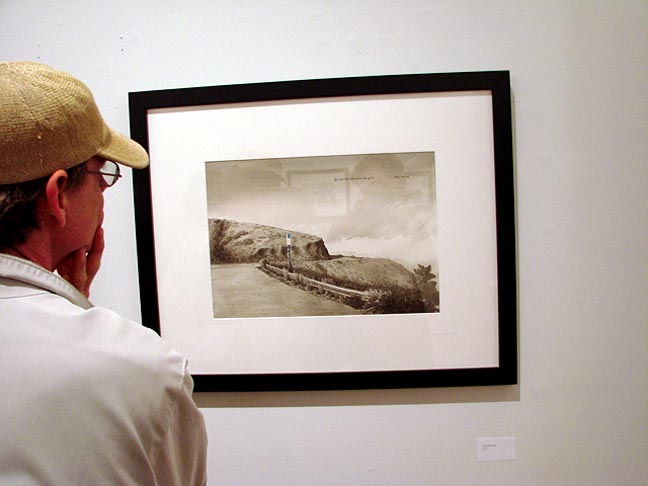 Art.


***
Market Street Gallery: Eight by Eight - Sixty-four Works on Paper by Eight Printmakers.
Artists: Seiko Tachibana, Amanda Knowles, Leslie Lowinger, Susan Belau, Donna Sharee, Ellen Markoff, Sandra Kelch, Terri Driscoll.
Comment: I respect shows like this-- experienced printmakers doin' their dealie bob because that's what they do and they love to do it and they know they do it well and they're not askin' an arm and a leg and all their friends are there and it's all in the name of showing and sharing art. And that, as they say, is that.
Art.


Art.


Art.


Art.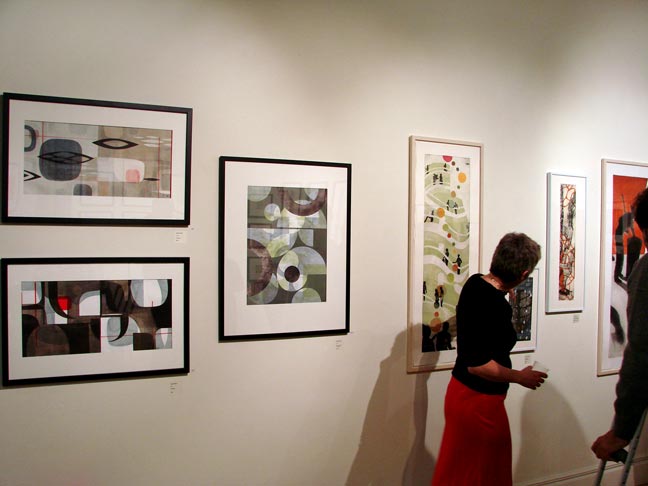 Art.


Some of the artists.


Art.


Art.


***
Femina Potens: Distilling Water.
Artists: Dana Hemenway, Rebecca Frediani, Carrie Maseredjian, Kasey Smith, & Zan Truman
Comment: Art/installation all about water encompasses aspects like tides, bottling it, ourselves being composed of it, pondering large bodies of it, containing it behind dams, and so on and so forth.
Art.


Art.


Art.


***
349 25th Avenue, San Francisco, CA 94121: Gregory Conover - Noggin, An Exhibit of Paintings, Functional Art, and Assemblages.
Comment: This Gregory Conover in-house event is one of the more delightful and entertaining occurrences I've been to in a while encompassing art that's pure unadulterated fun-- and affordable too. The in-house part refers to the fact that the show's producer, a former principal of the now-defunct Friday the Thirteenth West, is offering the art by appointment from her current digs on 25th Ave. Ancient history aside, hardly anything here tonight is over $200 with plenty under $50. The best part is it's 100% attitude-free with not an agenda or ulterior motive in sight. And Conover's good too-- especially his kicky optimist assemblages and over-the-top handbags. Perfect way to end the evening.
Art.


Gregory Conover - art.


Functional art.


Functional art.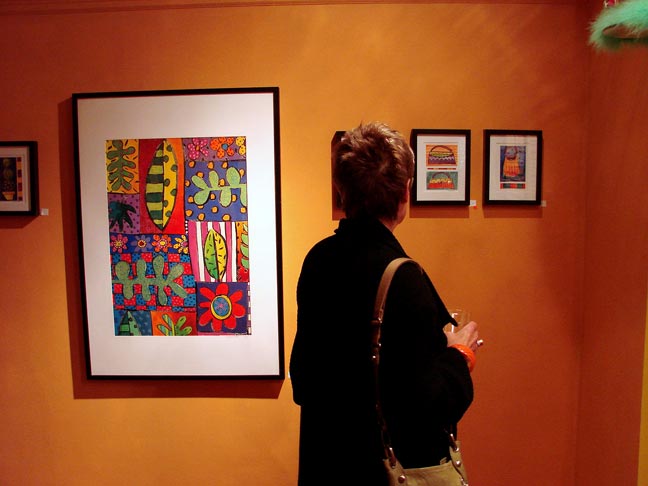 Art.


Art.


***
Space Gallery: Pacific Art Collective Presents Collabo.
Artists: MYTHOS, CHARLIE ALAN KRAFT, JEFF MEADOWS, AARON WINTERS, BILL DUNLAP, YELLOW SOLDIER, NAOMI NOWAK, SKINNER, JAKE BEESON, KAREN BURT, EFFIE BOURAS, CHRISTOPHER FUSICK, LUIS "RVK" HERNANDEZ, JENN PORRECA, ADEN CATALANI, JEBEN BERG, FRANCISCO GRACIANO, BRIANNA LEE, ANDREW MOYCO, OB1/BEN COLLISON, STEPHANIE MUFSON, CHRIS GRANILLO, GRANT FUHST, TYLER CRIPE, LUKE FORSYTH, .KNK., REESA JACOBS, M2C/JACOB SCHERE, BLACK BOOTS, JUAN CARLOS ARAUJO, SIMON FROEHLICH , M.A.M.
Review by Kristin Farr: Global art extravaganza! Multimedia artists and urban painters from Portland to Thailand exhibit mini-installs and paint LIVE before our very eyes. Ones to watch-- Portland's Charlie Alan Kraft with his flowing technicolor figures layered on little pencil sketches, SF's own MYTHOS enamors sick and twisted character drawings laminated on rusted old wood, and Tyler Cripe's stencil-layering madness.
Artists represent Maryland, Bangkok, Oakland, Salt Lake City, Stockholm, Phoenix, Sacramento, the UK, SF, and some town in Oklahoma! Cleverly curated by Wil of San Jose's Pacific Art Collective who obviously knows a thing or two about rocking an art party that gets down until the gallery's bar runs out of Soju.
Art.


Jeff Meadows - art in progress.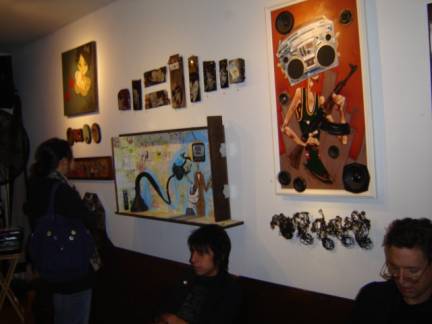 Art.


Tyler Cripe - art in progress.


Art (Mythos).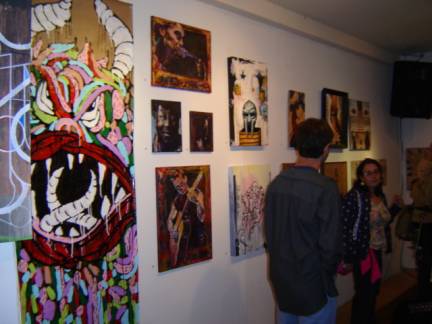 Art.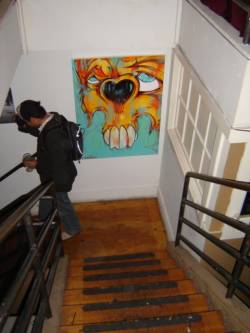 Art.


***
Addendum: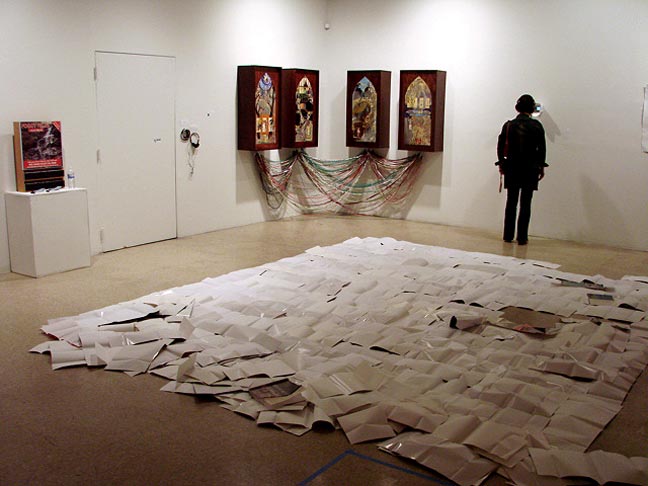 Jim Nelson writes - artists script it with art at The LAB.


Jim Nelson / artist collaboration at The LAB.


One more art/writing/reading/installation from The LAB.


Katie Lewis gets persnickety with pushpins at The LAB.


Ben Shambaugh paintings at Reaves Gallery, 2344 Market St., SF.


One more Ben Shambaugh paintings at Reaves Gallery.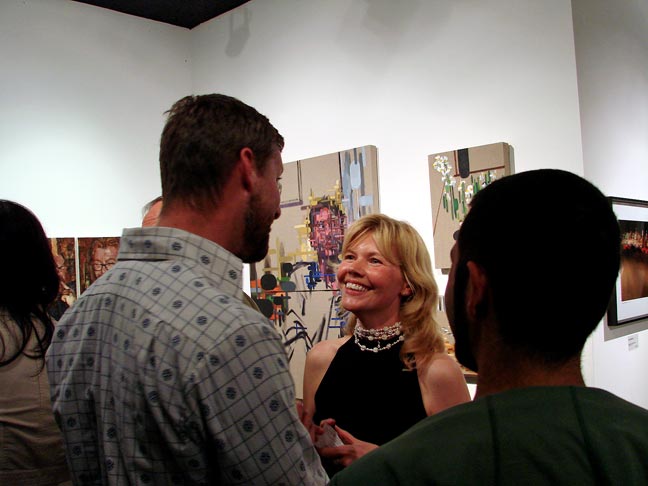 Sharon Reaves of Reaves Gallery, 2344 Market St.


***