SAN FRANCISCO ART GALLERIES - OPENINGS
HOSFELT - BUCHEON - LE TRIANON GALLERY
LITTLE TREE - ASPECT - GRAY AREA GALLERY
WHITE WALLS - SHOOTING GALLERY
MICHAEL ROSENTHAL CONTEMPORARY ART
05.05.07
Bucheon Gallery: California College of the Arts Furniture Program presents Taking Form.
Artists: Justin Champaign, Jess Gupta, Raun Harris, Jeremy Kaplan, Adrien Segal.
Comment: New works, furniture and related, by five CCA graduates.
Furniture-related art.


Furniture art.


Furniture art.


Furniture art.


Furniture-related art.


***
Hosfelt Gallery: Anoka Faruqee - As Far as the Eye Can See; Roland Flexner - New Sumi Ink Drawings.
Comment: Shimmering labor-intensive abstracts respect color as well as pattern by Anoka Faruqee. Roland Flexner meanwhile, throws up some mysteriously spiffy little ink works nuanced with blowing, tilting, and blotting. But they remind me of something. And I rack my brain. And I remember. They trend strikingly similar to images in "Reves d'Encre," a portfolio of 25 "phototypes," of Rorschachian ink "drawings" executed by Jose Corti, published in limited edition in 1945. And they're about the same size as the ones in the portfolio too. How do I know? I own a copy of "Reves d'Encre." Don't you?
Art (Anoka Faruqee).


Art (Anoka Faruqee).


Art (Anoka Faruqee).


Art (Anoka Faruqee).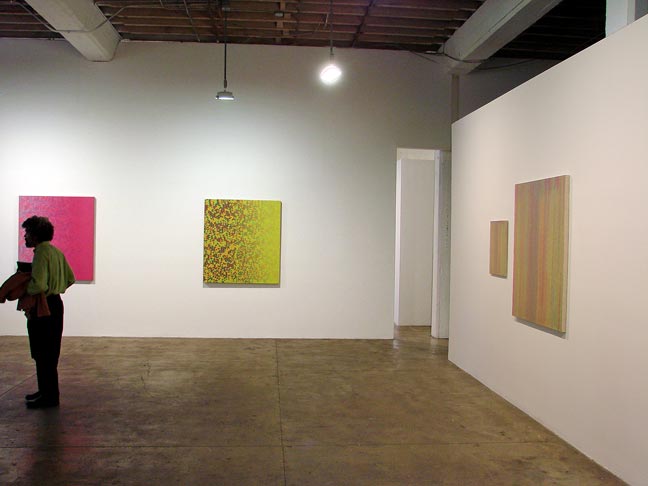 Art (Anoka Faruqee).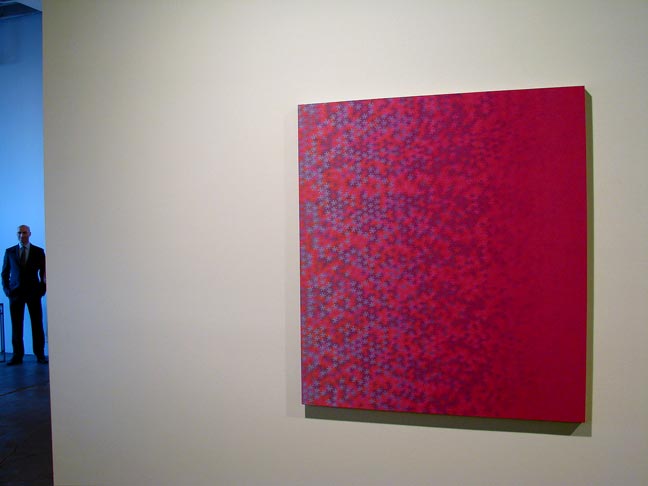 Art (Anoka Faruqee).


Art (Roland Flexner - nicely done).


***
Le Trianon Gallery: Capelo.
Comment: Bright vibrant abstract and semi-representational paintings by Mexican artist Javier de Jesus Hernandez Capelo.
Art.


Art.


Capelo - art.


Art.


Ambience.


***
Little Tree Gallery: David O. Johnson - Loiter.
Comment: David Johnson gets reflective about neon, diverting its traditional commercial purpose of exhorting us to do stuff or buy things, to rather instruct us to loiter. The show's capstone is an impressive delicate accurate neon armchair. (The red neon photographs yellow. If anyone knows that Photoshop correction trick, please email me. I'm stumped.)
Neon armchair art-- tricky.


Art.


Art.


Outside looking in.


***
Aspect Gallery: Locals Art Show.
Artists: Debbie Cain, Cedric Georgel, Susannah Kopcho, Galian Milton, Antonio Rivera, Tachina Rudman, Rebecca Shortle, Stewart Walker, Berrin Yavuzer, Marion Wickstrom, Tina Tarnoff, Kellyann Gilson, Powell St. John, Jagmo, Jokie Wilson.
Comment: Comfy downhome creative klatch features a little of this and a little of that.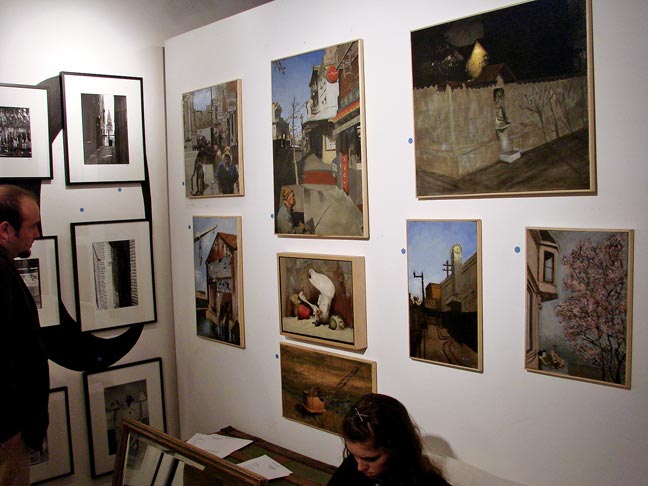 Art.


Art.


Art.


Art.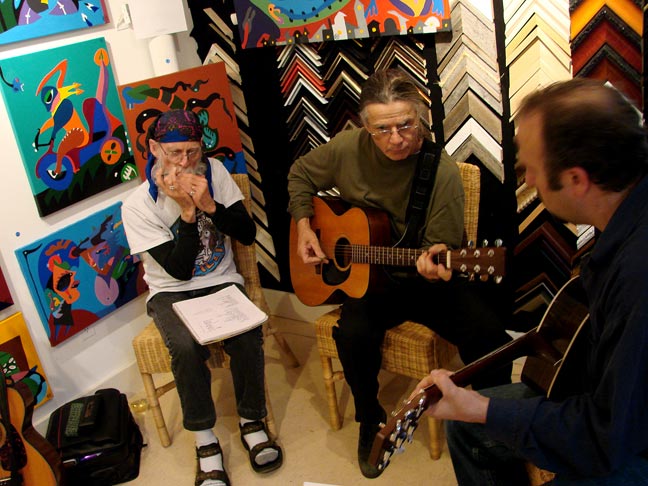 Tunes.


From the street.


***
San Francisco Civic Center Plaza: Cannabis Freedom Day Rally.
Comment: I hear live music as I exit Aspect Gallery, saunter on down to where it's at-- Civic Center Plaza-- and it's a pro-toke rally. There's a band, plenitudinous paraphenalia for sale, stoners stoning, eating, lying on the ground staring at the sky, and uh... um... I forgot what I was talking about. Whatever. Meanwhile just across the street, participants from a large formal gathering congregate on City Hall steps. Only in San Francisco-- love it.
Tunes.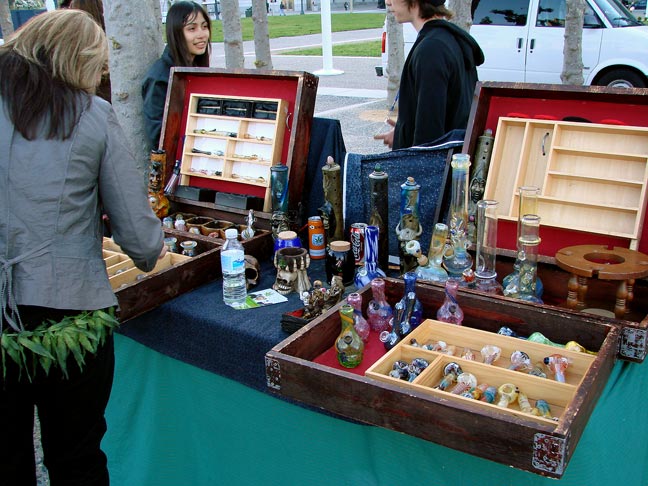 Provisions.


Provisions.


Across the street.


***
White Walls Gallery: Kim Cogan - Beyond the Gates.
Comment: Kim Cogan snowballs his sphere of savvy by adding color, figures, still-life, narrative, and more to his already considerable repertoire. Come on down and explore atmospheric San Francisco (Chinatown in particular) via Cogan's mind and palette. Well worth it. Tonight's buzz is Robin Williams acquires himself an acquisition-- a fine painting of barbequed ducks hanging in a Chinatown meat market storefront window. Good eye.
Art.


Art.


Art.


Kim Cogan (left) fields Q/A from the fan base.


Art.


Art.


Art.


Art.


Robin Williams / Norm chat-up.


Upper.


***
The Shooting Gallery: Shawn Barber - Tattooed Portraits.
Comment: Shawn Barber unleashes phase two of his interpretive excursion into the realm of tattoos and the personas of those who manifest them. All ink aside, Barber is in the process of evolving into an accomplished portrait painter, admirably advancing what's traditionally a yawner of a genre by complicating his compositions and infusing his marks with dynamic vitality. My favorite here is the multi-expressive swivel-head essay on tattoo artist and walking work of art himself, Norm. Norm-- I hope you own it.
Art.


Art.


Portrait of Norm.


Art.


Art.


Art.


Art.


Head count.


***
Michael Rosenthal Contemporary Art: Grand Opening Exhibition - William Wegman and Anya Speilman.
Comment: A few pics from the grand opening of this Redwood City gallery courtesy of Stuart Locklear. Owner Michael Rosenthal tells me he plans to combine established with emerging artists in his shows.
Art (by Anya Speilman, I think).


Michael Rosenthal & affiliate.


In.


Out.


***
Addendum:
Gray Area Gallery-- hanging the show after it opens. Erk.


Labels for the art at Gray Area Gallery.


On the job at Gray Area Gallery.


***