SAN FRANCISCO ART GALLERIES - OPENINGS
CATHARINE CLARK - HAINES GALLERY - BRIAN GROSS FINE ART
BAR OF CONTEMPORARY ART (BOCA) - VENERE GALLERY
CCA - SFAI - DE YOUNG MUSEUM - ONSIX
LUGGAGE STORE - BELCHER STUDIOS - MOVE ON ART - TRIPLE BASE
SCION DASHBOARD - FOUR STAR VIDEO - SPACE 180 - ICTHUS GALLERY
SPACE GALLERY - SF CENTER FOR THE BOOK - PAINTBALL PARADISE
05.11-13.06
Catharine Clark Gallery: Travis Somerville - American Cracker; Packard Jennings - Public Disclosure.
Comment: Travis Somerville circumscribes the ominous extremes of race relations in a series of paintings and drawings which explore his personal struggles with a Southern Christian upbringing, recollections of life in the rural South, and black/white stereotype icons, while weaving in the social and political fallout of the Hurricane Katrina aftermath. Somerville's unrestrained confrontational portrayals make us think not only about others, but also about ourselves. You gotta go deep, ugly, painful, and courageous if you wanna touch truth, and it sure gets touched here. Top price $22K; most art priced hundreds to low thousands $$. Packard Jennings George Bush swipe in the video room.
Art.


Art.


Travis Somerville - art.


Art.


Art.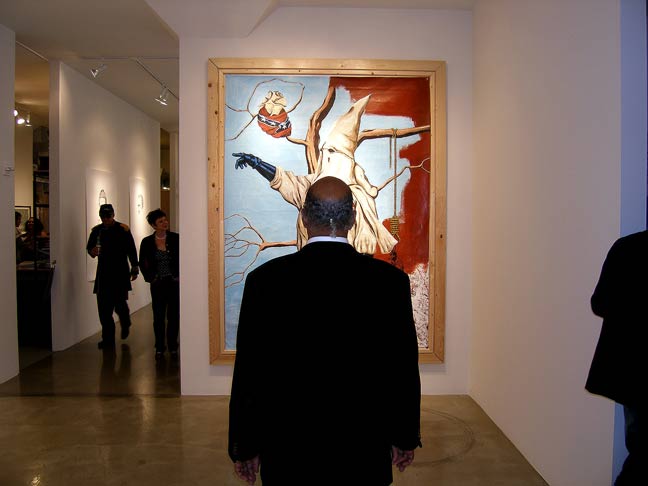 Art.


Art.


Art.


Art.


***
Haines Gallery: Amy Ellingson - Recent Work.
Comment: Hypnotic dimensional textured oil and encaustic paintings by Amy Ellington, the compositions conceived with the aid of a computer, some repetetive and symmetric, others approximating fragmented graffiti. According to Ellington, the paintings concern issues like habit, ritual, tradition, and the building blocks of identity. Fair enough. For me, they're elegant applications of the encaustic arts, progressively more sumptuous the closer in you get.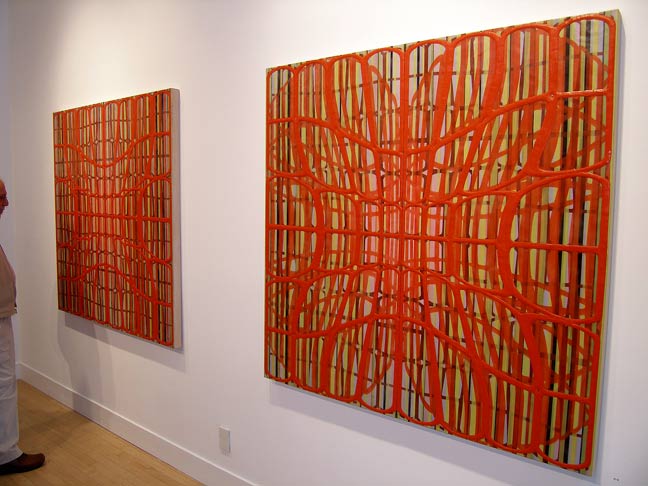 Art.


Art.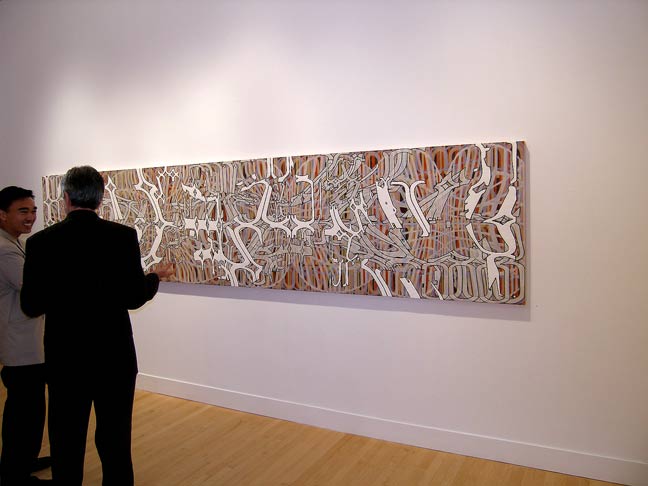 Art.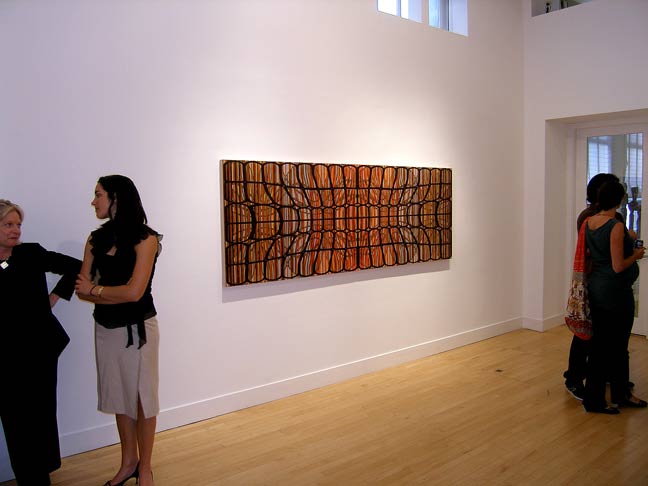 Art.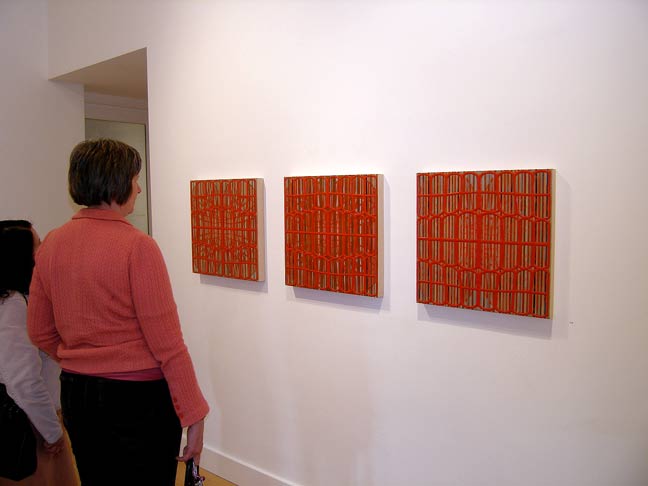 Art.


***
Brian Gross Fine Art: Roy De Forest - Recent Paintings.
Comment: Roy De Forest imagined up an artistic recipe that works and he's nuanced and refined it for the past fifty years. His current crop of bouyant funkadelic folklike forays reflect his recent journey to the Amazon. De Forest also builds his own frames, every bit as upbeat and whimsical as his paintings, so it's like you get two works of art for the price of one. Average price around $30K.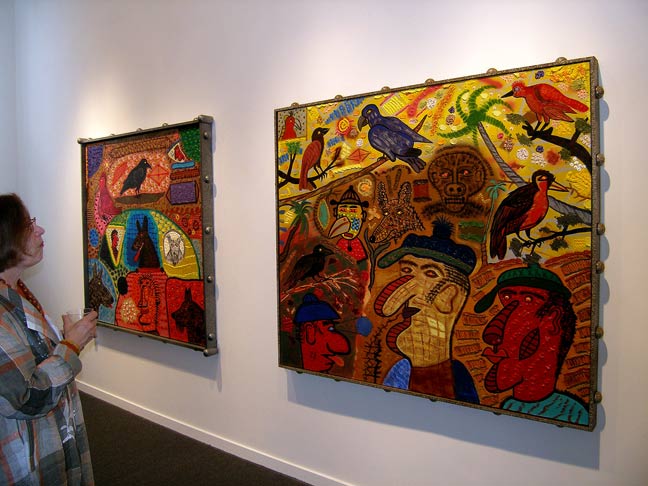 Art.


Roy De Forest (center).


Art.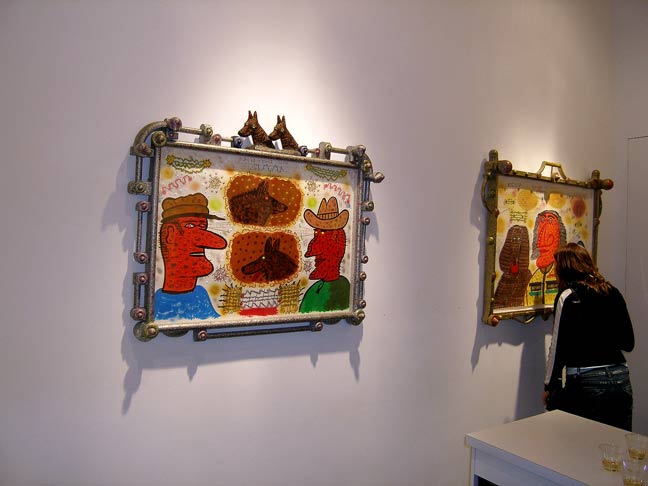 Art.


***
BOCA - Bar of Contemporary Art: Tamara Albaitis - Recent Work.
Comment: Tamara Albaitis states that she is investigating "Acousmatics - when we rupture the representational characteristics of sound and delve deeper into the sensations and personal meanings of sounds." Fine. We've got a premise. The remainder of the explanatory is a cacophonous cascade of marginally intelligible generalities, so let's skip that and go straight to the art. Her installations consist of speaker groups and wires, assembled and arranged not only to transmit sounds of ordinary everyday life, but also with attention to their visual appearance, exclusive of the sounds they emanate. Bottom line for me-- you don't have to understand it to appreciate it.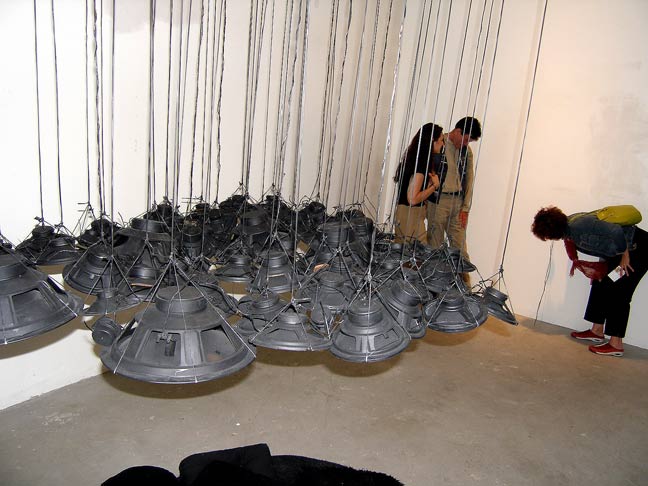 Audible art from above.


Audio art from the side.


Sound art from beneath.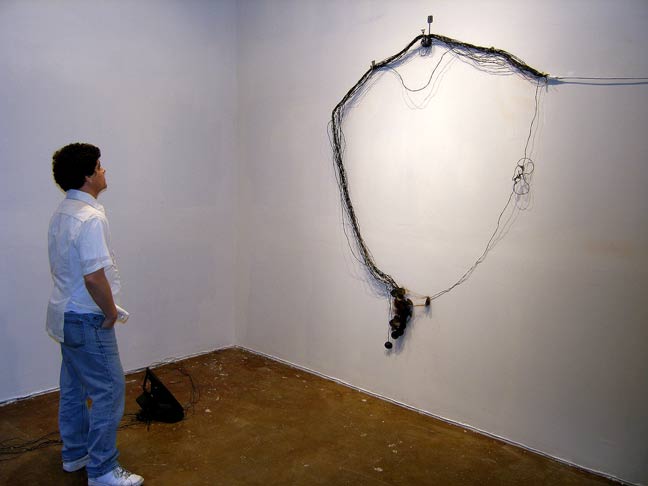 Acoustic installation art.


***
Venere Gallery, 1045 Mission St., San Francisco, CA 94103: SPEED.
Artists: Andre Gallardo, Yuri Psinakis, Ed Ruscha, John Beech, Robert Ross, Becca Gherardini, Pedro Ruiz, Dennis Gray, Chris Jordan, Guy Overfelt, Thomas Zummer, Kenton (Kent) Parker, Sigi Mattern, Matthew Cusick, Jeremie Roux, Pete the Painter, Prairie Prince, Richard Haden, Amandalynn (Amanda Lynn), Charlie O'Hanlon, Charles Linder, John Wilson, Robert Larson, John Vallier, Willie K. Bullion.
Comment: Group show curated by Yuri Psinakis focuses on car and motorcycle culture, bringing together a diverse group of talent including artists, vintage motor restorers, custom auto painters, and motorsports enthusiasts. My favorite-- a carved mahogany BMW motorcycle gas tank, complete with dents, by Richard Haden. Runner ups-- metal containers peppered with gun shots, painted fire engine red, and wired as lighting fixtures by Charles Linder (forgot to photograph 'em-- sorry!); Matthew Cusick's "Transamerica," a Smokey and the Bandit-style Pontiac Trans Am rendition constructed from collaged pieces of roadmaps. And there's plenty more worth seeing at this atypically entertaining agglomeration-- open by appointment (contact Yuri Psinakis at 415.863.5556).
Trans Am map art (Matthew Cusick - like it).


Art (Charles Linder)
Linder tells me each layer has a mummified T-shirt in it.


Art.


Art.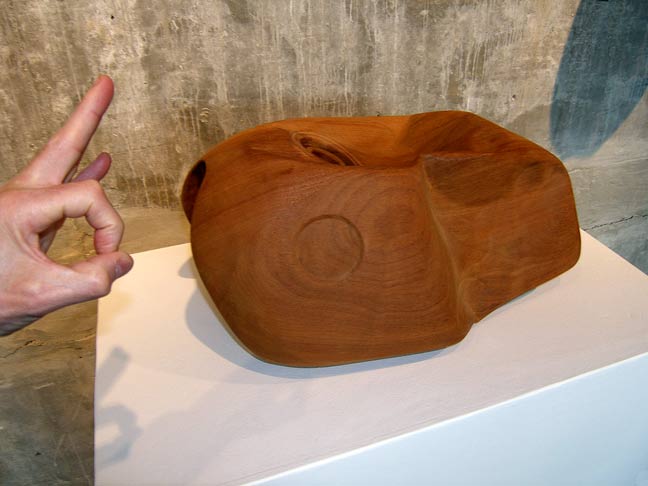 Mahogany BMW cycle gas tank art (Richard Haden - like it).


Art (Amanda Lynn flamer left).


Art.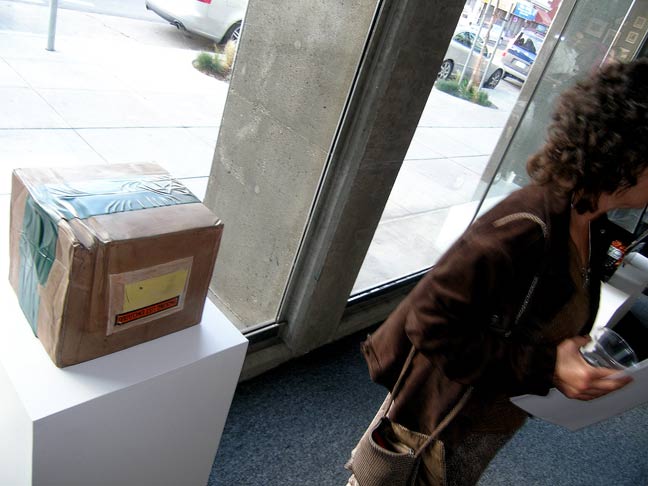 Tromp l'oeil dinged up package art (Richard Haden).


***
California College of the Arts: Graduate Exhibition.
Comment: Abundance of art, an oodles of artists, and scads of spectators make this one of the most overwhelming art events of the year. As always with expositions this size, you gotta hunt, peck, and jostle for the good stuff. And yes, there's good stuff. I don't make it upstairs; I can only take so much. Oh well. But here's a representational snippet...
Bricks on a pallet art.


Carved styrofoam sandwich board art.


She sits in front of a cubicle staring through one-way glass.
You sit inside the cubicle; you see her, she can't see you.
Everything's backwards.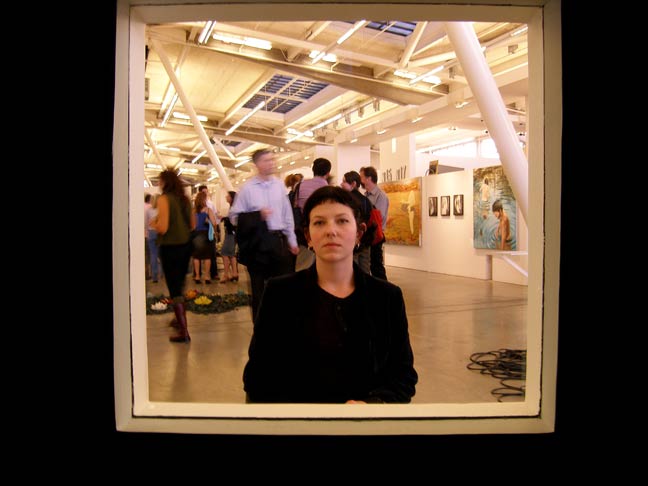 Me inside the cubicle getting stared at (like it).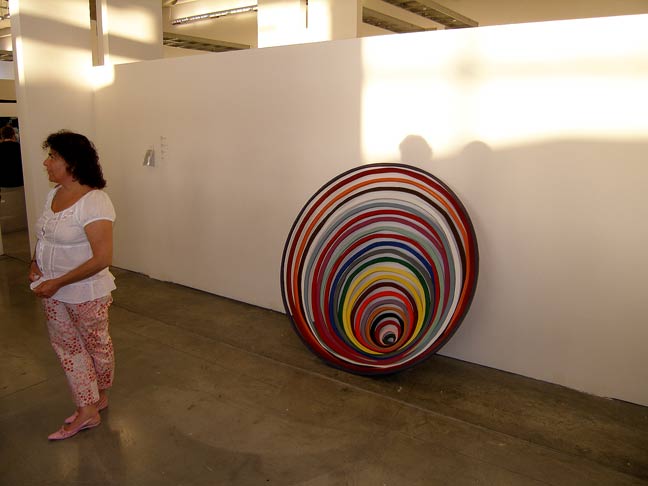 Vorticular rainbow art (sorta like it).


Mattress art.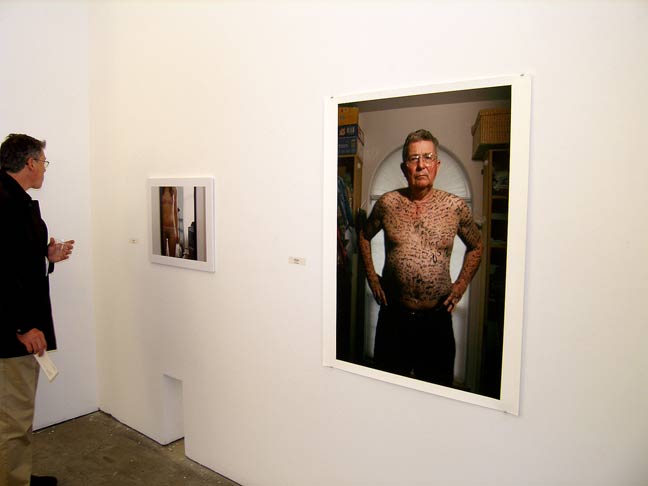 Scribbled up senior citizen art.


Weird taxidermized feline art.


Subversive signage art (like it).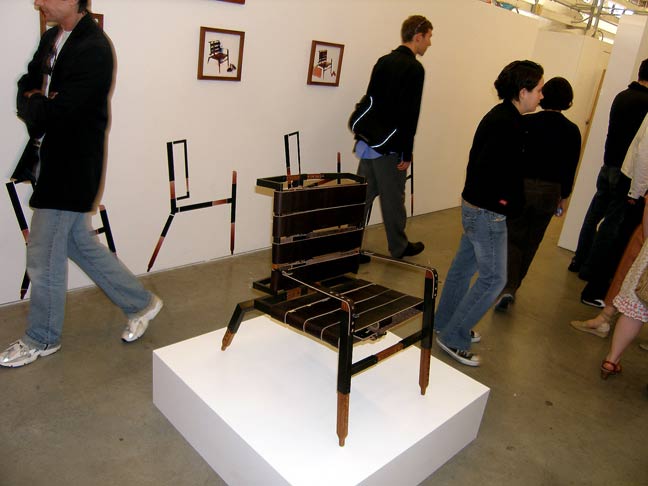 Chair art.


Neon spaghetti art.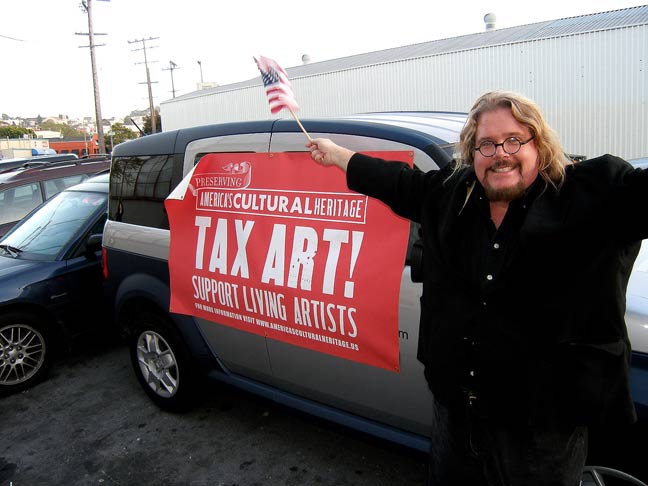 Dude out front's got a plan to tax art; read all about it.


***
de Young Museum: Friday Nights at the de Young.
Comment: The de Young stays open until 8:45 pm every Friday night for special programs and events including live music, dance, lectures, artist demonstrations, performances, food and cocktails. Admission-- free. Tonight's docket features a lecture by Kathan Brown, founder of Crown Point Press, live jazz by Theloni on Wry, a printmaking demonstration and art chat with Jan Wurm, and live painting by Alexandra Blum.
Alexandra Blum paints Chronicle newspaper rack.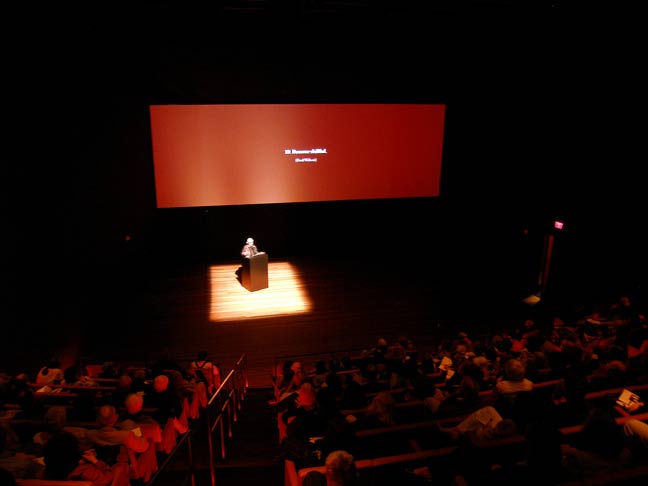 Kathan Brown lecture.


Jan Wurm - art.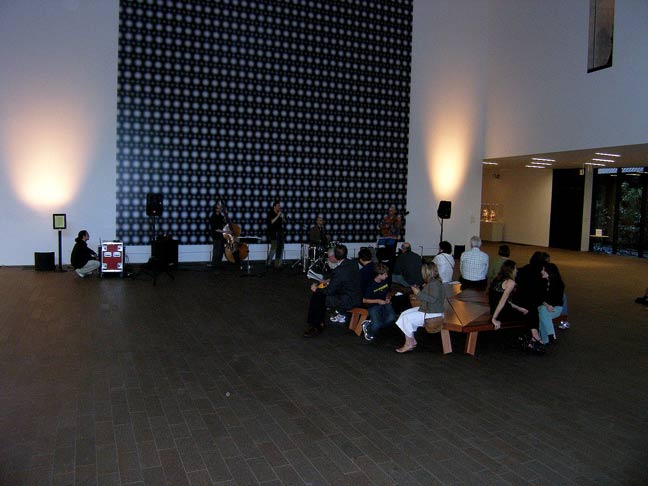 Tunes.


***
Belcher Artists: Belcher Artists Spring Show 2006.
Artists: Carlo Abruzzese, Valerie Anjaria, Amy Bond, Peikwen Cheng, Seth Dickerman, Paul Ferney, Jason Forman, Bret Hansen, Karen A. C. McKenzie, Julie B. Montgomery, Hadley Northrop, Paul O'Valle, William Salit, Charles H. Stinson, Marcia Teusink, Sean Vallely.
Comment: Group show of art by artists who have either previously rented or currently rent studio space at 69 Belcher Studios. Belcher is one of the nicest artist studio/gallery buildings in SF, especially the main exhibition space, and their shows are generally a cut above. Tonight, in addition to the galleries, the individual artist studios are also open to the public.
Art.


Art.


Art.


Art.


Art.


***
The Luggage Store Gallery: LP Works by Kitundu.
Comment: The central feature of every Kitundu functional musical sculptural construction is a working turntable coupled to a power source that can be anything from electricity to wind. A number of his mechanizations also incorporate unique inventive instruments that can be played in tandem with their turntables. Kitundu christens these contraptions "Phonoharps." He also plays them (including a recent gig with The Kronos Quartet at Carnegie Hall) and will be performing at The Luggage Store during the course of the show (contact the gallery for dates and times). But wait; there's more. This is one of the best artstravaganzas I've seen in a while. It's hard to be original these days, not to mention purposeful, proficient, multitalented, ingenious, accomplished, fresh, prolific, exploratory, idiom expanding, and exciting all at the same time. This dude is the complete unexpurgated unabridged deal. Jackpot.
Art.


Art.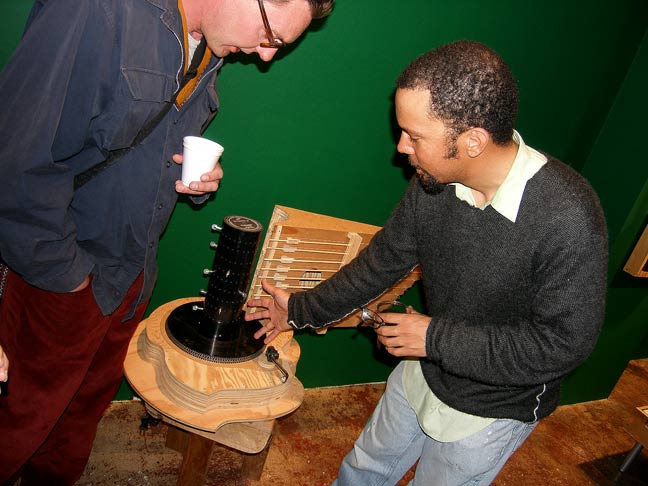 Kitundu explains art.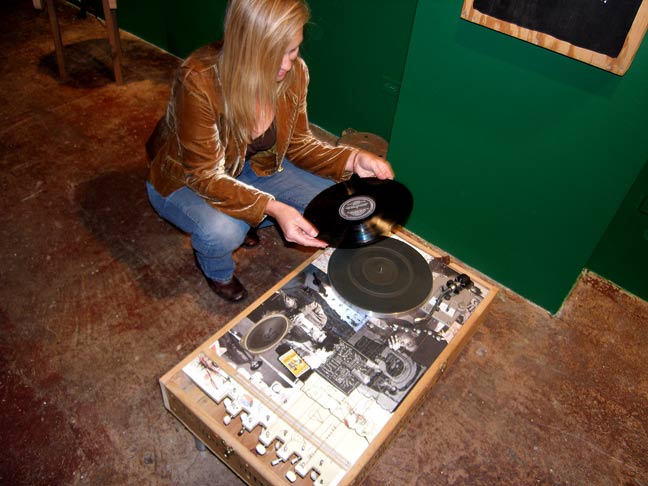 Art.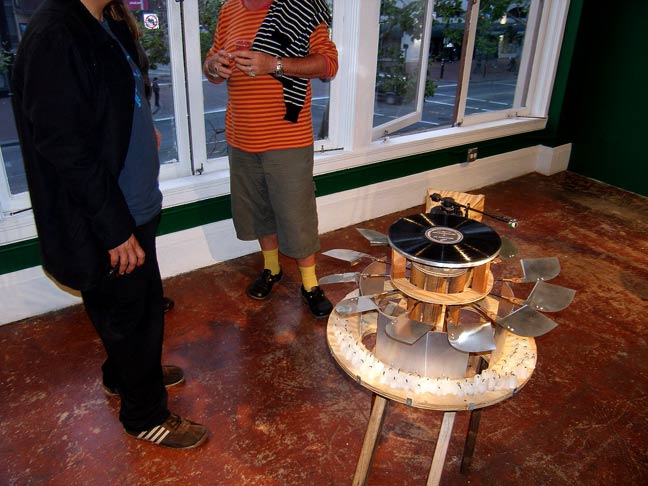 Art.


Art.


Art.


Art.


Soft sculpture.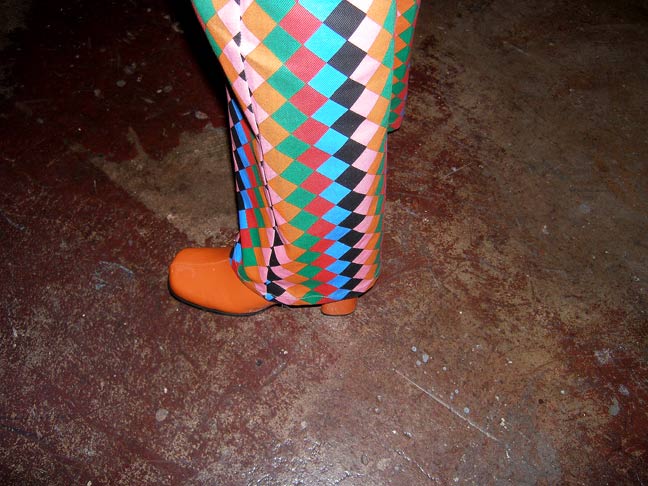 Soft sculpture detail.


***
ONSIX Gallery: The Serenade is Dead - Solo Show Featuring Derrick Snodgrass & Group Show.
Artists in the group show: Austin Barber, Victor J. Blue, Freddy Corbin, David V. D'Andrea, Dru Donovan, Chris Duncan, Chris Fitzpatrick, Kyle Garner, Claudine Gossett, Mary Howe, Bessie Kunath, Tim Lehi, Shawna McAfee, Keegan McHargue, Randy Mordecai, Joe O'Neil, Michael Page, Juan Puente, Jeff Rassier, Albert Reyes, Jason Roberts-Dobrin, Moses Saarni, Sham, Betty Short, Charlie Skinner, Gavin Stevens, Molly Street, Scott Sylvia, Alison Tharp, Amy Thompson, Zefrey Throwell, Jesse Tuesday, Jef Whitehead, Katy Zaugg.
Comment: Peculiar bird-infused portrait head watercolors spruce up Derrick Snodgrass's solo in the rear gallery, the medley anchored by a potent oversized pyramidic meteoric interstellar expeditionary work on paper. In the main bar, I gotta go with Chris Duncan's intuitive abstract painting-- deep color, subtle effect, quiet radiance-- nice. Plenty more to see otherwise.
Art (Derrick Snodgrass - like that biggun).


Art (Derrick Snodgrass).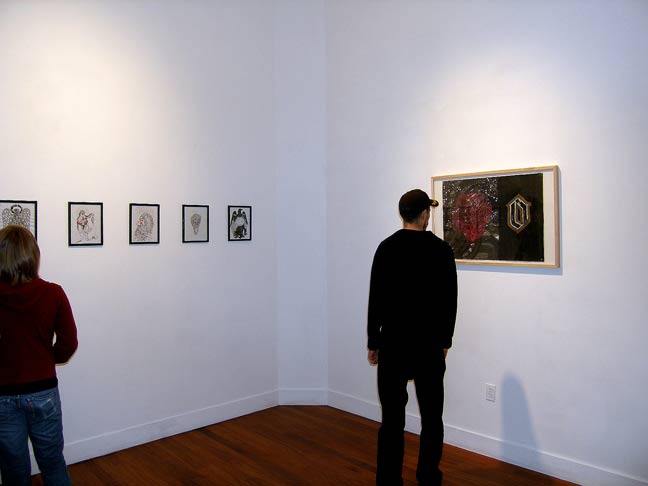 Art (Derrick Snodgrass).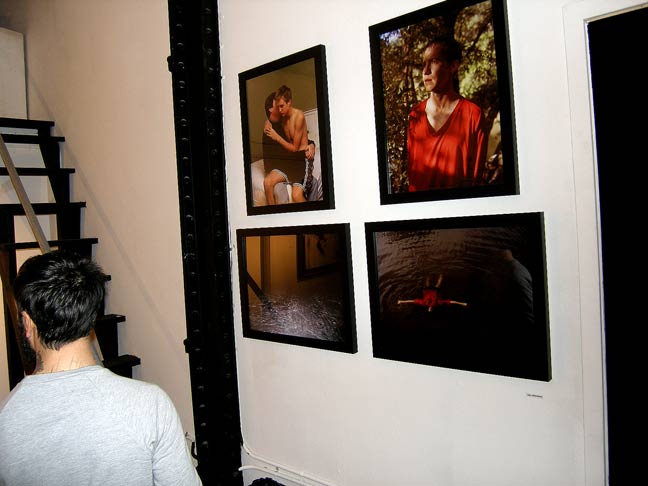 Art (group show).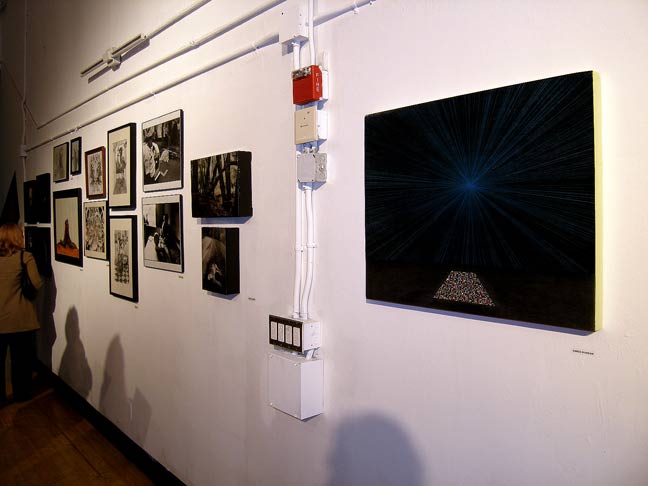 Art (Chris Duncan right - like it).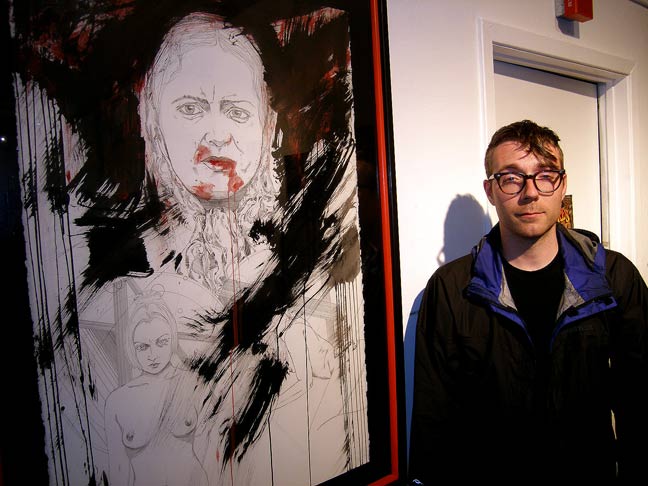 Zefrey Throwell - art.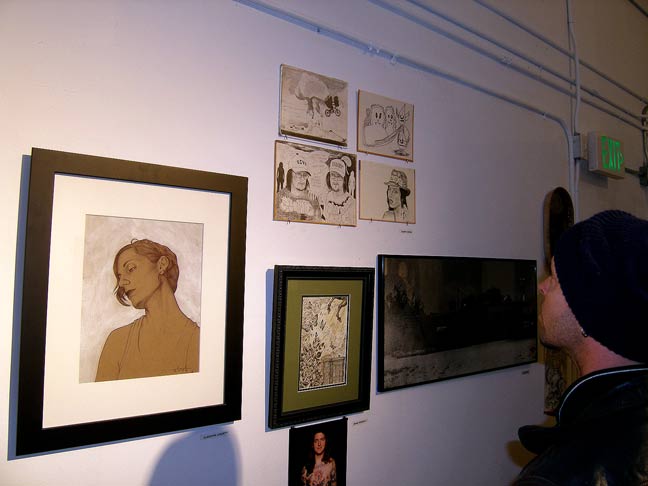 Art (group show).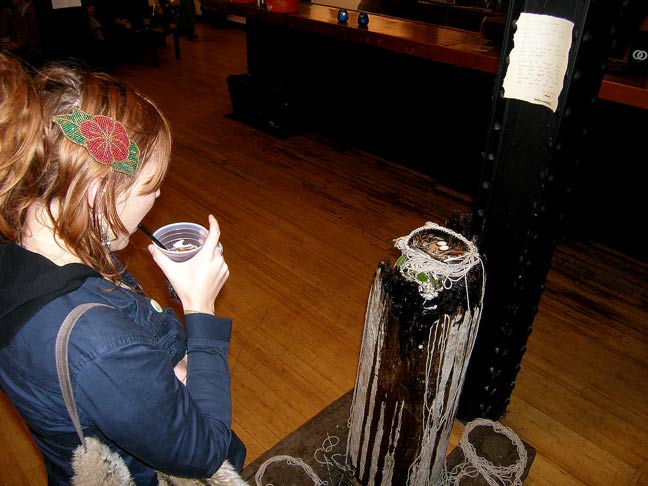 Art (group show).


Art (group show).


***
Move On Art: Peace in the Dark.
Comment: Iconoclastic group show presents the work of twelve local artists. Unfortunately, I can't find a postcard announcement, and no online show announcement tells who the artists are.
Art.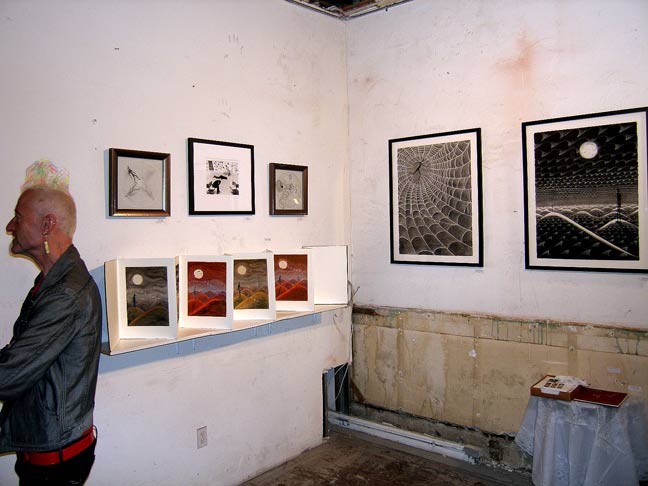 Art.


Art.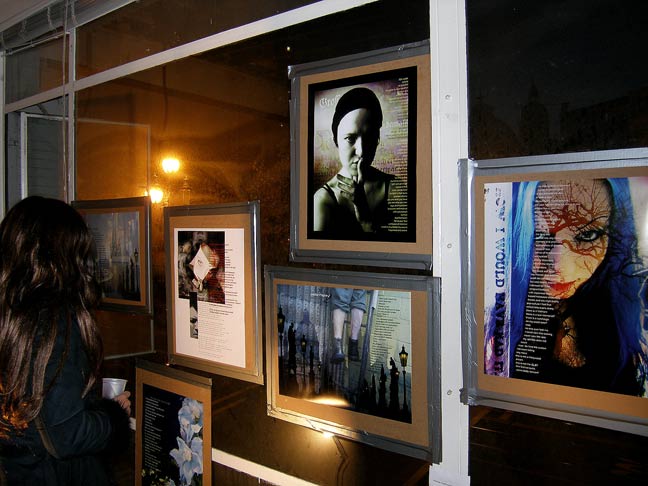 Art.


***
Triple Base Gallery: Robert Jordan - Sticker Mine.
Comment: Robert Jordan uses gel pens and itty bitty stickers to create a series of precise labor intensive drawings and collages ranging from abstract to representational. The dude's a gel pen jockey don, applying the inks so remarkably well you think the color fields are painted rather than inked. And he's not too shabby with the stickers either. Plus he shows a group of oddly agreeable spherical resin sculptures. One of the better shows I've seen at Triple Base. The handbill describes Jordan's art as "rarely seen," and there could be some truth to that. I've never seen it before.
Robert Jordan - gel pen art.


Robert Jordan - sticker art.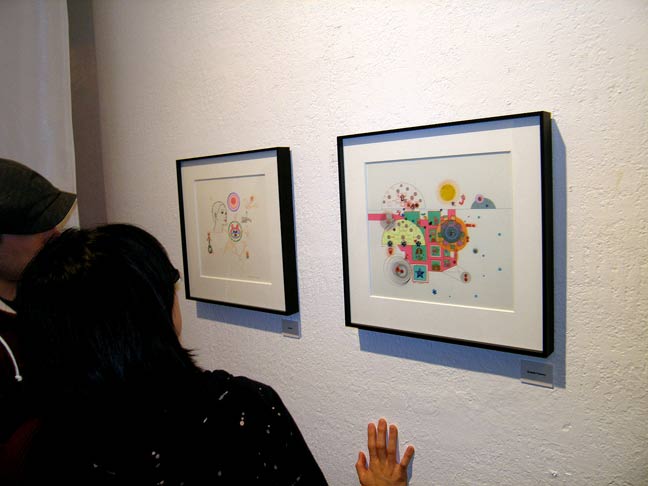 Art.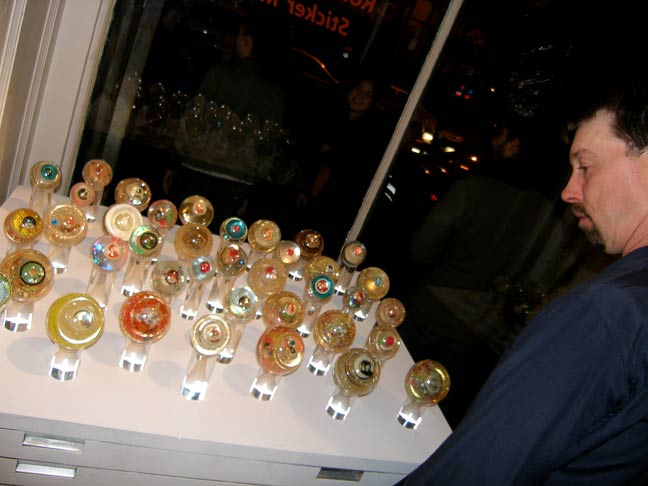 Art.


Art.


***
San Francisco Art Institute: 135th Anniversary Gala.
Comment: SFAI's annual fundraising gala frontloads the socialites, hundreds in all, for cocktails, opulent tented outdoor dining, speeches, congratulations, plaudits and so on and so forth. Between hors d'oeuvres I wander into "Work Zones - Three Decades of Contemporary Art from San Francisco Art Institute." I gotta tell you, whoever put that baby together went inordinately carnal, and then peppered it with fetish. You got thirty years of art to choose from-- this is what you cum up with? Somebody needs a cold shower.
Cocktails in the courtyard.


Work Zones show.


Work Zones show (like 'em).


Work Zones show.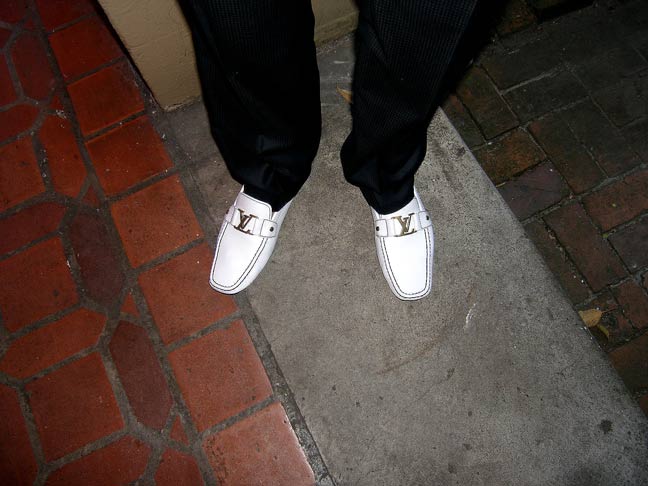 Best-Shoes-on-a-Dude Award.


***
Scion Dashboard Gallery, 580 Hayes St. at Laguna, San Francisco, CA: Lights Out.
Artists: Ricardo Richey, Dave Schubert, Chris Kelly, Jessica, Jase, Karina Figueroa, David Choong Lee, Adam 5100, Skola, Lucien, Hense, more.
Comment: That's all for Scion's month of events showcasing the cream of local and regional urban art, this week's installment curated by Ricardo Richey. It was great while it lasted; hope to see more soon.
Art (Karina Figueroa).


Art (Ricardo Richey).


Hense - art (like it).


Art (David Choong Lee - like it).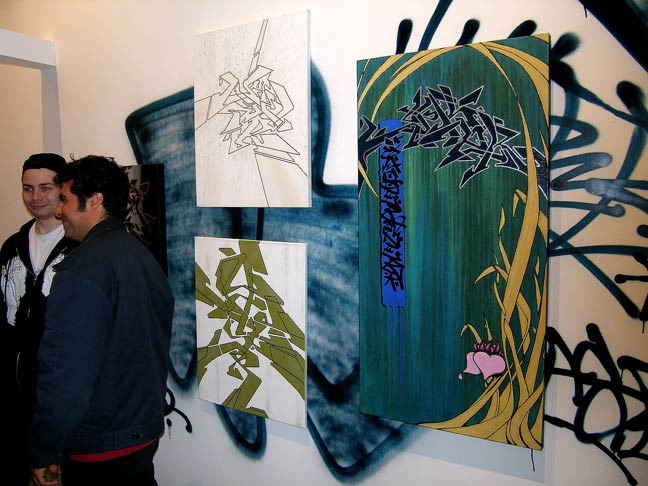 Art.


Art.


Art (stencil art - Adam 5100 - right).


Scion makes it all possible. Thank you.


***
Addendum: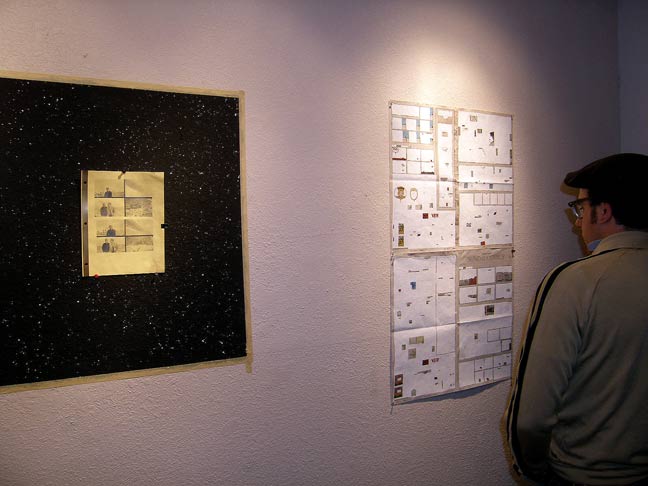 Colter Jacobsen shows art in the attic at Four Star Video.


More Colter Jacobsen art from "Your Future" at Four Star Video.


Kip Fulbeck - "The Hapa Project" at Space 180 Gallery .


Kip Fulbeck - Asian/Pacific Islander descendants - Space 180 Gallery.


Pete Ippel at Icthus Gallery, 1769 15th St., SF CA; 415.563.3896.


Soo Ryu essays on pregnancy at Icthus Gallery.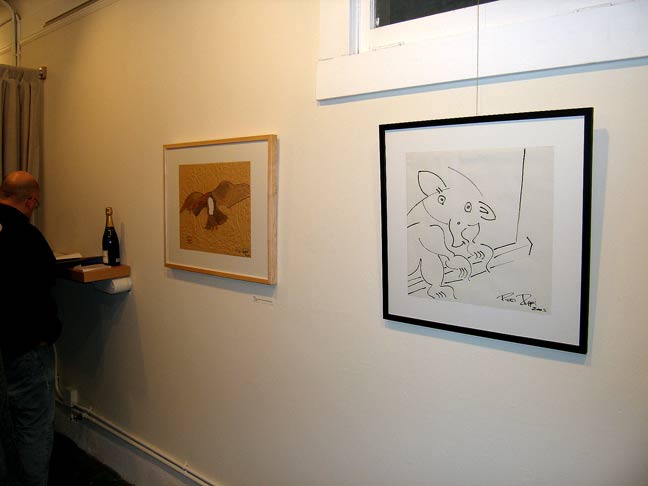 Another Pete Ippel at Icthus Gallery.


Icthus Gallery frontal.


"Fresh Women" group show at Space Gallery (these are kicky).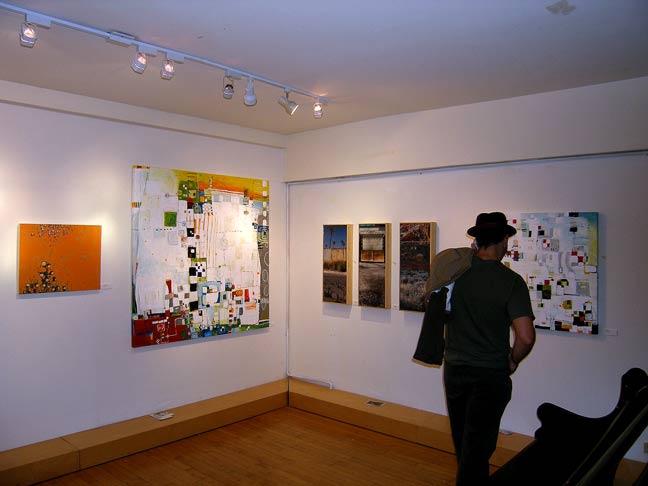 One more "Fresh Women" group show at Space Gallery.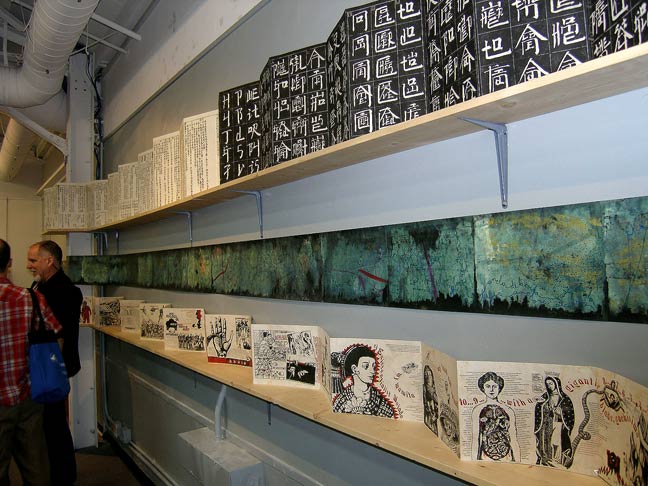 Multi-lingual artists' books and prints at
San Francisco Center for the Book.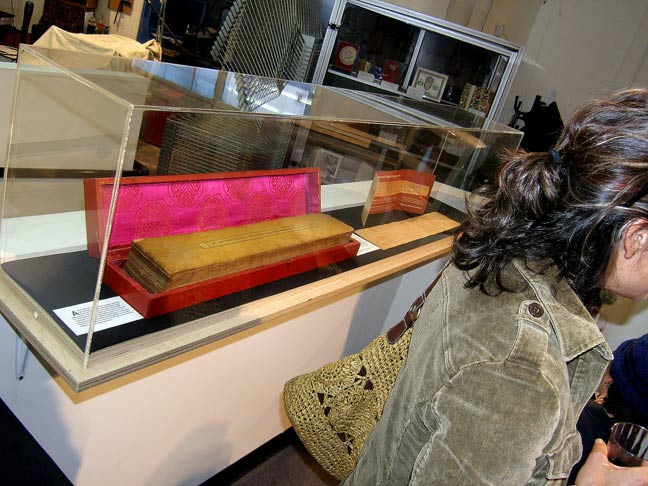 One more from San Francisco Center for the Book.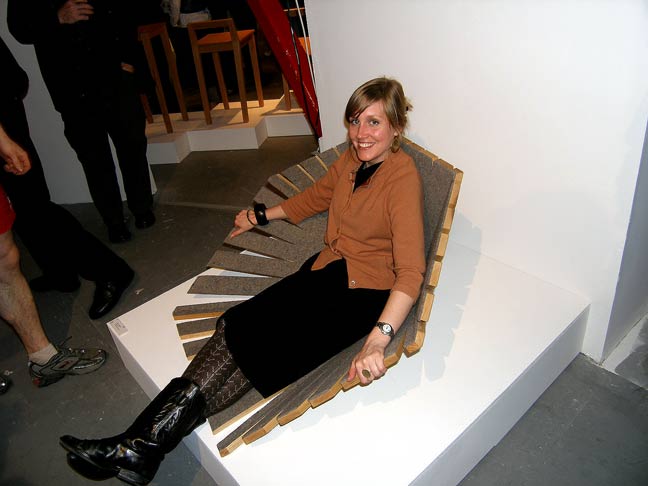 California College of the Arts Industrial Design Thesis Show
at Red Ink Studios.


Another from CCA Industrial Design Thesis show at Red Ink Studios.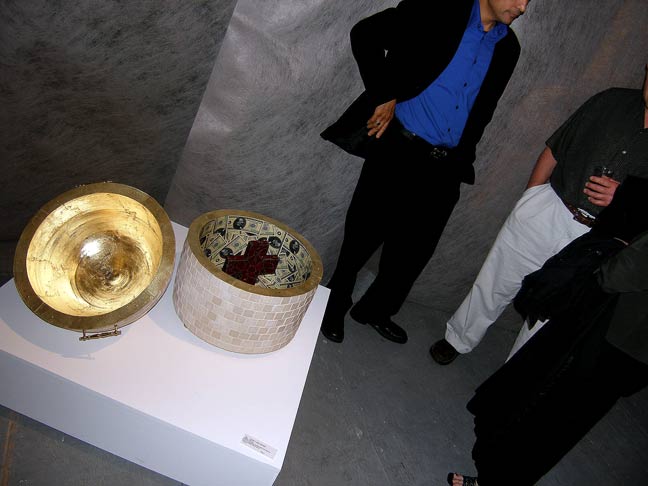 Last CCA Industrial Design Thesis show at Red Ink Studios.


Group show at Paintball Paradise, 262 Shotwell, SF CA 94110.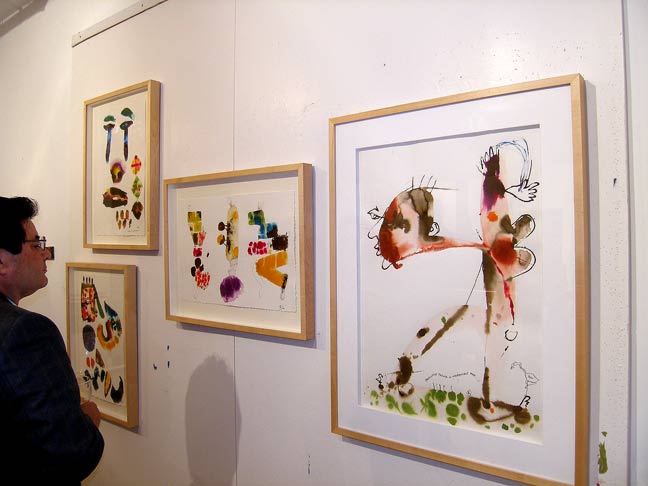 Paintball Paradise group show.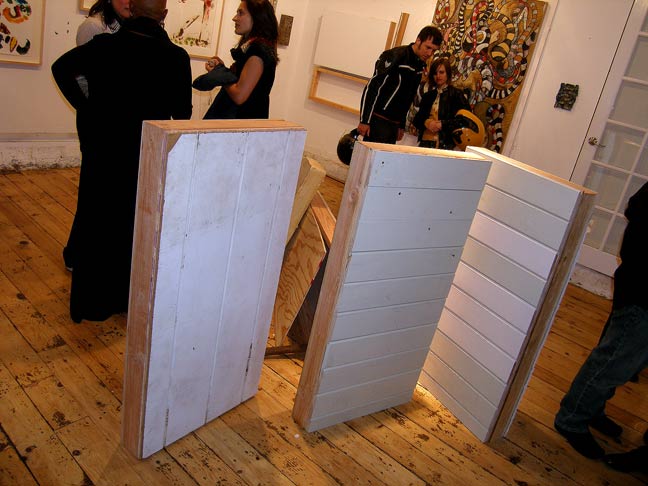 Last one from Paintball Paradise.


***