SAN FRANCISCO ART GALLERIES - OPENINGS
SAN FRANCISCO ART INSTITUTE
VARNISH FINE ART - RECEIVER GALLERY
05.12.07
San Francisco Art Institute: Spring Gala 2007; Wherever We Go - Art, Identity, Cultures in Transit.
"Wherever We Go" artists: Adel Abdessemed, Yael Bartana, Banu Cennetoglu, Latifa Echakhch, Ni Haifeng, Huang Yong-Ping, Mella Jaarsma, Koo Jeong-A, Tsuyoshi Ozawa, Adrian Paci, Shen Yuan, Nari Ward.
Comment: The SFAI Spring Gala is unquestionably one of the schwankiest see-and-be-seen scenes for our local elegant gentry with its delightfully civilized cocktail hour followed by a sumptuous sitdown dinner, and everybody always looks so good. I don't think there's another art event like it in town, outside of major museum fundraisers, that is. Those of you who enjoy nibbling on the upper crust might consider dining here next year. Pip pip.
Meanwhile in the "Wherever We Go" show over at Walter & McBean Galleries, artists who were born in one place and now live in another make art about the transition from "where I'm from" to "where I am" and how such crosscultural shifts play out in terms of identity.
Art.


Art patrons.


Art.


Art patrons.


Potty art. Pooch pees USA puddle. Wake me when it's over.


Art patrons.


Art.


Art patrons.


Art.


Art patrons.


Best shoes award.


***
Varnish Fine Art: Kate Garner - iDIOt, Contemporary Identity Artists.
Comment: First American gallery show for London-based Kate Garner. Her photographs document a group of "identity artists," or people who transform themselves into walking, talking art installations. The terminology here is new to me, but I'll try to get this right-- Garner's flamboyant subjects exemplify the flagship contingent of the so-called IDentifist movement, a subculture whose proponents literally invent and then craft their own unique identities. Extravagant outrageous eye candy; go see.
Photograph.


Leather effigy art (like it).


IDentifist - photography - Kater Garner.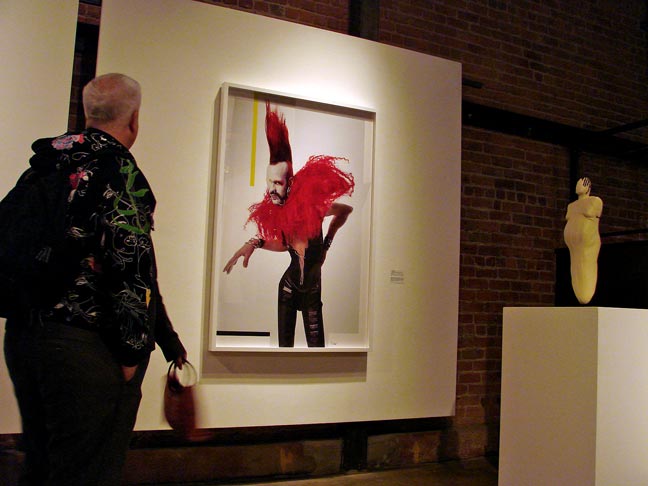 Imagery.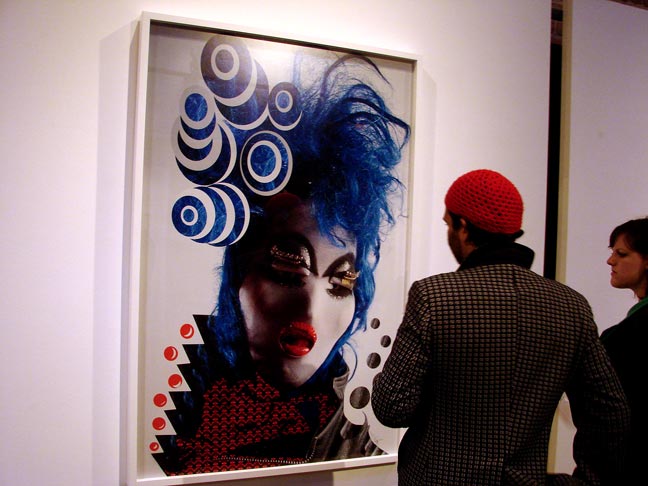 Photo.


Photographs.


Photography.


Partial artscape.


***
Receiver Gallery: Chris Pew and Paul Urich - Inside the Within.
Comment: Chris Pew's outerspace fantasyscapes transport you to the far reaches of your consciousness, while Paul Urich's precise small-format "portraits" reel you in for reflection and the closer you get, the better they look. (Pssst... Paul... can the masking tape; it looks great now, but it's got a real short half-life.)
Art (Chris Pew).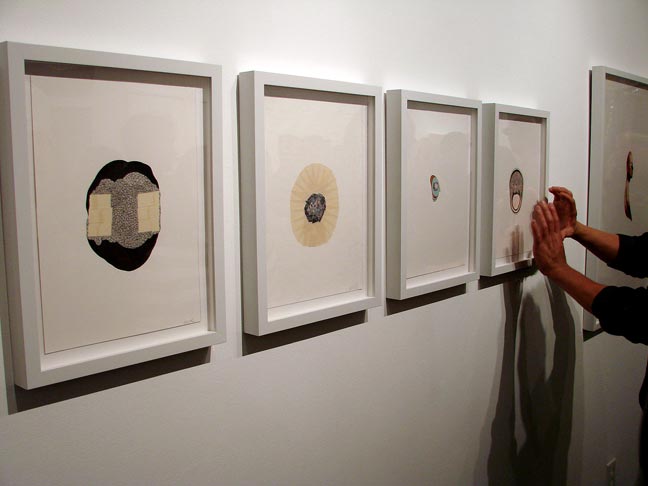 Art (Paul Urich).


Art (Chris Pew).


Art (Paul Urich).


Sarah Wong (gallery intern) - Jafon Hakkinen (gallery owner).


Art (Chris Pew).


Art (Paul Urich - like it).


Art (Paul Urich).


Art (Paul Urich).


***