MISSION CULTURAL CENTER - ART SPACE 712 - LIVE WORMS

SFAI - MUSEUM OF CRAFT AND FOLK ART - EPICENTER CAFE

05.13.10

(with assistance from RWM, Kristin Farr and Anna Efanova)


***
Mission Cultural Center for Latino Arts (MCCLA): Hamburger Eyes - Casual Abyss. Curated by Ray Potes and Maurizzio Hector Pineda.
Photographers: Ray Potes, David Potes, Stefan Simikich, Ted Pushinsky, Mark Murrmann, Michael Jang, Uri Korn, Ryan Furtado, David Uzzardi, Alessandro Zuek Simonetti, Jason Roberts Dobrin, Jai Tanju, Brian David Stevens, Oscar Mendoza, Alexander Martinez, Trevor Paglen, many more.
Comment by AB: Major mungo panoptic panoply of that uncompromisingly undeviating reality-unmasked Hamburger Eyes ethos. More than worthy of a perusal.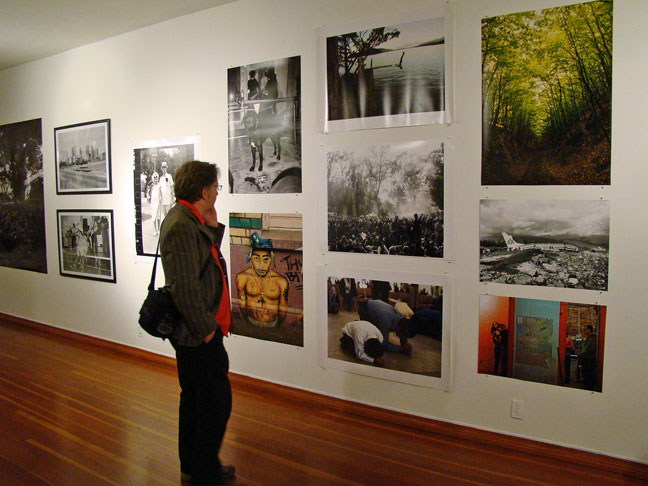 Hamburger Eyes photo extravaganza at Mission Cultural Center.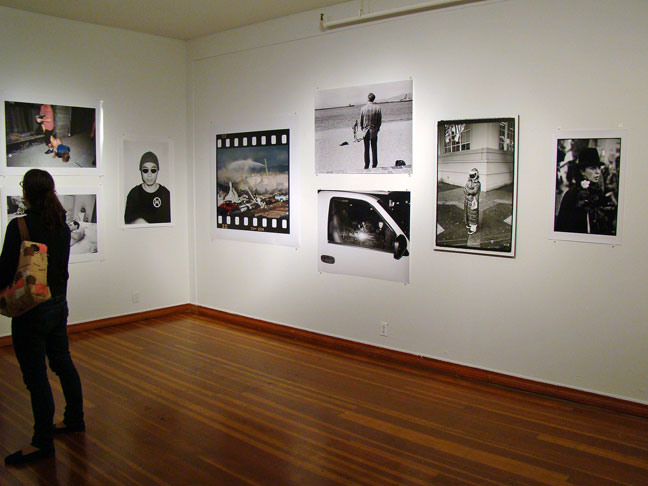 Photography c/o Hamburger Eyes.


Hamburger Eyes photo show.


Yet more Hamburger Eyes photography in the side gallery.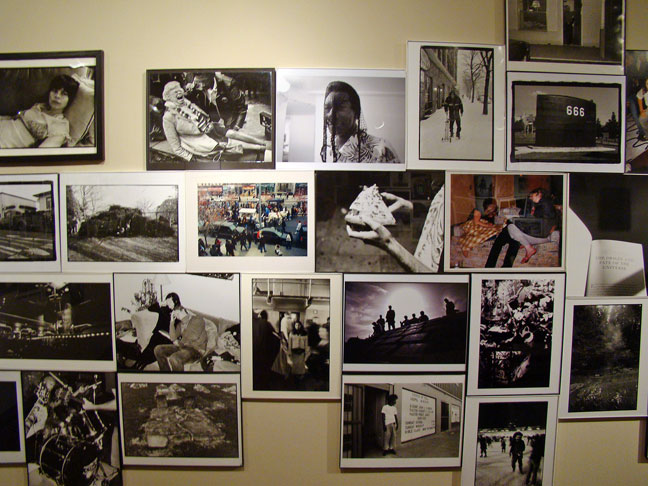 Photographs in above image closer.


Hamburger Eyes photography.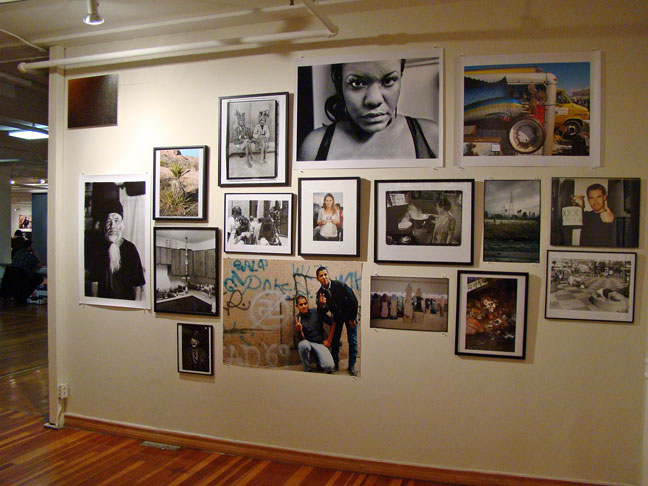 Hamburger Eyes photographs.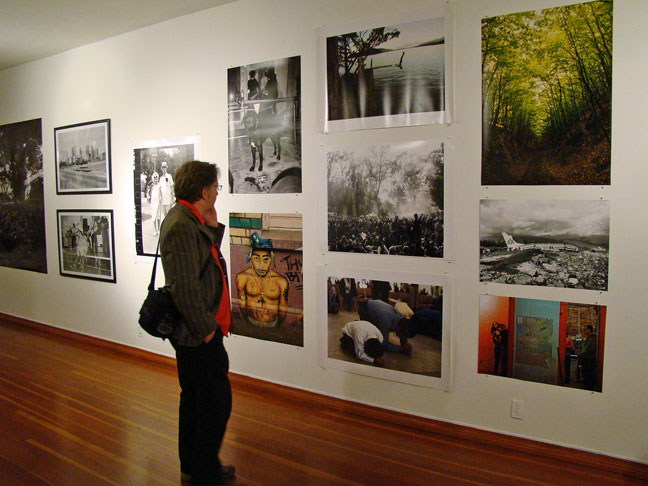 Hamburger Eyes photo show at Mission Cultural Center, San Francisco.


***
Museum of Craft and Folk Art: Clare Rojas - We They, We They.
Review by Kristin Farr: Clare Rojas graces the Museum of Craft & Folk Art with her revolutionary presence for the next three months. Fans have been waiting since her 2007 solo exhibition at Paule Anglim for another big showing from Rojas in SF, and they will not be disappointed. While gender politics are still a pervasive theme in her paintings and video work, she has also begun to explore the idea of domesticity and interior space through small paintings, large murals, and her "wall quilts" of paintings on salvaged wood. If you stand in a certain spot in the musuem, and you happen to be the artist's height (5' 4"), there is a point of convergence where the mural's lines intersect and you can feel as though you are standing inside one of the rooms in her paintings.
Her wall-to-wall installation in the museum features larger-than-life images of powerful thoughtful women who navigate a world where men are noticably absent (in case you haven't noticed, female representation throughout history is direly disproportionate, and Rojas is doing her part to remedy this situation). Rojas's female characters are powerful because of their history and their actions-- modestly dressed, they don't bat their big-eyed lashes or flaunt their anorexic bodies to get attention. They are more concerned with protecting and leading one another to safety. What Clare Rojas is trying to tell you is important, so you better listen up. While a few of the works on view are from earlier in the decade, the installation is new and refreshing, and a lovely survey of her work over the past few years.
Opening night viewers of We They, They We are treated to a lovely folk song set by Rojas's alter-ego, the very talented Peggy Honeywell. If you haven't heard this Rennaisance Woman's vocal stylings, you're missing out.
Comment by AB: Excellent show. Go see.
Art by Clare Rojas.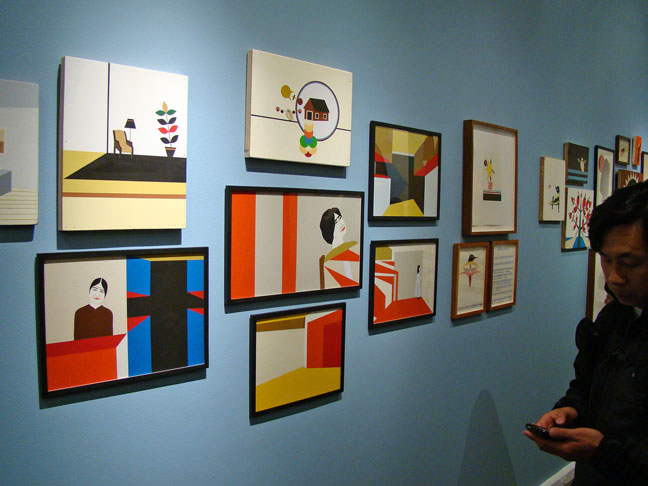 Clare Rojas art closer.


Art by Clare Rojas.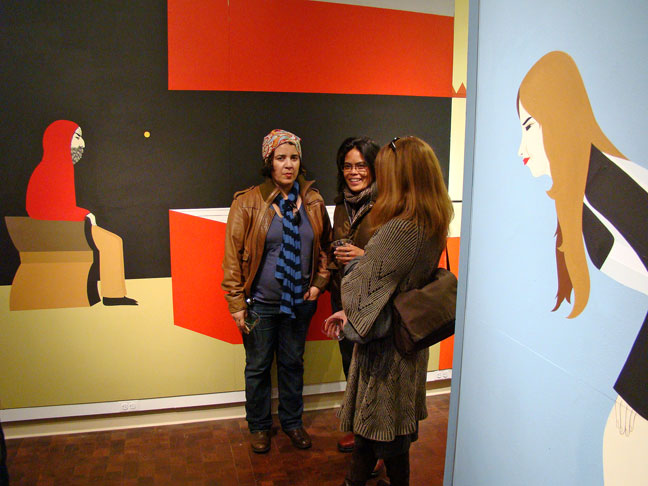 Immersed in art by Clare Rojas.


Art closer by Clare Rojas.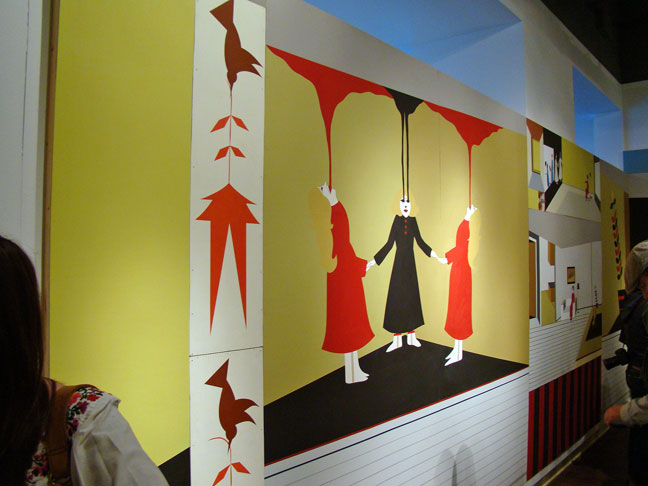 Clare Rojas art.


Art by Clare Rojas.


***
Art Space 712: Evolution in Wood - Pilar Ovalle.
Review by RWM: Out of the ordinary works by Chilean artist Pilar Ovalle showcase surprising ways to make art out of wood. One will find the work displayed at least unusual and perhaps even startling. A fine exhibition, but one may miss the forest for the wood even though it is put to good use here.
Comment by AB: Admirably unconventional deployment of wood in sculpture, the impact intensified by a clear mastery of medium. An exhibit well worth seeing... plus Art Space 712 is a kick-ass venue for showcasing art.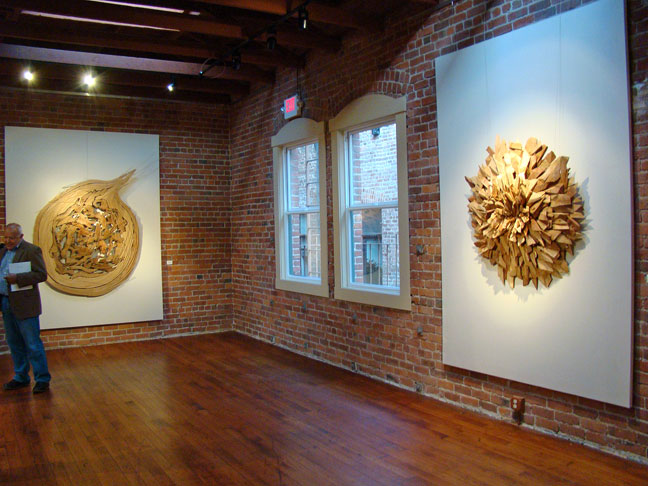 Sculptural art by Pilar Ovalle.


Wood sculpture by Pilar Ovalle closer.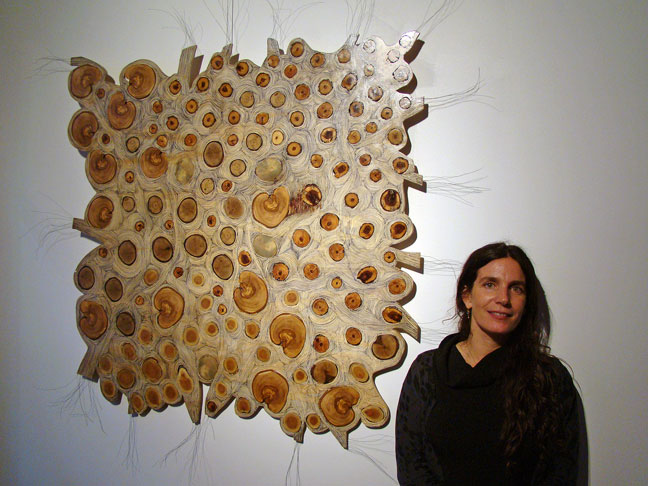 Pilar Ovalle and her art (like it).


Art by Pilar Ovalle.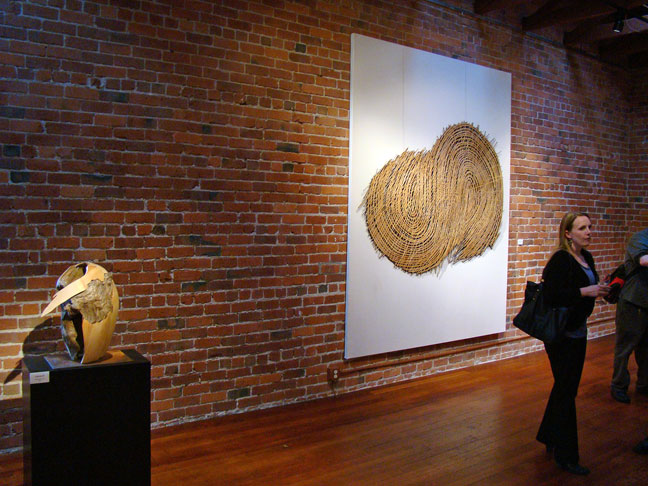 Wood sculpture and woven art by Pilar Ovalle.


Pilar Ovalle art.


***
San Francisco Art Institute at Fort Mason: 2010 Master of Fine Arts Graduate Exhibition.
Comment by AB: A little bit of everything here, of course, but you know... after taking the tour, I'm thinking that SFAI, that bastion of cutting-edge cognition, perhaps might place a tad more emphasis on craftsmanship and technique. No matter how brilliant or innovative your ideas are, if you lack the skills to materialize them in the physical realm, you might as well pack it in and start looking for a real job. I know, I know... you're just starting out... but hey... this is MFA land, not amateur hour. Right? Right. Now there's certainly plenty of good competently executed work to be experienced here, but you know me-- I'm never satisfied with anything less than the best.
Entrance to the exhibition by Brynda Glazier.


Art by Catherine Anne Fairbanks.


Art by Nicholas Conrad Miller.


Pretty spiffy screen print art by Casey Gray (my pick of the show).


Artist Time Sullivan & gallery owner Steven Wolf in da house.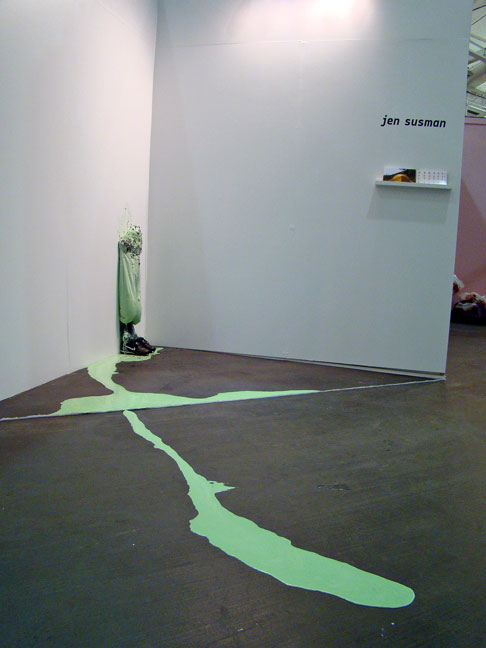 Melting green ice cream art... I think.


Art.


Dudes urinating on each other art (uh... and the point is?).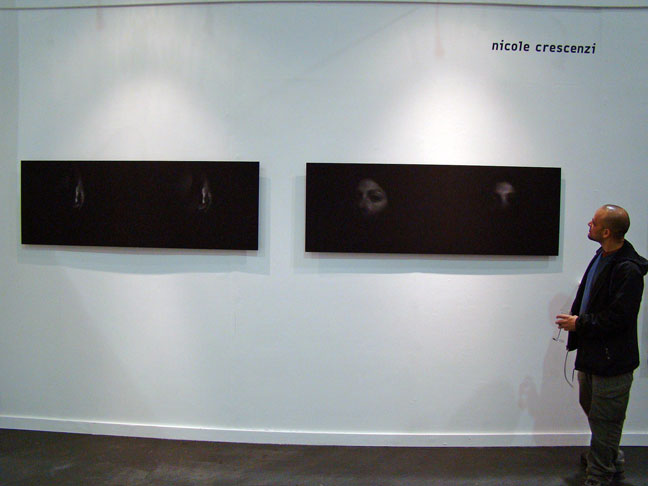 Art by Nicole Crescenzi.


Art by Mimi Moncier (photo c/o Anna Efanova).


How to carve and bag a game bird performance art (photo c/o Anna Efanova).


How to carve and bag a game bird performance art (photo c/o Anna Efanova).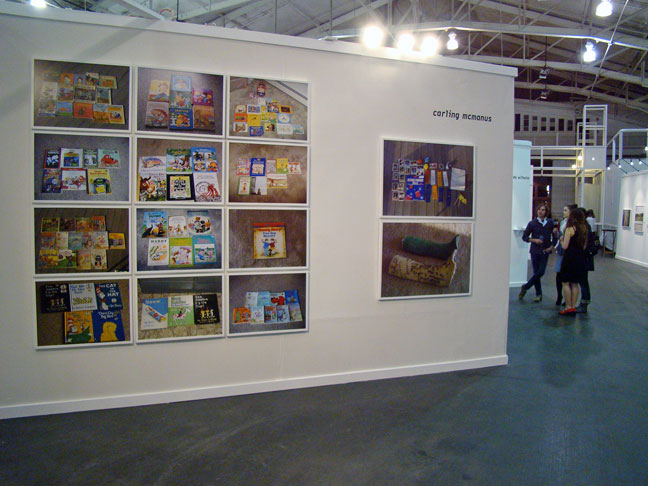 Photography by Carling McManus.


Art by Ferdinanda Florence.


***
Live Worms Gallery: Ten Central Elations.
Artists: Jeffrey Thompson, Jurgen Trautwein, Romalyn Schmaltz, Lutzka Zivny, Momo, Carrington, Fanny Renoir, Anthony Aversano, Rebecca Peters, Ronald F. Sauer.
Review by RWM: Elevating work. Nice variety of art. Fabulous collages. You should be sad that you missed it, but not to worry-- the assembled are likely to showcase in North Beach again.
Art by Momo (left - sorta kinda like it) & Lutzka Zivny (right).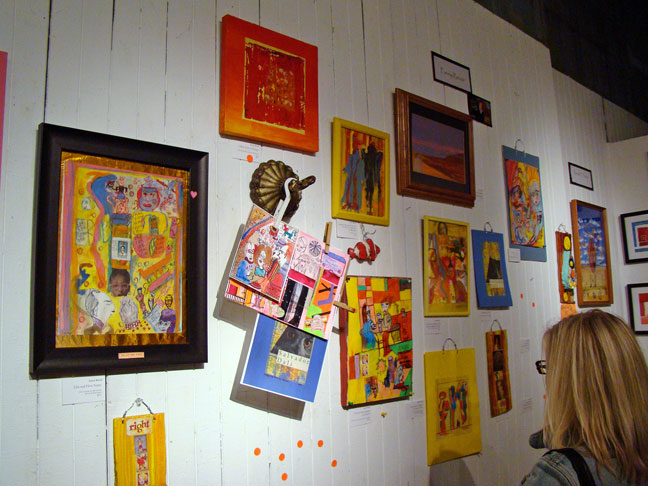 Art by Fanny Renoir.


Art by Ronald F. Sauer.


Romalyn Schmaltz & Rebecca Peters discuss Romalyn's art (center).


***
Epicenter Cafe: Old Growth Tree - Alon Brandman.
Review by RWM, image c/o Epicenter Cafe: Great homage to old growth and the arboreal. Here trees are closely observed, so much so that the backgrounds become subordinate. The trees appear dry in the sun. The images appear somewhat worrisome or even sad with old and weather-worn trees presented in not ideal growing conditions. The trees do seem out of context in somewhat lifeless dry circumstances, but then again, all is not well in the forests and fields, even here in California.
Art by Alon Brandman.


***