SAN FRANCISCO GALLERY OPENINGS
TOM FOWLER MEMORIAL - LAHAINA GALLERIES
CATALYST COCKTAIL LOUNGE - GARZOLI GALLERY
RED INK STUDIOS - RECEIVER GALLERY
05.14-15.05
Tom Fowler Memorial Gathering at Melting Point Gallery: October 28, 1951 - May 7, 2005.
Comment: A harmonica plays Amazing Grace...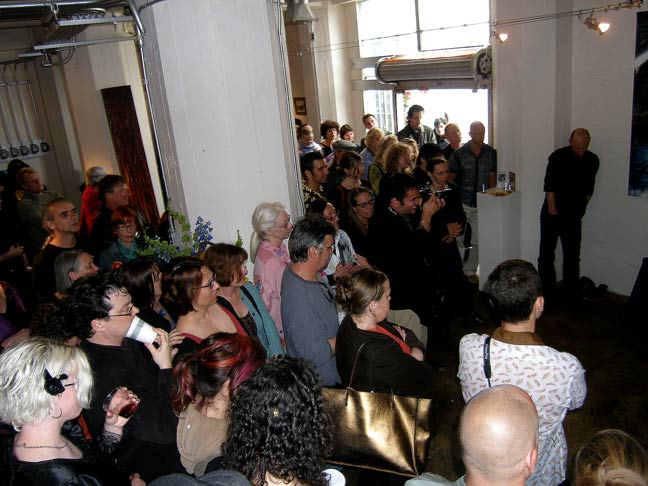 ...


...


...


***
Lahaina Galleries: Donna Young.
Comment: The "sales consultant" beads, approaches, and confronts me within ten seconds of my entering the gallery. Here we go. She briefly greets, then peppers me with intrusive meddlesome questions, asking whether I'm here for the show, where I'm from, how I like the paintings, and so on. I'm barraged, cornered, uncomfortable, and sense the hard sell looming within minutes. I politely request permission to browse, and sigh in relief when she consents. But still, way too much pressure, way too many constraints, and I'm eyeballed at every turn. Lahaina and its counterparts there on Beach Street are well-oiled highly scripted predatory selling machines. Now you know another reason why so many people are afraid to buy art.
I'm re-traumatized recalling the encounter, and almost forget to mention the opening. Donna Young paints landscapes with lots of red in them. I can't show you how red because they won't let me take pictures inside the gallery. Paintings overpriced at $5K-$14K (if I recall correctly).
Enter at your own risk.


***
Catalyst Cocktail Lounge: The Forties Now.
Artists: Brad K. Alder, Ray Buffalo, Rene Fressola, Pierre Guettier, Mike Puccio.
Comment: Five contemporary takes on abstraction, abstract expressionism in particular, with reference to its past, hence the show's title, The Forties Now-- and a look to its future. Nice paintings, good value, agreeable venue.
Art (Brad K. Alder - $800 - such a deal).


Art (Mike Puccio).


Art (Rene Fressola).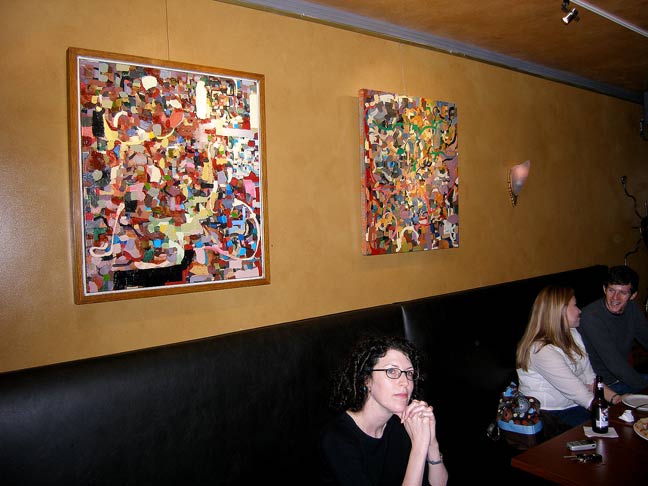 Art (Ray Buffalo).


Art (Pierre Guettier).


***
Red Ink Studios: Every Dog Has Its Day.
Artists: Jesse Beckman, Chris Cobb, Brian Caraway, Monica Canilao, David D'Andrea, Eric Davis, Eve Ekman, Mark Ellinger, Chris Fitzpatrick, Jana Flynn, Chris Golden, Sarah Krasley, Spencer Mack, Kyle Metzner, Mike Page, Hilary Pecis, Sita Rupe, Sham, Jill Storhz, & Adam Weir.
Comment: Installations everywhere at this pleasantly surprising show, the best yet at Red Ink Studios main location. Keep an eye on Monica Canilao. Her rangy assemblage includes paintings, drawings, collage, hung fabric, dangling teabags, and more, as she essays on life in the big city. She has the ability to visualize and then materialze complex ideas into provocative detailed compositions, losing little, if anything, in the translation.
Art - you're supposed to read the mail.


Linocuts (Jill Storhz - nice).


Outside.


Inside.


Pick (Monica Canilao).


Pick (Monica Canilao).


Pick (Monica Canilao).


Art (Jana Flynn).


Art.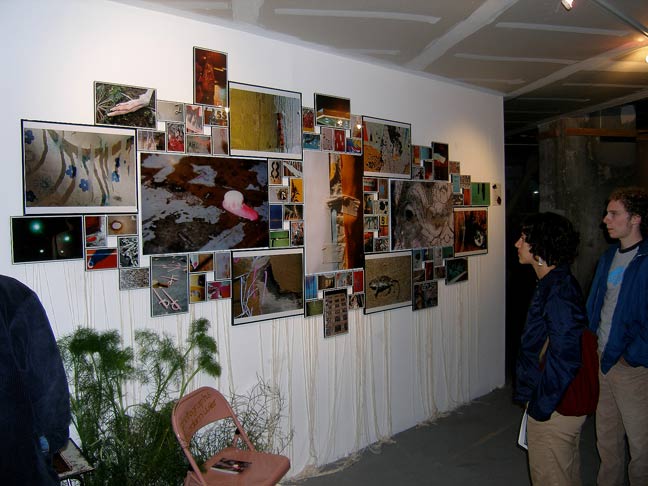 Art.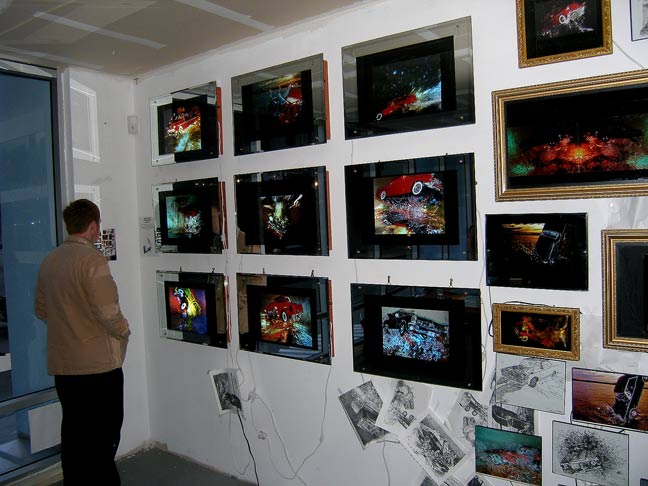 Art.


Ring toss bottle art.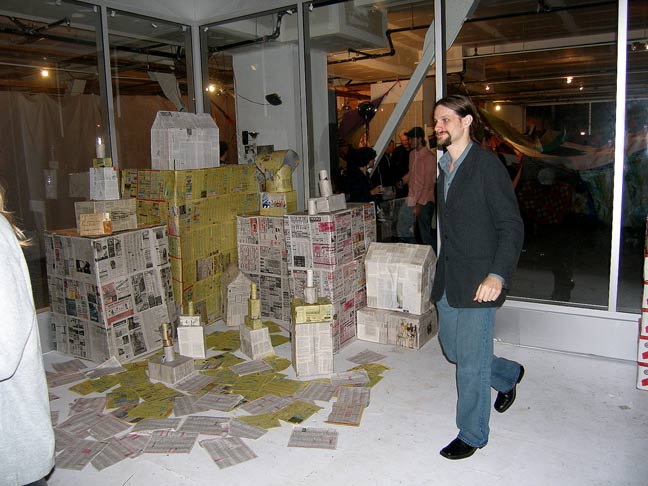 Newspaper coated box pile art.


***
Receiver Gallery: Chris Pew - Fields of Vacuous Verities.
Comment: Receiver's got a nice feel and a courageous location out there in the Inner Sunset where galleries generally fear to tread, and another show worth the trek. The semi-abstract paintings of Chris Pew are scientific psychological introspective cosmic journeys, mental and physical, outer and inner, people and places-- the way things might be in other worlds, including those of our minds. Price range $150-$2800. My inner curator prognosticates potential.
Now for a brief interlude about Receiver's website. It's got all of Pew's art INCLUDING the prices. You can even order direct without ever having to call anyone up, ask how much stuff costs, get interrogated about who you are and why you want to know, or endure endless drone-on about the artist and his future. Click-and-buy. That simple and no more complicated. Like it or not, the internet is the future of art marketing, and Receiver Gallery appears to be at the forefront.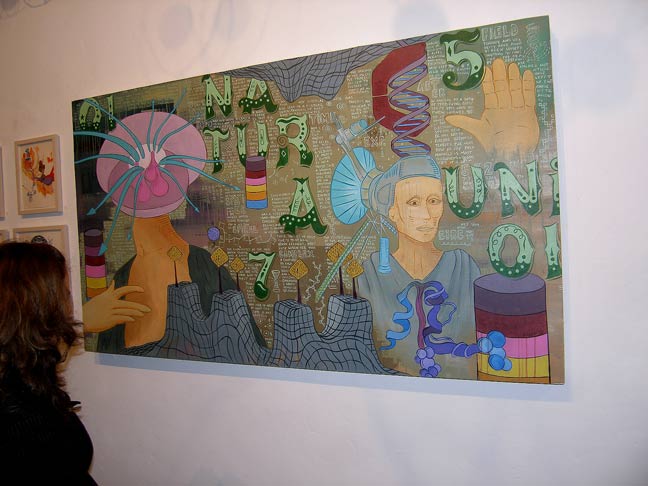 Art.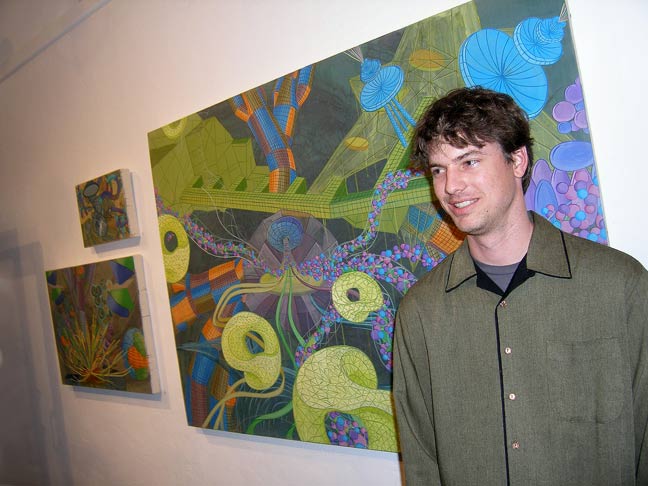 Art (Chris Pew).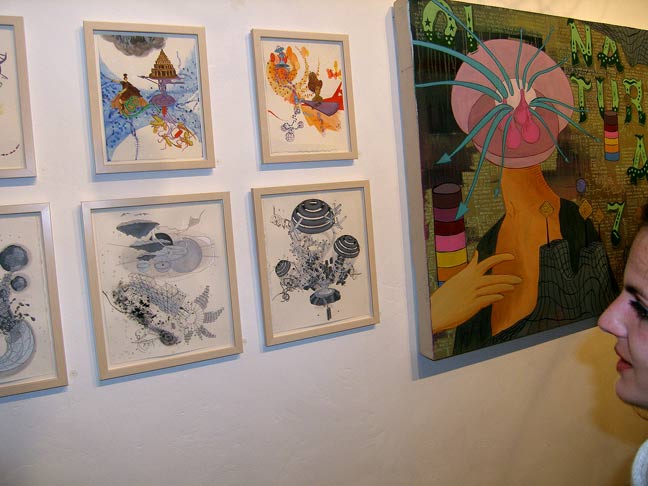 Art.


Atomic plastic ball art.


Situation.


***
Garzoli Gallery: Art Party.
Artists: Various.
Comment: John Garzoli, founder of Garzoli Gallery, has been in business for over 45 years and specializes in nineteenth and early twentieth century American art, particularly Early California art. If you wanna see the good stuff, John Garzoli's got it, and Garzoli Gallery on B Street in San Rafael is the place to go.
Tonight's event is more about gallery co-owner Joel Garzoli, and brother Josh, the next generation, and their invitation-only art party designed to introduce fellow members of that next generation to collecting fine art. Art is on display everywhere, much of it labelled and priced, contemporary as well as vintage. Add fine wine, pineapple infused vodka, gourmet edibles, sophisticated tasteful well-mannered guests (and me), and you've got yourself an art party.
Art.


Libation situation.


Art (Laurie Curran).


Joel Garzoli (left).


Art.


Art.


Art (Robert Rasely).


Art (Laurie Curran).


Josh Garzoli enjoys a brief run of luck.


Art.


Art.