SAN FRANCISCO ART GALLERIES - OPENINGS
MODERNISM WEST - HIMMELBERGER - FREY NORRIS
JOHN PENCE - LISA DENT - CALIFORNIA HISTORICAL SOCIETY
GLBT HISTORICAL SOCIETY - MUSEUM OF THE AFRICAN DIASPORA (NOT)
NEW LANGTON ARTS - MISSION CULTURAL CENTER - GINGER RUBIO SALON
05.16-17.07
Modernism West at Foreign Cinema: Canteen Magazine Launch Party.
Comment: The art on the walls is by Mark Stock; the art in the mag is by Ward Schumaker; the party in the room is certifiably skookum. Canteen's premier issue includes contributions by Po Bronson, Andrew Sean Greer, Dennis Leary, Julie Orringer & Ryan Harty, Katie Ford, Ward Schumaker, Josh Emmons, Cedar, David Shulman, Garth Risk Hallberg, Stacey Duff, and Jay Leibold.
The Guest of Honor.


Ahh... here we are.


Art (Ward Schumaker).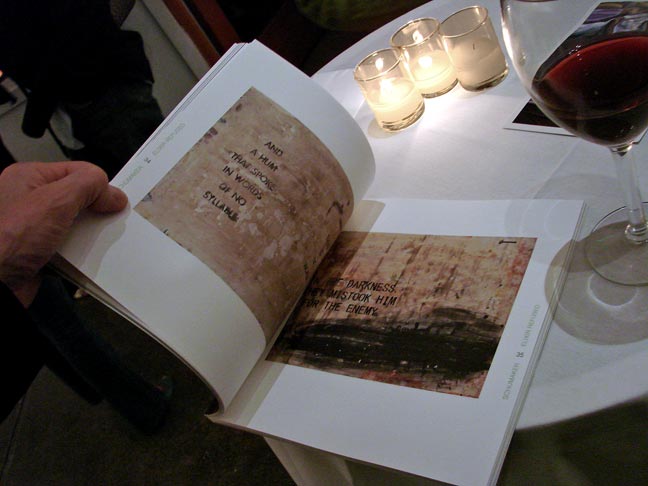 Art (Ward Schumaker).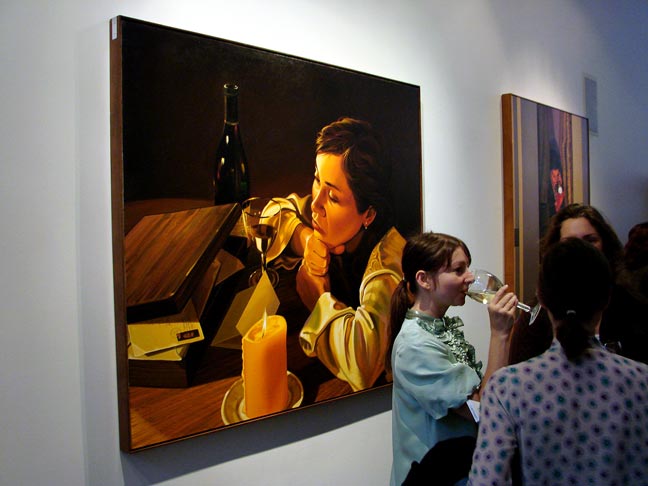 Art (Mark Stock).


Art (Mark Stock).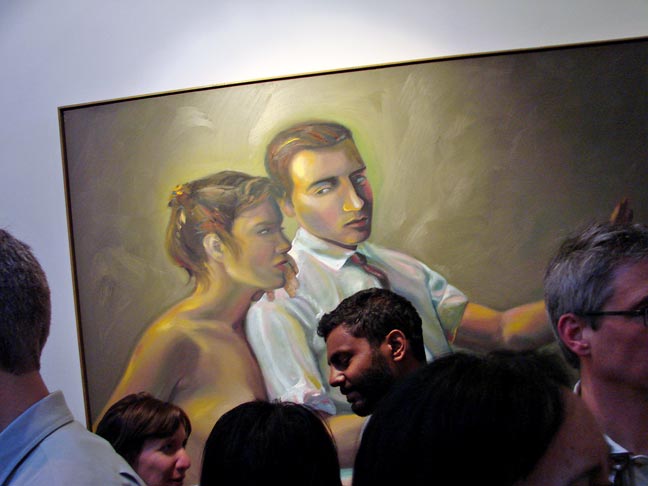 Art (Mark Stock).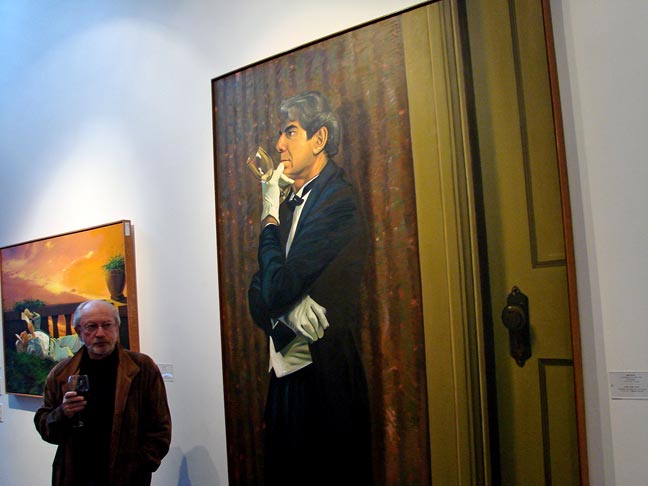 Art (Mark Stock).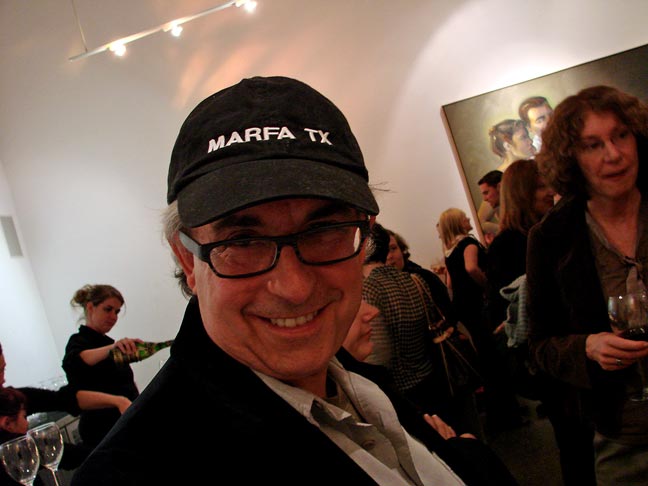 Glass artist Jay Musler tells me he copped the cap in Marfa.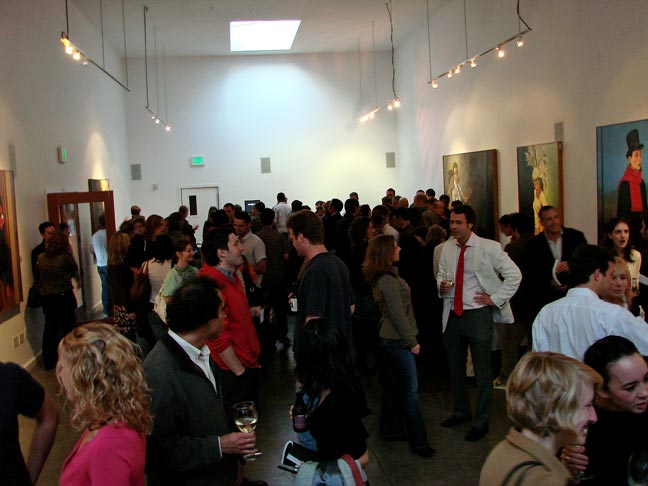 Overview.


***
Himmelberger Gallery: Jean Weinbaum - Jean's Blue.
Comment: Clean confident polished watercolor, collage, "sand painting," and sculpture by Jean Weinbaum. The rich textured monotone "sand paintings" are particularly gratifying.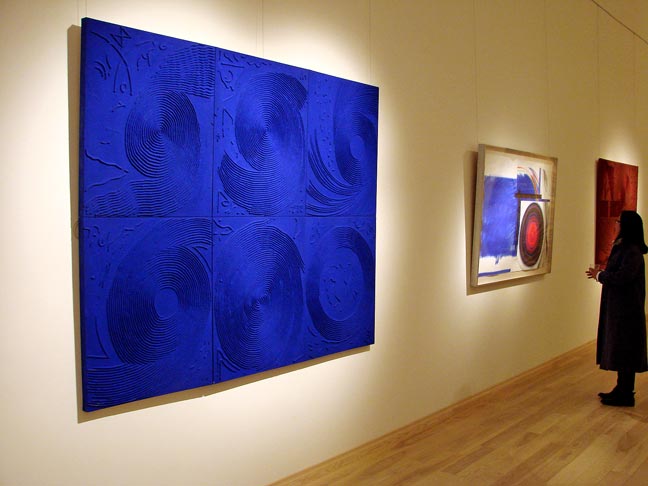 Sand painting art (left).


Art.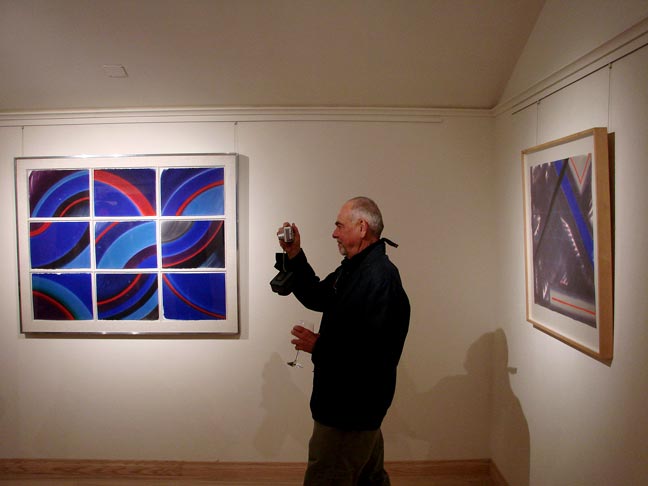 Art.


Art.


***
Frey Norris Gallery Annex: Wolfgang Paalen - Implicit Spaces.
Comment: You might call artist and thinker Wolfgang Paalen (1905-1959) an abstract surrealist, his art straddling the gap between the two genres, mildly foreshadowing the onslaught of Abstract Expressionism. The Frey Norris Annex, next door to the street gallery and up the stairs is an intimate space, perfectly suited for inside-the-artway shows such as this. Top price-- $220K. First major show of Paalen's work in American since the mid-1950's. Worth a visit; significant artist.
Woah! A red carpet and heavy security. Let's check it out.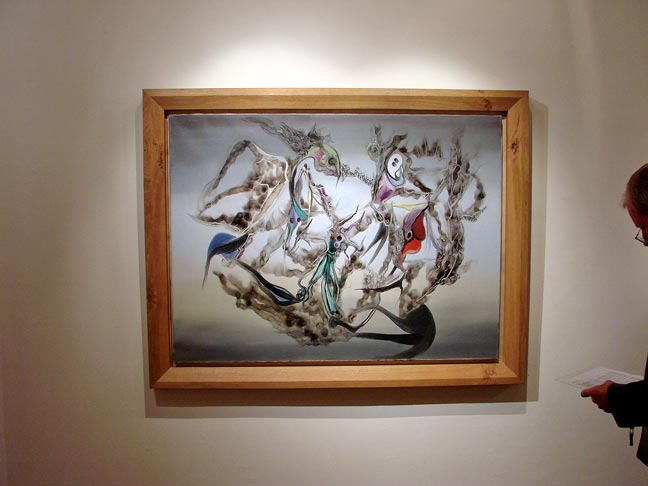 Art (like it).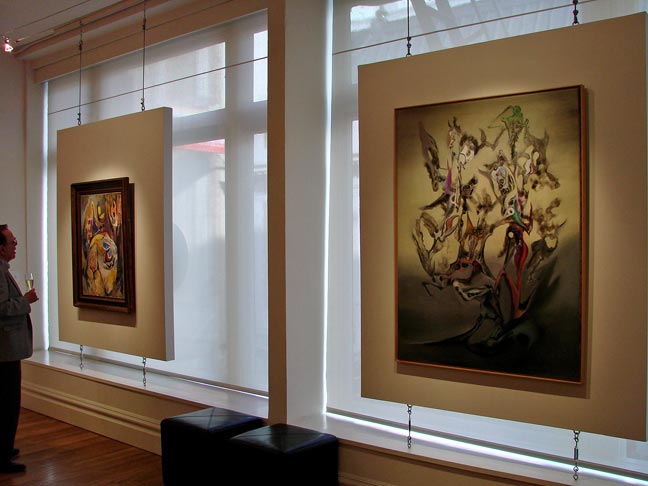 Art (nice).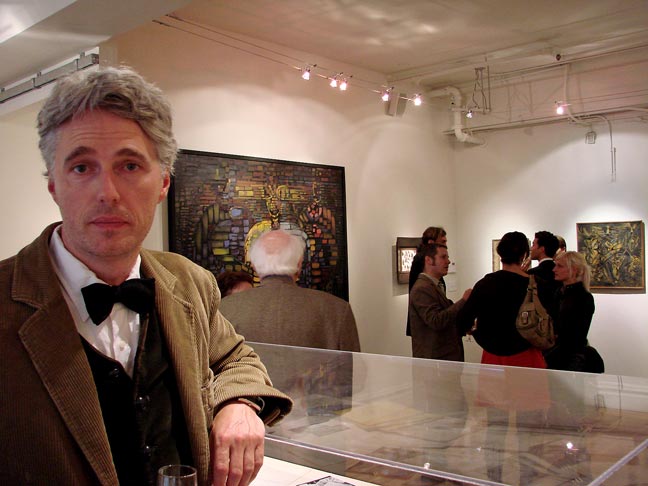 Dr. Andreas Neufert.
(Show curator and author of the Paalen catalogue raisonne.)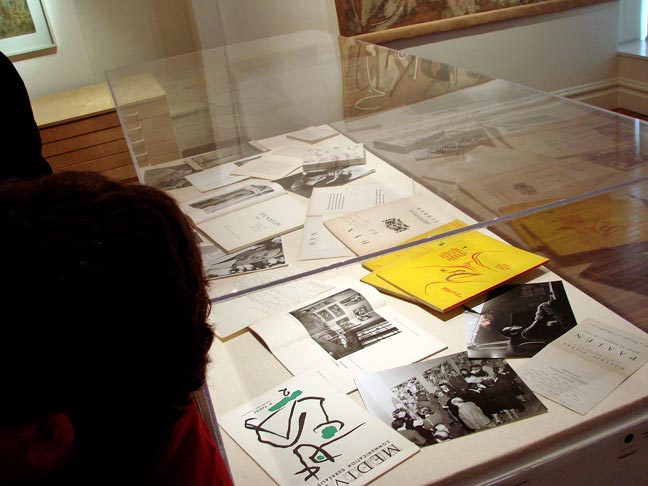 Vintage Paalen photos, documents, and ephemera.


Accompanying catalogue available at the gallery.


Art.


***
John Pence Gallery: Trompe l'Oeil.
Artists: Juliette Aristides, William Bartlett, Noah Buchanan, Helen Crispino, Tony Curanaj, Douglas Flynt, Adam Forfang, Joel Carson Jones, Sarah Lamb, Dean Larson, Kate Lehman, Steven J. Levin, Edward Minoff, Michael Molnar, John Morra, Jacob A. Pfeiffer, Nicholas M. Raynolds, Omar Rodriguez, Travis Schlaht, Herb Smith, Chris Thomas, Peter VanDyck, Adam Vinson, Anthony Waichulis, Will Wilson, Sam Wisneski.
Comment: You know it's a flat surface, but your eyes tell you different-- no matter how hard you try to convince them otherwise. This is an outsdanding show with the best pieces exemplifying skill levels at the zenith of the discipline. It doesn't get any better. Wanna witness magic with paint? Witness it here. You will marvel in amazement-- let me assure you.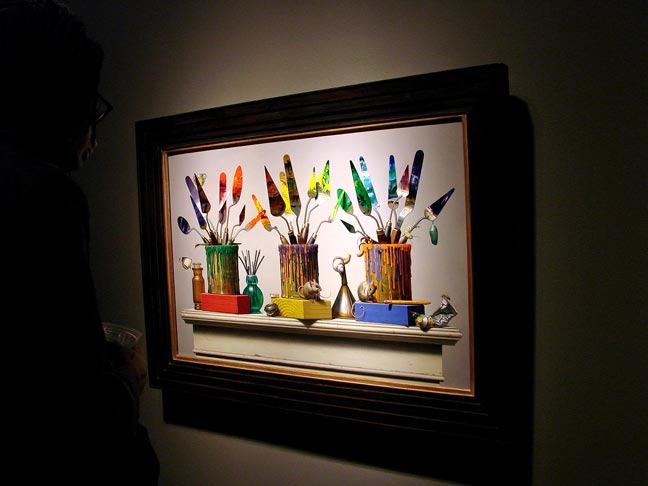 An absolute mindblower by Will Wilson.


Art.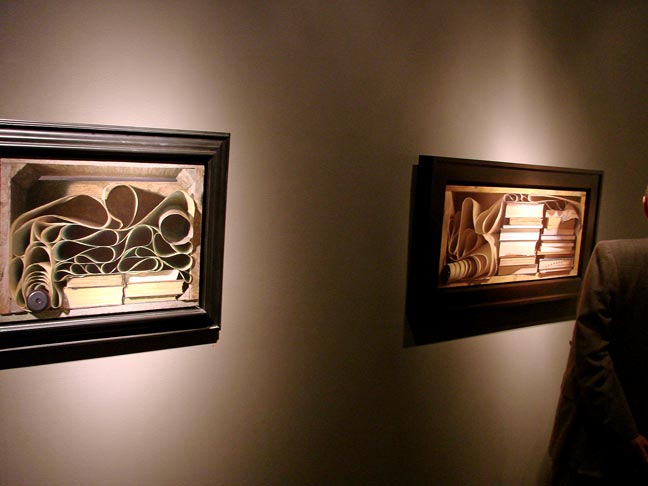 These are remarkable.


Ghoulishly good-- the frame is part of the painting.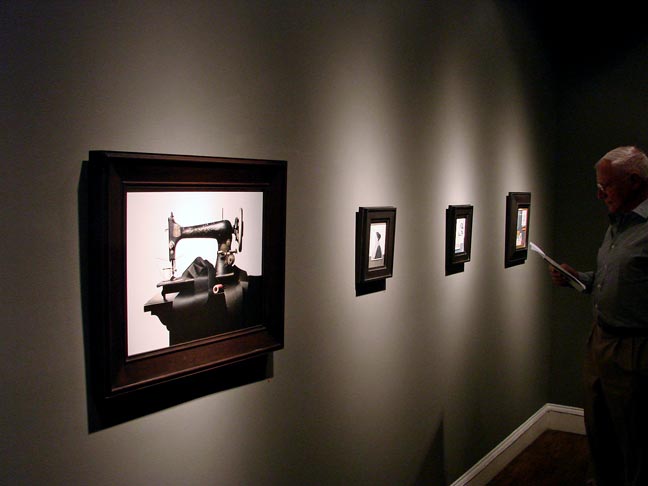 Art.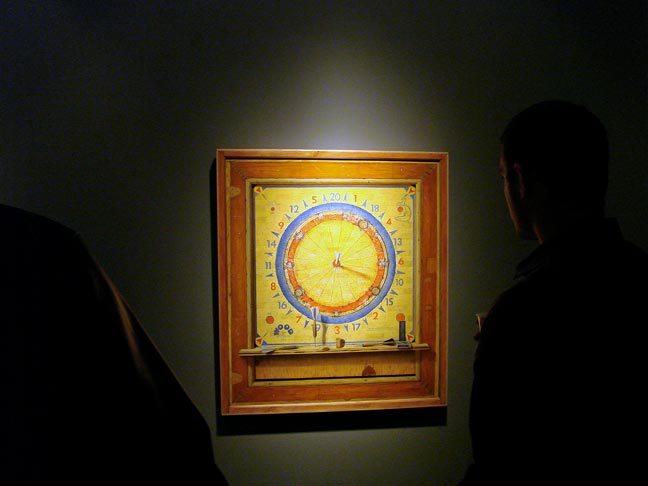 Art.


Art.


***
Lisa Dent Gallery: Tim Sullivan.
Comment: Delightfully deadpan journey into the curious world of Tim Sullivan-- often the star of his art-- includes wiggy odes to Warhol, a shag rug triptych, and two painted boards on the floor.
Shag triptych photography art.


Warhol/Sullivan eat-off video art.


Two boards on the floor art.


Photographs.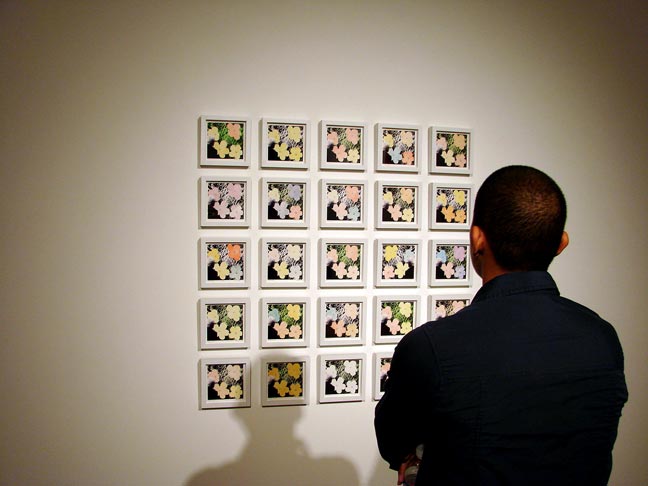 Warhol interpretation art.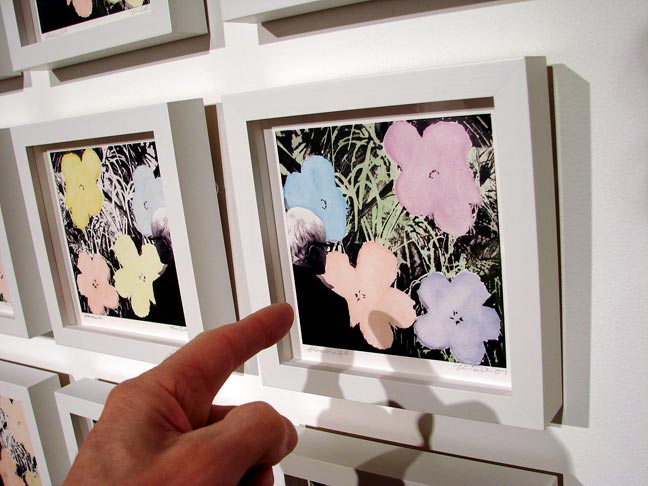 Sullivan strolls through Warhol's garden art.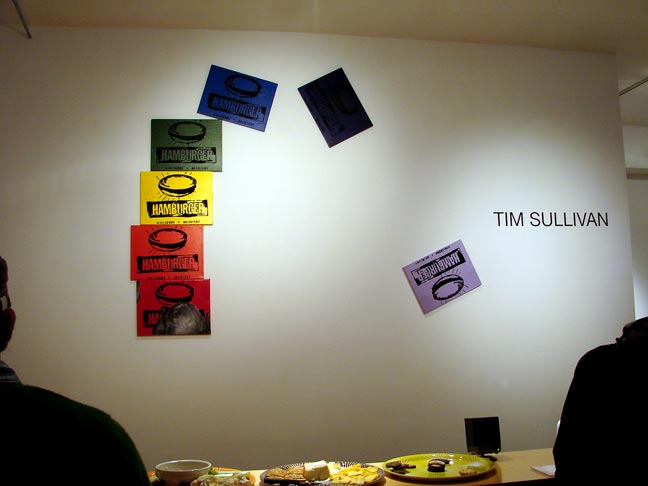 Silkscreen hamburger art.


***
GLBT Historical Society: Women Breaking Barriers - Women's Music from 1964 to 1984.
Comment: Fascinating documentary show of album covers, concert posters, photographs, and related paper items spans twenty years in the history and evolution of music by women for women.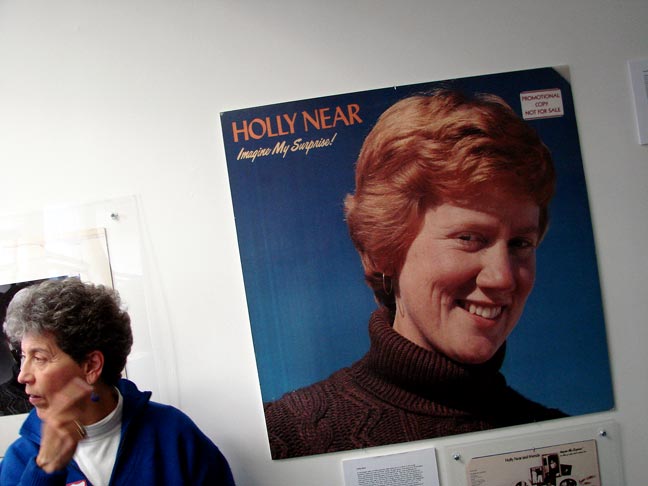 Musical memorabilia.


Musical memorabilia.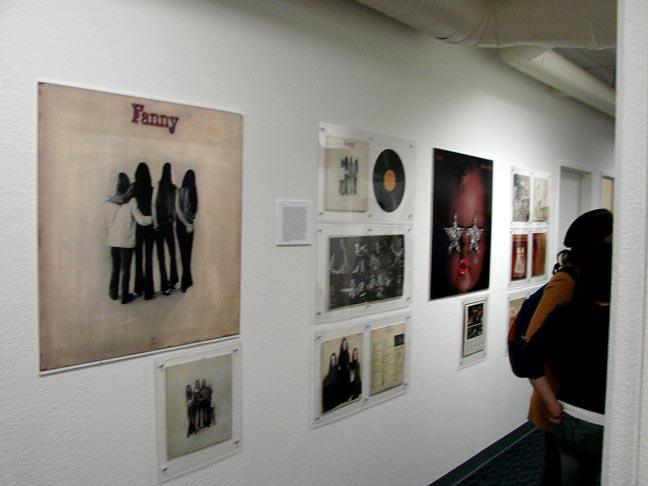 Musical memorabilia.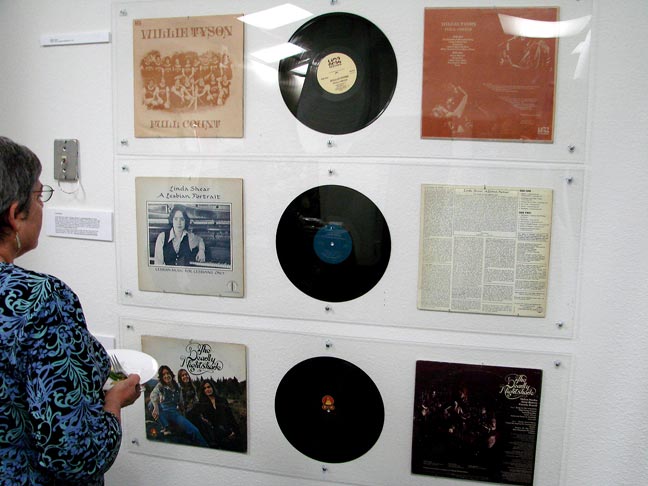 Musical memorabilia.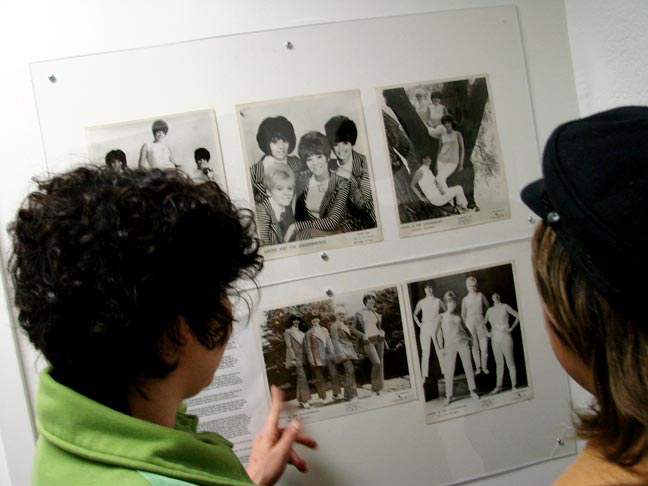 Musical memorabilia.


***
California Historical Society and The Bancroft Library of UC Berkeley: Past Tents - The Way We Camped.
Comment: Light-hearted exhibit takes a scholarly look back at the history, equipment, memorabilia, and related accoutrements of camping in California. No Gortex here, dudes.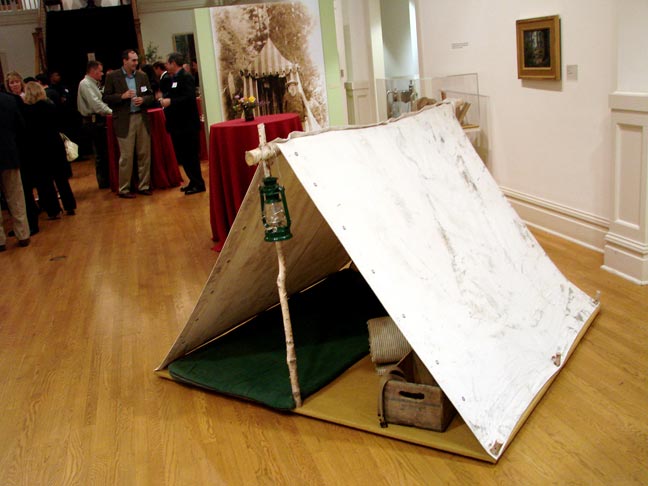 Ye olde tent.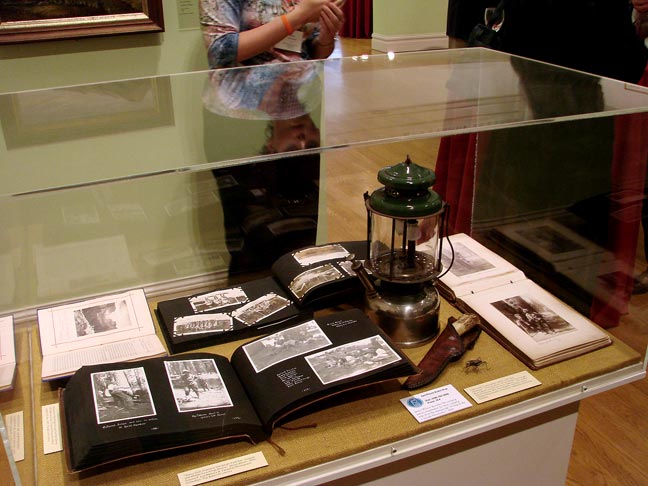 Camperabilia.


Old skool hiking.


Once upon a tent.


***
Museum of the African Diaspora: Alan Bamberger Gets the Boot... Again.
Comment: OK. I've officially had it with the monumental over-the-top pomposity of this thumb-up-the-ass institution. Whether I get into their shows or not (like I don't tonight because "we already have photographers"), I can be virtually assured that some staff person at this we're-way-more-important-than-you-are circus will badger me over something. And if they do me like that, they almost certainly do others as well. Featured behavior in tonight's exciting episode of blowing me off is the refusal of some smug little front desk upstart to even consider the offer of my business card or allow me to identify myself. Here's a thought-- maybe come down off the mountain top and instead welcome those occasional commoners whose sole desire it is to share what you do with others in the arts and culture communities. The purpose of a museum is to reach out-- not to exclude. So can the ferkin' pretense already. Sheesh.
***
San Francisco Studio School: First San Francisco Studio School Faculty/Student Art Exhibit.
Comment: Student/faculty group show at this graduate level facility which accepts only twenty students per year.
Art.


Art.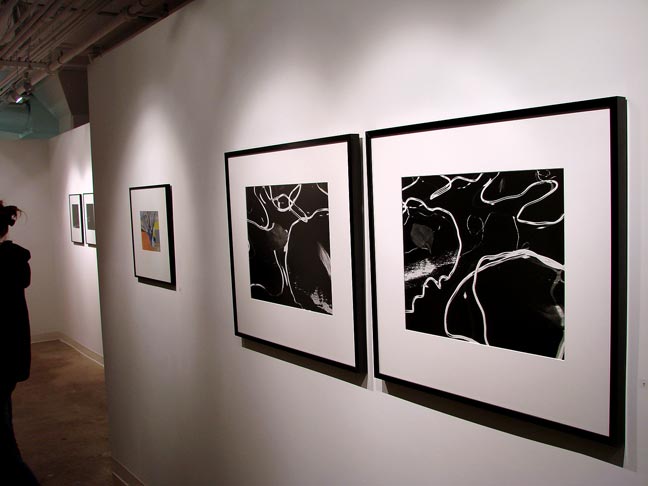 Art.


***
New Langton Arts: Critical Foreground.
Artists: Melik Ohanian, Mircea Cantor, Marķa Teresa Ponce, Miguel Alvear, Matthew Buckingham, Noah Wilson.
Comment: Leave it to New Langton Arts, that bastion of inscrutable bombast, to take a simple concept and repackage it as a mindbending descent into fathomless bewilderment. Is "Critical Foreground" a show about artists examining different cultures via landscape photographs and videos, or is it a show of "artists whose works foreground the artificiality of cultural and economic devices that condition the representation and understanding of landscape?" Your choice. Good art, by the way.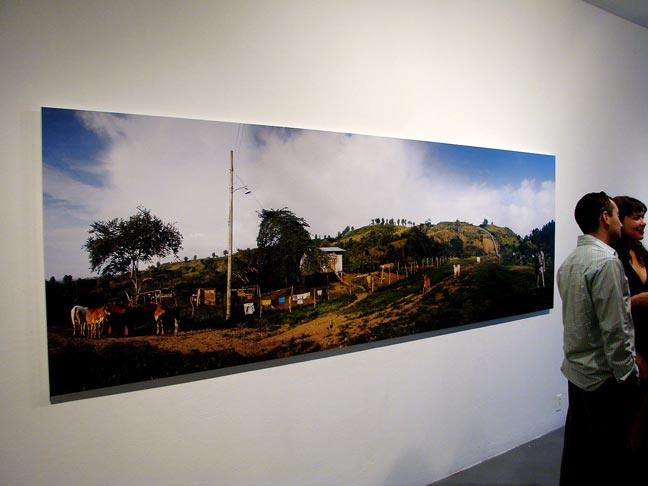 Photography.


Photography.


Photography.


Photography.


Video.


***
Galeria Zapatista at Mission Cultural Center: Pillars of Society - Prints by Art Hazelwood.
Comment: Art Hazelwood makes it perfectly clear through intense linocut, engraved, and silkscreen imagery that there's no love lost between him and the current Administration. Special added bonus-- anyone who wants can screen themselves up a complimentary "Impeach the Beast" poster print.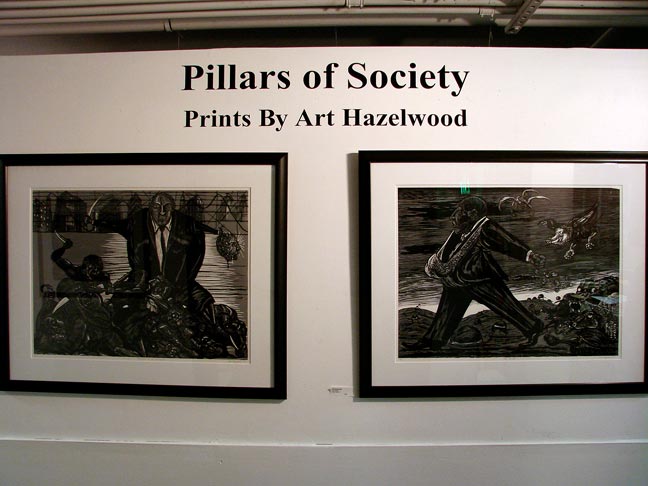 What it is.


Art Hazelwood - complimentary screenprint.


Screen-it-yourself printmaking.


This looks like fun.


The rules (or how to adulterate America in one easy Administration).


***
Ginger Rubio Hair Salon, 600 Shotwell Street, San Francisco, CA 94110, 415.829.7750: Grand Opening Gala.
Comment: Ginger Rubio is a salon by day and gallery by night. Their inaugural art show presents an impressive selection of Rene Garcia Jr. glitter paintings. Superior shindig, by the way, with all kinds of kicky characters running around.
Glitter art.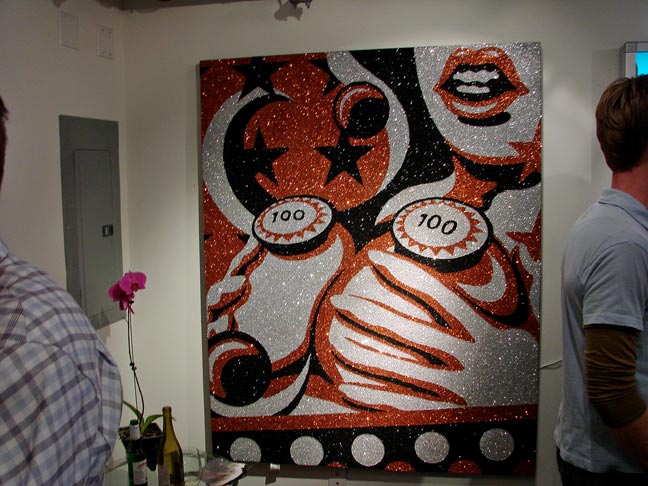 Glitter art.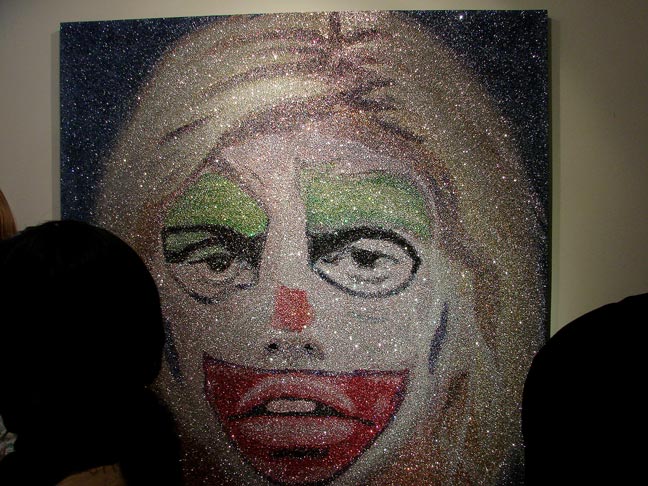 Glitter art.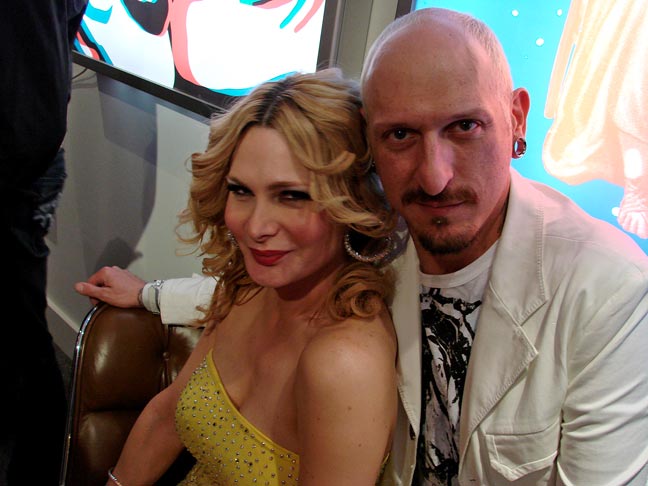 Cassandra Cass - Anthony Lymon aka Mr. Anthony (owner).


Art.


Cassandra Cass, calendar girl.


Down looking up.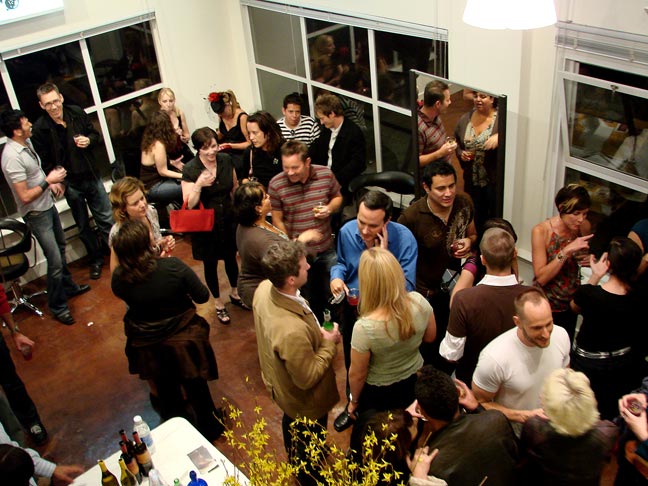 Up looking down.


Out looking in.


***